Stoeger is a company that I am familiar with. They've been known for decades as an importer of really decent-quality shotguns. Stoeger got this handgunner's attention around 1980 when they began importing this: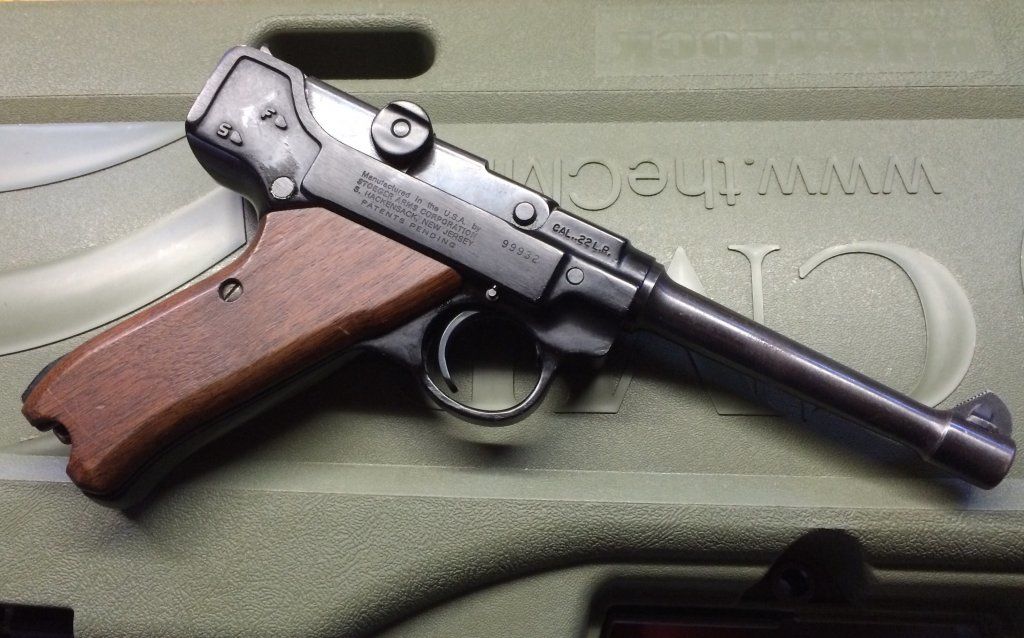 This is a German-made Luger .22. Stoeger has owned the rights to the Luger name in the U.S. since 1924. So, they thought it's a good idea to have a "Luger" made, in .22LR. They did later, in 1994, build a stainless 9mm gun called the American Eagle Luger. (Interesting fact: Georg Luger submitted a Luger in .45ACP caliber for the U.S. Army's handgun tests in 1907. It culminated with the adoption of the M1911 Colt in 1911. The Luger was withdrawn fairly quickly, but at least they tried).
I remember reading about those Stoeger guns in gun magazines of that time, thinking how cool it would be to own one. But, on a teacher's salary, that idea was dead in the water. At any rate, the guns were nice – Stoeger sold quite a few of them if I remember correctly.
About Stoeger
Let's start from the beginning and find out a bit about the Stoeger company before we delve into the details of the STR-9.
Stoeger is a manufacturer and importer of guns into the United States. Headquartered in Accokeek, Maryland, the company is a wholly-owned subsidiary of Benelli.
Working our way up the ladder, we find that Benelli is owned by Beretta. Not a bad family to be a member of, to be sure. Stoeger is also the FFL of record for the importation of Uberti guns.
Most Cowboy Action shooters have heard of Uberti – they make some very nice replicas of the original Colt 1873 single-action revolvers, among others. That is the Italian connection with the company. Now, let's look at the Turkish one.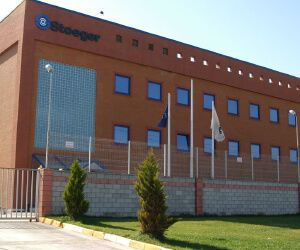 Stoeger Silah Sanayi AS (formerly Vursan) got into the firearms business in the late 1980s. It was the first company to manufacture a semi-auto shotgun in Turkey. As seems to be the way with firearms manufacturers in Turkey, technology abounded. (See my review of the SAR K2P pistol as an example of Turkey's up-to-date manufacturing methods). Soon, international investors started sniffing around. This resulted in Beretta Holding acquiring the corporation in 2002.
They built a new, even more, modern factory for Stoeger. In 2005, Stoeger obtained a license to make pistols from the Turkish Ministry of Defense. This set the company up as a member of the Turkish defense industry. This is in addition to their sporting shotguns – something not very common. Usually, defense industry companies focus on singular-purpose guns, i.e. military use.
Thus, Stoeger became the distributor of Beretta products in Turkey. This also included Benelli, Franchi, Sako, Burris, BAM-Stoeger, and Beretta-Benelli Iberica products. Marketing is conducted through two main groups: Law Enforcement/Defense and Civilian.
Stoeger also exports its products to over 40 countries. To better serve civilian shooters, they are continuously upgrading their technology and manufacturing. These upgrades also provide quality equipment to law enforcement and defense agencies.
That's the corporation's story in a nutshell. After owning the above-mentioned Turkish Sar pistol, I was impressed by its quality. Setting politics aside, that country does seem to make some very nice products.
BONUS OFFER: Get your free shooting range targets to print at home!
Get your free targets to print at home!
The Stoeger STR-9 Overview
The new striker-fired 9mm from Stoeger was introduced at the SHOT Show of 2019. The gun seemed to have a slow launch, and was not on dealers' shelves for a while, at least around here. I remember when it came out and I glanced at the press release and accompanying photos. The gun was very interesting. I pin its rather slow take-off to a lack of shooter familiarity and product availability.
You saw some print ads for the gun, but a lot of folks probably thought "Stoeger – good shotguns" and stopped there. I wanted to get my hands on one from the first ad I saw, but nobody close to home had one for sale. Cut to a short while ago – I requested one from Stoeger, and today it arrived at my local FFL.
I am grateful to Stoeger for the loan of the pistol. If it is half the gun I think it is, it might not be going back. We'll shoot it in a bit. First, let's look at some specifications. I have figures that I gathered online, and those from my own measurements. Below the specs is a page from the Stoeger website that explains all the options available. There are several, including a compact version. Here you go…
| | |
| --- | --- |
| Caliber | 9mm |
| Length | 7.5" (compact version available) |
| Height | 5.25" |
| Width | 1.3" |
| Weight | 25.3 oz. with empty mag (weighed on my digital scale) |
| Slide | Carbon steel, matte black nitride finish |
| Barrel | 4.17" |
| Capacity | 15+1; three magazines included |
| Magazine Release | Reversible |
| Sights | Steel three-dot; rear sight has a tactical ledge |
| Action | Striker-fired semi-automatic |
| Trigger | 6 lbs., 3 oz. average pull weight, measured with my Lyman trigger pull gauge |
| Grip Options | 3 backstraps |
| Safety | Trigger blade; striker block; loaded chamber indicator |
| Warranty | 5 years |
| MSRP | $329 - $449 depending on options – see below |
| "Real-World" Price | $299 - $399 |
Here's the listing from Stoeger's website showing the available models of the STR-9: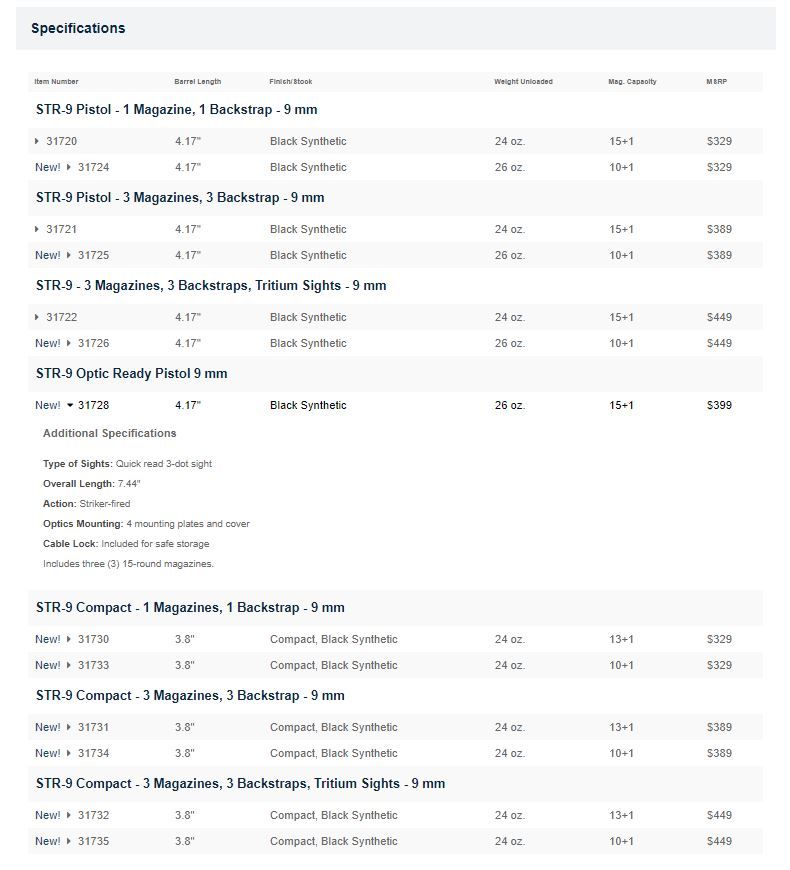 So, no matter what you want in this pistol, it is pretty much available. I think you would definitely want to spend an extra $60 (less in real-world price) for the version with two extra backstraps and magazines. I don't believe you could order those items separately for anywhere near $60. Also, another good deal is the tritium night sight versions. For real-world pricing of around $400, you can get night sights, three backstraps, and three magazines. That's a great buy in anyone's book.
The Stoeger STR-9 – Features & Photos
As we look at the pics I took of the gun, let's look at a few of what I consider good features that this gun possesses.Â
Slide Serrations
First, the slide serrations. These things are deep. There aren't that many of them (4 in front, 4 in back) but they allow a firm grasp of the slide even with gloves on. I read one reviewer who likened the look the serrations give the gun as shark-like. Not sure about that, but it does set the STR-9 apart from a lot of others. If you need to rack the slide in a hurry, these deeply-cut serrations will help. Another note – the serial numbers are matched. The barrel makes the trip through the factory with "its" own slide.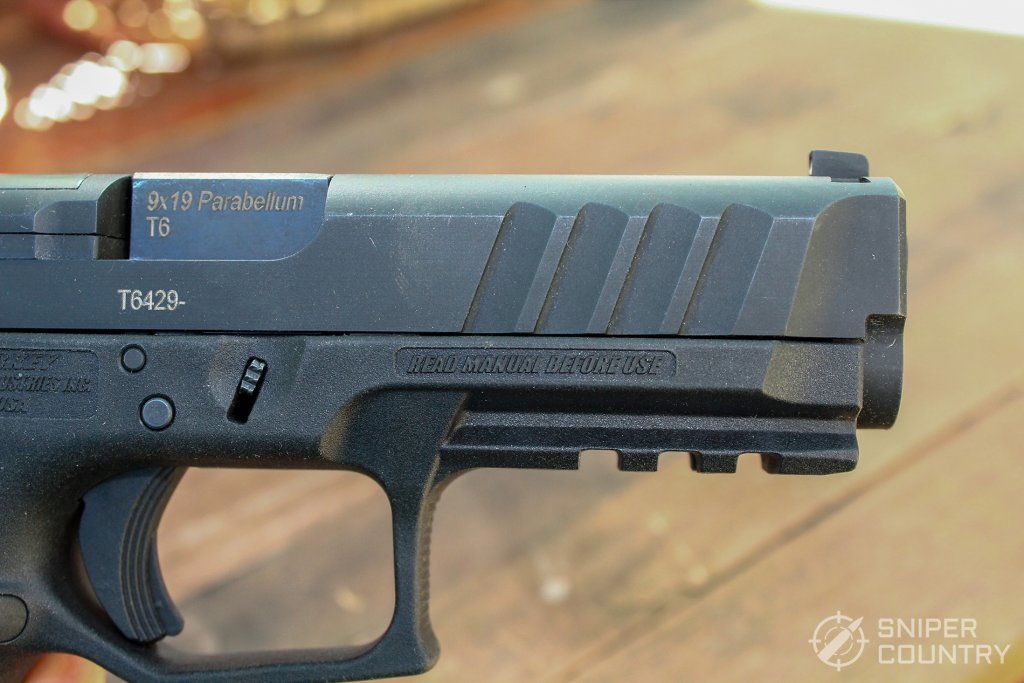 Rear Sight
Speaking of racking the slide – look at the rear sight. It has what is generally referred to as a "tactical ledge", among other things. This flat ledge allows you to rack the slide on any handy firm surface – a tabletop, drawer, your belt. If for some reason your usual racking arm is out and you need to load the Stoeger's chamber, do this:
hook the sight ledge on something, push the gun downwards quickly, and get back in the fight. I'm not sure how often a feature like this might be needed – I'm not involved in gunfights, usually. I see it as one of those "have-it-and-not-need-it" things. It can't hurt to have this slide-racking ability. I tried it on a handy outdoor wooden tabletop and it worked fine. As long as you don't mind two "digs" into said tabletop from the sight, that is. But you have to be careful about that. We don't want to damage property, after all. I forgot to add that the sights are steel, not plastic, and drift-adjustable.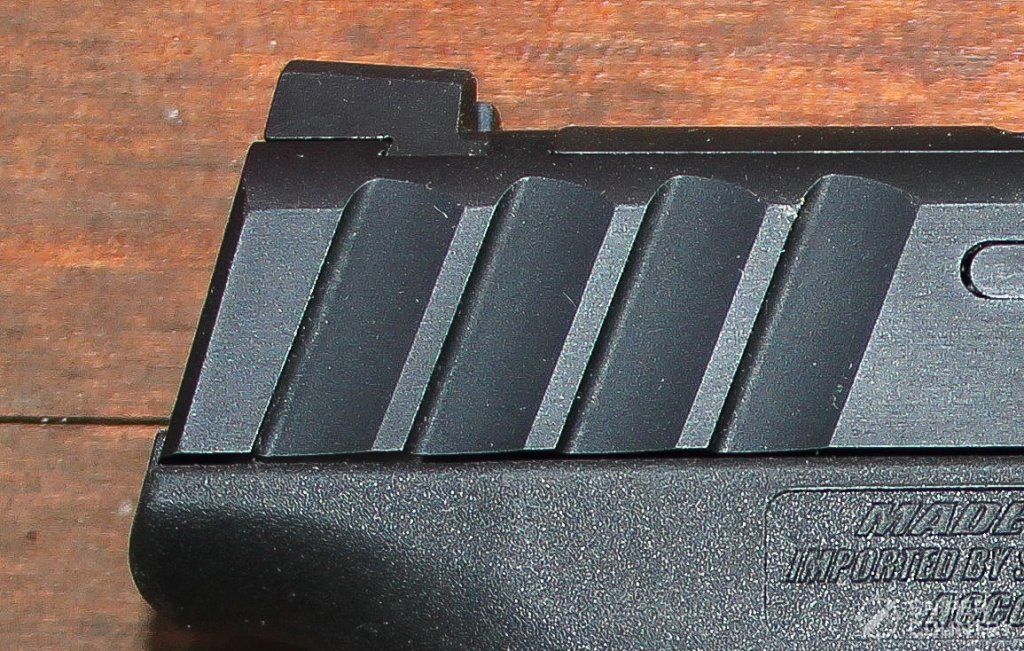 Rear sight ledge – it works.
Grip
The grip is textured very nicely, but it could be a bit rougher. This comes from a guy who would glue 100-grit sandpaper to my polymer pistol grips if I could. Needless to say, I like a rough texture. I'm sometimes tempted to take a pointed soldering iron to all my polymer pistol grips.
Every now and then, I do find a gun with an acceptable factory texturing job. One such pistol that passes my grit test is the Taurus G3c. The Stoeger STR-9's grip works, in my opinion. Aside from the pebbled texturing, it has raised diamond-like "nubs" on the backstrap. Your hand tends to stay put during firing. Included with the grip texturing are the two extra backstraps. If you buy the gun with three backstraps, you will have no excuse for having the gun not fit your hand. The grip-to-trigger-face distance is adjustable. Might as well make it as good as it can get, eh?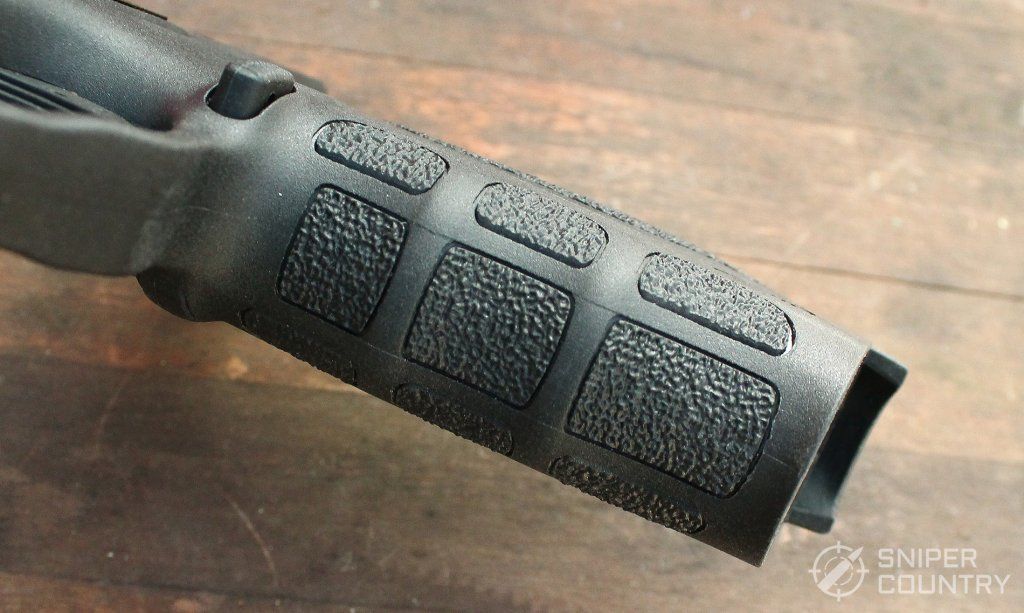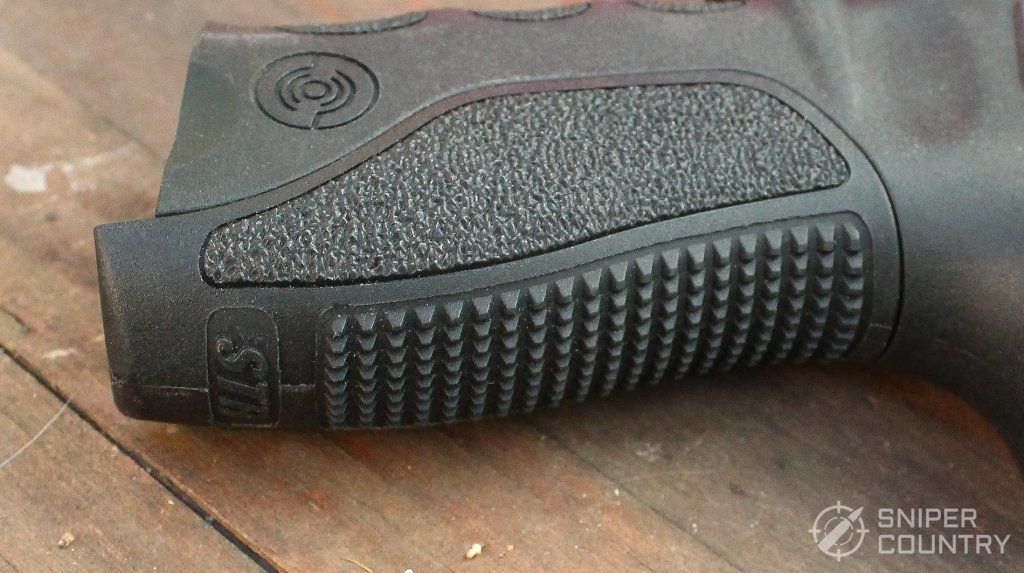 Rail
There is a three-slot Picatinny rail on the dust cover. That's enough to mount just about whatever you want to mount under the gun.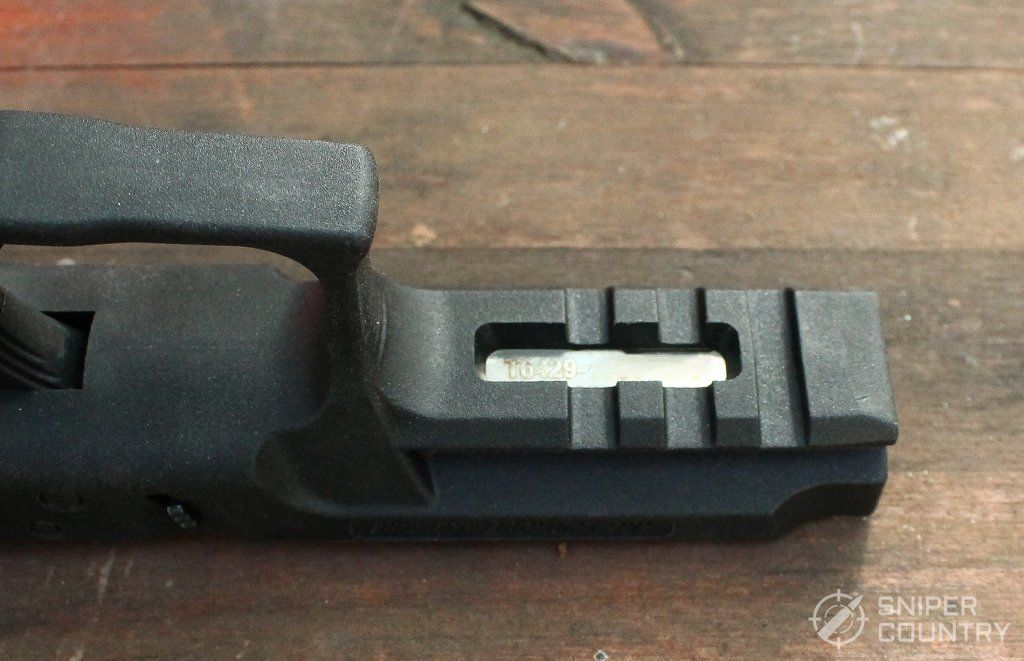 Trigger Guard
The Trigger Guard Looks and feels like it is big enough to allow gloved hands without it being cartoonish. This guard has a good size balance. It is textured on its front for those that use the finger-around-the-trigger-guard hold. Also, the trigger uses the standard safety blade – it is a comfortable trigger.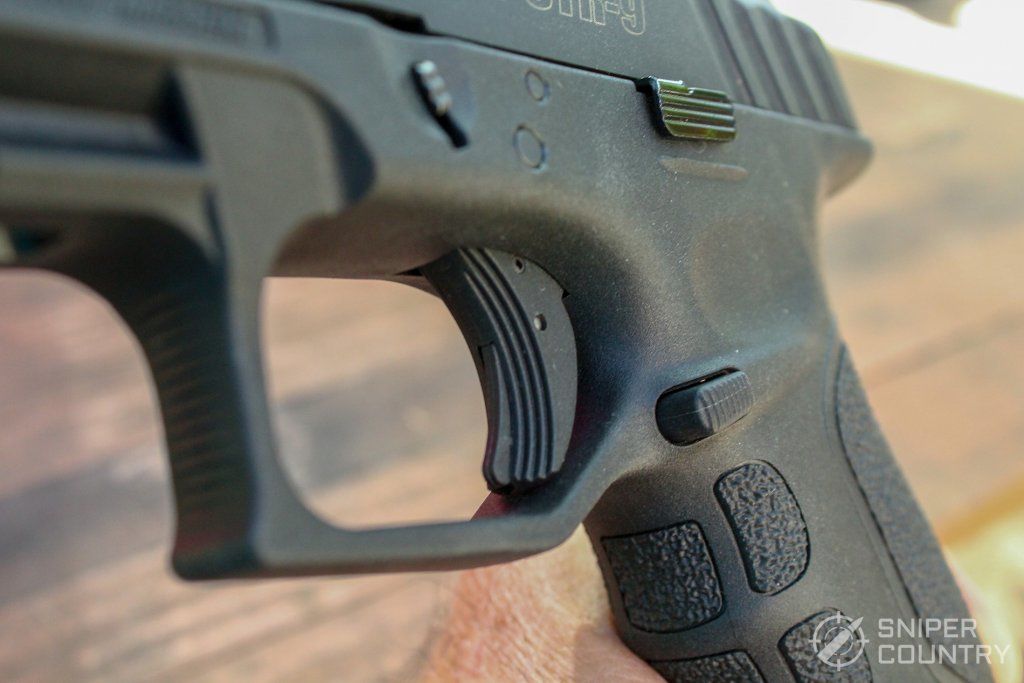 Recoil Spring Guide Rod & Spring
The spring guide is steel, not plastic. Spring is flat wire-wound, as well.

Take-Down
Glock-esque. Just about any semi-auto shooter worth their salt can take a Glock apart. Just make sure the chamber is empty before you pull the trigger to separate the slide from the frame. Trust me on this one. I recently reviewed two pistols that used a removable takedown pin in order to get the slide off the frame. You could lose or at least misplace this pin. There's nothing to lose with take-down tabs.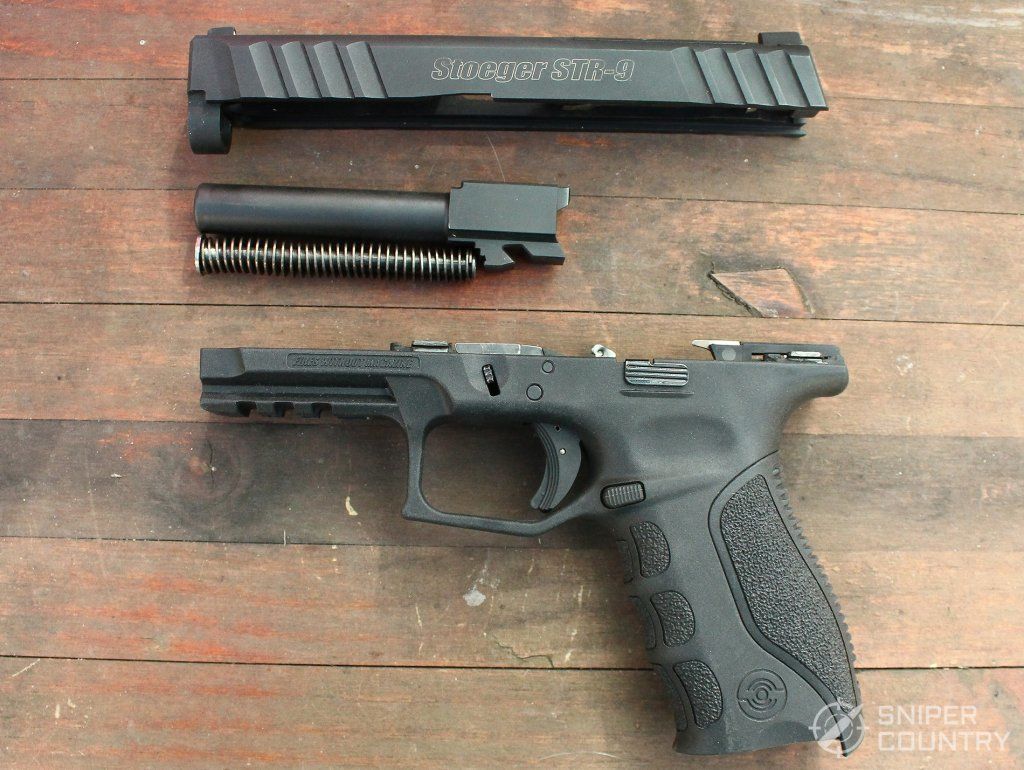 Warranty
A five-year warranty isn't as long as a lifetime (well, hopefully). But, it's better than the one-year-wonders out there. I would think that if anything is going to go wrong, it will be within that 5-year time frame. Would I rather it be a lifetime warranty? Sure, but this is not a deal-breaker. A reputable company will take care of their product even past the warranty period (or should, at least).
Are you starting to get the idea that I like this gun?
The "E" Word – Ergonomics
It looks like Stoeger's engineers took their time when they designed this thing. Ergonomically, it's very good. That "E" word can be a catchphrase in today's firearms market and can mean whatever the companies want it to.
Let's look at how the Merriam-Webster dictionary defines the word…
Definition of ergonomics
1: an applied science concerned with designing and arranging things people use so that the people and things interact most efficiently and safely
–called also biotechnology, human engineering, human factors
2: the design characteristics of an object resulting especially from the application of the science of ergonomics
Ergonomics really is important. If a gun (long or short) doesn't fit you, you won't shoot to the best of your ability. It's like that old, holey T-shirt or that pair of well-worn Keds. You know you need to get rid of them, but… they are so comfortable! Same way with guns – if it fits well, it shoots well. And, I own one or two guns that I equate to that T-shirt or those Keds. They fit me right and are like old friends when I pick them up. I'm sure you know what I mean.
The extra back straps included with this gun allow you to customize the length of pull for your hand. Another point that is easily overlooked is the frame undercut at the rear of the trigger guard. This allows a higher handhold, letting the gun sit a bit deeper in the hand and reducing muzzle flip. This gun looks like it was in development for a good while. I can't point to any ergonomic feature on this gun that is less than satisfactory, for my hand at least. My opinion, of course, but for a $300-or-so gun, it fits the hand well.
BONUS OFFER: Get your free shooting range targets to print at home!
Get your free targets to print at home!
The Other "E" Word – The Engineer's Report
One of our four sons is a process engineer at a large factory that makes OEM auto parts, among other things. He is trained to notice manufacturing anomalies and inconsistencies. He is also a machinist and has done metal etching. In his first, quick look-over of the gun he commented that all in all, it seemed well-made.
He did notice the slide etching, or engraving – it seems to be different from one side to the other. Look closely at the first two photos below. On the left side, you will see the company name and gun model. The serial number is on the right. He said that it looked like the engraving on the right side was deeper than that on the left side. The left side shows no hard-cut lines as the engraving isn't as deep here. You can see it in the color fill of the engravings – I did not do this color fill. (I am guilty of filling in engraving cuts on several guns – white crayon works well, believe it or not.) This is how it came from the factory.
The left side is just not as consistent, or as deep, as the right. He went on to comment on the injection-molded frame, the machining of the metal, and a few other areas. Bottom line – the gun is decently-made, especially considering the price.
Now – does all this matter when you are shooting the gun? For most of us, the answer is 'no'. I am more interested in function over form. I only mention this in order to give you, the reader, the fullest report I can.
More Photos
Here are some other pics I took of the gun…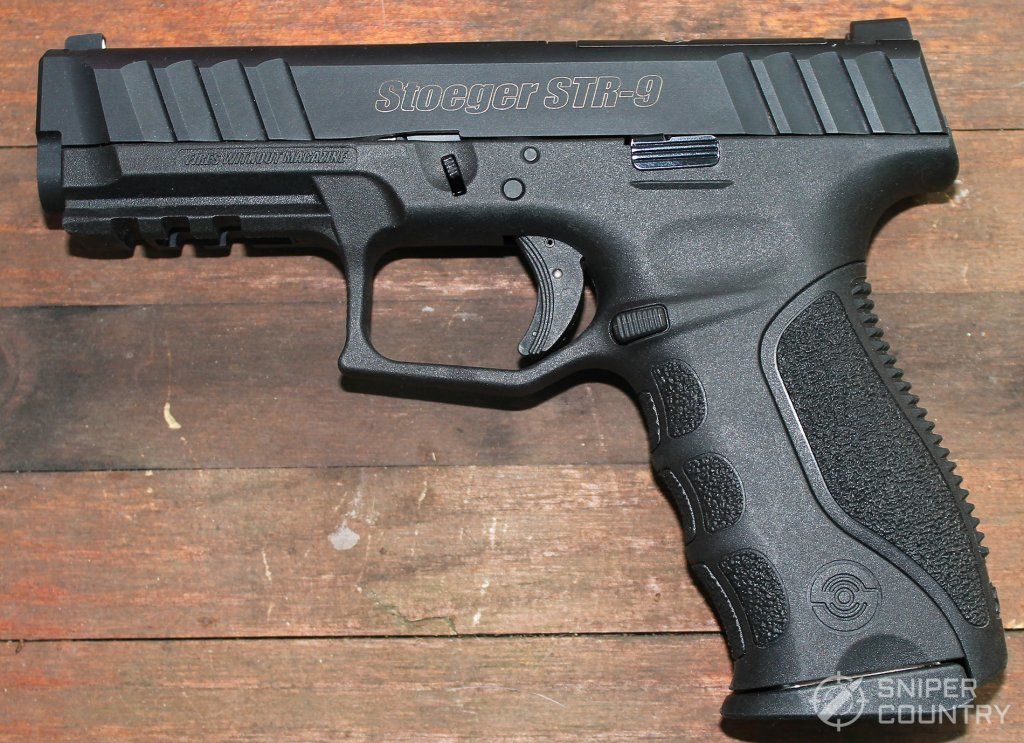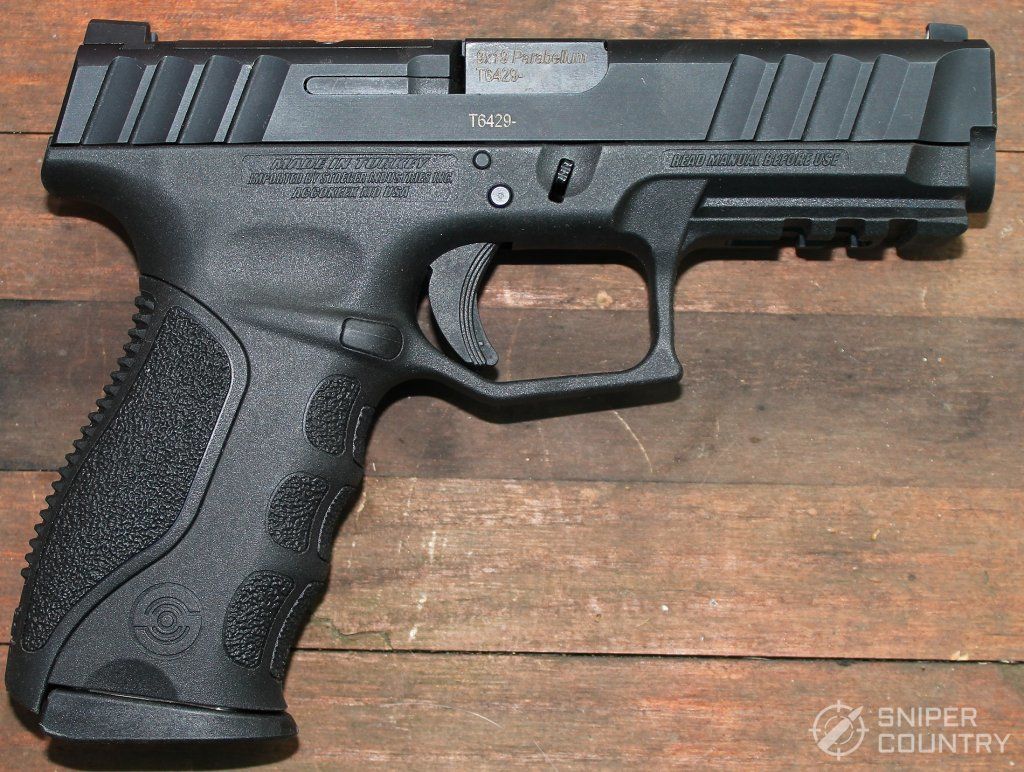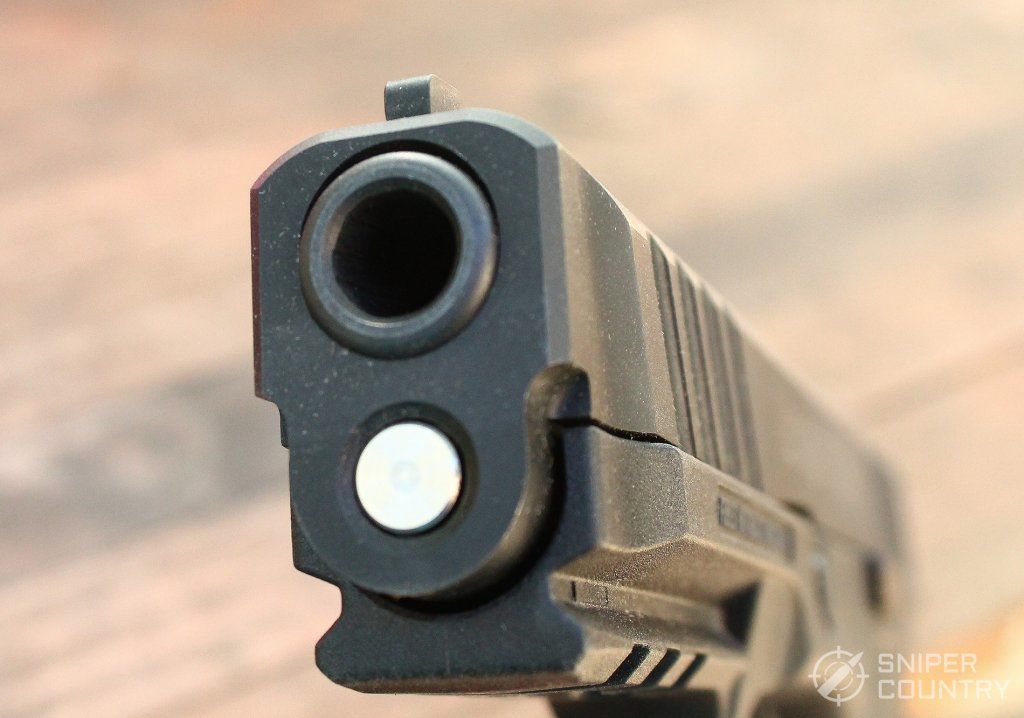 Small touches. The polished end of the recoil spring guide rod just sets it off and looks classy (to me, at least).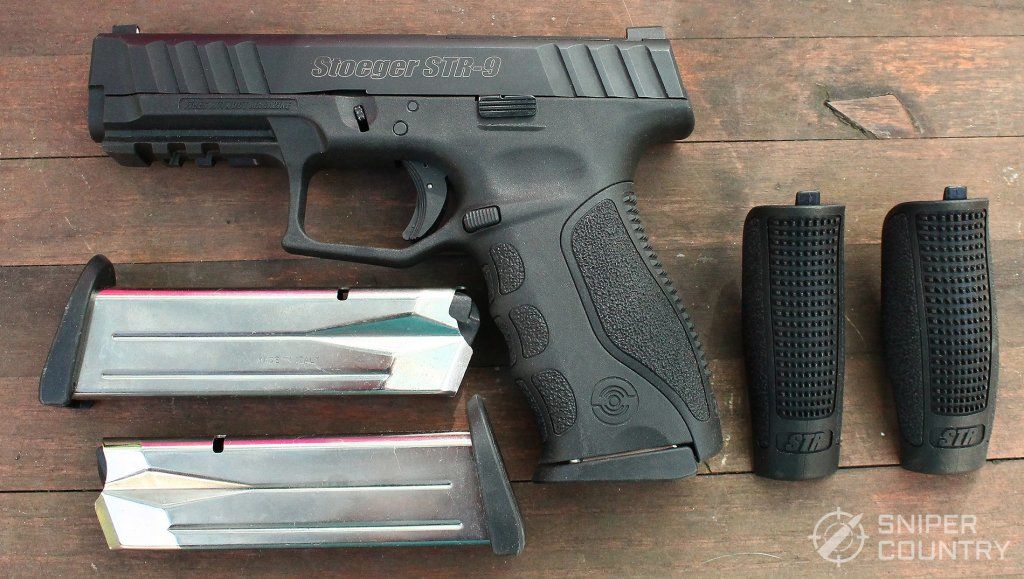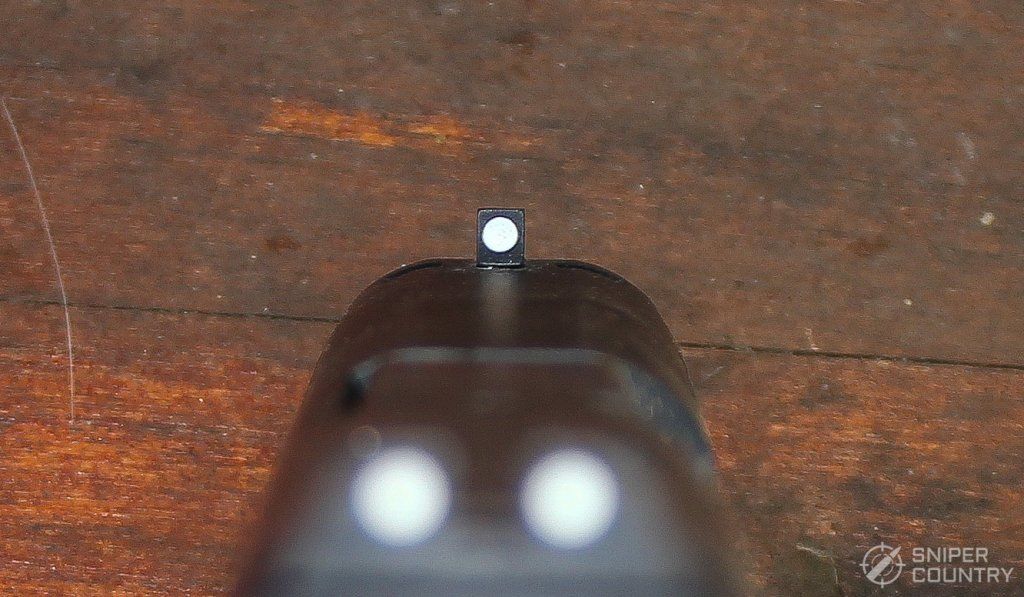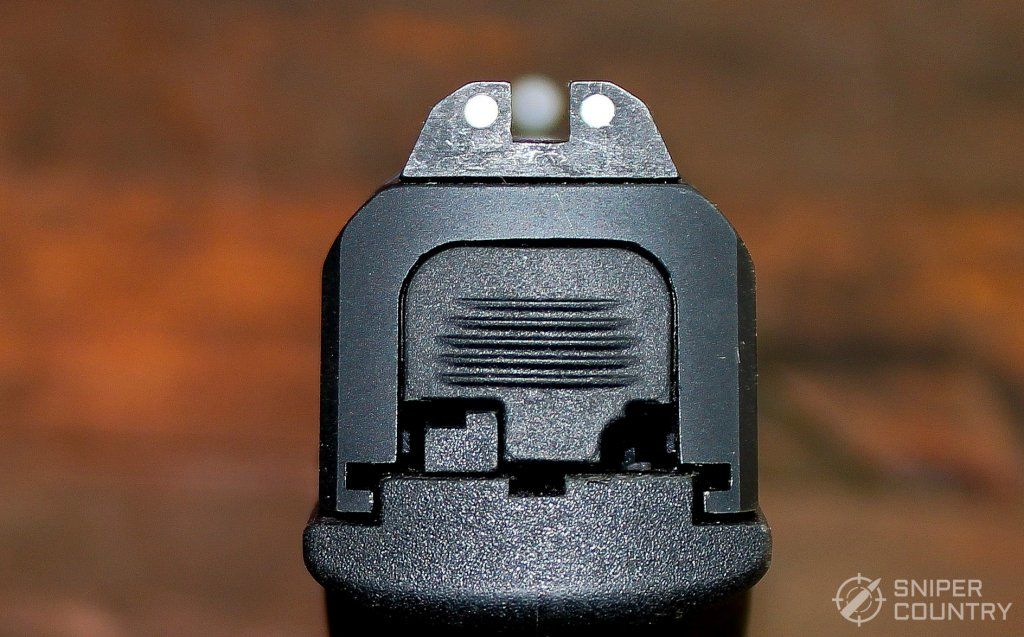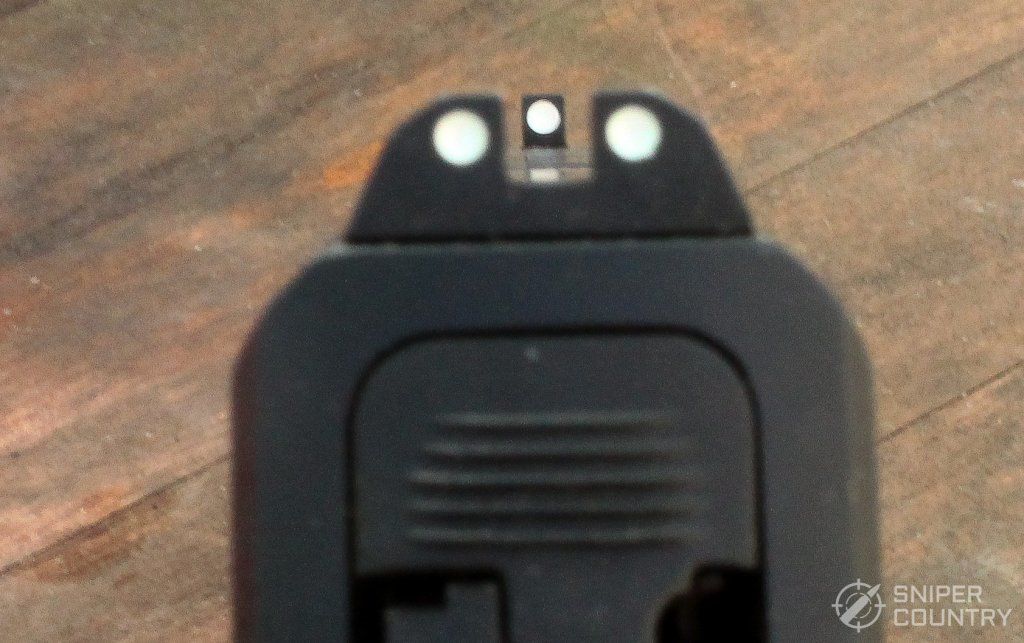 As far as sights go, the pistol I was sent is optics-ready. It has a removable plate in front of the rear sight. So, if you don't like the sights that are on the gun, you can add a pistol red dot. You can also get the gun with tritium night sights from the factory.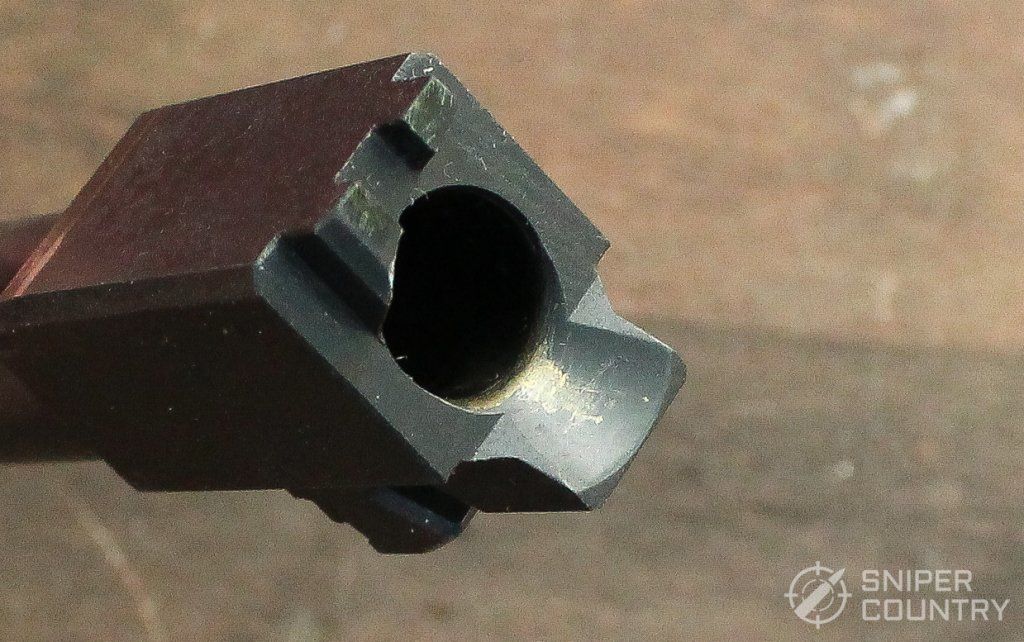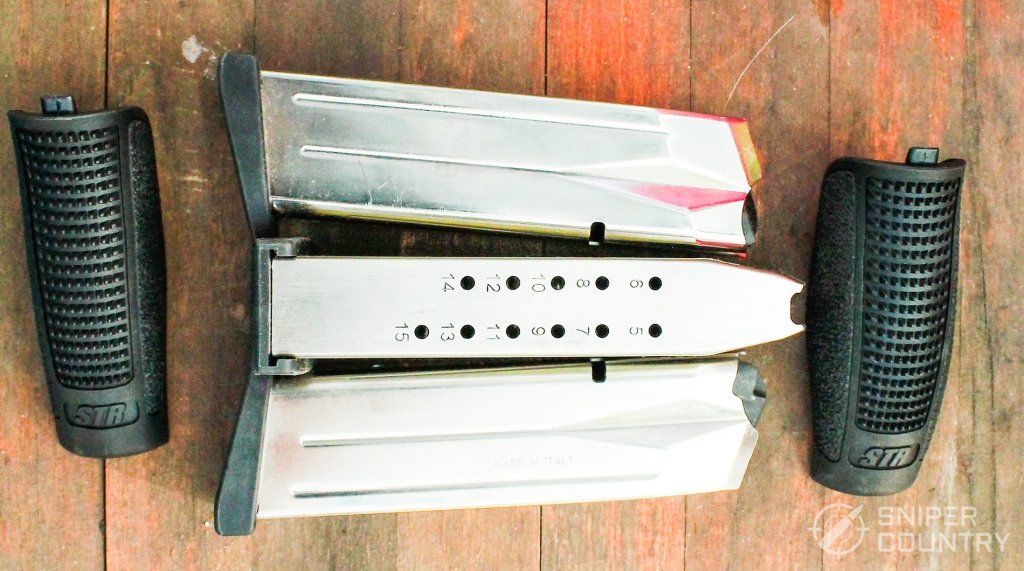 Range Time
I'm going to do something a bit different here. I shot the gun at my backyard range, but so did some of my sons. That enabled me to shoot the shooter, so to speak, with my trusty Canon DSLR. Here is a sequence of four shots I was lucky enough to grab
A reprise of the photo from above showing the gun firing,
The slide retracting, and
The empty case in the air
Interesting, at least.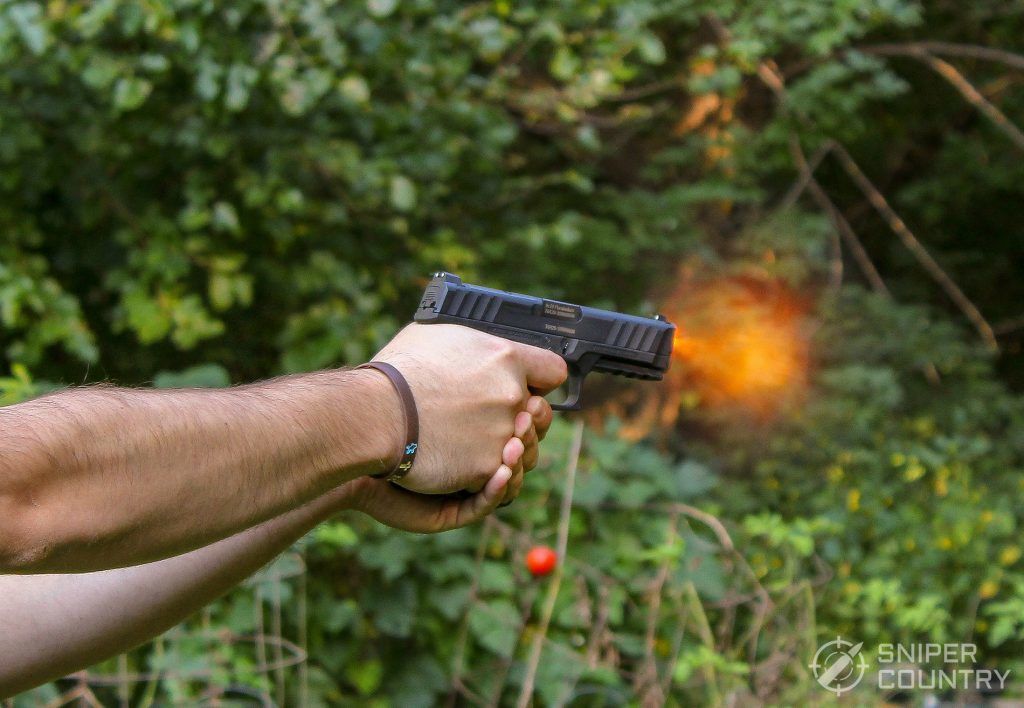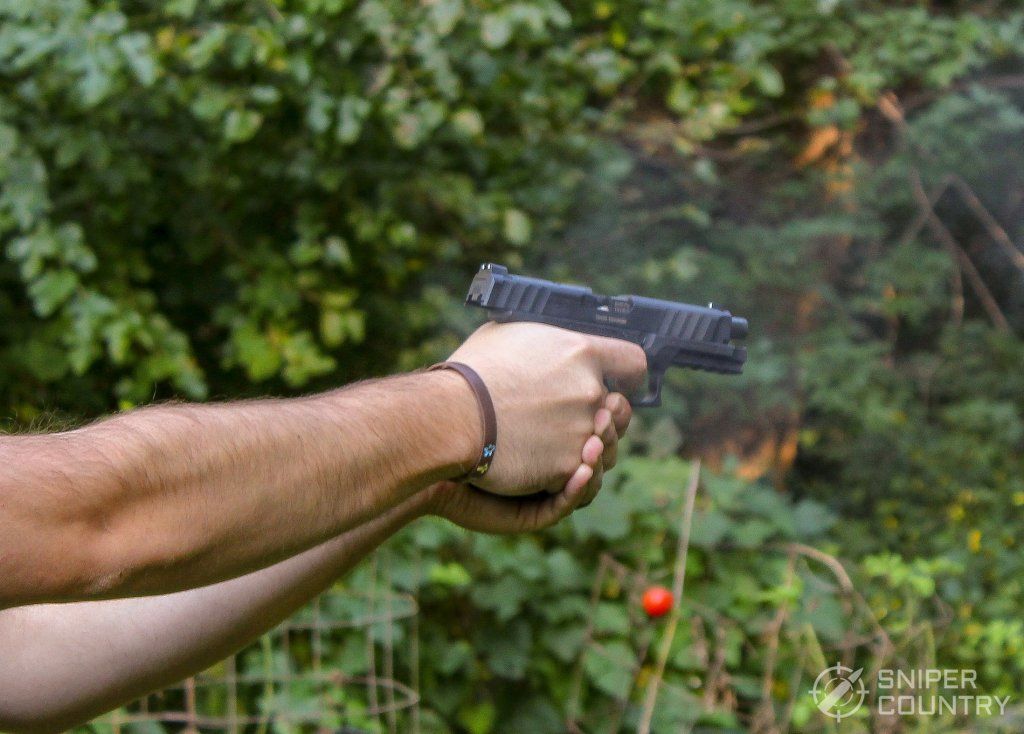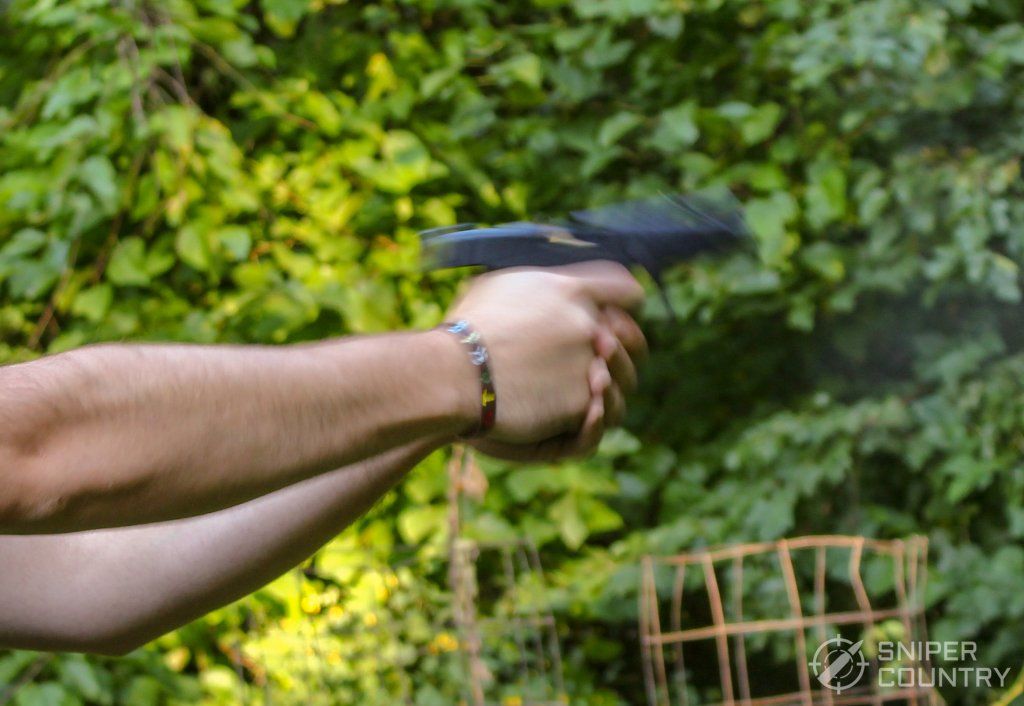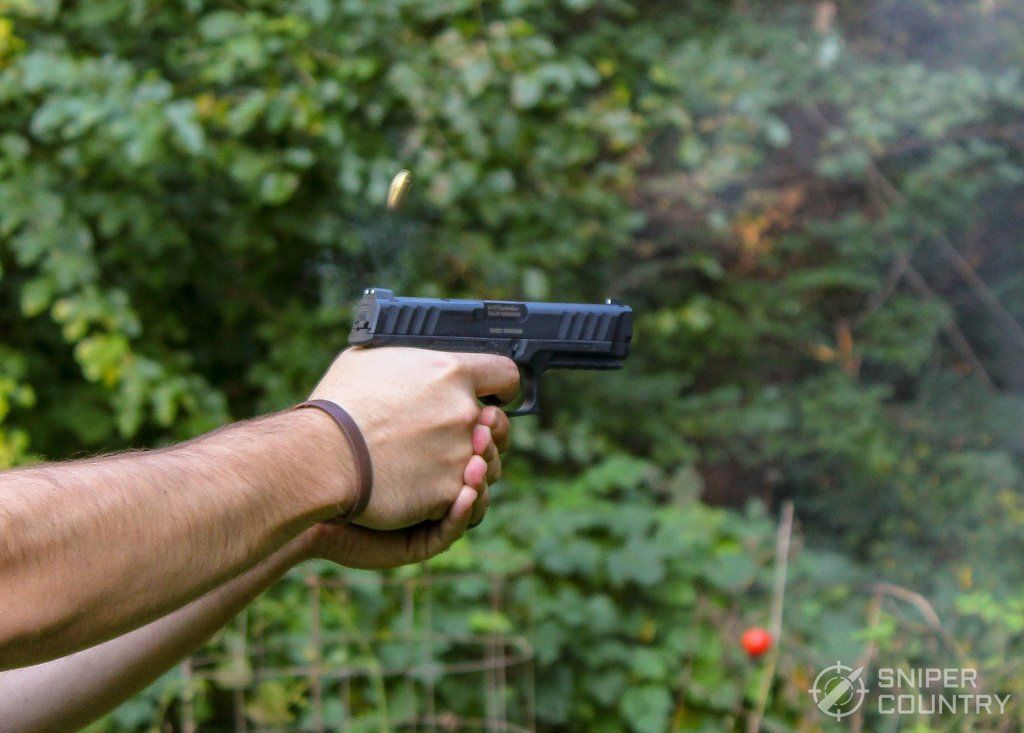 The photos show a couple of other things, as well. The sights and the slide serrations are both prominent. The pistol shot well, it is one sweet-shooting gun.
Here is a target that was shot with Tula 115-grain FMJ ammo. Not too bad, considering it was shot right at 20 yards. Both targets were shot off-hand, standing – no bench rest. This load was a bit low. I reminded my son that guns like these, designed as concealed carry pistols, are usually set up at the factory for what I call a center hold. That is commonly referred to nowadays as a combat hold. Once he figured that out, things got better. The gun hangs very well on target – it is balanced well.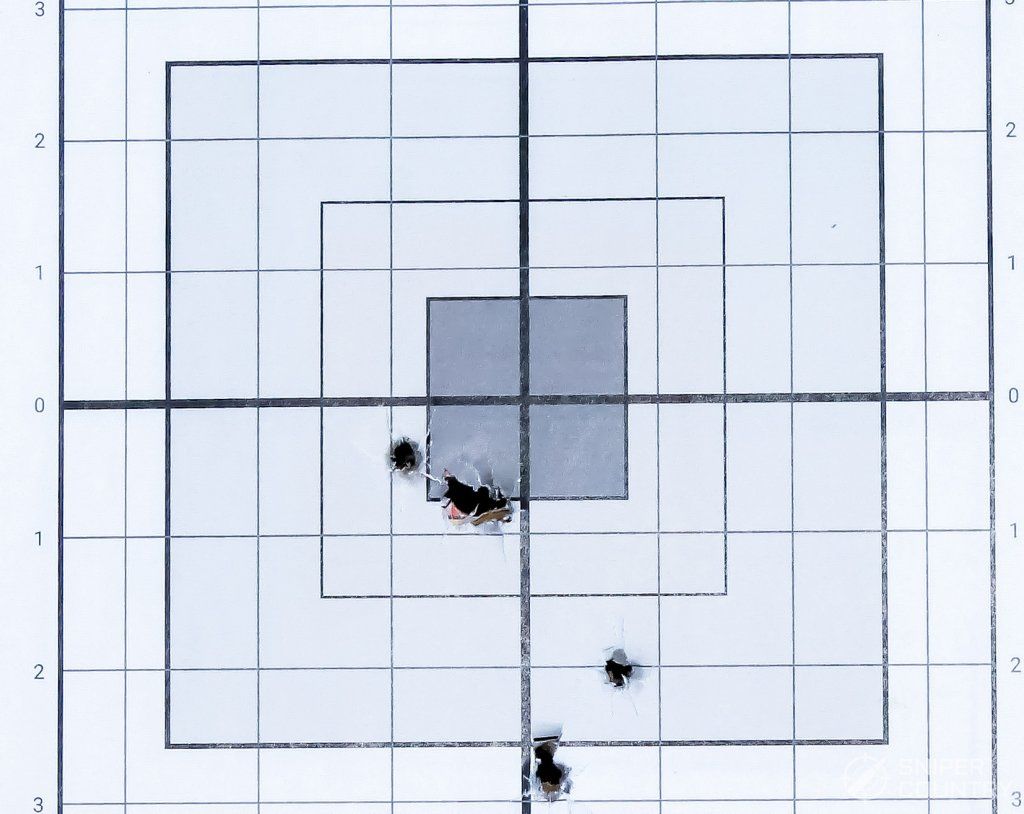 Here's another target that was shot using my handload. It consists of my home-cast, powder-coated Lee 124-grain round nose bullet over 4.8 grains of Long Shot (read my guide on handgun powders). It is powered by a Fiocci small-pistol primer. (If you haven't tried Fiocchi ammo, you're missing out). I also wrote an article on the best 9mm ammo.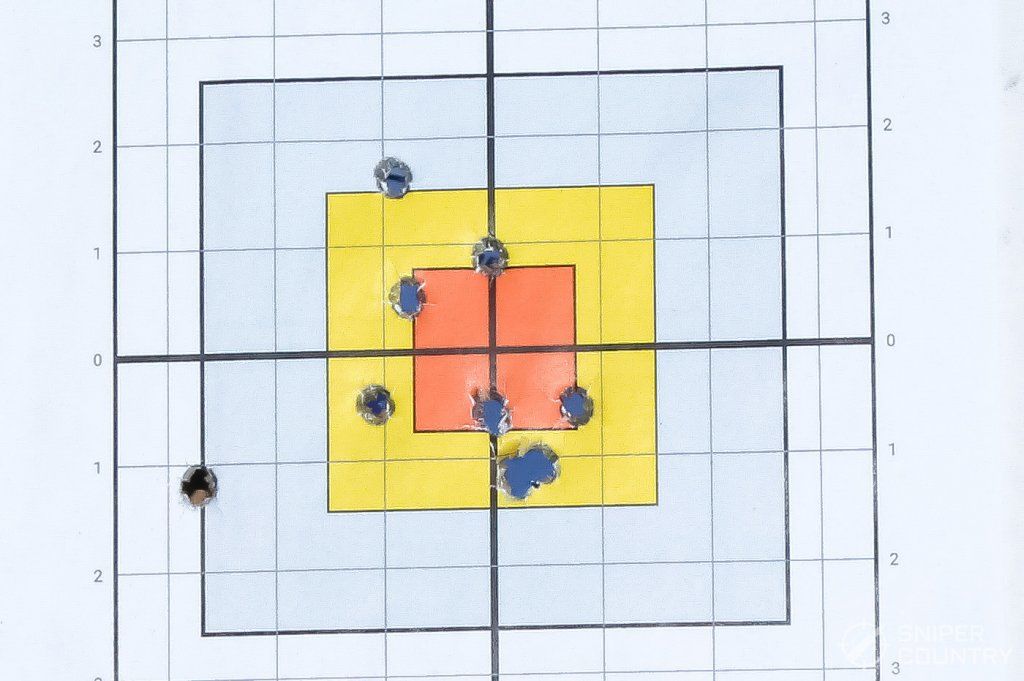 This load usually prints a bit higher than some factory loads. It has demonstrated good accuracy in general in several guns. This is also my go-to load for dispatching bothersome pests. We have a possum that likes our cat's food and makes his (or her, hard to tell) appearance during daylight hours. Bad sign – probably sick with distemper or rabies. At any rate, the gun is accurate.
I feel like I need to make an apology of sorts for the fact that I only show two targets, one of which was shot by a handload. I'm not sure how it is in your neck of the woods, but around here there is no 9mm, .380, or 5.56 ammo to be had. Period.
My good buddy Duane, who is my local FFL dealer, said he wanted to have a T-shirt made. He wanted one that repeated what I said above, "No 9mm, .380 or 5.56". It was so that he wouldn't have to explain the situation to every person who came in to buy ammo. So, at least I'm a reloader and will have something to shoot. Hopefully, it is better by the time you read this.
Alternatives to the Stoeger STR-9
Glock 19
Do you know that the slide of the Stoeger STR-9 will go right into the Glock 19's frame? I did say that the Stoeger STR-9 feels Glock-ish. It looks like a Glock, feels like a Glock, and functions like one. That is to say, if you're looking for options similar to the STR-9, a Glock is a no-brainer. For shooting comparisons, check out this video:
Smith & Wesson SD9VE
We've reviewed the S&W SD9VE extensively. We even featured accessories for it, like sights and holsters. Both 9 mm handguns are affordable. But, the SD9VE is arguably cheaper with more discount opportunities. They are similar in dimensions, with STR-9 weighing a few ounces more. If you want more capacity – 16 rounds in the mag – the SD9VE is an extremely reliable 9mm. See this comparison video below (features Walther Creed, too):
Accessories for Stoeger STR-9
Stoeger STR-9 Compact 9mm Luger Handgun Magazine
I know that the Stoeger STR-9 comes with three magazines. That might be enough for most people, but some may still need more. Mine came with stainless steel mags, but Stoeger also makes them in black. If you're in need of more mags, or want a different color, check these out.
Uncle Mike's Inside-The-Pocket Size 4 Ambidextrous Holster
A good CCW weapon needs a reliable holster. Try this offering from Uncle Mike's. It is non-slip, allows for a clean draw, and prevents movement of levers and buttons. The ambidextrous design is perfect for both left- and right-handed shooters.
Viridian Reactor R5 Gen 2 Red Laser Sight
A red laser sight is a great way to improve your accuracy without changing the built-in sights on your Stoeger STR-9. This laser sighting system from Viridian Weapon Technologies is easy to install. The way it blends into the trigger guard means that it won't affect form or function. The laser has two modes – constant and strobe – and can run up to 12 hours. In addition, the Gen 2 model comes with an IWB ambidextrous holster with an instant-on feature. That means your sight goes active the moment you draw your weapon. Pretty nifty, I'd say!
To Sum Up…
What do I think of the STR-9? I like it. It felt solid in the hand and was reliable. The construction seems to be good. I saw no extraneous machining marks that would indicate less-than-desirable construction techniques. Even though the engraving may not be consistent, the gun is a shooter. Let's do a quick "Hits/Misses" listing:
HITS:
Gun seems to be well-constructed and is strong
Accurate & reliable – it shot everything it was fed
Great slide serrations
Ergonomics are good – three backstraps contribute to ease of configurability
Included in the box are three well-made 15-round stainless magazines
Sights are excellent; night sights or red dot are optional
Mag release is reversible (instructions in owner's manual)
Five-year warranty (good or bad – see below)
Trigger was not bad. A bit of a long take-up but release was crisp
MISSES:
The engraving issue mentioned above – this is purely subjective and may not matter to some.
The packaging. The cardboard box it came in is starting to come apart.
Five-year warranty – most manufacturers offer a lifetime warranty. Better than a one-year warranty.
And, one, final "picky" thing – the takedown tabs need to be longer. They were very hard to grasp.
Most of the "misses" are subjective – you may not see things as I do. The overall impression that the Stoeger STR-9 gives is that it seems to be a solid and well-made compact 9mm. It has good sights, a decent trigger, three magazines, and three backstraps that should do whatever job you ask it to do. For around $300, I don't think you can ask for more. If you've had experience with one of these Stoegers, let us know below. As always, keep 'em in the black and stay safe!
You might also like to read