Did you watch the news lately? I think we can all agree, that there was never a better time to carry.
Not only should you be armed, you should be able to defend your family without having to worry about the consequences and what happens in the aftermath.
But what actually happens after you shot someone in self-defense?
Do you call the police or 911?
Do you holster your gun?
When the police arrive, what do you tell them?
Should you even talk to them?
What if they put you in a cell? Who do you call?
And those are the easy questions.
What about the potential lawsuits and the legal aftermath? There are countless cases where even obvious self-defense led to criminal charges and civil suits. You might very well need $100,000 or more up-front in order to defend yourself in court (this is not rare!!). Not many people have that kind of money lying around.
Think about it: Even professional law enforcement officers are put on trial after they use their weapon in the line of duty. It will happen to you.
Being prepared goes beyond defending yourself with a firearm. You need to arm yourself for the days and weeks after you pull the trigger. Your freedom, life savings and future are on the line.
This is where having self-defense insurance pays off. After you were forced to defend yourself, those guys are your first call (after 911). Their critical response team is available, ALWAYS. They will tell you exactly what to do and how to behave. They will immediately provide you with an attorney who takes over the communication with the police, so you can avoid the dangers of the questioning process.
And most importantly, they will cover most of the financials. That goes for criminal defense and potential bail bonds (if you picked the right insurance). Those guys won't leave your side until this thing is over.
Don't have time? Here is our pick!
Now there are quite a few self-defense insurance providers on the market. They all offer very different perks and reading through their contracts can be quite daunting. What will they actually cover? Will they compensate you while in court/jail? Will they provide ongoing attorney access? Can you choose your own attorney?
Those are only a few of the questions we were asking when we compared the most popular self-defense insurances. After over 30 hours of research our verdict is clear and our authors choose the USCCA. Their plans offer up to $2,000,000 in civil defense and damage protection, they cover all legal weapons, allow you to choose your own attorney (if you want to) and much more. They tick all the boxes and starting at $22 per month, they are very reasonably priced.
In short, you can't really go wrong with them and on top of that, they offer a 365-day, money-back guarantee. One call and you'll receive a prompt and courteous refund.
If you want to see our detailed comparison, keep on reading.
You Will Need Help With…
After a justified shooting, here are some areas that will probably crop up that you must be prepared to deal with.
The advantage of being a member of one of these organizations is that you would know the answers to these questions and have resources coming to aid as soon as you call them for help…
Before The Police Arrive – what do you do in the immediate aftermath, right after a shooting? Do you call the police and/or 911? What about your gun? Holster it or not?
When The Police Arrive – How will they know that you're the "good guy"? Do you tell them everything that happened? What if they arrest you?
At The Police Station – What if they book you and put you in a cell? What information do you divulge? Suppose they arrest you and the next step is court…what about bail? How do you get your gun back that they've taken as evidence?
At The Preliminary Hearing – Should your lawyer be present for this formality? How do you plead?
At The Hearing (If It Goes That Far) – Hopefully by now things have been straightened out but what happens if that's not the case? Is your lawyer "up" on self-defense laws and tactics?
There is a lot more to a self-defense shooting than you might imagine. The legal waters that you must navigate are murky and sometimes dangerous, if you are not prepared. That's where these organizations come in – they are there to help you.
Want a real world story? Here is David's, a guy from South Carolina who protected himself, his family and complete strangers when two armed thugs tried to rob a barbershop. Good thing he was prepared and a USCCA member.
Concealed Carry Insurance Comparison
For the following graphic we chose the top tier plans (most expensive) from each organization and compared them. If you are okay with lower coverage there are plans available for as low as $9 per month.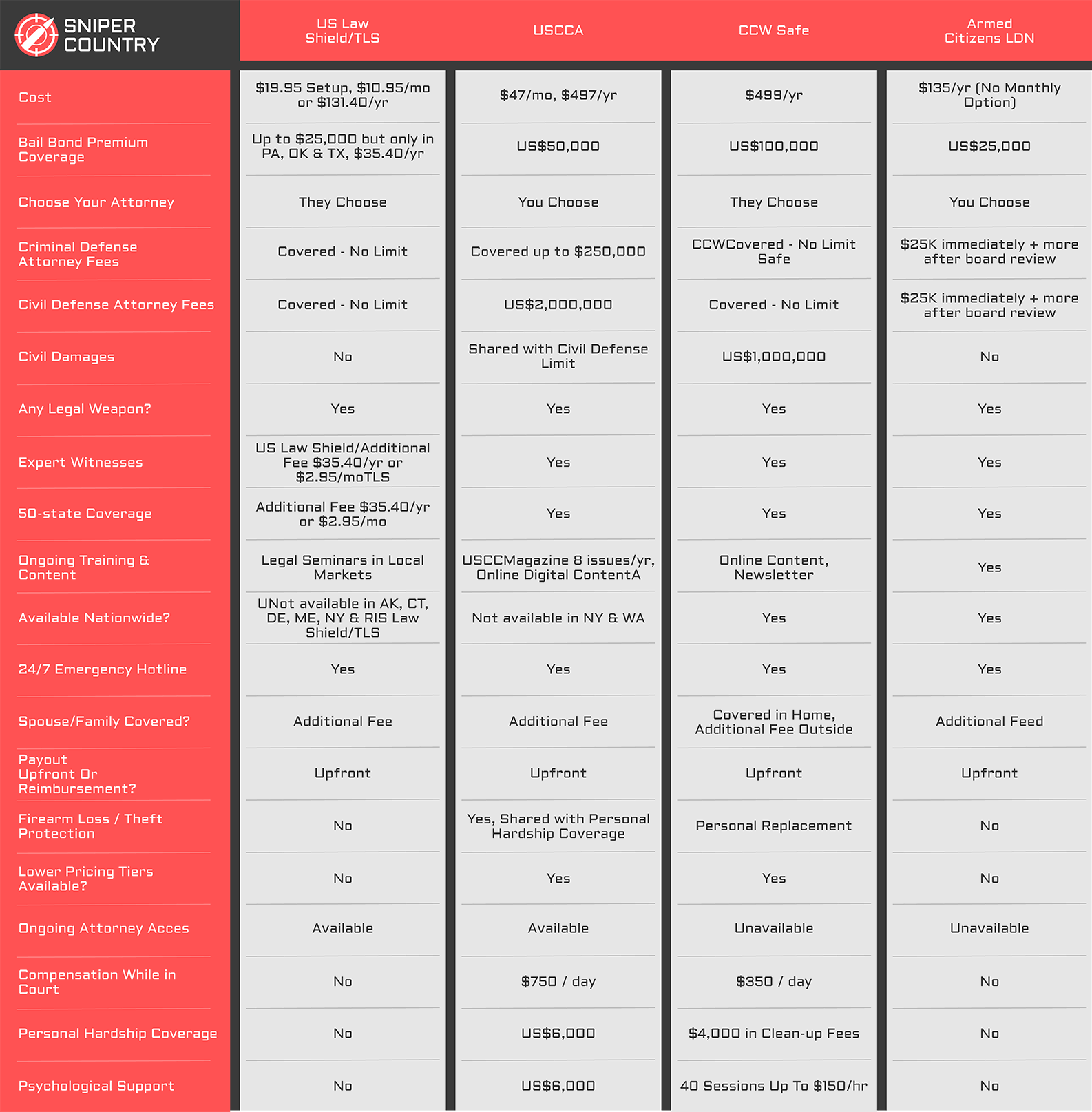 Now should you get their most expensive plans? That's a question we can't answer for you, however all those organizations also offer lower tier plans, which still offer quite a lot. So let's look at a more basic comparison of their low tier plans:
| | USCCA | U.S. Law Shield | CCW Safe | ACLDN | Second Call Defense |
| --- | --- | --- | --- | --- | --- |
| Monthly cost | $22/mo | $10.95/mo | $16/mo | $ 12/mo | $14.95/mo |
| Civil defense limit | $500,000 | unlimited | unlimited | unlimited | $500,000 |
| Criminal defense limit | $100,000 | unlimited | unlimited | unlimited | $50,000 |
| Bail amount | $100,000 (shared with criminal defense budget) | none | Up to $500,000 | Up to $25,000 | Up to $5,000 |
| Compensation while in court | $750/day | none | $250/day | none | $250/day |
Second Defense Call actually offers a plan even cheaper than the above, but for the sake of comparison we choose their mid tier plan for this review.
In the second part of this comparison we will take a closer look at the positive and negative aspects of each plan. We will look at the following companies:
#1 USCCA
The USCCA is the largest of its type in the US with about 350,000 paying members. It may be perhaps the most recognizable, due to its extensive advertising campaign and its endorsement by some pretty famous people.

Positive
Being the leader in this industry for a while you can be sure that this is a company with experience. Even their cheapest plan will cover all legal weapons, so they are not limited to guns. They cover the entire US (except New Jersey, New York and Washington) instead of only a few selected states. They let you choose your own attorney, in case you want that, or you can simply pick one from their network.
They offer a 365-day, money-back guarantee. Meaning it takes one call and you'll receive a refund.
Additionally to the financial coverage, ALL plans offer the following:

Negative
There really is not much to say here. If we could change one thing we would probably prefer individual coverage for bail bond and criminal defense, but the sum is reasonably high so that shouldn't really be an issue. Their Platinum plan is the way to go if you want to be on the safe side.
Financials
So after the comparison chart in the entry section looked at the most expensive plans, we are now going to look at the cheapest plan for each organization.
| | |
| --- | --- |
| Monthly cost | $22/mo |
| Civil defense limit | $500,000 |
| Criminal defense limit | $100,000 |
| Bail amount | $100,000 (shared with criminal defense budget) |
| Compensation while in court | $750/day |
Additional Discussions
Testimonials abound, with several on their website but I like to bypass what is obviously going to be good news and try to dig a little deeper into forums, unsolicited reviews, etc. Try as I might, I found very few negative comments about the USCCA – most of the folks who are members are seemingly happy with their situation (and this is definitely not the norm for all CCW insurances). I only found 2 remotely-negative comments on the BBB site, and those had to do with not receiving emails after a move and a membership issue.
Our Full USCCA Review
Reddit Thread
CalGuns Thread
USACarry Thread on NRA vs USSCA
After looking at all available options it is obvious why the USCCA is the most popular CCW insurance in the US. You can learn more about their membership here (click).
---
#2 U.S. Law Shield

Our second choice,The U.S. Law Shield organization was founded in 2009. Premium fees for a single member are $10.95 per month or $131.40 per year. There is a one-time $19.95 fee for each adult covered.
Multi-State Protection
One major difference between this organization and others is that you are covered only in your own state unless you buy multi-state protection. For $2.95 per month or $35.40 per year, members can receive the legal benefits that they are accorded in their home state while traveling in other states plus Washington, D.C. with the Multi-State Protection Plan.
Positive
Unlimited civil and criminal defense coverage
Like some others, any legal weapon is covered, not just guns;
There is no limit to the number of hours they'll pay a lawyer for your defense;
The program covers accidental discharges. I think that's a great idea.
You don't have to shoot someone to be covered. In some states, just showing a weapon in order to cause a bad guy to back off is a crime. With this program, that would be covered. Another great idea!
Negative
It seems like a good plan, but there is some fine print. The conditions vary by state; in my state, you may be refused coverage if:
You are not in "legal possession" of the weapon. This definition varies by state;
You are not in an area where guns may be legally carried (movie theater gun-free zone?)
You are using your gun in your job, if being armed is part of your job. (Security guard, police, etc.)
You use a gun in a shooting of a current or former family member (or dating relationship).
So, if you are OK with the limitations, the U.S. Law Shield is a very decent choice.
One aspect that makes them stand out is that they choose your attorney. This might be a deal break to some, but it's obviously in their interest to pick the best possible one for you.
Financials
Again, we are looking at their cheapest plan:
| | |
| --- | --- |
| Monthly cost | $10.95/mo |
| Civil defense limit | unlimited |
| Criminal defense limit | unlimited |
| Bail amount | none |
| Compensation while in court | none |
Additional Discussions
Reddit Thread 1
Reddit Thread 2
---
#3 CCW Safe

Another outstanding option for CCW insurance is CCW Safe. Their cheapest plan starts at $16 per month or $179 per year. It's not as popular as the USCCA but still a well established self-defense insurance with a couple big names on their board of advisors.
Positive
Let's start with the really outstanding thing first, they offer unlimited coverage for criminal and civil defense, including private investigators and expert witnesses. Another aspect where they take the first place is their bail bond coverage where they offer an impressive $500,000. Keep in mind all this is still part of their cheapest plan.
Negative
While they do offer compensation for days in court, it's rather low with about $250 per day, in comparison, the USCCA offers $750 per day. What some people might also criticize is their limitations in terms of which attorney you can pick. While they kind of let you pick your own, they have the option to decline your choice. Now the reason for that is probably quite simple, they obviously want you to win and they don't want to burn money. In order to ensure that they have to make sure you pick a good attorney and not Rob, the guy you know from high school who barely passed the bar exam.
Financials
| | |
| --- | --- |
| Monthly cost | $16/mo |
| Civil defense limit | unlimited |
| Criminal defense limit | unlimited |
| Bail amount | Up to $500,000 |
| Compensation while in court | $250/day |
Additional Discussions
---
#4 Armed Citizen Legal Defense Network

The ACLDN is similar in some ways to the USCCA while doing some things differently. In terms of cost/benefits, there is only one level. Members pay $135 for their first year's membership and $95 per year after the first year. What do you get for your premium fee? First, you get $25,000 for bail expenses. Immediately after that, another $25,000 is forwarded to the members' attorney to get the ball rolling legally.
What else do you get?
When you sign up with the ACLDN, you will receive access to an online monthly publication, a 235-page book that covers various aspects of self-defense and an 8-DVD educational set from legal professionals and instructors. The book and DVD cover, among other things
What the legal parameters are in relationship to a defensive shooting;
How to deal with your personal trauma after having to use lethal force;
Legal concerns that most probably will arise as you navigate the legal waters
Positive
Getting unlimited civil and criminal defense coverage for $12 a month is a good deal. Additionally they let you choose your own attorney.
Negative
Of course their coverage is not really unlimited. Even an insurance can go bankrupt and so can the ACLDN. This is why their plan only covers up to half of their defense fund. While this might be more than enough today, there simply is no guarantee that this will be the case in a year from now and with larger organizations like USCCA this risk is definitely smaller.
Financials
| | |
| --- | --- |
| Monthly cost | $ 12/mo |
| Civil defense limit | unlimited |
| Criminal defense limit | unlimited |
| Bail amount | Up to $25,000 |
| Compensation while in court | none |
---
#5 Second Call Defense

Another contender is Second Call Defense, their entry level plan comes in at $9.95 per month and is the cheapest option we found, however for this comparison, we will look at their "Full Coverage" plan for $14.95 per month.
Positive
They offer $250 compensation for days spent in court, they let you pick your own attorney and pay the money up front (as does every organization on this list). Looking just at this, they do check all the major boxes.
Negative
Their limits are just not very competitive. With their "Full Coverage" plan, you get up to $500,000 in civil defense and up to $50,000 in criminal defense coverage, in terms of cash for bond they offer $5000 and as mentioned earlier, you get $250 per diem. Not horrible, but not great either, as for a similar monthly fee other plans on this list offer more.
Financials
Here we are not looking at their cheapest but at their mid tier plan:
| | |
| --- | --- |
| Monthly cost | $14.95/mo |
| Civil defense limit | $500,000 |
| Criminal defense limit | $50,000 |
| Bail amount | Up to $5,000 |
| Compensation while in court | $250/day |
---
Conclusions
So you see, there are several organizations out there who want to protect you in the event of a self-defense shooting…it's just that they vary in their philosophies and coverages. I would want to know that, in the event of a shooting, I would have every available resource at my side that my organization offers and that they would basically "drop everything" and get there to help me as soon as I call them. If you have any questions about any of these groups, look at their website and call them – they will be happy to help you. With our society in the state that it's in today, maybe signing up with one of these groups may not be a bad idea!
Advice, graphics, images, videos, and information contained on Sniper Country is presented for general educational and information purposes only. It is not intended to be legal, medical or other expert advice or services, and should not be used in place of consultation with appropriate professionals such as gunsmiths or lawyers. The information contained in this site is to be used at your own risk based on your own judgement. You assume full responsibility and liability for your own actions. Please read our disclaimer for more information.