For decades now we've accepted that red dots on rifles is the default standard for what you should do. It started with Delta Force in the 80s, but is now the gold standard for everyone. But what about pistol red dots?
Optics on pistols have faced a steep uphill climb. Partly because the technology took longer, but also because people are stubborn.
Well, I say that iron sights (rifle and pistol) are like a manual transmission. It's good to know, but you're firmly living in the past.
If you want to join the future of optics and pistols, let's take a look at the best pistol red dots!
BONUS OFFER: Get your free shooting range targets to print at home!
Get your free targets to print at home!
Pros and Cons Of A Pistol Red Dot
I'll admit right off the bat here — I'm hugely pro-red dots. My EDC CCW has a green dot, all of my "fighting" pistols have dots now, and there is really no way I'd ever look back at this point.
I strongly believe that fundamentally, red dots are the best option.
Pro: Single Focal Plane and Focusing On Your Target
With normal iron sights, you're trying to juggle 3 planes of focus for every shot. Since we're only humans, we must pick one plane at a time to focus on. The other two are blurry.
The three planes are: the rear sight, the front sight, and the target.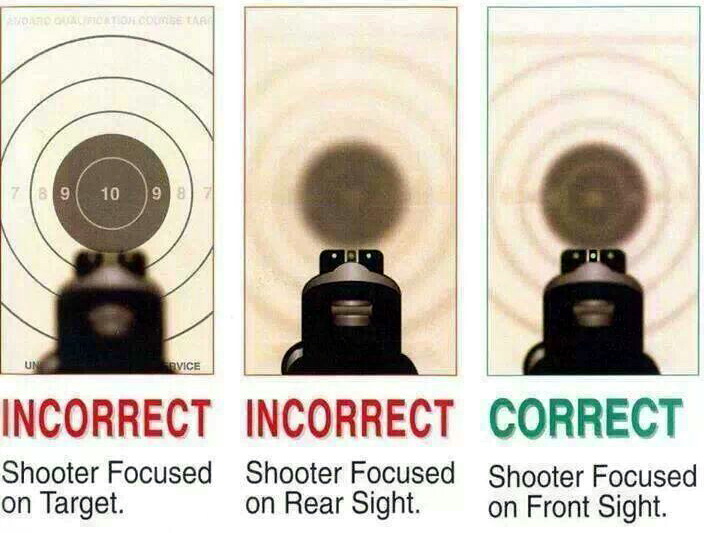 Proper iron sight shooting requires that we primarily focus on the front sight. But that leaves your target out of focus. Generally, this is okay as long as you know what to do.
But when you're stressed, it's harder to make it happen. So you end up with sloppy shooting.
Red dots change all of that. With a red dot, all you do is focus on your target and let the dot lay over it. You don't want to focus on the dot.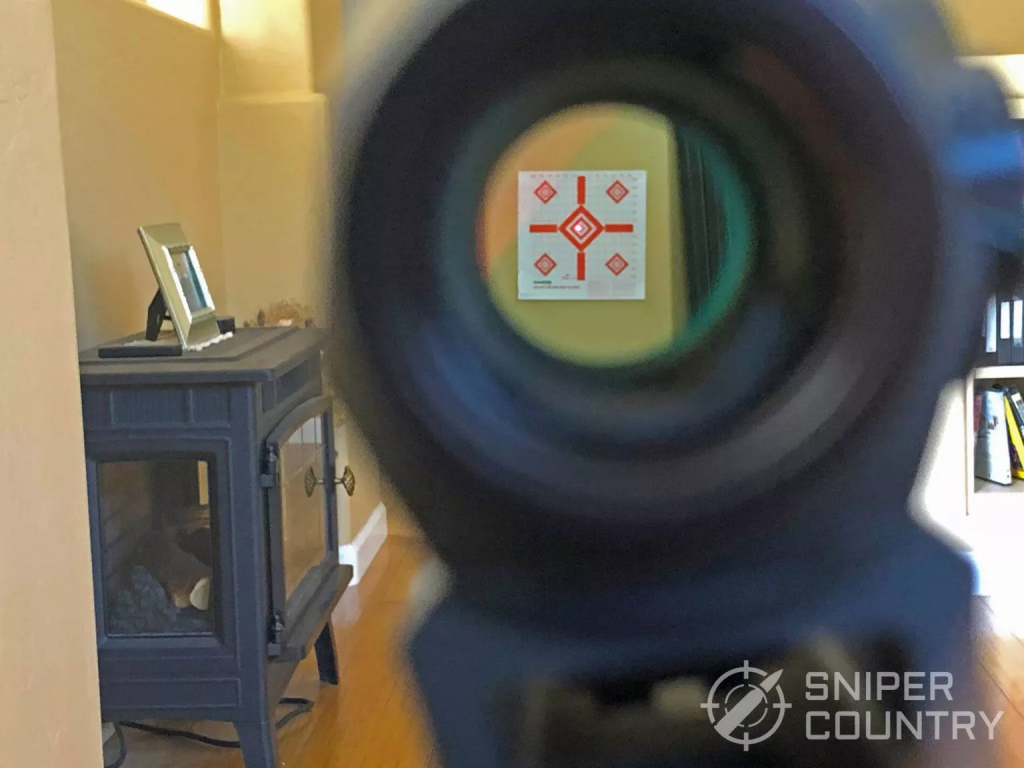 This keeps you locked in and ready to fire more accurate shots while choosing a better shot placement.
Pro: Night Sight Perfected
Night sights are not only common, they are basically standard as being required for a CCW pistol. The two major options, fiber optics, and tritium are both pretty good choices. They have some pros and cons of their own, but they work.
Red dots are like taking the best of both fiber options and tritium and dialing it up to 11.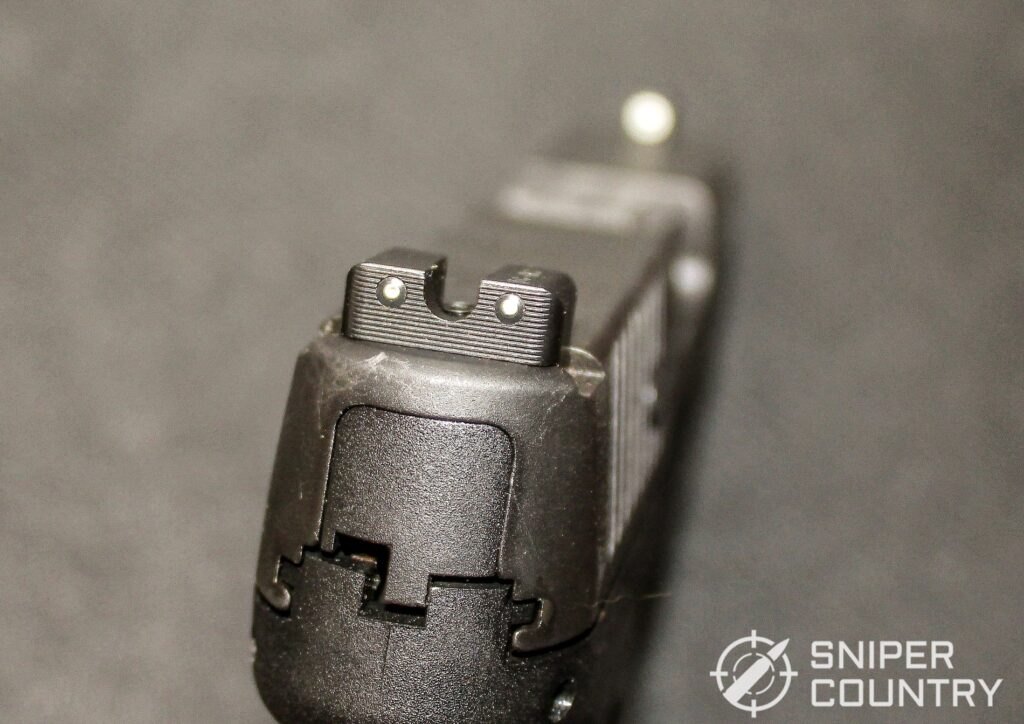 When your sight glows as bright as a red dot, you'll never have a problem finding it.
Pro: Instant Feedback For Every Shot
Something that most people don't know about red dots is that they tell you how you need to correct while shooting.
It takes some training and some practice, but once you get used to it you'll pick up on how your dot is moving both in the window and passing in/out of the window.
Is the dot moving down and left? Correct to the right. Is it landing low in the window? Correct up.
This kind of instant feedback is incredible and will allow you to be faster and more accurate.
Con: Requires New Training
I've met a lot of people that "hate red dots" and that is fair, but then they say something like "I tried it once, I couldn't hit anything."
Well… ya. No kidding. How long have you trained with iron sights? A year? Ten years? Forty years?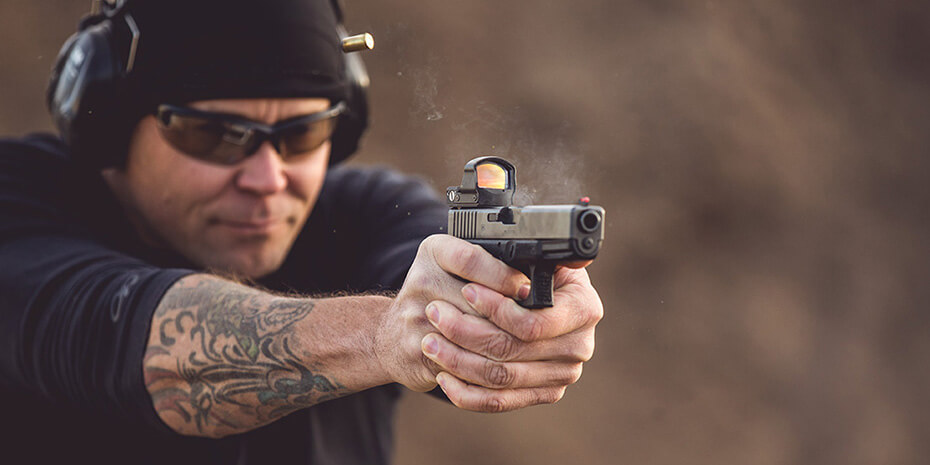 If all you've ever driven was a stick shift Model T, you'll need some time and training to adjust to an F1 car.
Red dot focused classes are a little hard to find still, but they are out there. Taking one of those will help a lot.
Even without a complete class — give yourself some time and work at it to really lock down this new style of shooting.
Con: Persons With An Astigmatism
Sadly there isn't much you can do if you have astigmatism. It really depends on you, some people have no problem with pistol red dots, some cannot use them at all. Some are able to use green dots, but not red dots.
It's really kind of a crapshoot.
Con: Batteries
The drum that all of the haters like to beat, batteries!
Modern duty/CCW quality red dots have 40,000-50,000 hours of battery life. Now personally, I've never let them go that long without replacing them.
I replace everything on my birthday. Simple and easy way to make sure I never run dry.
That said, if something happens — that is why most people also run back up irons.
Are They Durable Enough For CCW/Duty Use?
If you want a red dot for a range toy gun, any brand on this list is good to go. Pick your style and price point and have at it!
But for duty and CCW — I only recommend two brands: Trijicon and Holosun.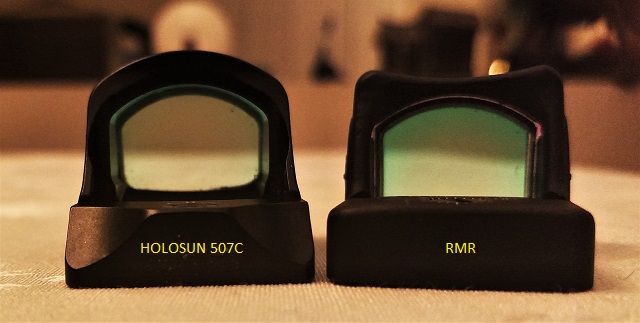 Trijicon is the same brand behind the ACOG and the MRO, so it's no surprise that their micro red dot is good to go.
Holosun is a Chinese company. All of their optics are made in China. Normally, you would expect a company like that to produce crap, but Holosun is different.
Drop tests, sand and dust tests, recoil tests, everything you can throw at a red dot has been thrown at Holosun optics and they always pass with flying colors.
A Holosun HS407C-GR V2 is what I carry on my EDC CCW and I trust it with my life.
Best Pistol Red Dots
Holosun / Primary Arms HS507C ACSS Vulcan
That's a name that just won't end, but if you're new to red dots — this is the one you should consider most closely.
Holosun is a solid name in the game and their red dots are good to go — but what really sets this apart from the pack is the Vulcan reticle.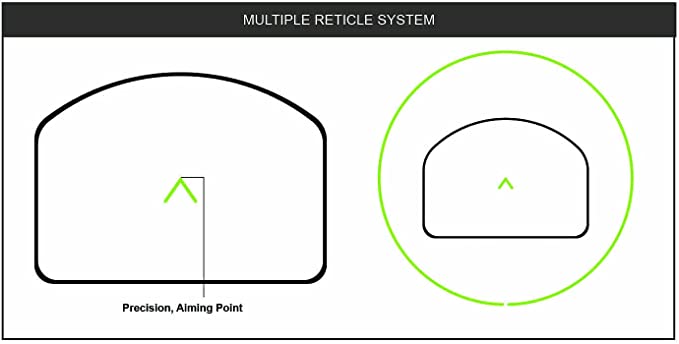 Designed by Primary Arms, the ACSS Vulcan reticle is designed to help new shooters.
Instead of the normal circle and dot that Holosun uses on all of their other red dots, the ACSS Vulcan is a center chevron with an oversized circle around it.
The circle is actually larger than the viewing window — meaning that when properly sighted on a target, you won't see the larger circle.
The circle is there to tell you when you're wrong. When you don't have your red dot lined up properly, you'll see some of the circles. Correct for what you see and you'll get on target much faster.
This is the perfect reticle for a new red dot user and I strongly recommend it.
Once you've outgrown the training wheels, you can set the red dot to turn the outer circle off if you want.
This uses the standard Trijicon RMR footprint like all of Holosun's red dots.
Trijicon RMR Type 2
This is the gold standard for red dots. The king daddy. The MAC truck. The black hole in your wallet.
Without question, Trijicon's RMR Type 2 is the best on the market right now. Due to the design of the housing, nothing is stronger. Their electronics are also top-notch.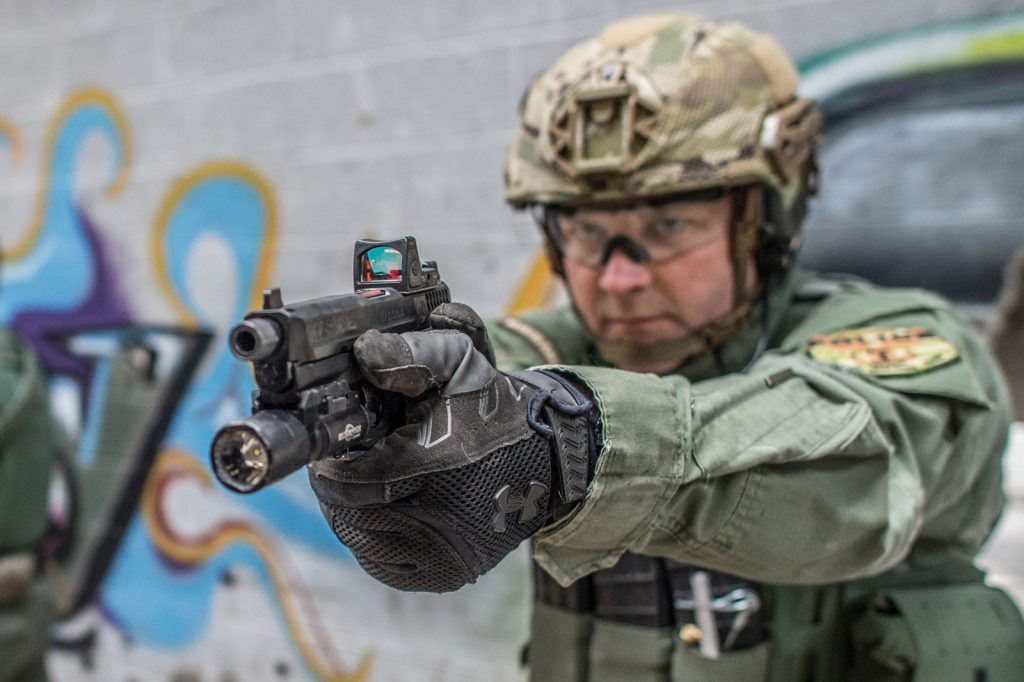 If you have the cash to drop on it, getting an RMR is the clear choice.
But it might be a little overkill if you're just plinking at the range. For that, you can spend a lot less money and get something that is good enough.
The RMR shines as a duty or CCW red dot that you can beat to hell and trust to work.
Just make sure that if you're buying used, you get a type 2. The type 1 wasn't really designed for pistols and the electronics aren't up to the task.
Trijicon's RMR uses the standard RMR footprint because it is the red dot that set the standard.
Pros
Made of forged aluminum
Lightweight construction
Impact absorption design
Automatic brightness mode
Compatible with night vision devices
Cons
The side buttons are slightly stiff for some shooters
A bit pricey
Holosun 507C
The other option for duty and CCW, Holosun has made a huge splash in the market in recent years but not only offering their optics at insanely competitive prices — but also providing a viable alternative for durable red dots.
Holosun also gives you loads of options.
The two standards are the 507C and the 407C – they're basically the same, but the 507C has a dot and circle reticle while the 407C has only the dot.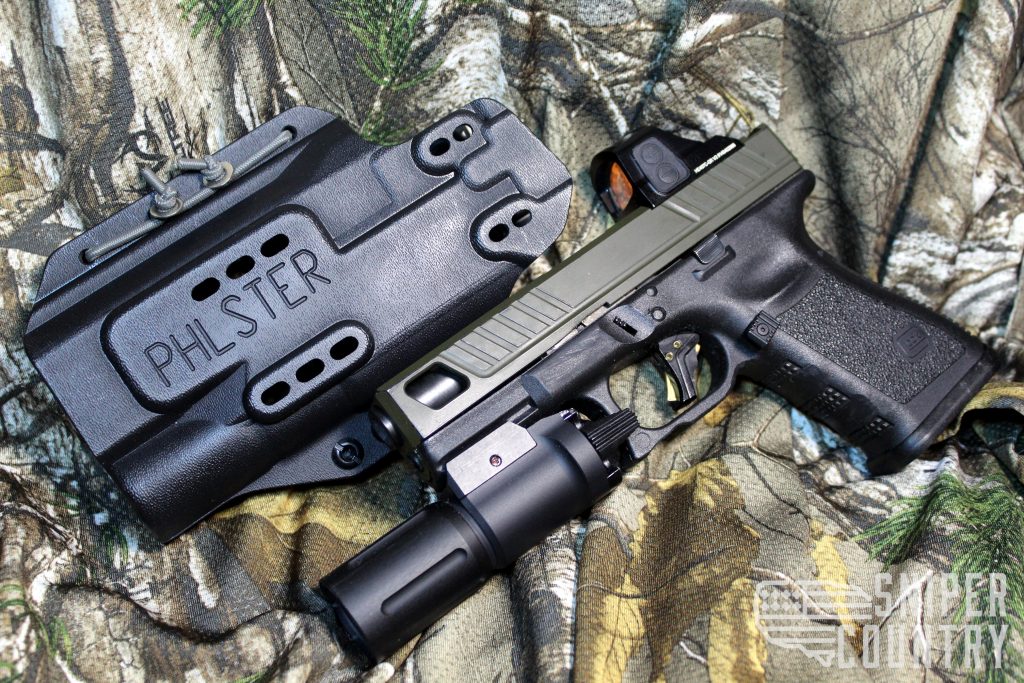 Both come with shake-awake, a function that turns the red dot off after a period of non-movement, but instantly turns it on when it gets moved even a little.
Both also come with a solar panel on top of the housing. While the solar function won't recharge your battery — it will run off of the solar when there is enough light.
This is great for extending your battery life.
Holosun also offers their red dots in a T model meaning the housing is made with a Titanium alloy and GR models that are a green dot instead of a red dot.
All of them are good to go, they just vary in price.
Personally, I don't think you need the T models — but they are an option if you plan on really beating the crap out of your optic.
All Holosun pistol dots use the RMR standard footprint, except their new 509 series (an enclosed red dot much like the Aimpoint ACRO). The 509 uses a special footprint, but adapter plates are easy to get so it can be mounted to RMR and other footprints.
Pros
Solid construction
Side battery access without sight removal
Comes with reticle brightness lockout mode
With 32 MOA ring
Uses the same RMR mounting footprint
Cons
Need to dismount the optic to change the battery
Small adjustment buttons for users with big hands
Sig Sauer Romeo 1
Really, the only thing I don't like about the Romeo 1 is that it uses a proprietary mounting footprint. If you have a P320 that is optics ready, well you're in luck because the Romeo 1 is what it is designed for!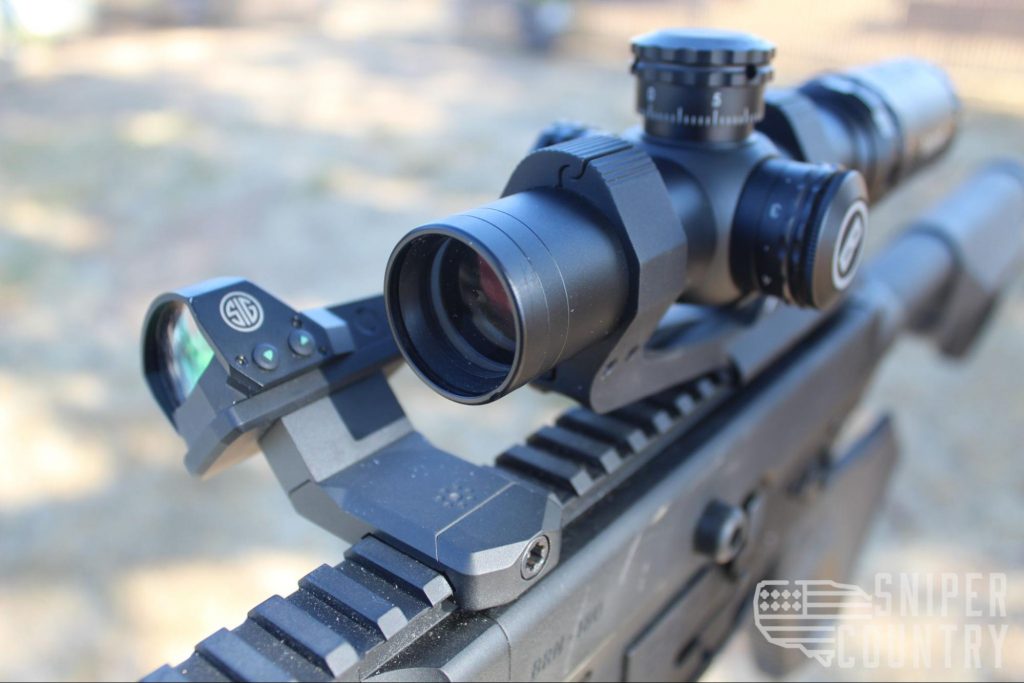 For everyone else, you'll need a mounting plate.
Outside of the footprint issue, the Romeo 1 is a really good red dot. Although, notable less durable than an RMR.
I love the 30mm window, it's massive compared to most other micro red dots. Mine lives on my AR-15 as a 45 degree offset red dot.
For that application, it's pretty perfect. It takes fewer bumps and bruises than a pistol-mounted red dot and the huge window makes finding and sighting on a target super simple.
Pros
Clear and crisp glass
Very compact and lightweight
Mounts to many handgun models
Very wide field of view
IPX7 waterproof and fog-proof
Cons
On sunny days, it can be difficult to see the dot
Swampfox Justice
Swampfox isn't a name that has taken the world by storm, but they're trying to. What continually impresses me about them is that they really listen to the customer.
Whenever Swampfox comes out with a new product or a redesign, you can see it actually incorporates changes users wanted to be made to it.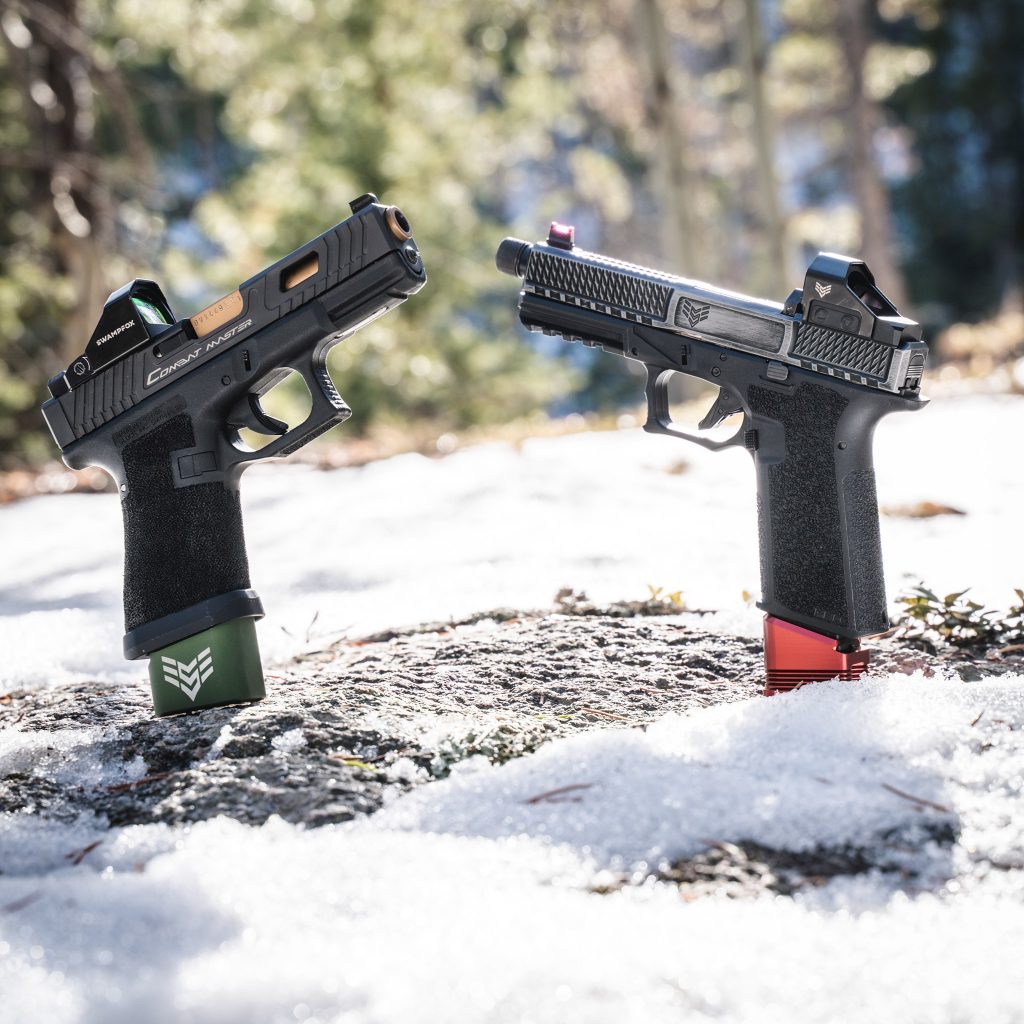 They also make pretty good products.
The Swampfox Justice is a great red dot (or green dot, it comes in both flavors). For really not very much money you get a good red dot that is able to hold its own in a market dominated by the RMR.
While I wouldn't say these are duty grades, they are pretty solid for CCW. I also love them for any rifle or offset backup application due to the 27mm window.
If you want to make them even stronger – get an Ironsides for your Justice. The metal shroud helps up the durability.
The Justice uses a standard RMR footprint.
Pros
Good light intensity
Ease of adjustments of dot
Shake a wake feature
Channel liner already installed
Good machining with limited tool marks
Cons
Lightening cut in the top of slide
Trijicon SRO
Trijicon set the standard for duty grade red dots with the RMR and they've done it again for the competition world with the SRO.
Where the RMR is fully duty/CCW grade, the SRO is fully not. Really, don't do it. It's just not strong enough. Nor is it designed to be.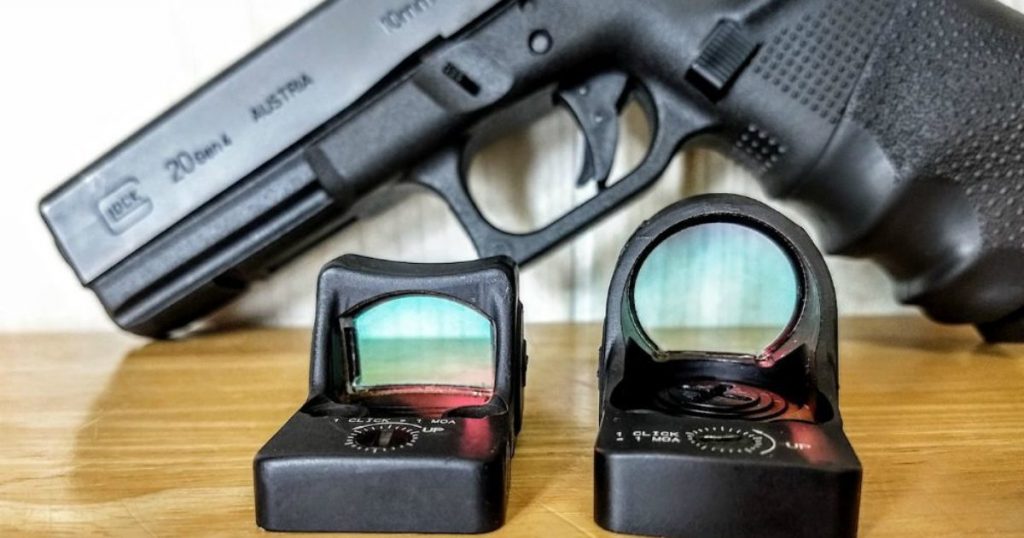 What the SRO gives you is a HUGE window. The largest by far of any respectable red dot, the SRO allows you to lock on target FAST.
If you're shooting competition or love plinking at the range as fast as you can, the SRO is the clear winner.
It also uses the standard RMR footprint so it's easy to mount.
Pros
Offers a larger window and three reticle options
Long battery life
With adjustment range of 150 MOA
No color fading in sight window
Best Pistol Micro Red Dots
Trijicon RMRcc
Basically, the same as the standard RMR — but smaller. This is designed for the newest generation of CCW guns like the Springfield Hellcat or Sig Sauer P365.
It's everything you would expect from Trijicon, durable, reliable, and awesome.
But it uses a special RMRcc mounting system… so that's fun (said no one).
Pros
Good design
Lightweight and low profile
Mount on any pistol and handgun
High optical quality & parallax free
Long battery life
Holosun 507k
Again, the same as its larger brother. This is the same 507, just smaller so it can fit on those small CCWs.
The good news here is that Holosun doesn't think they are the specialist little boy at the party and uses the much more common Shield RMS footprint for their optic.
This is the standard optic footprint found on the P365 and is easy to get for other micro-compact CCW pistols.
Pros
Durable and lightweight
Side load battery
Tactile brightness adjustments
With Rear sight integration
Good lens clarity
Sig Sauer Romeo Zero
And again, basically the same as the larger brother. Some P365s actually come with the Romeo Zero preinstalled for you and if it does, I recommend it as a red dot. IMO it is more durable than the larger version and is much more suited to CCW use.
Thankfully, the Romeo Zero also uses a Shield RMS footprint.
Pros
Durable and hold zero well
Bright dot
Good lens quality
Easy to adjust and zero
Lightweight
Cons
Hard to change brightness settings
GGD Universal RMR Red Dot Sight
The GGD Universal RMR Red Dot Sight is the most durable miniature Red dot sight on the market. It is made to mil-spec standards from 7075-T6 aluminum and has a patented shape that absorbs impacts and redirects stresses away from the lens, increasing durability. That's why you can use it without worrying that it might break easily.
Another advantage of this sight is that it allows you to focus on the target while also viewing the sights in the same focal plane. The end result is quick and intuitive. You can shoot with both eyes open and focused on the target, following the dot through recoil and from one target to the next.
This universal RMR sight is a budget-friendly sight due to the value it provides; you can't go wrong with this sight as an investment.
Pros
Rugged and compact
Clear glass and crisp reticle
Lots of reticle options
With auto-brightness feature
Long battery life
Cons
Need to unmount to replace battery
Wrapping Up
I love red dots and I strongly believe they are the future of pistols.
From CCW to duty use to plinking at the range, a red dot is a powerful force multiplier.
If you have the cash to burn, the Trijicon RMR is the gold standard. If you need to save some dollars, getting a Holosun is still a solid choice.
You might also enjoy