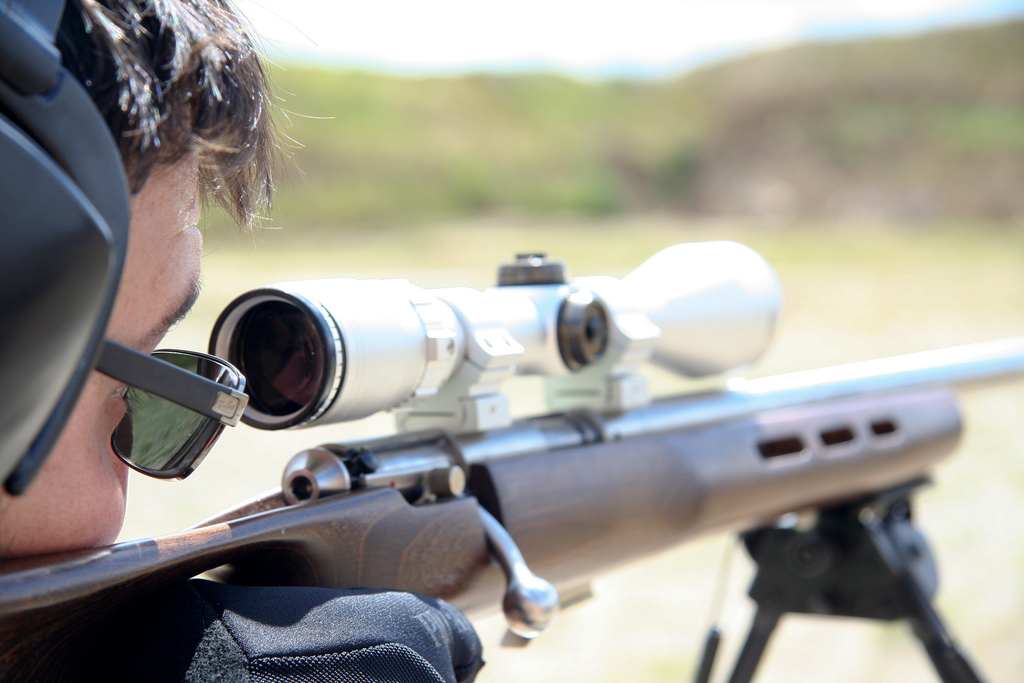 If you enjoy spending a whole Saturday with your favorite pistols and rifles on a range, you may be interested in purchasing a pair of tactical shooting gloves as your next piece of armor.
We've put together a list of what we think are the best gloves for the everyday gunowner. At the end of this review, we'll let you know what our top pick is. We understand that many accessories for your firearms can become costly, and it can be difficult to decide which things to splurge or invest in and which things you can be safe in finding a bargain on. For a proper pair of shooting gloves, we think your level of activity will determine in whether or not it's worth it to splurge or save.
If you're in active duty, you will obviously want a high quality pair because slip-ups on the job should never happen. If your use with your firearms are mostly recreational, such as regular target practice, then you can probably have a more relaxed spending budget. If you shoot competitively, you may also want to invest in high quality gloves, but you may prioritize functionality over protection.
Our review below covers all of these needs and all budgets of the everyday gunowner. We hope you enjoy whichever new shooting gloves you purchase!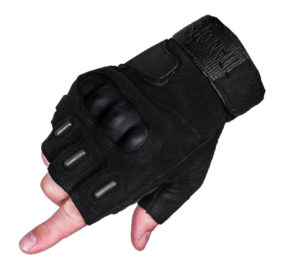 Materials – The TitanOPs Fingerless Shooting Gloves are made of a variety of comfortable materials, including nylon, leather, microfiber, lycra, and extra stitching with intents to keep the wearer's hands warm in cold weather. The functional material also allows hands to breathe so they don't build up sweat or get uncomfortable. These fingerless gloves can also be purchased as full fingered, and they can be purchased in black, green, or tan. The palms and knuckles are reinforced, and the adjustable wrist strap is made of military grade Velcro to avoid sliding or loosening fit. The TitanOps Gloves are machine washable and can be used for other purposes, besides shooting.
Performance – The TitanOps Gloves make great pistol shooter's gloves, but also work well with rifles and sniping. We do want to point out that if you're purchasing fingerless gloves, you're going to have less grip, and you'll require more gripping material in the palm. The leather only covers the knuckles and not the palm, so it's possible you might experience some sliding if you really need that extra grip. That being said, the multiple materials within the glove are very comfortable, and they fit very well. These are very good shooting gloves for the money.
What we say – The TitanOps Fingerless Gloves cost only around $20, and they're the cheapest option within this review. If you have a small budget for a pair of pistol shooting gloves, this is one of the best options on the market for that price. The variety of color options and finger coverage should be very appealing for everyone, however.
Pros
Lowest cost
Comes in three colors, full fingered or fingerless
Made of 4 different types of comfortable materials
Cons
Won't have full grip with fingerless
No leather grip in palms
TitanOps Fingerless Shooting Gloves
PROTECTION: Our durable full finger gloves shields knuckles and prevents cuts and injuries.
COMFORT: Microfiber,leather lycra, nylon, extra stitching. Keeps hands warm but also breathes well.
FUNCTION: Reinforced palm, adjustable wrist strap allows for flexibility, grip, and warmth.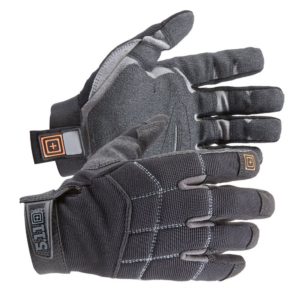 Materials – The 5.11 Pistol Shooting Gloves are made of a specially knit fabric that provides a back panel to the hand. It stretches four ways and is very breathable, so it can be machined washed and dries quickly. This also helps keep sweat from building up under the glove. The palms and fingers are reinforced to protect your hands and provide a high level of tactility. The knuckles also have extra padding. The stretch cuff closes with Velcro and is fully adjustable. The 5. 11 Shooting Gloves even come with an ID tag so your peers aren't inclined to nab your new gloves.
Performance – The 5. 11 Pistol Shooter's Gloves are a great choice for anyone who really requires the extra paddings and feels their hands are either too small or lack enough grip for shooting pistols and other firearms. With that, it's important to keep in mind that these gloves will add a bit of bulk to your hands. If you already have a pair of bear hands on you, these may not be the best for you. The gloves wash and dry quickly as advertised, but we noticed they aren't incredibly resistant to the cold. At the end of the day, the 5. 11 Gloves are very comfortable and are very flexible.
What we say – The 5. 11 Gloves cost around $25 online, so these are the best gloves for shooting for small budgets as well. If you have smaller hands or your hands just get too roughed up, this is a very good option for you.
Pros
Low cost
Very comfortable with extra padding
Stretchable and tactile material
Cons
Adds a lot of girth to hands
Not great for extreme cold
5. 11 Pistol Shooting Gloves
Rough and rugged chore gloves
Combines flash and slash protection with superior dexterity
4-way stretch back panel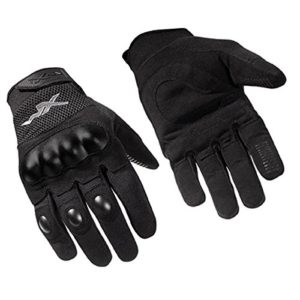 Materials – The Wiley – X Durtac Tactical Shooting Gloves are mostly made of a mix of moisture wicking lycra and synthetic leather. The leather palm is ergonomically shaped, and the pattern is best for reinforcing grip. The thumb and index fingers are reinforced, as well, with silicon prints. The adjustable cuff is made of neoprene, and is best for keeping in heat and keeping moisture out. There's a mesh air patch on the back of the palms for ventilation, as well as on the fingers. The knuckles on the top of the palms and on the fingers are protected with injection molded thermoplastic.
Performance – The Wiley – X Durtac Tactical Gloves are the next step above gloves overloaded with padding. These are thinner, but they provide just as much protection, if not more, than many other shooting gloves on the market. These are the best shooting gloves for tactical and combative shooters who need freedom and flexibility when they're on the range or in the field. We're huge fans of the additional grip on the index fingers and thumbs, as there's no chance for slipping on the trigger. Our only complaint would be that this is another pair that may not be best for extreme cold. The mesh patches are great for allowing your hands to breathe, but that means they will also let in a little cold air.
What we say – The Wiley – X Durtac Tactical Gloves cost just over $50 online, which isn't an unreasonable price for a pair of gloves that offers high quality materials. If you participate in competitions or work in the field, this is a worthy option to look into.
Pros
Thinner materials for tactical use
Synthetic leather grips
Grips on index fingers and thumbs
Cons
Not the best for extreme cold
Wiley – X Durtac All Purpose Tactical Shooting Gloves
Injection molded thermoplastic knuckle Protector for superior impact and abrasion resistance
Injection molded thermoplastic individual finger protectors for superior impact and abrasion resistance
SYNTHETIC leather palm for maximum durability and breathability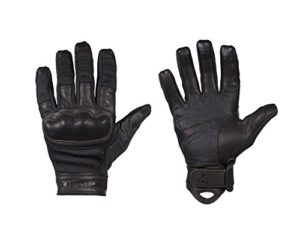 Materials – The Magpul Core Breach FR Tactical Pistol Shooting Gloves are top of the line and are for anyone who is serious about having full function of their weapon and being completely protected from outside elements. The gloves are made almost entirely of premium leather. The design of the fingers are contour cut and wrapped in the leather. The knuckles are all reinforced and are also covered in leather to fully protect the reinforcement from being damaged. The palms are digitally textured and made of leather and reinforced with Kevlar threading. The wrists are adjustable to keep the gloves on snuggly, and the first three fingers on the gloves are even touch screen capable.
Performance – Reinforcement and protection are the biggest factors in the Magpul Core Breach FR Gloves. The almost full leather coverage means both your hands and the additional materials within the gloves will stay protected. All of the gripping stitched in is the most optimal choice for anyone who means serious business when they shoot. If you want to use these gloves for anything else besides shooting, you have nothing to worry about because they should last you an incredibly long time.
What we say – The high performance of the Magpul Core Breach FR Shooting Gloves means they also comes at a high price. You'll be paying between $100 and $120 for these babies. While the price is an investment, you can also feel safe knowing these gloves will last you a long time through rough elements and a lot of use.
Pros
Premium leather covers all important parts
Fingertips touch screen capable
Digitally texture leather palms
Magpul Core Breach FR Pistol Shooter's Glove
Leather Palm With A Double Layer Of Digitally Textured Reinforcement
Kevlar FR thread for strength and flame resistance
No-melt Nomex fabric on back of hand with contour cut design and wrapped fingers
Our Favorite Shooting Glove
Our top pick has to go to the Wiley – X Durtac All Purpose Tactical Shooting Gloves as the best shooting gloves for the everyday gunowner. While the Magpuls are fantastic and high quality, the price is expensive, and we don't think everyone necessarily needs that level of performance. The Wiley – X offers protection, flexibility, and tactility. While the materials are thinner, you won't have to worry about any parts of your hands getting scraped and banged. Unless you plan on shooting in the arctic, these gloves should keep your hands at a comfortable temperature. The $50 price tag is an affordable investment for a very reliable pair of shooting gloves.
Price incl. tax, excl. shipping/ Affiliate links / Images from Amazon Product Advertising API