If you're a gun collector or enthusiast, then you know there's nothing quite like the feeling of getting your hands on a brand new firearm. And if that new firearm is a SAR K2P pistol, well, then you're in for an extra special treat.
In this review, we'll take a closer look at some of the features that make the K2P stand out from the competition. So whether you're already familiar with this gun or just considering purchasing one, read on to find out why the SAR K2P is such a hotly-demanded pistol.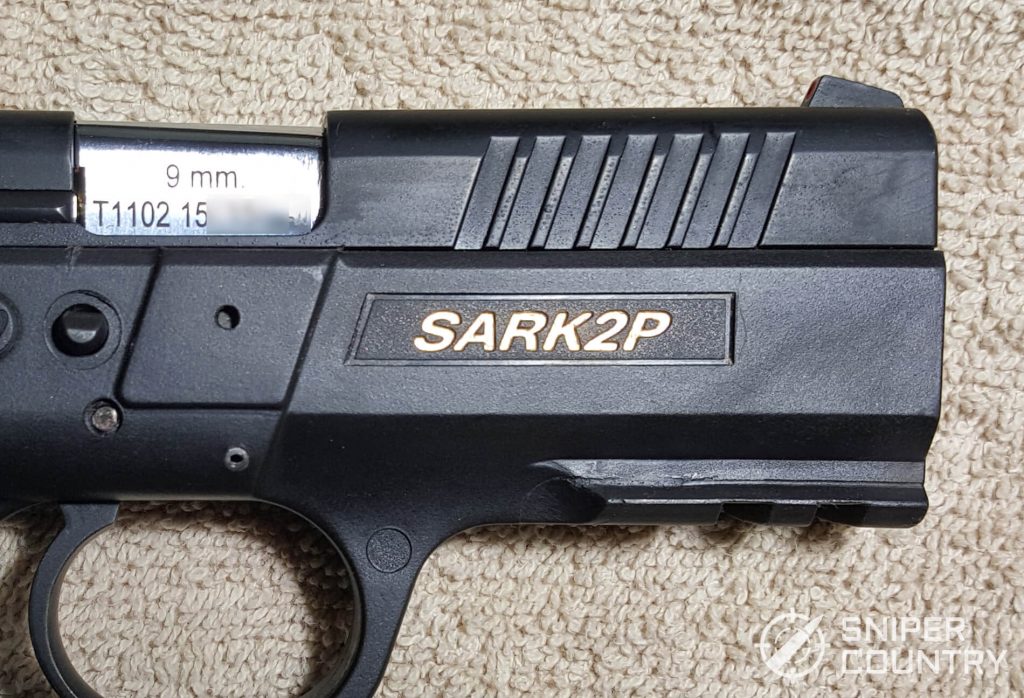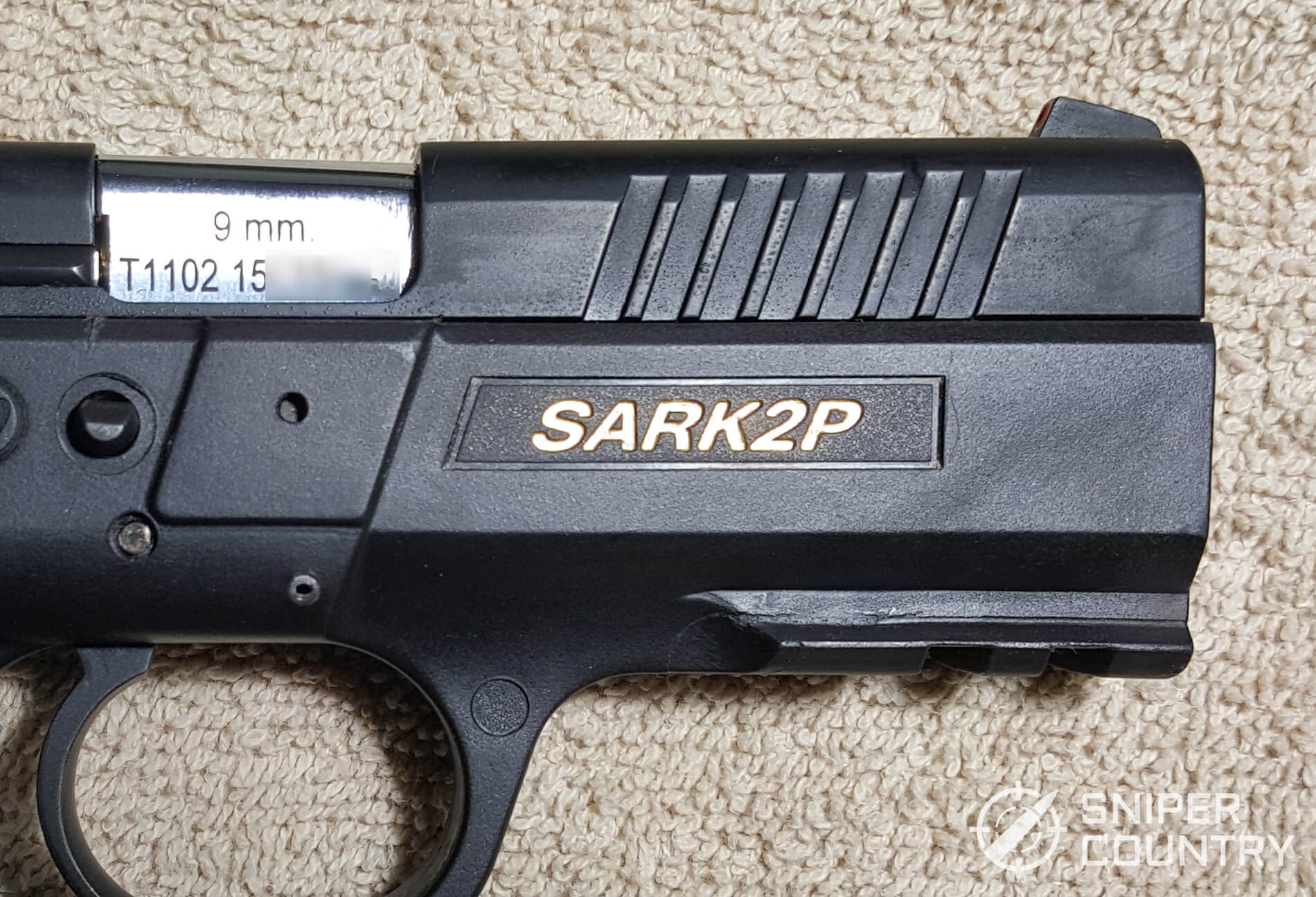 I hope to accomplish three main goals by writing this article.
Answer the questions I posed above.
Talk a bit about guns made in eastern Europe that we may (or may not) have heard of, and a familiar-brand gun that we may have forgotten is actually made there.
Show you my Sar K2P 9mm pistol in some detail and what makes it a really great buy.
History of the Sarsilmaz

SARSILMAZ, which was founded in 1880, is the only private Turkish manufacturer capable of producing handguns, military weapons, and sports weapons. Sarslmaz was founded by Abdüllatif Bey in the city of Elaz. The firm started by making and fixing flintlock guns.
The company grew and, under the leadership of its current fifth-generation owners, eventually became the largest small-arms manufacturer in Turkey. They supply pistols and other small arms to the Turkish National Police and the Turkish Military. This is no little thing, as the Turkish army is NATO's second-largest. Not only do they produce arms for internal use, they export their wares to 78 other countries.
We, on this side of the pond, sometimes don't hear a lot about other gun makers in Europe, unless they happen to be in Germany, Switzerland or Italy. It was interesting to learn about this very modern facility a little further east from our more familiar European manufacturers.
Is this the first pistol I've owned that was made in that part of the world? Nope. Look at the circled areas on the map: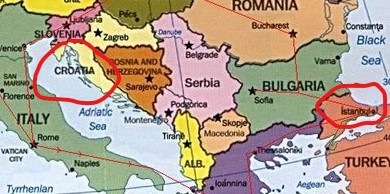 You see Istanbul circled, but why is Croatia also singled out? In a few words, Springfield Armory XD pistols. They are made in Croatia and branded Springfield Armory. I own an XD(M) Compact in .45 ACP. It says Made in Croatia on it, just like my Sar K2P says Made in Turkey.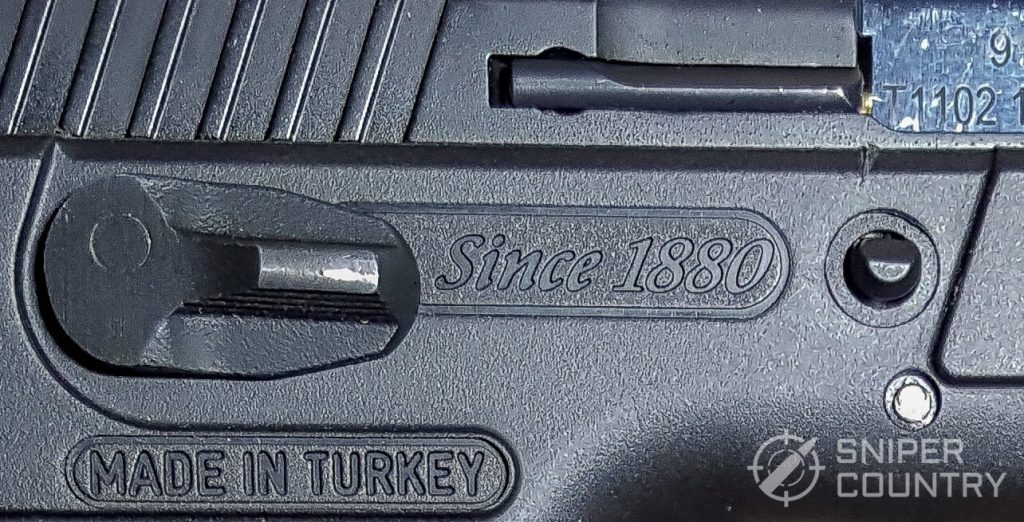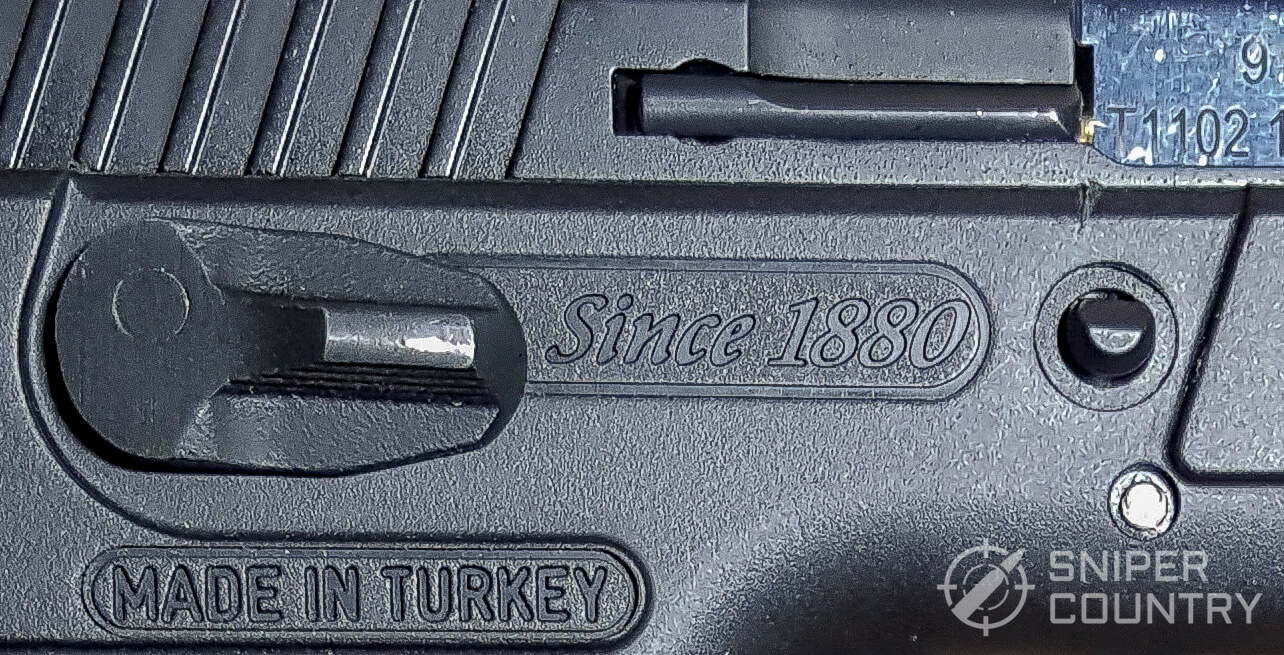 Why mention this? The sociologists have a term: ethnocentric. The centric part of the word means "centered around" whatever comes in front of it. "Ethno" in this case means your particular culture and heritage, which you tend to favor, in general. So, an ethnocentric English person ("Anglocentric") might favor that culture and lifestyle over others, nothing wrong with that as long as we don't take it too far.
To adapt and paraphrase the term to our gun interest, a lot of American shooters are "Smith-and-Wesson-Centric", "Glock-Centric", "Colt-Centric" or whatever you get it. It simply means that many shooters will only buy guns made by certain companies, or made in certain countries. This usually works well, and there's nothing wrong with that.
Some other countries have been making guns for a couple of centuries or longer and we may not have been exposed to them. Turkey is one of them. Guns made by a company we may not be familiar with can be a good bargain, even if we've never heard much about them.
BONUS OFFER: Get your free shooting range targets to print at home!
Get your free targets to print at home!
Enter the Czechoslovakian-Made CZ 75
Many companies have used the CZ 75 design, with Sarsilmaz numbered among them, including Italian manufacturer Tanfoglio. Tanfoglio made CZ-style pistols and brought them to the USA when CZ had some import-business-related problems and could not directly ship their guns here.
At last count, I saw 20 different companies making CZ 75 clones in 13 different countries. What makes the CZ 75 and similar guns so popular include the grip design, the high capacity magazines, the DA/SA trigger action, and a few other things.
So, maybe the eastern European guns deserve a second look. Those of you who already own one or more understand that. This is my third CZ-75-style pistol I've owned. They do fill a need and tend to last a long time, in my experience.
SAR K2P Specifications
| | |
| --- | --- |
| Caliber: | 9mm (not officially recommended for +P ammo, but some users shoot it) |
| Trigger: | DA/SA |
| Capacity: | One 16-round magazine (I was able to get 17 in mine) |
| Barrel: | 3.8'', highly-polished stainless |
| Length: | 7.3'' |
| Height: | 5.5'' |
| Weight: | 28.8 oz. (with empty magazine); approx. 34 ounces with fully-loaded magazine |
| Frame: | polymer |
| Hammer: | Commander-type, sharply serrated for thumb purchase |
| Slide: | matt-blued steel |
| Sights: | Three white dots -- rear sight fully adjustable with windage witness marks |
| Width: | I measured in three places: across the forward part of the frame (1.045"); grip width (1.110''); total width across both thumb safeties: 1.6''. Official width is 1.2'', an average not counting the safeties, I guess. Gun hides well in an IWB holster, regardless of stated width |
| MSRP: | $475. Real-world ranges from as low as $200 to $290. I paid $180 for mine, used but it was probably never shot |
The SAR K2P Gun: A Quick Overview
I've performed three modifications on my stock K2P, the grips are stippled, the front sight dot is red, and I gold-filled the model branding on the right side of the frame. I'll show what these three things looked like before I worked on my gun, so you know what to expect out of the box).
The K2P is a double/single action, double-stack semiautomatic made by Sarsilmaz in Turkey, similar to the CZ 75 family of pistols. It does not have a decocker, which is consistent with the CZ.
Outfitted with a fully-adjustable rear sight, a 16-round capacity magazine (that are known to hold 17), ambidextrous safety, fully-adjustable rear sight, bright-polished stainless barrel, forward slide serrations and a Picatinny rail, the gun is quite a buy for around $200. Considering that CZ 75 magazines will work in the gun and are available, more and more shooters are discovering that this gun is somewhat of a "sleeper" in the concealed-carry pistol world.
It was imported by EAA, but Sar guns are now handled by SarUSA. This particular model is not listed on their website, but is still available from retailers. It has been replaced by the DA/SA CM9, which is basically just an upgraded model with finger grooves and a few more enhancements.
The SAR K2P's Serial Number
According to my research, it seems that all Sar pistols' serial numbers start with T1102. According to the information I found, this is a NATO marking reflecting that the gun was made in Turkey. And, going past that, the first two digits of the second part of the number (15, in this case) denotes the year of manufacture, with the rest of the number the actual serial number of the gun.
Considering that some folks say this model was only made in 2013, I'm not sure who to believe, but since they're still around for sale, I would be inclined to believe it is the year of manufacture. If anyone out there has definitive information about this, please leave a comment.
SAR K2P Pictures
Now for a more-detailed look at the SAR K2P pistol.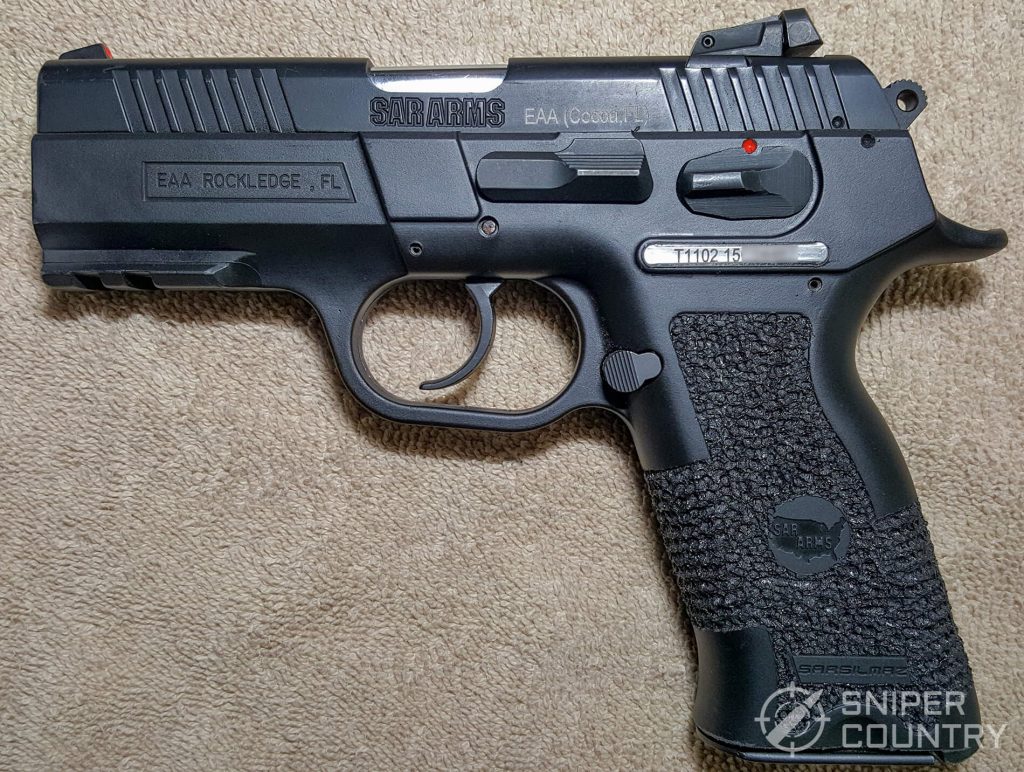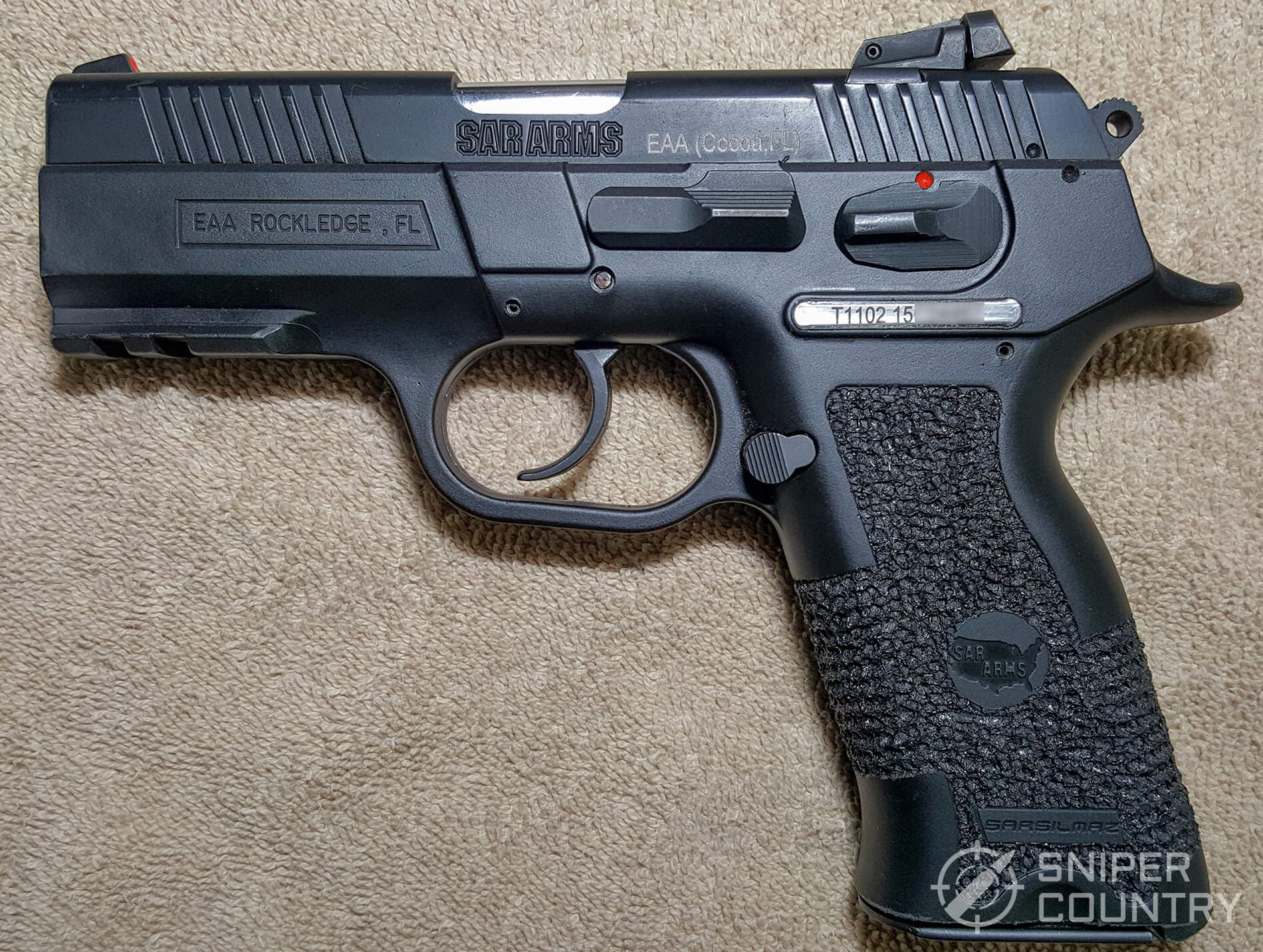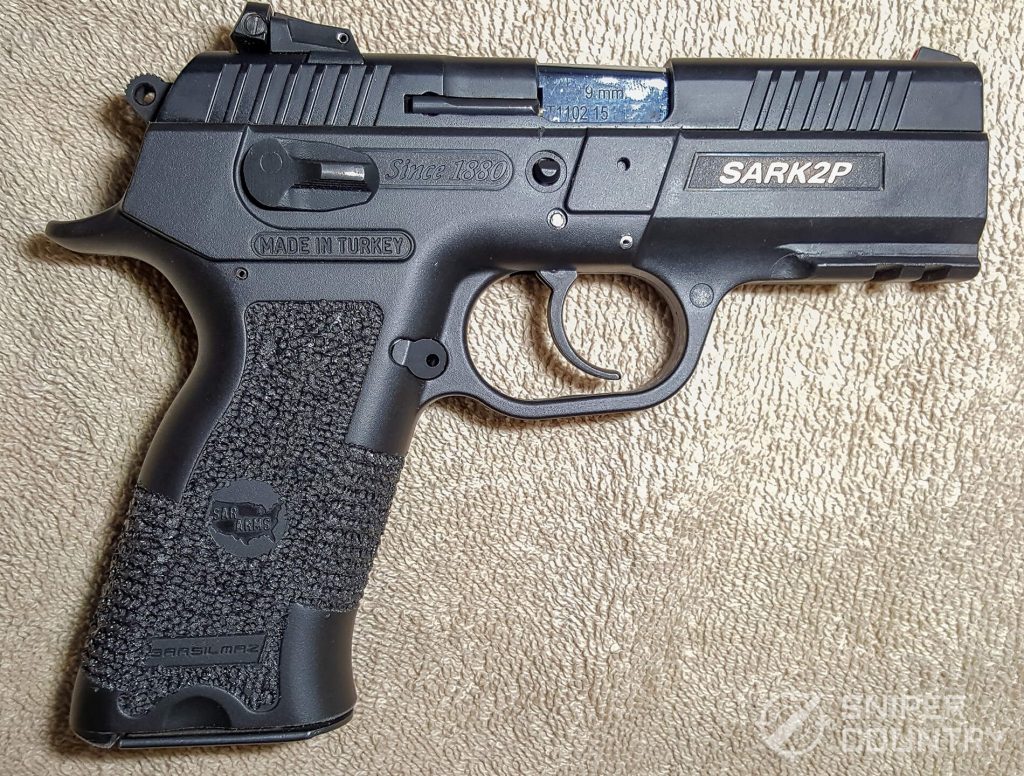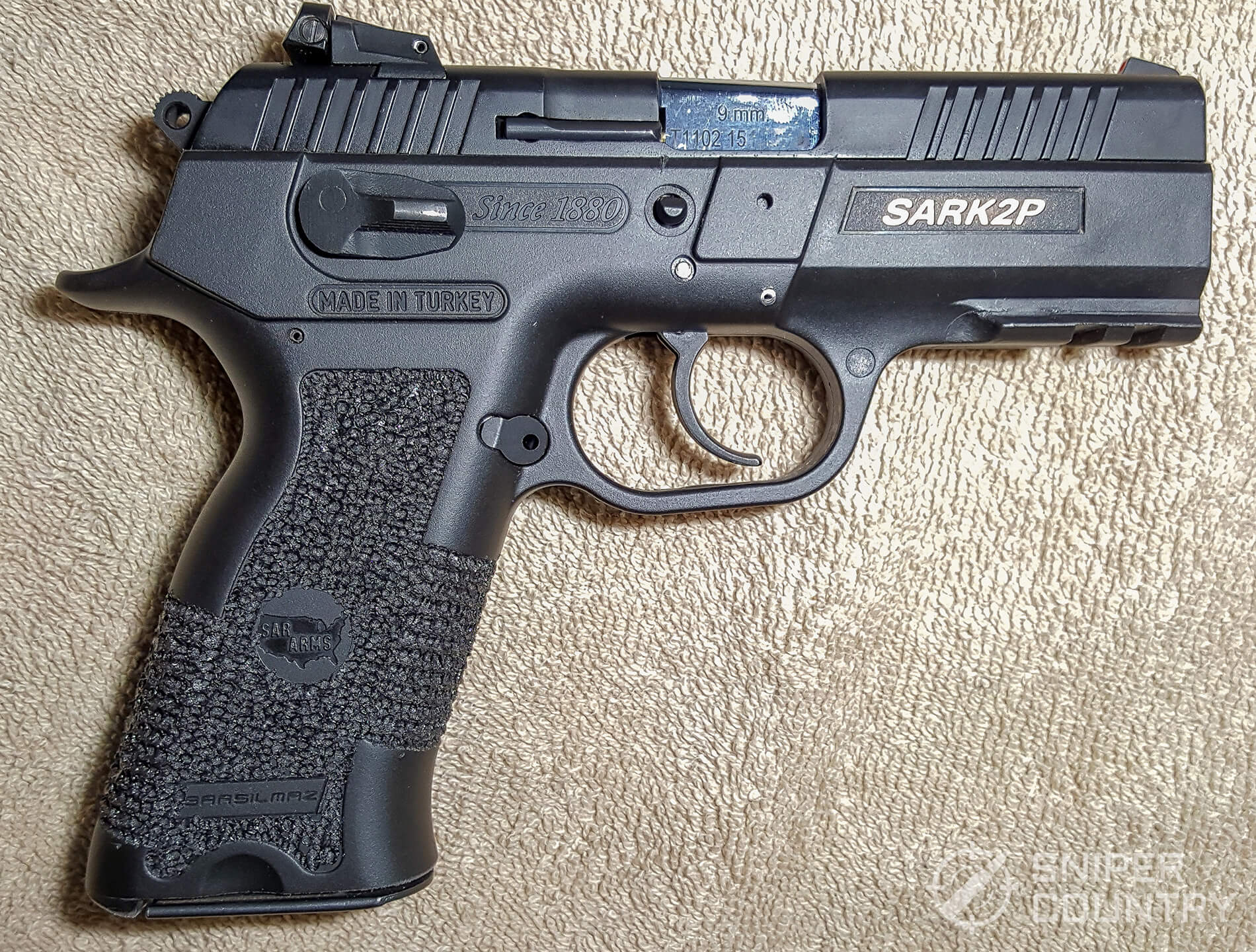 Mow, let's look at some features now. First, we'll examine the frame and then the slide.
SAR K2P Frame and Grip
The grip is angled right for me. Doing the closed-eyes-pointing-test, the front sight is right on target as I point the gun with my eyes closed. Notice the beavertail — it does protect your hand (well, mine, anyway) from hammer bite. I think the original grip itself was not very aggressively textured from the factory. Anyway, here are some photos: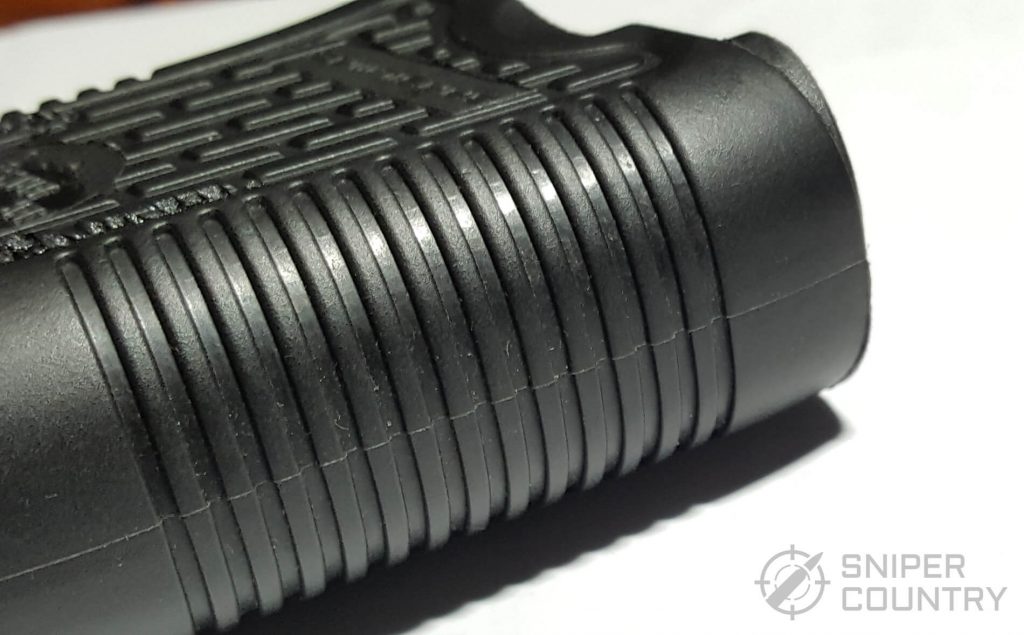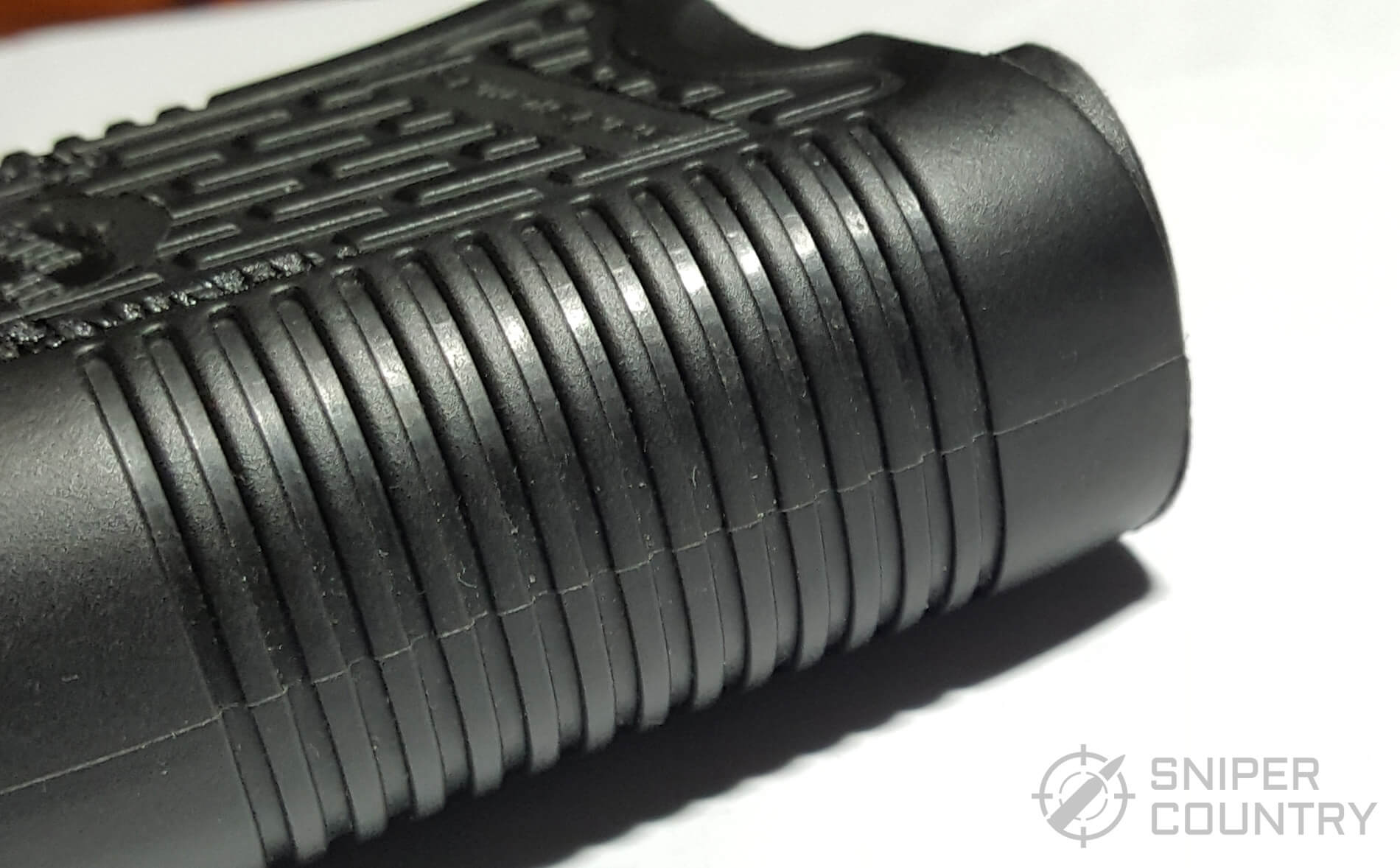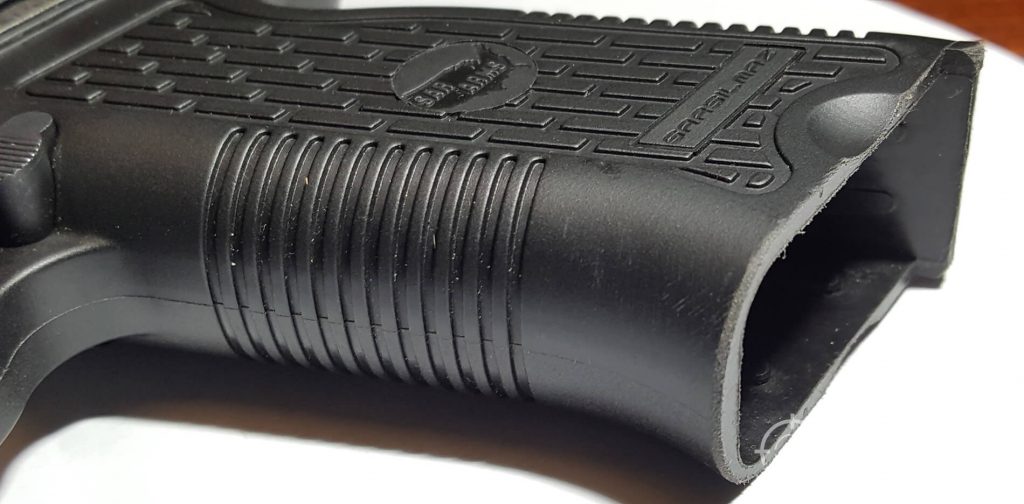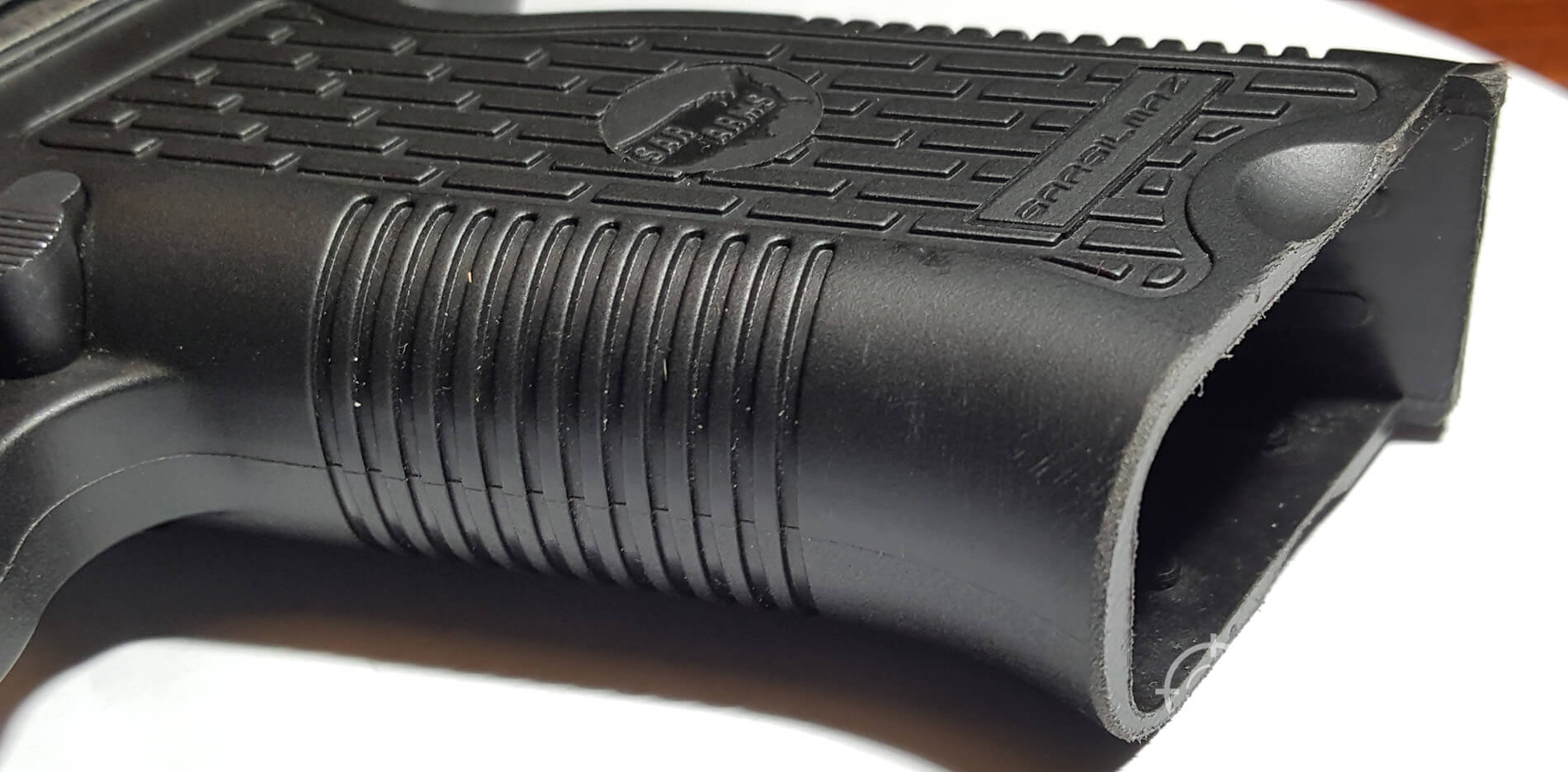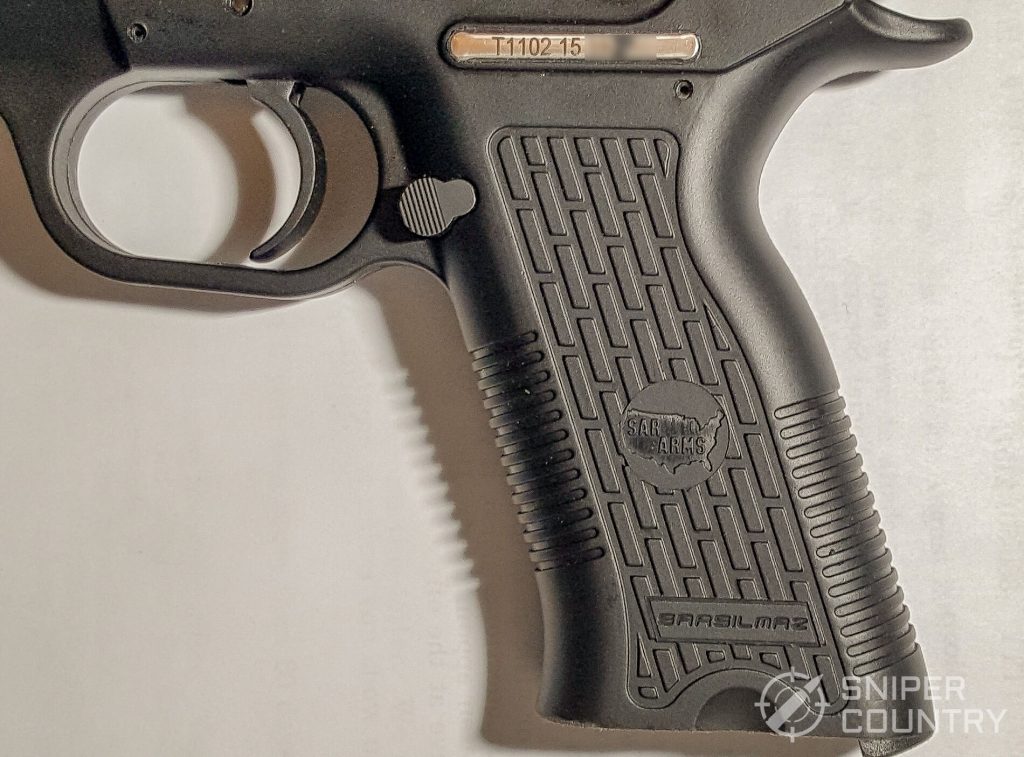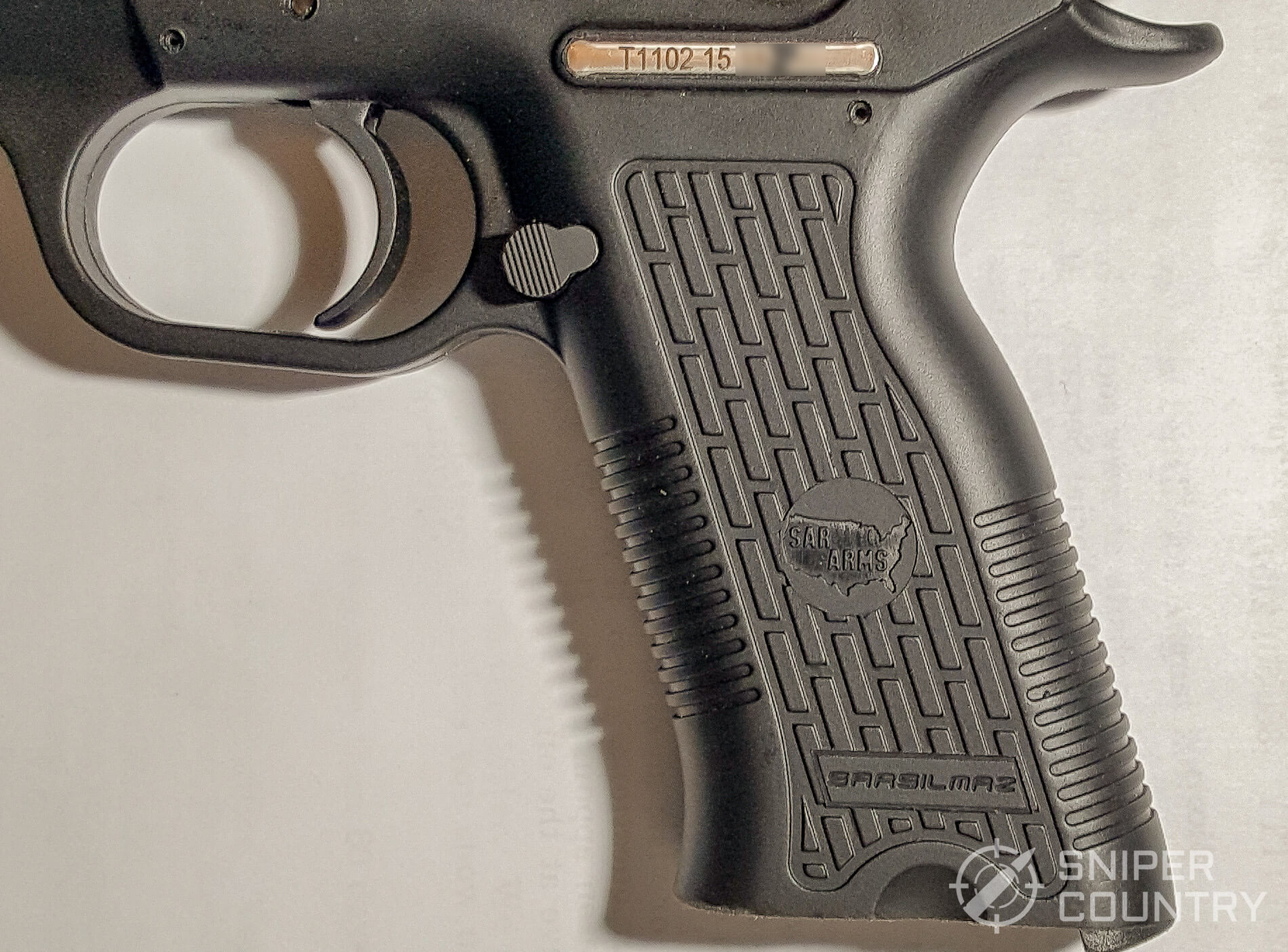 There are many small padsmof texturing on the sides and the horizontal serrations front and back. I shot the gun this way and knew I could shoot it better with more aggressive and sticky texturing. There are several ways to accomplish this: you can put a Hogue Hand-All on it or you can stick Talon grips on it or skateboard tape. There's also my cheap fix: a stair step traction tape. If you wonder what that looks like, check out my article on the Ruger LC9S. I have it on that gun's grip.
So, thinking of ways to make the grip grippier, I resorted to my old standby, stippling. I get good results using a plain, pointed solder iron, while others use woodburning tools. It doesn't matter what you use as long as the results allow the gun to stay in your hand.
I usually won't do stippling to an expensive gun as I don't want to hurt any possible resale value. But for lesser-expensive guns it can really help. And, since this gun cost me about less than $200, I figured it couldn't hurt. You may give it a try if you want — just go slowly. You may like the results, and if you don't, there's always sandpaper to make it less aggressive.
Here are some post-stippling shots.
You might notice in some shots that the stippling follows fairly prominent lines – I spent four sessions with the soldering iron before I got it closer to what I wanted. I just wanted a more random pattern, which I was able to come close to after the last session…some of the photos were taken before that last session, so you might notice some discrepancies. The following four photos were taken after I was finished stippling…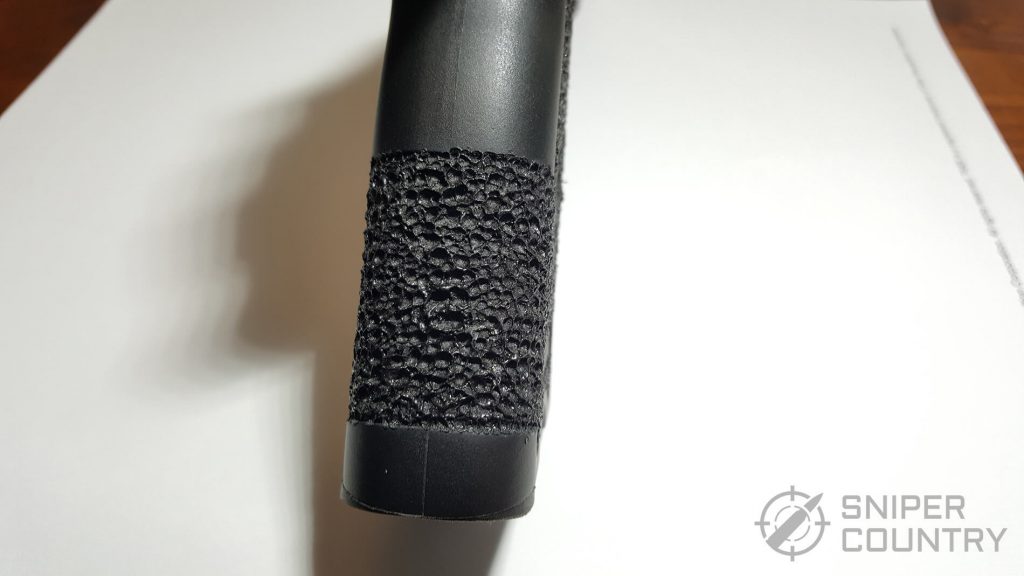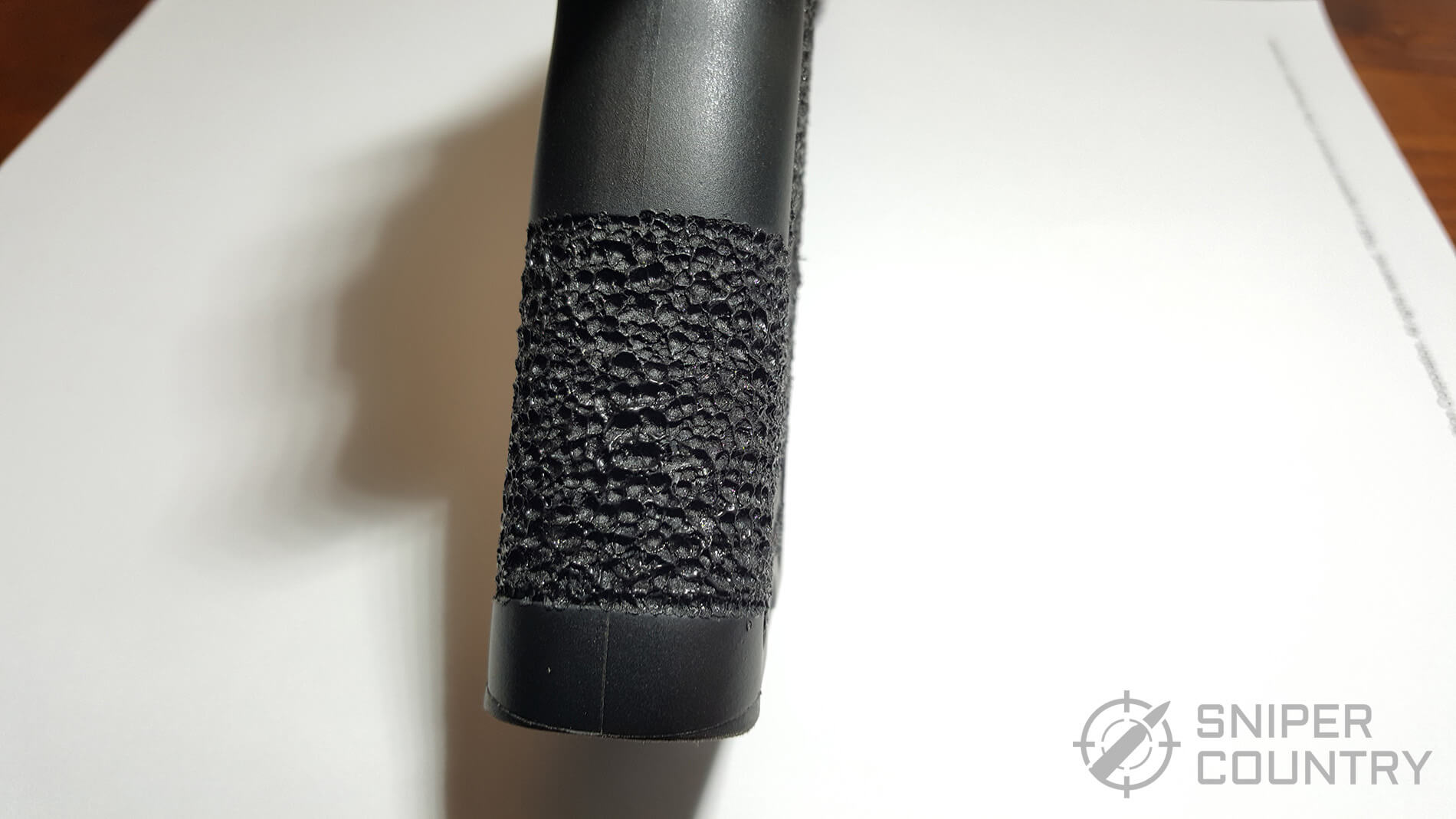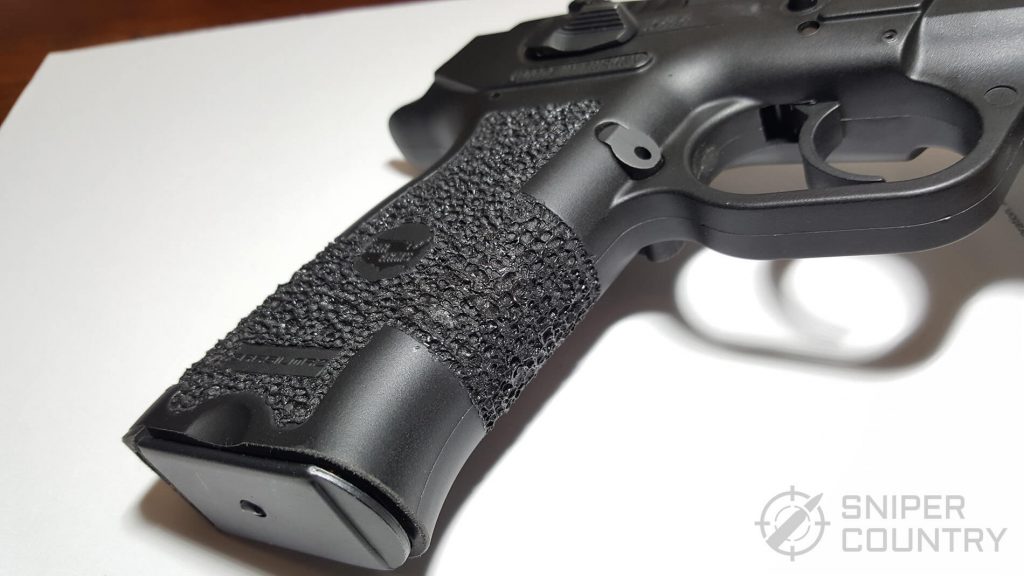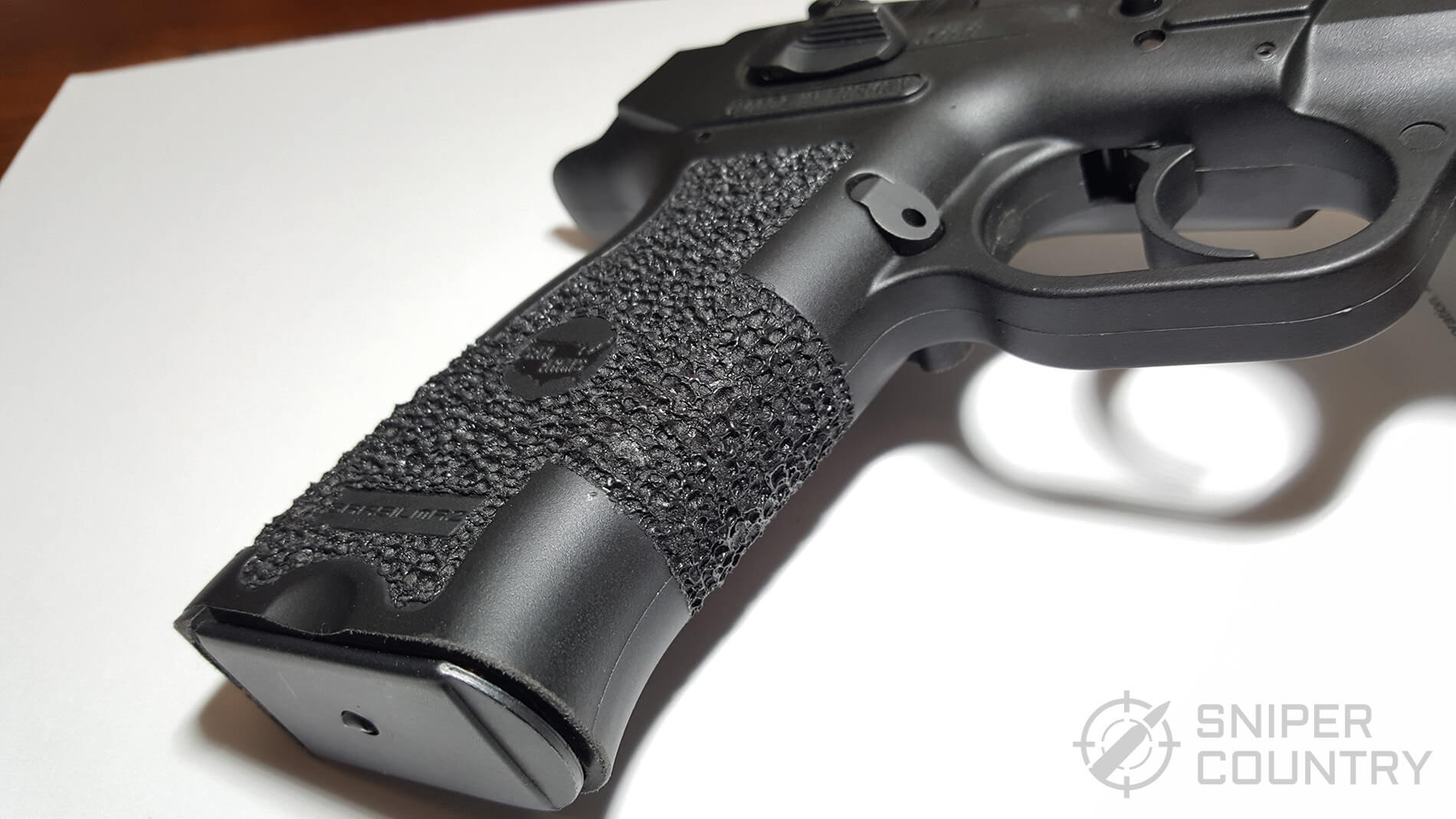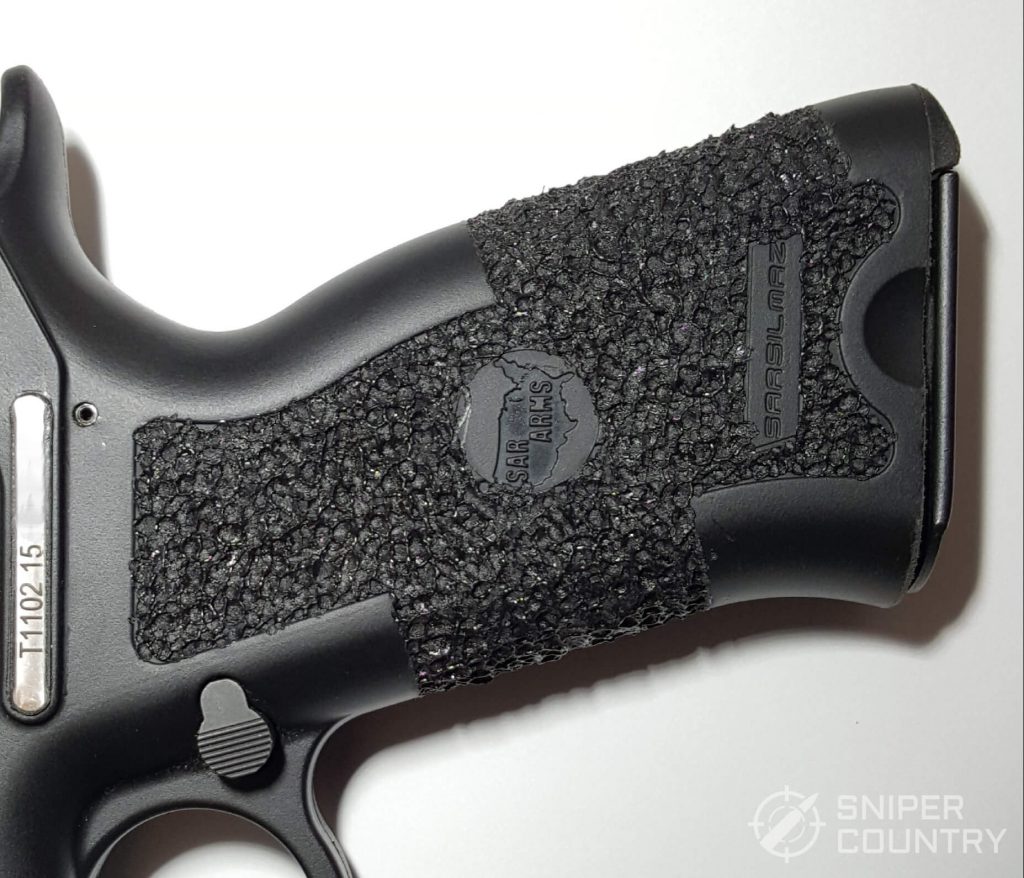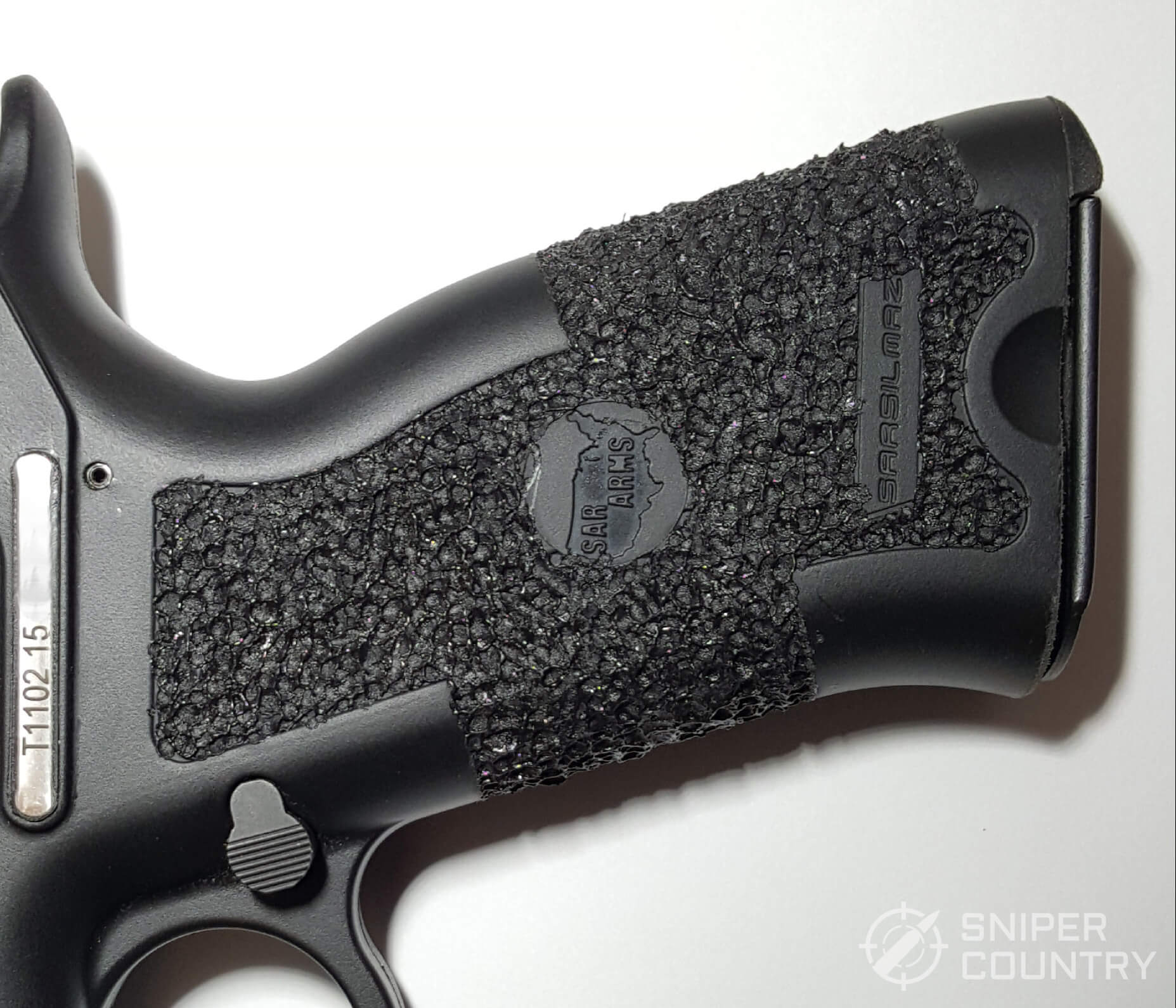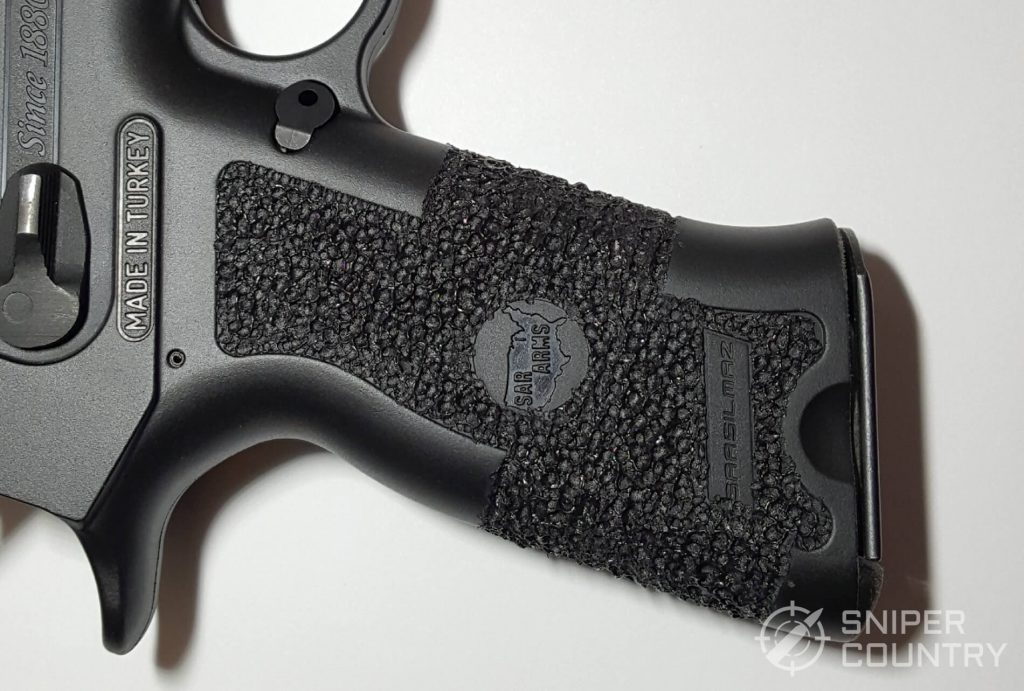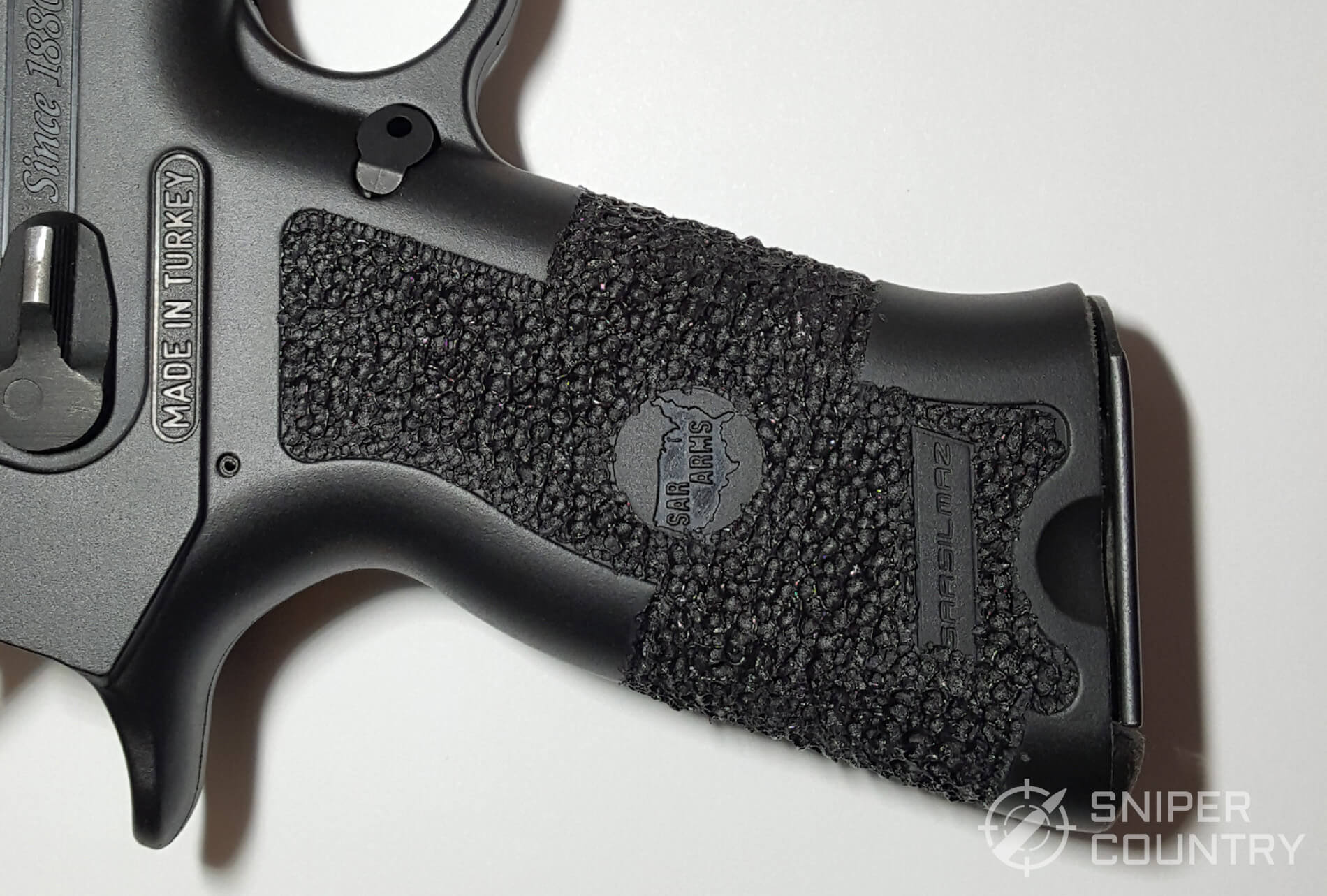 The rough texturing is enough to hold the gun firmly in my hand without being so abrasive that it hurts to shoot.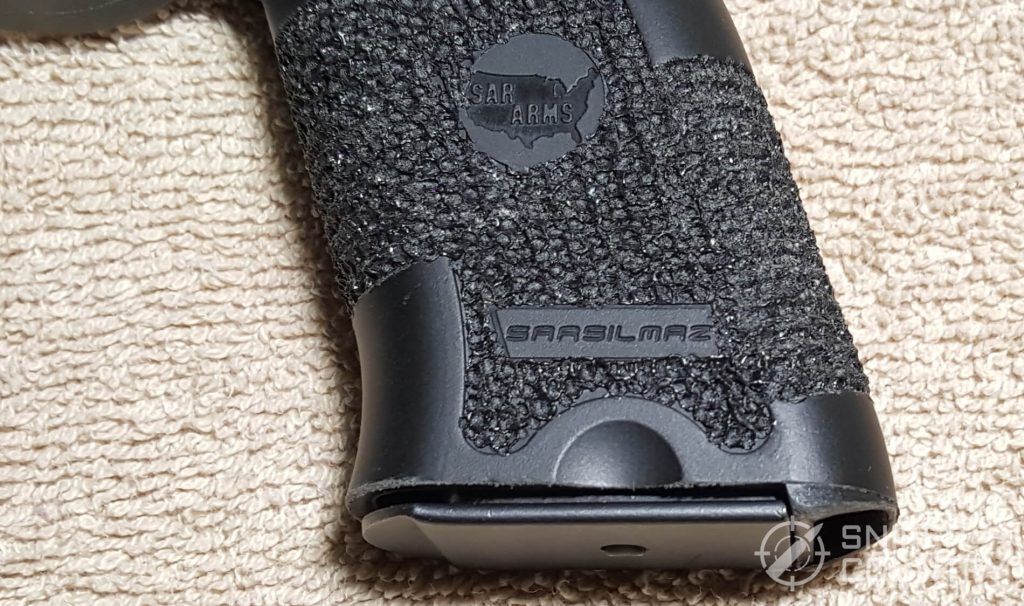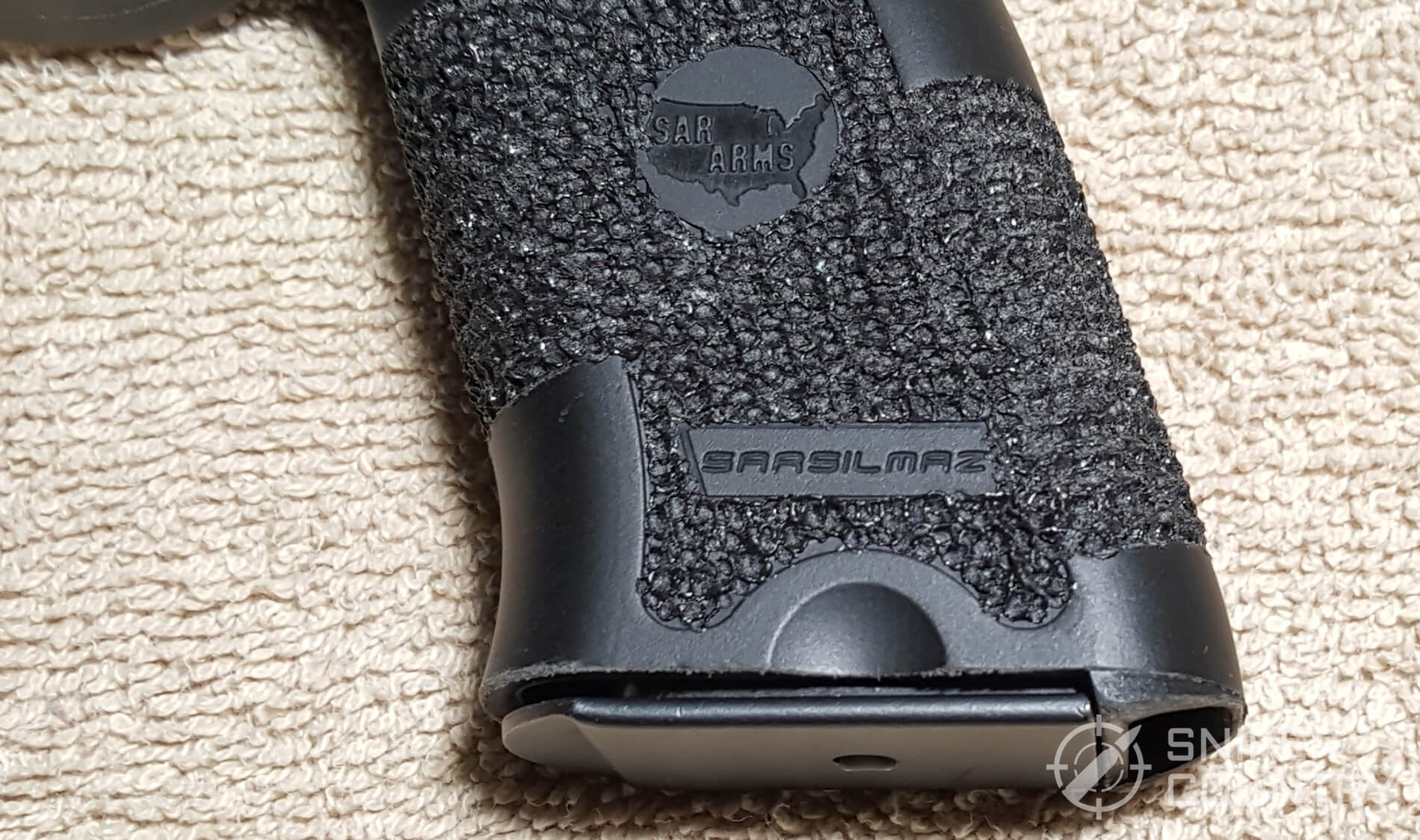 SAR K2P Frame: Engraving
Here is a look at both sides of the frame and the molded-in engraving present on both sides.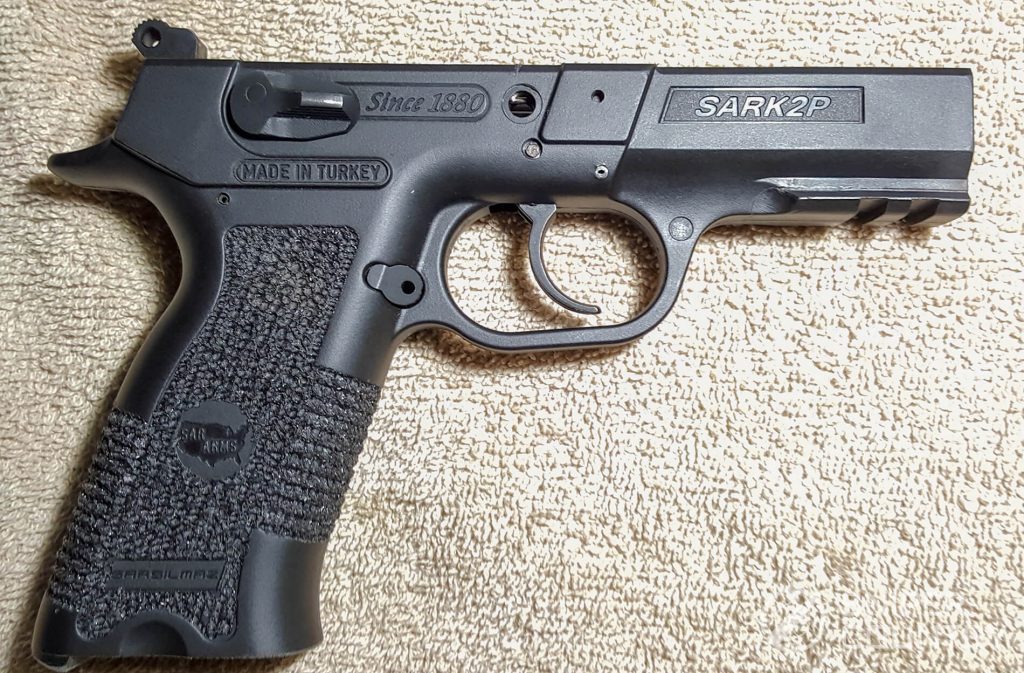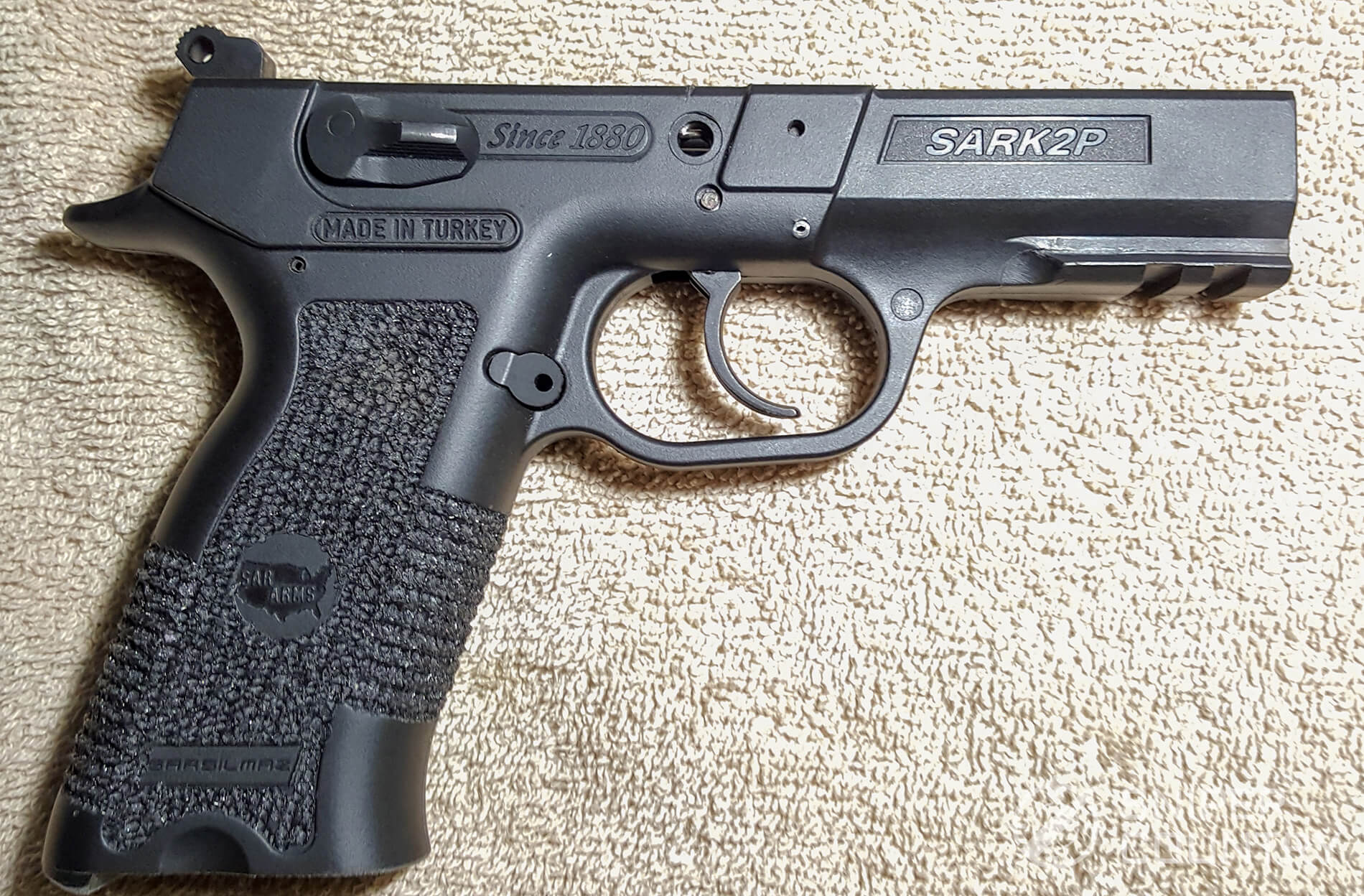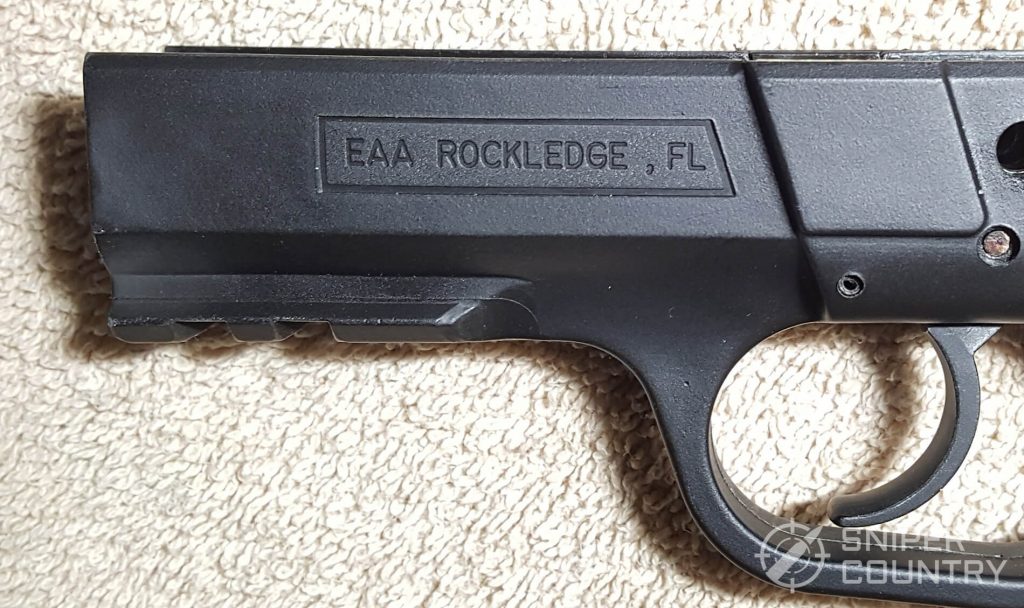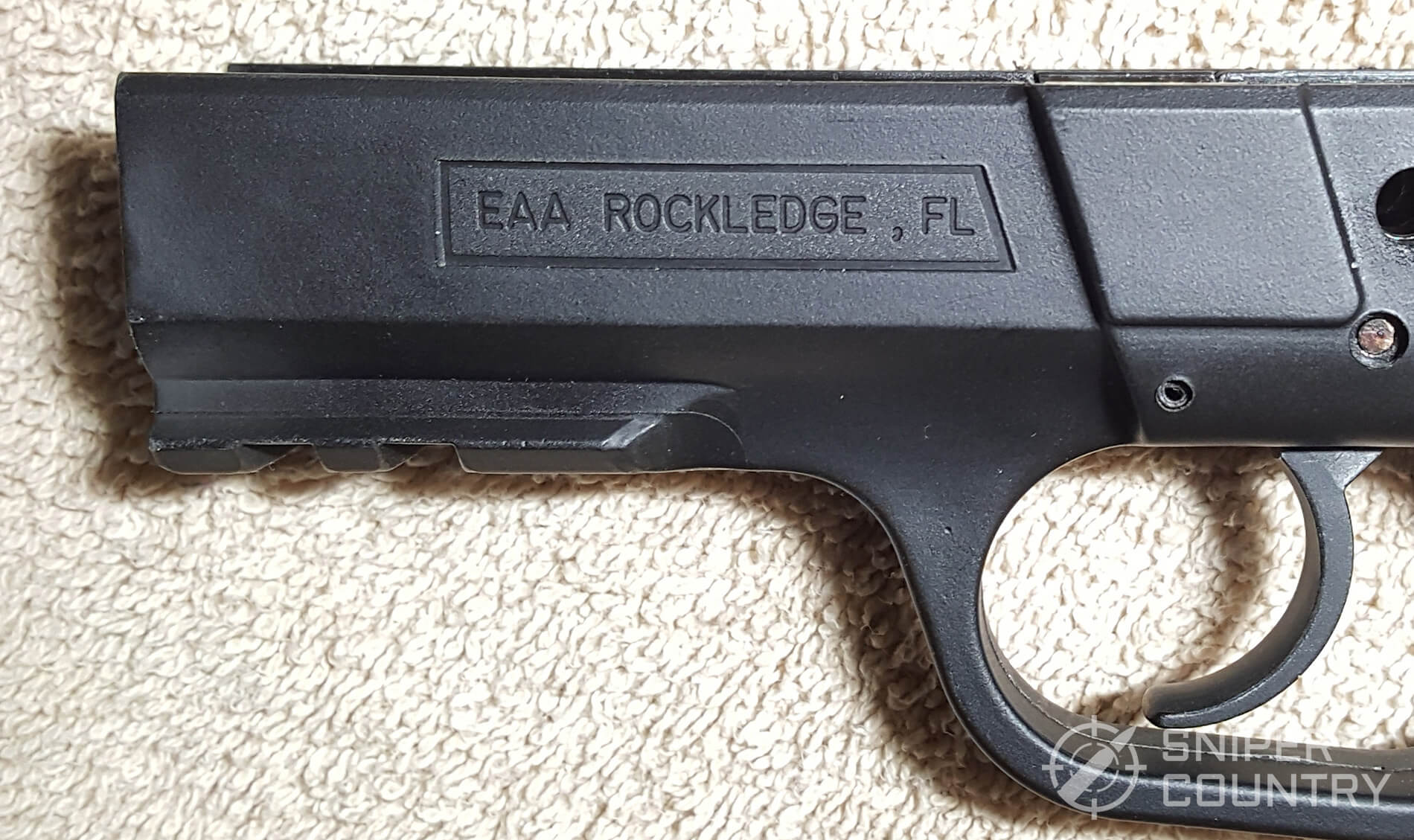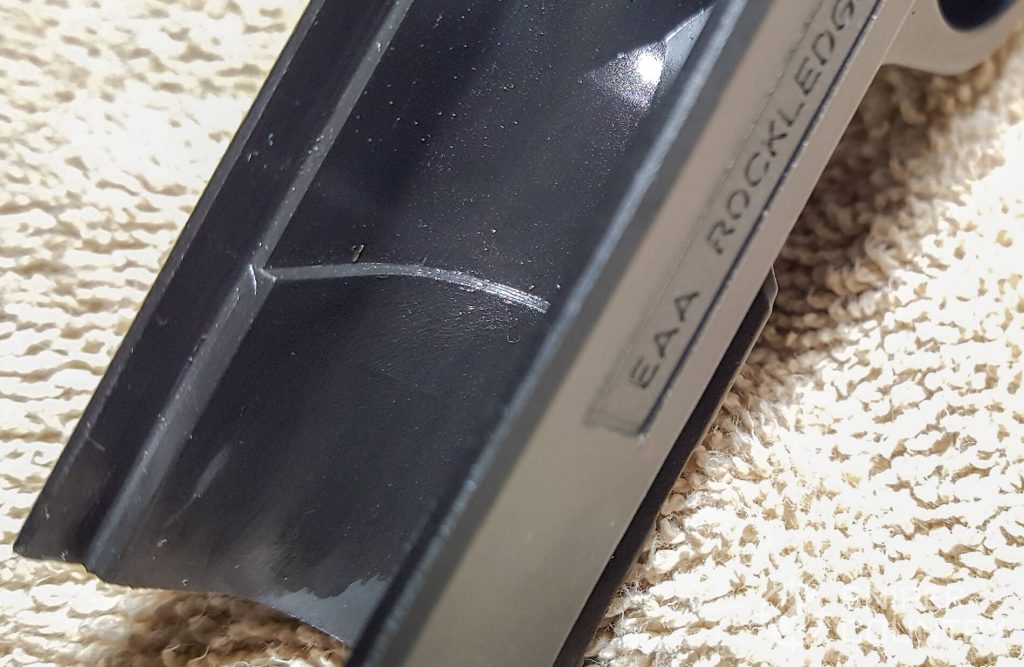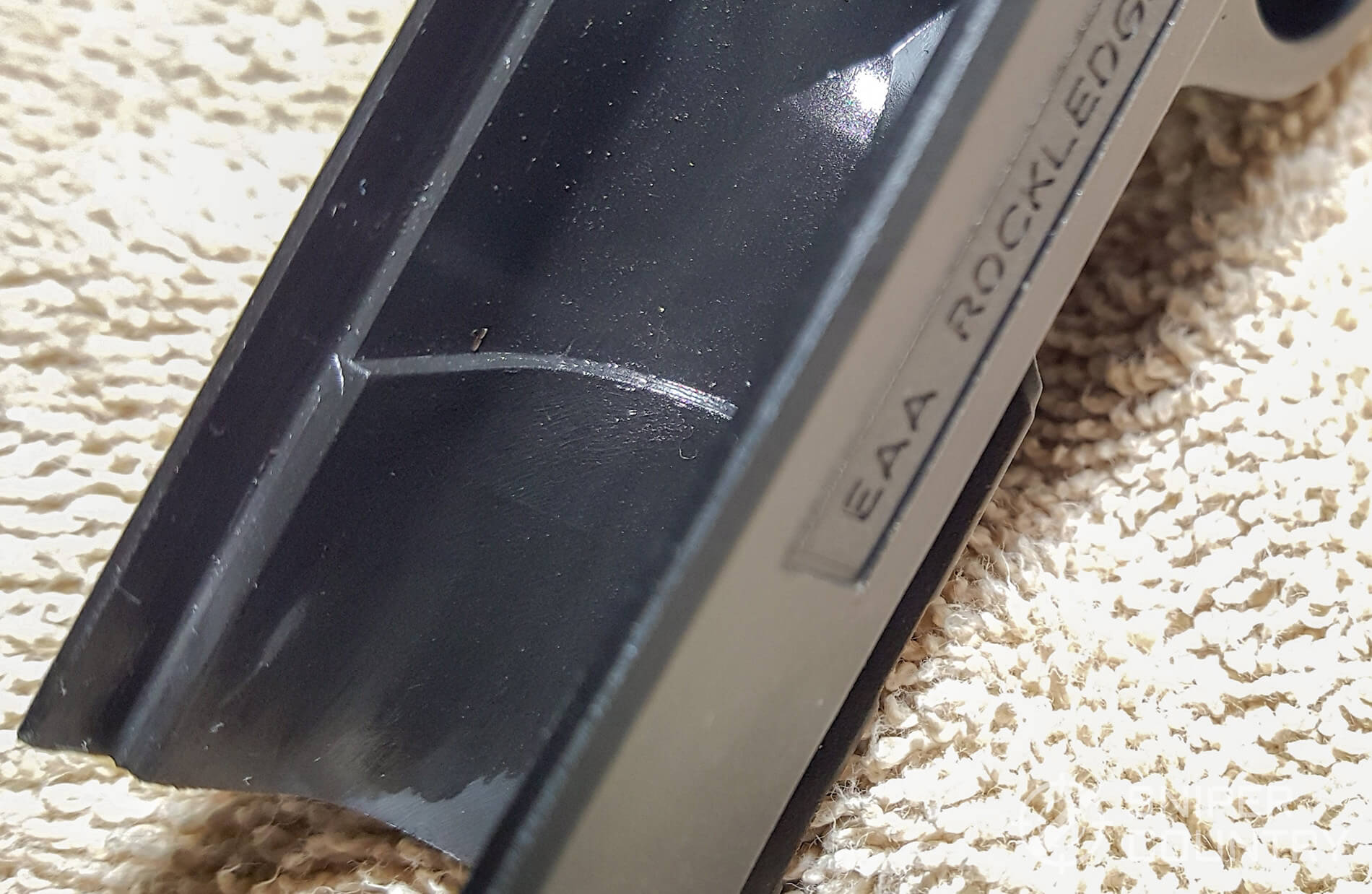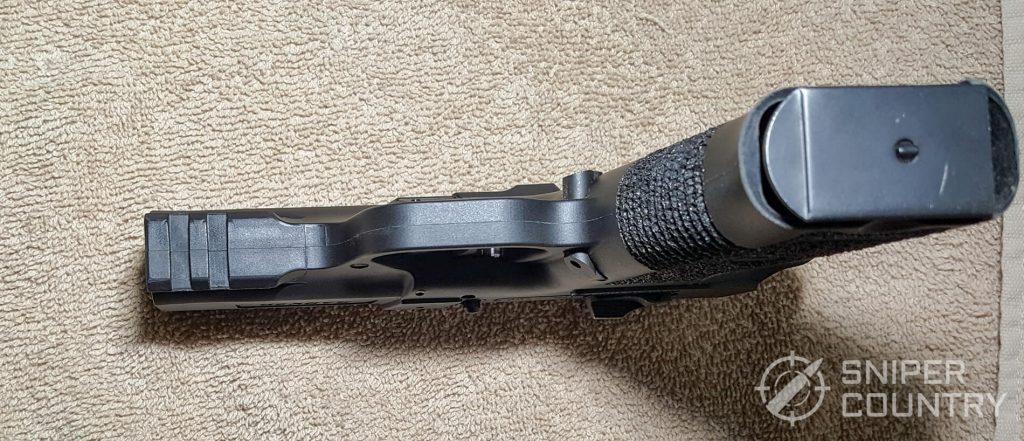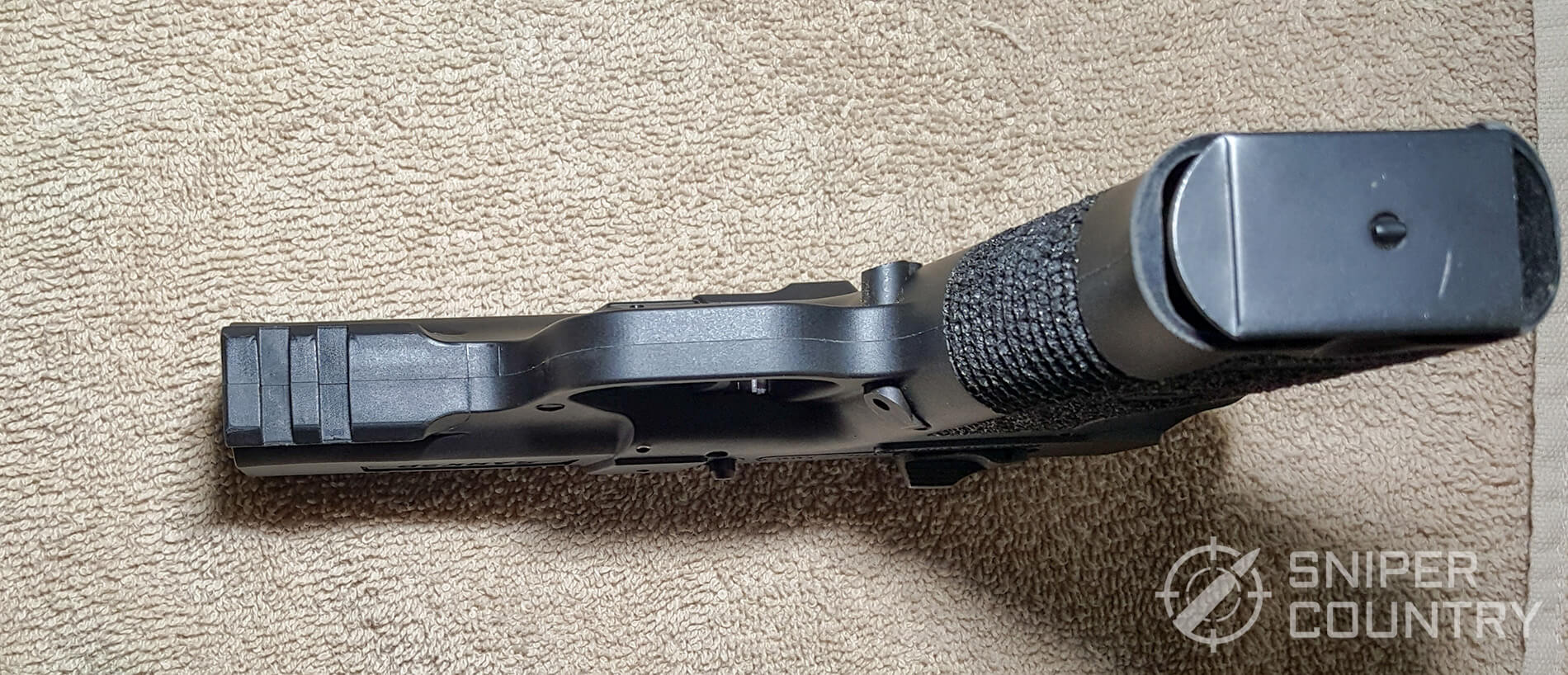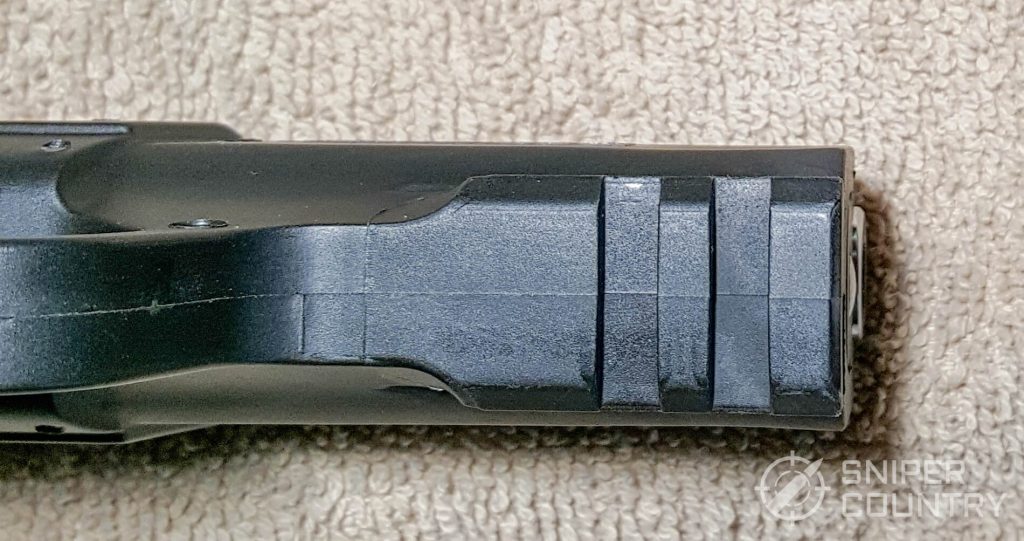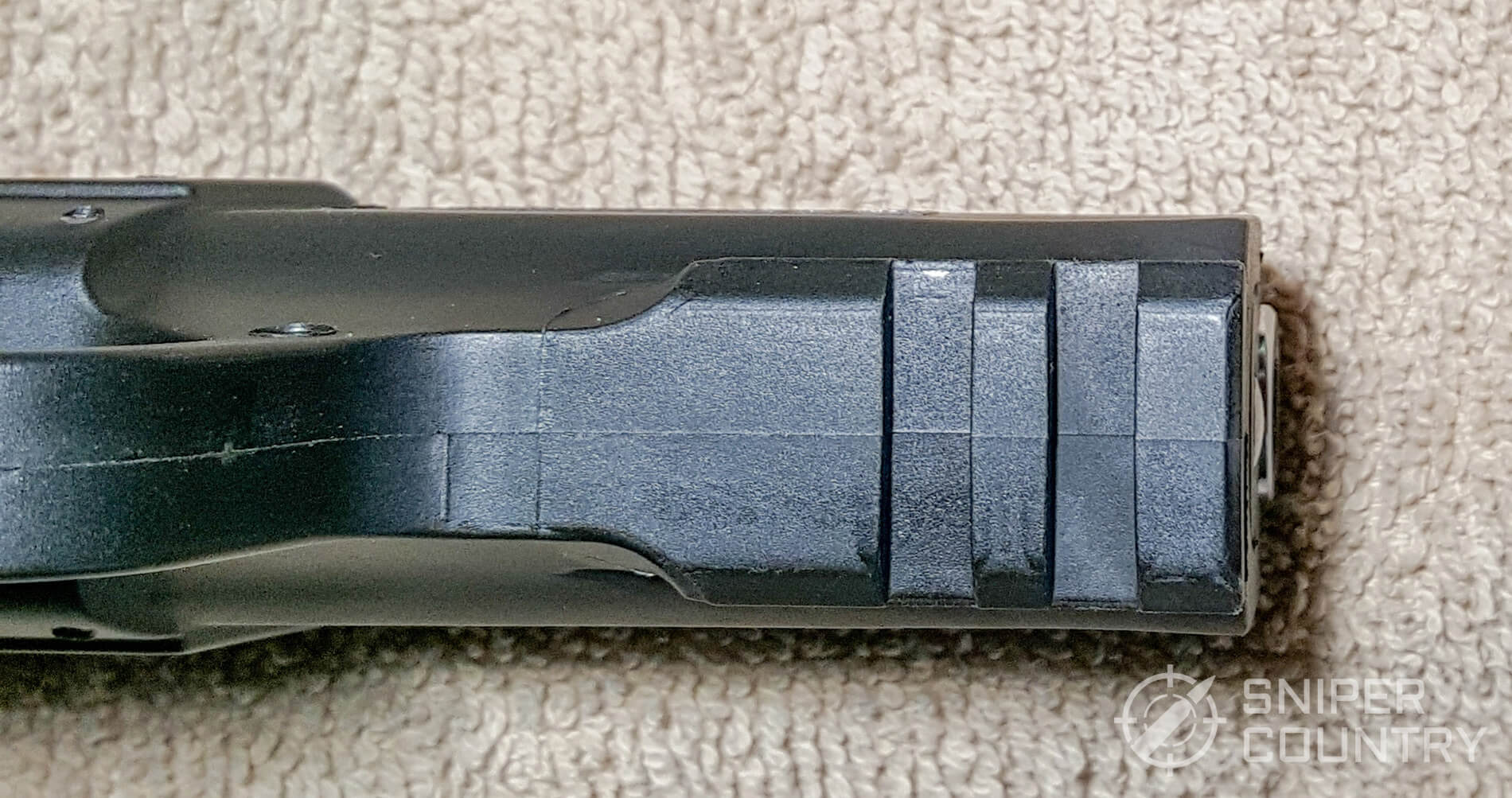 OK, now on to the slide.






Recoil spring and barrel removed. Notice the rails — they're backwards from most other semi-autos. The slide sets inside the frame, not outside of it.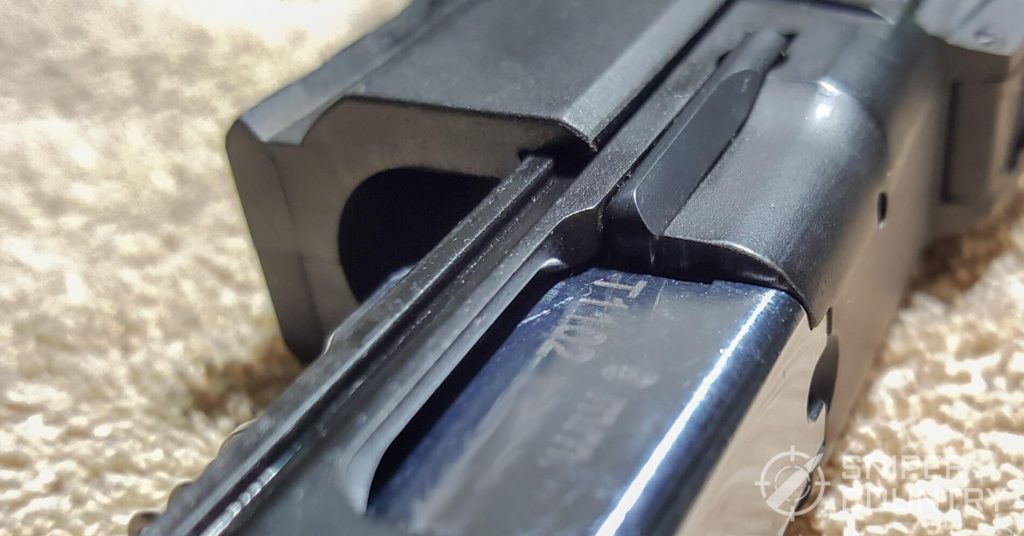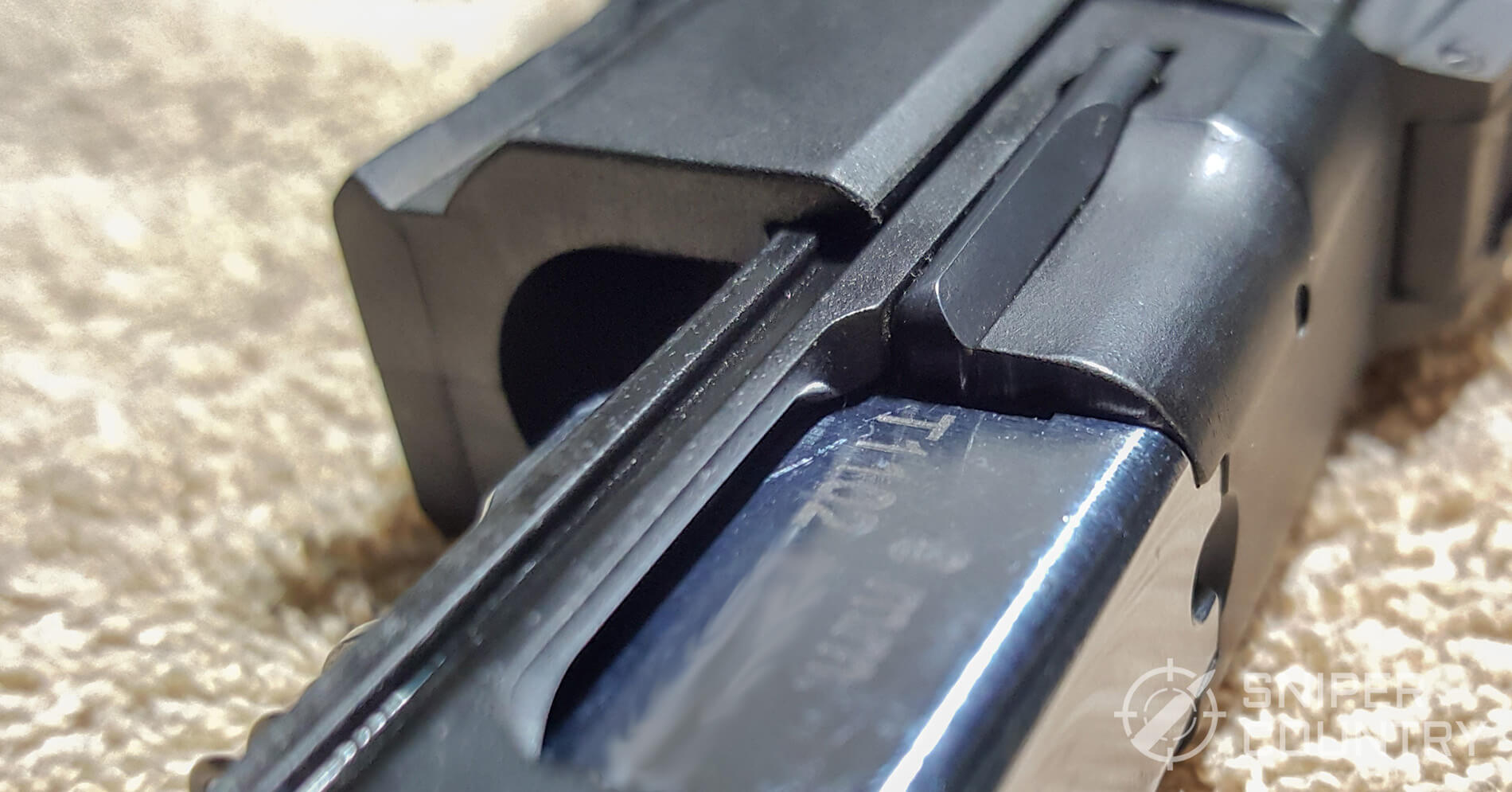 This is common to CZ 75-type guns. It presents less of the slide above the frame, which helps give the gun a lower bore axis.


Firing pin block and smooth central rail (no machining marks).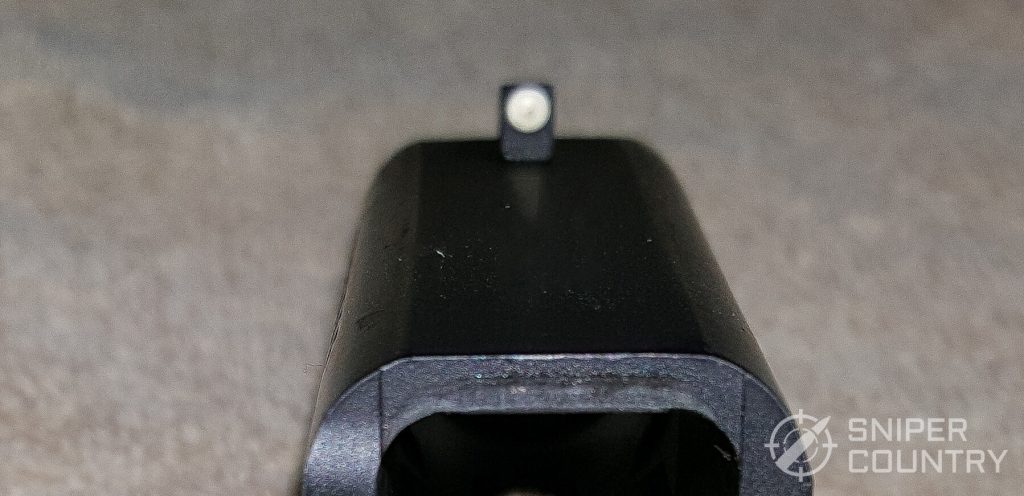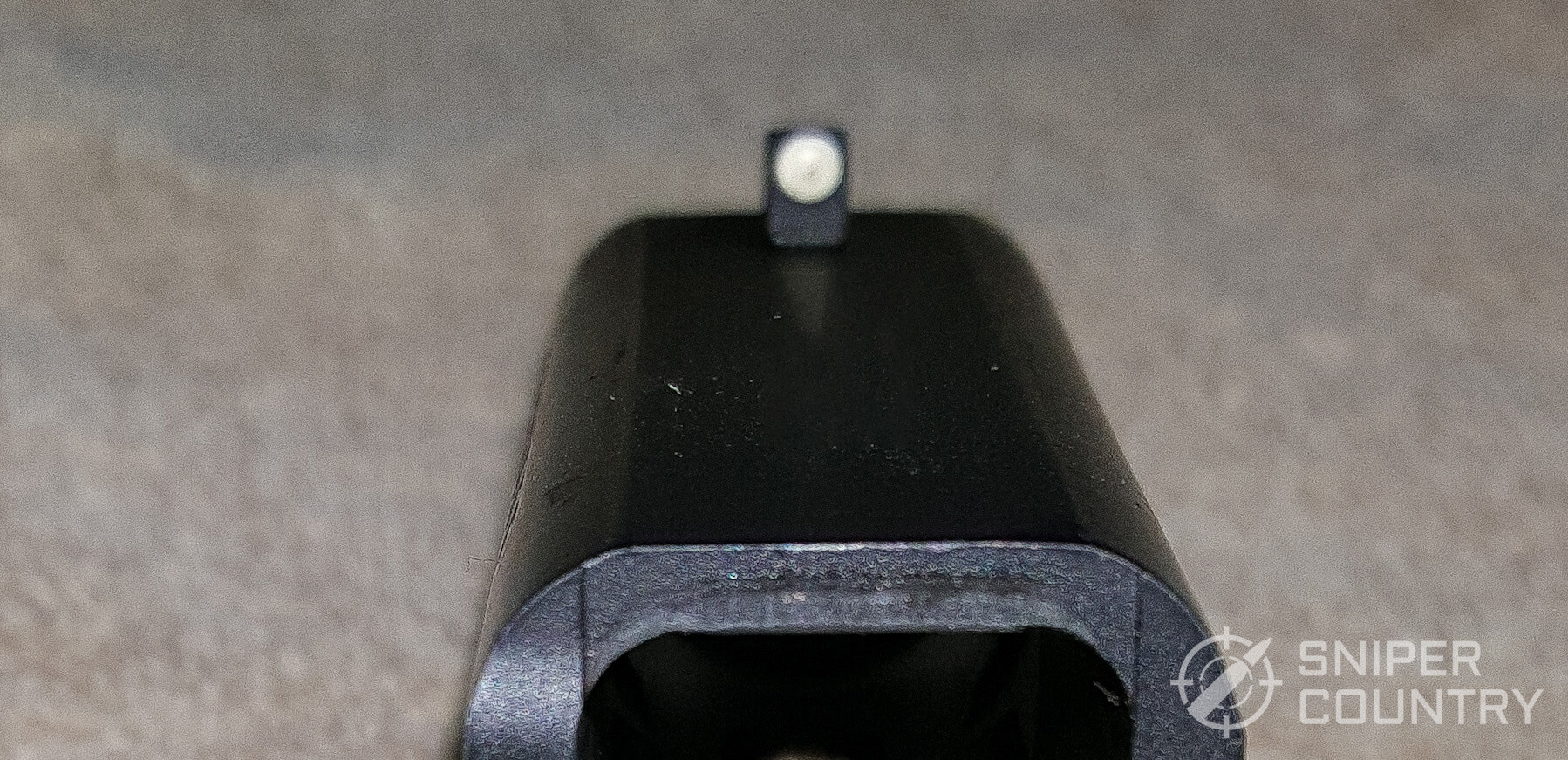 Original white dot sight, then (below) after I painted it to make it more visible to my aging eyes.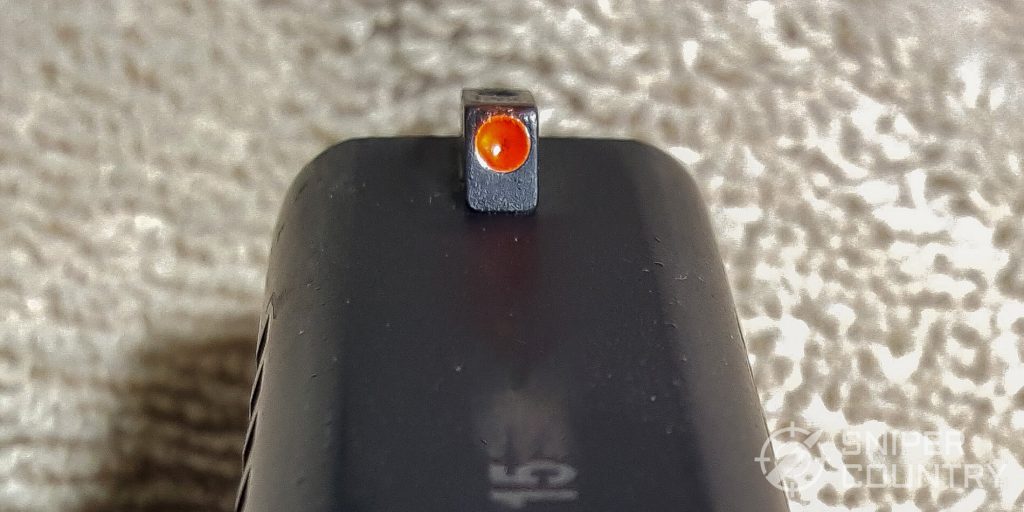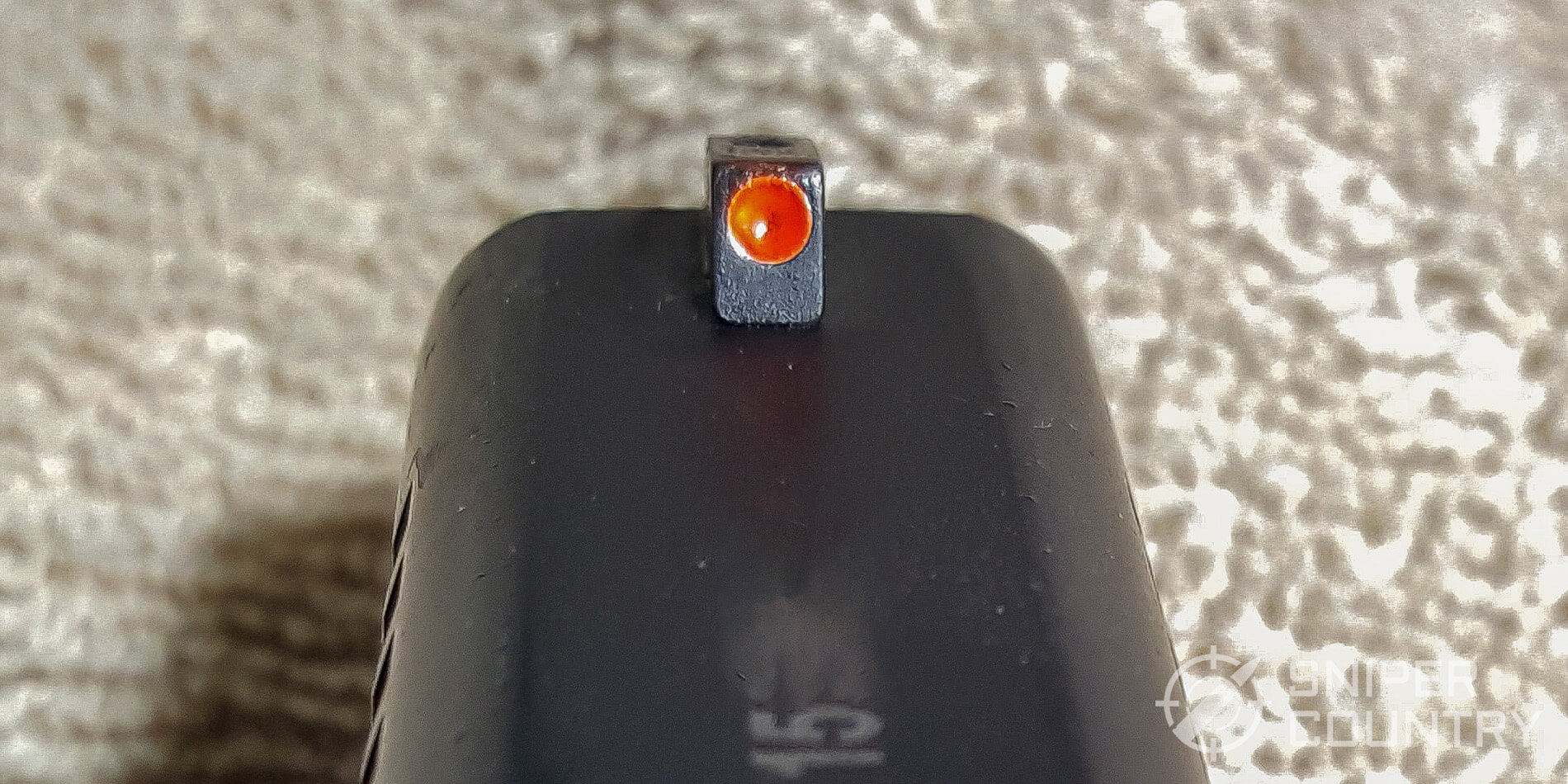 Also notice that the serial number is etched into the top of the slide (blurred). The front sight is not dovetailed, but is attached Glock-style to the slide.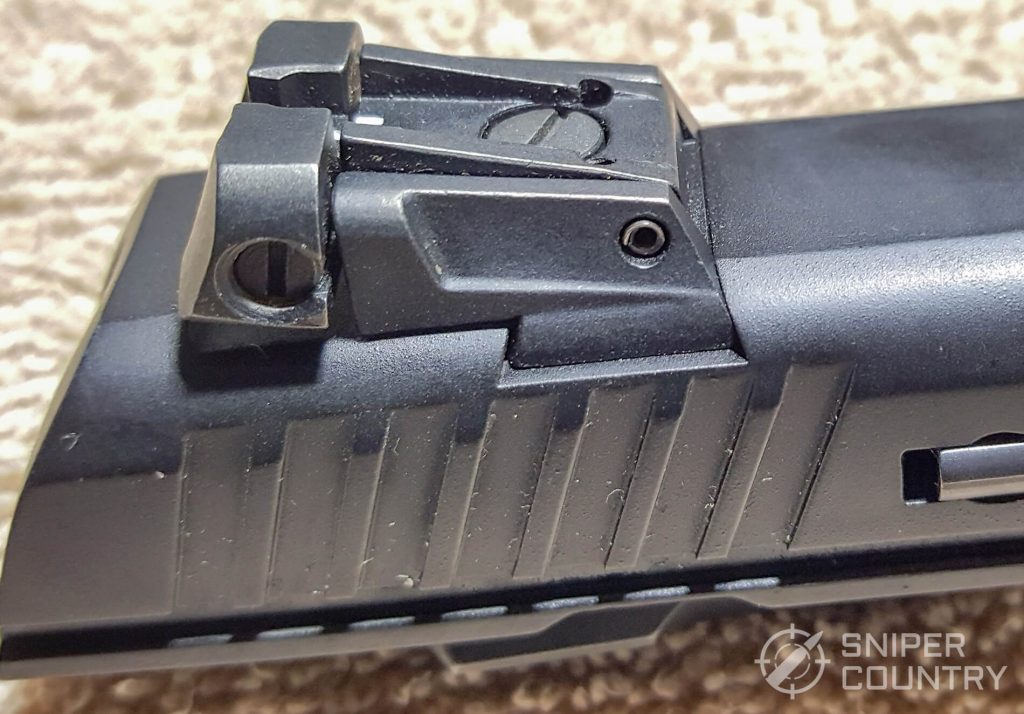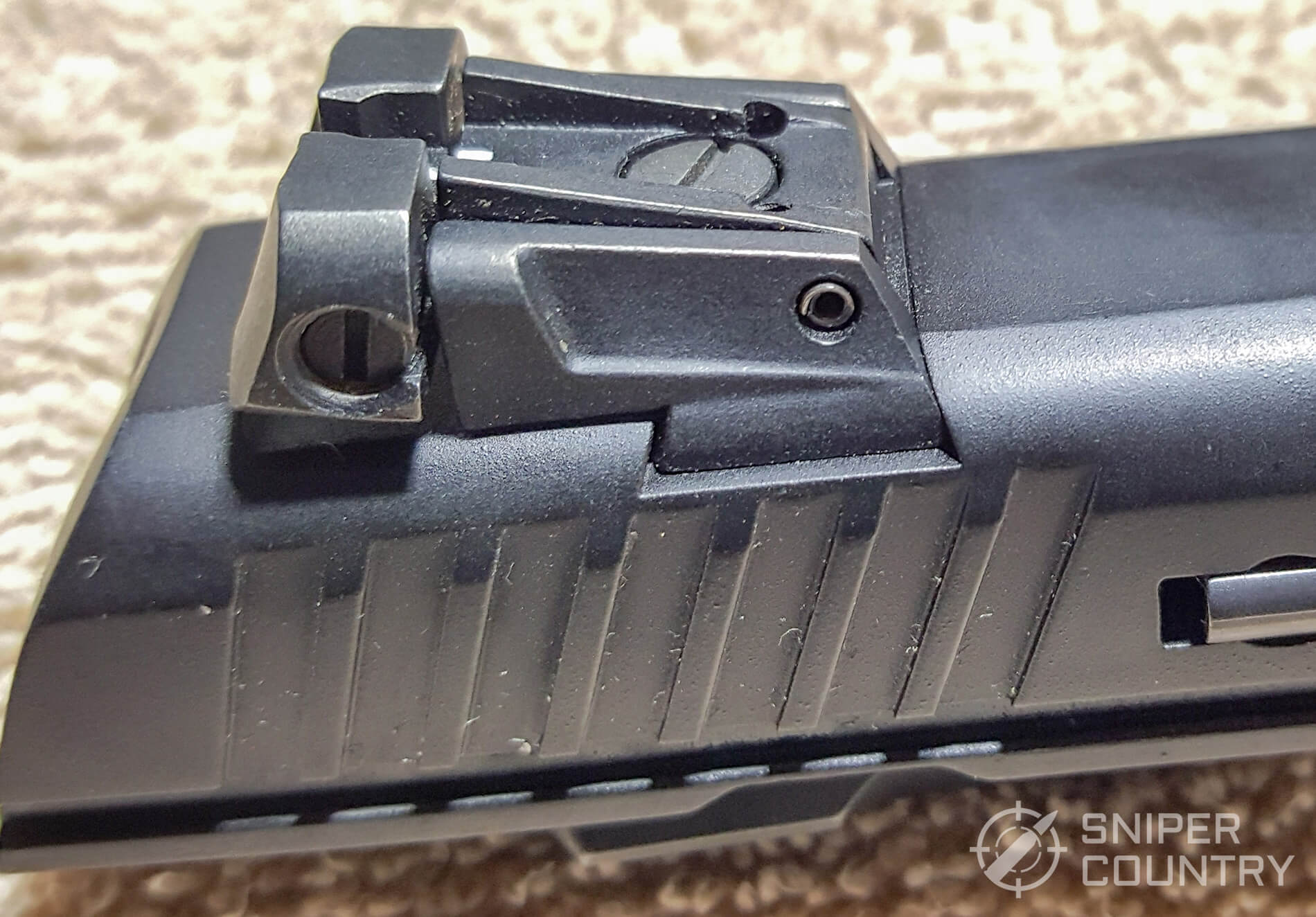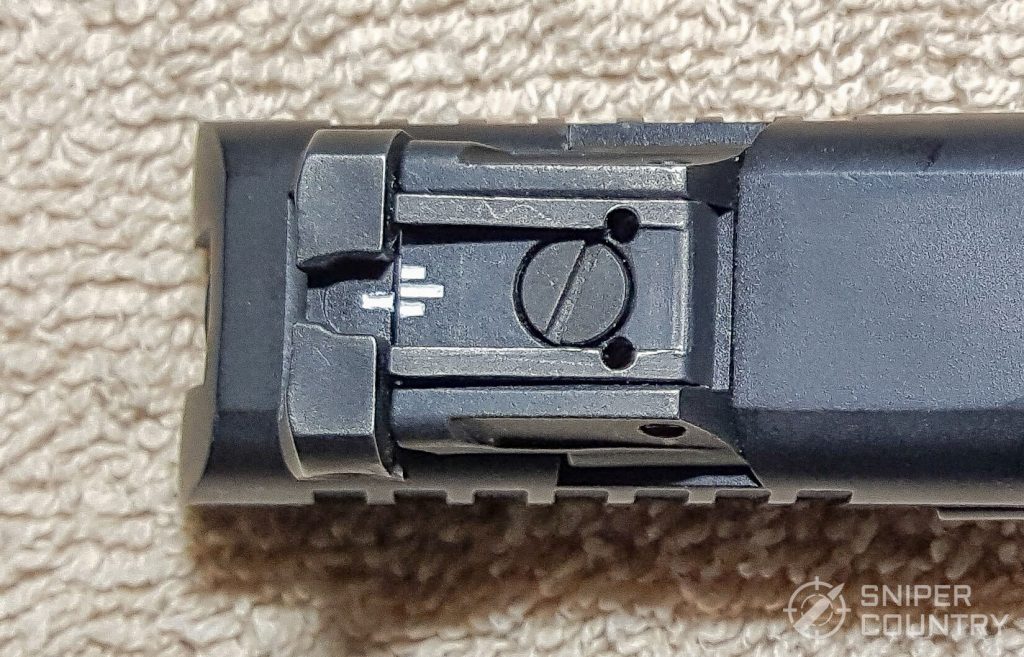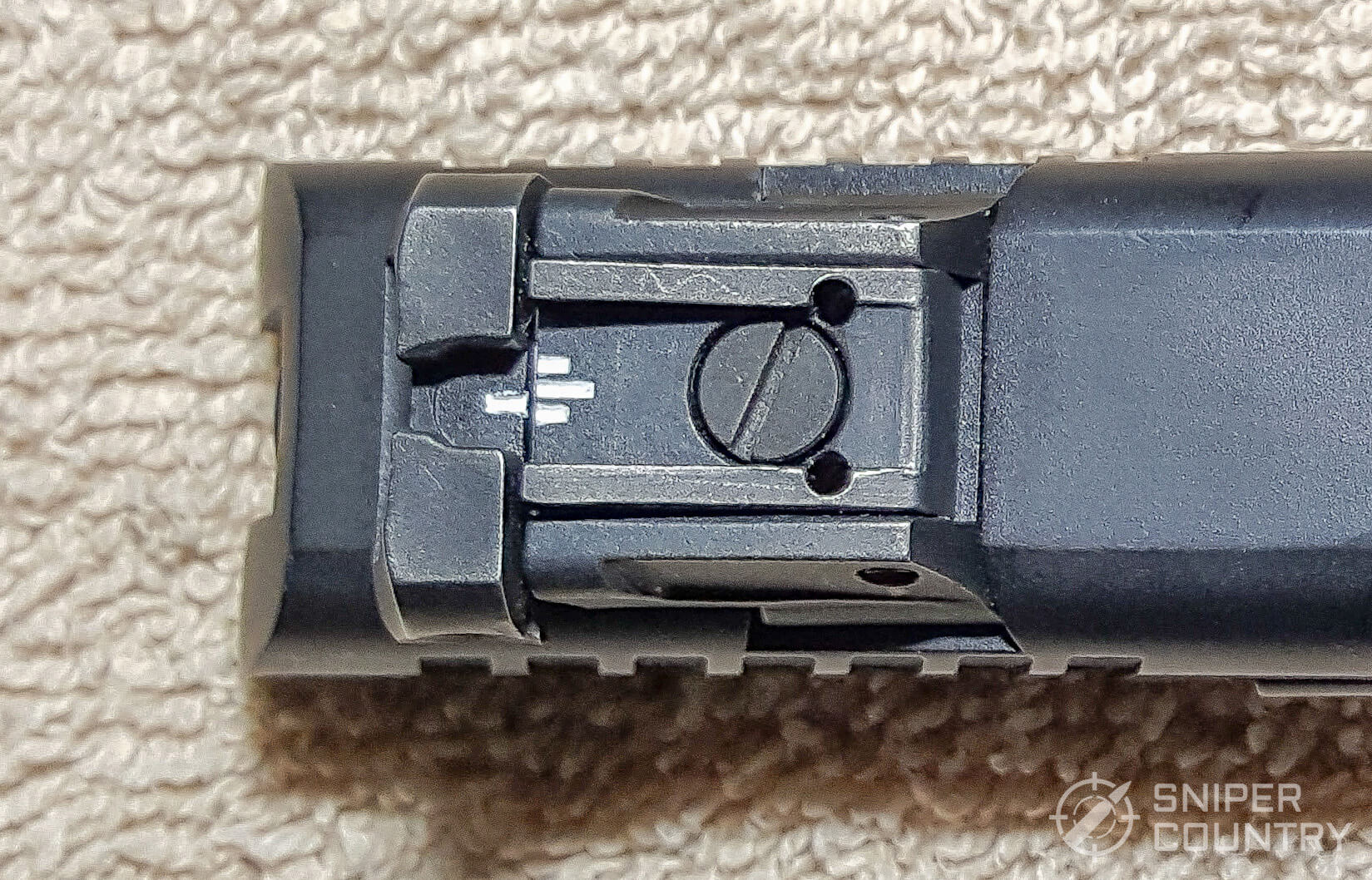 Windage witness marks and large elevation screw. They came in handy while I was sighting mine in.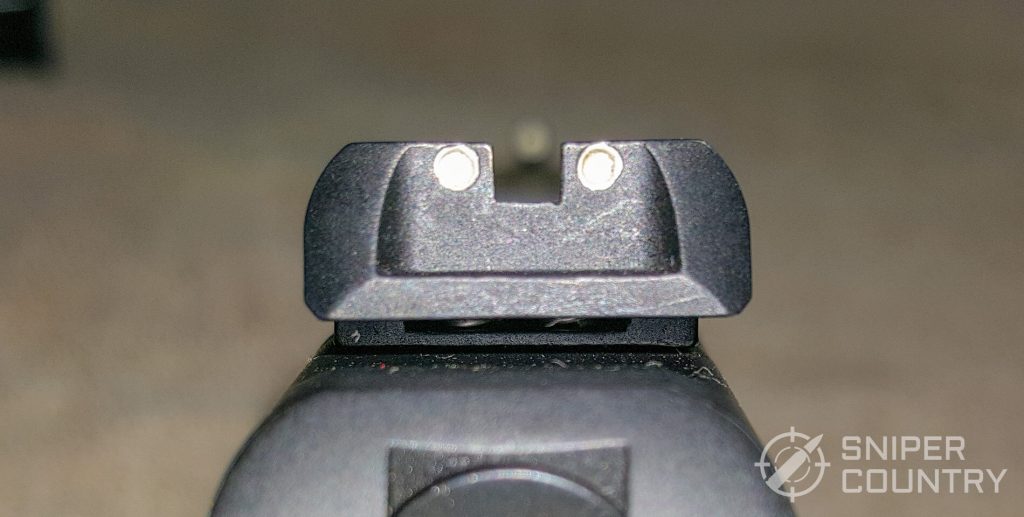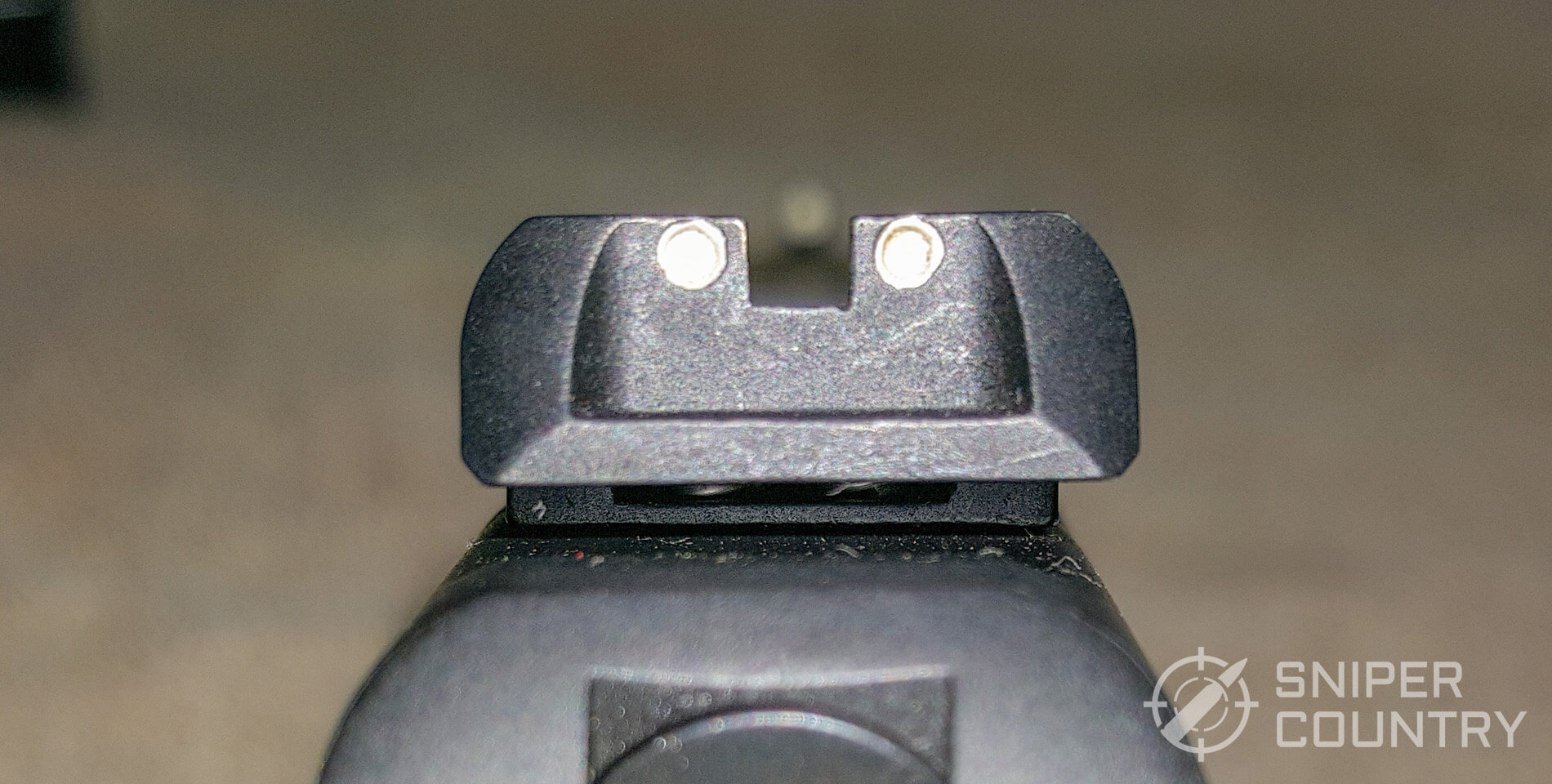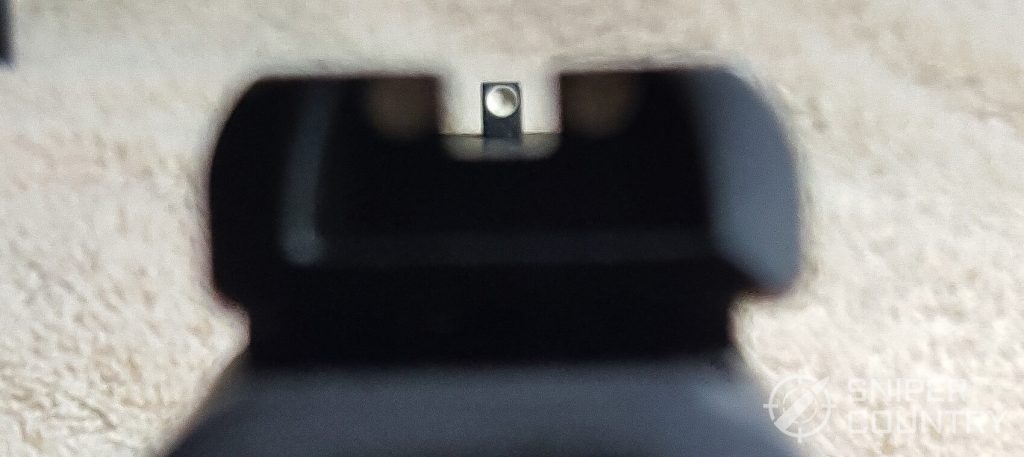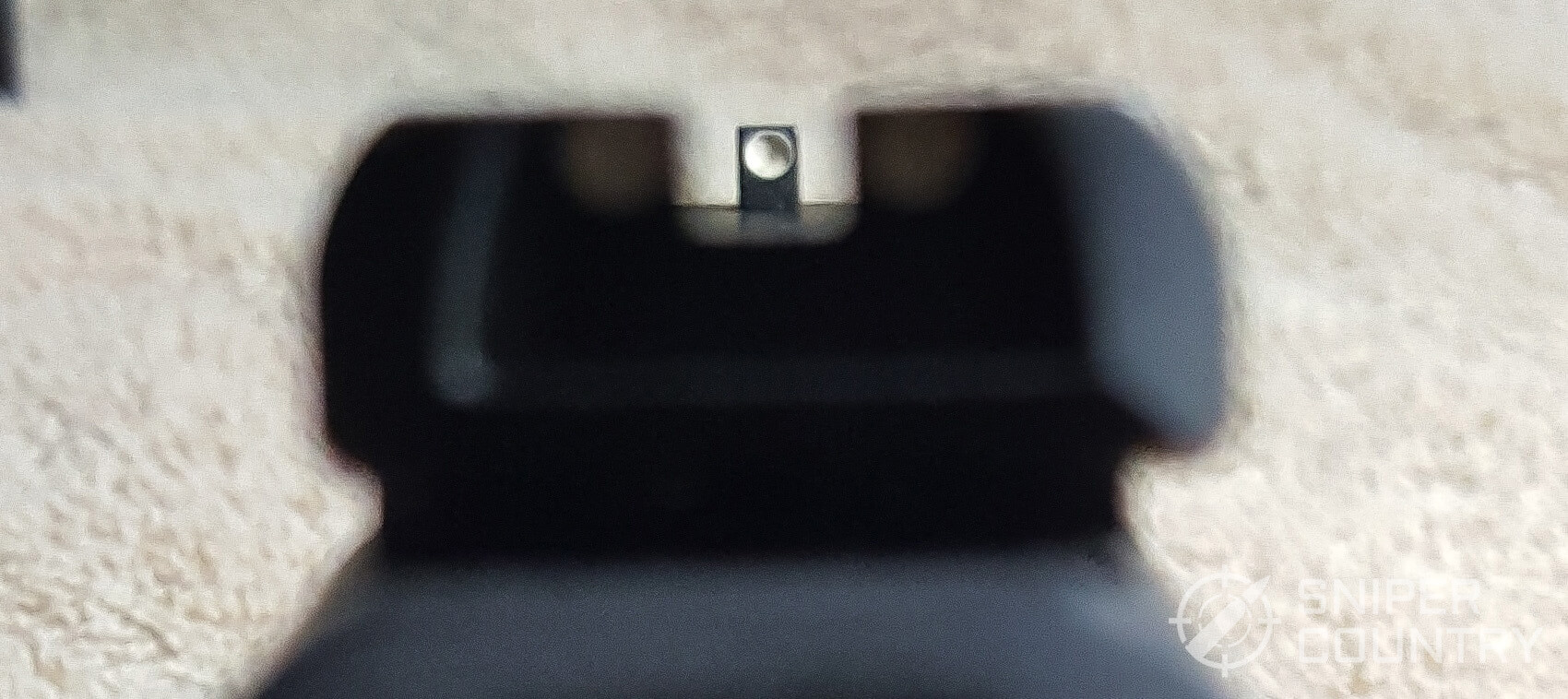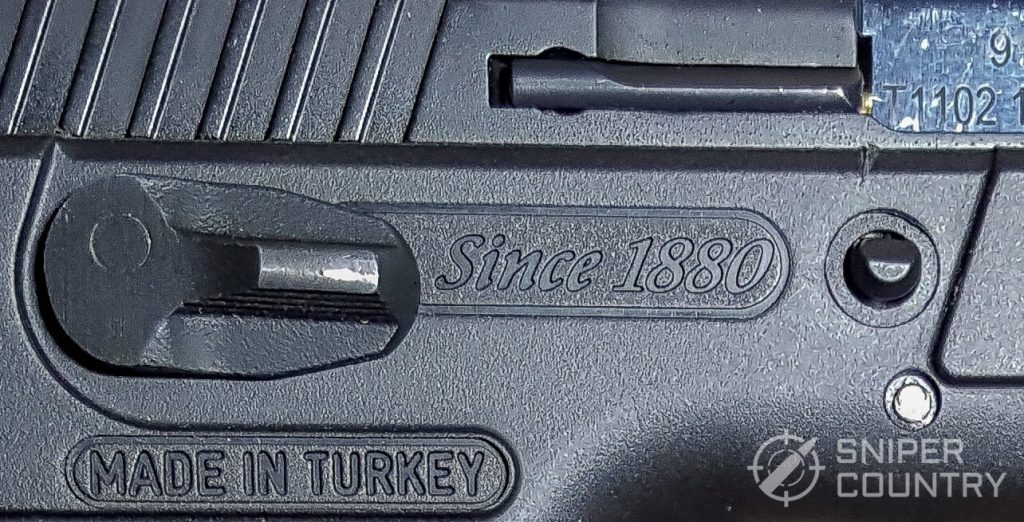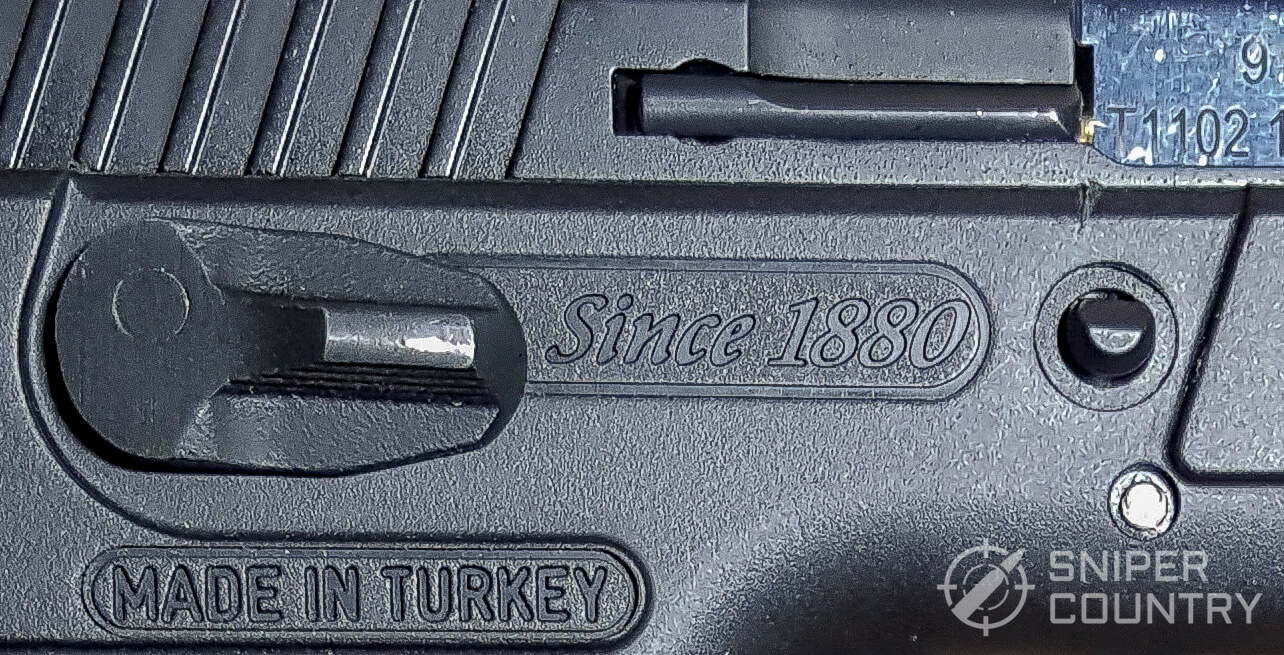 Here we have the right-side safety lever and the external extractor. Notice also the takedown pin protruding from the slide.
Other SAR K2P Features
SAR K2P Recoil Spring
The recoil spring is interesting. There are two springs, one nested inside the other, with a stainless recoil guide rod. You might think that, given that type of construction, it would be hard to replace the spring(s) after cleaning, but it's not bad at all. They go into place with minimal effort.


Here we have the assembled spring (above), and below the separate components. The guide rod is polished.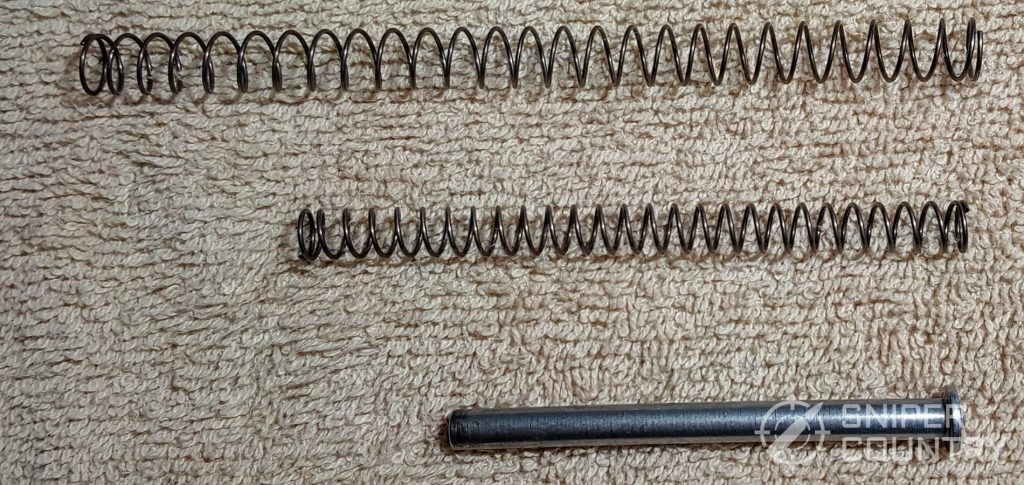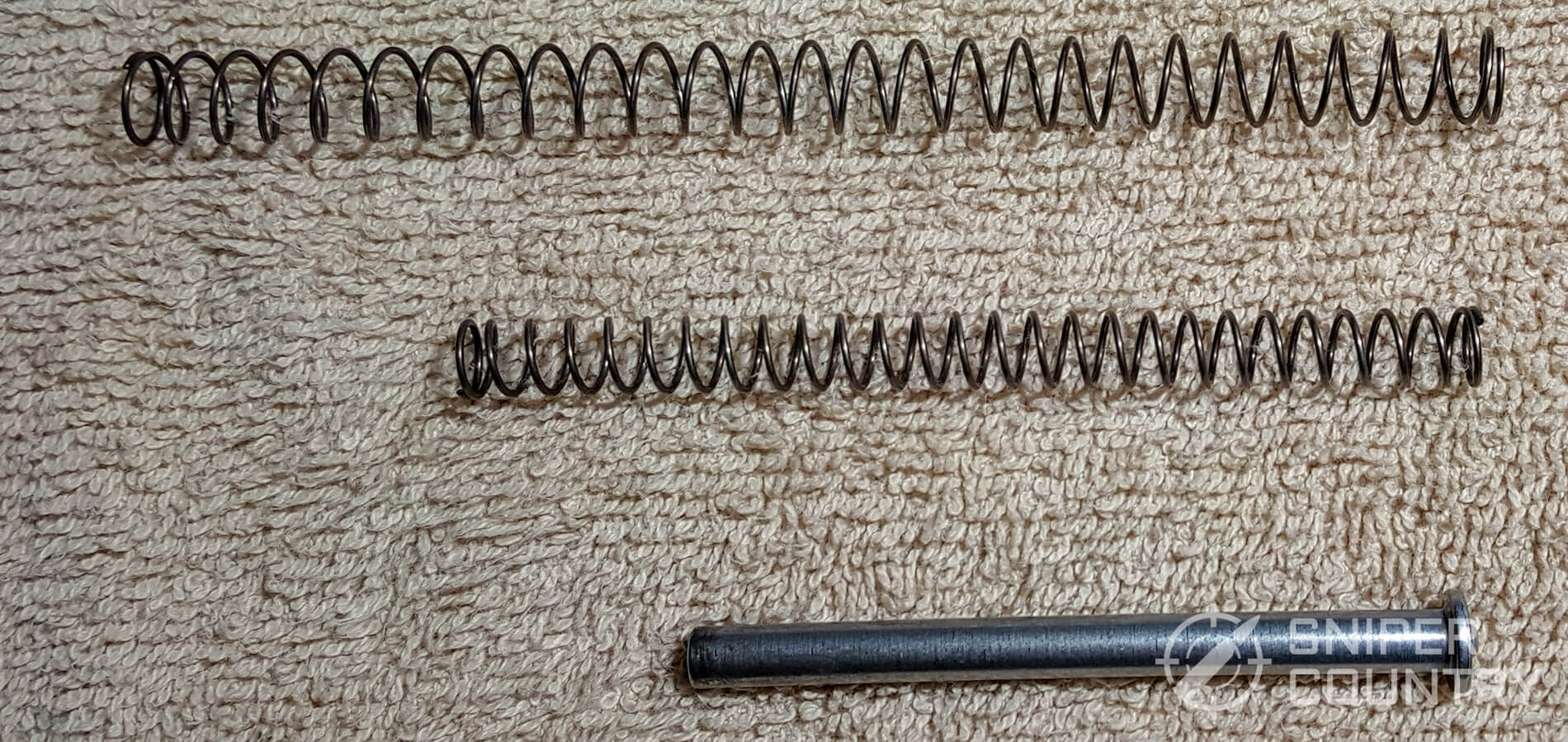 You just slip one spring inside the other and place both on the guide rod, then insert them into the slide. You can't see the little dimple on the large end (right) of the rod — that bump fits into a corresponding depression in the barrel.
SAR K2P Barrel
The 3.8-inch, high-polished stainless barrel has a feed ramp that is as shiny as most any other I've seen. No machining marks are visible anywhere on it. The caliber and serial number are engraved on the side of the hood.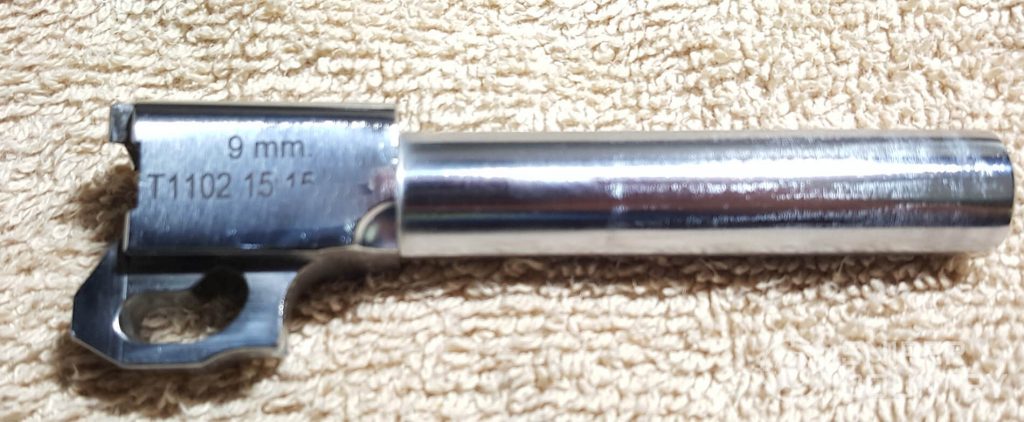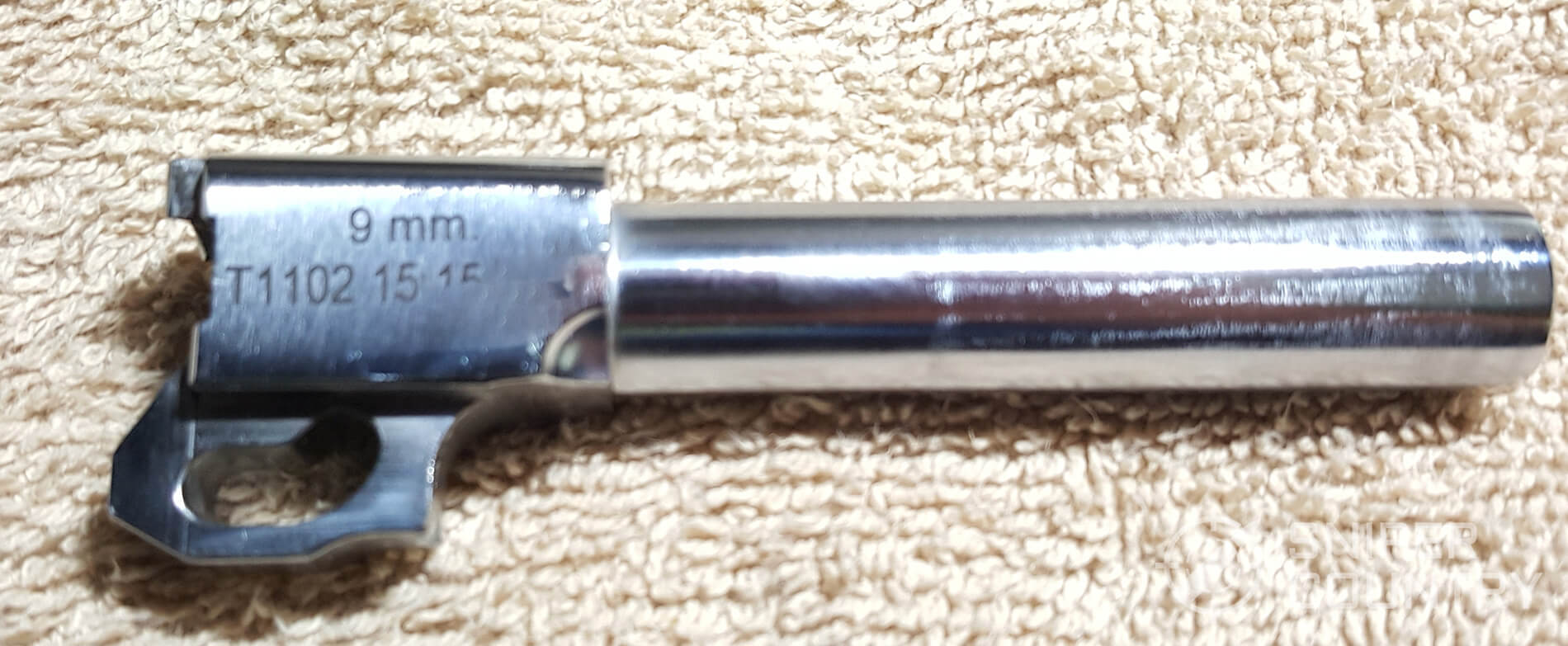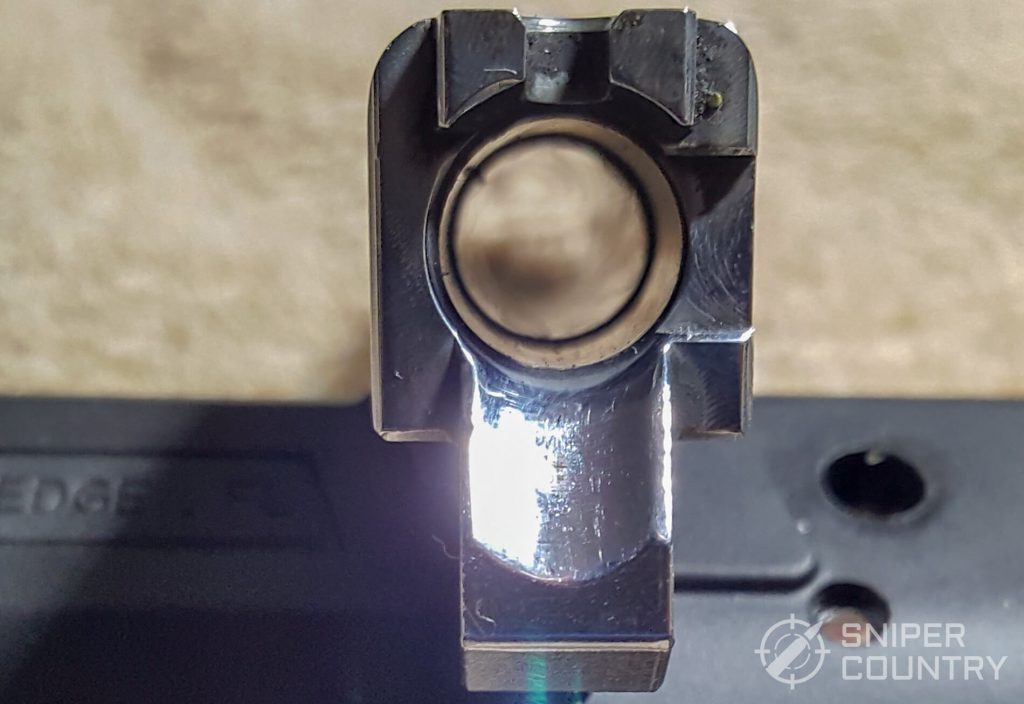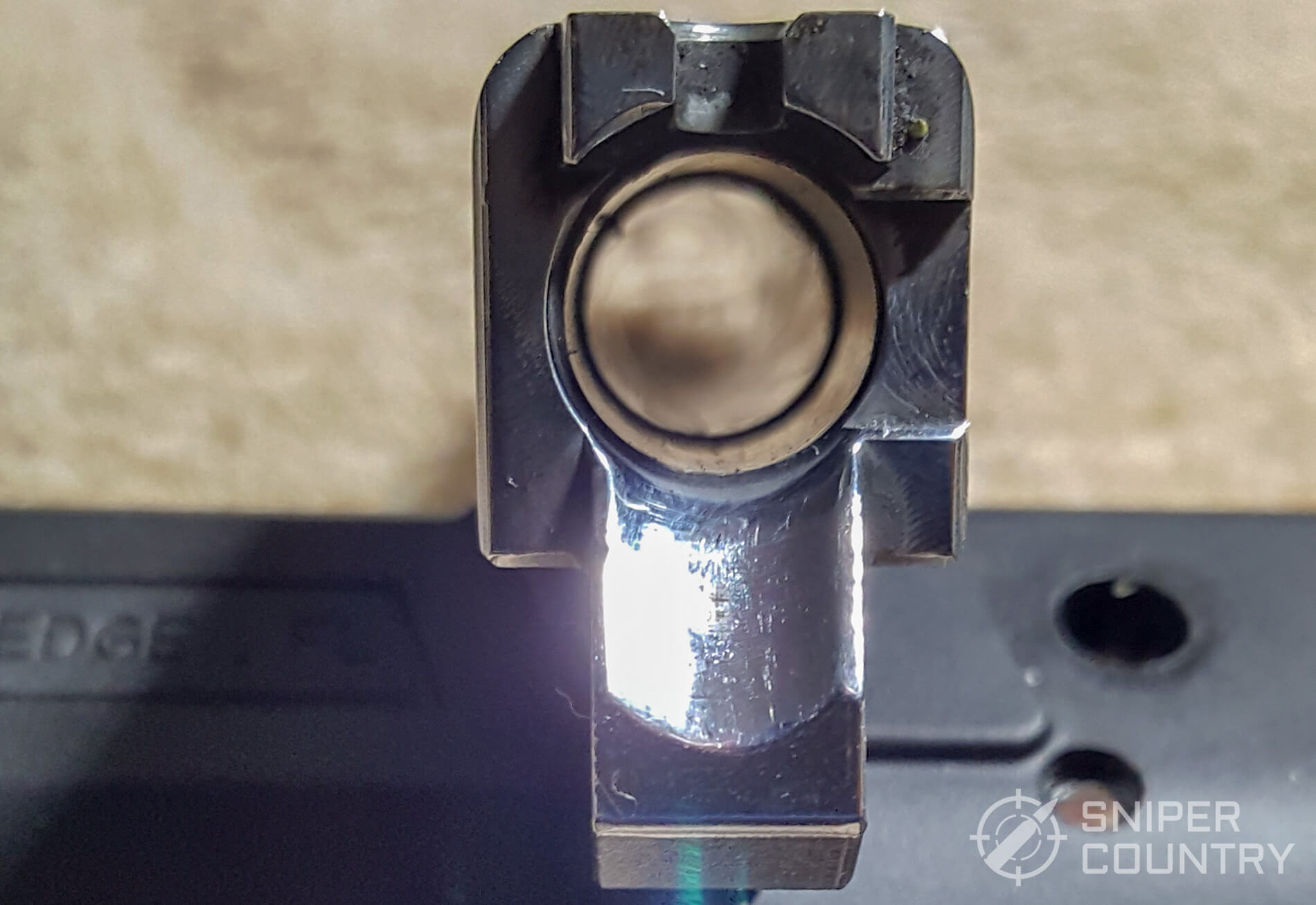 SAR K2P Trigger/ Hammer
The trigger and hammer on the K2P behave like most any other DA/SA pistol. There three positions: hammer fully down against the frame, half-cock and full-cock.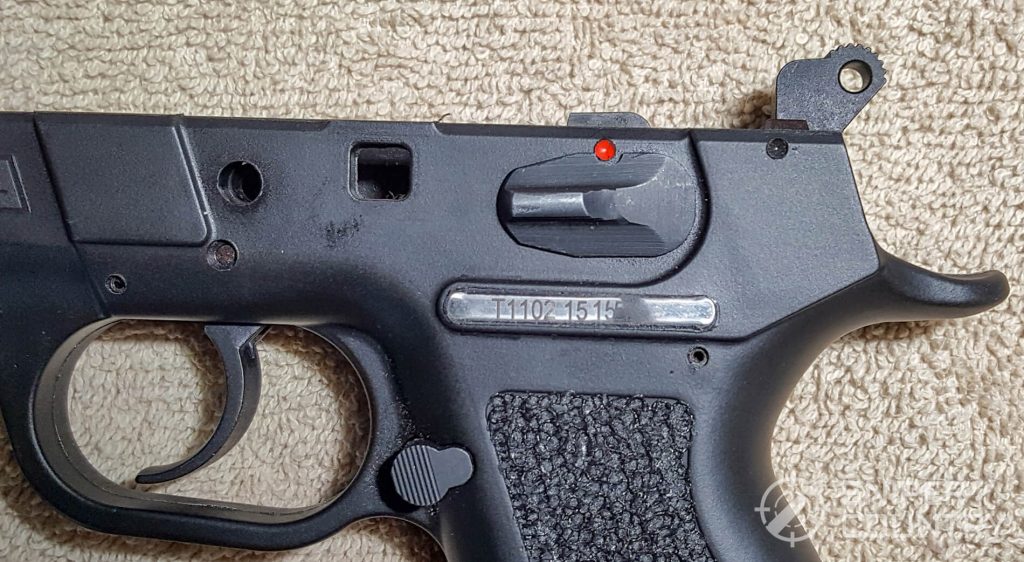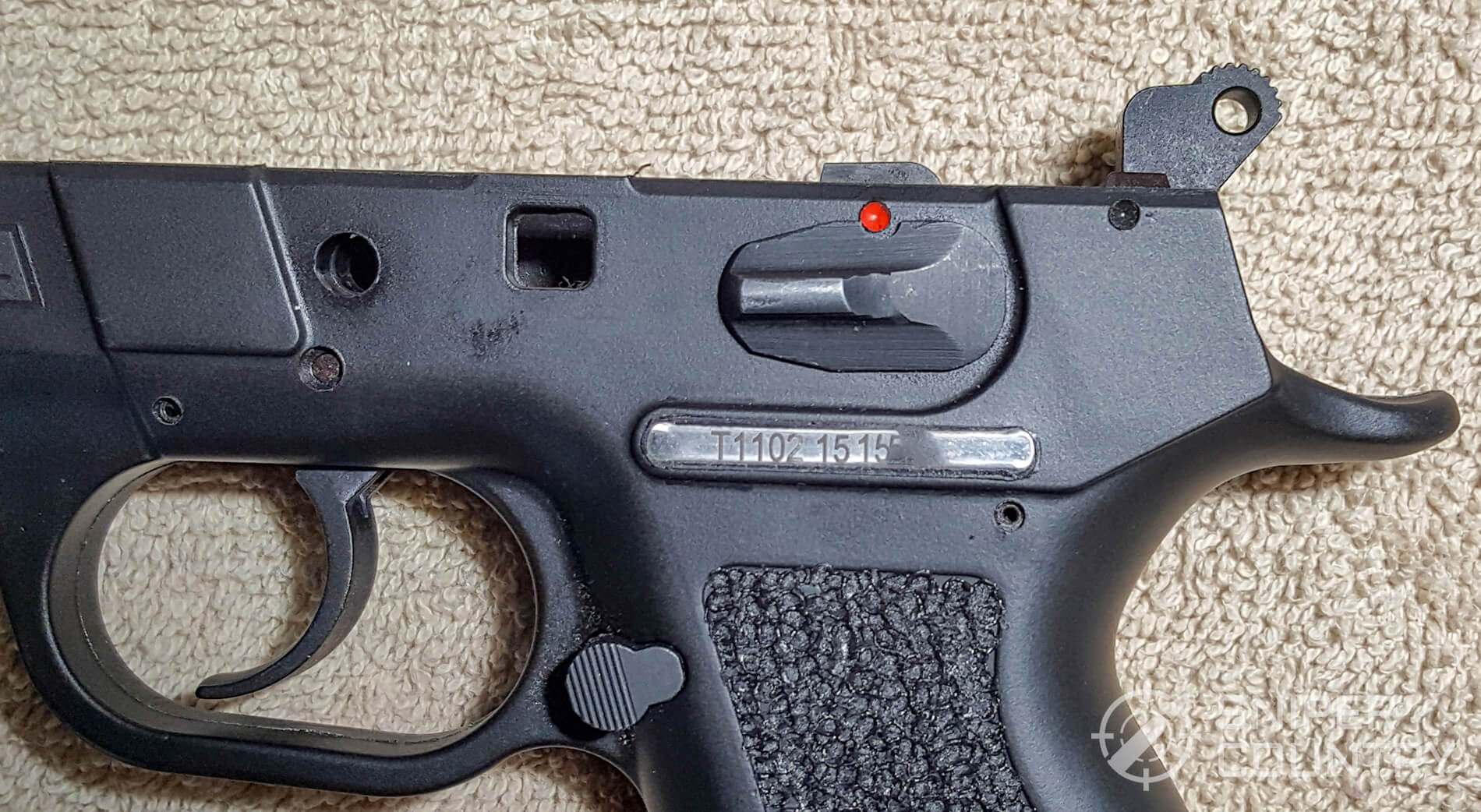 1. Hammer fully down against the frame. Most who carry a DA/SA gun will drop the hammer to this position. There is no decocker on this gun, so the hammer must be lowered manually. Here's what it looks like from the front.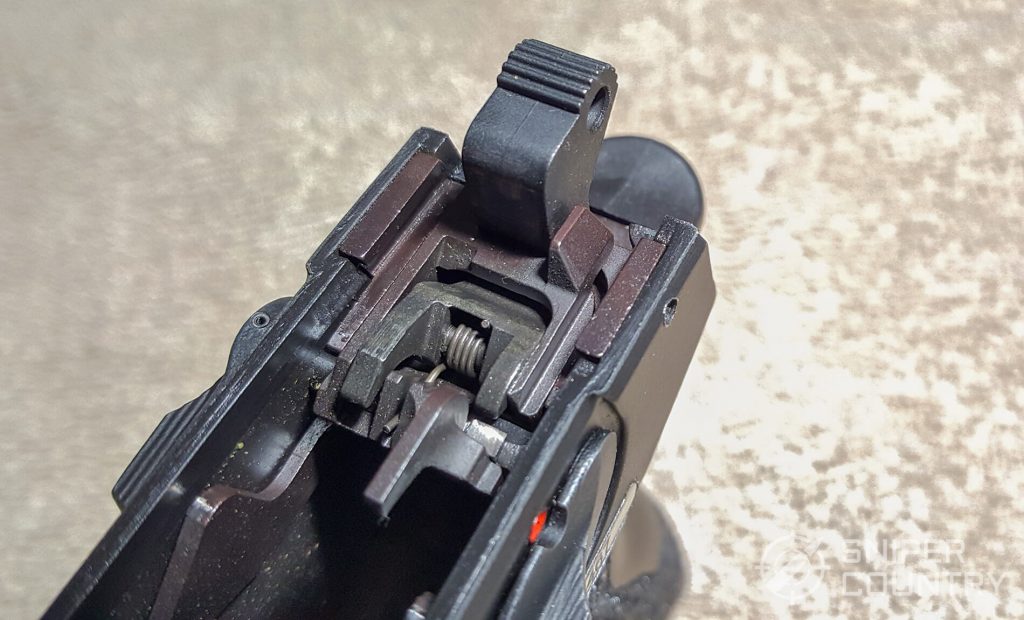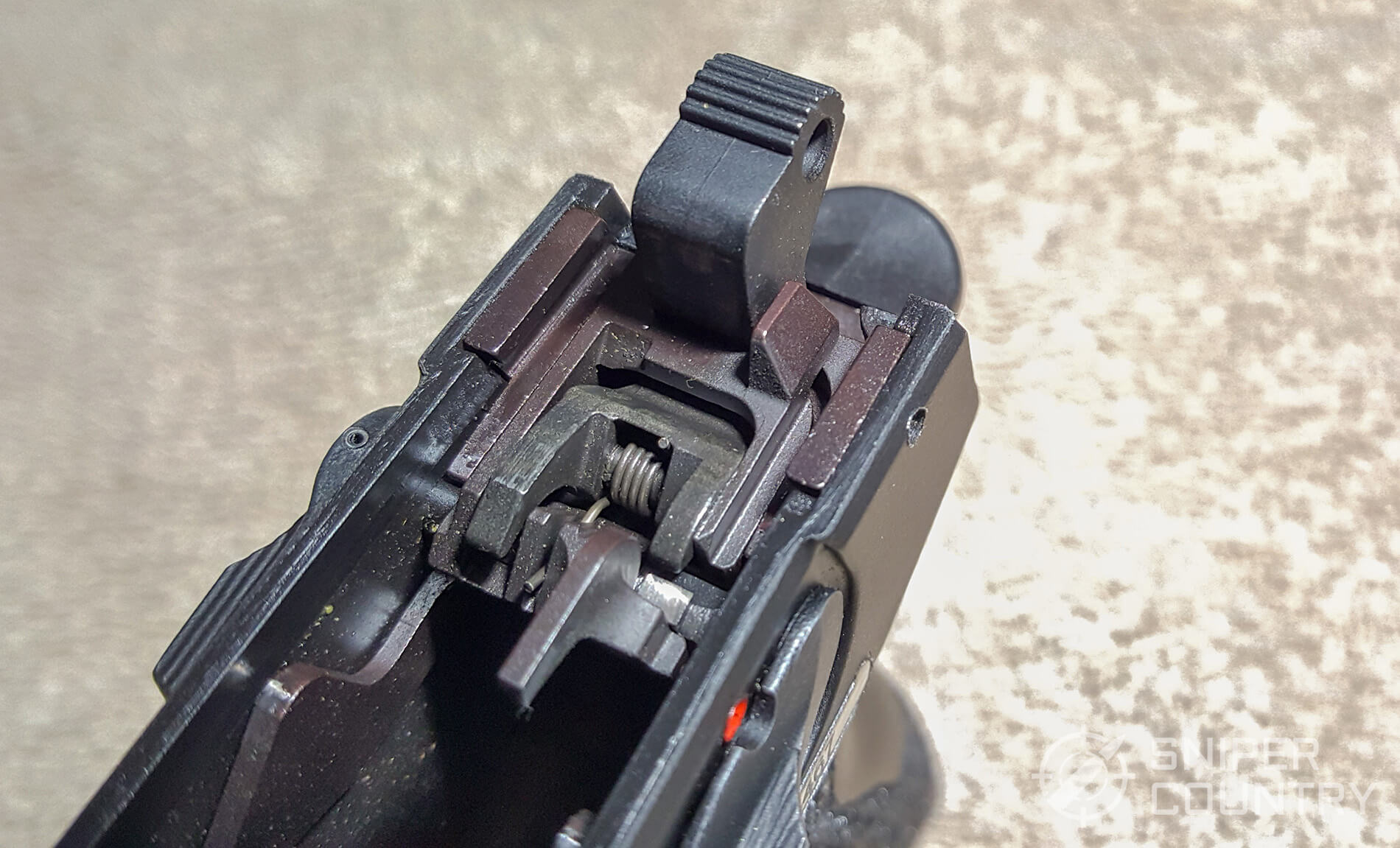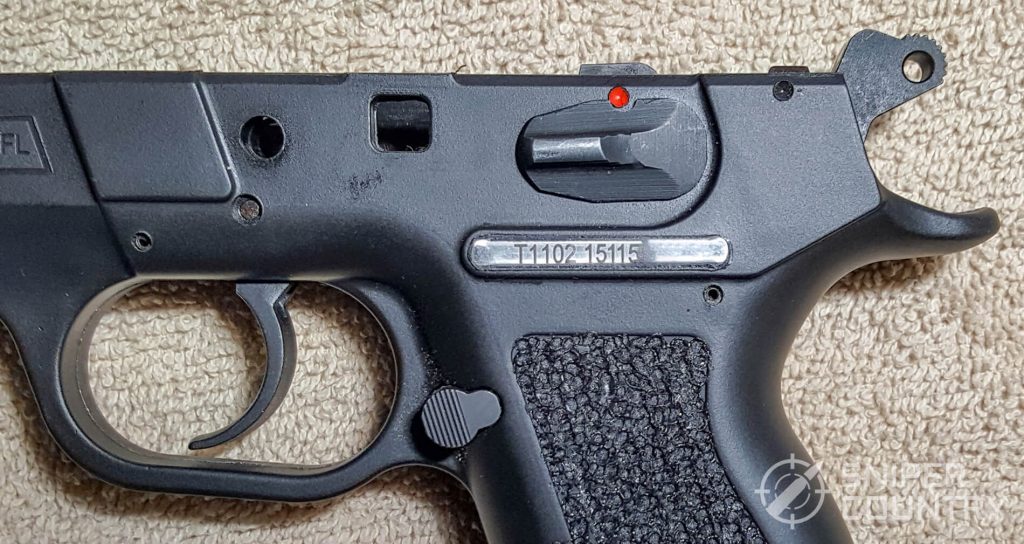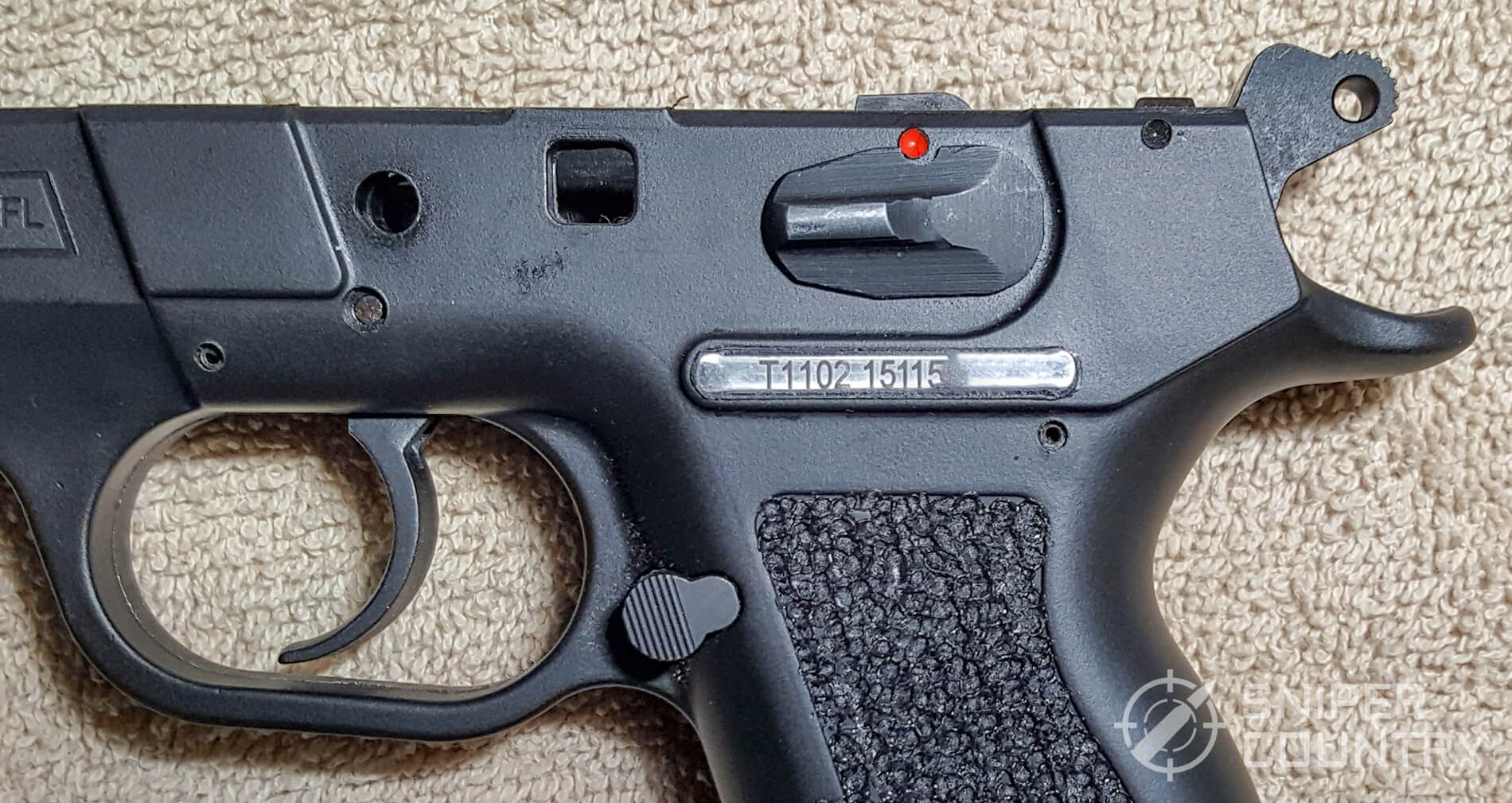 2. Hammer at half-cock. It is recommended you do not carry the gun with the hammer in this position, but have the hammer either all the way down against the slide or at full-cock.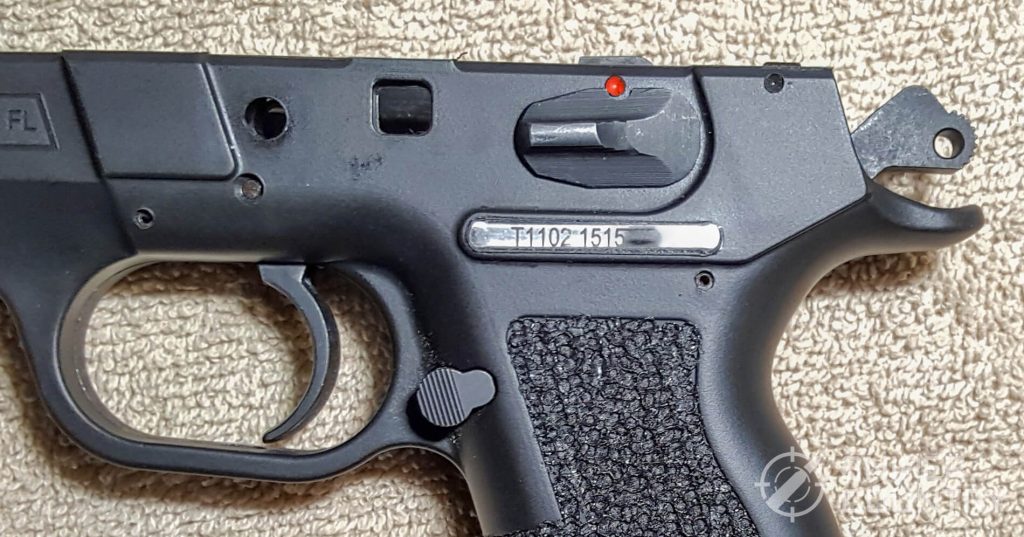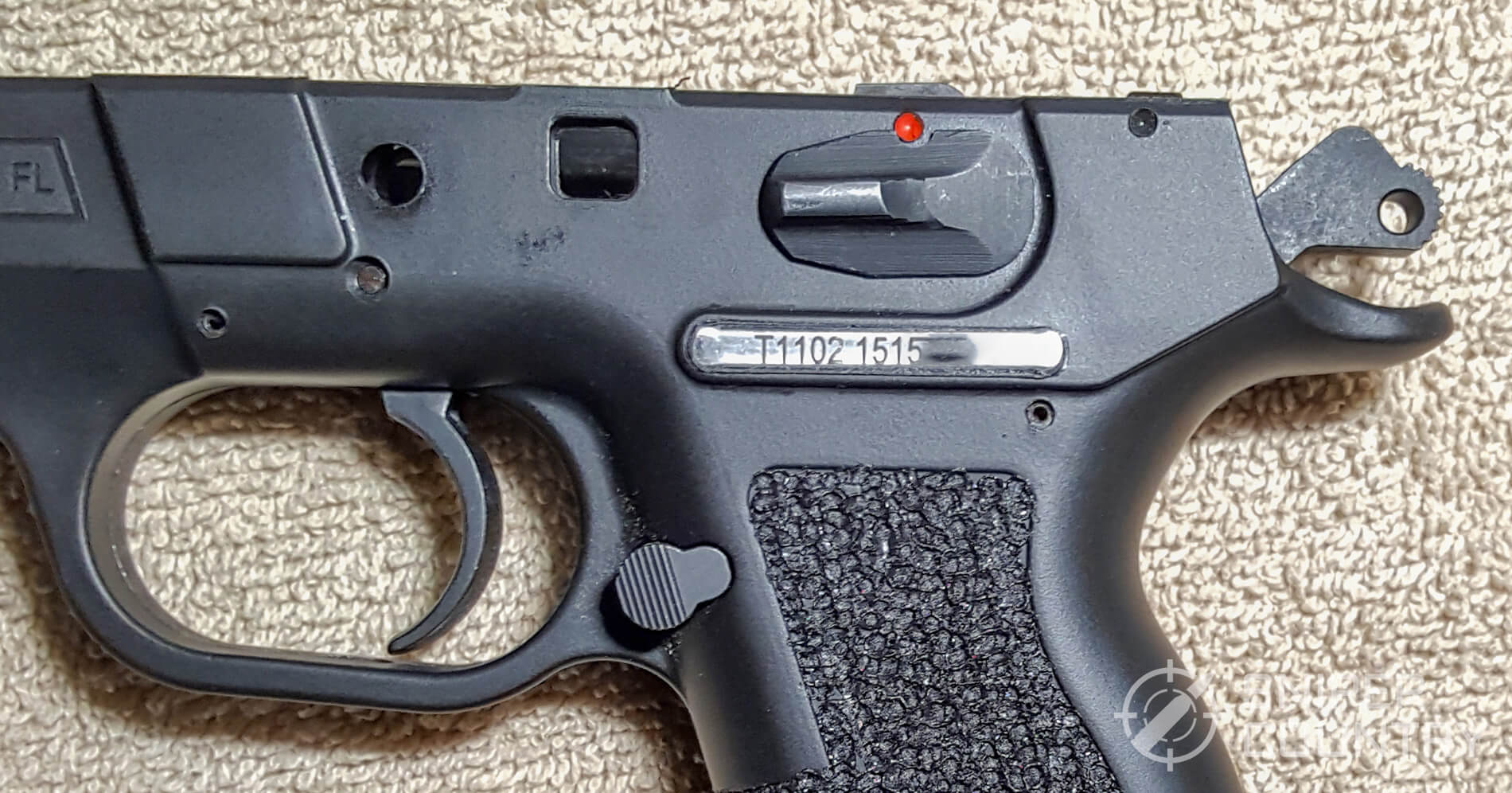 3. Hammer at full cock. There are trigger positions for each of the three hammer positions: closest to the frame for a single action, furthest away for double action.
When the hammer is against the frame, the trigger is all the way out. A shot may be fired by just pulling the trigger through a rather long arc. This is how most people carry a DA/SA pistol: hammer down.
Once the first shot is fired, the slide will cock the hammer for subsequent single action shots. The trigger is back towards the rear of the trigger guard which yields a shorter, lighter pull. Some shooters will manually cock the hammer and fire the gun single action if a precise shot is needed. You can also carry the gun cocked and locked (in Jeff Cooper's Condition One) if desired.
Speaking of the trigger, here's a shot of the trigger bars inside the frame. The rear of the gun is at the top. Everything's pretty beefy inside this gun.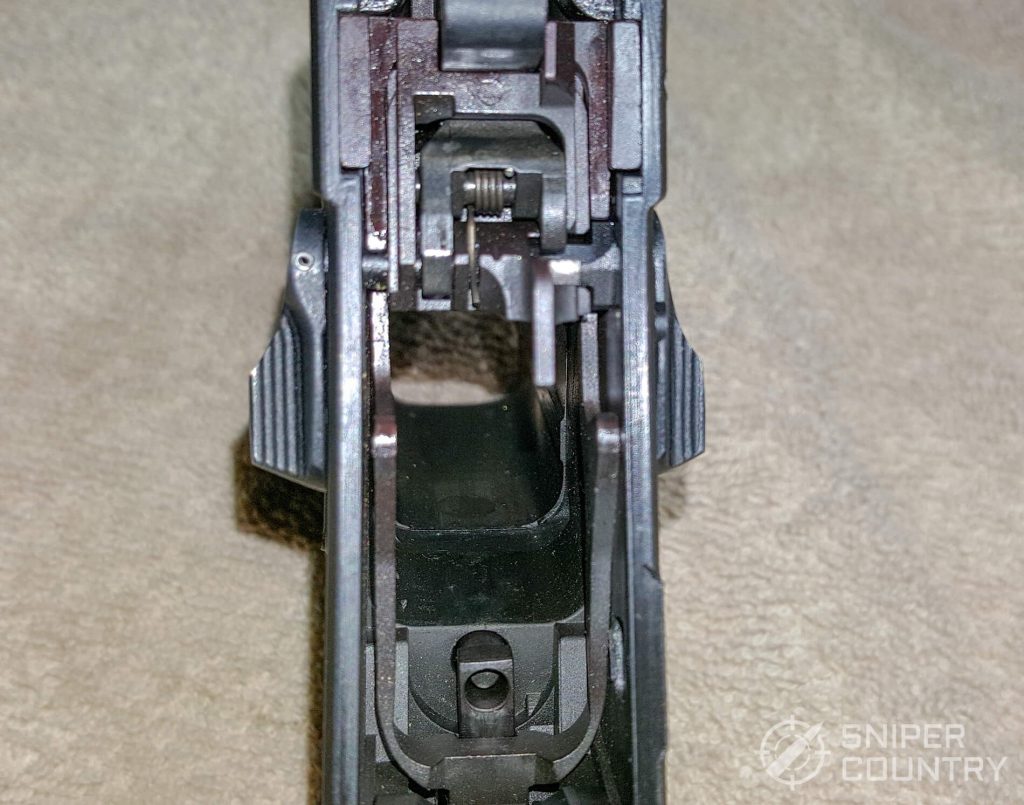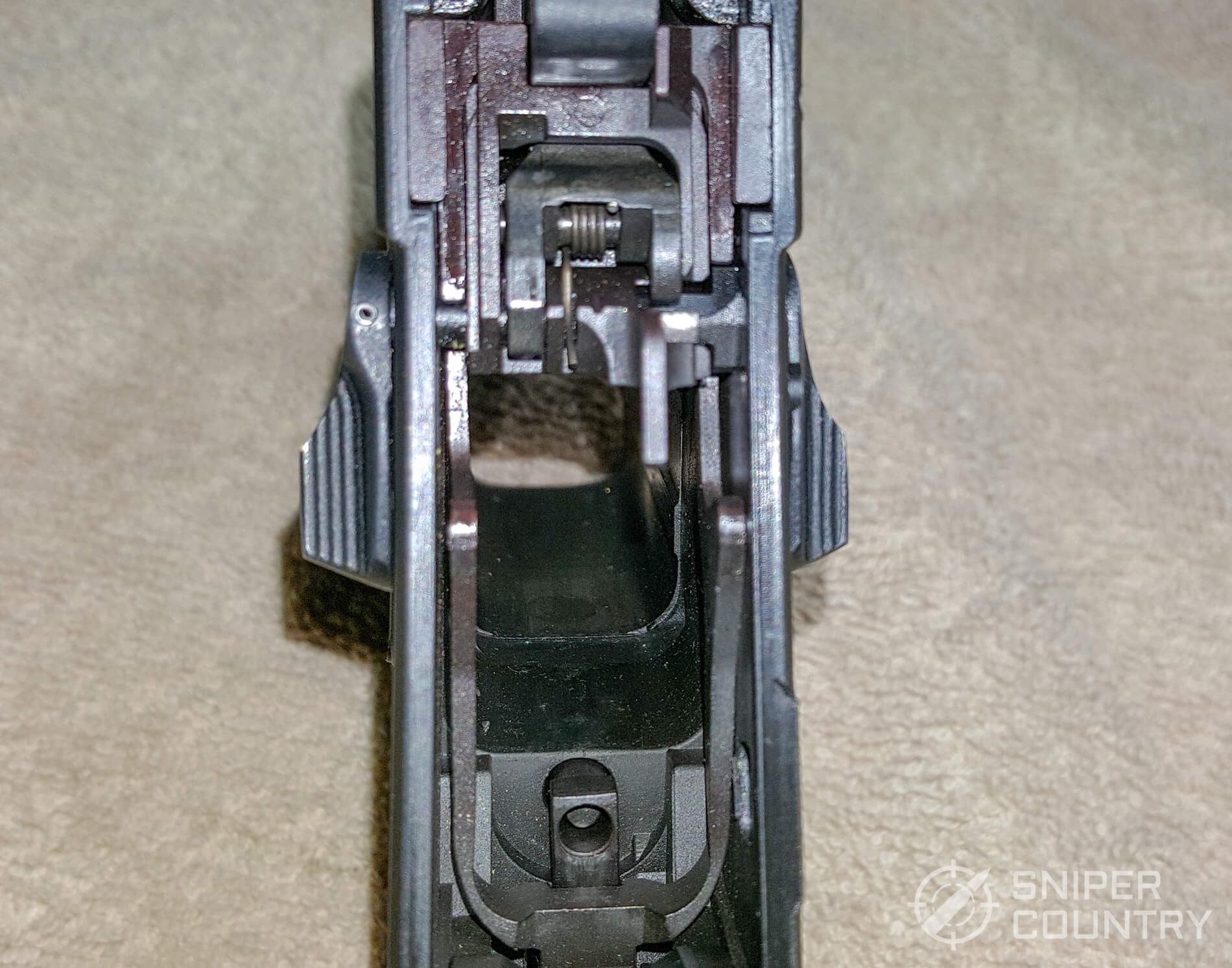 SAR K2P Magazine
The K2P comes with one magazine, but as stated elsewhere, CZ 75 magazines will work. Here's what the one that comes with it looks like.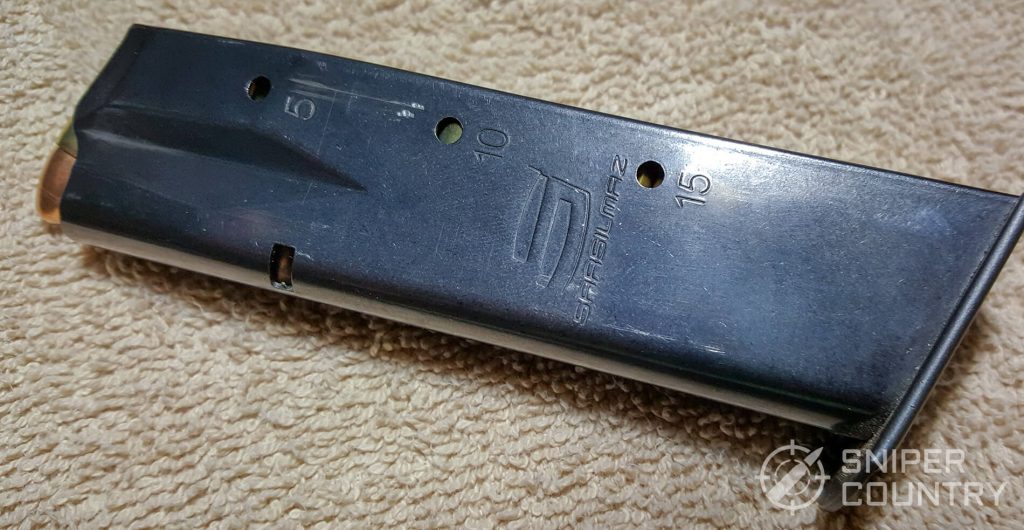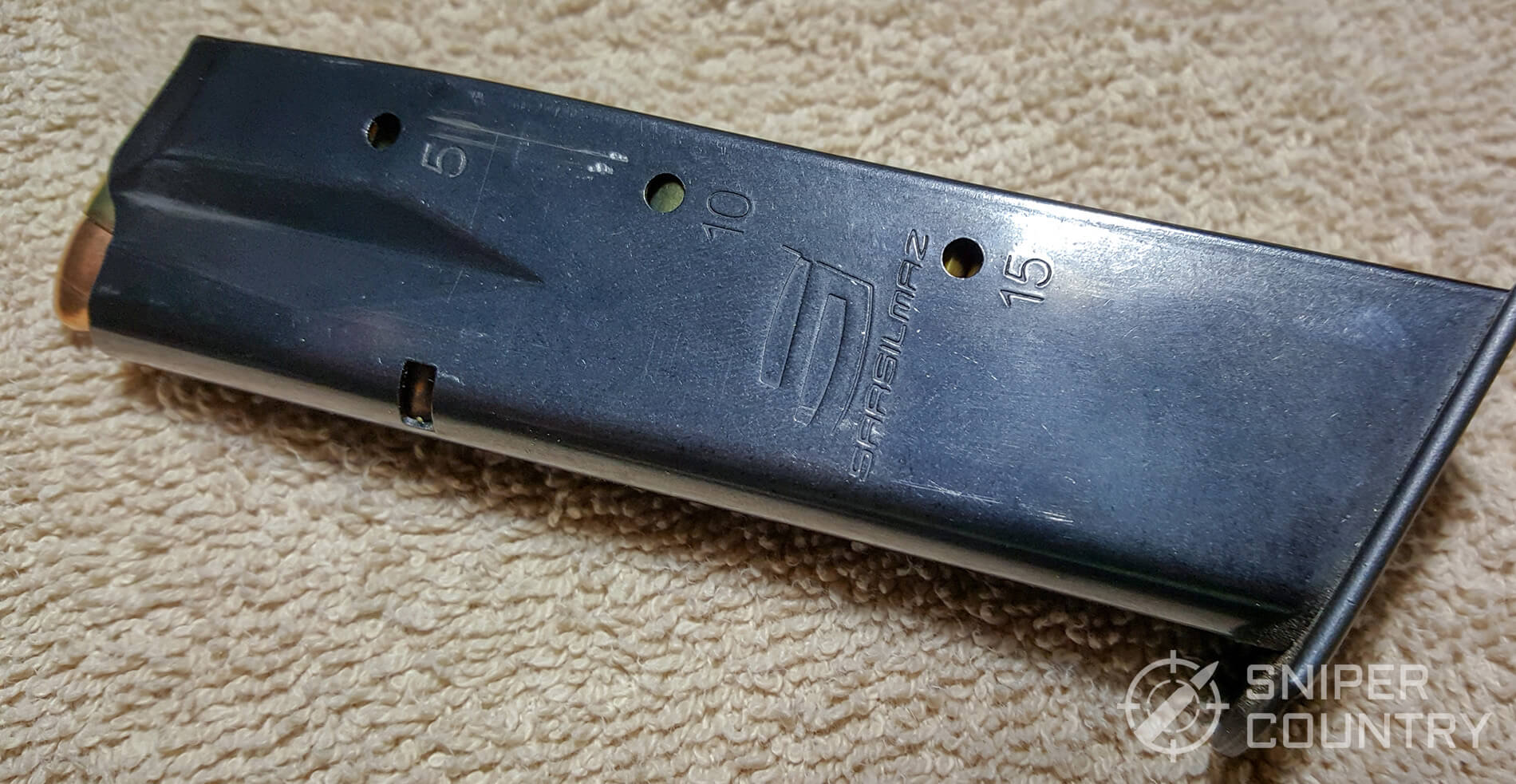 Here's a close-up of the branding on the magazine. I found no evidence that these mags were made elsewhere except at the Sar factory.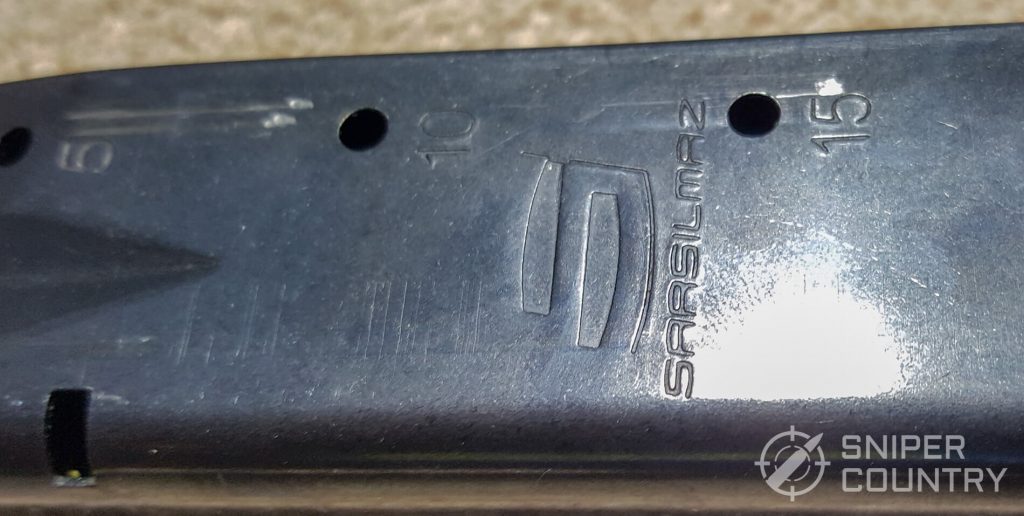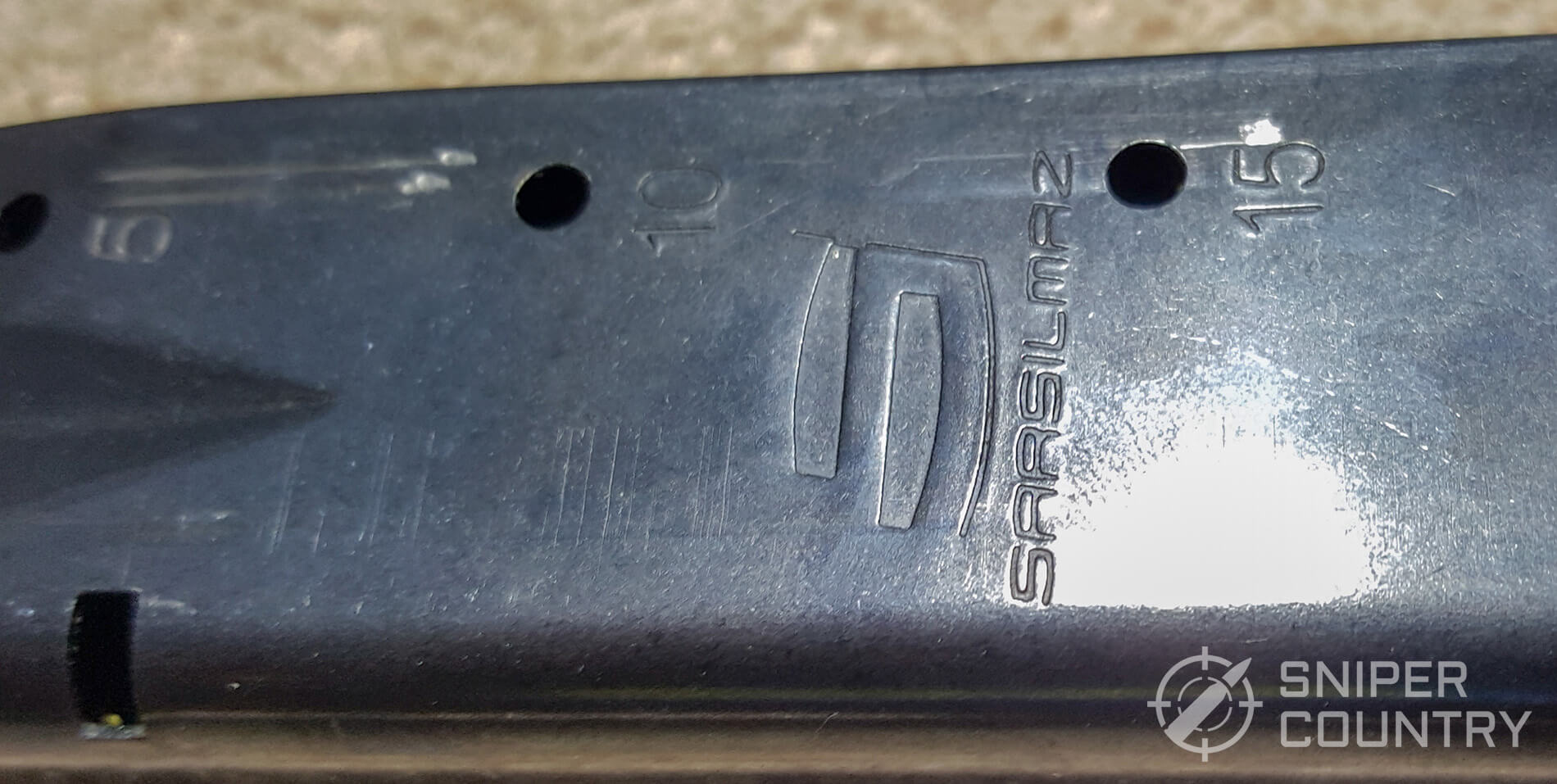 What Comes with the SAR K2P?
Before we leave this part of the review, I wanted to take a moment to show you how your K2P will come to you, and what will come with it.
Here's the box — a hard-plastic, foam-and-plastic lined snap case just like the more expensive manufacturers' guns come in.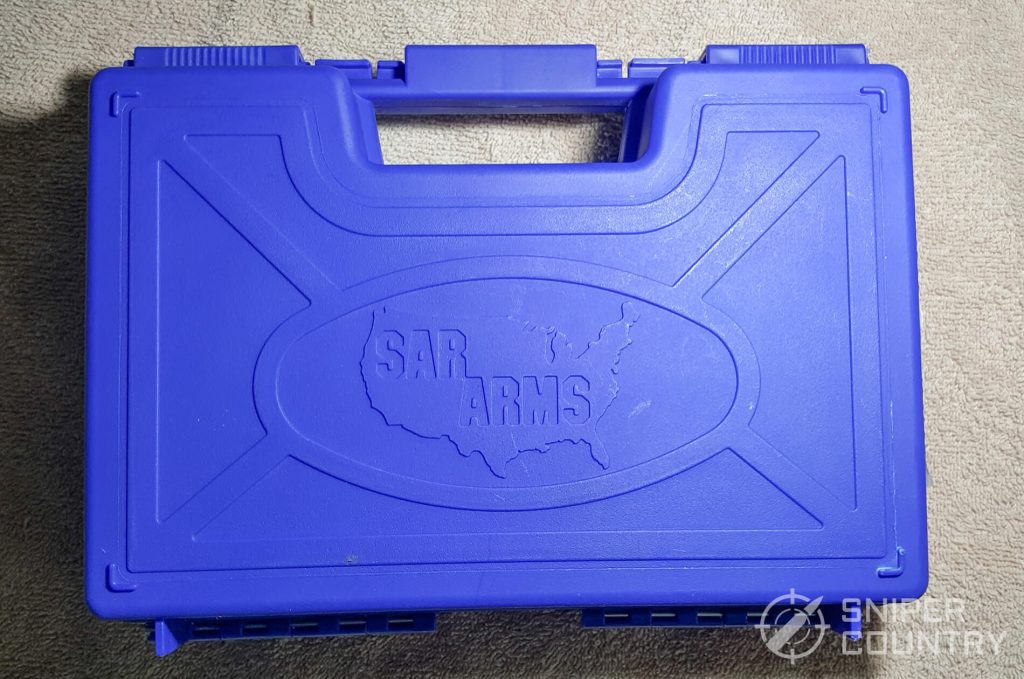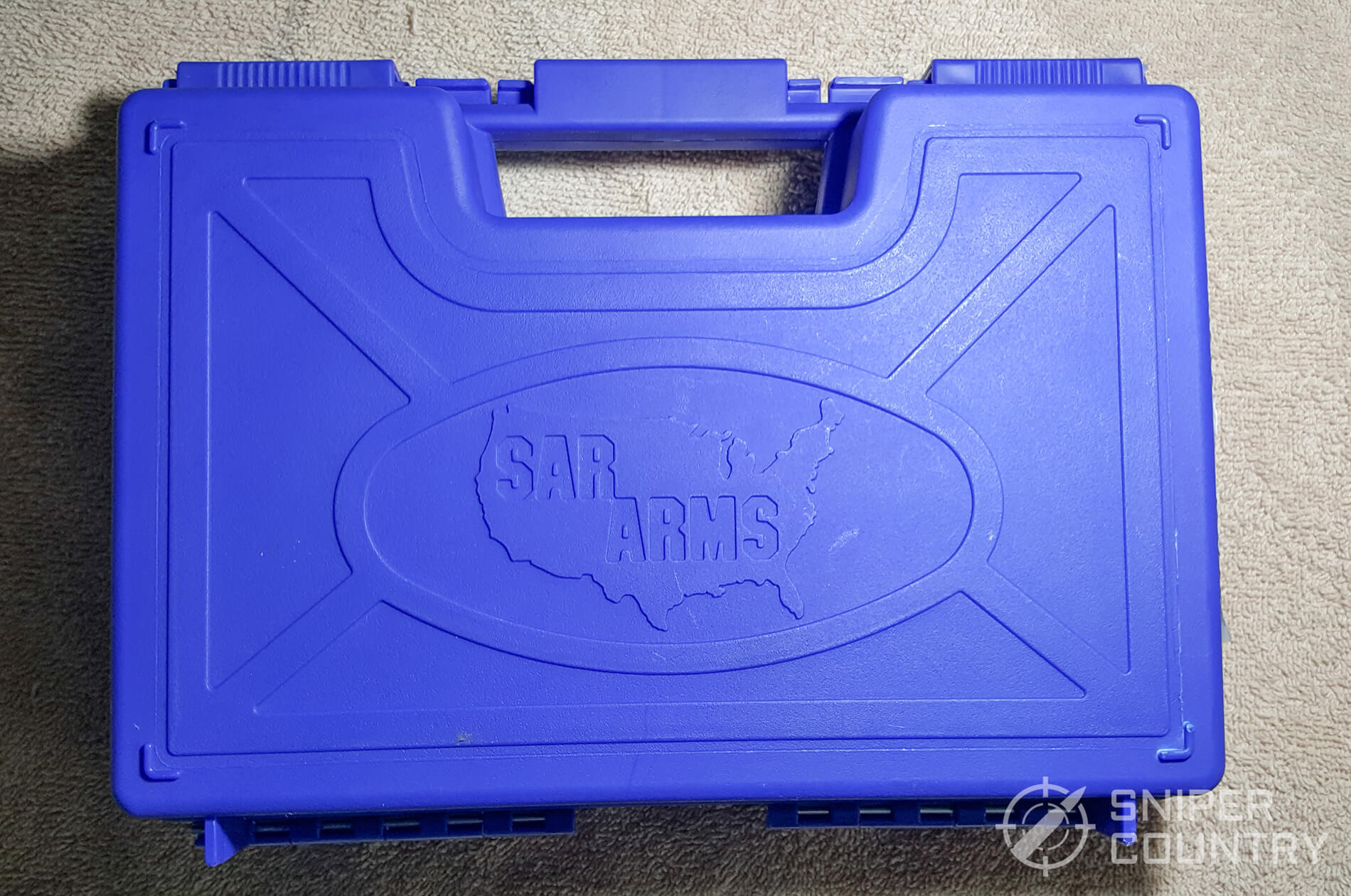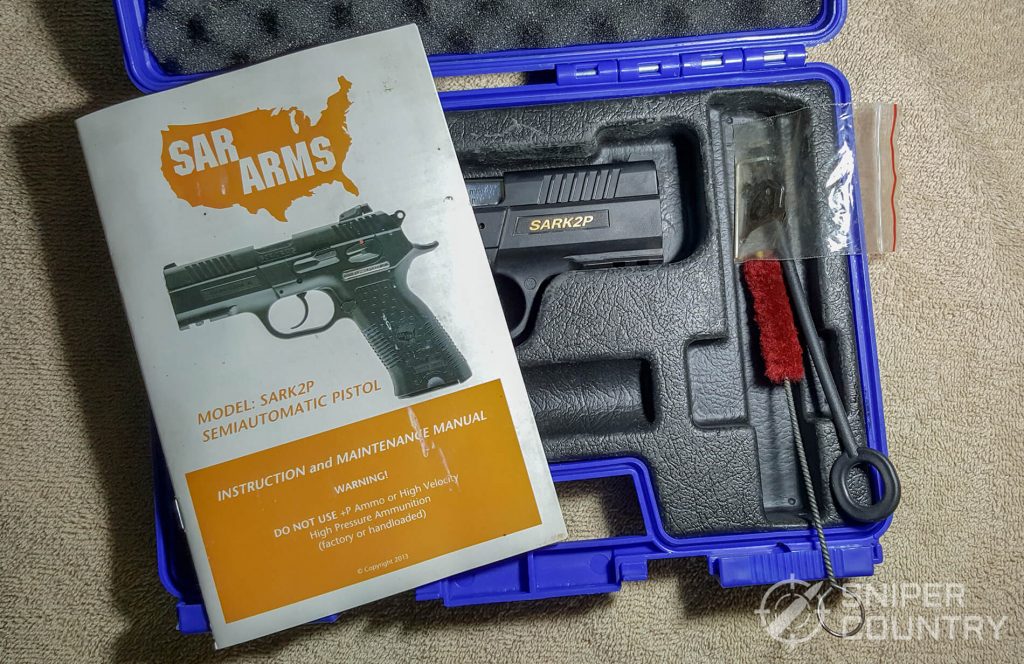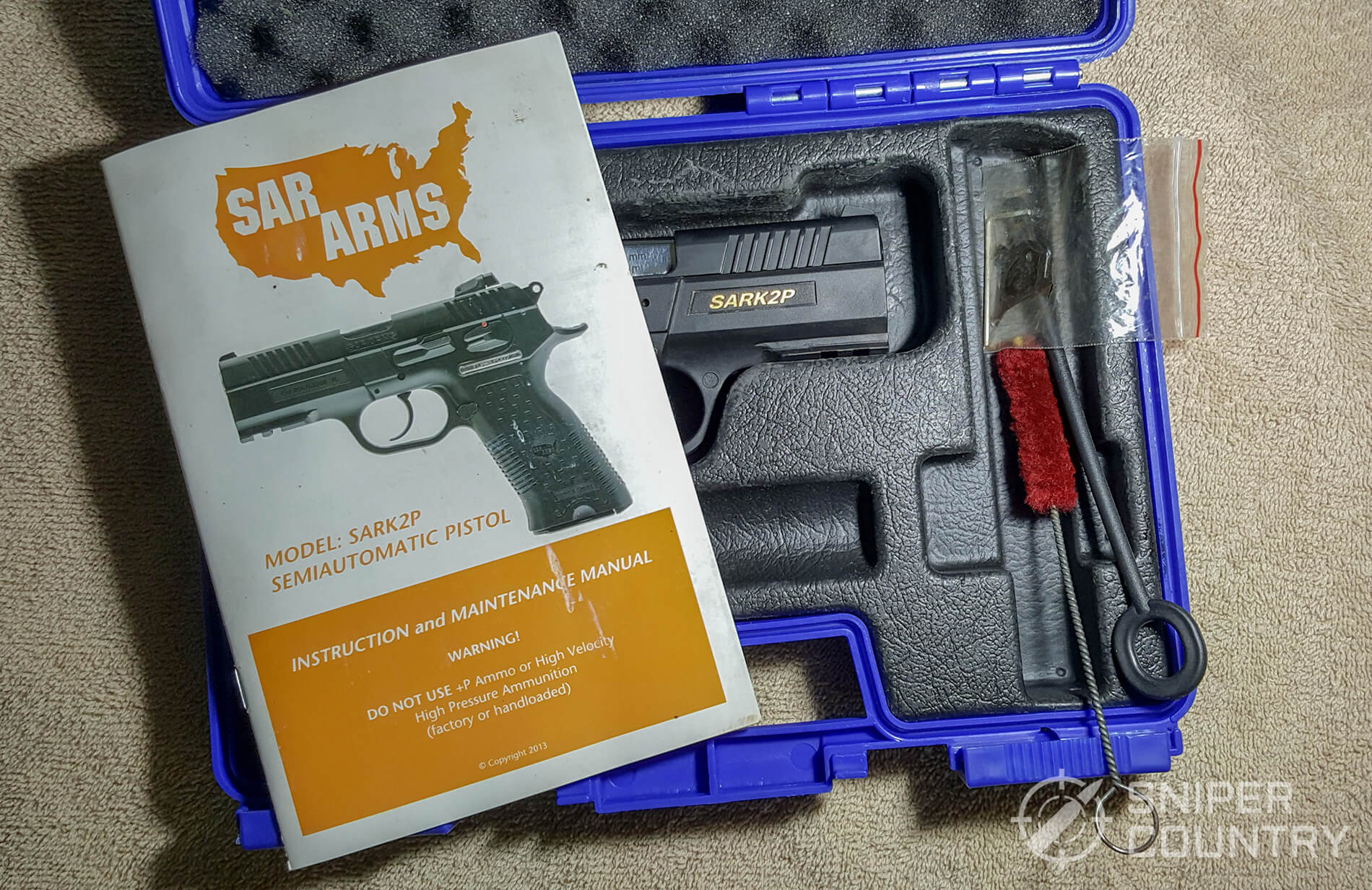 Included are the following:
Owner's manual
Cleaning brush
Cleaning rod
Adjustment tool
BONUS OFFER: Get your free shooting range targets to print at home!
Get your free targets to print at home!
SAP K2P Pros & Cons
Let's talk about some pros and cons of this gun, then we'll shoot it and see what happens.
PROS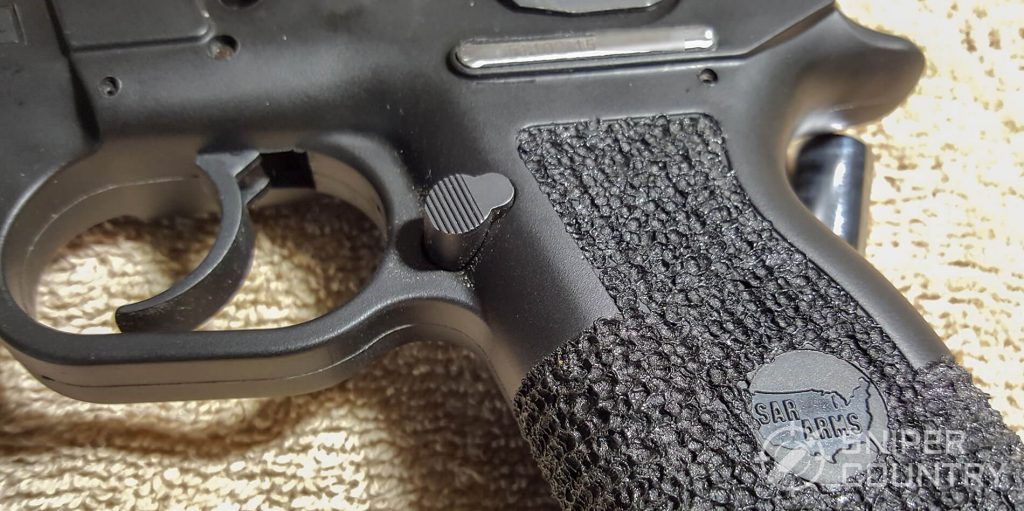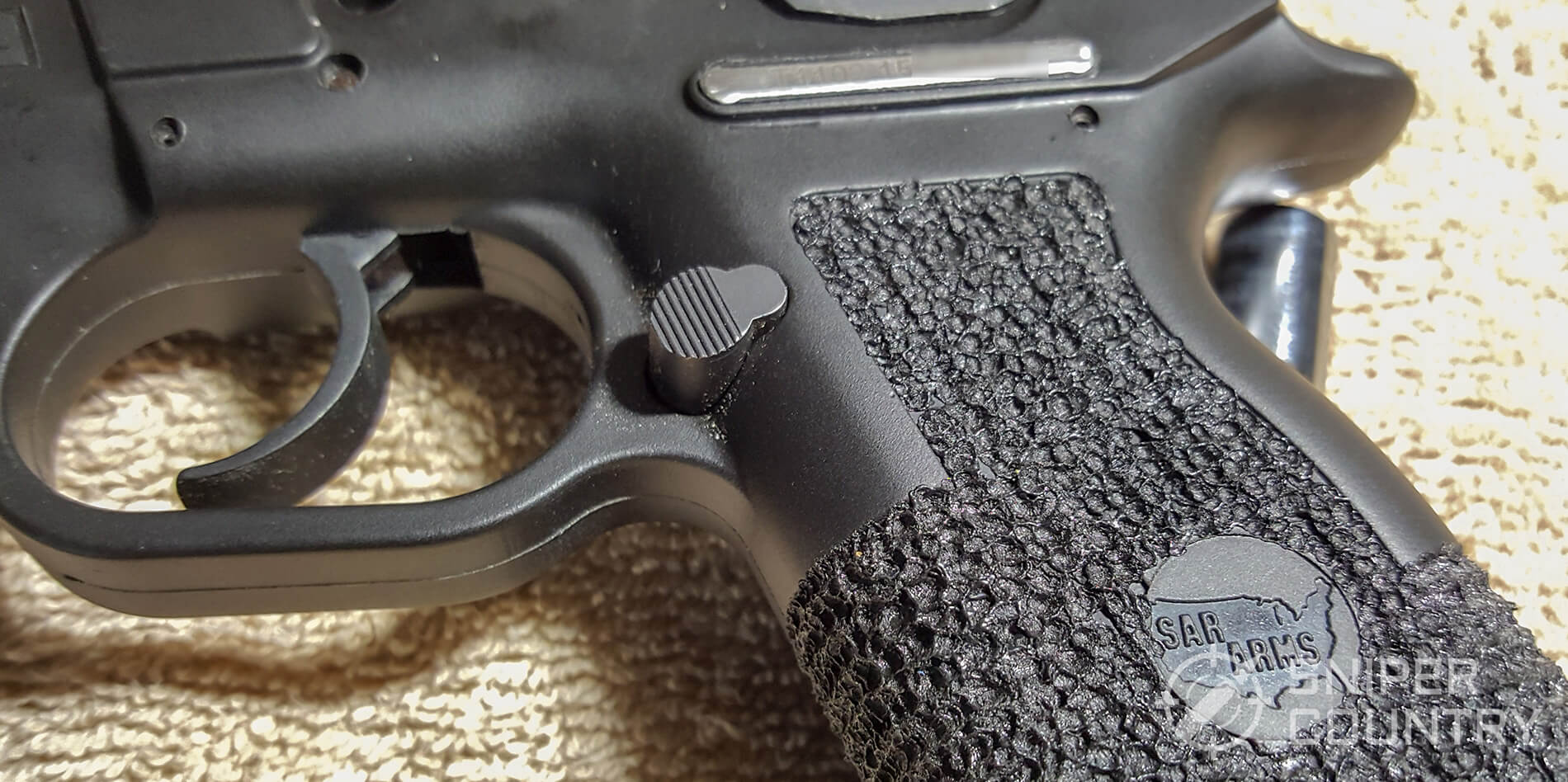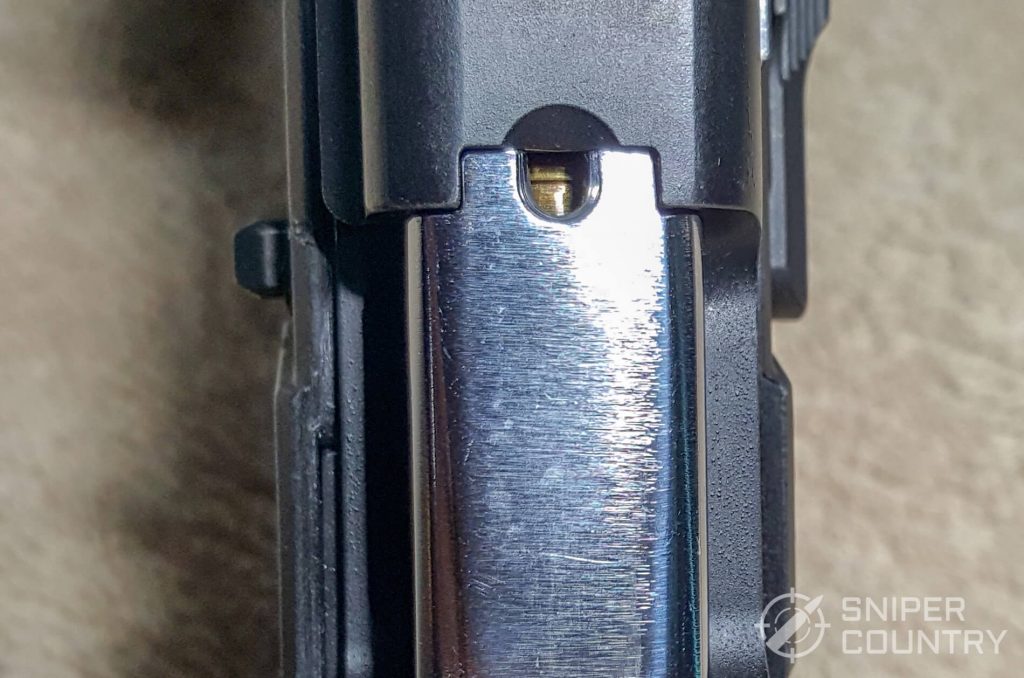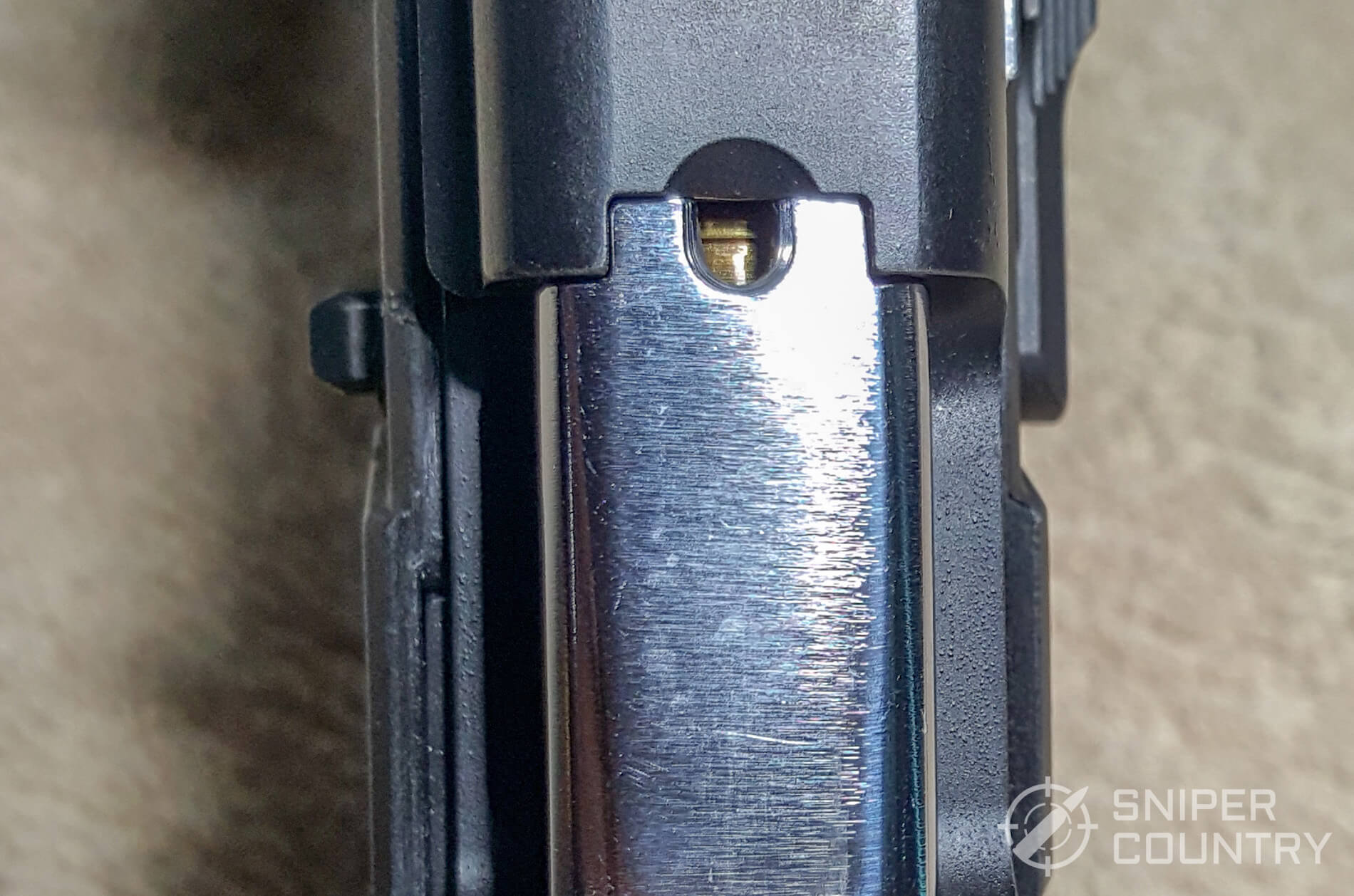 1. Compact 9mm with greater capacity than a Glock 19 but very close to the Glock's size.
2. Based on the proven CZ 75 system.
3. Balances well in the hand and points naturally.
4. Handles recoil well — stays down in recoil due in part to low bore axis and frame undercut.
5. Sights are very good, with adjustability available via a screwdriver.
6. Magazine release is sharply serrated, with positive retention/release. It is reversible. Also notice in this photo the undercut frame at the trigger guard that allows a higher hand hold.

7. Trigger pull is good for this type of action. I'm thinking it's around 5 pounds SA and 10-12 DA. Smooth, too.
8. Ergonomics are great. It just fits in the hand and puts your finger at the trigger, right where it should be.
9. Ability to carry the gun with the hammer down or cocked & locked.
10. Accurate with factory loads or my handloads, plus velocities are where they should be.
11. Loaded chamber indicator port.
12. Ambidextrous thumb safety.
13. Simple take-down.
CONS
The gun isn't perfect. There are a couple of things that I would change.
1. Sharp Edges. The magazine well forward edge and the back corners are very sharp. I had to touch them up with some sandpaper. You could conceivably cut yourself if you weren't careful.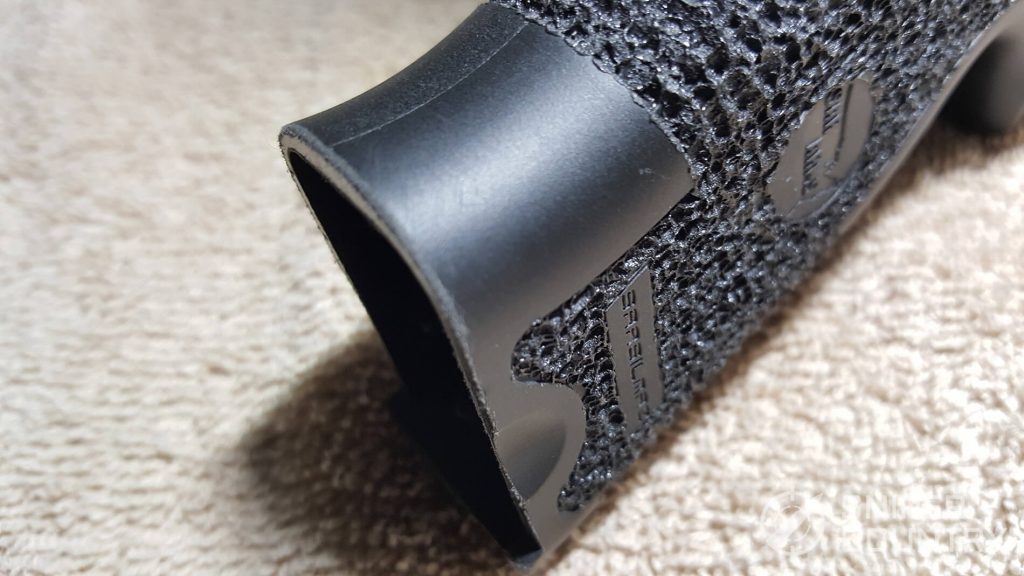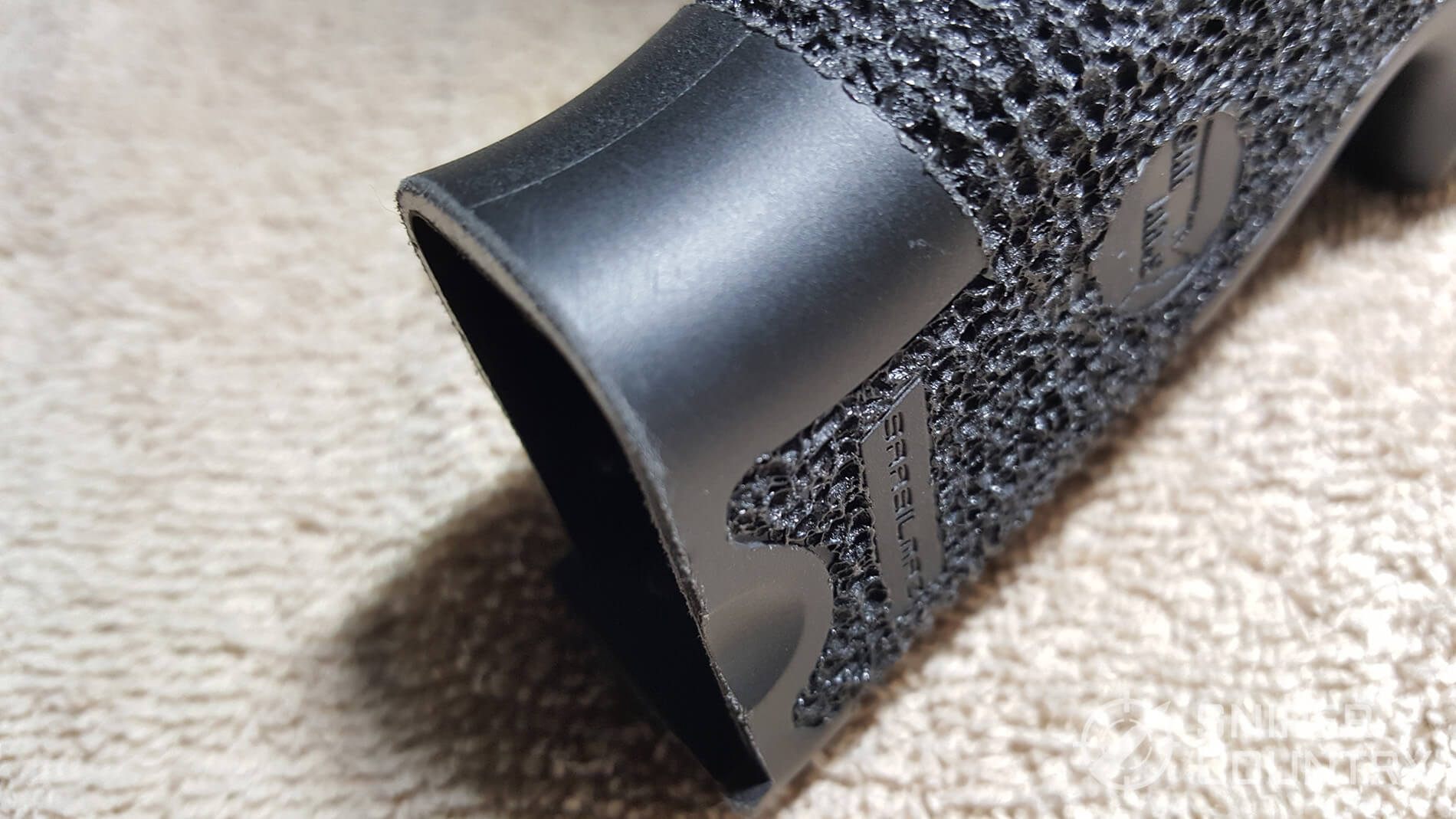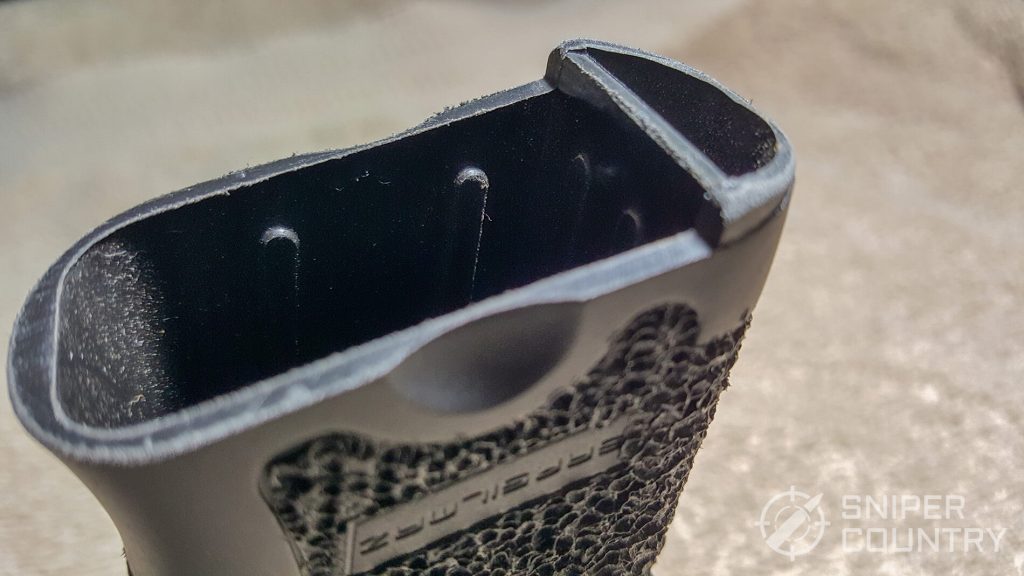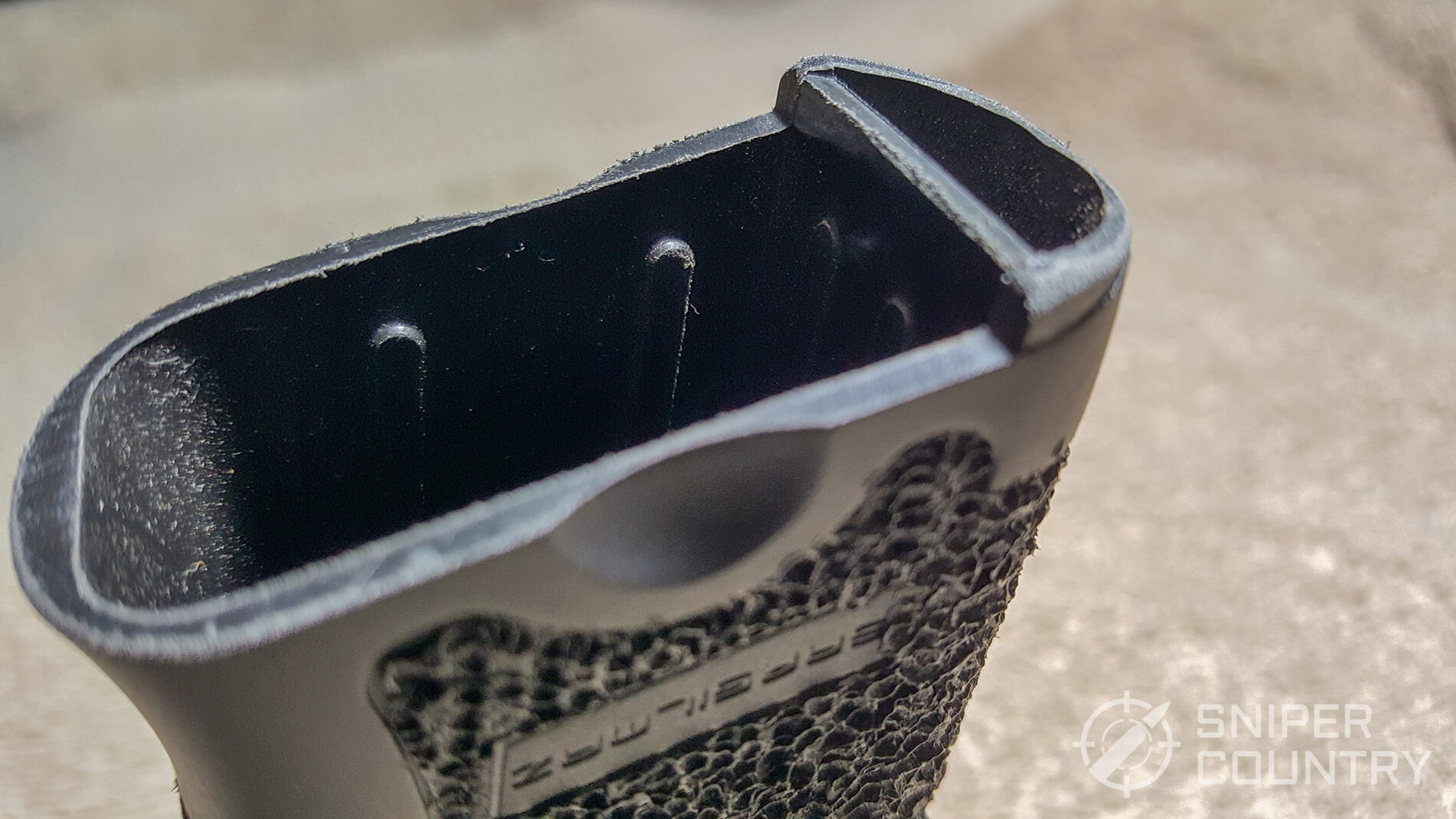 2. Slide Stop Pin. Or rather, the pointed end of said pin. The slide stop is part of the takedown process — it becomes the takedown pin on the right side of the frame. It has a pronounced, chiseled point on it.
The only reason I can think of this is that it may help the pin funnel its way into its hole in the frame. Being a lefty, I have indexed my right thumb underneath the pin. It sticks out far enough to enable me to do that.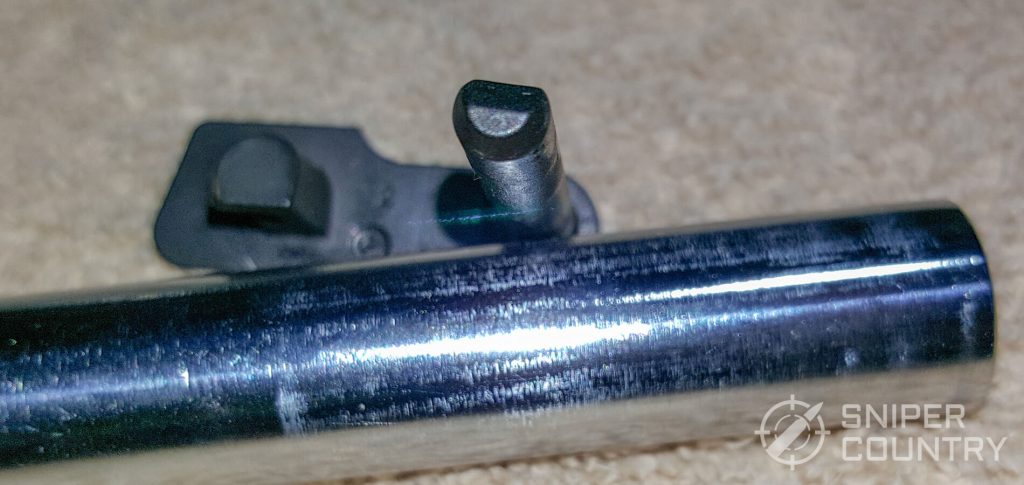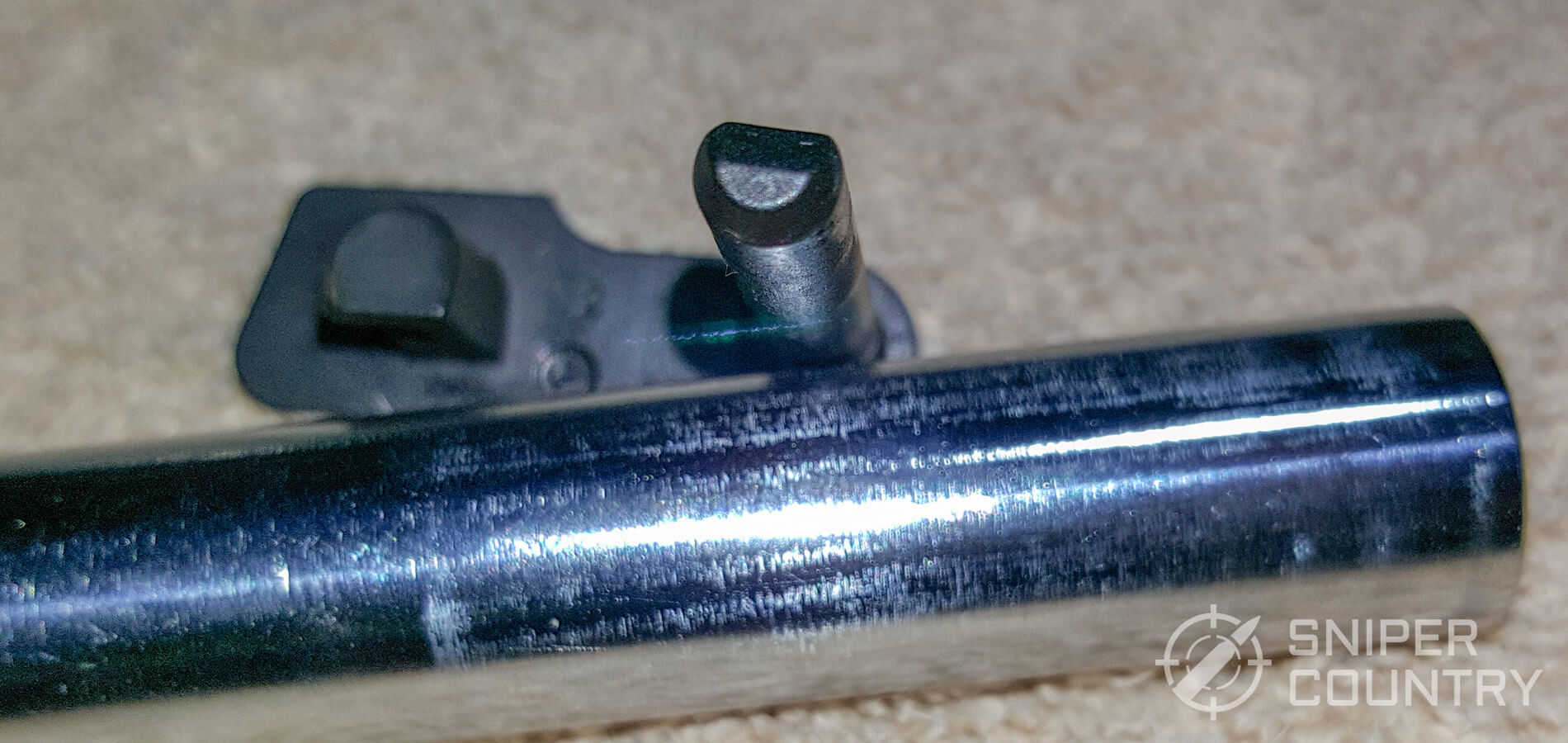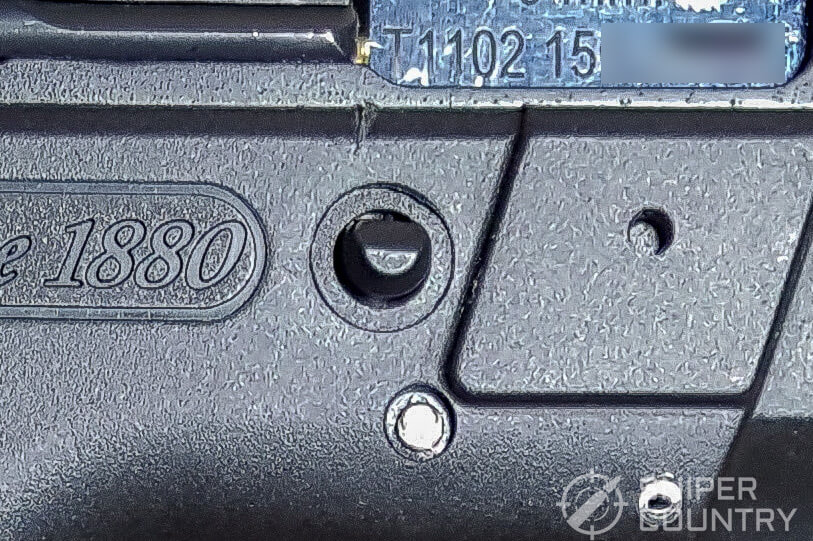 Anyway, that's all I would change if I could. The pluses far outweigh the minuses, at least for me.
SAR K2P Takedown
To take the K2P down, you'll need something to push against the pin's point (above). A magazine baseplate works well.
First, remove the magazine and make sure the chamber's empty, then cock the hammer. Line up the two circular marks at the left rear of the slide and frame and push the pin out.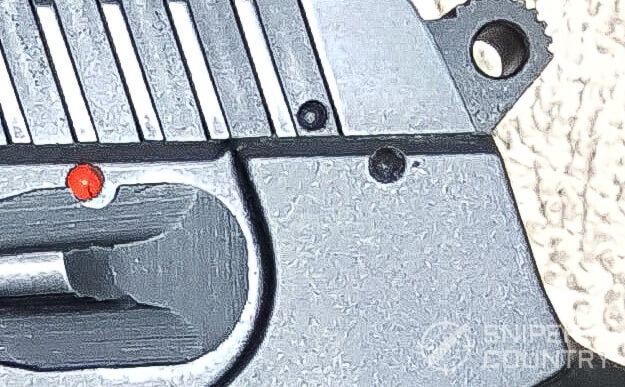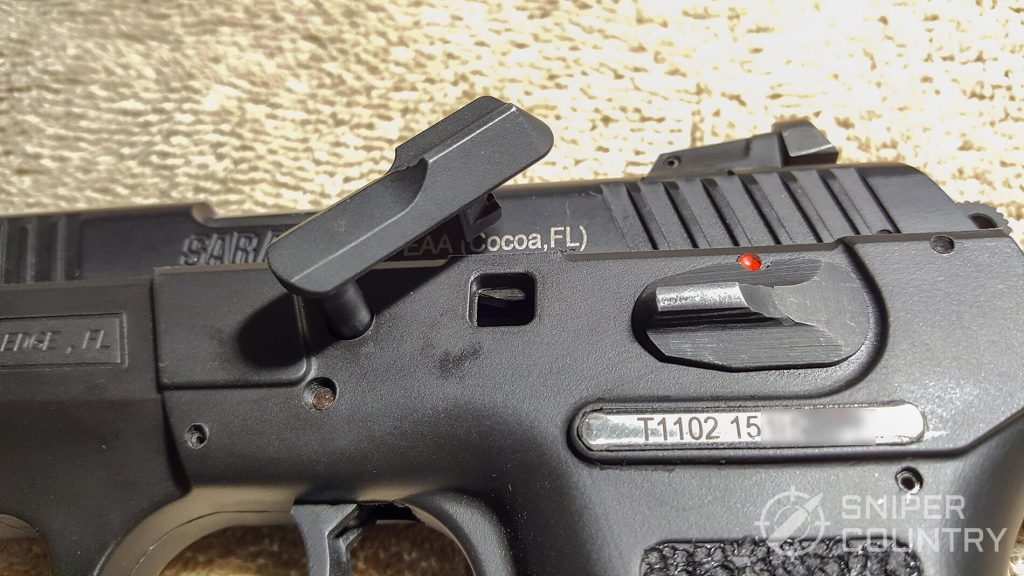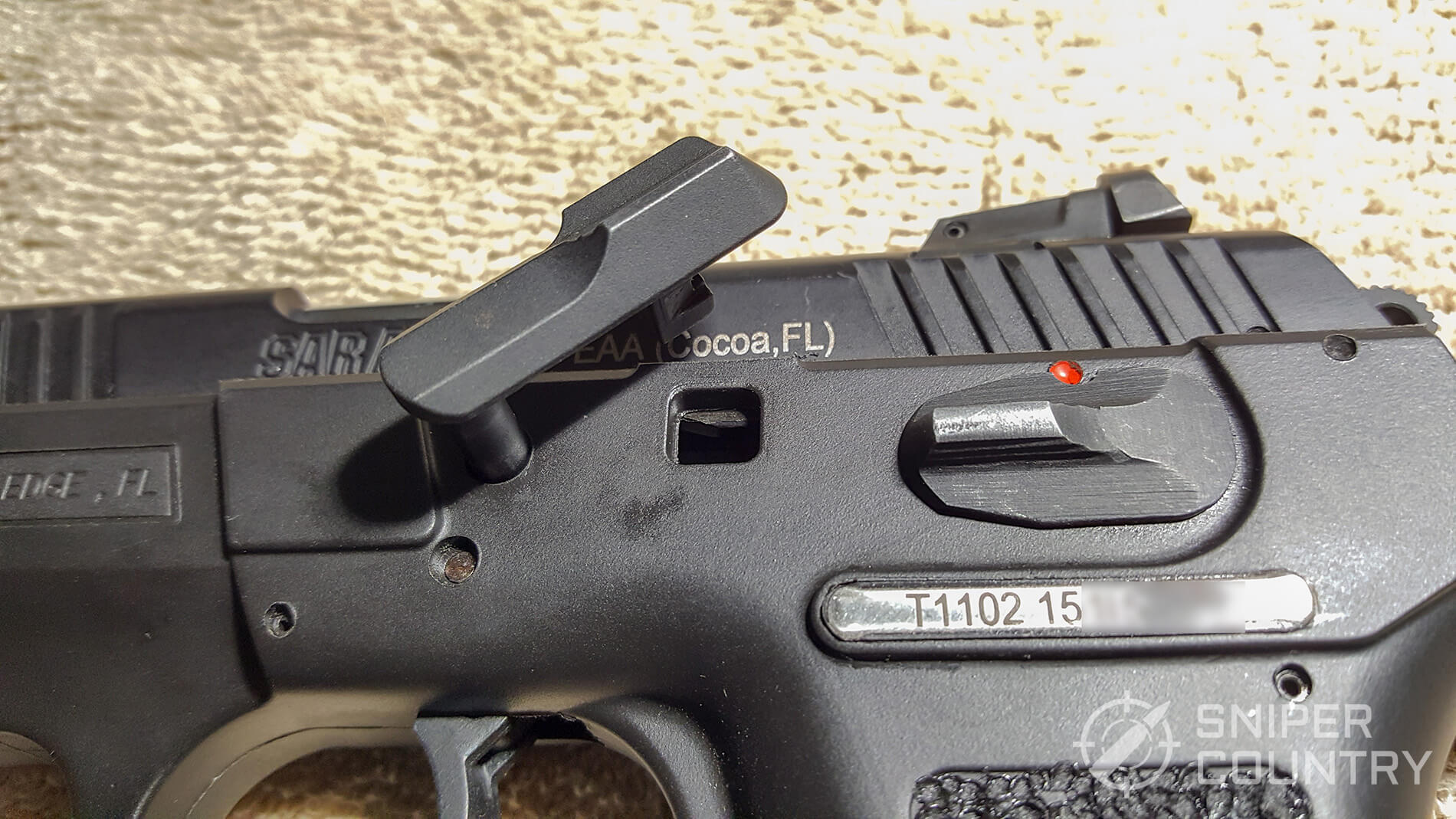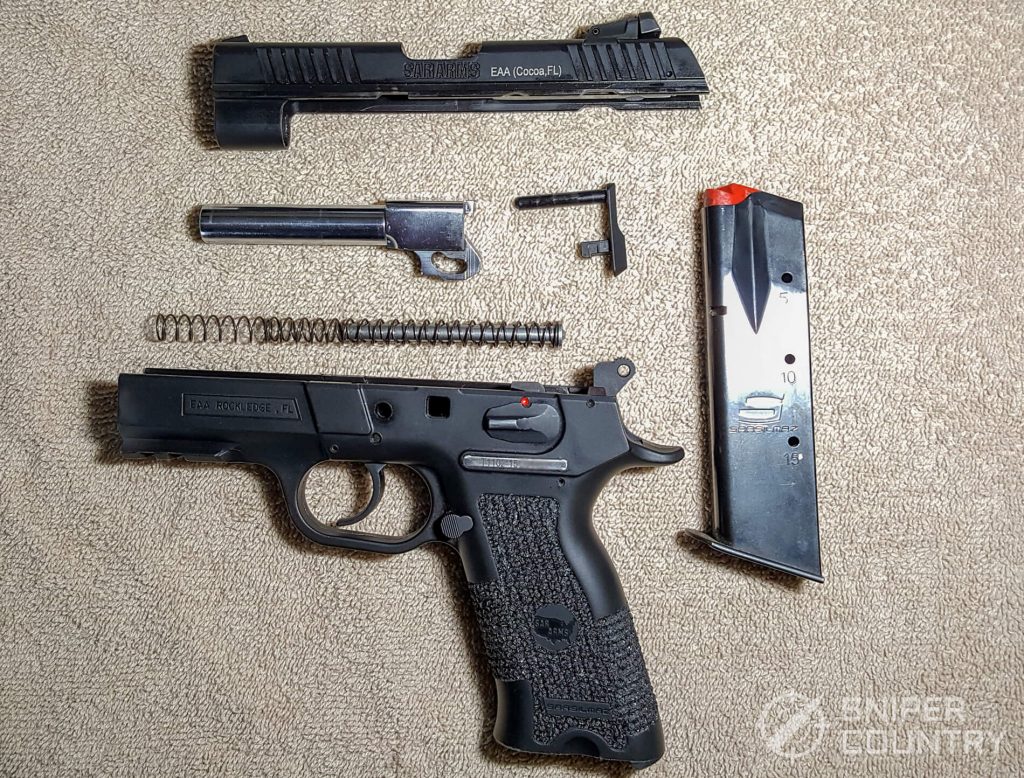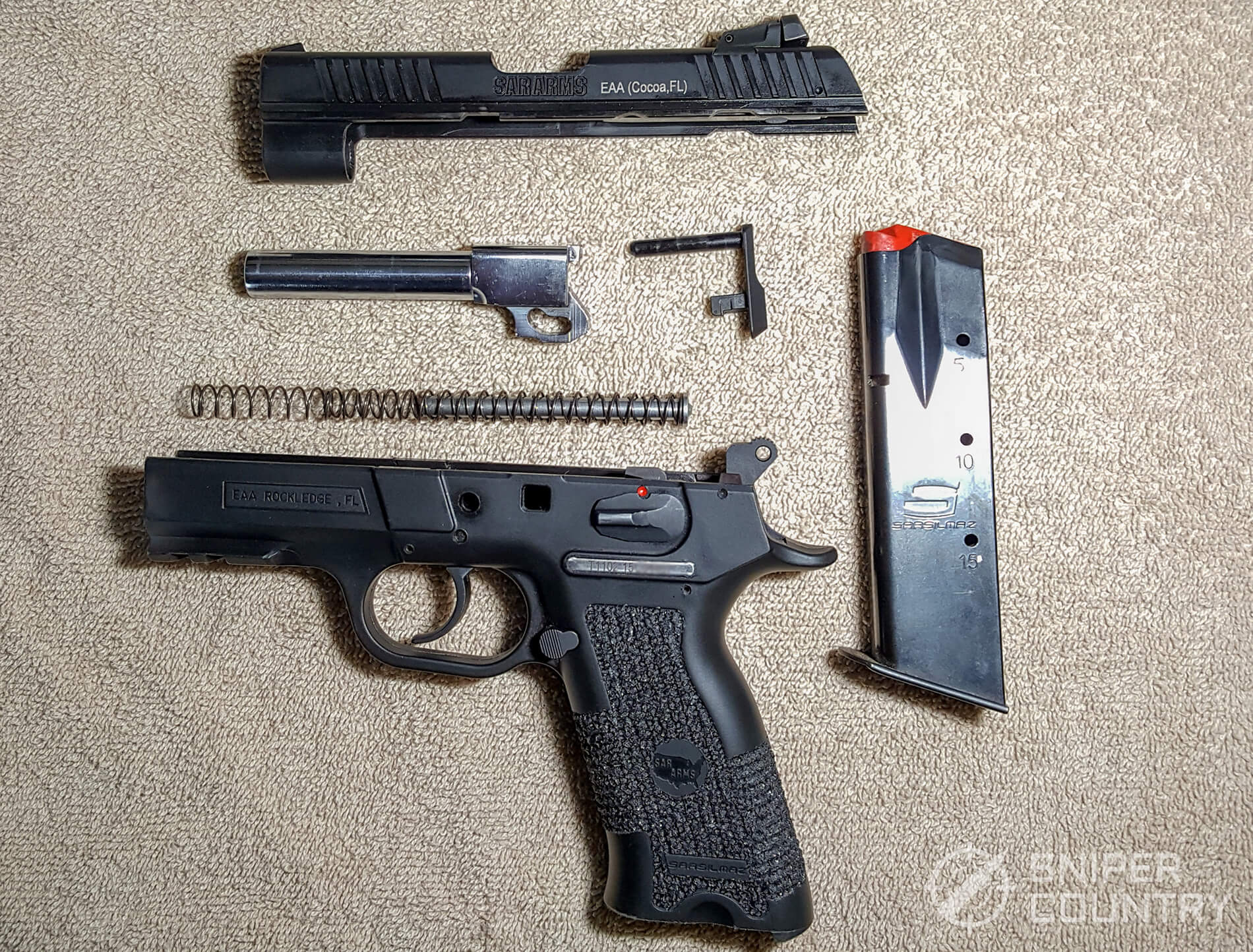 The slide will come right off with no trigger press needed. Pull the recoil springs and barrel out, and clean as usual. Reverse the process to put everything back.
The owner's manual says to use the rear sight for leverage as you line up the takedown marks, but since I only have two arms, I have better luck pressing the slide back from its front with my left hand wrapped around the front sight and lining up the marks that way.
Hook your thumb in the trigger guard if that will help you work the slide to the rear. Then, I use my right hand to hold the magazine and utilize its base plate to push the pin out. The pin comes out with a definite pop.
Shooting the SAR K2P
I tried shooting the K2P with factory 115-grain FMJ loads from Winchester. I also put many of my 124-grain handloads through the gun. That load consists of 4.8 grains of Long Shot underneath the Lee 124-grain round nose 9mm bullet. I also have a newer, 120-grain truncated cone Lee bullet mold on order. We'll also see how that does.
Anyway, it took a while to get the rear sight adjusted, but I finally dialed it in. That's the great thing and the not-so-great thing about an adjustable rear sight — you can (over)adjust it. You can easily burn a box of ammo going back/forth/up/down many times. It didn't take that much, but I have the sight put where it will let me put both my handloads and factory loads into pretty much the same target center.
The gun is more accurate than I am. At least the bright red nail-polish-covered-front-sight-dot helps. I have trouble lining both sights and the target up with the glasses I have, so being able to see the front sight clearly against the target really helps.
SAR K2P Recoil
In terms of recoil, It's about on the par with other compact 9mm pistols. The gun lifted a bit and came back into my hand, but the low bore axis and the excellent highly-ergonomic grip helped. Also, after stippling, the grip did better. You can accomplish the same goal of a more tactile grip by using a Talon grip or a Hogue Hand All, as mentioned above. The gun held very well on target.
The recoil impulse was pretty much straight back, given the factors listed above plus two other main features: the beavertail and the frame undercut at the trigger guard. (See the magazine release photo above in the PROS section for a close-up of the frame undercut).
These helped keep the gun down, as they allowed me to get a higher grip on the gun. A higher grip usually equates to less muzzle rise, what with the physics involved. I've shot many pistols that put the front sight in the air the target with muzzle flip, but not this one. Anyway, you need to shoot it to experience it.
SAR K2P Accuracy
I had decent, acceptable accuracy with both factory loads and my handloads at about 15 yards. Actually, the handloads shot just about as well as did the Winchester 115-grain FMJs. You can see that on the targets.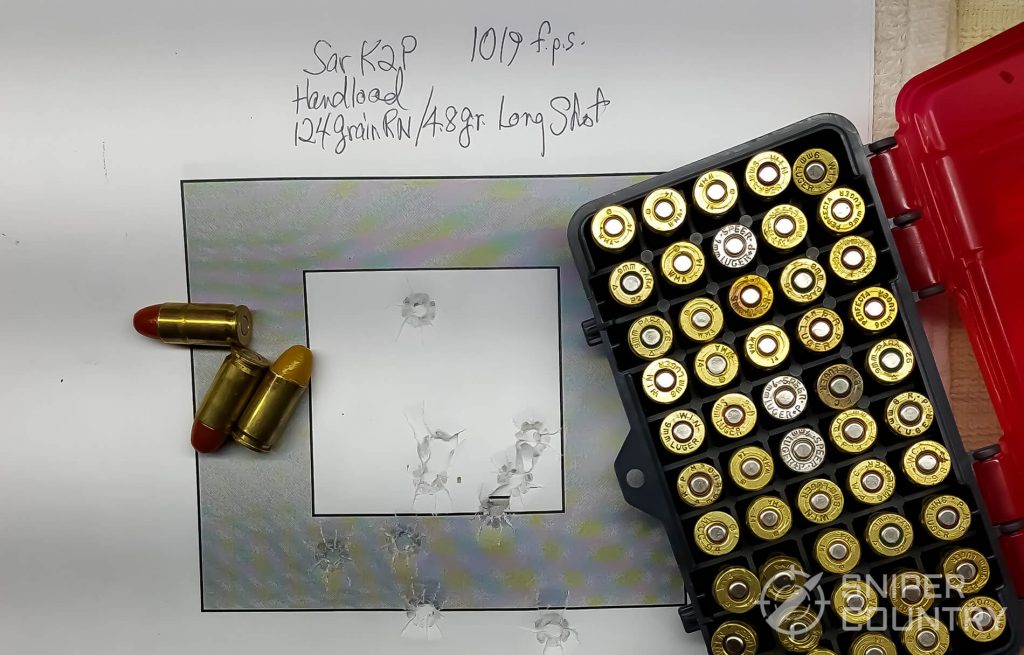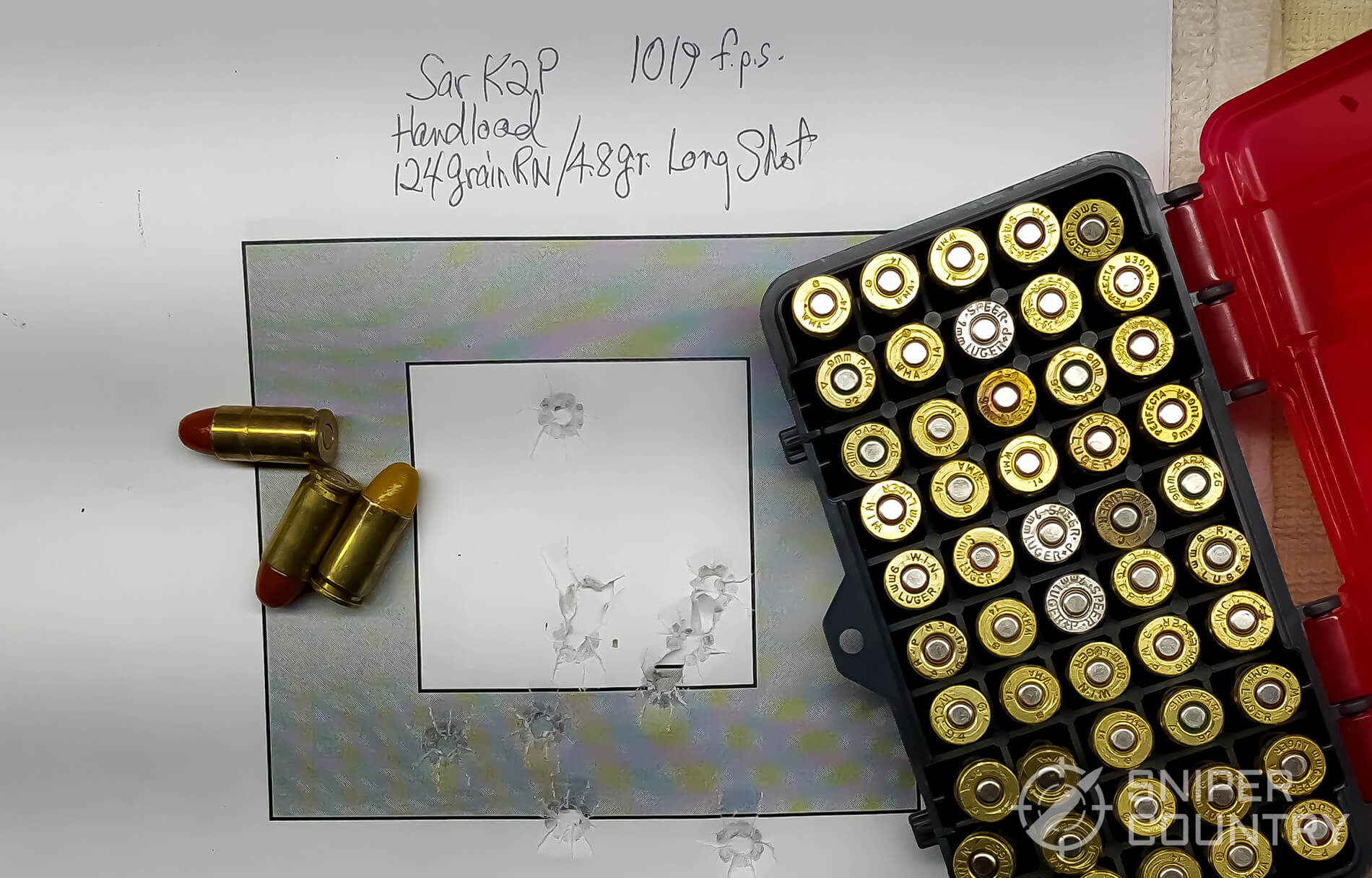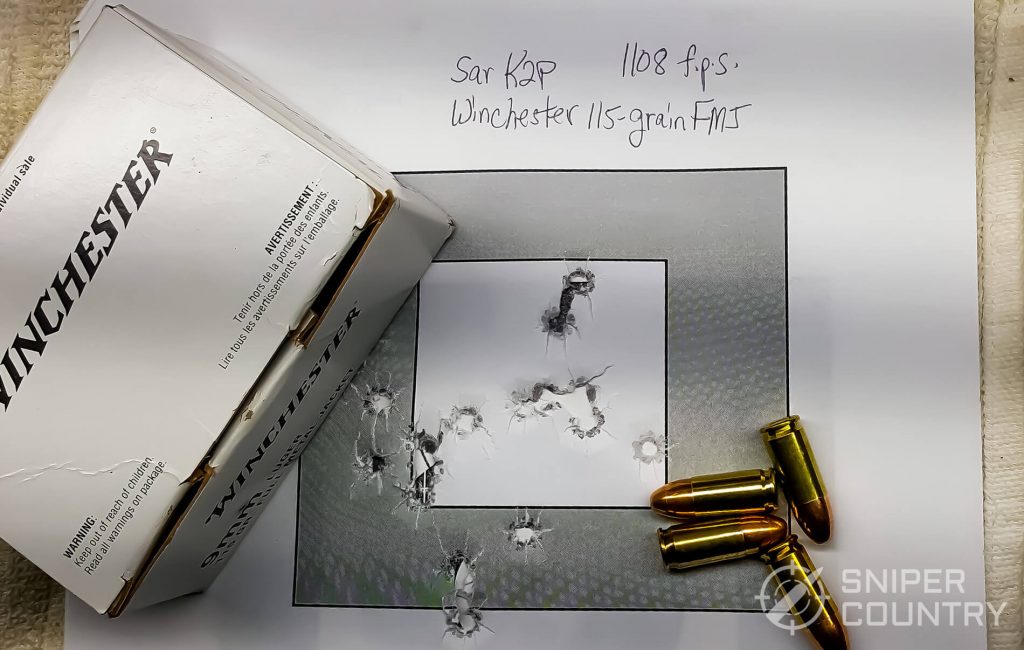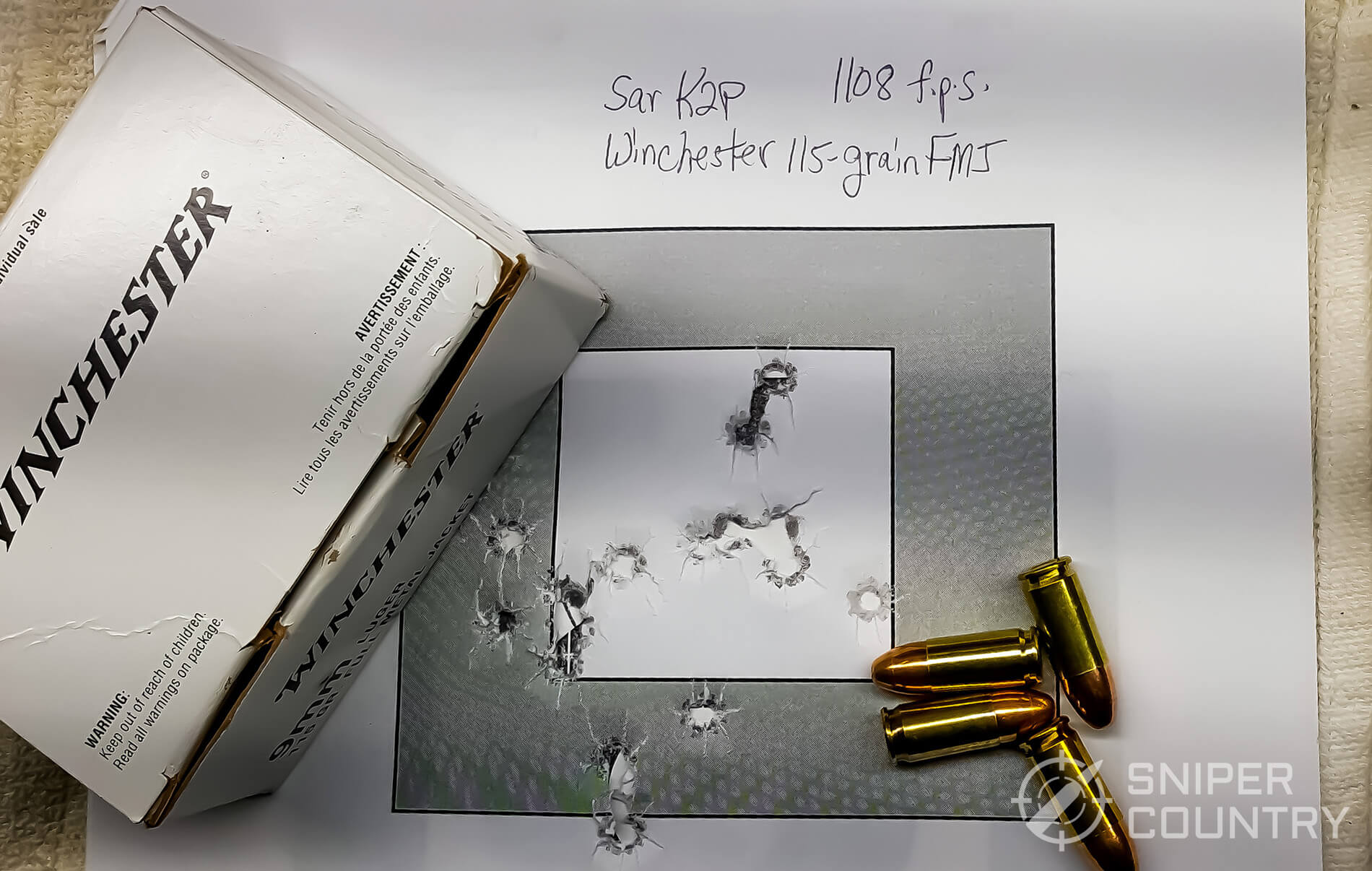 (For the ballistically curious, the Winchester load averaged 1108 fps with a muzzle energy of 313 ft/lbs. Myfair-to-middling target load, averaged 1019 fps with the heavier 124-grain bullet and yielded 286 ft/lbs of energy).
These are not exactly tight groups. I'm not going to claim that what you see here is gilt-edged accuracy. This is not a target pistol, but the gun displayed perfectly acceptable accuracy for self-defense purposes.
I would imagine, if I were to shoot these loads a few more times, we might see the groups tighten up significantly. (I was in a bit of a rush to get testing done, and was still getting used to the sights). I just wanted to see how it would do halfway between 7 yards and 25 yards, and I was generally pleased.
I imagine this pistol is capable of greater accuracy than I am, with the proper load. I watch a lot of YouTube gun reviews by people I trust, and the general opinion is that the K2P is an inherently accurate gun due to barrel lock-up, slide fitting, etc. I'll just leave it that. I've shot a few other guns that couldn't keep shots on the paper at 10 yards, much less 15. You could do worse in the accuracy department.
SAR K2P Carry-Ability
When I carry a gun concealed (check out CCW insurances if you haven't yet), more often than not it's a .380 in my pocket. I have a perfectly good carry 9mm, designed for that purpose, but it's just easier (especially in the summer) to stick the Spectrum in its pocket holster and go with it.
I am trying to upgrade my carry options in terms of caliber and holsters. Long story short, I would like to be able to carry this gun concealed, with proper 9mm self-defense ammo. It does fit a couple of OWB paddle-style holsters that I have for my Springfield Armory XD(M), but I was wanting to hide it to the max by carrying it IWB.
I looked, and there are not a lot of form-fitted options. There are many generic nylon-type holsters out there to be had for this gun, so I contacted Clinger Holsters. They are sending me a left-handed Kydex IWB made just for the K2P. I will be adding my review of that holster to my article on concealed carry holsters, so if you are wondering how it works out, check out that article. I'm not sure when I'll receive the holster, so keep checking.
If you have no trouble carrying a Glock-19-sized pistol, this one will be a piece of cake. Weighing around 34 ounces with 18 rounds of 9mm onboard, a good holster of either type — inside or outside the waistband — should more than adequately suffice. My challenge will be to see if the gun prints when carried on the inside, given my build. I am not exactly svelte. There's too much front of me between the belt & breastbone and not a little in the back, so it'll be interesting to see how this Clinger holster hides the gun.
I hope it works out. I really like this gun and its capacity. With an extra 17-round magazine in an external mag carrier, you would have most of a box of ammo with you. I also like the fact that if I want more capacity, 19-round magazines for the CZ 75 are readily available and will work. With its rail, you could mount a light and have a great home defense gun — two 19-round magazines, ready to go, is something to take very seriously.
Wrap Up
This has been a long journey, longer than most reviews I do. It helps that I own this gun, as that allows me to get to know it very well. I dry-fired it hundreds of times to help break in the trigger. As I said above, I'm not sure this gun had ever been fired before I bought it. For $179.95, it was a heck of a bargain.
If you are looking for a carry/target/home defense/etc. 9mm pistol, you need to find one of these. If you can't find this model, at least look at its replacement, the upgrade CM9. Most everything I said here would apply to that gun. This would be an excellent way to break into the DA/SA world if all you've known is striker-fired guns.
In case you are needing a little more detailed information about the manufacturer, this label had been affixed in the owner's manual: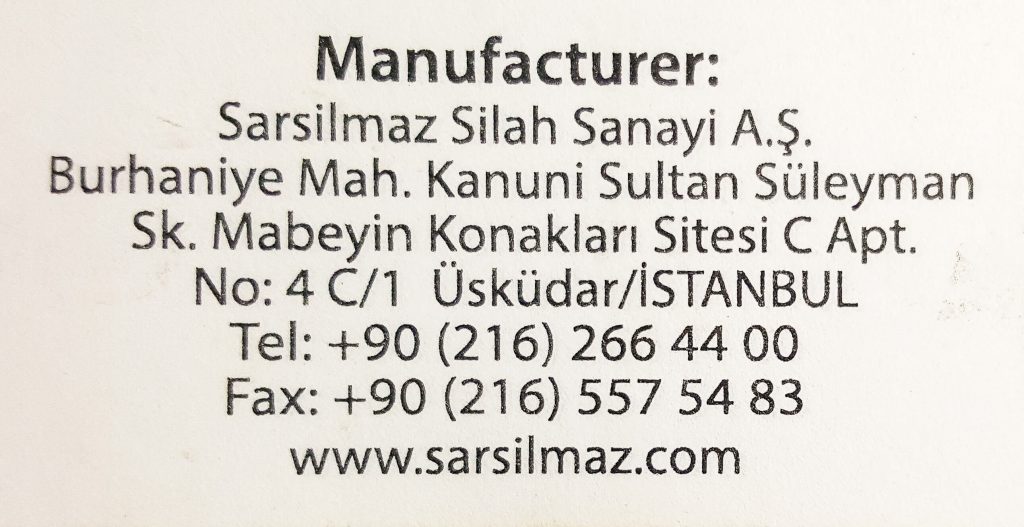 If you are a bit wary of the hundreds of striker-fired guns out there and want to try something different, give this DA/SA pistol a hard look. Some folks think that these guns are a bit safer than striker-fired pieces. Check out this video by Chris from Lucky Gunner.
It does make you think. No matter which side of that particular coin you're on, at least give the K2P a try.
As always, leave any comments you have below. Thanks for reading this. Be safe, and go shoot.
You might also like to read: