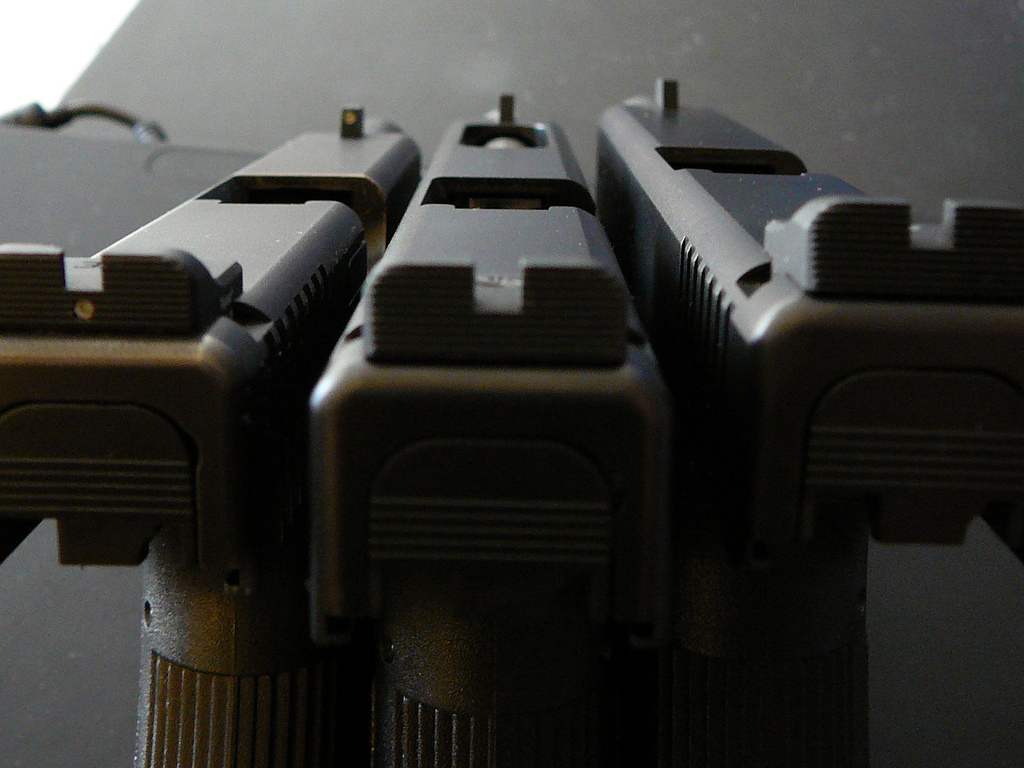 Whatever your reason is for needing a Glock suppressor, you'll need a different style of sights to clear that extra bit of height added onto your handgun. In most cases, this means night sights, but there are options available for raised sights without tritium inserts. We've put together a review of the best Glock suppressor sights on the market, and we'll let you know which we think is the best option for most gunowners.
The market for Glock suppressor sights is pretty limited compared to most other accessories like holsters. The styles available are all very similar, so it's hard to really know which is the "best" one. To put it simply: some brands are much more trustworthy than others. If you skim through other online reviews, there are definitely some brands that see a lot more complaints than others. These are usually about how long it was before the tritium inserts stopped working. In our review, we have focused on the type of warranties offered by the sellers and how much bang you're really going to get for your buck.
All of the suppressor sights listed below cover a price range from $50 to $150 online, so there's something for every budget. Just know that the bigger investment you make up front, the more likely you'll actually save money through the years of your purchase.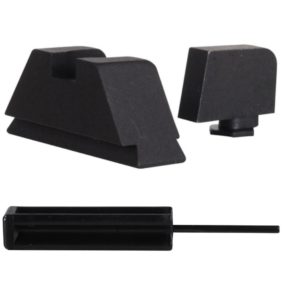 Materials – The AmeriGlo Tall Set for Suppressor Use is really just the AmeriGlo brand of sights sold by Ultimate Arms. Thankfully, this doesn't change the price at all. This set comes with both the front and rear sights, and it's similar in style and design to the popular night sights sold by AmeriGlo. They look entirely the same except for the lack of tritium inserts. Both sights add a little over .3" in height and are completely matte black. This set also comes with the Ultimate Arms Gear Pro Disassembly Takedown 3/32 Pin Punch Armorers Gunsmith Tool. It has a polymer handle and steel tip.
Performance – The AmeriGlo Tall Set for Suppressor Use is a convenient and basic set of sights. It gives the same quality you would want from AmeriGlo without having to pay double the cost for tritium inserts. Obviously, you won't be able to use these for tactical night purposes, but not everybody needs that. The price also includes the pin punch tool, which is a nice addition. Buying from Ultimate Arms Gear means you'll be getting a little more for your money. However, we would still suggest getting these sights professionally installed, unless you have your own installation tools and this isn't your first time modifying a Glock.
What we say – The AmeriGlo Tall Set for Suppressor Use costs about $50 online, making it the cheapest option within this review. The lack of tritium inserts will save you big bucks, but it's only worth it if you don't require night sights.
Pros
Lowest cost
Includes pin push tool
Same AmeriGlo quality as night sights
Cons
No tritium means only daylight use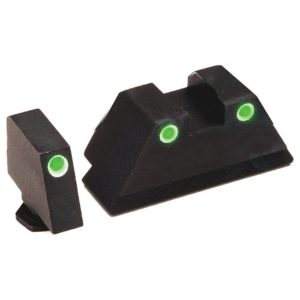 Materials – The AmeriGlo Tall Suppress 3 Dot Tritium for Glock is essentially the same set of sights as the option above, but it includes the tritium inserts and isn't a package deal with another brand. The set includes both the front sight and a standard, dovetail rear sight. The three dots are outlined with a reflective white color, and the tritium inserts are a highly contrasting bright green color. The front sight adds .314" in height, and the rear sight adds .310" in height. There is no mention of a warranty from AmeriGlo, but reasonable damage will be means for a replacement.
Performance – The AmeriGlo Tall Suppress 3 Dot Tritium for Glock gives you the ability to use your sights during day and night. We went searching for information about a warranty, and the deal is that as long as you keep the receipt, you should be in good shape to request a replacement if something happens to your night sights. This is also a forewarning against buying AmeriGlo sights second hand to save on cost. They're still less than $100 online, so these are definitely the cheaper option for tritium sights. We like the combination of green inserts against white painted rings; this makes for a good contrast and, in turn, faster target acquisition.
What we say – The AmeriGlo Tall Suppress 3 Dot Tritium for Glock costs between $85 and $90 online, depending on where you purchase it from. If you need sights that can be used at night, but you want to stay under the $100 limit, then these will be the sights for you.
Pros
Affordable as
Contrasting green and white tritium and rings
Cons
Not the best warranty for tritium
Doesn't include additional tools
Sale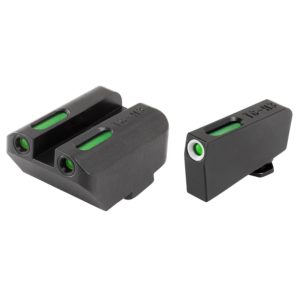 Materials – The TruGlo TFX Glock SUP High Set Handgun Sight is the standard pair of front and rear sights. There are three dots: two on the rear and one on the front, which all have bright green tritium inserts. There is a white painted ring for high contrast around the front sight dot, but there is no paint around the rear sight dots. There are exposed slots above the tritium inserts on both sight pieces, but the constructed housing is completely chemical and shock proof. The TruGlo TFX Glock SUP High Set Handgun Sights are protected with a Fortress finish for rust resistant security.
Performance – These Glock suppressor sights are another cost saving option that comes with its pros and cons. Again, we had a hard time finding warranty on product pages. TruGlo guarantees 90 days of problem-free use, but all of their products range in the types of warranty offered. We personally like TruGlo over AmeriGlo, as far as the lasting ability of the tritium. What we don't like is the exposed tops over the inserts. We get that the slots are helpful for detecting when your tritium is losing juice, but we'd rather any illumination is coming only through the three dots. We also wish there was a contrasting white ring around all three dots, instead of around the front sight dot.
What we say – The TruGlo TFX Glock SUP High Set Handgun Sight costs just over $115 online. While it breaks the $100 mark, they're still not the most expensive option out there.
Pros
Better quality inserts than AmeriGlo
Exposed inserts better for detecting malfunctioning tritium
Cons
Warranty guarantee only lasts 90 days
Painted dot only on front sight
Sale
TruGlo TFX Glock SUP High Set Handgun Sight
Unmatched Visibility in all shooting conditions, night or day; Glows in the Dark-no batteries or light exposure required
Front sight Focus-Lock Ring for even faster focus
TFX Sealed Capsule Design provides maximum protection and durability; Fortress Finish provides a permanent protective coating; Impervious to oils, chemicals, cleaning solvents, and ultra-sonic cleaning processes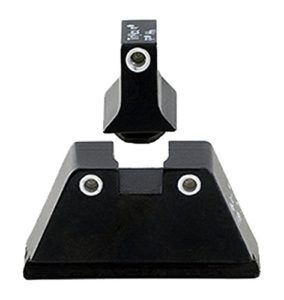 Materials – The Trijicon Glock Suppressor Night Sight Set is one of the best of the best for these types of sights. The rear sight has the standard two dots, and the front sight has the standard one dot, which are all painted with a white, reflective ring. The front sight includes a green tritium insert, and the rear sight includes orange tritium. Trijicon offers a limited lifetime warranty on all of their products, meaning your tritium night sights will be replaced for any reasonable malfunction over the lifetime of the original owner. These night sights for your Glock and suppressor should be installed professionally, whether you have the proper tooling or not.
Performance – Like we said, Trijicon offers the best of the best, and this Glock Suppressor Sight Set is no exception. While they're the most expensive option, they also are of the best quality and the brand offers the best warranty available. Unless you ripped the inserts out yourself, you should be guaranteed a replacement if something goes wrong. The different green and orange inserts seems a little odd, but the worst it does is improve your accuracy and speed. This is also a great combination for anyone who has some trouble targeting well at night.
What we say – The Trijicon Glock Suppressor Night Sight Set costs about $145 online, making it the most expensive option within this review. This is a lifetime investment that shouldn't require expensive replacements.
Pros
Best quality for night sights
Limited lifetime warranty
Highly contrasting green and orange inserts
Trijicon Glock Suppressor Night Sight Set
INCREASED HEIGHT: Specically engineered to allow use with a suppressor or as backup iron sights for a slide-mounted red dot sight, such as the Trijicon RMR
INSTANTLY VISIBLE SIGHT PICTURE IN NO-LIGHT AND LOW-LIGHT SITUATIONS: Tritium phosphor- lled glass lamp provides battery-free glow, allowing for a visible sight picture in all lighting situation; Green Front lamp/Orange Rear Lamps
ENHANCED PROTECTION FROM HEAVY RECOIL AND HARSH CLEANING SOLVENTS: Tritium gas lamps are contained within protective aluminum cylinders and have additional silicone rubber cushioning
Our Favorite Glock Suppressor Sights
If you don't have any need for night sights, then we suggest sticking with the first option, which was the AmeriGlo Tall Set for Suppressor Use. The set is going to save you significantly on expenses, and you won't have to worry about the warranty issues that we went into detail about. However, the more practical choice for our top pick goes to the Trijicon Glock Suppressor Night Sight Set. Despite being the most expensive option, we actually believe making the bigger investment now will save you money down the line. Paying the price one time gives you a lifetime warranty that will make up for it over the years. The tritium inserts and painted rings are highly contrasting and reflective, making them great for anyone.
Price incl. tax, excl. shipping/ Affiliate links / Images from Amazon Product Advertising API