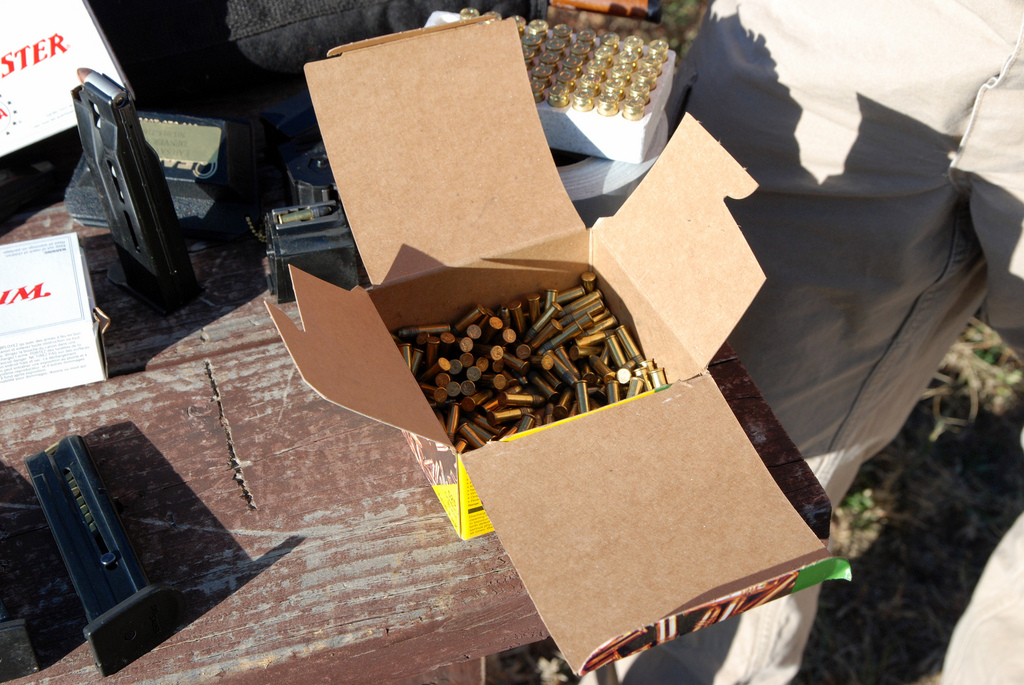 We love finding tools and gadgets that really streamline the process of using a gun. This applies to every aspect, from loading, to shooting, to cleaning.
We've compiled this review of the best Glock speed loaders for the money, and we'll let you know which was our favorite at the end.
There are actually quite a lot of speed loaders that you can choose from online. While price can be a factor in your decision, speed loaders shouldn't cost you much money in general. In fact, the really cheap ones aren't very good, and you'll probably have to replace them down the line. It's really not worth it to go that route. We believe the biggest deciding factor in choosing the best Glock magazine loader is whether or not you have other pistols you'll want to use a speed loader for. Choosing between an universal or a custom speed loader is the best way to get a cost efficient product, and then you can select among the level of quality you're looking for.
Materials – The Glock Magazine Speed Loader for 9mm Mags is the only option within this review that is actually manufactured by Glock. Of course, there is also an option available made by Glock for your 10mm weapons. However, this 9mm option will obviously be the more commonly purchased one. The design is factory bulk packed, but it's made with the same Glock polymer the company uses on its weapons and other accessories. The sides have a raised texture, so your hands won't slips if they happen to be a little sweaty. This 9mm option will work with most Glock models, including 17, 19, 22, 23, 25, 26, 27, 28, 31, 32, 33, 34, 35, 37, 38, and 39.
Performance – The Glock Magazine Speed Loader for 9mm Mags may seem like the logical option to choose, if we're discussing Glock speed loaders. Initially, you can feel confident that this speed loader will be compatible with your handgun, and you won't feel like you're taking a risk. Universal speed loaders can make some skeptical, since not all universal tools are truly universal. However, from our personal experience, we have felt that Glock has taken the cheaper road with some of their accessories or tools, so don't expect an amazing speed loader from them. While it performs absolutely fine, it is a little on the flimsy side. It's also one of the cheapest you'll find on the market, so there's certainly some give and take here.
What we say – The Glock Magazine Speed Loader for 9mm Mags is the best Glock magazine loader for those who only need one for a Glock, and no other pistols, and isn't concerned with having a top of the line tool. Simplicity is key on this one.
Pros
Very cost friendly
Made by Glock for Glocks
Polymer construction
Cons
A little flimsy and cheap feeling
Sale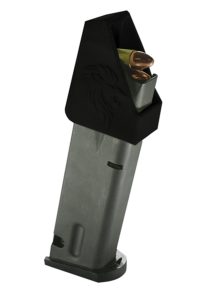 Materials – The RAE Industries Double Stack Magazine Loader is a highly demanded option online, and it happens to be offered in a variety of colors including black, blue, glow in the dark, nuclear green, orange, pink, purple, ruby red, and yellow – if that were to interest you at all. While not necessarily universal, it fits a variety of bullet diameters from 9mm/.35 caliber to 11.43mm/ .45 caliber. It should be compatible with all Glock models; but, if you own other pistols some popular styles it also works with are Beretta, Colt, Luger, Ruger, Sig, S&W, Taurus, Walther, and a handful of others. Very little force is required with this option, so delicate (or at least not forceful) hands are all that is required to utilize it.
Performance – The RAE Industries Double Stack Magazine Loader, while not totally universal, is pretty dang close to being universal. At the minimum, it should have your Glocks covered. We appreciate the slimmer design than some other speed loaders, simply because it's easier to hold and store away. The construction is certainly more stable than many other plastic or polymer loaders as well. The color options isn't really an important factor to us, but that could be fun for some (glow in the dark, anyone?). Despite the sturdier construction, the manufacturers do point out that not a lot of force is needed, and we agree with them. Please, be gentle when using this product. We're talking to our big-handed men out there!
What we say – The RAE Industries Double Stack Magazine Loader is the best Glock speed loader for those who prefer a slimmer design and are hoping to get more use out of their purchase with other pistols.
Pros
Nearly universal
Light and slim
Sturdy construction
RAE Industries Double Stack Magazine Loader
Please choose the desired Color from the above mentioned variation. NOTE Magazine Not Included, Please Carefully Check Compatibility with Your Specific Make/Model/Caliber before Placing the Order.
Magazine loading tool. Double Stack universal loader. MAGAZINE NOT INCLUDED. Simplicity. A non-bulky loader fits conveniently inside your pocket or range bag.
Increase Speed and Save Your Thumb– This Speed Loader increase your speed and helps you enjoy your shooting experience up to the last round without having sore fingers and injury by loading your magazines fast and easy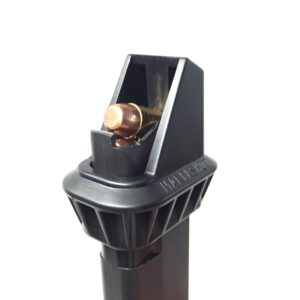 Materials – The MakerShot Custom Magazine Speedloader is similar in appearance to the previous option (minus the selection of wild colors; it only comes in black). However, this one is custom made to your specific Glock model instead of touting as universal or near-universal. Currently, the available models of this speed loader are for Glock 17, 19, 21, 22, 23, 27, 30, 34, 35, 36, 42, and 43. Simply put: your 9mm, .40 and .380 caliber Glocks. You will get an incredibly smooth experience, since every speedloader is fit for your handgun. The construction is made of a tough polymer, as opposed to a more flimsy plastic, and the shape is fairly ergonomic as well.
Performance – The MakerShot Custom Magazine Speedloader seems almost exactly like the RAE Industries option, but is obviously much more unique to your Glock. That is both the upside and downside of this option; you're receiving a custom fit that is guaranteed to be perfect for your handgun, but you also have to purchase more than one if you want a speedloader for more than one firearm. That point aside, the construction is very stable – more so than the polymer Glock option at the beginning of this review. Sorry, guys, no fun colors to pick from here, but we think you'll manage!
What we say – The MakerShot Custom Magazine Speedloader is the best Glock magazine loader for those who only require this tool for maybe one or two pistols. Otherwise, your shopping cart will get really expensive really fast.
Pros
Custom fit to your Glock
Very durable polymer
Very smooth use and function
MakerShot Custom Magazine Speedloader
This is NOT a universal loader. Please select CALIBER and MAGAZINE compatibility above
Perfect fit on selected magazine for ideal loading of every round.
High-quality polymer speed loader from an American company.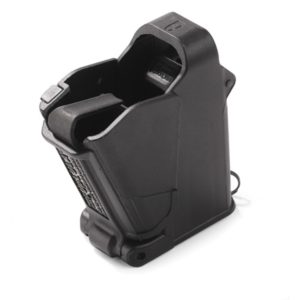 Materials – The Maglula UpLula Universal Pistol Magazine Loader is easily one of the most popular and well-reviewed speed loaders on the market today. It is also one of the only truly universal options you can purchase. The construction is made of plastic, and it's only available in black. This option works for both single stack and double stack loading, and is advertised to be compatible with all 9mm, 10mm, .357, .40, and .45 magazines, as well as all 1911 mags. The use isn't even required to press their bullets in; they only simply need to be dropped in place. This option is a fitting shape to be pushed into a pocket and carried with the user wherever it is needed.
Performance – We had to include the Maglula UpLula Universal Pistol Magazine Loader in this review because it is clearly the most popular online. With over tens of thousands of positive reviews, we'll put in our two cents too! This is the only option within this review that is really universal. If you own multiple pistols, or even multiple Glocks, then this is the best choice for you. We don't like how significantly more expensive this option is – it's almost twice as much (or more) as all the other speed loaders we've considered. We suppose that it's worth the money, if you're going to get the proper use out of it. This option worked pleasantly well with all the Glocks we tested it out on, so no complaints on the function!
What we say – The Maglula UpLula Universal Pistol Magazine Loader is the best choice for those who are going to get their money's worth and use it with more than one or two pistols.
Pros
Truly universal
Sturdy construction gets the job done
Cons
Twice as expensive as others
Our Favorite Glock Speed Loader
Our favorite Glock speed loader was an easy decision: the MakerShot Custom Magazine Loader. Yes, we chose a different brand over the actual Glock brand speed loader for your Glock handguns! Our first reason for choosing this option was the construction. It was one of only two options that was made with polymer, so it will hold up against rougher hands. The design was still slim, though, so our readers with smaller hands can use it just fine as well. It's compact enough to be stored away in basically any nook or cranny, and you can be guaranteed it will work with your Glock just as it's supposed to. If this was a review for speed loaders in general, then we would have chosen a universal option, but we believe the MakerShot Custom Magazine Loader is the best speed loader for your Glock handgun.
Price incl. tax, excl. shipping/ Affiliate links / Images from Amazon Product Advertising API