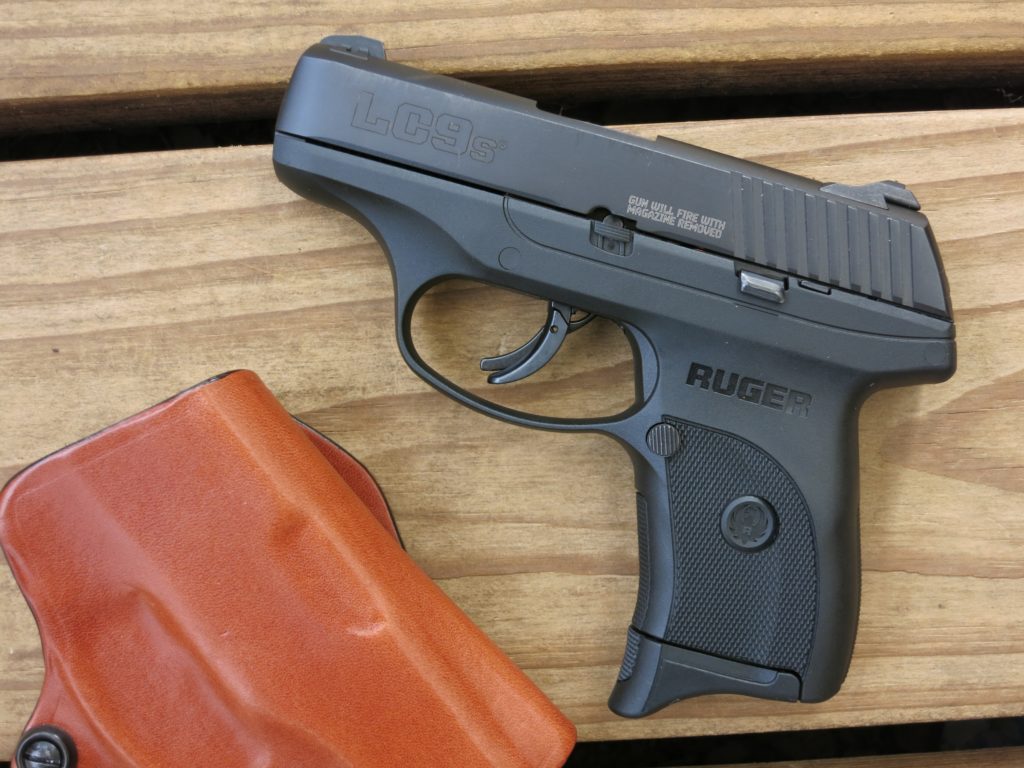 The Ruger LC9s is a fantastic subcompact 9mm handgun that is pretty popular among both men and women. It holds up to seven rounds, and the trigger pull is a crowd pleaser: it's fast and crisp.
While the Ruger LC9s can certainly provide some tactical use, it's easy to see why it's ideal for defensive purposes and concealed carry.
We've put together this review of the four best Ruger LC9s accessories on the market, and we'll let you know which we think every Ruger owner should have.
We love these reviews of accessories for specific firearms because it allows us to talk about selection of items that we wouldn't be able to cover otherwise. You could even buy all the products listed here to have the best set up on your Ruger LC9s!
The four accessories we chose are a speed loader, a holster, a sight set, and a trigger guard laser. Each one was hand selected to improve the shooter's speed, concealment, visibility, and accuracy. Don't worry about price, either – everything we chose is highly affordable and well reviewed by other buyers. Whichever accessory you choose, your Ruger handgun will thank you.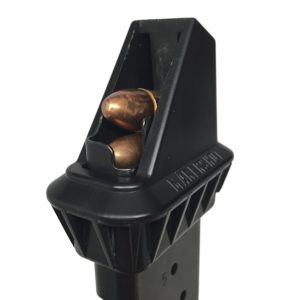 Materials – The MakerShot Custom Magazine speedloader is a very simply designed accessory that is built to fit specific sizes and calibers – mainly compact and subcompact pistols. It is uniquely designed for the 9mm Ruger LC9s handgun, and its sole purpose to make reloading your weapon more convenient and easier. It's constructed of black polymer, and its shaped helps ease the use of your thumb while loading a magazine. The brand advertises lifetime durability and ergonomic use.
Performance – The MakeShot Custom Magazine Speedloader is the only product within this review that we haven't previously suggested to our readers. A very short amount of research online, however, will show that this is a well liked product by thousands of buyers. Who wouldn't want the additional convenience when loading their Ruger? This accessory is small and takes up little space, so you could easily store it in your car, bag, purse, or anywhere else. The speed loader is highly affordable, so there's almost no reason not to own this. The only reason we can see to contradict this is that it's a loose item that isn't actually attached to your pistol, so it may just be one extra thing you don't want to have to account for.
What we say – The MakeShot Custom Magazine Speedloader is the best Ruger LC9s accessory for anyone who wants a cheap solution to making a regular function a little easier. Give your thumbs a break with a polymer speed loader, and you'll be ready to fire sooner than you though.
Pros
Costs very little
Makes loading more convenient and faster
Takes up little space
Cons
An extra item to carry around
MakerShot Custom Magazine Speedloader
This is NOT a universal loader. Please select CALIBER and MAGAZINE compatibility above
Perfect fit on selected magazine for ideal loading of every round.
High-quality polymer speed loader from an American company.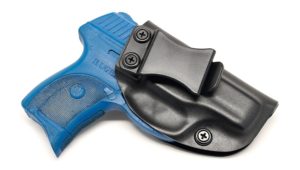 Materials – The Concealment Express IWB Kydex Holster is made entirely of ultra durable Kydex, which is only .08" thick. It is molded specifically to your Ruger LC9s, and it can be purchased in black or carbon fiber black. The polymer belt clip is adjustable by the use of two retention screws for your choice of cant, and it features an audible posi-lock click. There is also a retention screw at the trigger guard. The Concealment Express IWB Kydex Holster is made from start to finish in the United States.
Performance – We've reviewed the Concealment Express IWB Kydex Holster many times before, but it is easily one of our favorite holsters that would work best with a Ruger LC9s. The light weight and molded shape complements the compact size of your Ruger pistol. This is also one of the best IWB holsters for both men and women, since women more often than not are wearing tighter fitting clothing that doesn't always accommodate IWB holsters. We love the cant adjustment, as not enough holsters on the market offer that, and this Kydex option has some of the best retention available. You can happily conceal your Ruger LC9s in your pants, glove compartment, or purse.
What we say – The Concealment Express IWB Kydex Holster is the best Ruger LC9s accessory for those who are looking for affordability and durability in a concealed holster. If you don't have room to space for bulky holsters, then this is one of the best low profile options you'll find.
Pros
Molded and low profile
Adjustable cant
Durable Kydex construction
Great retention
Cons
Small and compact enough to get lost along the waist during lots of activity
Concealment Express IWB Kydex Holster
INSIDE THE WAISTBAND KYDEX HOLSTER fits: Ruger LC9/LC9s/LC380/EC9s (ONLY unless Specified). Our minimalist IWB holsters are designed to be worn comfortably inside the waistband with an untucked shirt for proper concealed carry. We use .08" KYDEX precision formed over our proprietary in house CAD designed and crafted Aluminum molds. This ensures unparalleled consistency, fit, quality, durability, lightness, comfort, & uniform features across all of our holsters.
EXCLUSIVE HOLSTER FEATURES: Undercut Trigger Guard keeps the KYDEX from interfering with your draw. Over-Cut Open-Face accommodates Threaded Barrels and clears Suppressor Height Sights. Full length Sweat Guard & Rear Sight Shield to protect your weapon from sweat. Fiber Reinforced Stealth Belt Clip, so no one knows you are carrying. We utilize all Black Oxide Steel (Phillips) hardware with Threadlock, so you can easily make adjustments but never lose a screw.
ADJUSTABLE 'POSI-CLICK' RETENTION & CANT: When you holster your Ruger LC9/LC9s/LC380/EC9s, you'll hear a satisfying 'CLICK' letting you know your weapon is securely holstered & won't come out unless YOU want it to. Retention pressure is fully adjustable via the black oxide steel hardware forward of the trigger guard. Cant (or Carry Angle) is adjustable from -5 to +20 Degrees, allowing you to angle the holster perfectly for appendix (AIWB), strong side, behind the hip or cross draw carry position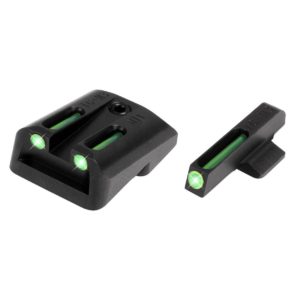 Materials – The Truglo TFO Handgun Sight Set is a pair of both front and rear night sights for your Ruger LC9s. Imported Swiss tritium inserts are assembled with the Truglo housing in the United States, with two inserts placed in the rear and a single insert placed in the front. The tops of the tritium insert housing are designed to resist snagging, while allowing visibility for diminishing glow. These sights provide a glowing point of accuracy during literally any time of day or night, and the set is made to fit snuggly in most standard holsters.
Performance – Night sights have a lot of great benefits for shooters, with the downside being that they'll eventually require replacement down the line. Plus, you often have to have a professional gunsmith or expensive tools to both install and uninstall them. However, you will have increased your visibility to any time of day, and tritium is known for lasting a long time. We really like the Truglo brand; and, although the market for tritium night sights isn't particularly vast, Truglo is almost always featured in our night sight reviews. You can expect to receive a worthy investment with the handgun sight set.
What we say – The Truglo TFO Handgun Sight Set is the best Ruger LC9s accessory for anyone who wants to modify their original sights. Having visibility in even the darkest of night can mean life or death during self defense.
Pros
Visibility 24/7
Tritium inserts last long time
Truglo known for high quality night sights
Cons
Require professional installation and uninstallation
Truglo TFO Handgun Sight Set
UNMATCHED VISIBILITY in all shooting conditions, night or day; GLOWS IN THE DARK—no batteries or light exposure required
Available with YOUR CHOICE of GREEN OR YELLOW FIBER in rear sights; Yellow fibers in the rear sight increase contrast and aid in quickly focusing on the brighter green front sight
Made of tough, CNC-machined steel with a FORTRESS FINISH COATING for maximum protection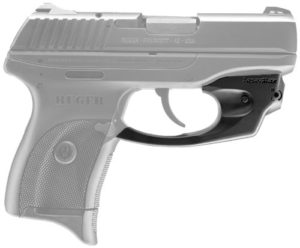 Materials – The LaserMax CF-LC9 Red Laser for Ruger is a red dot laser that is protected in high grade nylon housing. It acts as the trigger guard, which allows easy access to the on / off switch. Simply tap the switch with your finger to utilize the laser. There is a 10 minute of inactivity automatic shut off to preserve battery life. The laser is programmable for a constant on beam or a pulsating beam mode. Windage and elevation are also fully adjustable. There's no need to worry, whether you're left handed or right handed, the activation switches are completely ambidextrous.
Performance – Speaking of improving visibility, the LaserMax CF-LC9 Red Laser for Ruger is another option worth looking into for target acquisition during day and night. LaserMax puts out a really good quality laser for an affordable cost to most gunowners. The design is pretty durable, so you won't have to worry about the nylon housing being damaged or the laser being affected. Installation is incredibly easy – all it requires is for you to screw it in over your existing trigger guard, so no professional is needed for this one. You'll have to replace batteries down the line, and the laser certainly won't last forever; there will be more costs involved in the long run, but you'll already be getting a great laser for a price that's worth it.
What we say – The LaserMax CF-LC9 Red Laser for Ruger is one of the best Ruger LC9s accessories for anyone looking to improve their accuracy and the speed of their target acquisition. For anyone who isn't too handy when it comes to installation, LaserMax's product makes the process easy enough for anyone to do.
Pros
Improves accuracy
Easy installation
Simple on / off switch
Cons
Requires batteries and replacement down the line
Sale
LaserMax CF-LC9 Red Laser for Ruger
NATURAL HANDGRIP PLACEMENT - Laser is rounded and blended to the frame to insure a smooth draw
AMBIDEXTROUS TAP ON/TAP OFF SWITCH - Reinforces safe firearm handling
CHOOSE THE LIGHT BEAM YOU PREFER - Easily programmable for steady or high-visibility pulsed laser beam
Our Favorite Ruger LC9s Accessory
Our favorite Ruger LC9s accessory in this review is the Truglo TFO Handgun Sight Set. While all of the products featured our some of our favorite for their category, when it comes to a subcompact pistol, a pair of night sights can really improve you as a shooter. Since the Ruger LC9s is likely intended for self defense, tritium sights will help you feel safer and confident during the night or in low visibility. We personally prefer tritium sights over painted dot sights because they can be seen better, and the front and rear combo greatly improves your speed on acquiring your target. Despite requiring professional installation, it's completely worth increasing your chances of coming out on top in a life or death situation. Your enemies won't get far if you have the Truglo TFO Handgun Sight Set installed on your Ruger LC9s pistol.
Price incl. tax, excl. shipping/ Affiliate links / Images from Amazon Product Advertising API