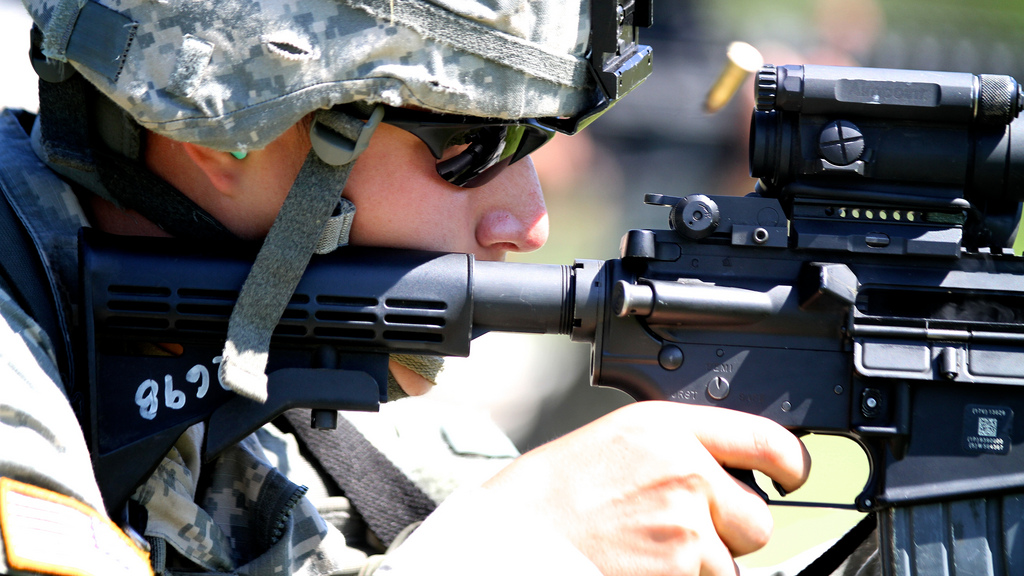 For anybody who like to modify their firearms, a trigger pull gauge (also known as a trigger pull scale) is an integral part in your arsenal of tools. We've put together this review of the best trigger pull gauges on the market, and we'll let you know what our favorite was at the end.
Most of the options you'll find online are manual pull scales, and there are many to compare. Only recently have digital scales for trigger pulls entered the market, but they are definitely a game-changer. Our biggest advice we want to lend our readers is always calibrate your scale, no matter if it's manual or digital. Yes, we even mean when it's brand new from the box. Any type of scale/gauge for any purpose needs to be calibrated, and you can find easy instructions on how to do this online. Calibrating ensures that your pull gauge will be as accurate as it can be, and you won't make any mistakes while modifying the trigger on your firearm. Having an accurate reading even gives your every-day gunowner an idea of what their desired pull weight is.
Whether you're a gunsmith or an average gunowner, you'll want to invest in a trigger pull scale.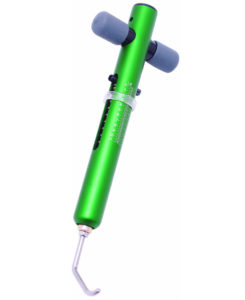 Materials – The G.P.S. Aluminum Firearm Trigger Scale is a manual scale that has no electronic aspects to it. The body of the scale is made of aluminum, and it has a hard, anodized finish to protect it from regular wear and tear or damage. You can measure your trigger's pull weight from 0 to 11 pounds by every ¼ pound increment. Simply read your pull weight by observing the black, sliding piece that correlates with the white line indicators. Include is a clear, plastic ring, which you can slide up and down the scale to mark your maximum desired pull weight. The trigger hook is shaped at an angle to accommodate firearm triggers. The pair of handles at the base of the trigger scale is ergonomically shaped for your fingers, and it is dipped in rubber to avoid slipping.
Performance – The G.P.S. Aluminum Firearm Trigger Scale is a very simple and standard scale that gives little fuss. Our favorite part about this option is the rubber-dipped finger pulls, which offer a lot of surface area for a no-slip grip. Since you're only pulling with your fingers, having a feature like this is really important – especially for us larger men with big hands. What we weren't a big fan of was the metal hook; although it's large and has an angled shape, there's no rubber grip on it to assist in the pull. This hook will slide around a bit on your trigger, if you're not careful. If you pull slowly, like you're supposed to, it should work smoothly.
What we say – The G.P.S. Aluminum Firearm Trigger Scale is the best choice for anyone who doesn't have the money to spend on a digital scale, and they need a larger pair of handles for big fingers. You definitely won't lose your grip with this option.
Pros
Big, rubber grip handles
Inexpensive as
0-11 pound scale
Cons
Metal hook lacks rubber grip
Sale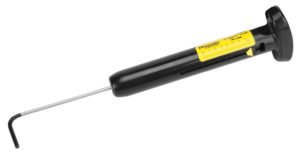 Materials – The Wheeler Engineering Trigger Pull Scale is another non-digital option, which relies on calibrated weights. This option measures pull weight from 8 ounces to 8 pounds, with increments of 2 ounces (meaning your final pull weight reading will be accurate +/- 2 ounces). The metal hook is L-shaped, and it has a rubber covering to give it more gripping ability on your trigger. The scale is easy to read, with black lines to mark the measurements and a pointed, yellow arrow weight indicator. The handle on this pull scale is also ergonomically designed, with two notches for your fingers to pull on.
Performance – The Wheeler Engineering Trigger Pull Scale is another good, budget friendly option. Although gunowners won't likely be going over 8 pounds on their pull weight, this option has one of the lowest ranges of measurement. The plus side to this is that it provides more accuracy on a manual scale. It reads to the 1/8 of a pound, or 2 ounces. Most other manual trigger pull gauges read the ¼ pound, or 4 ounces. The style of hook on this option is also more preferred than the previous product because it has the rubber tip to avoid slipping. You'll get a more accurate reading with this option. Plus, there's plenty of space on the handle for bigger fingers.
What we say – The Wheeler Engineering Trigger Pull Scale is the best option for those who want a more accurate reading of their pull weight. You'll also have less chance of the hook slipping from the trigger.
Pros
Rubber grip on hook
Accurate reading to 1/8 of a pound
Plenty of finger space
Cons
Shorter measurement range
Sale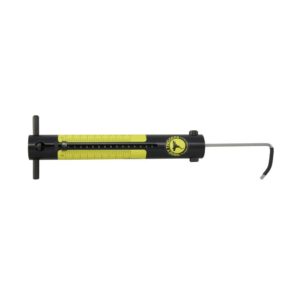 Materials – The Timney Triggers Tension Scale Trigger is the final manual gauge within this review. It measures from 8 ounces to 10 pounds, with increments of a ¼ pound (4 ounces). The trigger hook has an angled shape, as well as a black rubber cover to enforce gripping power and to avoid slipping. Units are indicated in both pounds and kilograms on the ruler, and there is a piece included to dictate your maximum pull weight. The finger handle is two simple bars, which have special grooves to aid in keeping a grip on the scale as you pull.
Performance – The Timney Triggers Tension Scale Trigger has one big pro and one big con to it. The pro is that it has our favorite style of trigger hook out of all the options within this review. It has the best of both worlds: and angled shape and a rubber grip cover. Having a sturdy grip on your trigger is crucial to an accurate reading. The con is that the handle is just two teeny, tiny, little bars. Although they have groves for gripping, they become uncomfortable when you get towards the end of your pull. They'll dig into the skin a little bit, which can cause you to lose grip. Otherwise, the measurement range and accuracy are quite standard.
What we say – The Timney Triggers Tension Scale is the best trigger pull scale for those who are looking for that perfect hook. You're less likely to have to re-measure your pull weight, and you'll get the most accurate reading.
Pros
Hook has best of both worlds for grip
8 oz. – 10 pound reading
Cons
Uncomfortable finger handles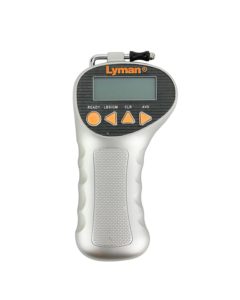 Materials – The Lyman Electronic Digital Trigger Pull Gauge is a digital scale for the modern gunowner. It can read from 0 to 12 pounds, and it is accurate to 1/10 of an ounce. The metal trigger hook is an L-shape, and it has an ergonomically shaped rubber piece for gripping to the trigger. Featured on this digital gauge is a large screen that accurately displays measurements, as well as a simple button system to switch between ounces and grams, clear the data, and find the average pull weight. Also featured is an ergonomically designed full handle, leaving enough space for your entire hand to grip the gauge. Included is a special carrying case for your scale.
Performance – The Lyman Electronic Digital Trigger Pull Scale is full of good things to mention. There is the obvious factor of being digital: no more need to squint at a tiny ruler and guess your pull weight. The screen reads clearly and accurately. Speaking of accuracy – this option offers the most accurate reading of any scale on the market. This is the only one that measure to the fraction of an ounce, instead of a pound. While that may be somewhat unnecessary, you can't argue with it! This rubber grip on the trigger has a little groove in it, so it actually attaches to your trigger, and there's no room for sliding around. Plus, there are no little finger bars – the whole scale acts as a handle.
What we say – If you have the extra cash, the Lyman Electronic Digital Trigger Pull Gauge is the best option for just about anybody. Testing the pull weight should be a quick chore to do, and this product makes the process very smooth and quick.
Pros
Digital reading
Most accurate scale on the market
Large handle for gripping
Our Favorite Trigger Pull Gauge
While we normally don't choose the most expensive option in our reviews, the Lyman Electronic Digital Trigger Pull Gauge was absolutely our favorite product. This option is one of the very few digital products out there, but it's more or less the only one specifically designed for firearms and gunsmithing. You'll get the most accurate reading and the smoothest function. Any serious gunowner should pull a little cash from their rainy-day fund, and purchase the Lyman Electronic Digital Trigger Pull Gauge. It will be well worth it, in the long run.
Price incl. tax, excl. shipping/ Affiliate links / Images from Amazon Product Advertising API