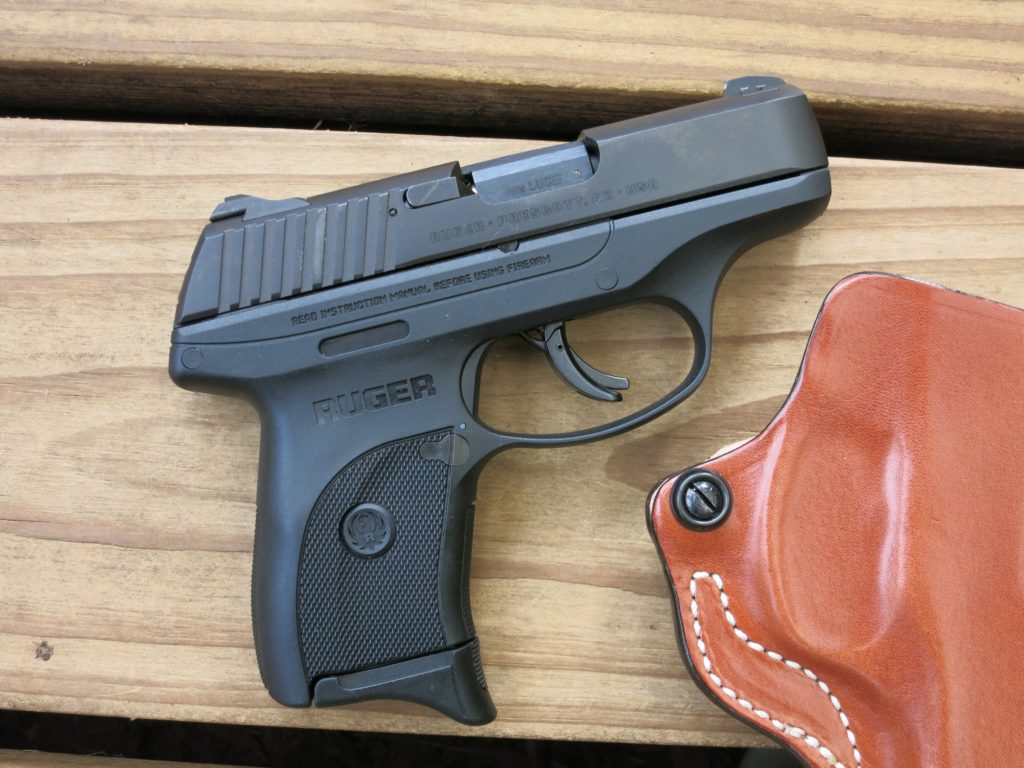 The Ruger LC9 is one of the best 9mm subcompact pistols for self defense, and can be very popular with the ladies or concealed carry owners who want to very discretely have their weapon with them at all times. If you're looking to conceal your pistol inside the waistband (IWB), you'll want an IWB holster that will ensure your little firearm won't go sliding or rocking during your daily activities.
We've put together this list of the best Ruger LC9 IWB Holsters, and we'll let you know what our top choice is at the end of it.
Thankfully, a simple and lightweight pistol calls for a simple and lightweight holster, so most options should be relatively cheap and affordable. You'll want to mainly focus on how active you are during the day to determine on what style of IWB holster you should purchase. If you intend to carry your Ruger LC9 with your throughout most of the day, then look for soft leather and suedes that will prevent any discomfort. If you want to keep your pistol in a bag or glove compartment, you'll want to look into a protective material that is more firm than soft leather.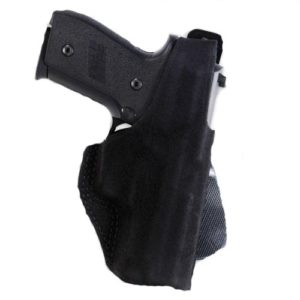 Materials – The Galco Paddle Lite Gun Holster for Ruger LC9 is made of premium center cut steerhide, and it is very soft and comfortable to wear against the body. Despite the soft leather, the special paddle material is copolymer injection molded, so it is still shaped to your specific gun. This is best for high concealment and keeping your weapon as close to your body as possible. There is a single thumb break retention strap, which easily snaps open by button clasp. It comes in black, and it fits belts up to one and three quarter inches. The cant is butt forward, making it ideal for quick release and draws when the moment calls for it.
Performance – If you haven't notice from our past reviews, we almost always include a Galco option in gun holster articles. Galco provides so many different types and styles of gun holsters, and this Ruger LC9 IWB holster is a great option that shouldn't allow for many complaints. The snap thumb break makes this the perfect holster for wearing throughout the day. The soft premium center cut steerhide leather also makes this a top-notch choice for anyone who knows they want their Ruger with them during most situations. The paddle design will keep your weapon protected from exterior elements. The only complaint we see is that this holster isn't very ideal for keeping in a purse or car, due to the thumb break.
What we say – The Galco Paddle Lit Gun Holster for Ruger LC9 is reasonably priced and should fit in any budget. The soft leather makes it a great choice for an EDC holster as it's incredibly comfortable to wear even during longer days.
Pros
Soft leather comfortable for all day wear
Thumb break
Cons
Not ideal for keeping in a bag or glove compartment
Galco Paddle Lite Gun Holster for Ruger LC9
Combines Galco's time-proven paddle design with a holster made from Premium Center Cut Steerhide
Very secure, yet easy to remove and replace without removing the belt
Rides high and close to the body with a butt-forward cant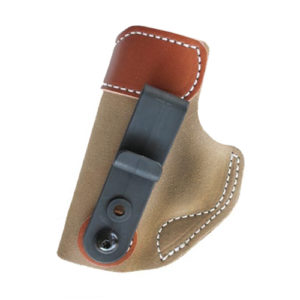 Materials – The DeSantis Ruger LC9 Sof-Tuck Holster is made is lightly molded, non-slip suede. The top of the holster is reinforced with premium saddle leather to aid in re-holstering and a smooth draw. It relies of level one retention, and it has stitching at the top of the holster, as well as along the trigger guard. This is another holster that is incredibly comfortable to wear, but it has enough shaping to protect your Ruger from exterior elements. The pivoting belt clip allows the cant to be adjustable, so this holster can be worn on your dominant side, at cross draw, or at the small of the back, making it a very versatile option. It comes in tan/brown, and it's an ideal option for wearing during portions of the day or storing in a bag.
Performance – DeSantis is another popular name when it comes to gun holsters, and their Ruger LC9's IWB holster is a great choice for ladies concealing in their purse or anyone who would like to wear their firearm with minimal physical activity. Don't expect to be able to do a lot of physical labor while wearing the DeSantis Ruger LC9 Sof-Tuck Holster because the adjusting cant will cause the gun to move around a bit. However, regular outdoor activities should be just fine with this option. Again, this is a very soft and comfortable holster to invest in.
What we say – The DeSantis Ruger LC9 Sof-Tuck Holster costs around $20-$25 online, which is crazy affordable. For anyone who is running some errands, walking around at an event, or is carrying a bag, this is the best option for you.
Pros
Affordable
Comfortable suede with reinforced opening
Adjustable cant
Cons
Not good for a lot of activity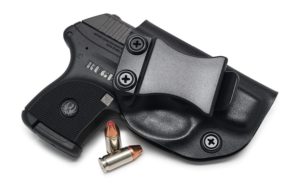 Materials – The Concealment Express IWB Kydex Holster is made of .8" thick durable kydex, which is molded to the specific shape of your Ruger LC9. This holster comes with the "Posi-Click" audible retention lock system, so you'll hear the adjustments as you're tightening or loosening the retention. An integrated sweat guard is installed with this LC9 inside waistband holster, so the side facing the body actively repels body fluids and moisture that can cause damage to your weapon. The simple belt clip can adjust by 15 degrees for cant, so you may wear your holster straight vertically or in FBI style. The best part: The Concealment Express IWB Kydex Holster comes with a lifetime U.S.A. warranty.
Performance – The Concealment Express IWB Kydex Holster is a wonderful option for both wearing inside the waistband or concealing in a bag or glove compartment. There's no thumb break, and, while that may be a downside for some gunowners, it means there's less standing in the way of you quickly drawing your weapon in self defense. We really like the "Posi-Click" audible retention lock system, so there's less guess work with finding the perfect setting on your holster. We will say that kydex can become a little uncomfortable if you intend to wear your holster all day, so this is a better option for anyone wearing it during only portions of the day.
What we say – The Concealment Express IWB Kydex Holster costs about $35 online. The kydex material makes this a great option for anyone who thinks their Ruger could get scraped or dinged during the day, as the material is very protective.
Pros
Made of durable, molded kydex
"Posi-Click" audible retention lock system
Adjustable cant
Cons
Uncomfortable for wearing all day
Concealment Express IWB Kydex Holster
INSIDE THE WAISTBAND KYDEX HOLSTER fits: Ruger LCP (ONLY unless Specified). Our minimalist IWB holsters are designed to be worn comfortably inside the waistband with an untucked shirt for proper concealed carry. We use .08" KYDEX precision formed over our proprietary in house CAD designed and crafted Aluminum molds. This ensures unparalleled consistency, fit, quality, durability, lightness, comfort, & uniform features across all of our holsters.
EXCLUSIVE HOLSTER FEATURES: Undercut Trigger Guard keeps the KYDEX from interfering with your draw. Over-Cut Open-Face accommodates Threaded Barrels and clears Suppressor Height Sights. Full length Sweat Guard & Rear Sight Shield to protect your weapon from sweat. Fiber Reinforced Stealth Belt Clip, so no one knows you are carrying. We utilize all Black Oxide Steel (Phillips) hardware with Threadlock, so you can easily make adjustments but never lose a screw.
ADJUSTABLE 'POSI-CLICK' RETENTION & CANT: When you holster your Ruger LCP, you'll hear a satisfying 'CLICK' letting you know your weapon is securely holstered & won't come out unless YOU want it to. Retention pressure is fully adjustable via the black oxide steel hardware forward of the trigger guard. Cant (or Carry Angle) is adjustable from -5 to +20 Degrees, allowing you to angle the holster perfectly for appendix (AIWB), strong side, behind the hip or cross draw carry positions.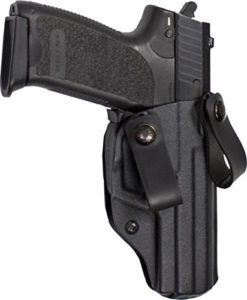 Materials – The Blade-Tech Nano IWB Holster for Ruger LC9 Pistols is another option made of durable kydex that has been molded to the specific shape of the weapon. It comes in black, and it is uniquely contoured to reduce "hot spots". There are two soft belt loops for attaching to the waistband, and they easily snap open and shut when you want them to. There's a full length sweat guard installed for protecting your Ruger from any type of moisture. Also installed is a positive lock trigger guard, which ensures you have properly re-holstered your weapon. The cant is not adjustable, but it can be worn in the dominant position or at the small of the back.
Performance – The Blade-Tech Nano IWB Holster is ideal for wearing during short times of the day. Although it can be stored in a purse or some type of compartment, the belt loops may make that a bit of an inconvenience. If you're just occasionally wearing a concealed carry weapon, then this is a cheap and worthy investment to make. You can't adjust the cant of this holster, which is a bit of a let-down, but that isn't always ideal for a level I retention IWB holster anyways. If you like the Blade-Tech brand, and you like to buy in confidence, then this is a good option for you.
What we say – The Blade-Tech Nano IWB Holster for Ruger LC9s costs just over $50 online, making it the most expensive option within this review. While that seems a little steep in price compared to the other options, you're paying for quality craftmanship and minimal guesswork.
Pros
Durable kydex construction
Full sweat guard
Easy snap belt attachments
Our Favorite Ruger LC9 IWB Holster
Our top pick for the best Ruger LC9 IWB holster goes to the DeSantis Ruger LC9 Sof-Tuck Holster. We find the combination of soft suede and reinforcing premium saddle leather the best option for someone who wants to wear their holster and also safely store it in a car, purse, or wherever else. While all of the options we've shown are pretty cheap, a $20-$25 price tag gives us no reason to turn our backs on this one. Adjustable cant can satisfy all wearer's preferences, as well as the ability to wear it in almost any style on the waistband. The simple clip also makes this a good option for concealing your Ruger LC9 in a bag without any pieces catching or hooking onto other items. To put it simply, the DeSantis Ruger LC9 Sof-Tuck Holster should please anybody.
Price incl. tax, excl. shipping/ Affiliate links / Images from Amazon Product Advertising API