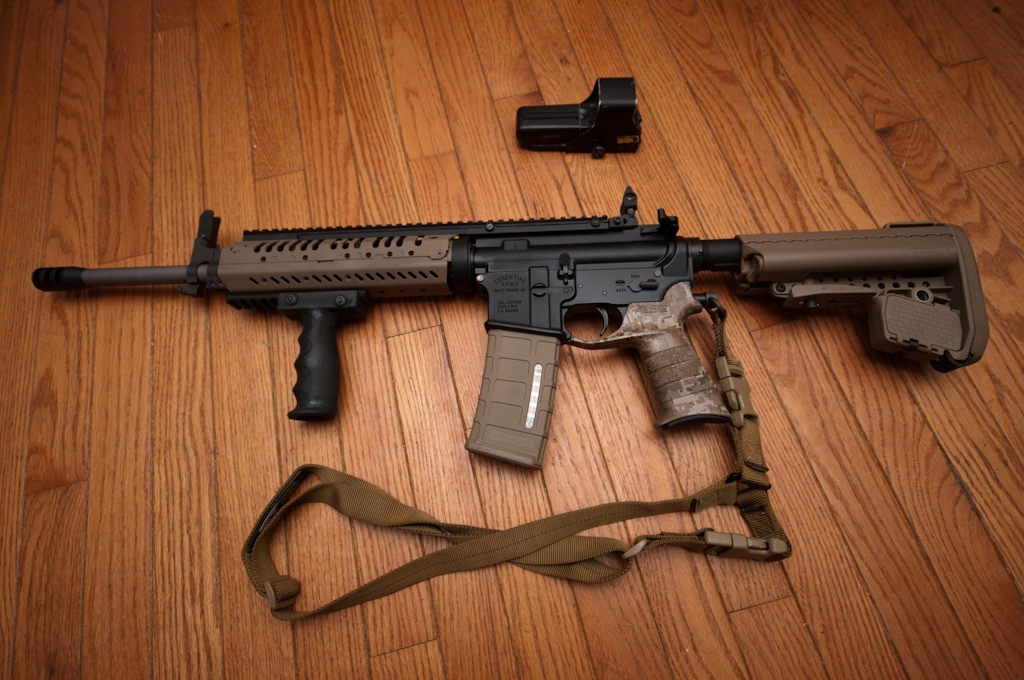 AR-15 rifles are loads of fun to upgrade and add accessories to. There are countless articles on what are the best optics and modifications you can choose, and just about everyone has an opinion. The AR-15 is a timeless rifle style with many traditional features that are interesting to get creative with. The original iron sights are one of these aspects that many owners like to upgrade, and there is quite a variety of sights to choose from online. We scoured through the market, and we made this review of the best AR-15 front sights we could find. Of course, we'll tell you at the end which was our favorite.
We chose four different styles of front sights that you can add on to your AR-15. We covered everything from traditional and simple, to night sights for increasing you vision range. The main thing you'll want to consider when purchasing a new front sight is if you want a drop in sight or one that you would mount onto your top rail. Your drop in sights have a better chance of resisting any recoil, but they tend to be more out-of-the-box. Front sights that attach to a Picatinny / Weaver rail will more often than not stick to the more traditional side of things. However, you'll then have to pay closer attention to materials used and how well the bolts lock into place. Whichever style you choose, you should see a definite increase in your shooting accuracy. If you don't, then it's time to hit the range and brush up on your skills!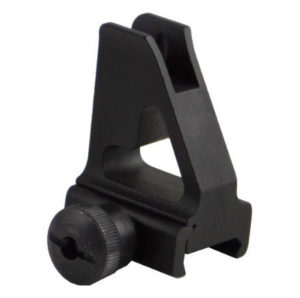 BONUS OFFER: Get your free shooting range targets to print at home!
Get your free targets to print at home!
Materials – The standard front sight from SNIPER is constructed from machined aluminum in a matte black finish. It attaches to a Picatinny / Weaver rail, and it has a single mounting bolt to resist recoil. Turning one simple screw means you're ready to use your new front sight. It is designed as a thumb nut, but you may also use the tooling slot is that's easier. The A2 square sight post is adjustable during assembly do make the ideal target acquisition and accurate shooting capabilities for you. This quick detach front sight tower is low profile, so it won't interfere with your raised scopes or optics.
Performance – What we like most about this AR-15 fixed front sight is its overall appearance. It's low profile in height, but it's also low profile in it look as a whole. There is good coverage of the A2 post, so any exterior elements won't cause any damage. This should balance out well against recoil too. The other thing we really like about this option is that it's made of aluminum, and it's going to be a little heavier and sound than many other mounted front sights. What good a recoil resist bolt if it's made of a cheap material that will crack, correct? We are not big fans of the mounting screw, but we can work around it.
What we say – SNIPER's option here is the best AR-15 fixed front sight for anyone who needs a low cost option and doesn't want to divert much from their original sight.
Pros
Lowest cost
A2 post well protected
Aluminum construction
Cons
Screw is a little difficult to work with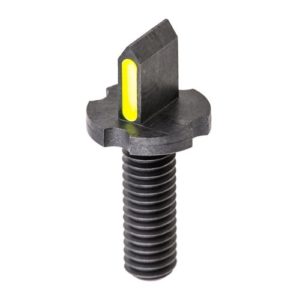 Materials – This screw-in front sight post for your AR-15 is machined from billet 416 stainless steel and finished in black melonite. It is a direct replacement for the standard A2 sight post with simple drop in installation. A bright green luminescent stripe is featured, facing the shooter, for easy target acquisition, even in lower lighting. During day light, the strip will glow a bright yellow, which is easy on the eyes. The top of the post is pointed to enhance the accuracy without distracting you from the glowing strip. To charge the strip, simply leave it in the sunlight or shine a flashlight on it. Never worry about replacing it.
Performance – If the name Blitzkrieg doesn't get you excited for this AR-15 front sight post, then we don't know what will. This is a unique design that is very helpful for increasing accuracy, but it's definitely not for everyone. The glowing strip can be seen in most light situations, but it's not the best for straight night. It's a little weird that you have to recharge the strip with a light source, but, at the same time, that means you never have to replace it. That's money saved down the line. The drop in installation is quick and easy, and the pointed top is highly unique as well.
What we say – The spike front sight post is the best option for anyone who needs a unique way to better their target acquisition but also doesn't want to spend the money on a tritium insert. You get the best of both worlds.
Pros
Glowing strip in day light and low light
Never has to be replaced
Pointed top for increased accuracy
Cons
Not visible in black night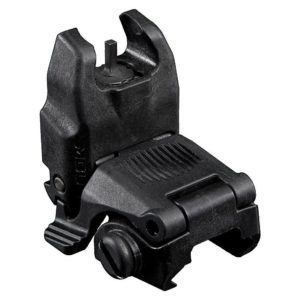 Materials – Magpul's back up front sight is constructed from impact resistant polymer. It is light weight but durable against recoil. The flip up activation is spring loaded; simple push it up from either side or press the top to activate. When you are done using it, simply press it back down into place until it locks. A tool is included for making elevation adjustments. Protective wings on either side of the sight shield the A2 post from damage. For installation, it attaches to any standard Picatinny rail and has a single screw and recoil resistant lock bolt. The Gen 2 back up sight can be purchased in black, flat dark earth, or foliage green.
Performance – Something you'll see a little more commonly is a backup sight. This front sight from Magpul works great on an AR-15. It's light weight, and it's very easy to install or move as needed. With a traditional A2 post in the center, it won't mess up your focus or distract from your rifle's set up. Of course, spring action activation is helpful. You can quickly switch between using your front sight or using an optic without losing your target. If you need to be camouflaged, you have multiple colors to choose from too. The only downside here is that it's obviously not a fixed sight. You'll have to snap it down in place when it's not in use.
What we say – Magpul's back up front sight is the best choice for gunowners who aren't sure if they're in need of a fixed sight. You will still have a traditional A2 post with a little more versatility.
Pros
Lightweight
Easy to activate or suppress
Traditional A2 post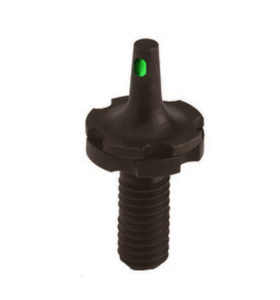 Materials – This is another drop in front sight replacement, offered by Meprolight. Simply screw it into place. Should the tritium insert not be facing you, just squeeze the detent locking piece and rotate it into the correct position. This also makes installing or uninstalling much quicker. The tritium insert glows bright green at all times, and it can last for up to 15 years without fading. The sight post is more narrow than the traditional A2 post on AR-15s. Now, you can see even in the dead of night without giving yourself away with a flashlight or glowing optic.
Performance – If you need a night sight, here you go! With the tritium insert lasting for up to 15 years, you're really getting your money's worth. We also love the system for adjusting. Instead of unscrewing and re-screwing you post into the correct position, the installation time has been cut down with the nifty detent locking piece. You can be totally incognito without your target noticing you first. Plus, the tritium is still highly visible and effective during the day. The incredibly slim post will give you pin point precision. The Meprolight Tru-Dot night sight is the most expensive option, but it will make a world of difference in your shooting abilities.
What we say – Quite simply, this is the best AR-15 front sight post for anyone who need a night sight! Long lasting tritium is very worth the investment.
Pros
Tritium lasts for up to 15 years
Visible in day or night
Easy adjustments
Our Favorite AR-15 Front Sight
We were easily won over; our favorite AR-15 front sight was the final option – the Meprolight AR-15 Tru-Dot Night Sight. It may have been the most expensive choice, but not by much. A few extra dollars are worth the difference in changing your range of vision during all times of day with your rifle. Plus, we love Meprolite's innovative way of adjusting the position so the tritium insert directly faces the user. With it locked correctly in place, only you will see the glowing strip, and it won't distract what's in front of you. You guarantee you accuracy will increase after installing this drop in post on your AR-15.