In times like these, finding cheap ammo and lots of it can be a real challenge. Thankfully, .22 LR is still in stock and not totally insane prices! But all of the ammo in the world doesn't do you much good if you don't have a cool blaster to feed. From single-action revolvers to semi-automatic race guns, we have you covered with the best .22 LR pistols!
BONUS OFFER: Get your free shooting range targets to print at home!
Get your free targets to print at home!
Why You Need (and Want) a .22 LR Pistol
Normally regulated to blasting rabbits and squirrels or teaching kids how to shoot, .22 LR might seem like an odd choice for someone to get a pistol for. But if you're willing to expand your horizons, you may find that a .22 LR pistol is perfect for you.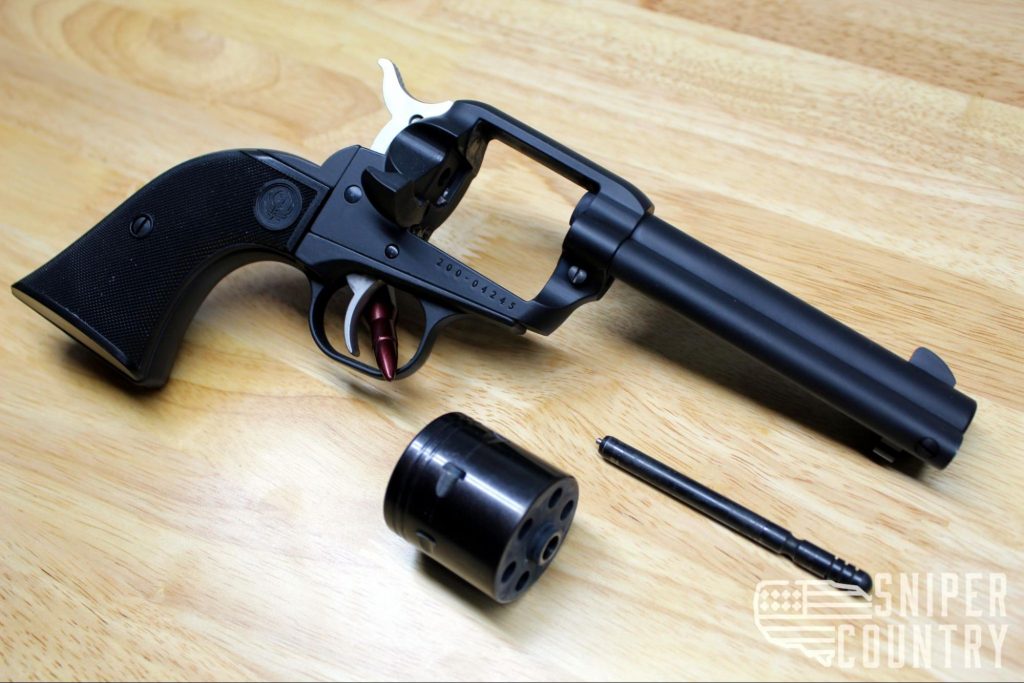 From training pistol fundamentals to getting started in competition to just having a lot of fun at the range, .22 LR pistols can cover a huge range of options. And they are perfect for teaching younger shooters or new shooters of any age the basics of safety and marksmanship.
Semi-automatic .22 LR pistols are awesome for things like Steel Challenge competition or getting started in USPSA. Revolver .22 LR pistols are the absolute best teaching tools you can have for a new shooter and they're just so much fun to shoot!
So with that, here are our recommendations for the best of the best. Presented in no particular order.
Quick summary of the best .22 LR Pistols
Ruger Wrangler

Styled after the classic Colt Single Action Army
Featuring Cerakote finishes
Durable
Hammer transfer bar
Ideal for new shooters

$189

Shop NowClick to read my review
Ruger Mark IV

Reliable
Plenty of aftermarket upgrade options
Ideal for competitions

$409

Shop NowClick to read my review
Browning Buck Mark

Great trigger
Plenty of customization options
Reliable
Stylish

$641

Shop NowClick to read my review
Glock G44

Based on the true and tested G19
Excellent for everyday training
Bit heavy on the recoil
Another good gun for new shooters

$46

Shop NowClick to read my review
Heritage Rough Rider

We like the price
Reliable and pretty durable
Gret for a fun day out

$149

Shop NowClick to read my review
Best .22 LR Pistols and Handguns – Reviews
1. Ruger Wrangler
Styled after the classic Colt Single Action Army, Ruger's Wrangler line of revolver single-action .22 LR pistols are basically the budget versions of their incredibly famous Ruger Single Six line.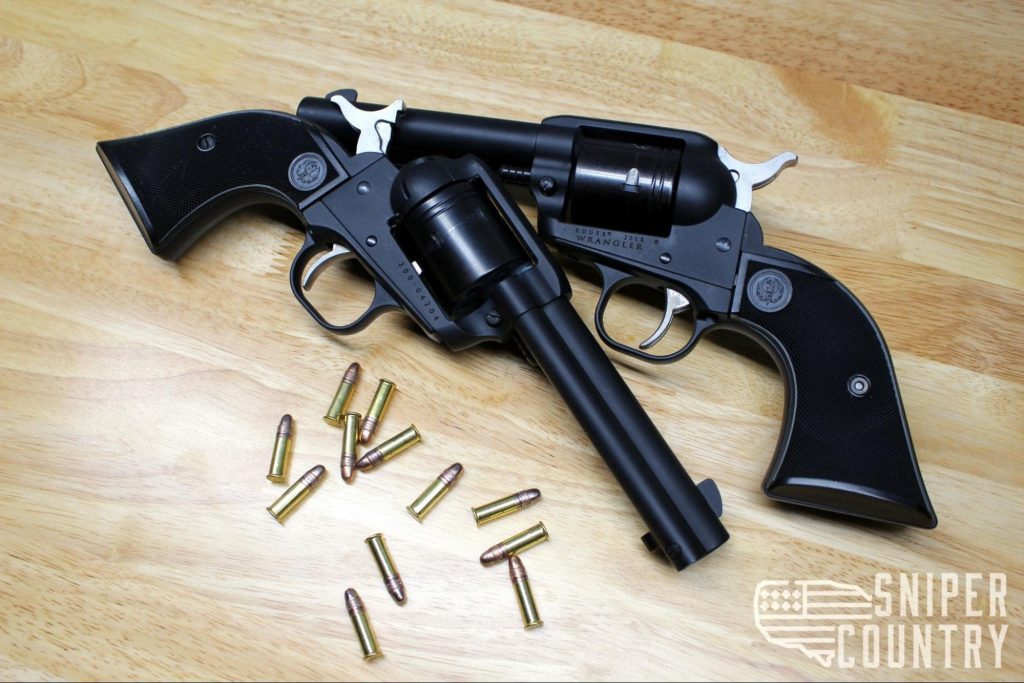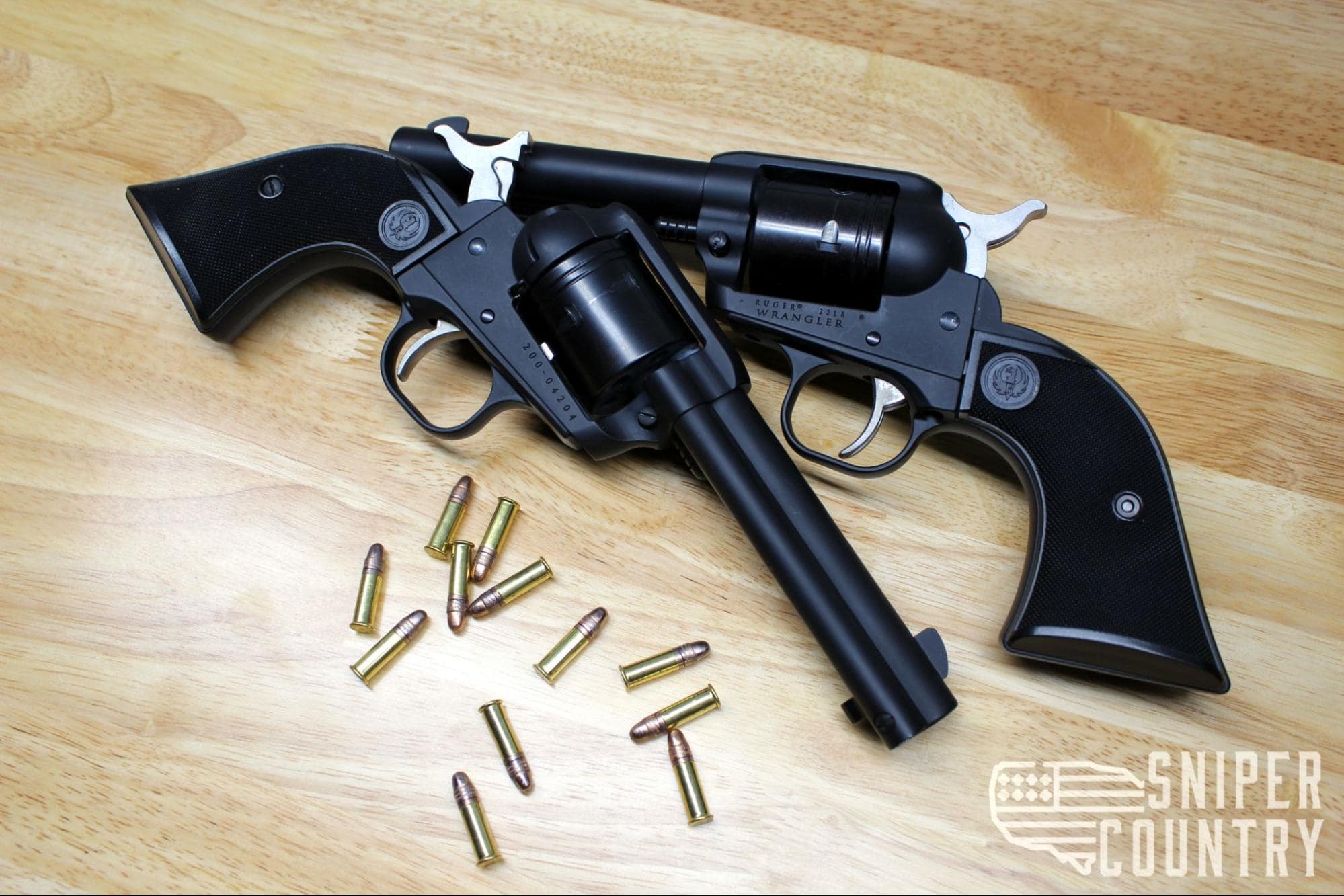 Featuring Cerakote finishes, hammer transfer bar safeties, steel cold hammer-forged barrels, and cylinders with Aluminum frames, the Wrangler is a perfect meld of quality and cost savings. You'll normally find these for around $200, give or take a tenner. At that price, there is simply everything to love about them.
I pre-ordered two Wranglers before they even hit the open market. I had been wanting a SAA clone in .22 LR and Ruger has never let me down. What I got was way more than I expected, not only are these well made in every way, they are also durable as all get out. My primary Wrangler has about 1,500 rounds of 40gr Aguila .22 LR though now and it shows little sign of wear after the first 200 or so rounds (breaking in the Cerakote is normal).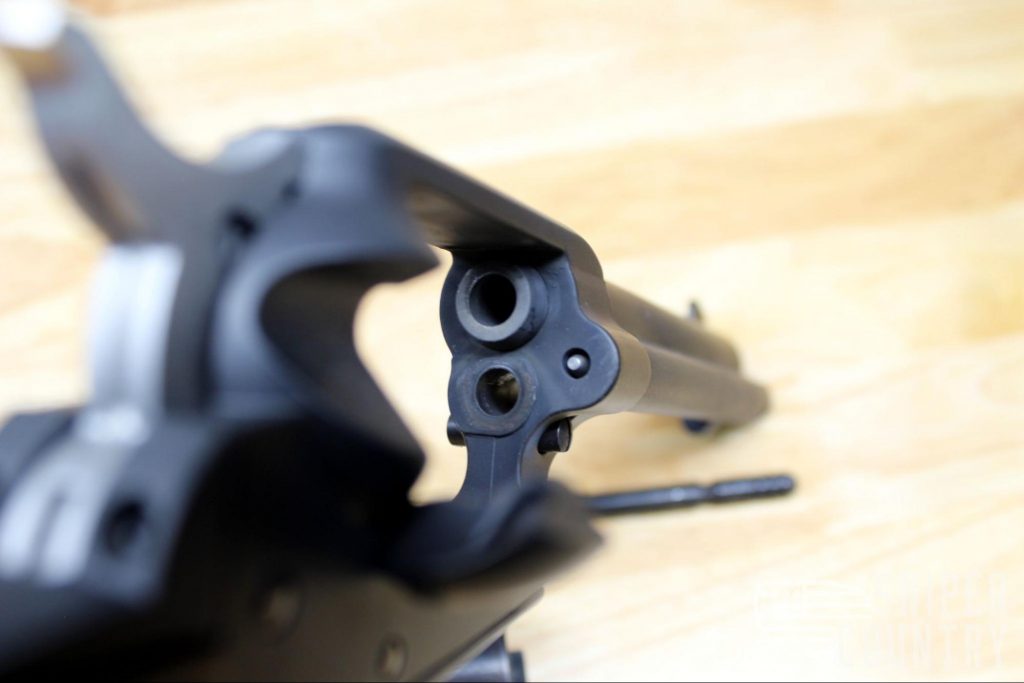 However, it isn't actually the smoothest or easiest .22 LR pistol to use.
Ruger decided to make the designs extra safe for the shooter by adding a hammer transfer bar to the Wrangler. The Wrangler's hammer is designed so that it cannot touch the firing pin directly. Basically, the hammer transfer bar is a bar that rises up while the hammer is being cocked back. Once in position, it bridges the gap between where the hammer falls and the firing pin itself.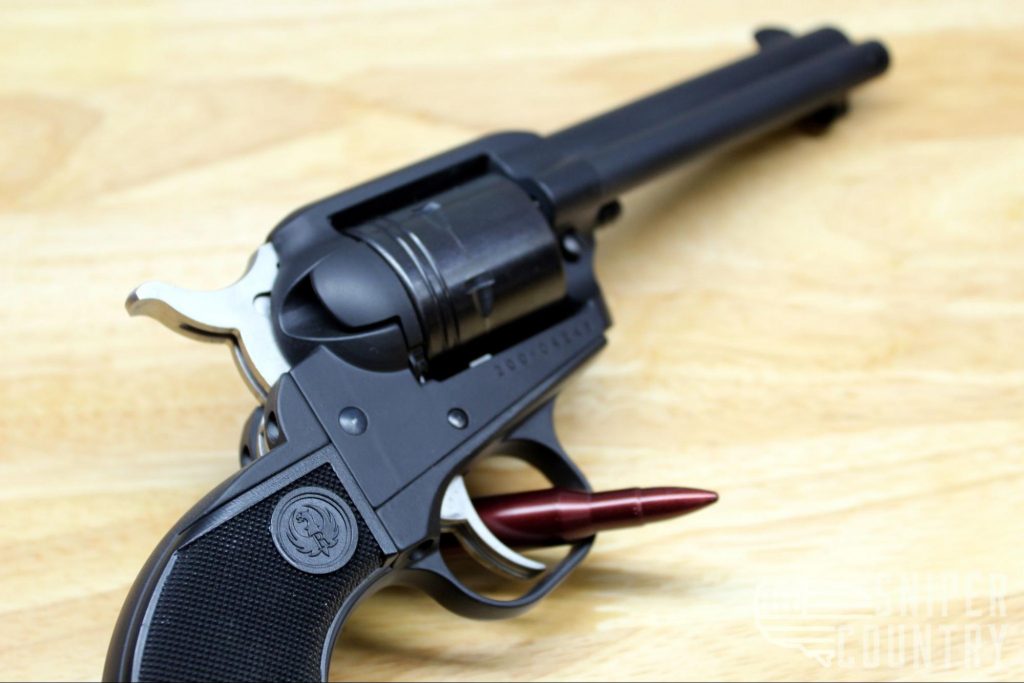 Without the bar in place, the hammer cannot strike the firing pin to set off a cartridge. This makes the gun safe to leave with the hammer down on a live cartridge, something that you couldn't safely do with the original Colt Single Action Army design.
For new shooters or shooters that just want to have fun at the range, I strongly recommend the Ruger Wangler!
2. Ruger Mark IV
While the 10/22 might be Ruger's most well-known .22 LR design, the Ruger Mark IV is one of the best.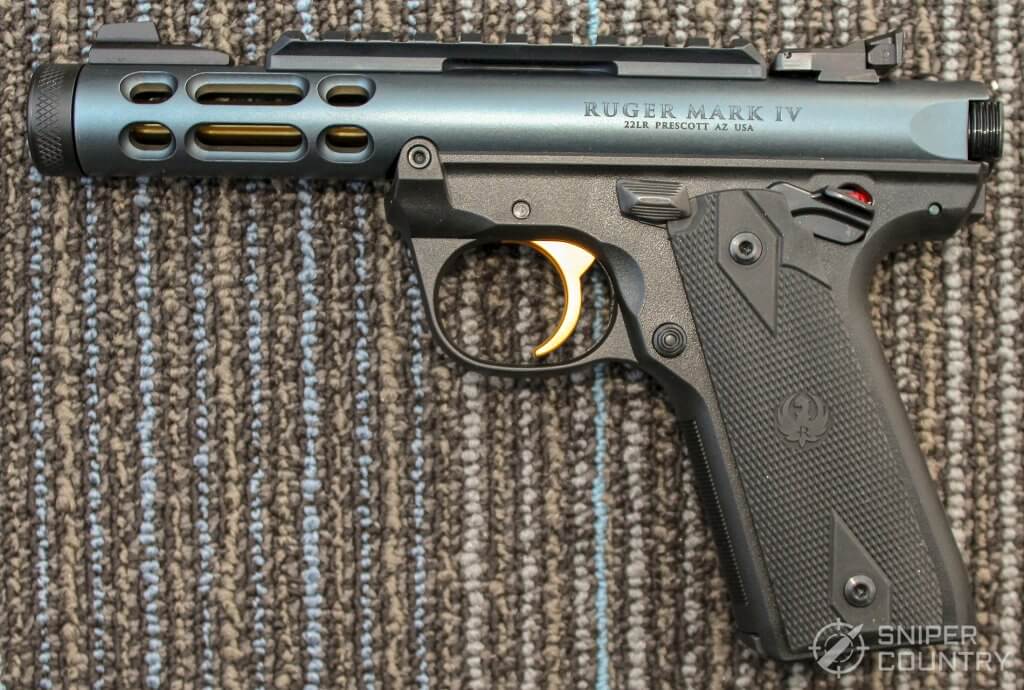 Ruger's long history with the .22 LR has enabled them to design a pistol that is basically the pinnacle of what you might want from a .22 LR semi-auto pistol.
Assuming what you want is reliability, ease of use, loads of aftermarket upgrade options, and a takedown system that makes the Mark IV effortless to clean. The classic lines of the Mark IV are a double-edged sword, while it looks great and has a distinctly Luger feel to it — it might not be what you're looking for if you want something to simulate modern centerfire pistols.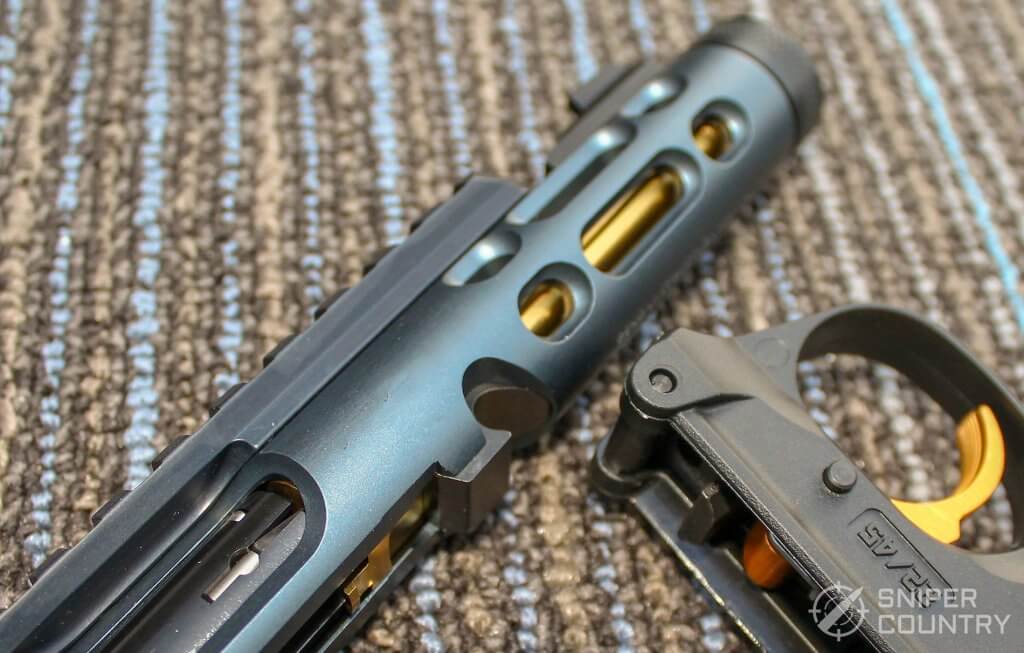 Personally, I love how it looks. If you're looking for a competitive pistol, this is one of the best. Aftermarket support for the Mark IV is as big as the 10/22's. Given enough time and money, you can turn this into a custom-built race gun.
3. Browning Buck Mark
People love to debate what the better .22 LR pistol is, the Buck Mark or the Mark IV. While I'll leave that final choice up to you, I will say that the Buck Mark has a noticeably better trigger right out of the box.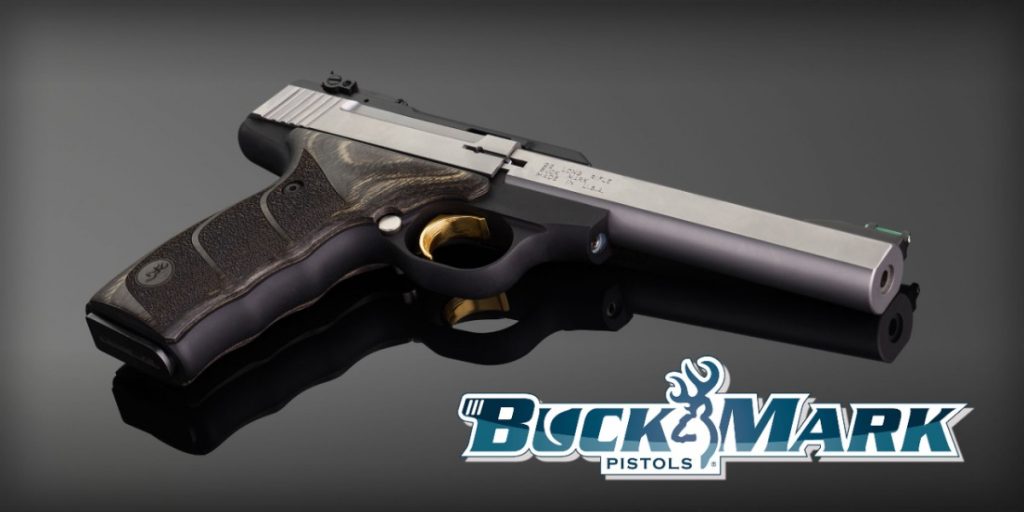 Browning's Buck Mark is incredibly similar to the Mark IV from styling to purpose. While in a head-to-head comparison they both win some and lose some, what it really gives you is options.
Between the host of Mark IV's and the legion of Buck Marks, there is a factory option that serves almost every need and role you can think of. And if the perfect version isn't out there for you, the Buck Mark has almost as many customization options so you can perfect it.
Bottom line — the Buck Mark is another reliable, stylish, dependable design.
BONUS OFFER: Get your free shooting range targets to print at home!
Get your free targets to print at home!
4. Glock G44
For years people have used conversion kits to turn their standard Glock G19s into .22 LR shooting pistols. While some of those conversions work better than others, Glock finally answered our prayers with the G44.
In every way, the G44 is a G19 — the most common compact-sized pistol in the USA and probably the world.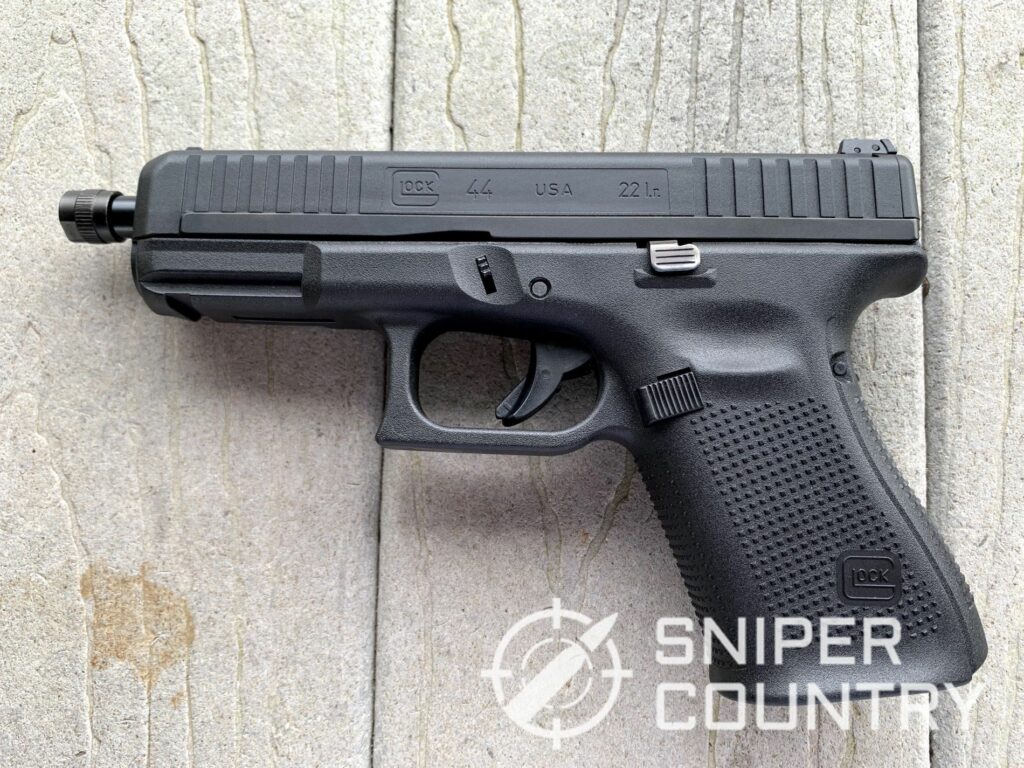 With one major difference — the G44 is chambered in .22 LR. This makes it perfect for training in a number of ways. Cheaper ammo means more rounds down range, great for working on holster draw times, split times, transition drills, and more. It's also perfect for teaching new shooters the fundamentals, especially if they plan on getting a CCW. The G19 being one of the most common carry guns in the world makes the G44 a great stepping stone.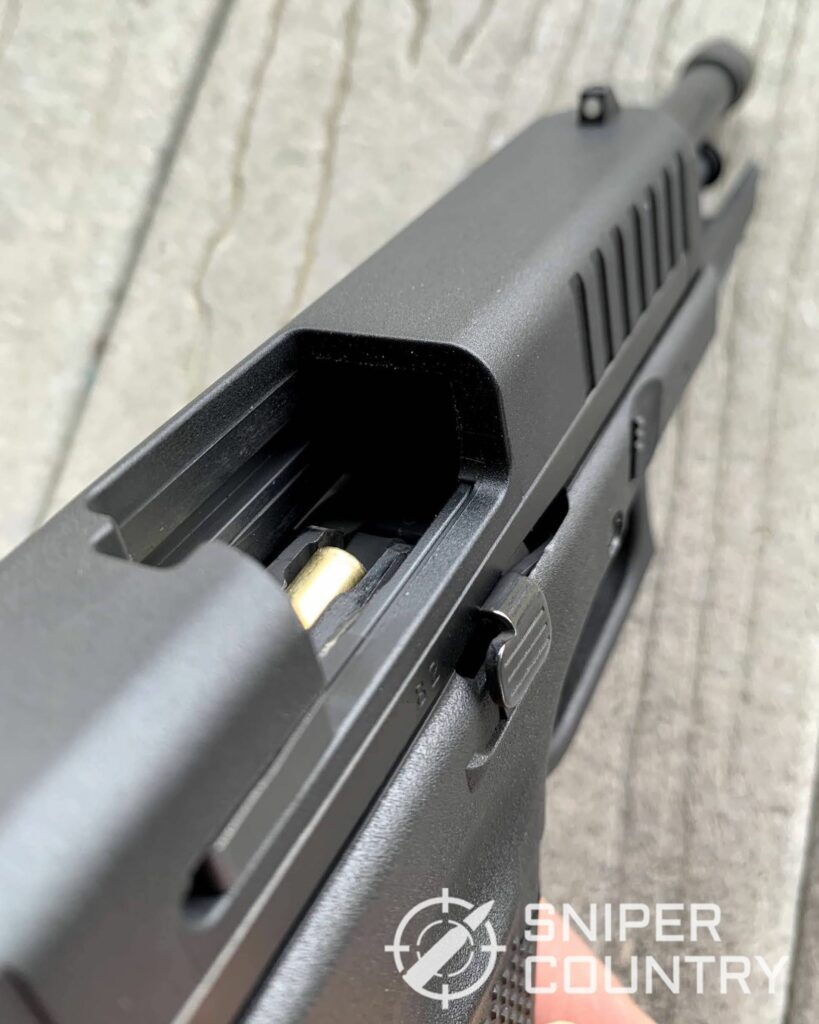 However, there is one major shortcoming — recoil. As perfectly similar as the G19 and G44 are, something you cannot replace with .22 LR is the recoil of a larger cartridge. Lacking recoil can create training scars that will have to be overcome. Knowing this going into it though you can at least prepare for it and alternate between .22 LR and something more divisive like 9mm.
5. Heritage Rough Rider
From 4.5" barrel "Bar Tender" models to 16" barrel Joker meme guns, Heritage Rough Rider has basically everything and then some. Pearl grips, American Flag grips, .22 WMR models, and a whole lot more — Heritage aims to have something for everyone.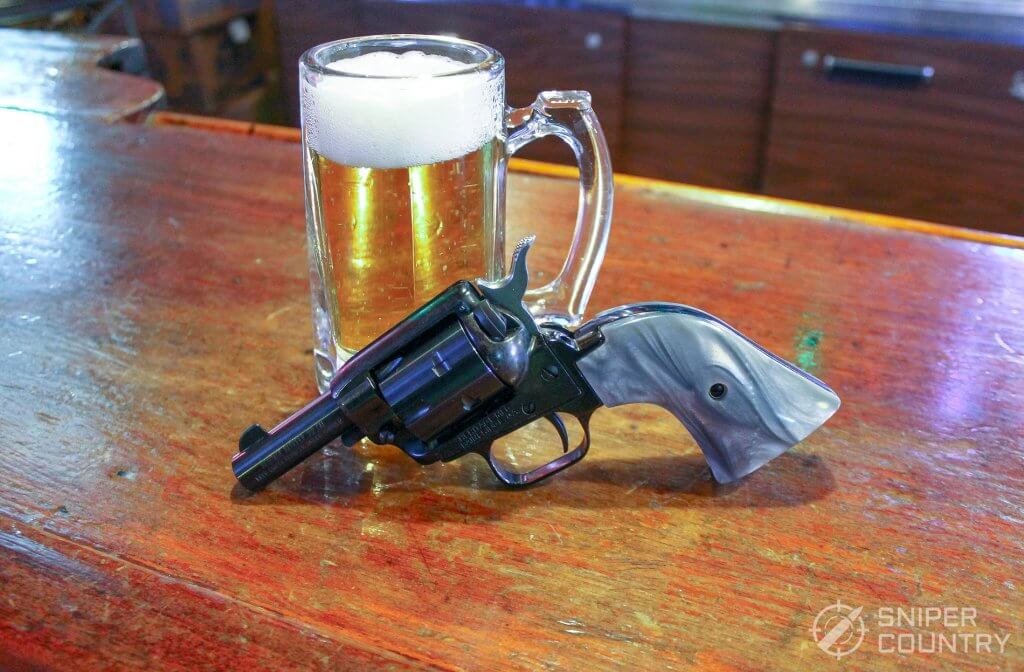 But what really sets them out is just how cheap these little pea shooters are. Commonly on sale for around $100, a Heritage Rough Rider is within almost everyone's budget and might be the most entertainment per dollar purchase you ever make. Even with being so cheap, they are reliable and pretty durable little revolvers that look and feel great.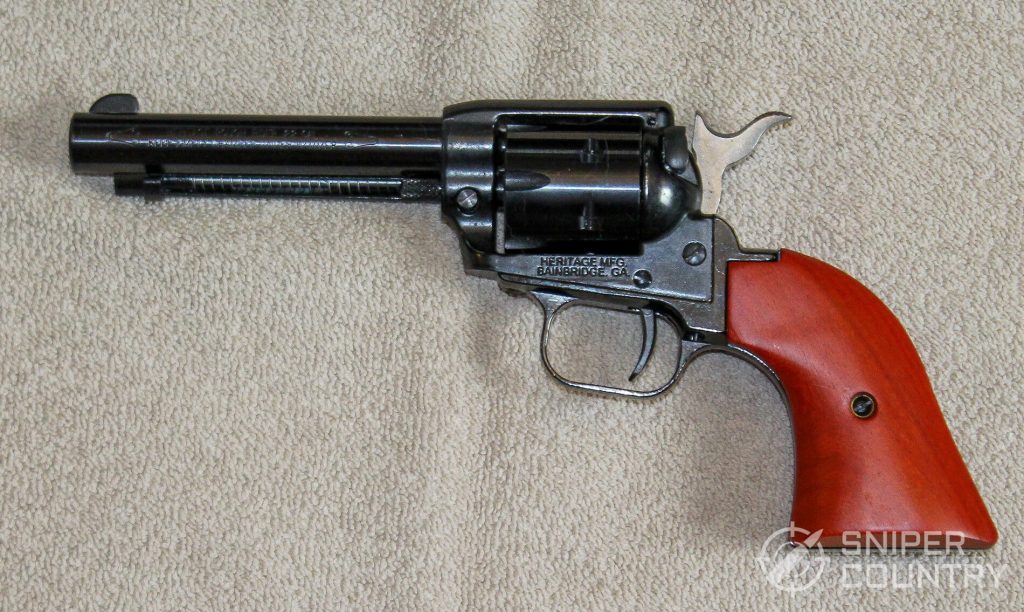 They aren't as nice or as refined as the Ruger Wrangler, nor will they stand up to as many rounds normally, but both are to be expected. I know plenty of owners who have at least 2,000 rounds through their Rough Riders, that's pretty impressive for what is literally the least expensive option. If you just want something to have fun with, the Rough Rider is an awesome option.
Read also: Complete Heritage Barkeep Hands-On Review.
Honorable Mentions
A new .22 LR pistol is awesome, but finding them in stock right now is hit or miss. If you have a Beretta 92FS/M9, Glock almost anything, or an AR-15 — you can get a conversion kit! These are our favorites.
Beretta 92FS/M9 .22 LR Conversion Kit
Simple kit from Beretta, easy to use, and super fun. I've run at least 700 rounds through mine with zero malfunction using Aguila 40gr hyper velocity ammo.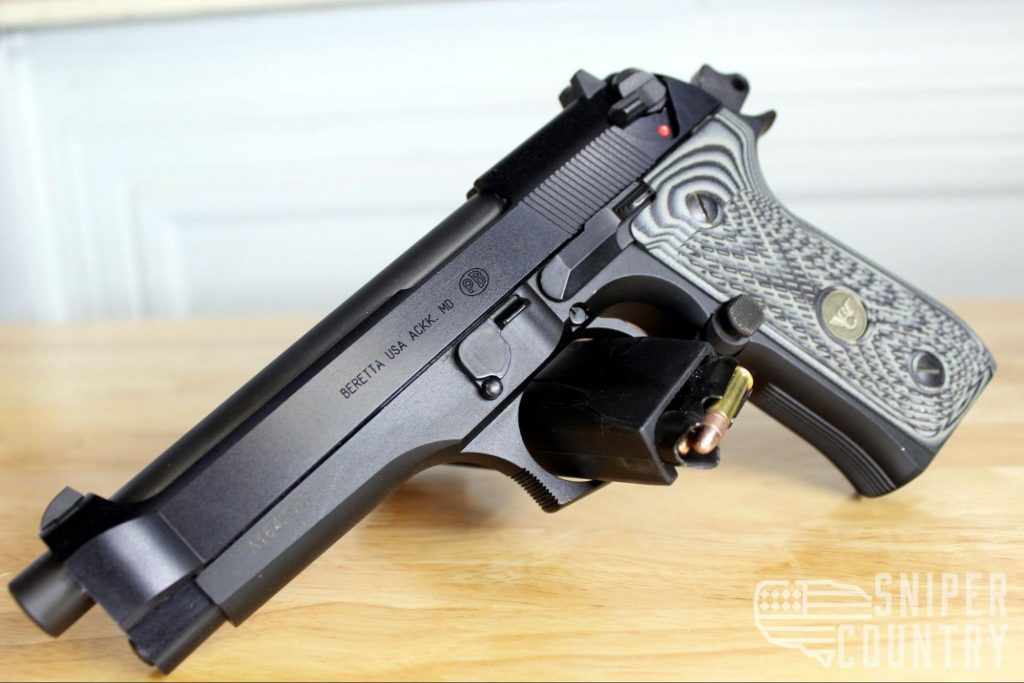 Just take off your normal slide, put the conversion slide on (complete with barrel and recoil guide/spring), load a mag and you're good to go. The kit comes with a safety/decocker and that's fine for most of us, but it's a little annoying if you have a G style decocker only. Sadly, there is nothing you can do about this.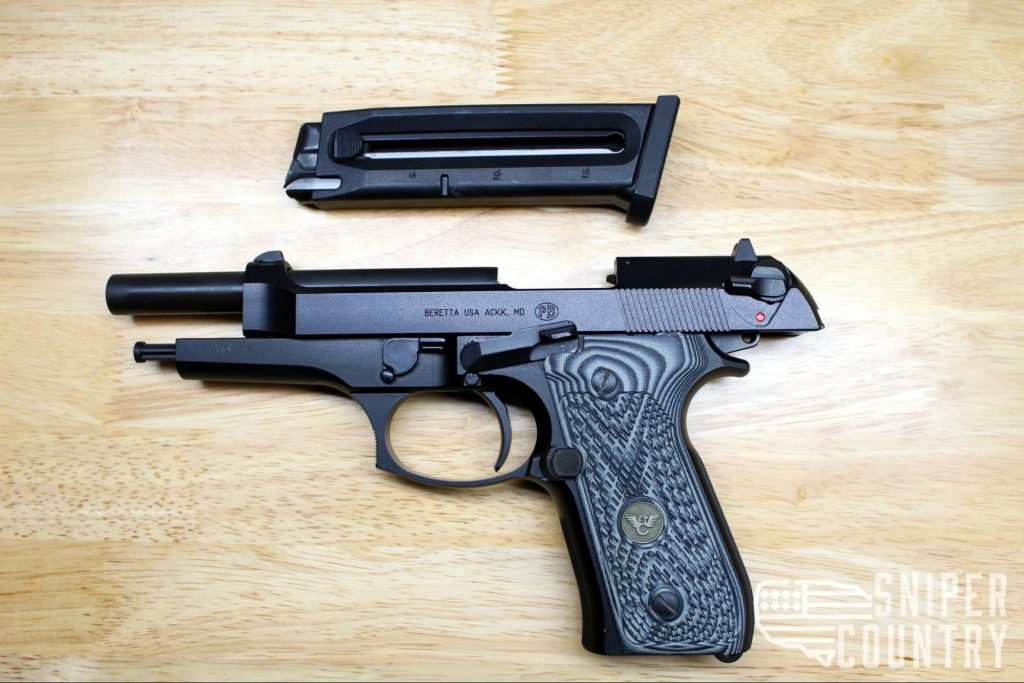 My kit came with sights that were pretty far off from POI with my chosen ammo, but some pushing of the rear sight to one side solved this. Beretta sells these from their website directly and at $350 it's a steep kit — but just about every major holiday Beretta runs awesome site-wide sales. I scored my kit for 50% off last Mother's Day! At that price it's a no-brainer must buy.
Advantage Arms Glock .22 LR Conversion Kit
Very similar to the Beretta kit, Advantage Arms gives you a complete slide and a new magazine. Just switch them out on your normal gun and you're good to go.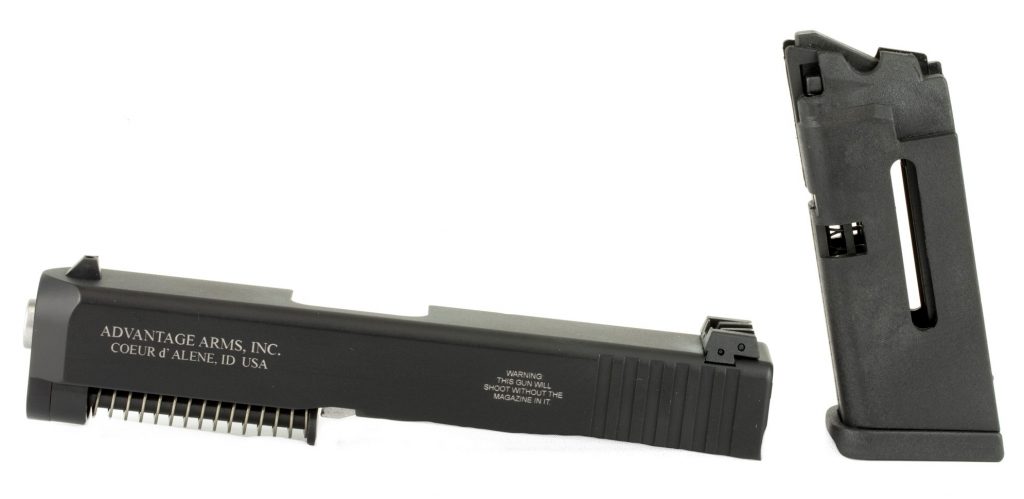 There are a few Glock conversion kits out there, but Advantage Arms is by far the most reliable and the least ammo sensitive. You should still stick to full-powered .22 LR, but you should be able to get away with some bulk stuff also.
For the price and the freedom it gives you, this is a pretty great little kit to keep around.
CMMG AR-15 .22 LR Conversion Kit
Okay maybe this isn't a pistol for everyone, but rifle or pistol CMMG works in your AR-15 either way!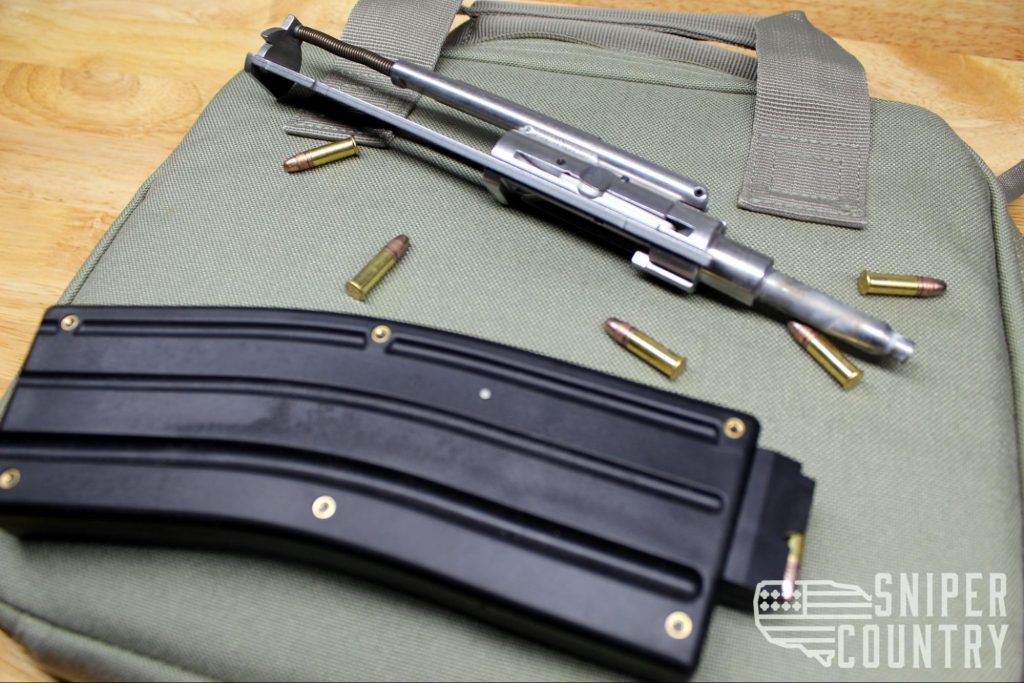 Assuming you have an AR in 5.56 NATO, this is a simple drop-in kit that replaces your standard BCG.
A one-piece conversion, just remove your BCG and split the kit in its place. Load magazines and get to plinking!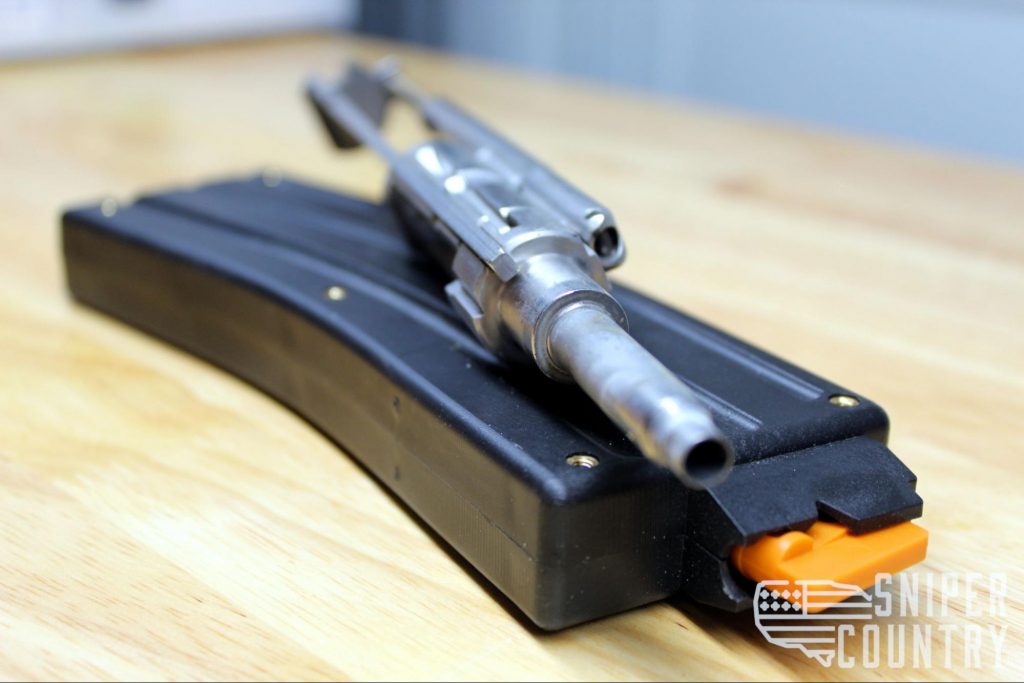 I love mine because it makes training with my AR so much more practical. Getting in tons of reps with loading, clearing malfs, footwork, and transitions — the CMMG kit makes all of a lot cheaper to run.
Conclusion
From plinking on the range to training to teaching new shooters the ins and outs of gun-slinging, a good .22 LR pistol is a wonderful and handy thing to have around.
I highly recommend all of the pistols (and conversion kits) on this list and I know you'll love them too.
If I had to pick favorites though, I would name the Ruger Mark IV and Ruger Wrangler as my "Must Have" .22 LR pistols.
That's just me though, let me know what you like in the comments!