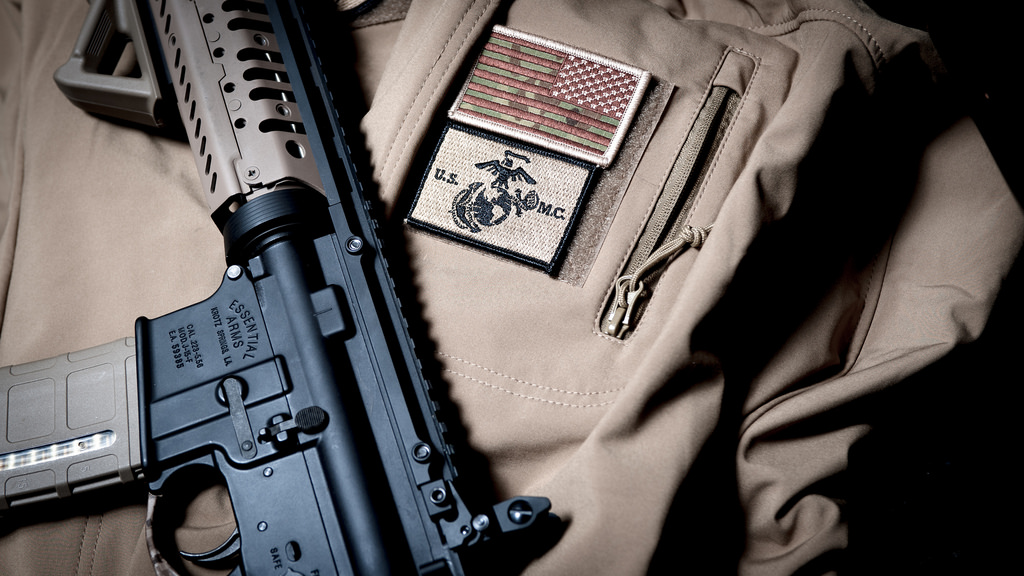 AR pistols are a really interesting subset of weaponry. Not quite a rifle, still offering incredible performance making them great for home defense. With that said, they're well-liked among gun enthusiasts for range use and even a little hunting. Finding the best AR pistol case is just as peculiar as the firearm itself, which is why we made this review for you. As always, we'll pick our favorite product at the end of the review.
One of the most controversial conversations around AR pistols is whether or not they're ideal for home defense. For the right gunowner, they'll satisfy this need very well. Others turn up their noses at the idea. Whether you're keeping your AR pistol at home, or bringing it to the shooting range every weekend, you'll need a reliable case to store and transport it in.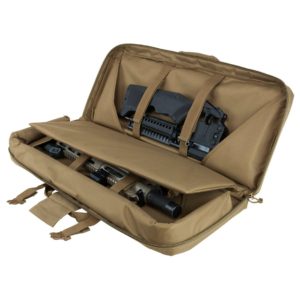 Materials – This first AR pistol case is part of the very popular line of firearm cases developed by NcStar. The durable, PVC bag is twenty eight inches long, and it's just over a foot in height. It's available to purchase in black, tan, green, and urban gray. The main compartment of the case will store two AR or AK pistols, subguns, or folding carbines. There is a divider in the center to protect both weapons, and there are compression straps to hold them in place. The front of the case has three large exterior pockets, which can house magazines, accessories, or other gear. All compartments secure shut with heavy duty zippers, which can be padlocked shut. There is a pair of padded carrying handles and a shoulder strap, which connects to attached D-rings.
Performance – Finding cases for AR pistols can be a little tricky, and NcStar is one of the few brands that advertises specifically for this firearm. The VSIM by NcStar line is featured in nearly every rifle and shotgun case we review. What can't this brand do? The material is durable and easy to clean. With it only having zipper closures, however, there is a chance moisture can seep inside. Also, if you're traveling long distances or by plane, this may not be the best choice for you. It is an excellent AR pistol case to use if you make weekend trips to the shooting range though!
What we say – This is the best AR pistol case for gunowners with only one or two AR pistols and minimal additional gear to transport. This is perfect for the regular enthusiast or hobbyist.
Pros
Lowest cost in review
Thickly padded and divided compartments
Durable material with extra pockets
Sale
VISM by NcStar Deluxe AR & AK Pistol & Subgun Gun Case
27.5L" X 11"H padded main compartment to secure and hold two Pistols, Subguns, or folding carbines
The three large exterior pockets (2 each 7"H X 5"W and 1 each 7"H X 7"W) to store your magazines and addition gear. Pocket flaps secure via plastic quick connect buckles, hook and loop fasteners, and bungee cords help secure your gear in place
Two compression straps with plastic quick connect buckle on the Top and Bottom of the case to help secure your firearm and gears in place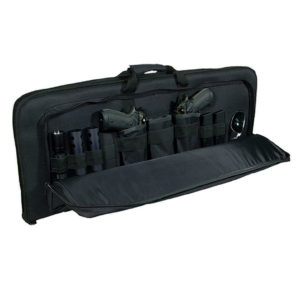 Materials – Another soft AR pistol case, the UTG option can be purchased in a variety of sizes, ranging from twenty five inches to forty two inches. Our suggestion would be to select the thirty two inch model. The main compartment is lined with high density foam padding to protect up to two firearms. There are six fully adjustable hook and loop straps to keep your AR pistols secure in place. The front compartment is also thickly padded and houses eight elastic loops and three deluxe rifle magazine pouches. All compartments close with heavy duty zippers. A padded carrying handle is at the top, and a padded shoulder strap is also included.
Performance – The UTG Covert Homeland Security Case is much more understated than the previous option. This is a great choice for anyone who wants to use their AR pistol for home defense and wants to store it in a discrete carrying case. The thirty two inch case is the perfect size for storing up to two weapons in the hook and loop straps. In all honesty, the front pocket is far more impressive in how it is compartmentalized and versatile for organizing accessories, magazines, and gear. Again, this isn't a wise choice for any heavy traveling, but it is another reasonable option for anyone toting their AR pistols along to the shooting range.
What we say – This is the best AR pistol case for anyone storing their weapons for home defense or simply want a low profile carrying case. It's easy to carry, and you can choose from a variety of sizes.
Pros
Different sizes and can carry up to two pistols
Large front pocket
Very discrete and understated appearance
Cons
Not designed specifically for AR pistols
Sale
UTG Covert Homeland Security Case
Precision made for fit and finish
Complete and total solutions for all their hunting and shooting needs
Package Weight: 1.34 kilograms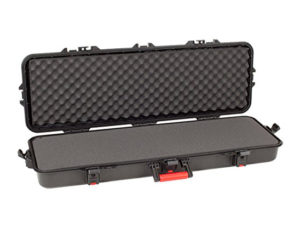 Materials – Moving on to AR pistol hard cases, the Plano Gun Guard is designed to withstand severe weather, bumps, and bangs. The resistant material is weatherproofed with Dri-Loc sealing to keep out all types of moisture and air born dirt. Inside the case is two layers of high density foam padding. You can arrange your weapons, magazines, and extra gear in any fashion you choose on the flat foam side. The hard case locks with four latches that have an integrated press-release valve system. A single, textured, carrying handle is at the center of the case. You can select from a thirty six inch or forty two inch case, with the thirty six option being the most ideal for this review.
Performance – For anyone who travels long distances with their AR pistol(s), a hard case is the way to go. This is also true if you bring your pistols with you during any outdoor activities, such as hunting. The hard exterior and Dri-Loc sealing will keep all moisture away from your precious cargo, but it will also protect your weapons if you are storing them on a plane. The security level will also be bumped up, thanks to the press-release locking system. There's no chance of your case accidentally opening, and you can always padlock your hard case as well. The downside with this style is there are no adjustable straps for maintaining your weapons. You'll have to be a little strategic when organizing your items inside the case.
What we say – This is the best AR pistol hard case for travelers and those with multiple weapons, magazines, and gear. You'll need to utilize the space so the weight distribution inside is balanced out.
Pros
Dri-Loc weather sealing
Densely padded foam protects weapons
Press-release locking system
Cons
Best for multiple weapons and gear
Plano Gun Guard AW Tactical Case
PLANO GUN CASES | Protecting your passion since 1952
DIMENSIONS | Inside Dimensions: 42"L x 5"W x 15"H
FEATURES | Lockable, weatherproof hard-sided gun case carries an assault style weapon, Dual stage, spring loaded lockable latches with padlock tabs; high strength pinned hinges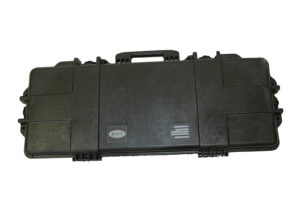 Materials – The second AR pistol hard case selection is made from 120D no-break polypropylene in all black. An O-ring runs the full length of the case, resulting is totally moisture proof and dust proof protection of your firearms. This option has an internal length of just over thirty six inches, enough to hold multiple AR pistols or a single AR rifle. There are four latches, which have been coated in steel powder, locking the case. The inside of the case is lined with thickly padded, high density foam, allowing the user to arrange their firearms and accessories in any way they choose for transportation. There is a single carrying handle installed on the top of the case as well.
Performance – Finally, we have our most heavy-duty option for your AR pistols. Again, this is an option that will want to use if you own multiple weapons with gear that you want to transport. There are no special compartments, like with the soft cases. The O-ring sealing will keep out any moisture or dirt that hits your case. This included damage form extreme temperatures as well. This option also has the strongest locking system within this review. Although they are regular latches, they are coated in steel, so they won't be broken if they're hit against something. Since it's a hard case, there's no shoulder strap. The handle isn't padded, so maybe avoid this choice if you expect to carry the case for long periods of time.
What we say – The Boyt Harness Travel Case is the best AR pistol hard case for those who do a lot of traveling with their weapons or are concerned with weather conditions.
Pros
O-ring weather resistant seal
Made with 120D polypropylene
Latches coated in powdered steel
Cons
No shoulder strap or carry handle padding
Sale
Boyt Harness H-Series Hard Sided Travel Case
Four all-steel powder coated draw latches, egg crate foam (not customizable), steel hinge pins, pressure relief valve, carry handle and padlock compatible
Collapsible over-molded comfort grip handles
Constructed of high 120D no-break polypropylene and features dust proof O-ring full length gasket
Our Favorite AR Pistol Case
After a little deliberation, our favorite AR pistol case within this review was the UTG Covert Homeland Security Case. No, it's not the most protective or weather resistant gun case we picked for this article. Finding a good hard case for AR pistols proved to be a little difficult. Most are too small, and the larger ones are intended to accommodate full rifles. This soft case from UTG, however, is just right. It's well padded, and it includes plenty of straps to keep your AR pistols secure. The large front pocket is the perfect amount of space needed for everything else. The understated look is most ideal for just about any shooter in general, but it's very advantageous for storing your pistols at home. At an affordable cost, it's worth looking into buying.
Price incl. tax, excl. shipping/ Affiliate links / Images from Amazon Product Advertising API