With the advances in today's muzzleloader technology, gone are the days where muzzleloaders were inferior compared to modern centerfire rifles regarding power and accuracy. With some of today's models, muzzleloaders in the hands of an experienced marksman can rival your traditional centerfire rifles regarding accuracy up to 300yards.
To fully maximize the accuracy and distance of your muzzleloader you are going to need a quality scope to go along with it. In this article, we will take a look at the qualities needed in a true scope for muzzleloaders. We will also review four scope models that we are confident will complement your muzzleloader and give you the capacity to increase you effective shooting range in the upcoming season.
Qualities of the Best Muzzleloader Scopes
Magnification: With the options for powder loads and better-designed bullets, inline muzzleloaders have no problem dropping large game cleanly up to 200 and even 300yards. Because of this, a higher powered fixed scope or variable scope might be a better option for some shooters. When we say high magnification, we're not talking about anything higher than 9X.
Even with the improvement of modern muzzleloaders, you're not going to be taking shots at a range that would warrant anything over a 9X powered scope. There is also the option of a fixed magnification scope. It is all going to depend on the type of shots you think you will be taking most often. A fixed scope is much less versatile than a variable scope, but it is often more durable and rugged, which is a plus when using heavy loads.
Reticle: There are scopes out there that are durable enough to be used on a muzzleloader that is going to go through a lot of shooting. If you are planning some shots at longer distances, a traditional duplex reticle might be tough to use for compensating the heavy drop that comes from heavy bullets often used in muzzleloaders. Luckily, there are certain scopes that have reticles designed to be used with muzzleloaders. Heavier bullets that are often used have very pronounced bullet trajectories with heavy drop rates.
If you are looking to increase the range of your muzzleloader, being able to easily correct your point of aim for this drop is a huge advantage. Of course, other BDC reticles can be used, and with some time on the range, you can calibrate them for very specific grained bullets and powder amounts.
Construction: Using a muzzleloader gives you a lot of options when it comes to your loads with both powder and bullet choice. Most users use enough powder to produce a pretty sizeable kick and in turn created a lot of shock that can be damaging to lesser made scopes. Not only can it damage the internal components of a scope, rendering the scope useless, but it is also possible to knock the scope off of your desired settings without you being aware and missing a shot at a critical moment.
While having a well-designed scope with a body crafted from a single piece of high-quality aluminum does help improve the scopes shock resistance and ability to hold zero, it is also important that you utilize quality scope rings when mounting. Fixed scopes are more resistant, with less moving parts, but most variable scopes worth purchasing are more than capable of handling these heavy recoil rounds.
Lens Quality: For any optics that are going to be used while hunting, a lot of consideration needs to go into the quality of lenses that will be used. Coating and treating of the lenses help shed water, reduce glare, increase light transmission which aids in low light shooting scenarios, and provides a clear image to the shooter. All of the scopes that we will discuss have excellent lens quality. It is also beneficial to have lenses that have been coated to resist scratching.
State Regulations: There are several states or even certain publicly monitored hunting areas that do not allow magnification scopes to be used on muzzleloaders. Be sure to check those regulations in your home hunting grounds and be sure not to drop some money on a muzzleloader scope before being sure that you can use one.
Muzzleloader Regulations by State
BONUS OFFER: Get your free shooting range targets to print at home!
Get your free targets to print at home!
Our Four Best Muzzleloader Scopes
Following the criteria outlined above, the following section will provide a selection of muzzleloader scopes that are certainly worth their money.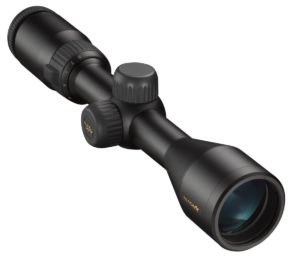 If you want a true muzzleloader scope than the Nikon INLINE is one of a couple of options you have available. As the name implies, this is a must have scope for any serious hunter who uses an inline muzzleloader.
This muzzleloader scope is variable powered with a 3-9X magnification range. It is made from quality aluminum and purged and sealed for both water and fog proof qualities. The quality glass that has been multicoated for superior picture quality that is maintained from the 3 to 9X magnification setting.
This scope sights in easily and will hold that setting for hundreds of high grain powder rounds. This is an accurate scope that when paired with the bullet drop reticle, will allow to greatly increase the range and accuracy of your muzzleloader and place groupings at 100-150 yards with ease and even allow you to reach out much further.
Nikon has also provided a muzzleloader scope that provides a generous 5″ eye relief throughout the entire magnification range for comfortable and manageable shooting positions. The biggest flaw with this particular scope is the poor eye box. While not as big an issue for on the range or in taking most shots while hunting, there may be shots where it is difficult to get a full field of view from certain positions.
This scope's BDC reticle features several bullet drop compensating circles which have been rated for .50cal muzzleloader with 150-grain charges and 250grain bullets. If you're not using these particular standards, it's not going to be an issue. With the Nikon Ballistics Calculator, you can easily zero it in with the specific grain and bullet size that you like to use.
The reticle is extremely clear throughout the magnification range, and the multicoated lenses provide you with a clear and crisp image at all times. You will also be pleased the phenomenal low light functionality of this scope which is a huge plus for hunting applications.
It is a larger and heavier scope coming in at a little over 11″ and 14.7oz, so there are some pros and cons. It's heavy and rugged enough to stand up to heavy recoil often used in today's inline muzzleloaders. This is great for keeping its settings and still performing as it should for a lot of charges put through the gun. The downside is that it's going to weigh down the weapon and might be fatiguing with long days in the field. Though it also depends on your muzzleloader, it might also throw the swing balance and might take some getting use to aiming and holding it steady.
Pros
Great eye relief
Solid construction
Will hold zero
Easy to mount and sight in
Clear picture throughout magnification range
BDC 300 reticle
Fantastic low light visibility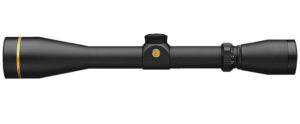 Leupold is known for producing some of the finest quality scopes in the world for rifles. The UltimateSlam SA.B.R Reticle scope also brings Leupold to the forefront of scopes designed with muzzleloaders in mind. The UltimateSlam is a 3-9X variable powered scope that is going to greatly increase your range of accurate shot placement with your muzzleloader.
This scope is lightweight at only 12oz, but it is extremely rugged and durable. It is built from a single piece of aircraft grade aluminum, sealed, purged, and anodized to give you a scope that is water, fog, and shockproof. The lenses are also coated to help resist scratching and give you a much longer lens life. It is also made from high-quality aluminum and is rigid and rugged enough to take a beating from the high recoil of powerful muzzleloader rounds.
We love the SA.B.R (Sabot Ballistic Reticle) that is used on the Leupold UltimateSlam scope. Not only does it feature the bullet drop for the more common grain bullets used in muzzleloaders, but the smooth tapering and crispness of the reticle draws your line of sight to center which helps get on a target quickly. Bullet drop markings are visible for 50 to 300 yards with several intermediate positions.
Beyond the reticle, the lens technology that comes from Leupold is hard to beat. Throughout the entirety of the magnification range, you get one a great crisp and clear visualization of the field of view, including low light conditions. This is done through the large 40mm objective lens as well as the fantastic lens technology and treatments used by Leupold.
This scope uses low profile turrets that are easy to adjust on the fly in the field. They will also hold their settings through heavy movement and travel in brushy areas. This scope mounts easily and is extremely easy to zero in on the range. You also will not have to worry about the zero getting knocked off from only a handful of shots.
With this scope paired with the right muzzleloader and sighted in correctly, you're looking at a setup that has the potential for bringing down game at 300-350 yards consistently.
Pros
Light but rugged
Clear picture
Excellent low light performance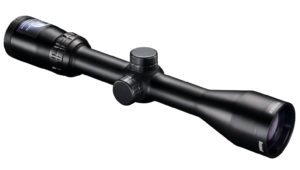 While not specifically designed for use with muzzleloaders, the Bushnell Banner Dusk & Dawn scope has all the qualities needed for a functioning muzzleloader scope. This is another 3-9X variable powered scope that is going to be able to add some range to your inline muzzleloader.
It does not feature a reticle designed to compensate for bullet drop, but with some day's on the range, you can have it sighted in and have a good idea of it's range and crosshair placement. The reticle, in general, is easy to use and it draws in your line of sight to the center of the picture.
The eye relief comes in right at 3″, and with a poor eye box, it makes it difficult to use in some shooting situations. When you have it right, the picture quality is excellent. There are also some issues with focusing the picture clearly when you are up in the highest of magnification settings. Again, with a muzzleloader, you are probably never going to utilize the 8X or 9X magnification, and if you do it will be extremely rare.
It is built from a single piece of high-grade aluminum which gives it the robustness needed in a muzzleloader scope. This scope is also purged and sealed to give it excellent fog and water resistant qualities needed in a hunting scope.
This scope is more than durable enough to be used in heavy brush, and it is more than able to hold up to repeated shots with a high powered muzzleloader round and hold it's zero. When sighted in, you will have no problem grouping shots with this scope at 100 and 150 yards. It's accurate past that range, but a lot more environmental conditions come into play when using heavier bullets.
Pros
Extremely affordable
Durable
Incredible low light capabilities
Cons
Not rated for muzzleloader bullet drop
Poor Eyebox
High magnification focus issues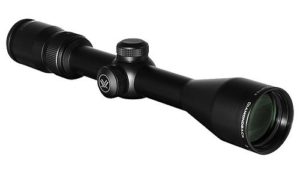 The Diamondback 3-9X variable powered scope is our last pick for a scope that will be able to function well when used with your muzzleloader.
The body of this scope is built from a single piece of high-quality aluminum and is designed to be used for magnum rounds which make it an excellent choice for those of you who like to use high grain powder rounds in your muzzleloader. It is anodized, purges, and sealed to provide you a scope that will be able to function and perform in a lot of adverse weather conditions.
This reticle on the Diamondback is not rated for bullet drop compensation with muzzleloaders. This might be a drawback for those of you looking to increase your accuracy and ability to drop targets at distances of 150+ yards. While the reticle is clear throughout the magnification range, we feel that it is a little cluttered and just feels like a mess at times.
If you can deal with the reticle and can pattern your shots, you will find that this scope is extremely accurate and it is consistent. It can be a pain to sight in on the range, but once you have it set, you're not going to have to worry about losing that setting unless the scope undergoes some heavy abuse.
This scope is a bit heavy at a little over 14oz, but for it's ability to stand up to some heavy hitting rounds, we think that it is a fair tradeoff.
With the multicoated optics, you get an incredibly clear picture throughout the scopes magnification range, and the transition between magnifications is wonderful with minimal focusing needed. The eye relief is generous, and the field of view you get from 3-9X is one of the best of the scopes on our list.
With the coated lenses and 40mm objective lens you get very generous light transmission ith this scope, but you might find a darker image in low light conditions compared to other scopes on this list. That paired with the cluttered reticle might pose some problems.
The Vortex Diamondback is an extremely rugged and durable scope that can take the beating of hundreds of muzzleloader rounds without sustaining damage to the body and lenses and have it's settings knocked off. For the price and the performance, this is a fantastic option for a muzzleloader scope.
Pros
Rugged
Great eye box, eye relief, and FOV
Hold zero
Affordable
Clear image
Great magnification transitions
Cons
Can take some time to pattern
Not the best low light image
Conclusion
As we always like to do, we want to take a moment to announce and summarize our top choice for a muzzleloader scope. We give the edge to the Nikon INLINE XR 3-9X40mm scope. There is little drawback to this scope other than the poor eye box, but for hunting purposes, you are just about always going to be in a position where you can carefully line up a shot. It is constructed well and will be able to perform in adverse conditions and hold zero with heavy bullets and high powder. It is an extremely accurate scope, and with the BDC 300 reticle rated for the most common muzzleloader bullets and grain loads, you can drastically increase your efficiency at long ranges. This scope features tremendous lens quality giving you a clear picture throughout the scope's magnification range and it tremendous in low light conditions which are a must for hunting purposes.
While this scope is going to cost you a few more dollars compared to some of the other options, we feel that some of the technology and the components geared specifically to muzzleloaders gives it the edge.
There are several scopes designed specifically for use with muzzleloaders as well as numerous rifle scopes that have the qualities needed to mount on your muzzleloader. With today's technology, the muzzleloader can reach out and drop animals cleanly at ranges fifty years ago was impossible. A muzzleloader scope is a big part of this renaissance, and we hope that this article has outlined what is important for this type of scope as well as provide you with four fantastic options to increase your muzzleloaders effective range.