If you want to protect you AR-15 during any form of transportation, a soft case is a cheap and easy way to achieve that. The best AR-15 soft cases have a great ratio between being fairly lightweight and offering a decent amount of protection to impacts of any kind. They might not be as sturdy as the hard plastic versions out there, but in terms of portability AR-15 soft cases usually take the lead.
There are countless options for transportation to choose from. Soft cases come in different sizes and with a wide range of features, where some might be nice to have, but others are basically useless for the average user. It's easy to get lost and end up spending more on a product that you actually don't really need and therefore we recommend focussing on three key factors if you want to find the best AR-15 soft case for your needs.
Size: Although all are made to protect similarly sized firearms, their sizes actually vary. While some AR-15 soft cases are tailored exactly around the dimensions of the gun, others offer quite a bit of extra room. Smaller cases are obviously easier to transport, while bigger versions often offer more protection, more features and sometimes the possibility to store two rifles at once. It simply comes down to what matters more to you and the individual product. Keep in mind, that bigger doesn't automatically result in better protection, but it certainly can. The smaller AR-15 soft cases we chose here offer similar protection to the larger ones and usually just sacrifice a few features (like pockets) for a more compact size.
Material & Seams: Not only is the material a factor when it comes to weight, it heavily affects durability as well. Most manufacturers are on the same track here, with using a combination of synthetic materials, such as nylon. Nylon offers remarkable durability, up to that point, that some types even hold up to knifes, while at the same time being surprisingly lightweight. Seams happen to be a weak spot on most cases, so it's best practice to check them before deciding for a case. What looks loose now, might turn out to loosen up even more over time and fixing those areas, while not impossible, can be a hassle.
Features: Pockets, pouches, straps and slings. That's basically everything you need. It's always nice to have a few extra pockets, to store magazines, optics, tac-light attachments and other accessories. Straps hold everything in place and probably the most important feature is a well designed carrying system, in form of a handle or a sling. Weight distribution should be optimized and is generally achieved best by keeping a certain distance between the areas where the ends of the sling connect to the case. Some cases work with the popular MOLLE system, so if you happen to already have some MOLLE gear, that might be something to look out for.
BONUS OFFER: Get your free shooting range targets to print at home!
Get your free targets to print at home!
The 4 Best AR15 Soft Cases
Those are basically the three main aspects we had in mind when choosing this selection. The four AR15 soft cases shown below are definitely some of the best choices, especially if you consider the price. By following the small guide above you should be able to tell if a case is worth the money and therefore make your own choice. However you certainly can't go wrong with the following four.
NcStar CVG2907 Series Rifle Case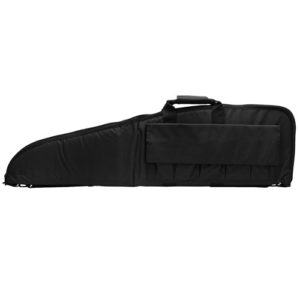 Materials – The NcStar CVG2907 Series Rifle Case is a PVC material carrying bag that has a pair of handles at the top, which have a Velcro closure, and an adjustable should strap. This AR15 case comes in black, tan, or green, and it can be purchased in a variety of sizes, ranging from 36 inches to 46 inches. They all have a 13 inch height to accommodate your rifle and any scopes that may already be mounted to it. The inside of the soft case is padded with high density foam, and it closes with heavy duty metal double zippers. On the exterior of the rifle case are 5 pockets for holding magazines or additional gear. A nylon flap folds over the tops of these pockets for protection.
Performance – The NcStar CVG2907 Series Rifle Cases is a highly rated product amongst buyers. It has a very low profile, and it really only has what you would need; we like that. The materials used for this AR 15 soft case are all strong and durable, so we can't expect any tears or rips during use. The exterior pockets are a good size for just about anything additional that you'll need, and the padding inside the bag does its job well. There's no strap inside for securing your rifle, but the idea is that you'll buy the correct size bag, making a strap unnecessary. However, we still wish there was one.
What we say – The NcStar CVG2907 Series Rifle Case ranges in cost online, depending on what color and size you are buying. For a soft case for AR 15 rifles, you'll want at least a 36" length, which costs about $25.
Pros
Lowest cost
High density foam padding
Exterior pockets with flap closure
Handles and shoulder strap
Cons
No strap inside
Varies in cost a lot
Uncle Mike's Law Enforcement Tactical Rifle Case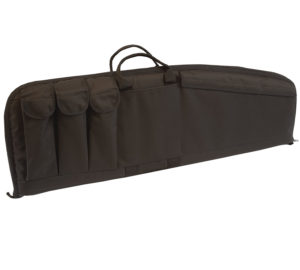 Materials – The Uncle Mike's Law Enforcement Tactical Rifle Case is another basic looking soft case with a slightly different setup than the previous option. The case is made of 600D nylon woven fabric, and it has a pair of handles (with no closure) and an adjustable shoulder strap. It can be purchased in a 33 inch size or a 43 inch size, and it is only available in black. The exterior of the soft case has three large pockets, each with their own closing flap, for holding additional magazines. There is also a zippered accessories pocket and a quick access center pocket. The inside of the case has padding and an additional flap to protect your rifle from the metal zipper. The zipper closure runs the full length of the bag, so it can open completely flat.
Performance – The Uncle Mike's Law Enforcement Tactical Rifle Case is another decent bag that sticks to the basics, and it comes from a brand that we are usually very happy with. The nylon material is double stitched, so it can hold a lot of weight. This one has a little more room for additional accessories than the previous option did. We like that there's space for carrying targets and other items that would be wider than a magazine. This AR15 case is much more snug than many other cases, and you won't be able to leave your scope mounted for everything to fit. However, we wouldn't suggest moving up to the bigger size. This won't be a big deal for most buyers, but it's something to consider if that's important to you.
What we say – The 33 inch Uncle Mike's Law Enforcement Tactical Rifle costs just over $25 online. It's one of the best AR 15 soft cases you can buy on a low budget.
Pros
Low cost
Magazine pouches
Pockets for accessories
Protective flap inside
Cons
Snug fit – won't allow for mounted scopes
NcStar VISM Double Carbine Case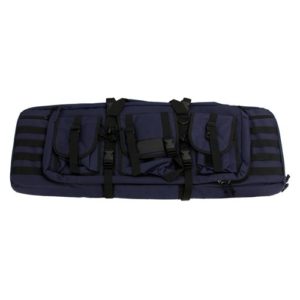 Materials – The NcStar VISM Double Carbine Case is made of a highly durable and rugged material with a pair of nylon handles that close with a Velcro wrap. This case can hold two rifles at a time, plus plenty of additional ammo and gear. The main compartments close with heavy duty metal zippers, which run the length of the case. There is MOLLE webbing across the front of the case, and there are also three large pockets for storage. Each pocket closes with metal zippers as well as additional buckle clip. The pockets are large enough and segmented to hold extra rounds, scopes and lasers, targets, and any additional items you may need for long afternoons. It can be purchased in a 36 inch or 42 inch length, and it comes in a variety of colors and patterns including black, digital camo, green, blue, gray, and tan.
Performance – The NcStar VISM Double Carbine Case is truly a step above the rest within this review. Although we have a NcStar item already listed, this option covers quite a bit more than your basic needs. Perhaps you want to take both your AR 15 and your AK 47 out on the range for some target practice, and this soft case will hold everything you need. The inside is very well padded, and there is enough room to keep your mounted scope on your rifle too. We love the amount of pocket space available, although we'll admit all of the buckles and zippers make the space a little crowded. To be honest, there isn't much more to complain about. It's a great AR15 soft case!
What we say – The NcStar VISM Double Carbine Case costs about $60 online for the 36 inch option – give or take a few dollars, depending on which color you choose. This is the best AR 15 soft case for anyone who wants to tote around a couple of rifles with them and has serious business on the range or out hunting.
Pros
Comes in a variety of colors
Holds two rifles
Large front pockets with a lot of space
Cons
Very busy exterior. Not low profile
VooDoo Tactical Men's Padded Weapons Case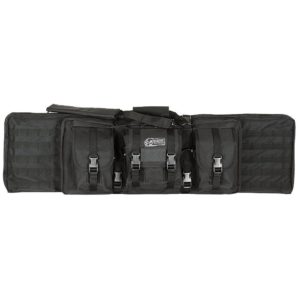 Materials – The VooDoo Tactical Men's Padded Weapons Case is a highly durable soft case that holds up to two rifles and two pistols at one time. The sizes it comes in are 36 inch, 42 inch, and 46 inch, and there are many colors to choose from: black, army digital, coyote, olive drab, woodland camo, multicam, and even pink or purple. There are a pair of handles with a Velcro closure as well as backpack style strap, which are fully adjustable and padded. On the inside, there are straps to maintain your rifles, and all pockets and sides are lined with thick padding. The pistol pockets are behind the rifle's pockets. The exterior features MOLLE webbing and three large pockets for magazines and whatever else you would need, which close with a series of Velcro and buckle clips.
Performance – Before we get into the performance review, we want to point out that we have no idea why this product is often listed as a "men's product". Yes, ladies, you too can now carry rifles in a soft case! Don't let the name deter you; the VooDoo Tactical Men's Padded Weapons Case is, by far, one of the best AR 15 soft cases you can get your hands on. The lining and padding inside the case is really top notch, and you truly don't have to worry about any harm coming to your firearms and accessories. There is loads of room for anything you would need. We also really like the backpack straps – this case can get really heavy, so padded straps are very helpful here.
What we say – The VooDoo Tactical Men's Padded Weapons Case costs between $80 and $100 online, depending on where you purchase it from and what color. It's the most expensive option, but it's a wise investment for anyone.
Pros
Thick padding
Holds 2 rifles and 2 pistols
Extra pockets with a lot of room
Strong backpack carrying straps
Our Favorite AR 15 Soft Case
Our top pick for the best AR 15 soft case goes to the NcStar VISM Double Carbine Case. It's quite similar to the VooDoo option, but it's $20-$40 cheaper, so why not save some money? We would prefer a double case over a single. In many hunting scenarios, you might only need one rifle, but it doesn't hurt to have the extra room, and most other situations will call for more than one firearm. This case is lined and padded very well, and there are plenty of zippers, buckles, and Velcro to keep everything in place. It's worth paying $60 for this soft case, so we think everyone should check out the NcStar VISM Double Carbine Case.