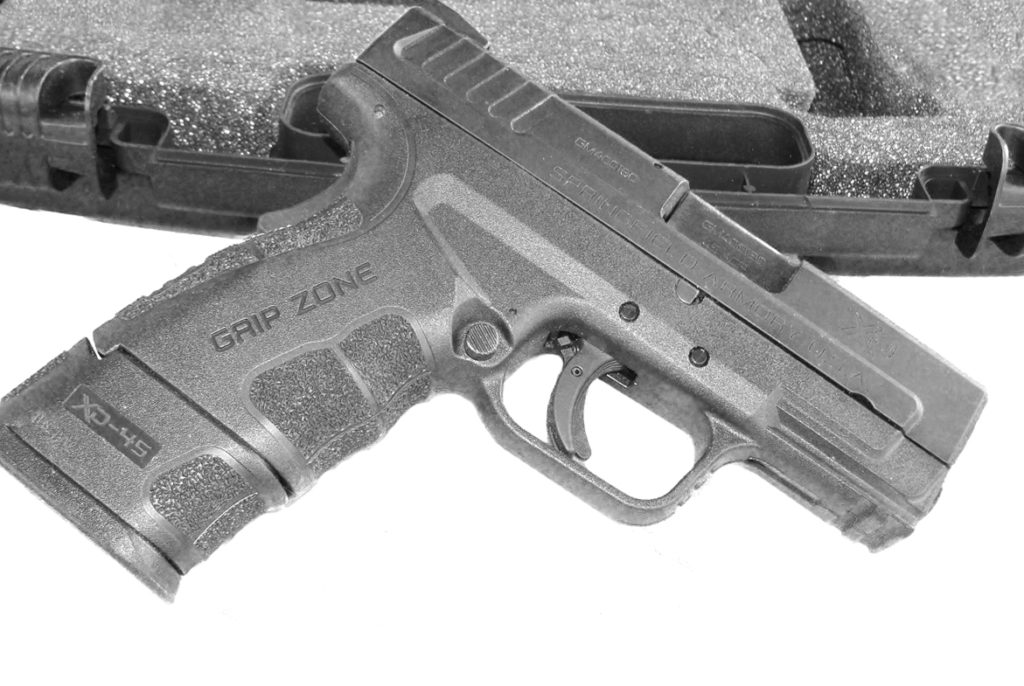 The XD Mod 2 handguns from Springfield Armory have a fairly classic style and operation to them. It's a gun that is easy to get a feel for, and that's why it's offered in practically every size, from subcompact to full sized. The weapon also features a very practical hand grip for swift maneuvers and there are tons of aftermarket accessories available. Our review for the best XD Mod 2 holsters is a little unique, since we're covering a range of calibers and sizes.
There are dozens of holsters made for Springfield handguns and we did our best to select four options that accommodate the five different variations of the Springfield XD Mod 2 pistols, including both inside and outside the waistband styles. The concealed carry holsters we chose will fit with the smaller, subcompact to service models, and the OWB holsters accommodate the tactical models, which are a little bigger. There's definitely something for everyone in this review, and we'll let you know which holster we found to be our overall favorite of the bunch!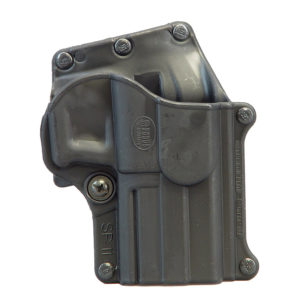 Materials – This outside the waistband holster by Fobus is made of a blended plastic composite holster and a rubberized back paddle. The holster is injection molded, so it's shaped uniquely to your Springfield XD Mod 2 pistol. It was designed to withstand multiple weather elements and your basic wear and tear during tactical uses. This one accommodates four inch and five inch models. Below the trigger guard is a retention screw that has been reinforced with steel. The rubberized paddle is wide, and will be comfortable against the skin. This option is available for right handed shooters. All Fobus holsters come with a 100% lifetime guarantee warranty, as well.
Performance – Although not for your compact or subcompact Springfield XD Mod 2 models, this is a great holster for your larger sized models and tactical purposes. While plastic doesn't sound like a durable material for the holster, the blend is specially designed to withstand being and OWB holster and it's going to protect your handgun very well from water damage and weather in general. The steel reinforced retention screw is good too, but we wish there was more retention in general. Your XD won't slip or slide around, but it could be more secure while not in use. The rubberized paddle distributes the weight of your service sized handgun very nicely, so it's comfortable to wear for a long period of time.
What we say – This is the best Springfield XD Mod 2 holster for those who own the larger sized models and are not so concerned with conceal carry. This is also the cheapest option within this review!
Pros
Low cost
Weather resistant materials
Comfortable rubberized paddle attachment
Cons
Could use more retention screws
BONUS OFFER: Get your free shooting range targets to print at home!
Get your free targets to print at home!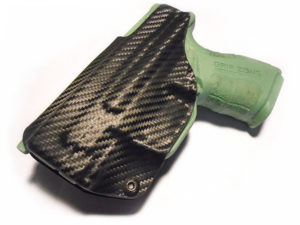 Materials – The Badger Concealment holster for your Springfield XD Mod 2 handgun is an inside the waistband option made of molded Kydex, which is just over half an inch thick. This is for any 9mm handgun models. It is available to purchase in either an FBI style cant or a straight, strongside cant. The kydex features a carbon fiber black exterior with a plain black belt clip. A full sweat guard is over the exterior, so you can wear this against the body throughout the day without damaging your gun or your holster. There are three points of retention on this holster: two on the belt clip and one under the trigger guard.
Performance – This is the only Kydex made holster within this review, which is exactly what you need for concealed carry weapons. If you own the four inch or three inch models, you'll be in good hands with this option. We can always appreciate adjustable cant. What makes us nervous about the Badger Concealment IWB holster is that it leaves the rear of your weapon fairly exposed – maybe a little too much for comfort. The full sweat guard makes up for some of the uneasiness; but, if you do a lot of sitting to standing (or a lot of movement in general) while wearing this holster, just make sure everything is still in its proper place once in a while. The retention is adjustable, so that should help gunowners feel better about this factor as well.
What we say – This holster is the best choice for those using the subcompact XD Mod 2 for concealed carry purposes and self defense. Nobody will know what you have hiding at your waist.
Pros
Made of thin and rugged Kydex
Multiple retention points
Adjustable cant
Cons
Leaves much of the handgun exposed in the rear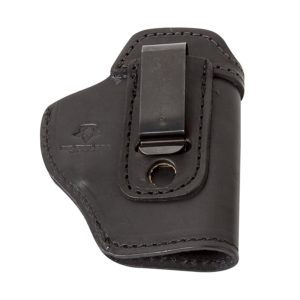 Materials – This next inside the waistband holster by Relentless Tactical is made of genuine USA bull hide leather, and it's available in either black or brown. The leather is soft and pliable, so it is comfortable to wear all day, but it's also easy to draw from when needed. The retention for this holster is only provided by the stitching and natural friction. There is reinforced stitching along the entire exterior edge as well as around the belt clip. The metal belt clip is on a raised patch of leather, and there's also a raised strip of leather across the top of the holster to guide a steady draw. The muzzle is open ended.
Performance – If you're looking for something more comfortable than Kydex, but still require a concealed carry holster, than this leather option from Relentless Tactical should suit you very well. While there's no sweat guard, it will be comfortable enough to wear throughout a long afternoon, during warmer weather, or if you move around a lot in general. The belt clip is a little flimsy, although we're not saying it will snap on you. Slide it on to your belt like you would a wallet clip into your pocket is all we're suggesting. The additional stitching over multiple areas of this IWB holster will ensure you have a strong holster, despite it being made with such a soft leather.
What we say – This IWB holster is the best option for those who have a concealed carry pistol and have comfort as one of their top priorities. The material is genuine, so you know you're getting good quality.
Pros
Genuine bull hide leather
Reinforced stitching throughout
Can be worn for long periods of time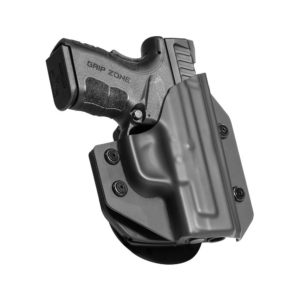 Materials – Alien Gear's Cloak Mod OWB Paddle Holster is made of an injection molded material, in all black, and it's available for Springfield XD Mod 2 Subcompact three inch model and Service four inch model. It can also be purchased for left and right handed shooters. Installed within the holster is a spring steel flex plate, which adds additional retention. There are four retention screws: two on each side of the holster. This allows the cant to also be adjustable, along with the retention. Alien Gear offers a lifetime warranty for reasonable damage, and the brand also offers a thirty day test drive, so you can return the holster for a full refund if you do not like it.
Performance – We always love Alien Gear, so we had to include their Cloak Mod OWB Paddle Holster in this review. We suggest checking back often to see what size models of Springfield XD Mod 2 handgun Alien Gear accommodates, since it does change on occasion. Although it is an outside the waistband holster, this is an ideal choice for any of the models Springfield offers. Their unique steel flex plate can be found in many of the brand's holsters, and it's an innovative way to provide a significant amount of retention without going overboard. This means less adjustments need to be made to the screws themselves. This is a more expensive holster, and that's really the only downside here.
What we say – The outside the waistband option by Alien Gear is the best Springfield XD Mod 2 holster for those who are interested in a high quality, molded holster, but they don't necessarily need their weapon for self defense.
Pros
Steel plate for retention
Adjustable cant
Molded holster
Our Favorite Springfield XD Mod 2 Holster
Our favorite Springfield XD Mod 2 Holster was the Alien Gear Cloak Mod OWB Paddle Holster. Alien Gear is a tough brand to beat, and that's because they always seem to go above and beyond with their products without killing the buyer's budget. While it was the most expensive option within this review, this holster offers a very solid retention level and is still comfortable to wear for long periods of time. It may not be an inside the waistband option, but the overall appearance is discrete in color and shape. Plus, you can fit the paddle holster pretty tightly against the body and keep a shirt over it. The Alien Gear holster will give you a very smooth draw every time, and you won't have to fumble with thumb breaks or auto lock mechanisms. This is an option all our readers should look into.