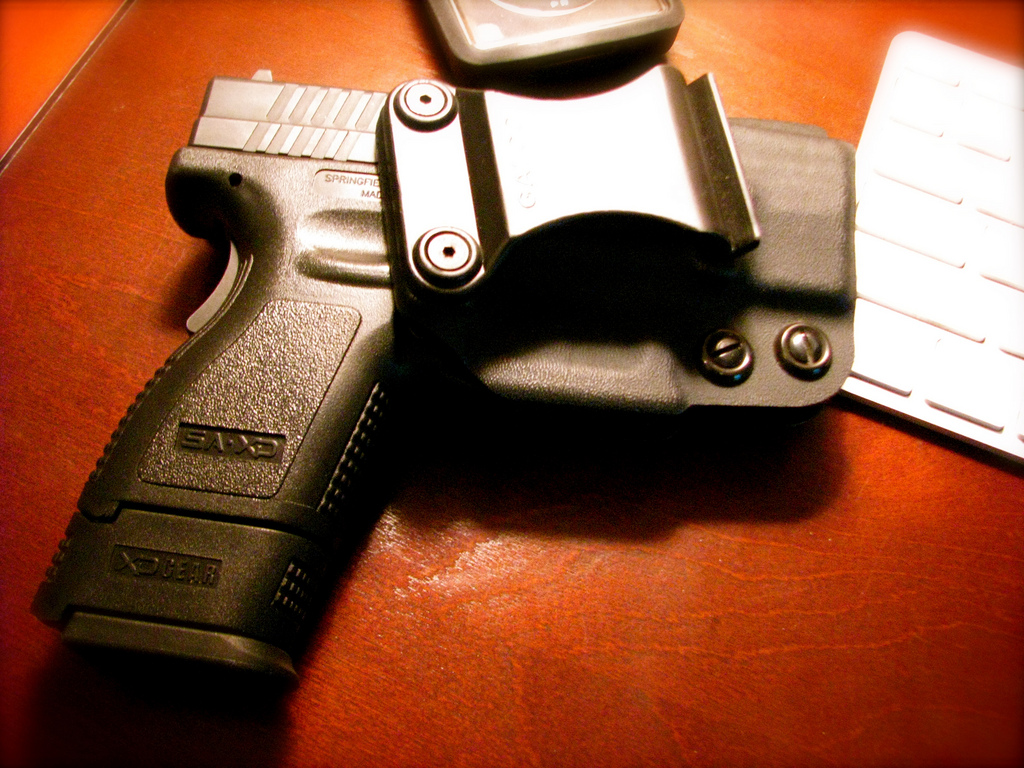 The 9mm and .45ACP XD-S series of handguns produced by Springfield Armory are some of the most popular conceal carry pistols in the United States.
It is a constitutional right for us to bear arms and we take great responsibility in carrying these weapons responsibly. We also take great care in our ability to effectively use our firearms for personal protection and the protection of other citizens around us and a proper XD-S IWB holster will aid us in this endeavor.
Concealed carry laws in states are strict on the weapon being fully concealed. It is important for the carrier to be able to conceal the weapon comfortably but still have easy access to the firearm if it is needed.
Because of these concerns, the IWB holster (In WaistBand) is a popular choice among carriers. By using an XD-S IWB holster that attaches to the waistband you can easily conceal the weapon while maintaining comfort and having easy access to it at all times.
Sprinfield produces a number of handguns perfect for concealed carry and therefore there is a wide selection of holsters available for this brand.
There are also tons of accessories available for the XDS series and in this article, we will look at our four choices for the best XD-S IWB holster and describe what makes them so desirable. Some of the key requirements for making this list of the best IWB holster for XD-S firearms includes comfort, short adjustment period, accessibility, and durability.
If an XD-S concealed carry holster has these qualities, they are worth your money and should provide the needed confidence to hold your XD-S firearm in public areas.
The 4 Best XDS IWB Holsters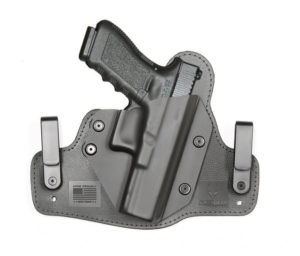 The Cloak Tuck 3.0 by Alien Gear is a durable and comfortable XD-S IWB holster that will last for years while available at an extremely affordable price. While it is available for many different handguns, there are specific models for any XDS- handgun you own and available in right and left-hand orientations.
While this is a more tactical holster, it is comfortable and simple enough for everyday use.
This holster has a comfortable leather face with the added rigidity and retention of Kydex for the firearm housing compartment.
The clip system in the Cloak Tuck features two metal or nylon clips that hold the holster in place securely. The two options give you some room for going for better attachment security or more concealing with a lower profile.
The holster features a stainless spring steel backbone which provides sturdiness to the holster, but it does require some time to break in and form to your body. Once broken in it holds its conformity and fits perfectly.
The back of the holster that will come into contact with skin has a soft layer of neoprene that adds a lot of comfort. While comfortable, it can become quite warm against the skin as it is a robust insulator and might become uncomfortable when worn in during high temperatures.
The holster is made from thermoelastic polymer and "Alien Skin" texture within the holster that provides extra grip to keep your pistol in place.
Alien Gear also offers a lifetime warranty with this holster, but with how well it is constructed there is a good chance that you will never need it.
Pros
Secure double attachment
Rigid
Sturdy backbone
Comfortable fit after breaking in
Cons
Can be warm against skin
Takes some time to break in
Needs more adjustment options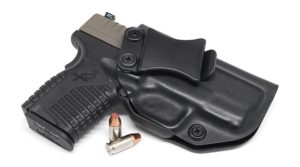 This XD-S IWB Kydex holster has a minimalist design. It is both light weight and durable as it is made from Kydex material. It features a single, but sturdy, clip and a full sweat shield to help keep moisture away from the weapon. The holster is available in both a black and carbon fiber color scheme and is a great fit for those looking for an XD-S 45 holster.
This holster has a lot of adjustment options which gives you excellent control over how the holster functions. Two of these adjustment points are with the retention pressure as well as the carry angle between 0-15 degrees.
By adjusting the retention pressure, you can have a holster that holds the firearm tightly or loosely. Every carrier has their own preference for this pressure and being able to adjust it to your liking is a big plus for this firearm.
By adjusting the carry angle, you can also personalize it to your drawing style and gun placement. Again, this is a huge advantage for maximizing your ability to access your firearm quickly and efficiently.
The Kydex holster provides excellent shape retention when the handgun is drawn and makes re-holstering a nonissue.
Another awesome feature of this holster is an audible click retention system. While some might not find this feature necessary, it is a nice to know when your firearm is holstered properly and is secure.
Pros
Retention adjustment
Carry angle adjustment
Lightweight
Rigidity
Audible retention system
Cons
Can be uncomfortable at first
Concealment Express IWB KYDEX Holster
INSIDE THE WAISTBAND KYDEX HOLSTER fits: Springfield XD-S 3.3" (ONLY unless Specified). Our minimalist IWB holsters are designed to be worn comfortably inside the waistband with an untucked shirt for proper concealed carry. We use .08" KYDEX precision formed over our proprietary in house CAD designed and crafted Aluminum molds. This ensures unparalleled consistency, fit, quality, durability, lightness, comfort, & uniform features across all of our holsters.
EXCLUSIVE HOLSTER FEATURES: Undercut Trigger Guard keeps the KYDEX from interfering with your draw. Over-Cut Open-Face accommodates Threaded Barrels and clears Suppressor Height Sights. Full length Sweat Guard & Rear Sight Shield to protect your weapon from sweat. Fiber Reinforced Stealth Belt Clip, so no one knows you are carrying. We utilize all Black Oxide Steel (Phillips) hardware with Threadlock, so you can easily make adjustments but never lose a screw.
ADJUSTABLE 'POSI-CLICK' RETENTION & CANT: When you holster your Springfield XD-S 3.3", you'll hear a satisfying 'CLICK' letting you know your weapon is securely holstered & won't come out unless YOU want it to. Retention pressure is fully adjustable via the black oxide steel hardware forward of the trigger guard. Cant (or Carry Angle) is adjustable from -5 to +20 Degrees, allowing you to angle the holster perfectly for appendix (AIWB), strong side, behind the hip or cross draw carry positions.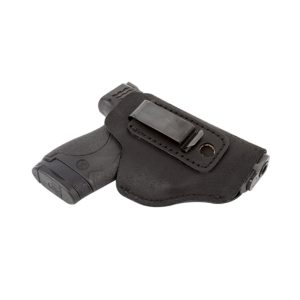 The Ultimate Suede Leather IWB Holster produced by Relentless Tactical is a holster for those looking for extreme comfort and a more casual holster.
It is made from genuine leather that is worked by American craftsman and is backed by a lifetime warranty. Because it is leather, you should treat it from time to time and you will have a holster that lasts for years.
This is by no means a tactical holster, and we never set out to just discuss tactical versions of IWB holsters. A lot of people who conceal carry XD-S firearms might just be looking for comfort, and that is what this XD-S IWB holster provides.
There is not a more comfortable holster on this list, and the genuine leather provides excellent form fitting with no break in time. It also provides a cool material against your skin, is lightweight, and conceals easily.
It attaches to the beltline with a single, sturdy clipping mechanism that holds its retention properties well. The holster has a wide enough shape that metal to skin contact is minimal while still maintaining enough area for an effortless draw.
Although it might look like it, this holster definitely doesn't provide enough room for a laser attachment.
Because it is leather and not meant as a tactical holster, you do run into problems with the rigidity. The opening to the holster just does not stay open like you get with materials such as KYDEX. While the pistol can be drawn effortlessly, it will not retain its opening shape well, making it harder to holster.
Regardless, this is an excellent XDS 45 holster as well as any other XD-S firearm.
Pros
Extreme comfort and form fitting
Light
Durable
Easy to maintain
The Ultimate Suede Leather IWB Holster
HANDMADE BY AMERICAN CRAFTSMEN, FROM GENUINE USA SUEDE LEATHER! American made with American Pride, No synthetic materials or cheap, mass-market production
FITS MOST FULL SIZE & COMPACT HANDGUNS IN 9MM, .40 & .45! Glock 17 / 17L / 22 / 31 | Glock 19 / 19X / 23 / 32 | Glock 26 / 27 / 33 | Glock 44 | S&W SD9 / SD40 | H&K VP9 / VP40 | S&W M&P Shield (9mm, .40 and .45) | Sig Sauer P226 / P229 / P250 | Springfield XD, XDS, XDM | Taurus 111 / 140 Millennium G2 / G2C | Will fit too many models to list them all!!
BACKED BY RELENTLESS TACTICAL'S LIFETIME WARRANTY! Carry the best IWB Holster on Amazon with confidence for the rest of your life. With quality American Made construction comes great durability. That is why we can offer a Lifetime Warranty on each and every leather product we sell.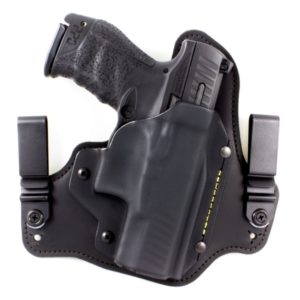 This is a genuine Springfield IWB holster for XD-S model firearms that is available in left and right-hand orientations. This is one of the best Springfield XD-S 9mm concealed carry holsters available as well as the XD-S .45 as it was designed specifically with these models in mind.
It is designed as a tactical holster as the name ACE (Always Combat Effective) implies, though it is also a great choice for anyone looking to conceal carry their XD-S firearm. The holster is most effective when placed between the 3-5o'clock position on the beltline.
The durable leather holster face has polymer stiffening inserts and a soft suede backing for skin contact that provides a sweat shield. It also results in a very flexible backing that aids in conforming to the wearer's body much quicker than steel inserts.
This Springfield XDS holster is made from Kydex and is designed with a rounded profile that also aids in better body conformation and greatly reduces the break in period. The opening to the holster is flared for an easy drawing and holstering of the firearm. The Kydex used in this XD-S IWB holster is thicker and provides more gun coverage making it an extremely rugged holster.
The leather and Kydex are held together with tight Kevlar stitching that results in a holster that will maintain its integrity for many years of use.
The holster is secured to the beltline with two durable steel clips on both sides of the holster and provides a secure attachment with little to no wiggle.
This holster is very customizable and can be adjusted to fit your carrying preferences exactly. The ride height, retention pressure, and carry angle can all be adjusted easily and the settings are secure and will not deviate from the intended settings from normal wear.
Pros
Rugged, durable, and comfortable
Little break in period
Flared holster
Lots of adjustment options
Cons
Maybe more than the average carrier is looking for? (We're reaching here)
Springfield XD-S 3.3 IWB ACE-1 Gen 2 Hybrid Holster
Genuine Suede - Our Variable Stiffness Backer, or VSB, features a durable leather face, a polymer stiffening insert, and a soft suede backing. This combination creates a sweat proof barrier between your body and the handgun, yet is flexible enough to move with you.
Adjustable Retention - With adjustment screws all around the holster, you can hand tune the draw weight to fit exactly what you want for your specific situation.
Customized Carrying - Adjust the height and angle your holster rides at for the perfect position for both concealability and comfort.
Winner and Wrap Up
The best IWB holster for XDS has to go to the Springfield XD-S 3.3 IWB ACE-1 Gen 2 Hybrid Holster. This Springfield XD-S holster is the best-concealed carry holster for XDS .45 and 9mm without a doubt.
Comfort, ruggedness, and versatility are three of the top characteristics needed for the best IWB holster for XD-S firearms, and this model excels at all three. This XD-S concealed carry holster is going to perform for years and provides all the needed features in a well-rounded concealment holster that you can rely on day after day and when the situations arise where your firearm is needed.
We mentioned it is perfect for those looking for a genuine Springfield 9mm XD-S 9mm concealed carry holster then this is your holster. It is also considered by most as best concealed carry holster for the.
All four XD-S concealed carry holsters on our list could be considered the best XD-S holster and all of them are going to be able to conceal your XD-S firearms comfortably. Regarding the specific holster that you need is up to you, but we have listed four winners in this article.
Whether you are looking for a more tactical XD-S concealed carry holster or one built for comfort, we have a model in this article that will fit your needs.
Price incl. tax, excl. shipping/ Affiliate links / Images from Amazon Product Advertising API