While there are many great government issued assault packs available online, they sure can get expensive. Perhaps you want the same style or look, but you don't necessarily need what the military uses. That's why we've made this review of the best multicam backpacks on the market, and we'll tell you which was our favorite at the end of the article.
MultiCam is the official issued pattern of the U.S. Army for multi-environment concealment. The blend of earth tones is proven to be high effective at concealing not only people, but their gear too. That's why it's a great idea to have a multicam backpack. Particularly for hunting, you can store your items in a container that will stay concealed in a variety of environments and in all types of seasons. The backpacks we've chosen range in sizes and prices, so you can pick what best suits your needs.
ArmyCamoUSA Sport Outdoor Military Rucksack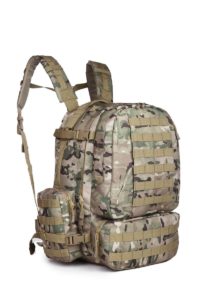 Materials – This first option from ArmyCamoUSA is constructed with 1000D PVC polyester. It has a storage capacity of up to 60L, and it's about twenty two inches in height. The main compartment has zipper closures with cord pulls. There are two additional front pockets and two side pockets. All four are covered in MOLLE webbing, and there's space for a 2L-3L hydration bladder, but the bladder is not included. Quick release buckle straps act as a depression system for the front and side pockets. The shoulder straps are lined and fully adjustable with nylon pulls. There are also additional straps at the chest and waist for more support.
Performance – If you're on the lower end of a budget, and you're really not looking for the most high-grade, government issued sack, then this multicam backpack is a great starting point. As far as storage goes, there's plenty of it. Between the main compartment, and then four additional compartments, you really have more than enough room to store items that will last you multiple days. The 1000D material is much more durable than what you'll find on many other backpacks, as well. It will be easy to clean, and it should be fairly resistant towards tears and snags too. The shoulder straps are a little on the thing side. We think this is where the company could have paid a little more attention, but they are lined and fully adjustable.
What we say – This is the best multicam backpack for those who want your standard back pack with MOLLE webbing. This is a great choice for camping, hiking, or a few days of general travel.
Pros
Lowest cost
Plenty of pockets and storage space
1000D polyester
Cons
Shoulder straps a little thin
BONUS OFFER: Get your free shooting range targets to print at home!
Get your free targets to print at home!
5.11 Outdoor Tactical RUSH 12 Backpack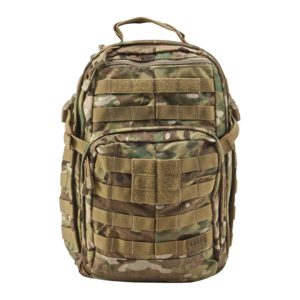 Materials – Taking it to the next level is this RUSH 12 backpack from 5.11, a very popular brand for gear. The pack is made from 1050D nylon, which has been treated to be water resistant. Across the back pack are 16 storage compartments. The main compartment features a divider, so you can organize your items. Its height is eighteen inches tall, and over six inches deep. There is MOLLE webbing across the entire front and sides of the pack, so you can customize your storage space to your needs. Compression straps with quick release buckles run from the front to the back of the pack. Thickly padded shoulder straps also included fully adjustable nylon pulls, and there is a waist clip for additional support.
Performance – This multicam backpack may be a little smaller than the previous option, but not by too much. However, what is lacks in size, it makes up for in dependability and additional storage. By additional storage, we mean the compartment divider and the various sized pockets included. A few of the smaller sized pockets have additional soft lining for delicate items, like sunglasses, which is worth mentioning. The shoulder straps on this option are, in our opinion, much sturdier and will provide allover better comfort than the other option as well. There is room for a hydration bladder, but it's only 1.5L. Is this a good choice for a day of hiking? Yes. Is it a good choice for depending on for multiple days? Not so much.
What we say – This is the best multicam backpack for those who need to carry gear for a single day of hiking, hunting, or even a long day at the shooting range. There's just enough space for everything you need and it's easy to organize.
Pros
Plenty of MOLLE webbing
1050D nylon and water resistant
Compartment divider inside
Cons
Not made for multiple day use
Condor 3 Day Assault Pack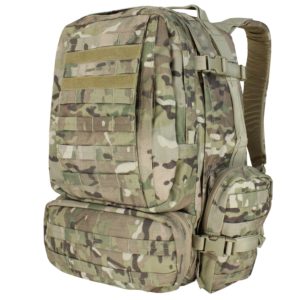 Materials – The Condor 3 Day Assault Pack is covered from top to bottom in genuine crye-precision multicam. It's made of a durable material that is easy to wipe clean and will resist some weather and extreme temperatures during your 3-day treks. There is a main compartment with additional storage, totaling up to seven pockets of space. It's about twenty two inches tall with a 50L storage capacity. MOLLE webbing lines the front and side pockets, and they're very discretely camouflaged in the same multicam pattern. Compression quick release buckles are at both the top and bottom of the pack. There's also room for a 3.5L hydration bladder. The shoulder straps are fully padded and adjustable, and the include a D-ring for attaching water bottles or other accessories.
Performance – Coming back to our 3 day hiking or camping essentials, this back pack is produced by another very well known name for this sort of gear, and it shares a lot of characteristics with the first option. However, the winner on this backpack is the allover genuine multicam pattern. Even the MOLLE webbing is in the same pattern, so you could be truly camouflaged if you wanted to be. Everything else here is quite standard, although the seller page does not list the quality of nylon it's made out of. It's unfortunate that we can't list that for you, but it is a very useful and reliable backpack.
What we say – This is the best multicam backpack for those genuinely striving for the allover multicam pattern. However, it is available in other colors and patterns, if you're interested.
Pros
Allover multicam
Room for 3.5L hydration bladder
Seven storage pockets total
Cons
Quality of nylon not available
CamelBak BFM Mil Spec Antidote Hydration Backpack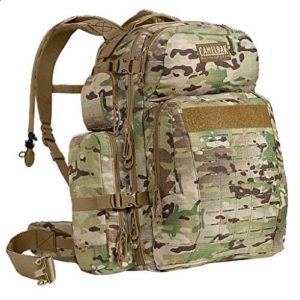 Materials – For the serious camper, hikers, and hunters, we have the Camelback Hydration Backpack. For those who don't know, CamelBack is known for their hydration systems which are incorporated into their gear. This is the only option within this review that actually includes the hydration bladder. Along with the 3L bladder, there is 48L of storage space. The backpack is lined with 210D nylon and 500D corduroy. There are multiple front and side pockets for additional space, and there is some MOLLE webbing included on the lower front pocket. All compartments are secured with zippers and cord pulls. The lined shoulder straps are adjustable with their own nylon straps, and there is a thickly padded waist buckle as well. All straps included quick release buckles, so you can easily take this backpack off when needed.
Performance – CamelBack is a great brand that has been relied on by all levels of camper and hikers. This is a solid backpack that is very well built, and it should last you for a long time. The drinking tube for the hydration bladder is already installed over the left shoulder strap, so it's available at all times when you need to hydrate. We really like the thick waist strap because it's very supportive of all the weight you can carry in this pack. This makes up for the shoulder straps, which could be a little thicker. If you would rather have your hydration bladder already installed, then this is the best choice for you.
What we say – This choice is the most expensive option within this review. However, it's the best multicam backpack for those who love the CamelBak brand and don't need much else beyond the standard sized backpack.
Pros
Special nylon lining
3L hydration bladder included
Thick waist strap
Our Favorite Multicam Backpack
After careful consideration, we decided our favorite multicam backpack was the 5.11 Outdoor Tactical RUSH 12 backpack. Despite it being the smallest backpack of the bunch, there are a few reasons why we chose it as our favorite. For one, it's made of some of the most durable materials featured within this review. You could easily have this backpack survive through some harsh weather or the regular rough housing that comes with outdoor activities. It features the essential MOLLE webbing and extra storage pockets, and there is technically still space available for a hydration bladder. It also has some if the thickest and most well padded shoulder straps we could find, and that's really important here! It would definitely be worth your while to consider this for your multicam backpack.