There are dozens of amazing scope brands in the world, but who is the best?! That's actually really hard to answer, but we can take a crack at it! In fact, we'll look at everyone and give you our long range optics ranking opinion.
This might not give you the perfect answer for what scope is right for you, but it can at least help guide you as you navigate the busy waters that lay in front of you.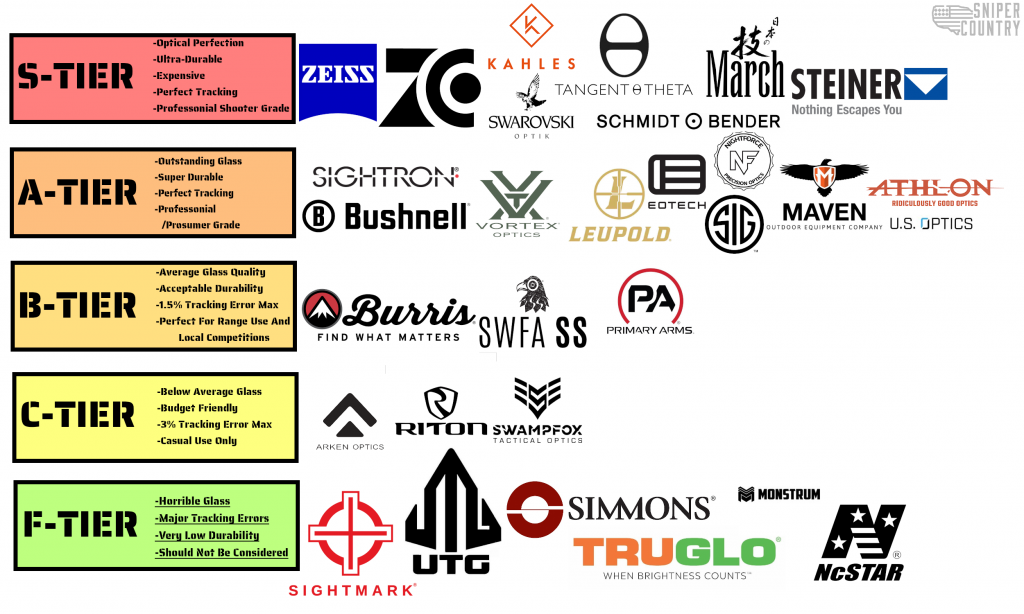 BONUS OFFER: Get your free shooting range targets to print at home!
Get your free targets to print at home!
What Is a "Tier List"
Just in case you haven't run into these before, a tier list is a simple way of ranking things — in our case, the brands that make long-range optics.
This is not a list ranking all optics or every model from these brands, simply the brands as a whole.
S-Tier is the best of the best, the very top, the absolute pinnacle of the market. A through C are predictably best to less than great. F-Tier are the brands that you should just avoid.
Somethings To Remember
Most brands that make scopes make a fairly large range of scopes. Many of their offerings are designed for new shooters or for shooters that have a strict budget. They might also offer some high-end optics, but they might not.
Judging these brands based on their worst offerings would be unfair, so generally speaking, we've made these judgments based on their upper to best lines of scopes.
To put that in context, a huge brand like Vortex isn't being judged based on their Crossfire II line — instead, we're judging them based on the Viper PST II and Razor lines.

Athlon is in a similar boat, we're not looking at their Talos line, we're looking at their Cronus scopes.
If you've never used the best these brands have to offer, you might be missing out.
The Real Manufactuers
Scopes can in a lot of ways be very homogenized. There are a pretty limited number of places where scopes are actually made and even fewer places that make the glass that go into the scopes.
Because of that — nearly everyone gets their cheap scopes from more or less the same OEMs. Honestly, there simply isn't much or any difference between the cheap stuff because of that.
And to an extent that can happen even with the mid and upper-tier scopes.
When there are only 3 OEMs in Japan that make great scopes, but 10 American brands that offer scopes made using glass from those 3 Japanese OEMs, you might be very hard-pressed to tell the difference between some of them.
In cases like that, we're considering the company's customer service, reputation in the industry, and what (if any) unique offerings they bring to the table such as reticles or scope designs.
Chinese Vs. Japanese Vs. German Vs. American Scopes
There are two major things to think about when it comes to nation of origin for scopes — where the glass was made and where the optic was assembled.
Frankly, where it was assembled isn't a huge deal. China, Japan, the USA, who does the actual final assembly doesn't speak much to the quality of the optic as a whole.
However, where the glass is made makes a huge difference — most of the time.
Broadly speaking, rifle optics glass basically comes from 4 places — China, Japan, Germany, and the USA (kind of). There are a couple of manufacturers in other countries in Asia such as the Philippines, but they produce a tiny fraction of what China does and very often use glass that was made in China.
China
China is by far the largest by-volume maker of rifle scopes. They are generally lower quality scopes that are built for price, not function. That said, Chinese optics have come a VERY long way in the past 10 years and some of their best offerings are very good and rival some of the low-mid tiers Japanese scopes.
Japan
Japan is highly regarded as an outstanding manufacturer of glass and scopes. There are more or less only 3 good OEMs in Japan that make rifle scopes. Between the three of them, they produce probably over 95% of Japanese rifle scopes on the US market.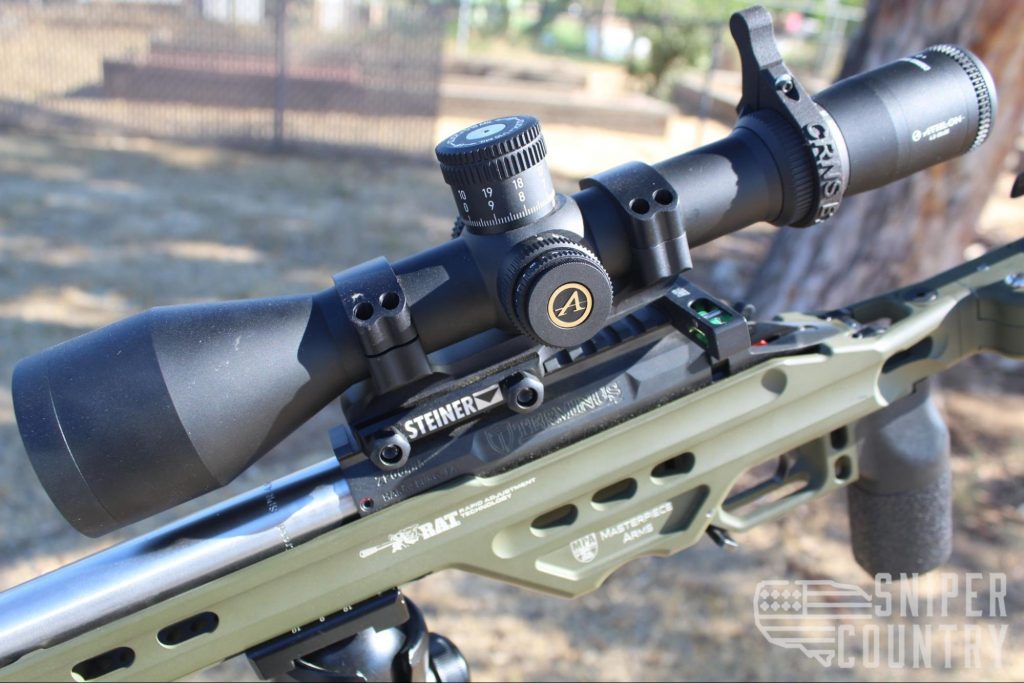 However, some manufacturers only buy their glass from Japan. Leupold is well known for making USA-made scopes, but using Japanese glass.
Germany
Germany is widely seen as the best glass on the market, it is also the most expensive. However, this really is the best of the best. Almost all of the best scope manufacturers are based in or buy from Germany (or Austria, but close enough). If you want optics that are as clear as they can possibly be, this is the place to get it.
United States of America
American glass is… really hit and miss. Bottom line, there isn't really a great glass supplier in the USA — but this might be changing. While American glass has never been considered very good, there has been a huge push to make it better. Vortex is reportedly using American-made glass in their new next-gen LPVOs that they are supplying to the US military.
With all of that said — this list is by no means perfect and has room for interpretation.
I'm sure you'll disagree with some or part of it. Feel free to let us know why in the comments!
Long Range Scopes Brand Tier List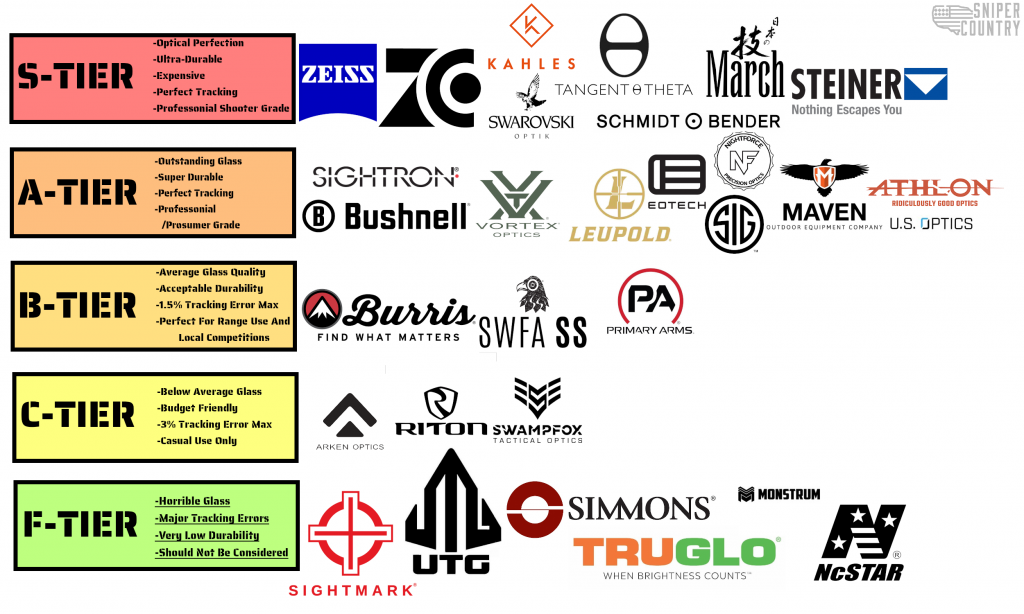 S-Tier
This is the best of the best. You should expect absolutely perfect tracking, near-perfect glass, high levels of durability, and all of the cool features that scopes can offer. None of these brands really have a "budget option" in their lineups because all of them are expected to be as close to perfect as you can get.
It's painful, but you're looking at $3,000 as a minimum here.
This is the tier for people that are looking to spend a ton of money or who legitimately need perfect optics. For everyone else, it's more about the flex than it is the product.
For a score out of 100 points, I'd give all of these brands 99.5 or more.
Zeiss
Zero Compromise Optics (ZCO)
Swarovski
Kahles
Tangent Theta
Schmidt & Bender
March
Steiner
Zeiss
One of the best German companies to ever produce optics, Zeiss is a classic name in the field that will never let you down. With options for both hunting and tactical shooting, Zeiss covers a huge range of scopes and other optics like spotting scopes, binos, and more.
Zero Compromise Optics (ZCO)
Made in Austria ZCO is my personal top pick for really expensive but totally amazing scopes. These will set you back a LOT of money, but they are to my eyes the very best ever made.
I love their reticles, I love their options, and the glass is like looking into the future. Just be ready to drop a lot of $$$ on them.
Swarovski
Another brand from Austria, Swarovski scopes are actually not my favorite. They are amazing, but they are mostly geared for hunting and just aren't my style. They really are outstanding though with perfect tracking and jaw-dropping glass. If you have the chance, I highly recommend their binos also.
Kahles
Kahles is actually owned by Swarovski and is basically their tactical branch. If you want Swarovski glass but with exposed turrets and better reticles, Kahles is your ticket. However, there is a growing concern in the PRS world about Kahles due to their scopes having a tendency to… fail mid-match. While the tracking and glass might be perfect, the durability is a little suspect right now.
Tangent Theta
Made in Canada! But using German glass. Tangent Theta isn't a super common brand to see around the range mostly because they are on the upper limits in the price of even the big hitter scopes. Ignoring the huge price though, these are amazing scopes. Glass quality is simply beautiful. There have been some reports of these not being the most durable scopes on the market and considering the price that is a bit disturbing, but I personally haven't seen any go down at a match. I've also rarely seen them at a match though.
Schmidt & Bender
Another German-made brand, Schmidt & Bender is (predictably) outstanding in every way. This is another brand where I'm not a huge fan of their scopes, even though their scopes are amazing, simply because they aren't my style. That said — you will never go wrong with S&B in any form. It's also worth noting that S&B was the scope of choice for SOCOM for many years. One of the best spotting scopes I ever got to borrow was S&B and I've missed it ever since.
March
Not a hugely popular brand, this is a sleeper that hails from Japan. Using Japanese glass and making the scopes in Japan, March produces amazing scopes that rival German-made brands with ease. They also come in at being a bit less pricey than most of the other S-Tier options. If you're trying to dip your toes into the Gucci stuff, March is a very good brand to consider.
Steiner
The last of the German brands in this tier, Steiner is a huge manufacturer that supplies many of the law enforcement and militaries of the world with scopes. From LPVOs to long range precision optics, Steiner has it all and does it to the highest standards. Not cheap, but nothing in the S-Tier is. One of the huge claims to fame Steiner can boast is that their scopes are some of the few with the durability to be mounted to SCAR 17 H rifles.
A-Tier
If you want the best but simply can't pay for it, this is as close as you can get. Some of the best offerings from these brands come very close in price and quality to the S-Tier options, but most of them are a level below and are far more accessible.
If you're not a national-level competition shooter but do take your hobby seriously, you'll likely find your perfect scope from this tier.
The tracking is perfect, the glass is outstanding, and almost all of the best scopes from these brands have all of the features you need.
Generally speaking, this is where I recommend most people buy from and where the best value is in the long range optics ranking.
On a 100 point scale, think of these scopes as 90-95 or better.
Complete honesty — both of my competition scopes are found here.
Vortex
Athlon
US Optics
Maven
Sig Sauer
Leupold
EOTech
Bushnell
Sightron
Nightforce
Vortex
Using a wide range of glass from China and Japan for their scopes, the best lines are made using Japanese glass and either completely made in Japan or assembled in the USA. Vortex, in my opinion, was the brand that changed the optics world forever.
They were basically the first brand to offer great scopes and to back them up with a forever no questions asked warranty. This, over time, forced other brands to do the same. This has been a huge win for consumers.
If you want a really badass scope, take a look at the Razor line. The Gen II has been a long-time staple of the competition world and the newly released Gen III is even hotter.
Vortex also has the PST Gen II line of scopes and for the price, it's likely the best scope on the market right now in terms of value. Perfect for the shooter starting their long range journey.
Athlon
Like Vortex, Athlon uses both Chinese and Japanese glass for their scopes — but the best line, the Cronus line, is made in and uses glass from Japan.
I'll admit it now, Athlon is my go-to for scopes right now. Both of my competition rifles are using Cronus scopes (I paid for both of them, they weren't provided) and I love my scopes.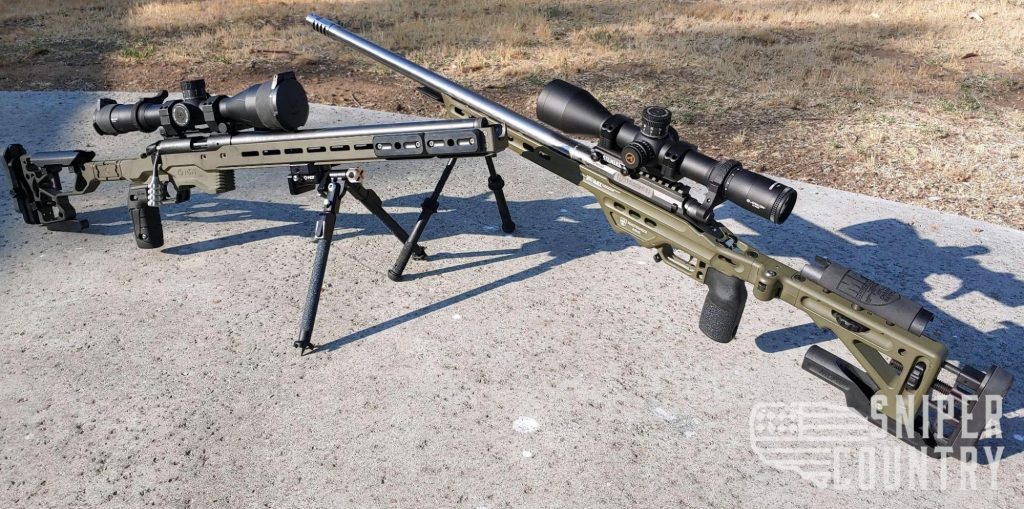 Athlon is very much like Vortex from the warranty to the scopes they offer. Athlon has different reticles and some different scope designs coming in at different prices, but for my eyes and my money almost everything Athlon produces is just a little cheaper and a little better than what others can offer.
US Optics
While US Optics used to be one of the very best in the market, they've lost a lot of ground over the years. Don't be fooled by the name, US Optics actually only makes about half of their products in the USA.
Founded in California, US Optics now is located in North Carolina where they manufacture their Foundation series using glass from overseas (probably Germany, but this is unconfirmed). Their TS line of scopes is made in China.
The TS line is cheaper and works like a cheaper product.
The Foundation line are great scopes using great glass. They are a little overpriced IMO, but that is the cost of making things in the USA. If that is important to you, I strongly recommend US Optics as one of the only US-based options.
Maven
This is a real under-the-radar brand but has quickly become one of my favorites. Maven is different from most of the other options because they don't sell to retailers. You can't find Maven in stores or on your favorite retailer's website. Maven sells through Maven, period.
Cutting out middlemen makes it so that Maven can offer a better product for a lower price. Instead of a retailer marking things up, Maven gives that dealer direct pricing to you the consumer.
The S, B, and RS line of optics from Maven are made using Japanese glass, the C series uses and is made in the Philippines.
The S and B series are assembled in San Diego, California while the RS series is made completely in Japan.
Maven glass is outstanding. This punches WAY above their price point and will very much surprise you when you see it.
I have two B-series binos from Maven and they are my favorite binos to take to competition. I also have a CRS scope on my Sig Sauer Cross rifle and love it for hunting.
For hunting, their reticles are decent. But their options for tactical or PRS style shooting aren't the best. Hopefully, that is something they improve as more people find out just how good these scopes really are.
Sig Sauer
Sig Sauer gets really mixed reputation for their optics because of the range in quality and design they offer. That said, Sig has won multiple US Army contracts for their LPVOs and legitimately makes some great scopes.
Using glass from China and Japan, Sig Sauer has a huge range of offerings from their BDX system to their Tango line of tactical scopes and their Serria line of hunting scopes. Plus rangefinders, spotting scopes, and more.
Of anything Sig makes, their rangefinders are what I recommend the most — but this is an article about long range scopes so let's focus on those.
The Tango line is awesome with some great reticle options. For an LPVO, the T6 is one of the best on the market.
Leupold
Another of the very few options for American-made scopes, Leupold uses Japanese glass for their Mark 5 line of scopes but assembles them in Oregon. Personally, I'm not a huge Leupold guy because their reticles are either very simplistic or they upcharge you for the better options.
That said, Leupold does make great scopes for both hunting and tactical style shooting. The Mark 5 is a super popular option that is crazy durable and looks wonderful to see through.
And like I said, they are one of the very few USA-based options you can find.
Even with my dislike of their pricing structure and reticle offerings, I would recommend the Mark 5 HD over US Optics for a US-based scope option.
EOTech
Oh, EOTech. Okay, EOTech is mostly here on a technicality. Don't get me wrong, the Vudu line from EOTech is a surprisingly decent scope and is made in Japan while using top-tier Japanese glass. But the Vudu line is EOTech's only line of scopes.
The Vudu line has several options for both SFP and FFP scopes. And it even comes in a fairly wide range of magnification levels from 1-6x24mm to 8-32x50mm.
But here is the thing — I've never seen a Vudu in the wild. I've used them at media events, I've seen them at SHOT Show, but I've never seen just a regular person using one at a competition or at the range. Ever.
These are solid scopes, but their price is… ambitious and the scope options aren't the best. They don't offer any x56mm options and their reticles are very average. Nothing about the Vudu really stands out except the fact the long range scopes are VERY compact.
If you need a long range precision scope but need that scope to be SHORT, the Vudu is a great option that comes in at 2/3rds the length of most other options.
But for the price, that's kind of a weak claim to fame.
Bushnell
Bushnell is another brand that gets a bad rap based on its lowest-tier offerings. If you want a deer scope for your cousin's kid that was held back 2 grades and you have a Walmart gift card you won at work, Bushnell has some scopes for you.
Most people think that's all Bushnell has to offer. Those people are wrong.
Bushnell also has the Elite Tactical line of scopes that are made completely in Japan using Japanese glass.
These are some heavy hitter scopes that are freaking fantastic both in durability and in optical quality. Plus, they come in at a very fair price.
While Bushnell might be ignored by most people, their scopes have some huge wins to their names including national competitions and even the 2018 King of Two Miles ELR competition.
I highly recommend their new XRS 3 for a PRS style scope. If you want something cheaper, they also have the Match Pro that makes for an awesome starter PRS or NRL22 scope.
Sightron
Sightron is a brand that I actually don't have much experience with first-hand, but some of the best shooters I know highly recommend their optics.
The SIII and SV lines are made in and using glass from Japan. Their reticle options are a bit lacking, but they have some outstanding options for high magnification and for huge elevation adjustment.
Nightforce
If you want a scope that will outlast and outlive everything else you own, Nightforce is the brand to choose.
A long-time top pick for special forces units, Nightforce made their name because their scopes are insanely durable. Honestly, that is 99% of what they are known for.
Assembled in the USA using Japanese glass, Nightforce doesn't hold back when it comes to making outstanding scopes. Their glass is wonderful, their tracking perfect, and their reticles are amazing.
But the durability… now that is what really sets Nightforce apart from the rest of the industry.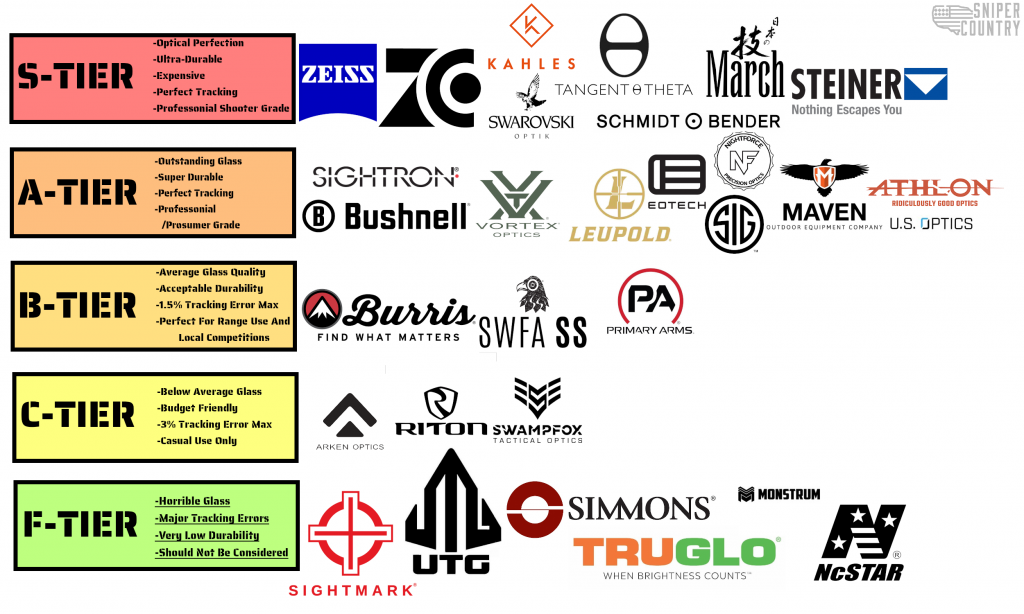 BONUS OFFER: Get your free shooting range targets to print at home!
Get your free targets to print at home!
B-Tier
Maybe you're just not willing to spend the cash to get into the next tier, maybe you need something a little more basic and a little more built for the average joe who doesn't nerd out on ballistic coefficients.
The B-Tier brands have something for you, they are cheap enough to be accessible but enough quality that you can still count on them and expect at least decent glass. The very middle ground of the long-range optics ranking.
Again with the 100 point scale, the B-Tier options are 75-85 points.
Burris
SWFA SS
Primary Arms
Burris
Burris, like Bushnell, has a huge range of cheap hunting scopes that fills a good niche in the market. But they also have some great long-range precision scopes, namely their XTR line.
The XTR is fully made in the Philippines but rivels Japanese-made glass in terms of quality.
Personally, I see a difference and for my money, I'd rather have something in the Vortex Razor, Athlon Cronus, or Bushnell Elite Tactical lines depending on the price point.
That said, the XTR III and XTR Pro lines are great scopes.
SWFA SS
If you need one of the lightest scopes ever made, SWFA has an ultralight hunting scope that is outstanding! But what they are really known for are their fixed magnification scopes made in Japan using Japanese glass.
These fixed mag scopes are awesome. Tracking is perfect, durability is through the roof, and the price is very reasonable.
The downside is obviously that they are fixed magnification. But they at least come in several flavors and range from 10x to 20x with multiple options in the middle.
If you're looking for a starter rifle scope or a bench scope, a fixed SWFA can save a lot of money while giving you some outstanding glass.
Primary Arms
All of the Primary Arms scopes and optics come from Asia, most of their lines are Chinese made but their best line, the PLx, is made in Japan and uses Japanese glass.
While their Chinese lines are well priced and are great for their price, their Japanese-made PLx line is what we're really looking at.
Glass quality on the PLx is what you should expect from mid-tier Japanese glass, the tracking is perfect and reliable and the durability is outstanding.
However, PA's reticles are loved it or hate it. Personally, I can't get used to a chevron as my aiming point.
C-Tier
Eh… C-Tier isn't impressive. They are mostly focusing on price over quality and it shows in their products. While the casual shooter or fresh competitor won't see the problems with most of their scopes, anyone who has been around will point out the issues.
Side-by-side these cannot hold up against better options, but they're cheap and that's what counts sometimes. Not the worst, but on the lower end of our long-range optics ranking.
On a 100 point scale, this is the 50-65 point stuff.
Arken Optics
Riton
Swampfox
Arken Optics
Arken Optics is really new to the market and has some major questions to answer before I would recommend them.
Oddly, Arken is one of the very, very few (maybe the only?) scope brands that manufactures all of their scopes in China, but uses Japanese glass for their premium line of scopes.
The SH line is made in China using Chinese glass, but the EP line is made in China using Japanese glass.
The reticles are fine, the tracking (from the very limited reports I've heard) is good, and the durability is on par with the price and expectations.
And the prices are outstanding.
On paper, there is nothing wrong with Arken.
However, this is a brand that does a LOT of social media marketing and has put a LOT of free scopes in the hands of YouTubers that are not experienced with optics. Because of that, this has put a lot of misinformation out in the world.
Optics are legitimately hard to review and judge. It takes a lot of time and effort to really understand optics and it takes a lot of time, effort, and access to experience enough optics to know what makes good optics good.
As long as Arken keeps targeting people that don't know what they are doing or saying, I can't trust their optics.
Riton
Riton used to be a top recommendation of mine, but they've made some missteps of late.
Using Japanese and Chinese manufacturers, Riton has a huge line of scopes that covers a lot of bases. They are also a Whitelabel manufacturer for several other smaller brands. What that means is they do all of the design and manufacturer, but let someone else slap their name on it.
Durability has been an issue for Riton across most of their lines, but what made me drop my recommendation was when Riton doubled or more their price almost overnight.
Riton used to be a great budget option that delivered scopes that punched way above their price points, now they are a decent but not amazing value.
For the money, I'd recommend other brands like Vortex, Athlon, Bushnell, or even Burris.
Swampfox
Made in China and using Chinese glass, Swampfox is the very definition of decent but budget quality optics.
Tracking is a little off sometimes and durability isn't anything to write home about, but the glass they use is surprisingly decent for being what it is.
Something really nice about Swampfox is that they really listen to their users and use that feedback to make better designs.
Swampfox also runs a LOT of sales and you can get some killer deals when the time is right. Black Friday 2021 had a buy 2 get 1 free sale on top of a 40% off coupon that made the value per dollar spent INSANE.
F-Tier
Don't buy these. Period. Just save yourself and don't.
Sightmark
UTG
Simmons
TruGlo
Monstrum
NcStar
These are bad optics. Period. All of them are made in China and use the very bottom of the barrel. Quality control is a joke, tracking is bad, durability is good luck.
I wouldn't recommend any product from any of these brands for any application.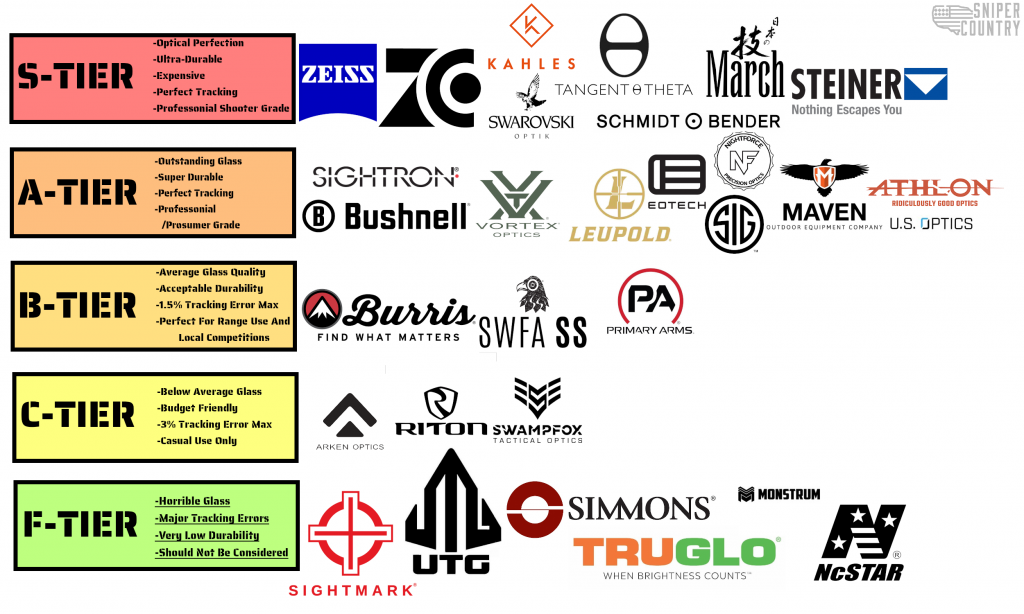 Wrapping Up
From the very best to the very meh, here they are.
Remember that this list isn't perfect and that there is a huge range of options even within each of these brands (mostly). While these rankings are based on what the best each brand makes, that doesn't mean the rest of their products fit within that ranking.
For a ton more information, take a look at some of these articles!