Ankle holsters are a small wrapping piece that connects around your ankle to hold a firearm. The gun sits just above your foot and can be concealed under a pant leg. The benefit of owning a Glock 27 ankle holster for your conceal carry gun is that it's concealed in a place that wouldn't be first expected. It can also be more comfortable than wearing your firearm around your waist. In the police force, Glock ankle holsters are frequently used to hold a backup weapon, but this is also excellent for concealing a gun while sitting in a vehicle or at a desk. Your gun is likely to be more concealed at your ankle, too, because there shouldn't be any sight of printing (unless you're wearing tighter pants).
We compiled a selection of the -in our opinion- four best glock 27 ankle holsters for the money.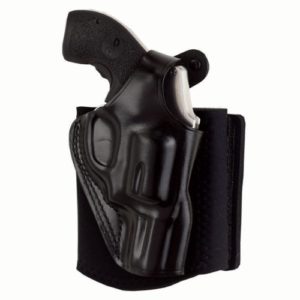 Materials – Galco makes a Glock 26 ankle holster and a Glock 27 ankle holster. The holsters are made of genuine steerhide leather, attached to a neoprene ankle band with a Velcro fastener. The holster is lined with sheepskin padding, which can comfortably wrap around up to 13". The Galco ankle glove comes in black. Included in the holster is a reinforced thumb break and detailed molding for the firearm. It can also fit a Glock 26 or Glock 27 with a CTC Laserguard. A calf strap is available to purchase separately.
Performance – The reinforced thumb break on the Glock27/Glock26 ankle holster allows for a smoothy and speedy draw for those moments of self-defense. The additional molding in the holster provides gun retention. The neoprene ankle band and additional sheepskin padding makes this ankle holster very comfortable to wear for long periods of time. It also fits very snug, so it won't slip or tug during physical activities.
What we think – The Galco ankle holsters for Glock 26 and 27 is a great purchase for anyone who lives an active lifestyle or is concerned about a lot of movement during self-defense. The sturdy materials can last for years, and can even survive through water without coming loose. If you're wearing socks, which you probably are, you may experience some movement from the holster. These Glock ankle holsters can be purchased from around $95-$122, but the reliable materials are worth the price.

BONUS OFFER: Get your free shooting range targets to print at home!
Get your free targets to print at home!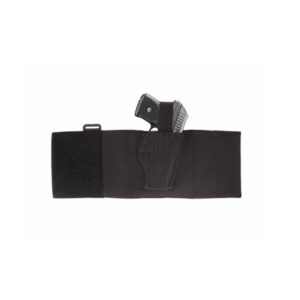 Materials – The Apache holster by DeSantis is made of a wide, elastic leg band inside nylon that is squared off instead of tapered. The band is line with sheepskin, and it closes with Velcro. This ankle holster comes in black and has a snap thumb break. The gun is intended to rest on the inside of your ankle, so a right-handed shooter would wrap the holster around their left ankle for a fast draw.
Performance – The Apache ankle holster comes with pros and cons. With this ankle holster, it's nearly impossible for there to be any noticeable printing, but this type of ankle holster will require some practice of grabbing your gun in a quick and coordinated fashion. The wide elastic band allows for a very snug hold, but the lack of other sturdy materials means this holster is more likely to display some wear and tear over a shorter time than other holsters.
What we think – Ultimately, we think this is one of the best holsters for Glock 26 or 27 gunowners. The high-quality concealment is one of the most important parts of a conceal carry weapon, as is the strong grip it keeps around the ankle. This is a great ankle holster for anyone who moves around a lot with it on, but not so much for extreme conditions, like in water. It runs for about $33.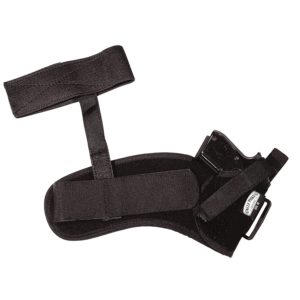 Materials – This Glock 27 and Glock 26 ankle carry boasts a holster made of Kodra nylon covered with Velcro for maximum adjustability. A nylon Level II web retention fits over the Glock, and there's a reinforced thumb break. This holster also fits on the inside of the ankle, and it comes with a removable calf strap. The nylon straps are wide and elastic. The padding on the inside of the holster is made of closed cell foam for comfort and stabilization. It can hold small, medium and large-framed automatics in your pant leg.
Performance – The greatest feature of the Uncle Mike's Law Enforcement ankle holster is the Velcro that covers almost the entire exterior of the wrap. This allows the wearer to adjust their straps to fit any size ankle and calf. The wider straps and detachable calf strap also ensures an even distribution of weight and secure placement. The closed-cell foam padding is very comfortable, and it doesn't allow for much slipping.
What we think – This is a good standard holster that comes at a cheap price of around $30-$40. If you've had trouble with other Glock 27 ankle holsters fitting you properly, then this is a good option for customization and changing adjustments. Other holsters may make you nervous about slippage, so this is a great choice to feel confident in when walking around in public.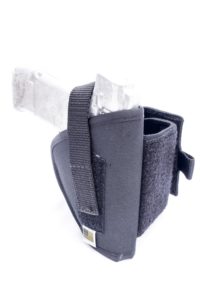 Materials – The ankle holster Glock 27 and 26 by Outbag is made in the U.S.A. with premium nylon and Velcro closures. The ankle sleeve is made of neoprene instead of elastic, and has a reinforced pull tab and a retention strap. There is no additional padding, but the holster can be worn over socks as needed.
Performance – Although the lack of padding on the inside of this holster may sound uncomfortable, wearing it over socks should remedy that problem. However, you're going to still experience some sliding. The neoprene material used for the sleeve is great for outlasting any elements that might interfere with the integrity, but without any elastic, the weight of your gun may pull the holster down.
What we think – We would mostly suggest the Outbags OB-30ANK based on the price, which is around $22. This is one of the cheapest Glock 26 holsters on the market, so this is a good starter holster for anyone who has never concealed on their ankle before and still has to discover their needs in one.

Our Favorite Glock 27 Ankle Holster
If you're looking for the best Glock 26 ankle holster or Glock 27 ankle holster, we would suggest the DeSantis Apache. The price is at the middle of the road, and is a happy medium for all needs. The wide elastic band is great for supporting the weight of a Glock on your ankle, and the strong hold ensures your firearm won't rattle around while you're moving. If this ankle holster doesn't fit your needs, then look into the other brands listed. If you're purchasing one for the first time, the DeSantis Apache is a good start.