The Glock 27 is one of the go-to pistols for both law enforcement and the everyday gun owner. It's subcompact, so it's ideal for concealed carry IWB or even on your ankle, as opposed to more tactical purposes (although it's great for that too).
If you already own this handgun, the next step for many people is to have a look at accessories. A popular choice for many gun owners is an inside the waistband holster and there are countless options for this exact pistol. We did some research to find the best Glock 27 IWB holster on the market and hopefully save you some time, that you might as well spend on the range.
Our holster reviews usually consist of a cost efficient option, a couple of high riding options, and a low profile option for the ultimate concealment. While the one we selected this time are all great choices for concealed carry, we realize that our reader's preferences really vary depending on how active they are with their holsters and what they feel comfortable carrying around. Luckily there are dozens of holsters made specifically for Glocks and therefore it was easy to come up with a great IWB selection.
If you occasionally wear an inside the waistband holster in public, purely for self defense, we suggest choosing a slim holster that has a low profile. This will be best for concealing in a backpack or car, with the additional option of wearing on your hip every now and then. For those who want to wear their Glock 27 at their side throughout the day, during work, or during times with a lot of activity, you'll want a more full sized holster that attaches to the belt at multiple points and distributes the weight evenly across the side of the body.
The 4 options we picked cover all of those needs and more, so happy shopping!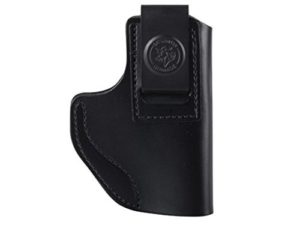 BONUS OFFER: Get your free shooting range targets to print at home!
Get your free targets to print at home!
Materials – The DeSantis Insider is comprised of a soft and unmolded leather coming in plain and simple black. There is stitching for reinforcement around the trigger guard, as well as around the belt clip. The belt clip is made of a heavy duty spring steel, and it's positioned higher up on the holster so the entire barrel of your Glock is concealed within your pant. Inside the holster is an ultra soft lining, which helps protect your Glock from any scratches or dings as well as prociding a smooth draw and re-holstering. It's available for left- and right hand users and the muzzle end is open, leaving you with the option to carry differently sized handguns.
Performance – This option is our budget piece on this list, but it might be the most comfortable concealed carry holster we selected. This is entirely due to the soft leather material that encompasses the whole pistol, save for the grip. While it might not be the best holster for a highly active person or someone who has more tactical requirements, but the high level of comfort and the low-profile design make it a great choice for the average gun owner. It can be worn comfortably while out and about, or it can even effectively protect your subcompact in a purse or glove compartment.
What we say – As mentioned before, the DeSantis Insider is our budget choice and the cheapest option out of our 4 picks. Sure you could spend more, but do you really need to for what you're going to do with it? That's a question only you can answer.
Pros
Lowest cost
Comfortable soft leather
High positioned clip
Cons
Might not be durable enough for a highly active person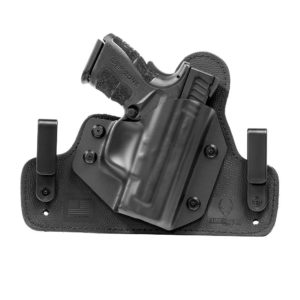 Materials – The Alien Gear Cloak Tuck 3.0 might look familiar to most of you, and its quality makes it worth mentioning again and again. This Glock 27 concealed carry holster has a back panel made of flexible neoprene that hugs the wearer's hips. The holster is made of ballistic nylon, which is molded to the shape of your pistol, and it's held in place by four retention screws. There are two belt clips, which can be adjusted for height and cant; whether you want to wear it high and tight, or in a forward cant, this holster will suit you.
Performance – Every time an Alien Gear product shows up in our lists we might sound like we get payed to praise it(we don't), but hands down, their products usually deliver what you pay for and pretty much everyone in the scene loves them. The Cloak Tuck 3.0 is the perfect match for somebody who needs a snug and secure fit for their handgun. The special neoprene back panel is a one-of-a-kind design that is breathable during long days of wear. It bends ergonomically to the body, but it's still firm and durable. The ability to adjust both belt clips is always a plus in our book. The downside is that for a Glock 27, a holster such as this one might seem a little bulky or too large for a subcompact pistol, but that's nothing more than personal preference. This is really the best option for those who don't want to rely on a single clip, inside the waistband holster to carry the weight of a fully loaded Glock 27.
What we say – The Alien Gear Holsters Cloak Tuck 3.0 is another option delivering huge value for the money. It is a fantastic deal for the combination of quality materials offered and with the lifetime warranty it really is a no-brainer.
Pros
Neoprene flexible back panel
Multiple retention screws
Adjustable belt clips for cant and height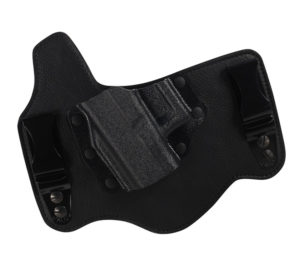 Materials – The Kingtuk comes with a back panel made of genuine saddle leather, which is firm enough to protect your Glock 27 from sweat and grime but pliable enough to comfortably hug against the body. It covers almost the entire surface area of your handgun, except for the grip – perfect for a quick draw. The holster itself is made of durable kydex, a lightweight but durable material and an excellent choice for holsters or knife sheaths. The kydex is thin and molded to reduce bulk, and it's held in place by multiple retention screws. There are two belt clips made of blued spring steel and both are adjustable for your preferred carry height and cant.
Performance – This option is not far off in style from the Alien Gear holster listed above. However, the all leather back panel might be something you could prefer, as it is more durable than neoprene and with reasonable treatment might last the lifetime of your gun. You have far more surface area covered with this option, as well. This holster isn't quite as bulky, either, so your Glock 27 should be pretty well concealed. With fully adjustable clips and a handful of retention screws, you should be able to set it up perfectly and fitting to your needs.
What we say – The Galco Kingtuk could be considered a little pricey. However we consider it well worth the money and the saddle leather part, should make up for the price difference.
Pros
Made with genuine saddle leather and kydex
Durable and long lasting
Adjustable belt clips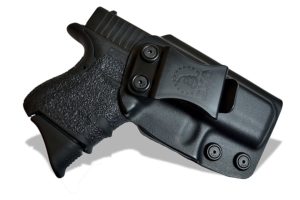 Materials – The last holster on our list is advertised as "chock full of quality and AMERICA", sounds promising, right? This Glock 27 holster is made entirely of boltaron, which is a material similar to kydex. It can be purchased in black, carbon fiber, flat dark earth, black and a really fancy teal blue. It is molded to your subcompact pistol, and it has a total of four retention screws, two at the trigger guard and two at the top of the belt clip, allowing an adjustment to whatever retention pressure you feel comfortable with. Additionally the belt clip is fully adjustable for the wearer's preferred cant and the tightly molded boltaron makes it a really slim and low profile IWB holster while keeping it lightweight at only 3 ounces.
Performance – CYA Supply Co. promises that their products are entirely made in the U.S.A., and the company is veteran owned, so we suppose that makes sense. If that's something you want to support(who doesn't?), then we are happy to say that even without that in mind, this holster is a great choice. Between boltaron and kydex, there really isn't a huge difference, although boltaron is less matte in texture. Realistically, this shouldn't be a deal breaker for anyone. The holster also has the lowest profile out of all the holsters within this review. If you're looking for a slim fit with minimal adjustments to makes, then this is the best option.
What we say – The CYA Supply Co. IWB Holster comes in the same price range as the Galco on this list, making it one of the more expensive options within our 4 picks. However, you get an American made high quality product, support veterans and as a bonus it comes with a lifetime warranty.
Pros
Slim and low profile fit
Boltaron is durable and thin
Fully adjustable cant
Our Favorite Glock 27 IWB Holster
Our top pick for the best Glock 27 IWB holster, is the Galco Kingtuk. Although we did mention the price is a little high, you would be making an investment that should last you quite a lot of years down the road. Although the company doesn't offer a lifetime warranty, we are confident that this holster actually doesn't really need one. The durable saddle leather is very high quality, and it's just flexible enough to adapt perfectly to whoever is wearing it. While more compact holsters may take up less space, this option can be worn all day without ever shifting on your body or coming loose. The adjustable belt clips allow the wearer to play with the height and tightness of the fit, so they're not stuck with a one-size-fits-all situation. We chose this choice over the Alien Gear holster because we like the combination of high quality saddle leather and kydex, however, you can't really go wrong with either and if you want to be on the safe side, the lifetime warranty on the Alien Gear got you covered.