One of the most popular revolvers currently on the market is the Smith & Wesson Model 686 in .357 Magnum.
First sold by Smith & Wesson in 1981, the 686 is one of the strongest and most durable revolvers that Smith & Wesson has ever produced. It has either a 6 or 7 shot capacity depending on the model and directly competes with other large frame revolvers such as the Ruger GP100 and the Taurus Model 66.
Due to the 686's immense popularity in the United States, there are no shortages of holsters available for it.
In this article, we will outline and discuss the four very best brands and models of holsters for the Smith & Wesson 686, but before we get into that, we're first going to dive into the basic types of holster options you have for the 686:
Basic Types of Holsters For The Smith & Wesson Model 686
As was noted above, there are no shortage of holsters for the Smith & Wesson 686 revolver.
Examples of basic types of holsters that exist for the 686 include outside the waistband holsters, inside the waistband, and shoulder holsters.
Out of these, outside the waistband are by far the most common and popular. That's because the 686 was designed by Smith & Wesson to be a large and heavy revolver that you can carry by your side while out in the woods. It can be used for concealed carry (especially with a smaller barrel), though against it wasn't really intended for that purpose.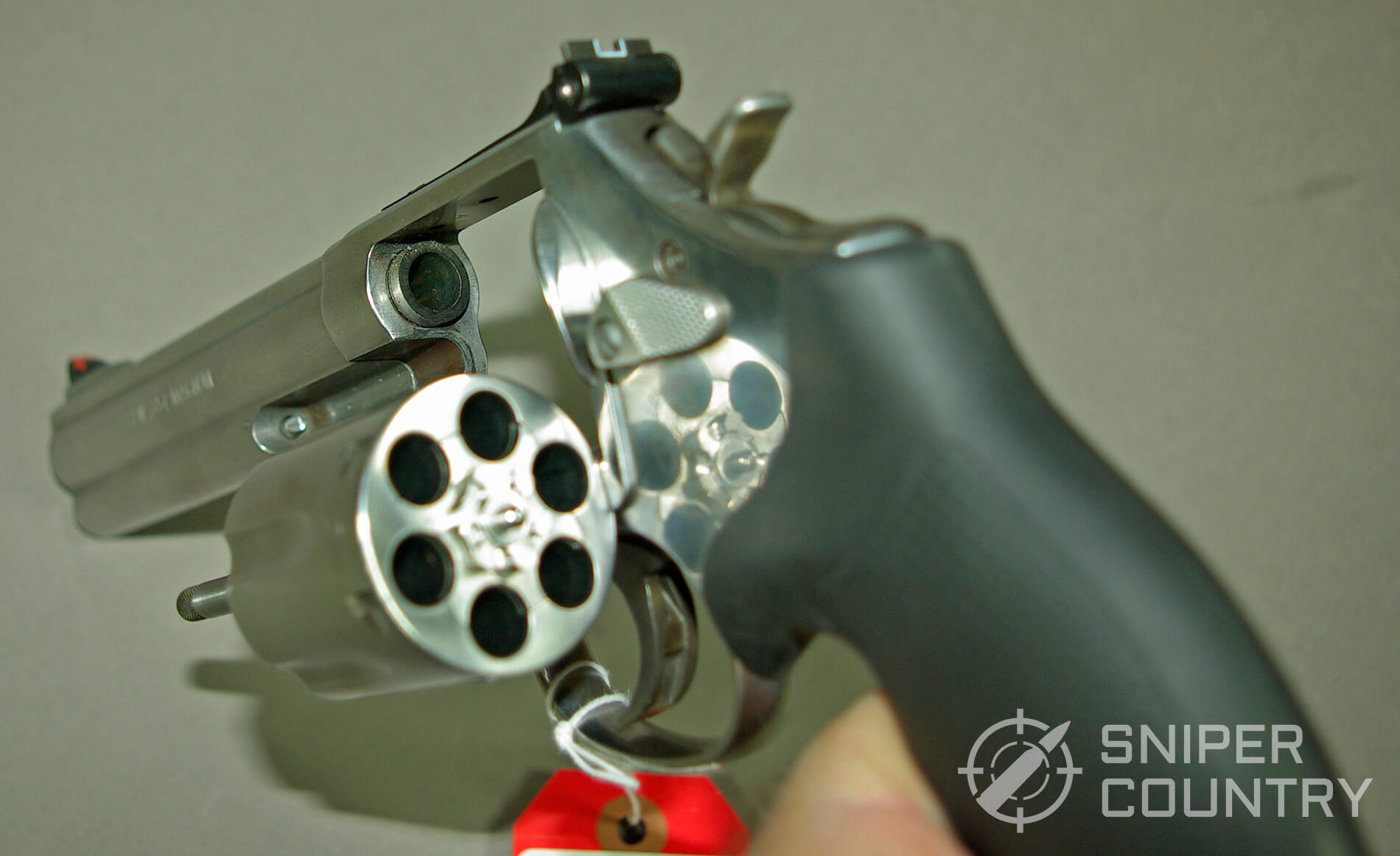 Generally speaking, inside the waistband holsters are only available for the 686 with a two or three inch barrel. Outside the waistband holsters are available for all barrel lengths for the 686, and are far more common than the inside the waistband counterparts.
Another holster option is the shoulder holster, which can be used for both open carry and concealed carry. Many people prefer to use a shoulder holster for hunting because your back rather than your hips support the heavy weight of the weapon.
In addition, carrying a big revolver in a shoulder holster rather than a hip holster greatly reduces the chances of the stock of your rifle or shotgun hitting the grip of the revolver repeatedly (which can be annoying and scruff up the finish).
Now that we understand the basic types of 686 holsters on the market, let's dive into the four best 686 holsters that are out there, presented in alphabetical order: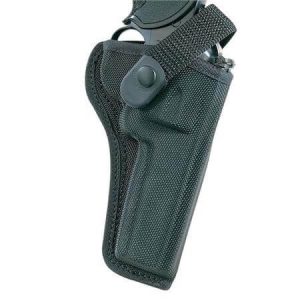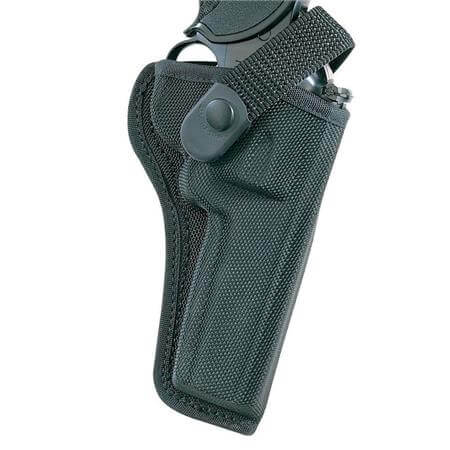 BONUS OFFER: Get your free shooting range targets to print at home!
Get your free targets to print at home!
The Bianchi 700 Black Sporting Holster is a nylon hip holster that is also very lightweight. Designed to accommodate either 4 inch or 6 inch Smith & Wesson 686. In addition, both right handed and left handed versions or the holster are available.
The 7000 Sporting Holster features injecting molding so that your revolver will slip right into the holster. It also features a molded belt loop that is designed to accommodate belts that are up to 1.75 inches thick. In contrast to this, many other kinds of revolver holsters will only accommodate belts that are 1.5 inches thick.
Your revolver will furthermore be kept totally secure thanks to the adjustable front strap. The strap wraps around the top of the hammer to keep the weapon snug in the holster, and can be quickly unsnapped for when you need to draw the gun quickly.
This holster is also positioned at a ten degree forward cant, which is the standard for a holster cant set by the FBI. This helps to make it easier to draw the weapon quickly, and ensures that the grip of your revolver is kept above your belt and slanted slightly forward.
Overall, this is an excellent field holster that will be a great way to hold your 686 by your side on hunting, camping, and hiking trips. Even though nylon may not be the most durable or best material to use for handgun holsters in general, they are undeniably cheaper than other options such as leather, and if you want to go with a nylon holster for your 686 for that reason, the Bianchi 7000 is a great way to go.
Pros
Lightweight
Can accommodate belts up to 1.75 inches
Adjustable front strap
Affordable
10 degree FBI standard forward cant
Cons
Nylon is not as durable or mice as leather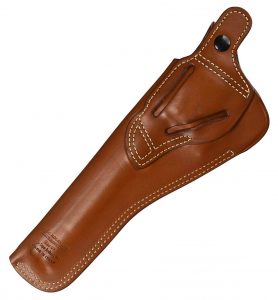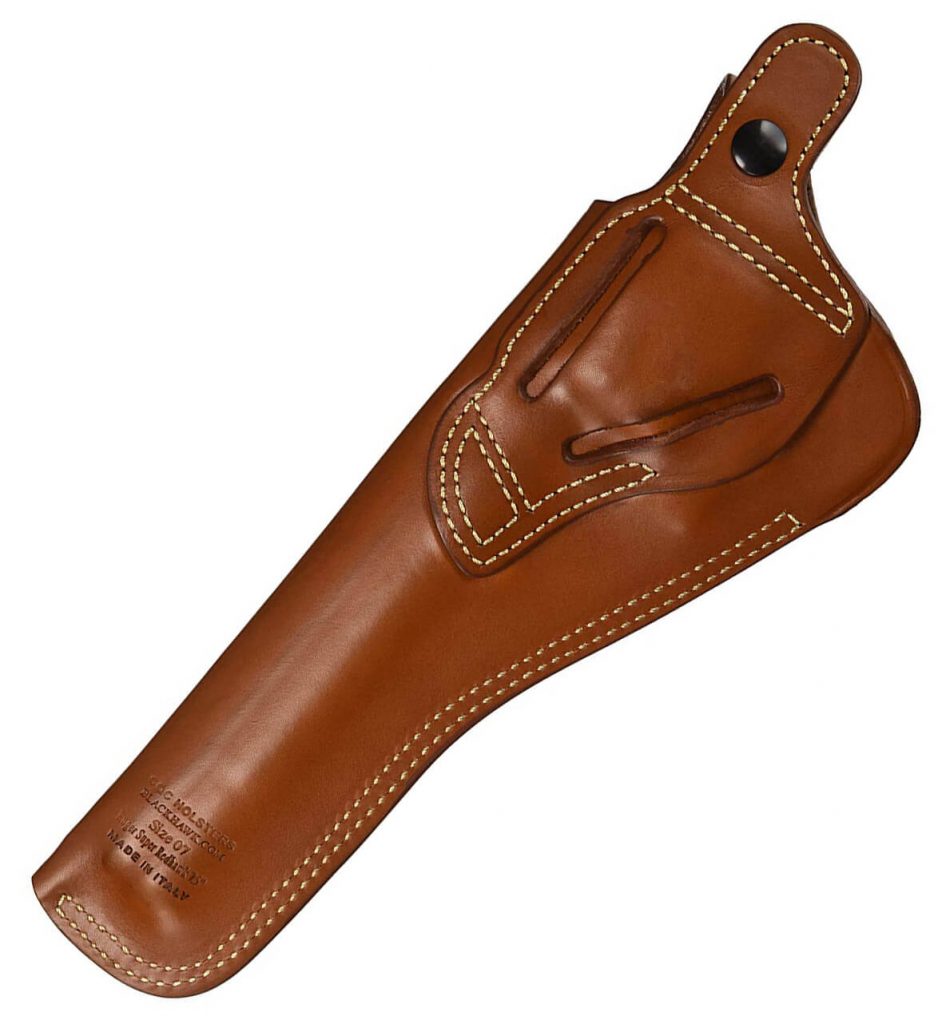 If you would rather go with a leather holster for your S&W 686 over a nylon holster, then you'll want to give a close look to the Blackhawk Multi Position Brown Leather Holster.
The 'Size 2' version of this holster will be large enough to fit the Model 686, and both right and left handed versions are available.
This is a very heavy duty leather holster that is built with high quality and strong stitching. In other words, it's a holster that is designed to last you for several years. It also features a solid thumb break retention strap, which is designed to keep the holster fully secure in place. The thumb break can then be quickly unsnapped by your thumb so you can then draw the weapon with ease.
Another benefit to this holster is the fact that it can be worn either on your strong side hip or in the cross draw position. Some people prefer the cross draw position because you can draw the firearm with either hand. That being said, others yet prefer the quick draw position on the strong side of the hip. Either way, you have options with this holster, which is great.
That all being said, you're definitely paying for what you get with this holster, and the pricing is a bit higher than the nylon Bianchi 7000 holster that we just discussed. You should also know that the leather will be exceptionally tight when you first receive the holster, so you should anticipate an extended break in period a well.
Pros
Solid retention thanks to the thumb break
Heavy duty
Built out of high quality, thick leather
Strong stitching
Designed to be worn either strong side or cross draw
Both right handed and left handed versions available
Cons
Expensive
Leather is very tight upon first being young (break-in period can be a long time)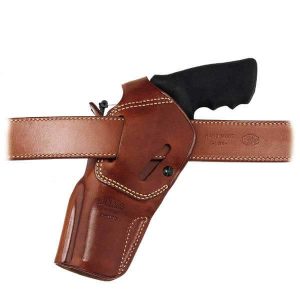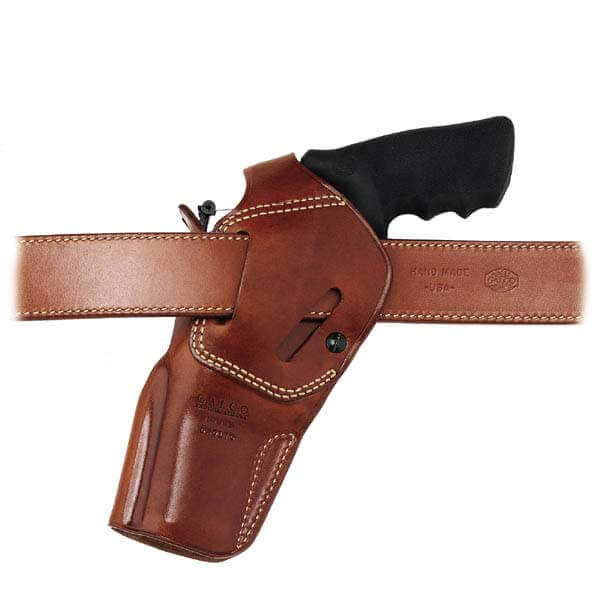 Galco is well known as being one of the most reputable and high quality holster makers on the market today. They manufacture premium products that command a high price, but in exchange, you'll get several years of worth out any product you buy from them before they will need to be replaced.
The Dual Action Outdoorsman Holster from Galco is no exception to this. In fact, this is by far one of the nicest leather revolver holsters on the market today, being a step above in quality over the Blackhawk Multi Position Brown Leather Holster that we just went over previously.
There are both four inch and six inch variations to the Dual Action Outdoorsman Holster available. When you first pick up the holster, you will immediately notice that the leather is very thick and snug. This means that it should take a while in order to properly break it in, but fortunately, once it is broken in you should find that the holster properly retains your 686 snugly while also permitting a fast and smooth draw.
The holster does not feature a thumb break strap like you might expect, but rather features a long leather strap that wraps around the grip of your revolver and then snaps into place. This snap can be easily undone with a simply flick of the thumb or finger, permitting you to then draw the weapon smoothly.
Galco designed this holster to fit belts up to one and a half inches in overall width. Being a very heavy duty leather holster, it would work best with a heavy duty leather belt as well.
The biggest drawback to this holster for most people will be the high price. It will certainly be out of the price range for many people on a tight budget, but remember that you are getting what you pay for as well, and this holster will last you for many years before possibly needing to be replaced.
Pros
Galco is a very reputable holster making company
Leather is very thick
Leather strap wraps around grip to keep the pistol secure in the holster
Cons
Very expensive
Takes a while to break in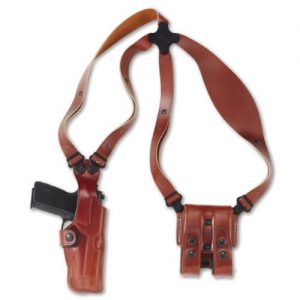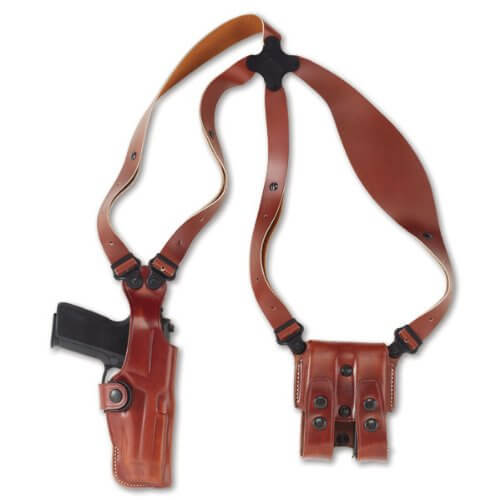 The last holster that we will look at for the Smith & Wesson 686 is the Galco Vertical Shoulder Holster. As we discussed previously in this article, a shoulder holster can be a good way to carry your revolver during hunting, as it keeps it out of the way from getting hit by your rifle stock while being carried in a strong side hip holster.
It should be noted that Galco makes two basic versions of the Vertical Shoulder Holster, one for semi-automatic pistols and then one for revolvers. Obviously, you will need a revolver variant of the holster, and in the right side, to fit the Smith & Wesson 686.
Furthermore, the Vertical Shoulder Holster gives you the option to conceal carry your 686 as well. Conceal carrying with an outside the waistband holster would be rather difficult to conceal, but with the shoulder holster it's much easier.
As with the Galco Dual Action Outdoorsman Holster that we just looked at, the Vertical Shoulder Holster comes in both four inch and six inch variations to accommodate different barrel lengths of the 686.
A big plus to this holster is the fact that it can be carried either vertically or diagonally. This means that you can properly adjust the holster until you get the desired draw angle for you. Granted though, it will be much more difficult to conceal a diagonally canted shoulder holster with the 6 inch barrel configuration.
All of the straps on this holster can also pivot independently thanks to Galco's patented spider harness design. This basically enables the entire holster to move with your entire body for maximum comfort. That's why many users report this revolver shoulder holster being much more comfortable to wear in contrast to several competing holster designs.
That being said, it's also important to note that the strap can dig into your shoulder if the rig as a whole is not adjusted properly, so be sure to play around with it until you get it to how you like it.
On the opposite side of the actual holster is an ammo carrier to hold additional rounds. Specifically, there are two pouches that can each hold a spare speed loader. These are then snapped into place to hold them, though they can also be quickly unsnapped to access them quickly for when you need to reload.
As with most Galco products, the Galco Vertical Shoulder commands a premium price on the market, but the good news is that you will definitely get what you pay for.
Pros
Galco is a very reputable holster making company
Concealed carry is easy
Gun will be kept out of the way while walking or going about your business
Can be easily worn either vertically or diagonally
Very comfortable thanks to the patented spider harness design
Holds additional rounds on opposite side of the holster
Cons
Very expensive
Slower on the draw than a strong side hip holster
Strap can dig into your shoulder if not properly adjusted
Conclusion
In conclusion, these are the four best holsters for the Smith & Wesson Model 686 currently available on the market. No, these aren't the only good holsters for it, but these are some of very best holsters in that they offer you excellent quality, comfort, and retention for the price you'll pay.