Caldwell Shooting Supplies is a name known to many shooters. They are known for, among other things, their excellent shooting rests and their chronographs. I have owned one or two Caldwell chronographs for years and have found them to be accurate and easy to use. Their Lead Sled is one of the most popular rifle rests out there and comes in four versions ranging from $96 to $360. Handgun shooters need not feel left out by Caldwell, as they make several different handgun rests and accessories. You can check out what's available here.
What Do They Make?
If you go to Caldwell's site (link above), you will find a few subheads, links to specific areas. They include:
Rests – 51 items
Targets – 39 items, including paper target holders, IPSC and other AR500 steel targets, target cameras and more
Range Gear – 55 items ranging from chronographs to wind meters to brass catchers and other items
Safety Gear – 24 items including hearing protection, shooting gloves, recoil shields plus other things
Marksman Club – You can join this "club" for free via email and receive monthly tips, early product announcements and discount coupons.
So we see that Caldwell has a large part of the shooting game covered with their products and services. As I said above, I've been a Caldwell user for years. Companies like this and MTM really help make shooting more fun and allow you to perhaps get a little deeper into the game than you might have gotten if you hadn't had access to some of their products.
Out of the mountain of products they make, I requested just a few items from Caldwell to test. I am very familiar with their products but there may be those out there who are not. Hopefully you'll get an idea from this short review about something that may help you out. Let's look at the three specific items I ordered. They are the Caldwell target stand, a brass catcher for an AR-style rifle and a chronograph. We'll look at each in detail now.

BONUS OFFER: Get your free shooting range targets to print at home!
Get your free targets to print at home!
Target Stand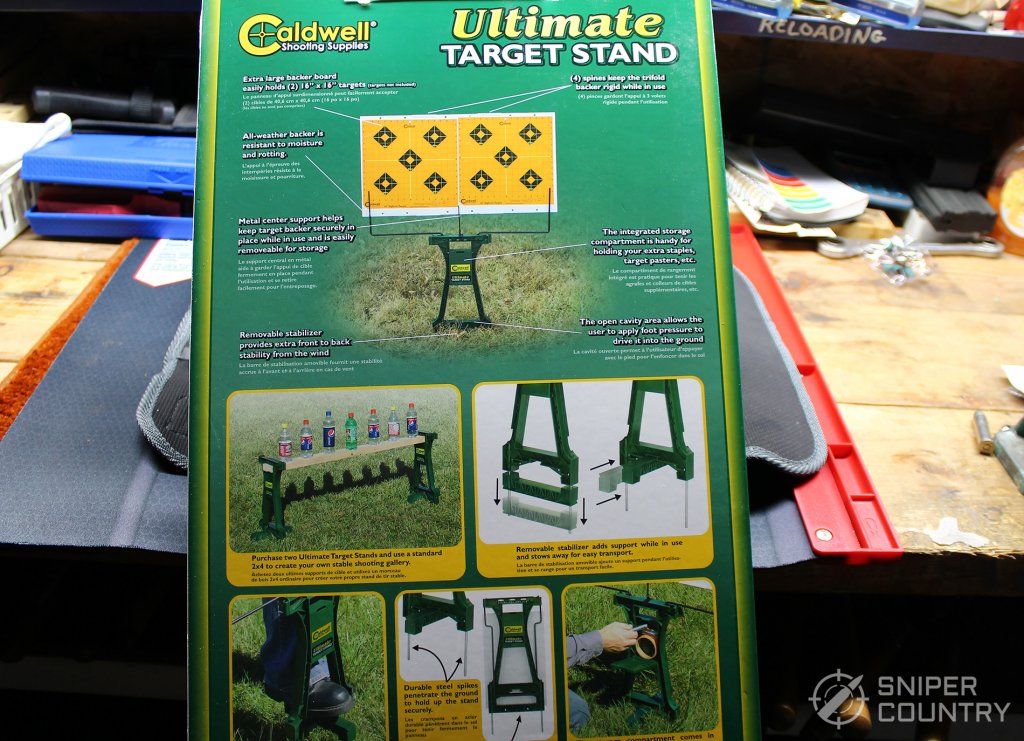 The Caldwell Ultimate Target Stand is extremely useful. I bought one several months ago from our local Academy sports and paid, like, $20 for it and have gotten many times that amount of use out of it.
I requested a new one for this review and received it recently. As you can see, the stand is wide enough for three 8 ½ by 11 targets – I simply use the ones I designed that you can download from this site. Of course, if you wanted to use larger ones, you could. This stand is a little tricky – in a good way. See the "Caldwell" logo in the middle? That is covering a box that can hold push pins, pens, whatever small items you might need. The bottom "rung" allows you to step on it to put the two steel legs into the dirt. They come with round, flat covers if you need them.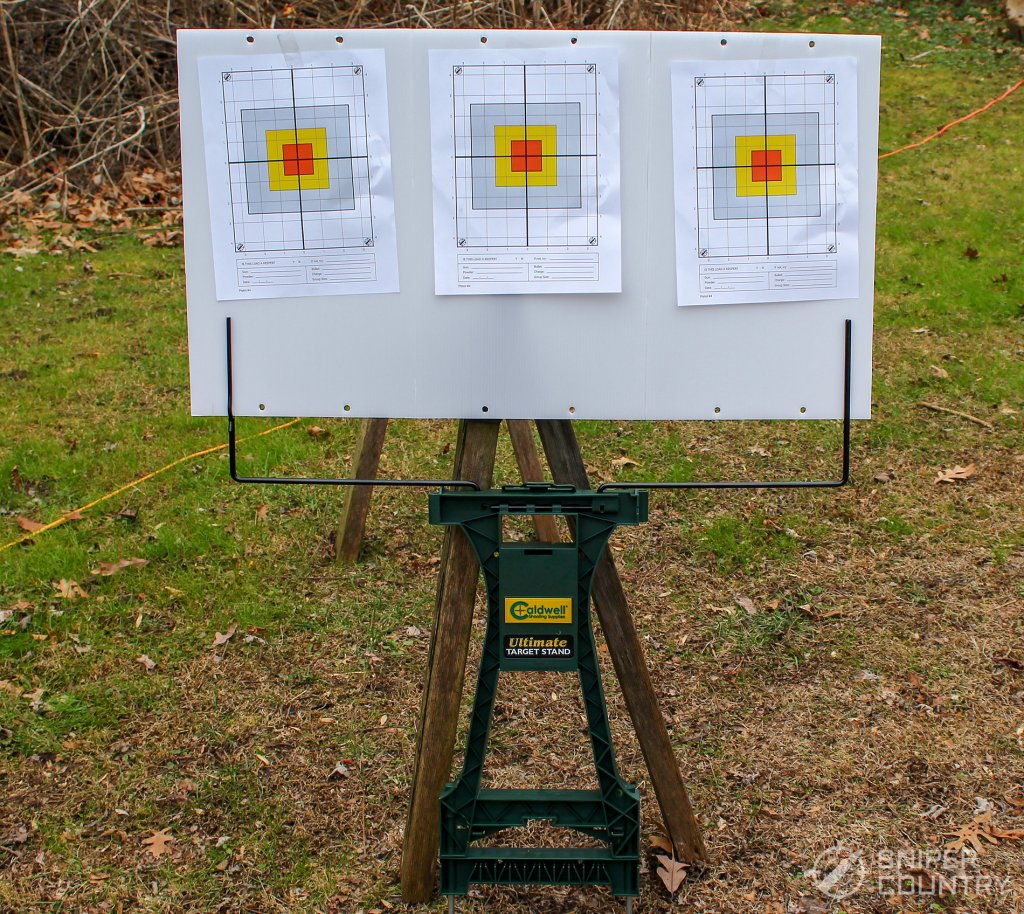 I have shot the snot out of mine – so much so that, before I had ordered a replacement plastic backer, I cut a piece out of a cardboard box to mount my targets on. That's what makes this stand so useful – you don't need the included plastic "corrugated" backer board, as you can use cardboard but it helps to have it. Just slip whatever you're using into the two clips and you're done. I use push pins to secure the targets but you could use tape, staples, whatever. The whole thing is portable – take it to the range with you. I'm fortunate that my range is behind my barn/garage so I just put it under a little roof to keep it dry. Take it out after attaching the targets you want and "step it into" the ground. It's easy. This way, your targets will always be at the same height and not blowing around. For about $22, you can have a really decent stand. If all you need to secure is one target, a smaller version is available for about $12. This stand provides one of the essential pieces of the shooting game, a place to put your targets. You need a good, steady rest and this is it.
AR-15 Brass Catcher
I don't shoot my AR a lot – I'm more of a handgun guy – but when I do, I really hate looking for the empty cases. Picking up brass does not rate high on my "Nice" list. Well, Caldwell has solved that problem.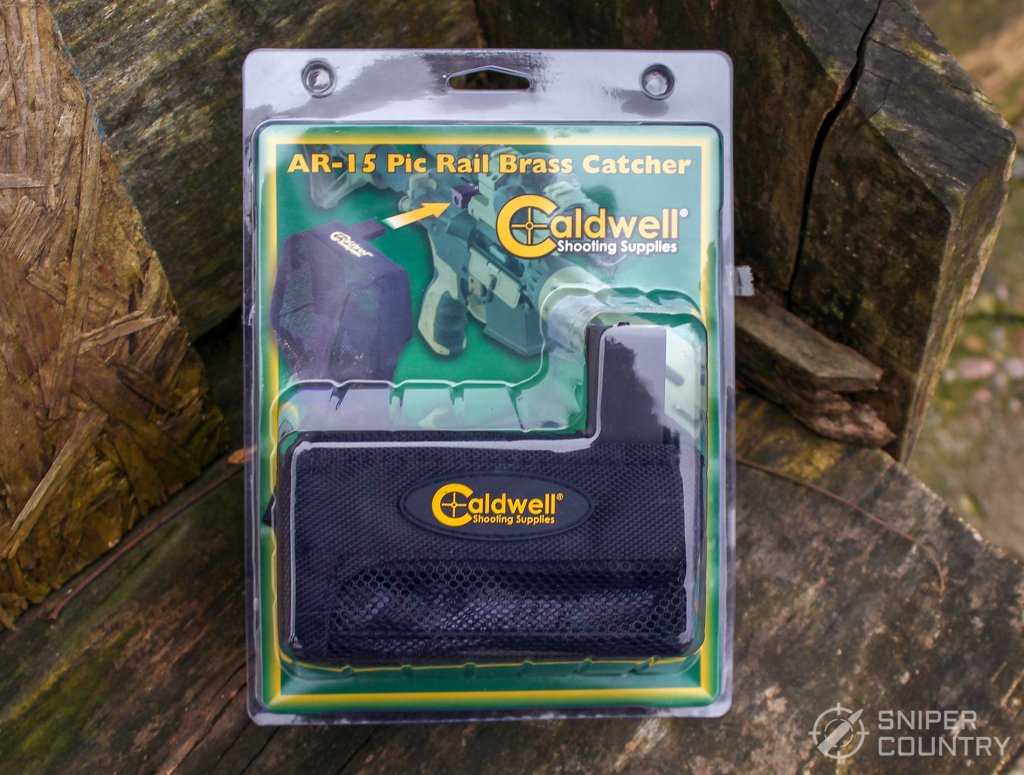 The AR-15 Pic Rail Brass Catcher is a mesh-and-steel gizmo that attaches to your AR's Picatinny rail. You attach the mounting bracket with one Torx screw and then slide the "basket" over it.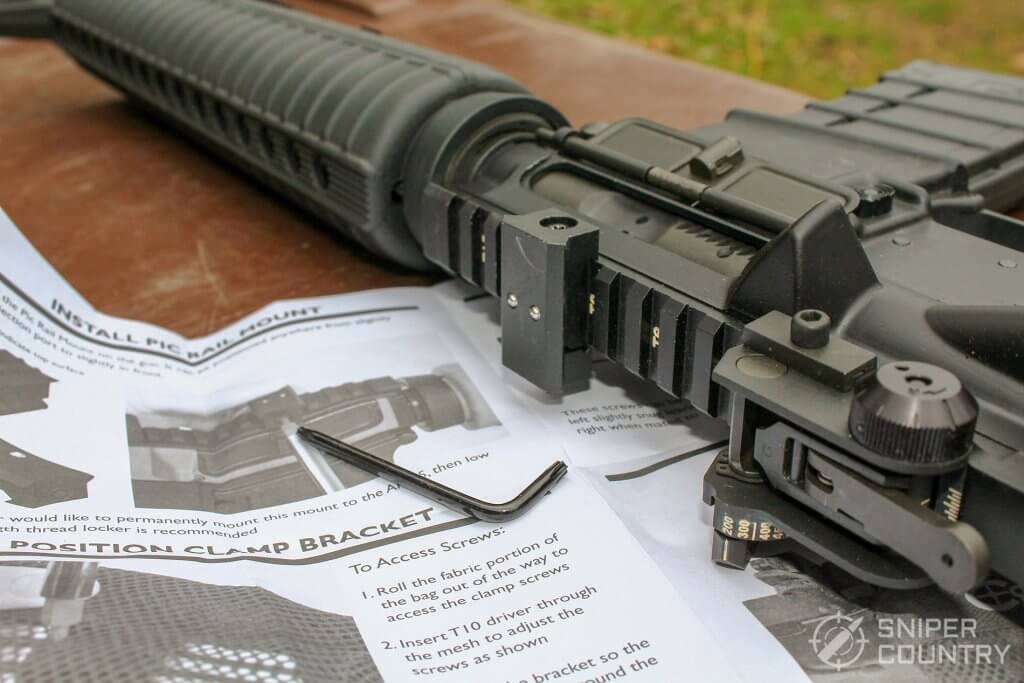 Once you've gotten the thing assembled, you shoot. That's it. Just make sure that the opening of the basket covers your ejection port. I placed the mount right at the middle of the ejection port and that seemed to work.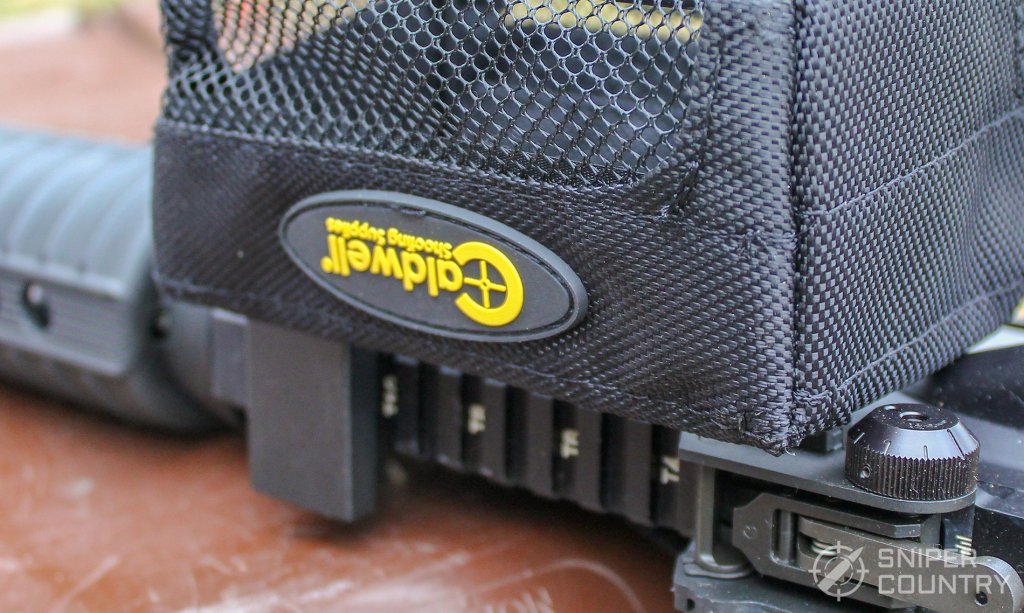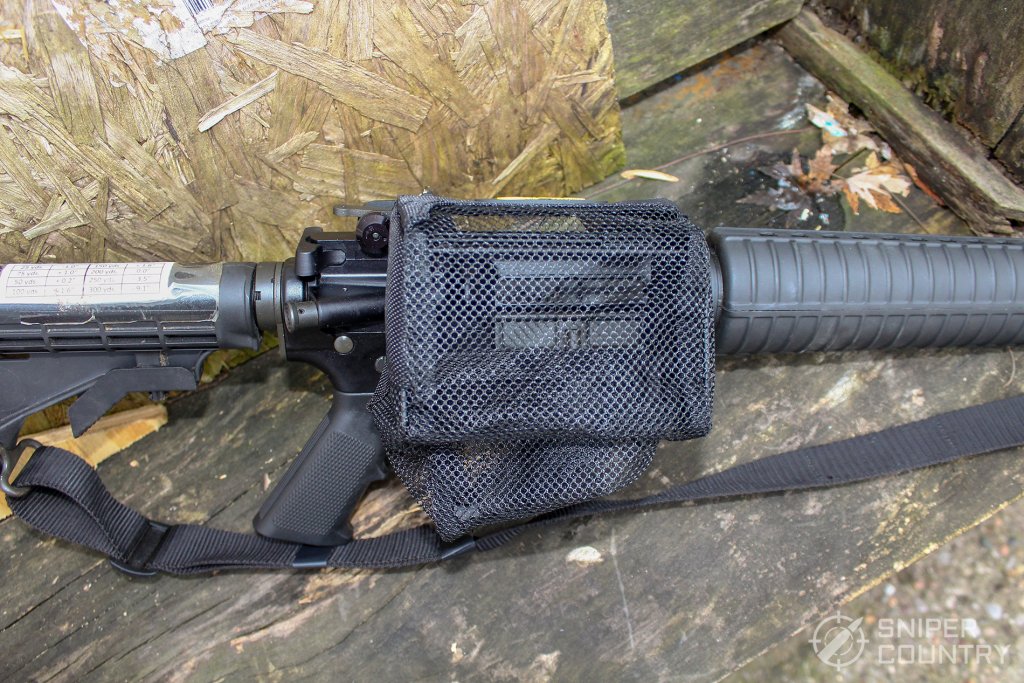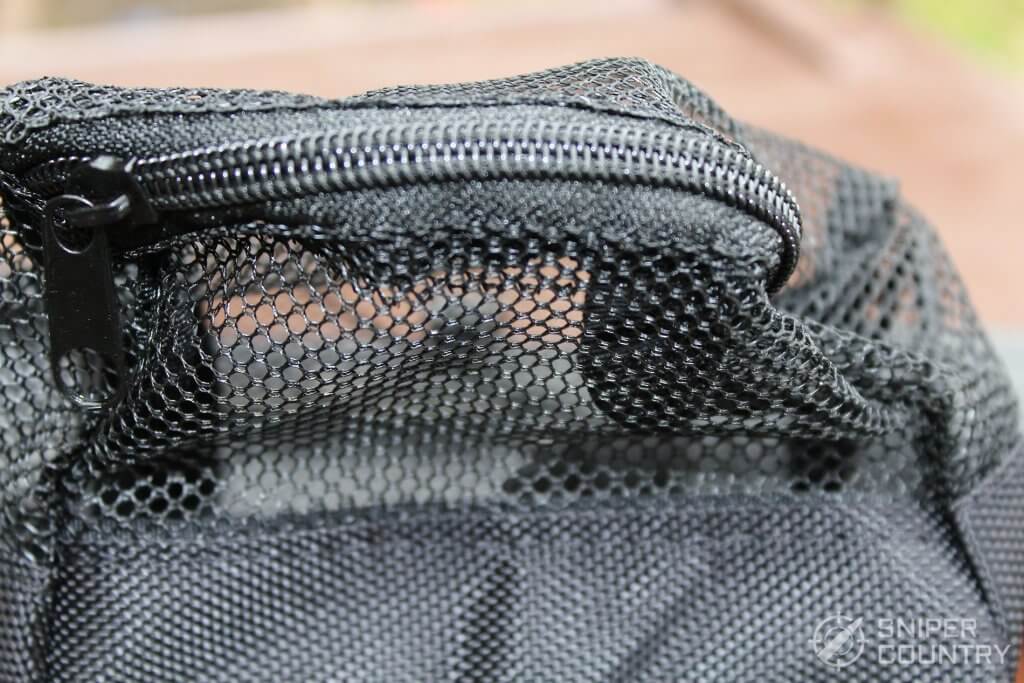 The basket has a zipper that allows you to remove the empties but I just slide it off the mount and get them that way.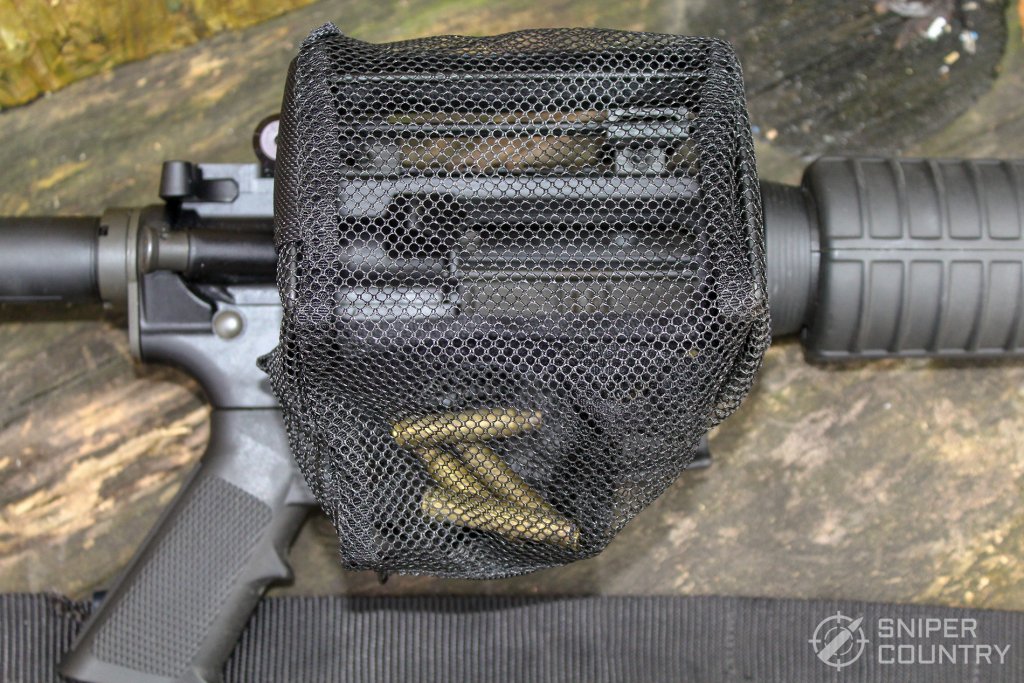 It works. Now – no more hunting elusive cases that have been ejected into the next zip code! It caught the brass as fast as I could pull the trigger. This is a small thing, a brass catcher, but a necessary one. I could really see its usefulness at a public range where your neighboring shooter won't have cases zipping past his or her head. A necessary item? Maybe not, but an appreciated item, for sure. This jewel goes for about $50, MSRP. They have five different items on the AR Brass Catcher page – check it out.
And, last but not least – a chronograph.
Chronograph: Ballistic Precision G2
I have owned a Caldwell Ballistic Precision chronograph for a long time. I have enjoyed using it to measure velocities, and then energies, of my different handloads and factory ammo. Well, I requested the "fanciest" chrono that Caldwell makes, the Ballistic Precision G2, about $236 MSRP.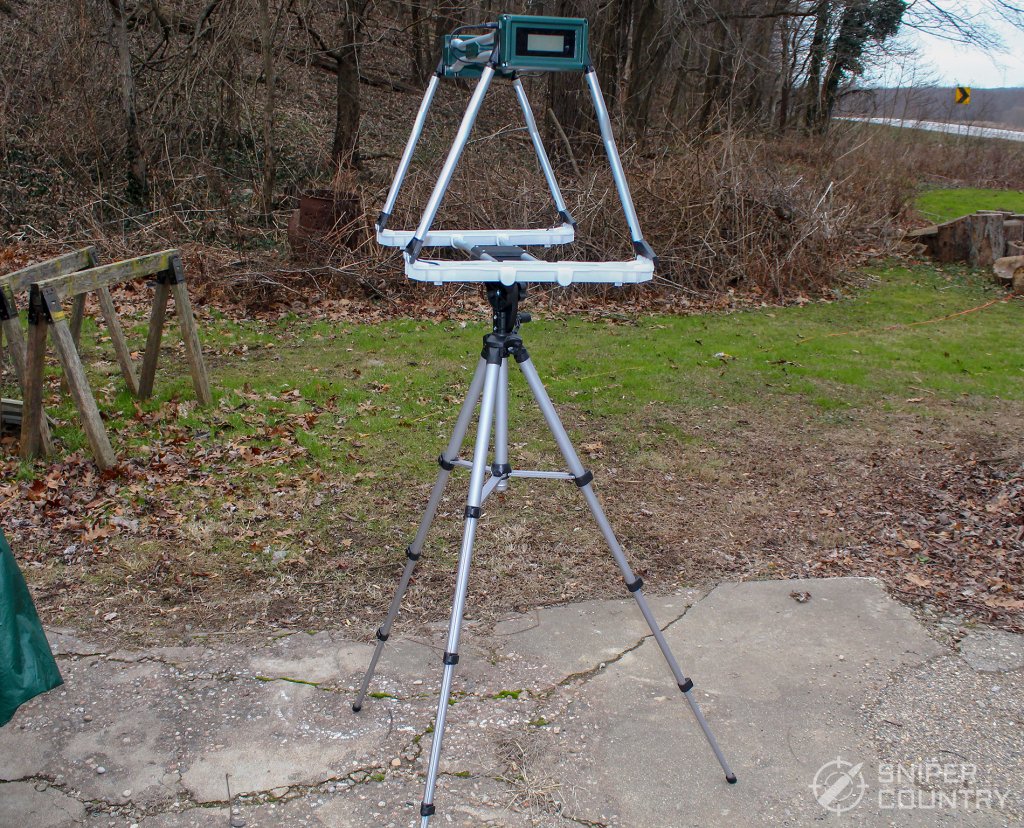 Here it is, sitting on its included tripod in front of my garage. (Don't look at the clutter – focus on the equipment!). You see that it is basically "upside down", with the number-cruncher and sky screens in the top assembly and the base below, screwed to the tripod.
Most chronos will have you shoot above the "box", over the sky screens. With this one, you shoot between the supports and try not to hit one of them, as they carry the wires necessary for its operation. (Well, at least two of the supports have wires – they plug into the top-mounted chrono unit). See below about that.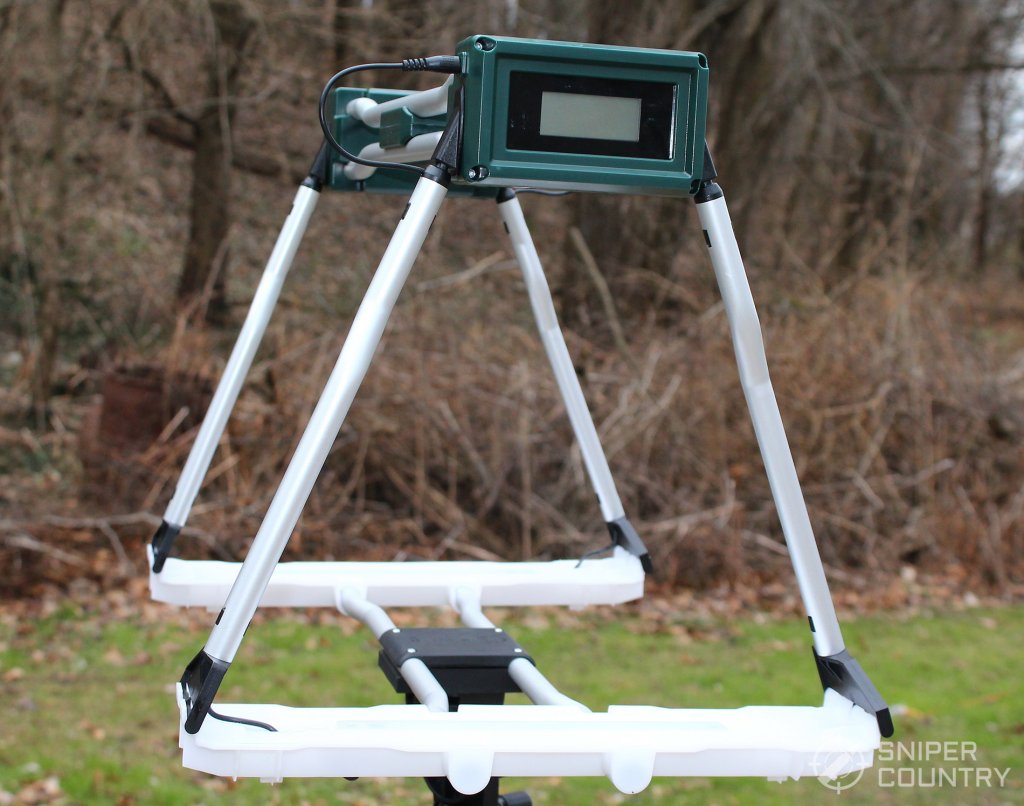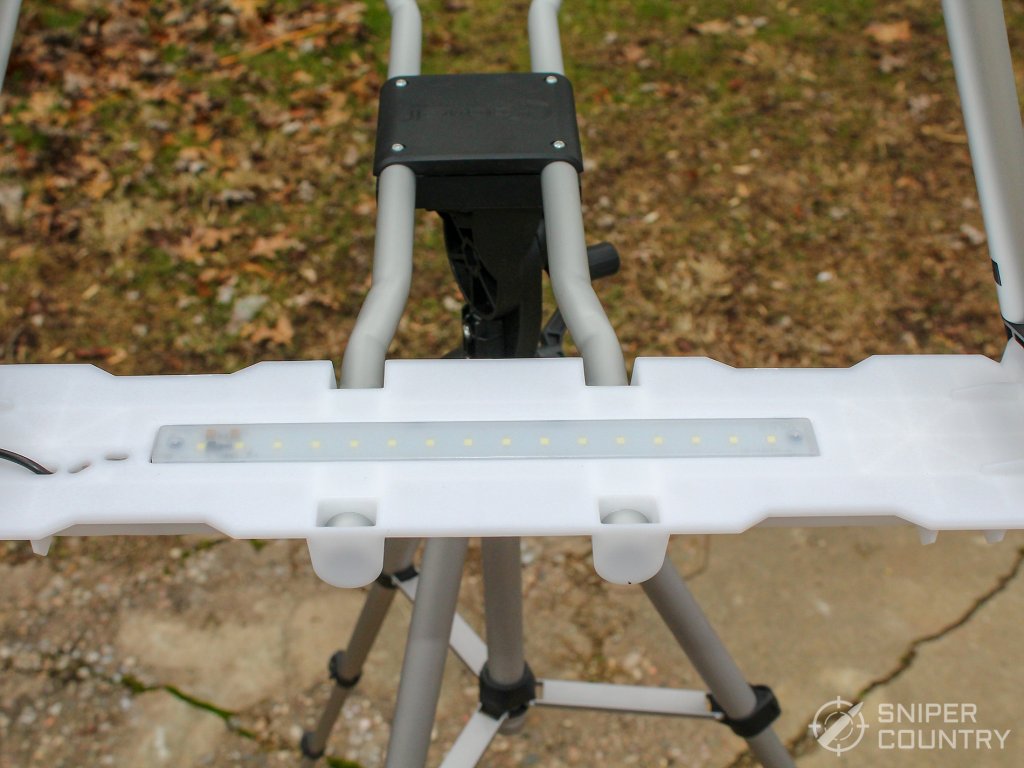 One very cool feature – if you are shooting indoors at a range lighted with fluorescent lights or are outside on a dark, dreary day (like I was yesterday), you can switch on the two LED light bars. They will allow the bullet's shadow to be enhanced and will give a greater likelihood of catching the velocity. The photo at the top of this piece shows the lights on. They really are bright! Another cool feature is the rechargeable battery. Just plug in the included USB cable into the unit and the other end into the provided AC adapter, and then plug it into an outlet. If you live in a 220V country, that adapter is included, as well. Charge it up and go shooting. No more hunting for 9V batteries – that's a "yay" for me. Nice touch.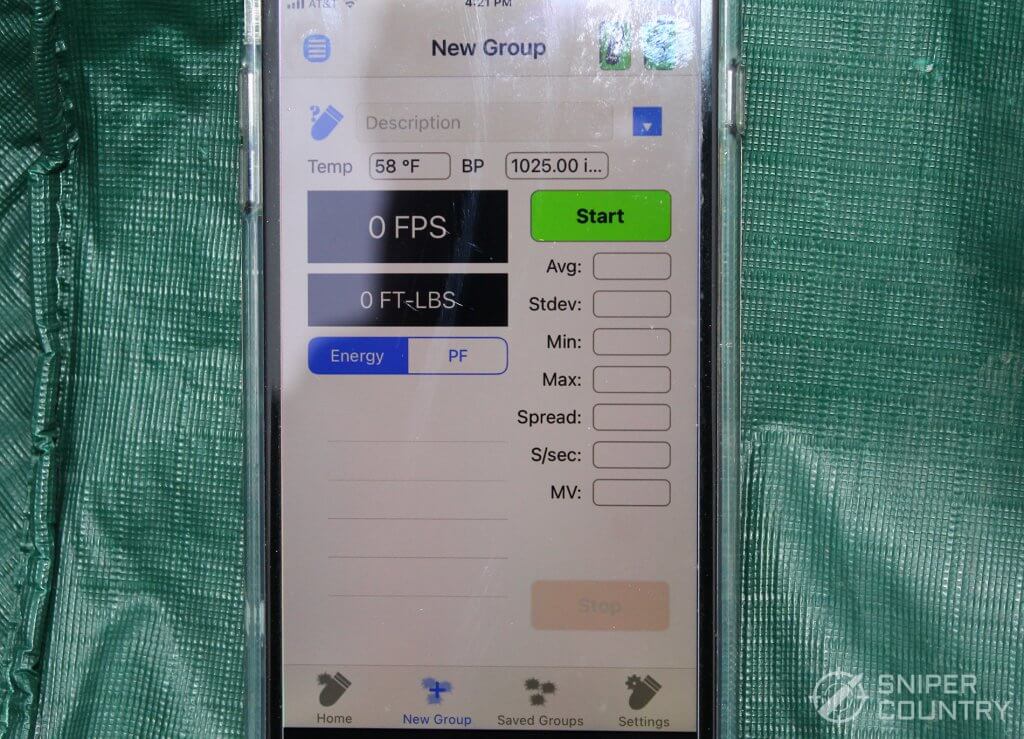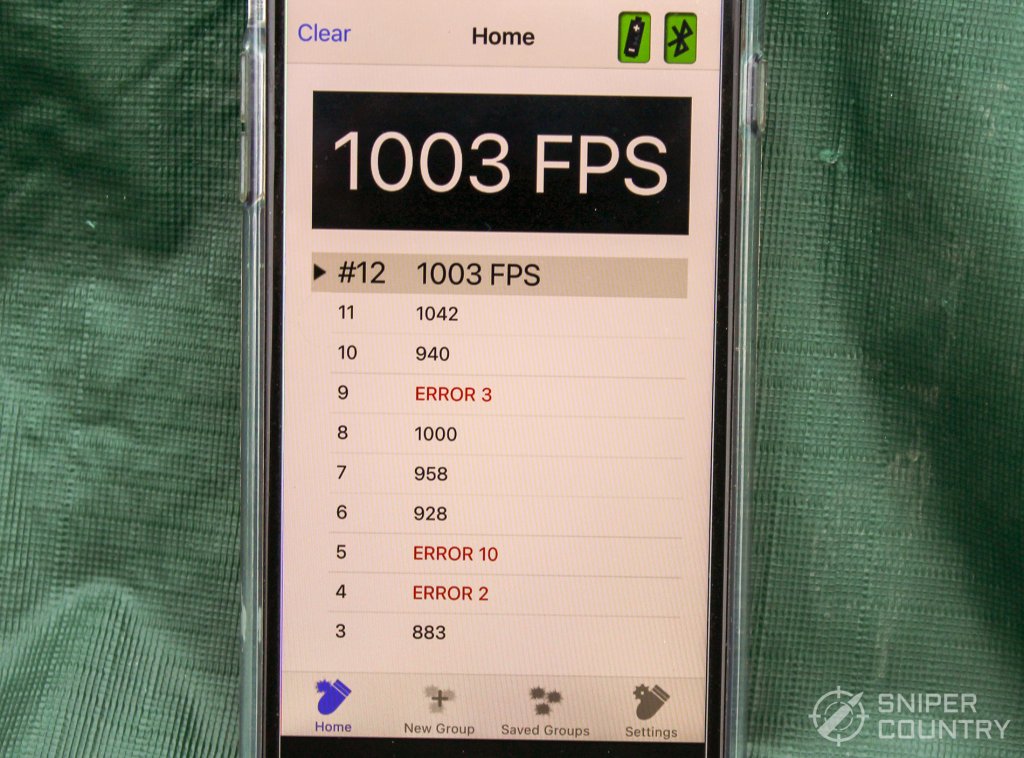 Another plus – get your Android or Apple cell phone out and download the Caldwell app. You can set up a new group and then proceed to shoot as many shots as you want. It will read out all the data shown in the photo above. You can then store this data and either email or text it to yourself or others. That is one neat feature. In the photos above, I simply started shooting without setting up a new group. This is a shortcut if all you want are some quick velocity readings.
Error, Error…
The unit will show you when an error has occurred. You can look these errors up by number but usually they indicate when a bullet has not gone properly over both sky screens, or when the light's not right. Just keep shooting and you will soon have enough data to work past the errors.
Don't Shoot The Chrono!
Caldwell tells you in the owner's manual that if you actually shoot the Chrono (jntentionally or otherwise), your 1-year warrant is void. You need to be especially careful with this one. When I shoot over my older, less-complex Caldwell chrono, I might hit a rod that holds the sun shades in place. OK, so I did that (or one of my sons, who will remain nameless). All that does is take that one rod out. You can get replacements from Caldwell or just find some scrap rod and make your own. I have used my old chrono many times with no sun shades – if you are in the shade or the day is cloudy, it will usually work.
But…if you shoot one of the support rods on the G2, you might be in trouble. (OK, so I shot one of the support rods – I admit it.). The problem is that a wire goes up one side of the two support rods (one front and one back) and plugs into the chrono. I put a .22 LR bullet into the metal support rod and it went between the pair of wires, somehow, without cutting either one. I bent things back into place and applied the red-neck cure-all for things that should not move, duct tape. It still works. However, I cannot recommend this procedure. PLEASE be sure to line your shot up so as to allow the bullet to travel between all four supports. I thought I was lined up properly with my S&W Victory pistol. Just read the manual that comes with it and you should be good. I am blessed that the unit still works, but worst case, for about $27, I can get a replacement support with wires.
To Sum Up
If you shoot, you need Caldwell. I have only barely scratched the surface of the products they make – please peruse the site and you will most likely find something that you need. From AR500 steel IPSC or other targets to chronos to Lead Sled rests to … you name it, they probably make it. If you want to become a better shooter, this is the way to go. Or, if you are like me and don't like picking up brass, they have several items that will help you in your effort to do that – namely, brass catchers.
If you've had experience with a piece of Caldwell equipment, tell us about it below. As always, keep 'e in the black (and out of your chrono!) and be safe.