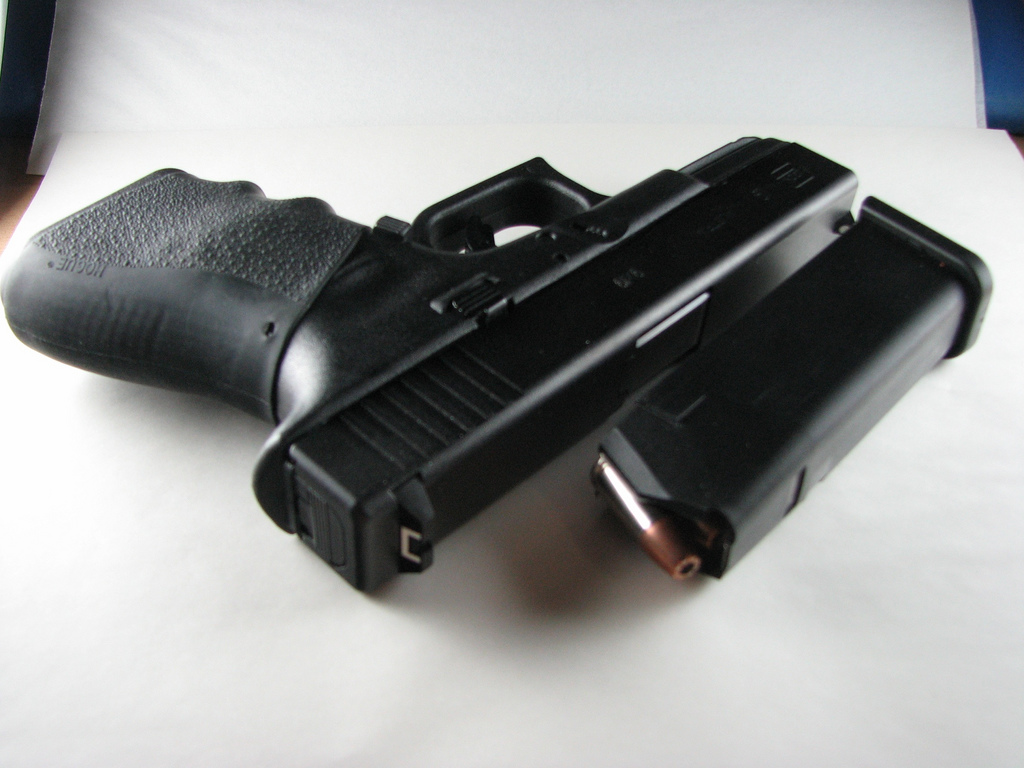 Glocks have, again and again, proven to be one of the best handguns for self defense and tactical purposes. Whether you're a professional in the field or the everyday gunowner, a Glock pleases everyone. Ideally, most Glock owners carry a 19 or older, and you'll want to invest in the best IWB Holster for your Glock 19. We know some of you own the Gen 4, and we know finding holsters and other accessories leaves you limited on choices and how budget friendly your prices will be.
We put together a list of our top Glock 19 holsters, and we've included a couple that should satisfy Gen 4 owners too. As always, we'll let you know what our top pick is at the end of this article. The good news is that every one of these holsters is under $100! Our intent is these cost friendly options will allow you to focus on what will best suit your needs and your Glock model. Happy shopping!
This might also interest you: Our guide on threaded barrels for the Glock 19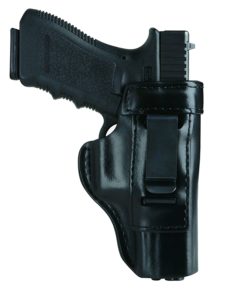 Materials – The Gould and Goodrich IWB Holster Glock 19 and 17 models come in an all black, top grain, vegetable tanned leather, and they're made in the United States. For older models, it can be ordered to fit both Glock 17 and 19, but it can fit older models as well. This could easily be the best Glock 19 holster based on the simplistic design and comfortable fit. The leather material is soft and flexible, and it is secured by a single waistband clip, which can be worn both inside or outside of the waistband. Keep in mind, though, that wearing it outside of the waistband will change the hand you draw with in this case. It will also fit Gen 4 Glocks.
Performance – The Gould and Goodrich Holster is cheap, simple, and comfortable. If you have particularly standard concealed carry purposes, this would be a great option for you, as it is a good choice for anyone who needs to stand and sit frequently throughout the day. It fits most Glocks, including the Gen 4, thanks to the flexible material. That being said, the retention is a standard Level I, and there is not much else protecting your Glock from exterior elements. You'll likely have to replace this holster after some time, but it's cheap enough that this shouldn't be a huge concern.
What we say – This Glock 19 concealed carry holster is a good option for anyone who is testing out conceal carrying for the first time or for anyone who is looking for comfort over tactical purposes. It only costs around $25 bucks online, making it the cheapest option within this review. If you simply need the added security knowing your Glock is safely at your side throughout your day, the Gould and Goodrich IWB Holster is your best bet.
Pros
Cheap cost
Comfortable leather
Fits 17, 19, and Gen 4
Cons
Will need to be replaced over time
Not best for tactical purposes
Sale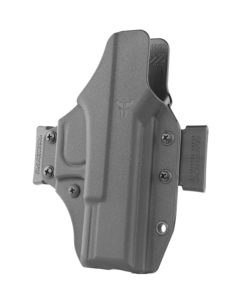 Materials – The Blade Tech Industries Total Eclipse Glock 19 Concealed Carry Holster is U.S.A. made and constructed of super tough polymer materials in all black. Each Blade Tech Eclipse Holster is precision molded to the proper measurements of each Glock model for the most secure and solid fit. This holster is intended to sit high and tight to the wearer for maximum concealment and best tactical uses. However, versatility is also in mind: these holsters all come with the Total Eclipse Conversion Kit, which allows any Glock owner to adjust their holster to right hand or left hand carry, as well as an IWB, OWB, or FBI cant. There is a tension space located under the trigger guard, which can fine tune any adjustments made. An audible click can be heard any time your Glock is re-holstered.
Performance – We love that the Blade Tech Total Eclipse Glock 19 Holster IWB model is all about versatility, allowing for basically any cant and any drawing hands. With the addition of the tension screw, you won't be sacrificing any type of security by playing with the dynamics of this holster. If you feel you have more tactical purposes, or you mean serious business with your conceal carry, then this is your best holster for Glock 19 and 17 models. We would not suggest using this with a Gen 4, and you might be sacrificing some comfort with this purchase – it's lacking any ergonomic shaping. That being said, it's well worth the purchase if it fits your needs.
What we say – We think the Blade Tech Total Eclipse Holster is a great choice for anyone with tactical needs in the field or for general self defense. You'll be paying between $40 to $45 for this holster, which is a good price considering all of the options that come with it. If you feel you need to experiment with what type of cant and carrying style is best for you, this is probably the most cost effective way you're going to achieve that.
Pros
Wallet friendly
Very versatile: LH/RH, IWB, OWB, FBI cant
Made of tough polymer
Cons
Fits mainly classic Glock models only
Can be uncomfortable
Blade Tech Industries Total Eclipse
The Total Eclipse holster by Blade-Tech Industries was designed to ride high and tight on the body thus allowing for ultimate concealment when warn IWB or OWB
The Total Eclipse conversion kit is included with the holster, allowing the user to adjust from RH to LH carry, as well as modify the holster to be warn IWB, OWB, or FBI canted in any of those positions
Fit is adjusted by fine tuning the tension spacer located underneath the trigger guard, keep in mind desired fits might change when converting the OWB to IWB carry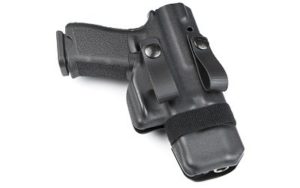 Materials – The Raven Concealment Systems Glock 19 IWB Holster is made in the United States and is constructed of an all black Kydex body with soft belt loops. This one has a full height body shield to protect your Glock from sweat and debris, which will also protect the wearer from any uncomfortable friction. The profile is very slim and adds minimal bulk and weight to the firearm. The trigger guard and muzzle area of the holster are specially molded for easy fitting between the wearer's body and their pant waist, so optimal concealment can be reached. There is also an innovative 360 degree Velcro strip for making minute adjustments to retention. The soft loops make this holster ambidextrous, and it comes with an unconditional lifetime warranty.
Performance – The Raven Concealment Systems Glock 19 IWB Holster is a progressive combination of comfort and versatility. The protective but comfortable Kydex material allows for smooth drawing and reholstering, and it is still comfortable enough to wear all day whole both sitting and standing. It's molded just enough to allow for the highest concealment without adding too much bulk, like many other molded holsters. For some, the retention Velcro strap may be a concern. It will really be up to the buyer to decide how much they like it. On one hand, the strap allows you to adjust the tension to as much or as little as you'd like down to the millimeter. On the other hand, it's possible the Velcro can become loose or worn out over time, and the last thing you want is for your Glock to start sliding down your pant in the middle of the day. We personally think it's worth it to try it out.
What we say – This is another fantastic choice for any Glock owner who has a high preference in comfort, but requires a little more than a basic, soft leather holster. The Raven Concealment Systems IWB Holster Glock 19 Series will cost your around $50 online, which is still a very affordable cost, considering we've previously covered holsters that can run you easily over $100. This is the best IWB holster for Glock 19 models for any conceal carry owner who doesn't mind investing an extra buck for both comfort and maximum concealment.
Pros
Middle of the road price
Molded Kydex for smooth draw and extra concealment
360 degree Velcro retention strap
Cons
Velcro retention strap not for everyone
Only for Glock 19 and 17
Raven Concealment Systems Morrigan
Raven Concealment Systems, Morrigan IWB Holster, Fits Glock 19/23/32, Ambidextrous, Black Kydex, with Soft Loops
RSR Group is a nationwide distributor of firearms and shooting sports accessories
This product is manufactured in United States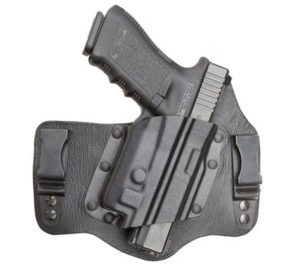 Materials – The Galco Kingtuk Glock 19 Gen 4 Holster is another U.S.A. made IWB holster constructed of a Napa leather back panel and a Kydex holster pocket. The belt clips are made of blued spring steel. The Napa leather back panel faces the wearer's exterior, while a comfortable saddle leather panel covers the waist, distributing the retention over a wide surface area. The Kydex holster pocket is molded to the specifications of your Glock model, and it is manufactured for Gen 4 models as well. The trigger guard is fully concealed, while the muzzle is left open ended. This holster can be adjusted to your preferred cant and height.
Performance – The Galco Kingtuk Glock 19 Holster IWB model is all about proper retention and high quality materials. If you move around frequently, or you're looking to wear you Glock most of the day, then this is a wise option to look into. If you have the dough to invest in a holster that should last as long as your Glock, again, we suggest looking into Galco. There's very little to complain about unless the style of this holster simply doesn't fit your needs. The wide body panel allows this holster to be a good fit for anyone of just about any shape and size. If you're nervous about your Glock rocking back and forth or sliding around against your body, you shouldn't have those concerns with this holster. The leather is breathable, so there shouldn't be a buildup of sweat either. The Kydex keeps just the right parts of your Glock protected.
What we say – Like we mentioned before, there's very little to complain about with the Galco Kingtuk Glock 19 Holster IWB Series. It will cost you a little under $70 online, but we think it's totally worth the investment if you have the cash. For anyone who is nervous about other holsters leaving too much room for sliding and rocking, this is the best holster for you.
Pros
Comfortable leather materials
Kydex protecting Glock
Wide body panel
Blued steel belt loops
Sale
Galco Kingtuk
DESIGNED TO FIT: Galco's KingTuk Deluxe tuckable IWB Holster is designed and molded to fit the Glock 22 Gen 2-5. NOTE: For a complete list of compatible models please refer to product images.
COMFORTABLE & SECURE: The highly popular KingTuk Deluxe IWB holster reigns supreme in comfort, speed, and versatility! The lined leather backplate design makes it comfortable against the body while creating a snug and secure fit.
UNRIVALED SPEED & VERSATILITY: The patented KingTuk Deluxe provides a comfortable backing plate lined with Premium Center Cut Steerhide, a smooth leather front and a rigid Kydex holster pocket for a fast draw and easy holstering.
Our Favorite Glock 19 IWB Holster
We think, hands down, the best IWB Holster for Glock 19 firearms is the Galco Kingtuk Holster. For one: this is one of the few holsters that will fit older Glock models and the Gen 4. Two: this is the only option in this review that had protective and durable material holstering your gun and soft, comfortable materials secured against the body. This is also the only holster we have here that won't allow for any rocking back and forth or sliding up and down. We realize it's the most expensive choice; but, if you're serious about conceal carry, then you know you need to invest in a quality product. The Galco Kingtuk is still under $100, so we say go for it!
Price incl. tax, excl. shipping/ Affiliate links / Images from Amazon Product Advertising API