If you have ever seen a soldier's tactical weapon, chances are you saw an ACOG scope. If you look around at civilian tactical weapons chances are you saw an ACOG clone.
The ACOG (Advanced Combat Optical Gunsight) was designed for distance and accuracy. An original quality one will cost you several hundred dollars or more. However, there are a lot of cheaper clones on the market. These are four good performing ACOG style scopes you can get without breaking the bank.
GGD Trijicon ACOG 1×32 Red Dot Sight: Best ACOG Clone Overall
Sightmark SM26021 Wolverine Red Dot Sight: Best Compact/Lightweight ACOG Scope
Ozark Armament 4X Magnified Optic: Best Budget ACOG Alternative
CRUSHUNT 4×32 Red Chevron Glass Fiber Optic: Best ACOG Clone for Low-light Condition
In this article, we'll look at some of the best-performing clones. We'll also discuss the features that make them worthy of your time and money. While we will give you my top pick, you won't go wrong with any of these.
Top Pick

GGD Trijicon ACOG 1x32 Red Dot Sight

Excellent brightness adjustment settings
Integrated rail mounting base
Excellent lens
A little on the heavier side

$87

Shop NowClick to read my review
Sightmark Wolverine Red Dot Sight

Low Power Consumption
Lightweight
Has Night Vision Mode
Not The Most Durable

$126

Shop NowClick to read my review
Ozark Armament 4X Magnified Optic with Illuminated BDC Reticle

Durable scope
It has 4X magnification power
With illuminated BDC reticle
Bulky and a bit heavy

$74

Shop NowClick to read my review
CRUSHUNT 4x32 Red Chevron Glass Fiber Optic

Makes a clear picture of the target
Useful in low-light conditions
Chevron reticle and real-fiber optics
Short eye relief

$106

Shop NowClick to read my review
BONUS OFFER: Get your free shooting range targets to print at home!
Get your free targets to print at home!
What is an ACOG Scope and ACOG Clone?
The optics company Trijicon made these scopes popular.
These are mostly fixed scopes. Although you will sometimes come across variable power models. The ACOG is a compact scope that can work in a variety of lighting settings, from bright to low/no light. They also use a Bindon Aiming Concept which allows both eyes to be open when you aim. It allows you to keep a full field of view while using the scope optics.
The illuminated reticle of the Trijicon ACOG scopes is powered by a phosphor system. This is due to tritium's radioactive decay. It has extraordinary long-term power (tritium has a half-life of 10-15 years). These scopes use a fiber optic light pipe during the day. As a result, natural sunlight is captured and funneled for reticle lighting. It also helps match the brightness of the scope with the surrounding light.
If you look at a Trijicon ACOG replica, the illuminating power comes from a battery source. However, your ability to use the "both eyes open" aiming concept is also limited with a Trijicon ACOG clone. But, hundreds of Trijicon ACOG clones are available on the market. So, for your ACOG scope, there are various options to explore!
You might be wondering why you'd bother with a Trijicon clone in the first place. When it comes to body structure and technology, most often name-brand models are the way to go. However, even the cheapest real Trijicon ACOG scope costs close to a grand. If you want the best, you better be ready to drop close to 3 grand.
That's a steep price for most tactical weapon owners. Especially for those not taking their weapon into the rigors of combat. As a result, you might be better off looking at an ACOG replica. Moreover, our next section is a short buying guide for what components and features to look for in a good ACOG clone.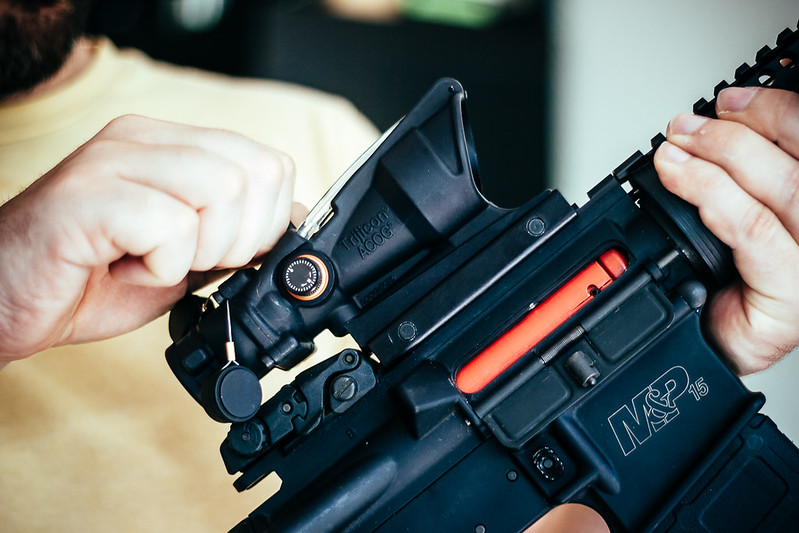 What Makes a Good ACOG Scope?
Military-grade scopes are tough and have low-light capabilities. Small scopes with illuminated reticles and fiber optics eliminate the need for batteries. Thus, it makes a good scope. The Trijicon optic is also one-of-a-kind because of the fiber optic and tritium combo. ACOGs also instantly alter the brightness to improve your chance to lock on to your target in dim light.
Scopes' aim should be to ensure excellent field reliability. It can withstand a beating and still give crystal clear vision. You can even immerse it in water without letting moisture enter the interior. In addition, this type of scope allows you to concentrate on your target and keep aware of your surroundings. These kinds of scopes are excellent rifle scopes for tactical scenarios.
ACOG Replica Buyers Guide
Material
ACOG scopes should be compact and durable, regardless of whether they are Trijicon or ACOG replicas. If you are mounting an ACOG scope, the chance of the scope getting knocked around is possible. You need a material that is going to stand up to weather abuse. It must also remain lightweight. Aircraft-grade aluminum or magnesium alloy is the only material you should ever consider.
Magnification
Most ACOG clones have fixed magnification. The magnification level on most ACOG clones is 1X. There are several models out there that have higher power magnification. Nevertheless, it almost never exceeds 5X. What you will want to get all depends on the situations you think you and your firearm will find yourself in. If shooting is going to be up close and personal, a 1X will give you the best wide field of view. Lastly, you will need a higher magnification ACOG if the majority of the shots are going to be medium to long-range.
Brightness/Battery Life
ACOG replicas are not going to be using tritium as their power to adjust brightness levels. Some form of a lithium battery supplies the power source. In addition, pay attention to the manufacturer's battery life claims. Most clones worth buying have a battery life of between 100-500 hours. It is of course when managed properly. Battery life is important as well as the illuminated reticle. Those are both one of the most important features of ACOG. Look for a clone that has a reticle with a range of brightness settings that lasts. If a clone doesn't have one, they are not worth buying.
Rail Compatibility
Rails for rifles, shotguns, and handguns come in a variety of forms. Some of these scopes come with built-in mounting bases. The scope does not come with a base so you may also have to pay extra for them. Check to see if the ACOG you're considering will fit the railing on your weapon.
Durability
A genuine ACOG is practically unbreakable. They're sturdy, built to handle harsh environments, and nitrogen-purged to prevent fogging within the scope. Because you're unlikely to have long-term combat encounters, this is the ideal spot to negotiate a deal. The best choices are a high-quality aluminum alloy or aircraft-grade aluminum. Choose a scope that will last for a long time while still providing you with the experience you desire.
Price
These are ACOG knockoffs. Any ACOG should not cost more than $500 apart from the Trijicon-branded scope, which is the actual deal. If you're going to spend that much on a clone, you might as well get the real thing.
Fiber Optics or Battery Powered?
For the illuminated reticle, ACOGs have typically used fiber optics. Without the use of batteries, fiber optics provide convenient illumination. They use the ambient light in the environment to naturally illuminate the reticle. There will be less illumination if there isn't enough light. On the other hand, battery-powered ACOGs function more like a standard red dot. You select your favorite brightness level with an illumination dial. Regardless of the ambient light, battery-powered models are also bright.
Best ACOG Clones And Alternatives
In the following section, we will review a few great options. We will let you know what in particular makes them a good buy.
GGD Trijicon ACOG 1×32 Red Dot Sight
This Trijicon ACOG scope comes at a competitive price and covers all bases well. It is solidly built and rugged, offers a clear picture and a strongly illuminated reticle for fast target acquisition. Starting with the lens, the 32mm objective lens features optical coating for high contrast visual ability as well as excellent light transmission and quality sighting. The contrast is extremely important in low-light environments where colors and outlines begin to blend.
The reticle is illuminated and you can cycle through red or green and select five different brightness levels. It's clear and crisp. It has an integrated mount that will fit any Weaver-style 20mm railings. The base has a durable and secure locking system that keeps the scope zeroed and on target throughout use.
The scope housing is waterproof, fog-proof, and shockproof. All three are characteristics needed in a workhorse ACOG scope. The scope is 5.9" inches in overall length and has a weight of just over 15 ounces, which makes it a little on the heavy end but nothing that will throw the balance off your rifle.
The field of view is rated at 44 feet to 100 yards. This is a fantastic FOV for a scope designed for fast target acquisition.
Pros
Excellent brightness adjustment settings
Integrated rail mounting base
Excellent lens
Affordable price
Cons
A little on the heavier side
Sightmark SM26021 Wolverine Red Dot Sight
The total weight of the Sightmark SM26021 is 10.3 ounces. Thus, making it one of the more lightweight red dot sights on the market. Despite this fact, it's also built out of 6061-T6 aluminum with extra rubber reinforcement. If the sight is dropped, it helps to reduce the shock. Even though there are more durable red dot sights on the market, this isn't terrible.
The 4 MOA red dot reticle is the primary aspect of the Sightmark Wolverine Red Dot Sight. It comes with a 23 mm objective lens with a side-mounted digital switch that allows for easy brightness adjustment. These lenses also come with a scratch-resistant coating. This is a major plus because scratches on the coating of any red dot sight can dramatically throw off your aim.
When it comes to the build of this red dot sight, I can say that it's excellent. Its interior is purged of all nitrogen and it is also fully fog proof. The Sightmark is also designed to be attached to a Picatinny rail system. Its power consumption is likewise meant to be very low. Thus, it extends the battery life. Additionally, the SM26021 uses a single AA battery as its power source and it's cheap. They are also available and are almost anywhere.
Finally, these sights can also function well in -22 to 122 degrees Fahrenheit. It's IP67 waterproofed which means it can resist water when submerged up to 3 feet. To sum up, the Sightmark Wolverine CSR Red Dot Sight is a great sight for any AR-15 rifle. It's a compact and lightweight yet high-quality red dot sight that offers you good value for the money.
Pros
Low power consumption
Lightweight
Variable brightness levels
Scratch-resistant coating over lenses
Nitrogen purged
Fog-proof
Has night vision mode
Uses common AA batteries
Designed to work with picatinny rails
Cons
Not the most durable red dot sight on the market
Ozark Armament 4X Magnified Optic with Illuminated BDC Reticle
The Ozark Armament is an affordable model with a slew of optimization improvements. This ACOG clone features 4x magnification. It also includes a 32 mm objective lens, an illuminated BDC reticle and it is a metal scope. Therefore, this scope is one of the most powerful on the market.
This model's illuminated reticle is battery-powered. It comes in three colors: red, blue, and green. Shooting at targets at short range will be no trouble. In every light condition, the illuminated BDC reticle creates a bright dot. It also enables you to easily acquire the target from a variety of distances. Added features are a field view of 86.8 feet and a 3.5 inches eye relief. Plus, a 14 MOA windage and elevation adjustments.
This scope comes with a functional and fully adjustable 3 front Picatinny rail. The top left, and right sides all have mounting points. Thus, a spotlight or laser may be readily mounted. It offers the most functionality without taking up too much space.
Moreover, this product's long-lasting structure can withstand tough surroundings. It is also shockproof, fog proof, and waterproof. But this rifle scope is small, and also quite heavy. As a result, it is one of the bulkier alternatives, weighing over 1.5 pounds.
Pros
Least inexpensive
Durable scope
It has 4X magnification power
With illuminated BDC reticle
Fully-functional Picatinny rail
Offers 3.5 inches of eye relief
Features 86.8 feet field view
Battery-powered scope
CRUSHUNT 4×32 Red Chevron Glass Etched Fiber Optics
The Crushunt 4×32 Chevron is an ACOG clone featuring fiber-optic illumination technology. This optics is the way to go if you want to make the target easier to hit. It comes with a transparent glass-etched reticle sight that absorbs just the correct amount of light and is useful in low-light situations. The optics also have fixed magnification that automatically adjusts depending on the amount of usable light. It means you can't adjust or focus on your own.
Another great feature is the eye relief in the chevron reticle which serves to enhance the field of view and maintain the image clearly. This eye relief helps the shooter to aim comfortably without hurting the eyes. However, the problem with it, is it has short eye relief and it is lacking. But for some, it's pretty decent.
In terms of quality, the Crushunt Chevron is great. Its body is well-built and made of metal, and it has a rugged feel to it. The scope is waterproof, shockproof, fog-proof, and weatherproof. Because of its durable build, this scope is perfect for long-term use.
Pros
Good quality optics
Makes a clear picture of the target
Useful in low-light conditions
Chevron reticle and real-fiber optics
Shockproof and weatherproof build
Cons
Short eye relief
Fixed magnification
Conclusion
That concludes our list of the best ACOG-style clone scopes. All are more than able to perform in any shooting setting outside of actual combat. You can call these scopes ACOG knockoffs, and you would be correct, but don't raise your nose at them. These scopes do not offer the features and performance of the original models. However, for those of us not going to war, these scopes will do a good job and last a long time.
I especially like the GGD Trijicon ACOG 1×32 Red Dot Sight you can pick this one up for only $87. It would then take all the money you save and get other fun accessories.
We hope that this post has been helpful to individuals looking for an ACOG-style scope.
Read also: Rifle Optics and Scope Reviews
Updated: February 2022