Parallax free red dot sights have become one of the most popular choices for optimal sights. These sights work great under just about any condition, whether you're performing a simple point-and-shoot, or you're hanging at a strange angle, a red dot parallax free sight is going to ensure you hit your target every time.
Parallax free red dot sights are a little tricky to explain; but, to put it simply, the red dot adjusts for angular parallax while you're aiming, even if you don't move your rifle. A parallax-free red dot also gives you the advantage of being able to aim at greater ranges without worrying about missing your target. We've compiled what we think are four of the best parallax free red dot sights on the market, and we'll let you know what we think is the top choice at the end of this guide.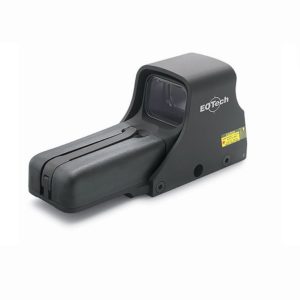 Materials – There are a lot of features for this red dot parallax free sight. It's made of rugged aluminum and a mounting bolt that doesn't require any tools to install. The electronic components within the sight are protected in a shock absorbing resin, and the sight itself is waterproof and fogproof with anti-glare and anti-scratch resistance coating. There are twenty brightness settings available as well as a battery life indicator. The EOTech Holographic Sight also offers unlimited eye relief. It can attach to a Picatinny or Weaver rail. This U.S.A.-made red dot sight parallax free weighs less than 11 ounces and is powered by two AA batteries. It also comes with a two-year warranty.
Performance – This is a great parallax-free red dot sight for AR-15 type rifles. It can perform in a variety of weather conditions, and the sight won't fog up on you if you go through different temperatures. It's lightweight, but may take a little recoil action. Luckily, the unlimited eye relief resolves that issue. You can shoot from up to 100-yards, but it performs best in close-combat situations for speed. You can adjust the EOTech Holographic Sight for almost any brightness level, but there is no night vision with this site. The battery life can run out more quickly than on other parallax free optics, but AA batteries are incredibly cheap and easy to replace.
What we say – If you think this parallax free red dot sight will meet all of your specific needs, then it's definitely worth spending the money on. It comes with quite a price tag, but the warranty helps make the cost more appealing. You should expect to get many years of use out of this red dot sight. Although it's ideally for close-combat use, you should really be able to use the sight for longer ranges, but it's good to know there's versatility to it. If it's worth the price to you, the EOTech Holographic Sight is a great investment.
Pros
Waterproof and fogproof
Uses AA batteries
Unlimited eye relief
Twenty brightness levels
Made in U.S.A.
Two-year warranty
Cons
High cost
No night vision
BONUS OFFER: Get your free shooting range targets to print at home!
Get your free targets to print at home!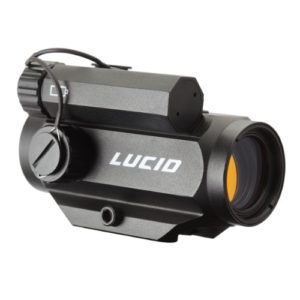 Materials – The Lucid Microdot is made of a black, cast aluminum frame and has a low mount intended for pistols and AKs. It has a mount already built in for Picatinny and Weaver rails. This free parallax red dot sight weighs under 5 ounces. It's completely waterproof, fogproof and shock-proof. There are seven levels of brightness, and it's powered by a single AAA battery, which can provide over 1000 hours of life. The Lucid Microdot comes with a lifetime warranty. You can purchase a 2x magnifier or a rail riser separately.
Performance – The amount of battery life from a small parallax free red dot sight is very impressive. The seven brightness levels seem to accommodate any outdoor situations. The built-in mount and small size make this an easy piece to install on a gun. It seems that the parallax free reflex sight has a blue tint to it, which, while not detrimental, can be a little distracting to the shooter. It seems that to get the best performance out of the Lucid Microdot, the rail riser should also be purchased for accurate targeting.
What we say – This is a very convenient choice for anyone who wants to attach a red dot sight to their pistol. It's a sturdy piece that can go through many outdoors conditions; and, for general shooting needs, it gets the job done. The Lucid Microdot parallax free red dot sight comes at the low cost of $170, and the lifetime warranty makes it totally worth the purchase, even if there are some flaws. This red dot sight is cheap enough that you could purchase more than one, if you really wanted to.
Pros
Low cost
Lifetime warranty
Lightweight
Only requires single AAA battery
Fits small pistols
Cons
Will probably need to purchase rail riser
Only seven brightness levels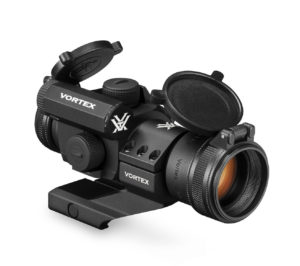 Materials – The Vortex Strikefire has some pretty cool features for a red dot sight. This parallax free red dot sight has unlimited eye relief and rear-facing controls with a red dot/green dot switch. There are ten brightness settings, and the lowest two are night-vision compatible. The red dot sight also returns to the last brightness setting that was used whenever you turn it one. It's made of aluminum alloy and is 30 mm long. The optic is O-ring sealed to keep any moisture or dust out of the sight's internal parts, and it is also fog-proof.
Performance – This parallax free red dot sight is very good for close-combat situations, including any possible self-defense. The ability to keep both eyes open and the night-vision optimization are particularly helpful for these situations. Since the Vortex Strikefire returns to the last brightness setting used, you can expect to be able to do some quick shooting, if needed. This may even be a great choice for law enforcement. This parallax free red dot sight requires a CR2 battery, which is included, but it won't be as easy to replace.
What we say – If you know you'll be using your red dot sight for close-combat situations, or you'll need night vision, you'll definitely want to think about purchasing the Vortex Strikefire sight. This is on the lower cost-end, going for about $180. We wish it required a battery that was easier to purchase, but we can make that sacrifice for all of the other qualities. Plus, it comes with a Vortex brand hat if it's bought on Amazon. Free stuff is always cool!
Pros
Low Cost
Red dot/Green dot rear-facing switches
Night-vision compatible
Returns to brightness setting last used
Cons
Slightly uncommon battery but widely available at Amazon etc.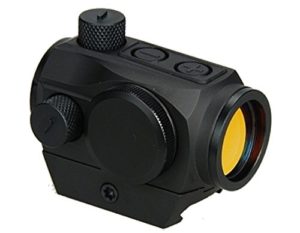 Materials – This is easily the most advanced parallax free reflex sight on the list. The most admirable feature is the LED technology that provides 50,000 hour (or 5 years) of continued use. The Holosun Paralow Mini Red Dot sight features a crisp, bright red dot with 9 brightness levels. Brightness level 1-3 are for night vision. The red dot sight turns on automatically with motion, and it can be turned off manually or will shut down automatically after 8 hours. It is completely waterproof and can be submerged in up to 100 feet of water. It comes with a limited lifetime warranty.
Performance – There is very little to complain about with the Holosun Paralow Mini Red Dot sight. The incredibly long battery life makes it totally worth investing in a replacement lithium battery (if we'll ever need to). The brightness levels are completely adequate, and we can always appreciate night-vision compatible sights. It's rare to have a reason to be submerged in 100 feet of water, but, at the very least, you know if you drop your gun in the lake, you won't have to worry. The limited lifetime warranty is the icing on the cake. The only complaint is that it seems the mount may be made of cheaper materials.
What we say – It's pretty clear that this red dot parallax free parallax free red dot sights is incredibly useful and can fit just about anyone's needs. At $190, you may as well purchase this sight, even if you don't think you'll need the high-quality features. We wish the battery wasn't such an expensive piece to purchase, but that's the extent of our complaining. 5 years of battery life is good enough for us!
Pros
Low cost
Limited lifetime warranty
Night vision
50,000 hour battery life
Motion-detected automatic turn-on
Water-proof up to 100 feet
Cons
Mounting materials may be cheaper than the body
Our Favorite Parallax Free Red Dot Sight
We think it goes without saying, but we'll say it again, the Vortex StrikeFire II is a clear winner in our books. It covers pretty much every need for a red dot sight, it performs well and for that price, it seems silly to choose a lower-grade sight to save twenty bucks. Unless this sight doesn't meet one of your specific needs, you can't really go wrong here.