The purpose and uses of handguns has come quite a long way, especially in recent history. The appearance of mini reflex sights is becoming increasingly popular. Mostly thanks to the competitive industry, more and more scope and sight brands are coming out with their best technology in mini form. We did some scrounging around online, and we found the best mini reflex sights on the market.
Surprisingly, mini reflex sights come in quite a range of prices. We picked two lower-budget options and two higher-end options for this article. While some features and versatility certainly are comparable between prices, what really makes the difference is the allover quality of your sight picture. We hate to say it, but the more expensive the brand is, the better quality you're going to get – plain and simple. That's not to say there aren't some fantastic economical choices on the market, though. Whether you're competing, hunting, or simply enjoy some target practice, there's a reflex sight out there for everyone.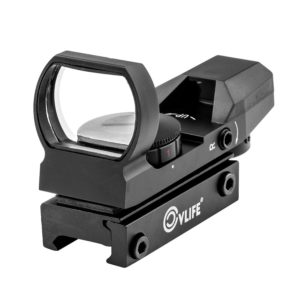 Materials – This mini reflex sight from CVLIFE is designed to attach to any standard mount, as it's just the right size for full sized handguns, whether you need it for competition or hunting. It's also very good as a backup sight for long range rifle scopes. The battery housing is conveniently placed at the top of the sight, as opposed to underneath it. You can select between a green or red illumination, and there are four reticles of each illumination to choose from. Between the quality lens and multiple illumination, you can expect a clear sight every time. There is unlimited eye relief, and you can adjust for windage and elevation.
Performance – As the cheapest option within this review, you're not getting sold short by any means with the CVLIFE reflex sight. Admittedly, the sight is a little on the heavier side for a mini reflex, but it's still under half a pound and should accommodate any appropriate weapon well. This reflex sight is less than four inches long, so it will fit happily on basically any hand gun that has a top rail. Everything you need comes included with this sight too, so this is a one time purchase. The two illumination color are just as helpful, even if you don't get to switch between brightness levels. By having an integrated rail mount, installing the system is very easy, since you won't be messing with multiple tiny parts, and you can feel confident the mini reflex sight will stay intact and stable while firing.
What we say – This is the best mini reflex sight for those on a tight budget. Trust us, even if they're only 1x, these mini reflex sights can get very expensive!
Pros
Lowest cost
Multiple reticles and illumination
Includes everything needed for installation and storage
Â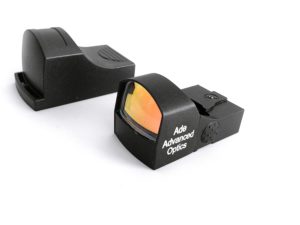 BONUS OFFER: Get your free shooting range targets to print at home!
Get your free targets to print at home!
Materials – This option from Ade Advanced Optics was constructed in durable housing that can withstand heavy recoil as well as water and moisture. It's ideal for pistols, but it can also be easily mounted onto rifles and shotguns. It enhances your accuracy on a handgun, or it can act as a sidekick with a riflescope. The unique design helps maintain your peripheral vision and depth perception. The lenses are precision ground and polished to exactness, which almost entirely eliminates parallax and provides a clear and crisp sight picture. The amber tint on the lens allows you to use the red reticle without glare, but there are also five illumination settings to choose from.
Performance – This option from Ade Advanced Optics is still in our "affordable" category. It comes at a decent cost, but unlike the CVLIFE selection, you get the addition of the amber lens. This is very helpful if you're going to use your sight during the daylight, since the reticle is red. It will reduce glare from sunlight and keep your red dot reticle crisp. The body of this sight is also lighter and shorter than the previous option, but not by much. It installs just as easily, and it should fit any handgun with a top Picatinny or Weaver rail. You also don't have to remove the sight from the base to replace the battery. If you don't prefer the green reticle, or the option to choose from multiple styles, you're taking a step up in quality with this choice.
What we say – This is the best mini reflex sight for shooters who know they'll experience a lot of daylight while using their sight. That amber tinted lens will really come in handy and make your investment worthwhile.
Pros
Amber tinted lens
Shock proof and water resistant
Includes all hardware and tooling needed
Â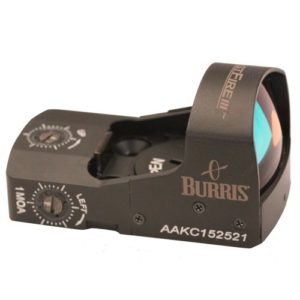 Materials – The Burris Fastfire III attaches to any standard Picatinny mount, whether it's on your pistol, rifle, or shotgun. The 3 MOA red dot reticle has three levels of brightness that can be toggled between using the power button. You can adjust for windage and elevation without using any tools. Just turn the keys with a coin or flat piece of metal. The battery case is conveniently placed on the top of the reflex sight, so you don't need to uninstall it to change out the battery. There is also a low battery warning, so you won't be surprised with a dead sight while out hunting or at the range.
Performance – After reading the description, you can see there are some helpful features we haven't seen yet from the first two options. For one, the tool-less adjustment knobs are nice. No need to go searching for that allen key you lost a half-mile back. You can just use your thumbnail or a coin to do the trick. Plus, the battery can be replaced without uninstalling anything. So, why is the Burris Fastfire III so much more expensive than the other two reflex sights? It's the brand name, but for good reason. Burris makes excellent scopes and sights, and you can feel confident that your reticle won't get blurry throughout the changing daylight. While it's missing the amber glass, you can adjust the brightness levels as needed.
What we say – This is the best mini reflex sight for anyone who needs a higher-end brand they can trust to see them through many years of use. Plus, the little extras like the battery placement and tool-less adjustment knobs are a nice bonus.
Pros
Battery placement on top
Three brightness levels
Reliable and quality brand name
Â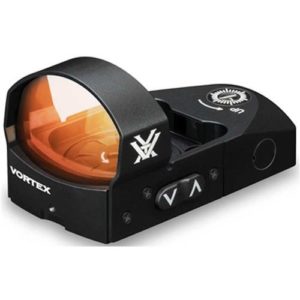 Materials – The Vortex Venom reflex sight is easily the most technologically advanced of the four sights in this review. The 3 MOA red dot reticle can be adjusted through ten levels of brightness. The amber glass lens also helps with proper light transmission and glare, so you can truly use this sight during any time of day. With the mount attached, this sight weighs only about one and a half ounces. Included with the sight is the mount, torx wrench, rain cover, lens cloth, screws, one battery, and a screwdriver. Vortex Optics offers a VIP unconditional lifetime warranty with its product.
Performance – You really get everything you could ask for from Vortex Optics, but you'll be paying for it! If you can make the investment, you should really go with this option because you can't go wrong. Ten levels of brightness would be unheard of for a reflex sight from any other brand. In combination with the amber tinted glass, your shooting will be on point every single time you hit the range or go out hunting. Just like Burris, you have the battery placement at the top, and you don't need tools to make any adjustments. Surprisingly, despite being a little longer than the other options, this is the lightest mini reflex sight in the review!
What we say – This is the best mini reflex sight for anyone who wants to make real investments on their handgun or pistol. Vortex Optics won't leave you disappointed for a second.
Pros
10 brightness levels and amber lens
VIP lifetime warranty
Lightest sight
Â
Our Favorite Mini Reflex Sight
Are you really guessing which mini reflex sight we chose? The Vortex Optics Venom Red Dot Top Load was, by far, our favorite sight! This isn't a review for the most cost-conscious accessory; it's for the best, and Vortex Optics easily makes the best of the best! Vortex Optics basically took some of it's top performing scope technology and packed as much of it as they could into a mini reflex 1x sight. You'll get one of the clearest pictures and perfectly focused reticles you could buy if your purchase this option. We will mention that this is probably best suited for just full sized handguns, but the light weight still makes is workable on any rail. Get your money's worth, and pair this up with a 3x-9x tube scope on your rifles as well!