The vast majority of casual firearm users might not even consider using anything other than the traditional iron sights on their shotguns. For the most part, the general doesn't really consider shotguns as firearms. Some people think that shotguns are just a point-and-pull trigger type that anyone can use anywhere. The reality is, shotgun red dot sights can be extremely advantageous to shotgunners in certain shooting applications.
Here is the list of our best red dot sights for shotguns
Best Budget Pick

GGD RMR Red Dot Sight

Compact, strong optics
High quality materials to Mil-Spec standards
Fast target acquisition
Only 1x magnification
Only one color

$84

Shop NowClick to read my review
SIG Sauer Romeo 5

Comes With Motion Activated Illumination
40,000 Hour Continuous Battery Life
Very Durable Construction
Only 1x Magnification

$114

Shop NowClick to read my review
EOTech 512 Holographic Weapons Sight

Excellent reticle illumination
Extremely rugged and weather resistant
Holds zero
Takes up a lot of rail space

$412

Shop NowClick to read my review

Top Pick

Aimpoint Micro T-2 Sight

Shock, water, and fogproof
Easy to mount and use
Incredible optics and reticle
It costs some money

$809

Shop NowClick to read my review
Whether you are using a shotgun in a tactical situation or even certain types of hunting scenarios such as turkey or using slugs to hunt deer, a reflex sight or red dot sight can really make a difference.
In this article, we are going to point out at what aspects make the best red dot as well as reflex sights for shotguns. We will also take a look at the 4 best red dot sights for shotguns that outperform all the other options on the market.
We hope that by the end of this article, you will have a better idea and appreciation for shotgun optics. Also, on how you can use them to your advantage in both tactical and hunting situations.
Shotgun Optics Buyers Guide
Durability
When you are planning on utilizing a reflex sight for shotguns or a red dot shotgun sight, chances are the application you have for your firearm requires heavy loads that produce a good deal of recoil.
A lot of these sights use electronics. It is also important that you pick a sight built to absorb this recoil without losing function or knocking off your zero setting, especially when using slugs or a choke producing a tight pattern. If you're shooting loads with a wide spread pattern, holding zero is not much of an issue. All of the sights on our list can withstand punishing recoil load after load.
Lenses
These sights are designed to improve both accuracy and visibility in low light situations. You will also want lenses that transmit maximum light while resisting scratches and abrasion.
True 1X
For just about all shotgun purposes you are not taking shots at anything over 100 yards. If you are successful, please let us know what you are using. These sights are designed to give you more precise aiming and ability to shoot in various light conditions more accurately.
They are also designed to allow you to shoot while keeping both eyes open, which is a common component of a true 1X sight. While not as important for hunting scenarios, this is a must for shotgun sights used on tactical rifles.
Red Dot
Whatever type of sight you use, the reticle must be sharp and distinct at all light levels. Having a blurry reticle detracts from the intended benefits of these shotgun sights. On top of this, you should be aware of the range of brightness settings that are available. Being able to fine tune the brightness settings quickly in the field can be very beneficial.
You should also be aware of the battery life on these scopes and keep a rough estimate on how much life you have used. The best sights are going to have a battery life that lasts hundreds of hours. However, it is also up to you to manage as well. Some scopes will have automatic shutdowns to help conserve battery life and help you save money in the long run.
BONUS OFFER: Get your free shooting range targets to print at home!
Get your free targets to print at home!
The 4 Best Shotgun Red Dot Sights
It's easy to lose track with the countless of different options and products you can find online or in your local store. Manufacturer's descriptions always sound promising. Apparently, every one of them claims to offer the best sight on the market. So to make your final decision easier, we point out shotgun red dot sights down below and let you know what we like about them.
If you're looking for a solid, dependable red dot for your shotgun without breaking the bank, you should check out this offering from Gun Gear Depot.
Its no-nonsense sturdy Mil-spec build (anodized aluminum alloy) and lens quality stands up to its pricier competitors. The lens delivers excellent resolution and handles low light conditions well.
The LED red dot is strong and it has a focal distance of 100M, perfect for shotguns. It is also versatile as the sight illuminates regardless of lighting.
It delivers true 1x magnification suitable for home defense, enabling a fast sight picture on up-close and fast-moving targets. Importantly, the rails (11 or 20mm weaver compatible) and lens casing are "anti-seismic" which means the scope can withstand the shotgun's recoil, is dust/waterproof, and maintains its zero.
In addition, it has a 3V CR2032 lithium battery. It also comes well packaged with a cleaning cloth, box, a 1913 mount, and a Glock mount to fit more handgun models.
The sight is rugged, dependable, and affordable. It ticks the boxes for a tactical shotgun scope. Its rheostat-controlled brightness also makes it a decent companion for turkey season.
Pros
Affordable
Compact, strong optics
Green/red reticles
High quality materials to Mil-Spec standards
Fast target acquisition
Cons
Only 1x magnification
Only one color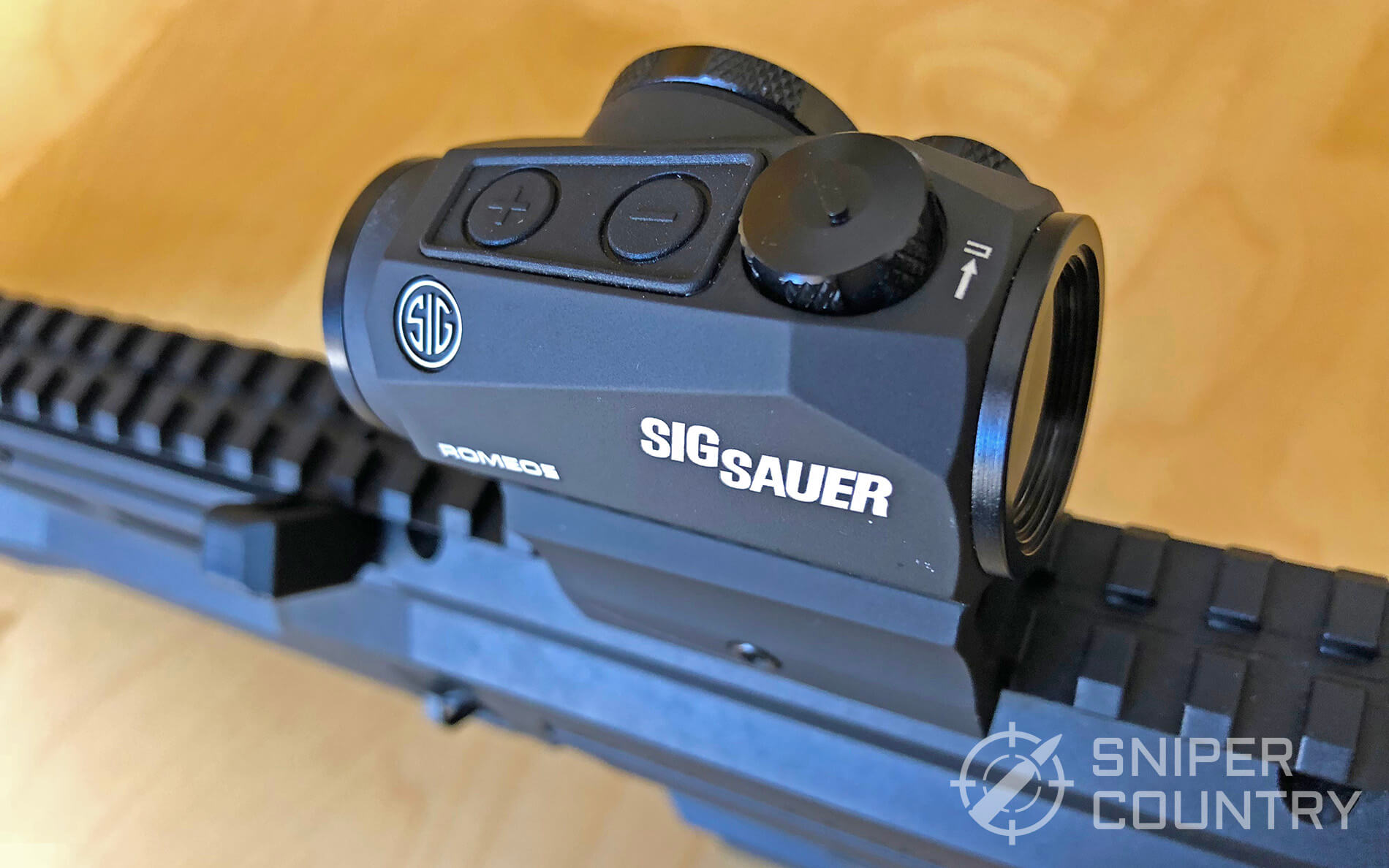 The SIG Sauer Romeo 5, and the Romeo series of red dot sights in general, provide you with some of the best value for any red dot sight on the market today. That's because these sights are very inexpensive in comparison to other competing sights, and yet are highly durable, very bright, adjustable, and provide you with excellent value for the money.
This is a 2 MOA Red Dot. It's designed to fit to any Picatinny rail system, and is very robustly built. It also has a waterproof rating of IPX-7, which is higher than many competitors.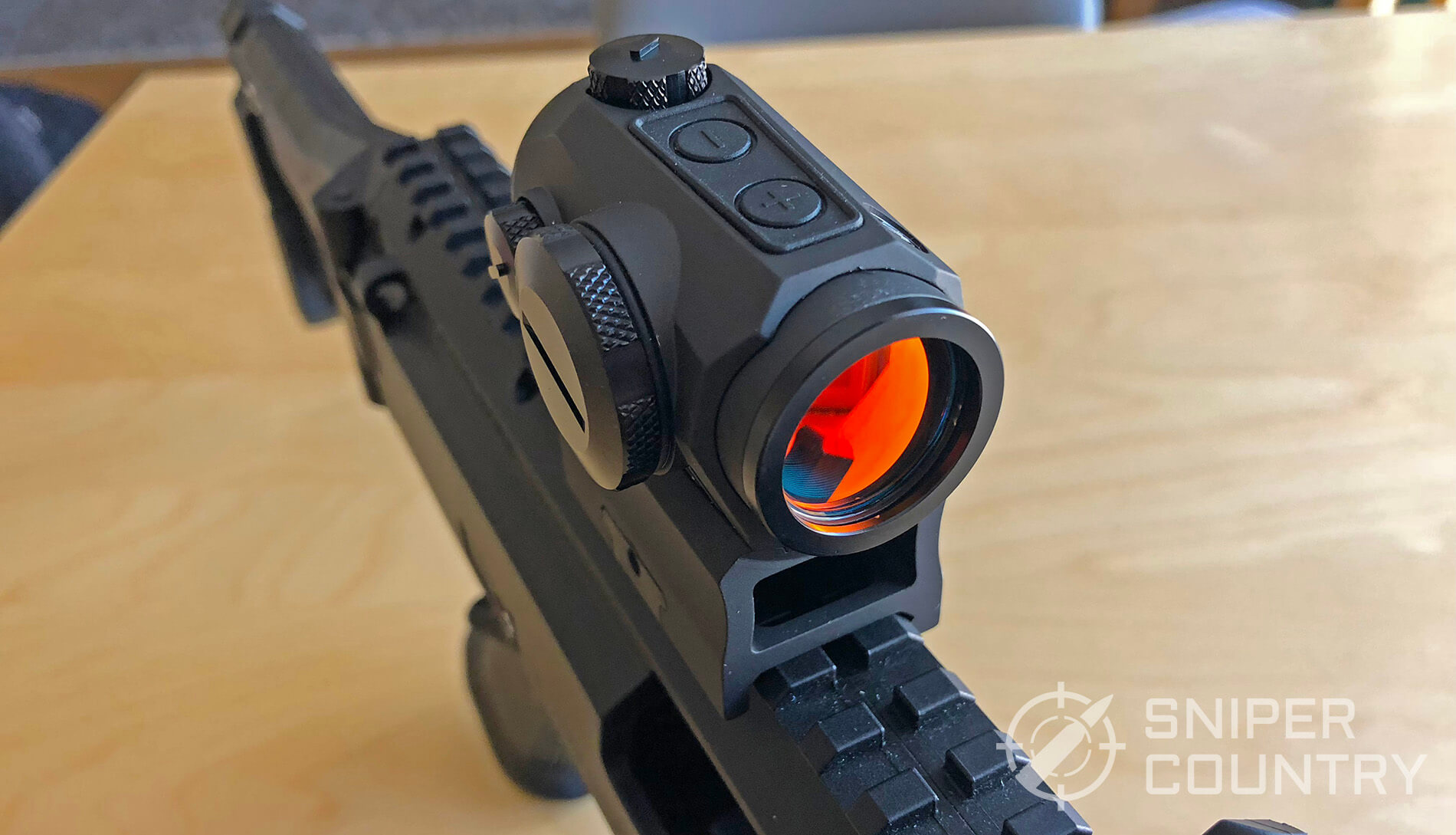 That all being said, this red dot is actually not built by SIG Sauer, but is built by Holosun (SIG Sauer contracts Holosun to build the sight for them).
One of the most notable aspects and feature about the SIG Sauer Romeo 5 is the fact that it comes with Motion Activated Illumination. So as long as the sight is turned on, it will turn off on its own after a long period of stillness. However, when it senses motion (such as when you pick up the rifle with the sight attached), it will automatically reactivate.
This feature is very beneficial because it means you don't have to worry about turning the sight on and off. Just keep the sight on, and the red dot sill shut off after a period of inactivity in order to conserve the battery life (which can last for more than 40,000 hours) for as long as possible.
Take note that the motion activated illumination system will not work when the sight is turned off, so you need to make sure that it's always turned on for it do so.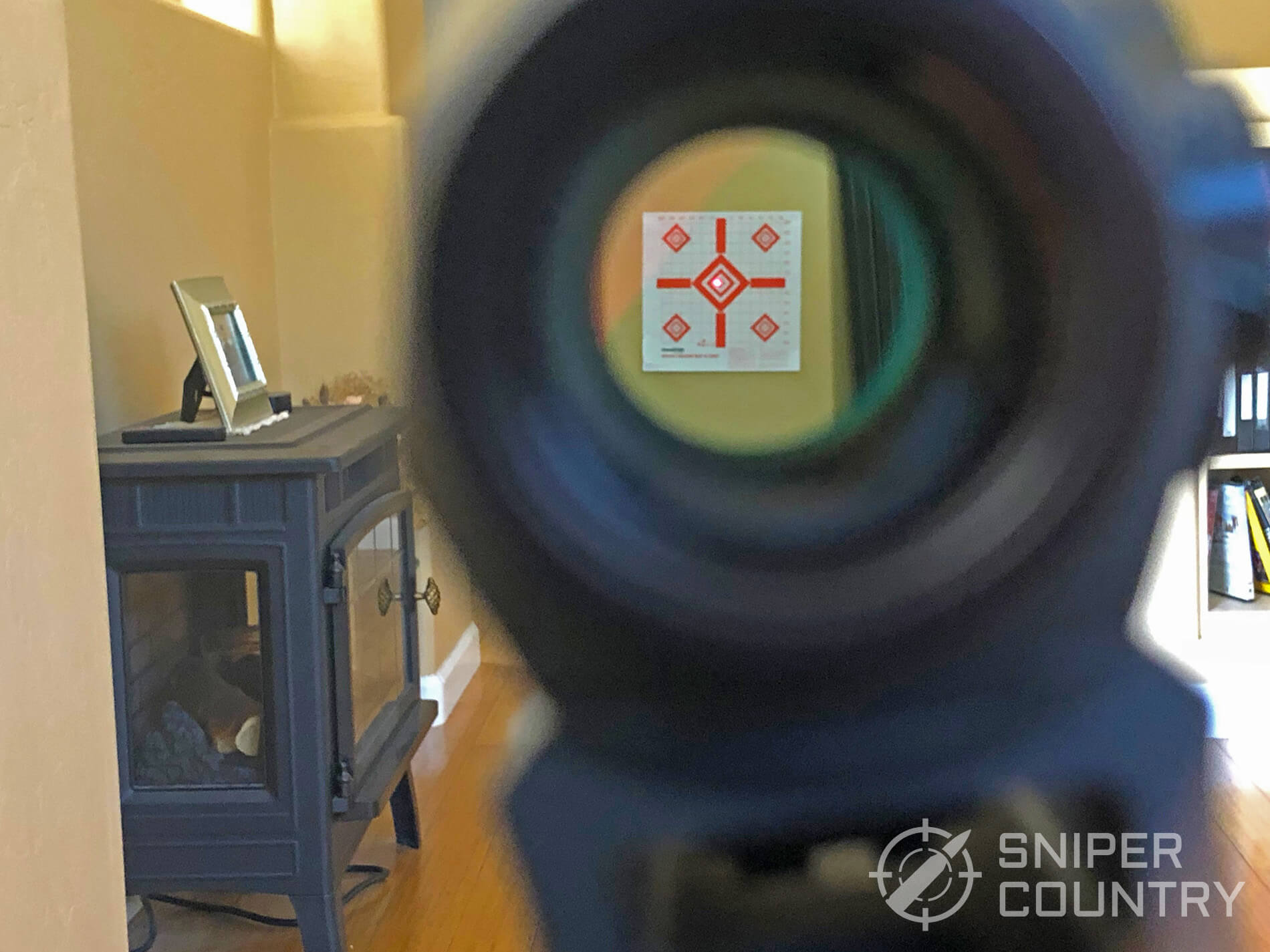 This sight also ships with a Co-Witness Riser Mount, to help clear plenty of space so you can still view your open sights or flip up sights through the scope. In other words, you can keep the red dot turned off and still line up the rear sight of your rifle with the front sight through the sight picture.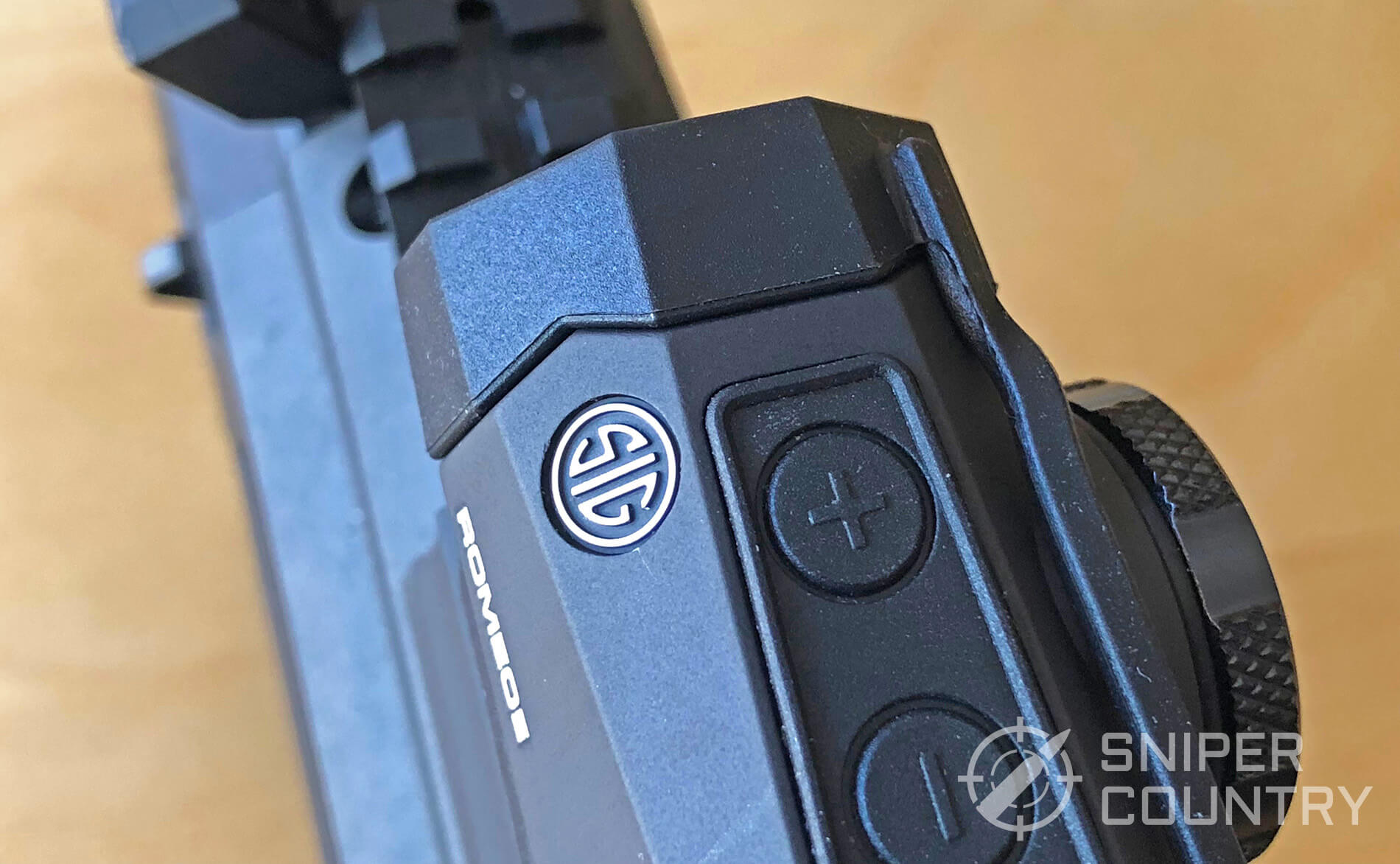 If you are in need of a high quality, bright, adjustable, and durable red dot for your semi-automatic rifle, but without spending a fortune as you would with an EOTech, then the SIG Sauer Romeo 5 is one of the best options on the market today.
[su_spctwocols=yes] +Multiple brightness settings +Fairly priced +Comes With Motion Activated Illumination +40,000-hour continuous battery life +Designed to attach to Picatinny rails +Very compact and lightweight +Very durable construction +Ships with co-witness riser mount -Only 1x Magnification [/su_spc]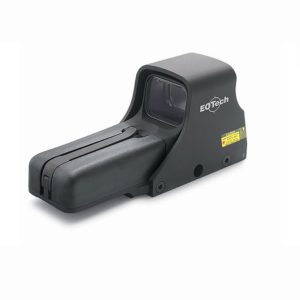 If you want a shotgun reflex sight, this sight goes above and beyond your expectations. Regarding shotgun optics, this scope covers all aspects one would need while in the field from tactical to hunting scenarios.
The reticle on this holographic, yes holographic we are talking about EOTech here, features a 65 MOA ring with a 1MOA red dot that can put you on a target quickly. Further adding to the quick target acquisition is the large aperture window that gives a wide field of view.
The reticle is also illuminated and you can adjust it to 20 different brightness settings with a crisp reticle throughout the range.
In terms of durability, you are not going to have an issue with this sight being banged up or knocked off zero with the quality aluminum housing. It is also highly waterproof and can even be submerged up to 10′ and still be able to perform properly. This scope is also extremely easy to install and can fit directly on any Picatinny and Weaver style rails.
We really like the windage and elevation adjustments that can be made if you know you are going to be taking shots at increased distances and they are both clearly labeled. While you have to have a coin or other tool to make the adjustments, they hold very well. This scope holds its zero as well as any other scope on our list and will not be knocked off during normal use of the scope/firearm.
Additionally, the battery life on this shotgun optics is extremely long, and it features an auto- reticle shutdown that helps to conserve battery life.
In terms of holographic sights, this particular model is slightly heavier and longer in overall length. If used on its own this is not an issue, but if you are looking to mount a magnifier or other accessories, you might find space limited.
Pros
Excellent reticle illumination
Extremely rugged and weather resistant
Fast target acquisition
Holds zero
Cons
Takes up a lot of rail space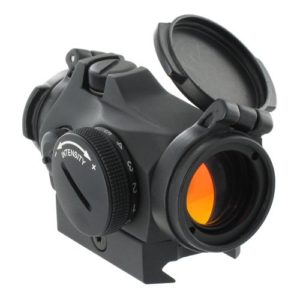 For shotgun red dot sights, the Aimpoint Micro T-2 is top of the line. While higher on the price range, you are never going to need another red dot sight for your shotgun. Period.
The lenses on this scope are not matched expect for scopes on the highest end of the price range. You will get incredible light transmission and will find the image in the scope to be bright and clear in any lighting situation.
This shotgun red dot sight is built to perform in any situation and you don't have to worry about this scope holding up to bumps, scrapes, or recoil that a working shotgun and optics go through with its aluminum construction and hard anodized finish. While it is durable, it is also very compact and light coming in at only 3.7 ounces, near weightless.
The reticle is illuminated and can be switched between 8 different brightness settings. Each setting maintains the crisp, 2MOA red dot. It is also compatible with a range of nightvision equipment making it an excellent choice for tactical use.
This is a true 1X scope that will allow both eyes open shooting characteristics. Even when focused solely through the scope, you will benefit from a wide field of view. On top of this, it is extremely fog and waterproof. This scope can be submerged in water up to 80' and come out performing as well as it did out of the box. Battery life on this scope is also incredible. Therefore, you will not need to worry about changing the batteries until hundreds of hours of use.
This is an overall simple but efficient red dot sight that you absolutely cannot go wrong with. It is both easy to use and easy to mount. Once mounted and zeroed in, you will not have to think twice about it holding to that zero.
Pros
Light and compact
Incredible optics and reticle
Very durable
Shock, water, and fogproof
Excellent battery life
Easy to mount and use
Conclusion
So, we now come to the point where we must choose our pick for the best shotgun red dot sight. While all of these sights are great options, we give the edge for the best red dot sight for shotguns to the Aimpoint Micro T-2 Sight. Whether you are using it for tactical or hunting purposes, the T-2 provides all the necessary aspects of a superior red dot shotgun sight. However, it does cost a pretty penny.
But if you want something that does the job for a fraction of the price we recommend the GGD RMR Red Dot Sight.
So, whatever application you have in in mind for your tactical or hunting shotgun, we hope that this article has shown the benefits of shotgun red dot sights and shotgun reflex sights.
While they are not perfect for all hunting applications, they can be the missing link to more successful turkey and deer hunts, and regarding tactical scenarios, it's almost a crime not to have one of these sights mounted to your 12 gauge.
Updated: 08/03/2021
You might also like these shotgun articles