Have you ever thought about what would happen if someone broke into your home? What if they found your firearm and used it against you or your family members? That's an alarming thought, right? So, if you want to keep yourself and the ones you love safe, you may want to invest in the best hidden gun safes available.
After all, gun owners are responsible for keeping their firearms from being accessed by those who cannot use them.
You can buy any old hidden gun safe, or you can opt for something a bit more sophisticated, like a hidden gun safe.
BONUS OFFER: Get your free shooting range targets to print at home!
Get your free targets to print at home!
There are several reasons why you may wish to purchase a gun safe. You may need to keep your firearms out of the reach of your children, or you may just choose to hide them.
The best hidden gun safe helps keep your handgun out of the hands of trespassers and criminals. It doesn't matter if you're keeping your guns for display or protection. A hidden gun safe is a necessity. The safe must be durable, visually appealing, and undetectable.
You may conceal a gun safe by installing it in a fake floor, wall, or ceiling. Also, some manufacturers make gun safes that look like an electrical outlet or a storage cabinet.
Gun safes may be pricey, so be sure you know what you're getting before you purchase. This will depend on how many guns you want to store, as well as your own taste and aesthetic sensibilities. Here are some factors to consider while shopping for the best hidden gun safes on the market today.
Material
Sturdy is the way to go. Safety is the priority in getting a gun safe. So, look for a durable safe that is scratch-resistant and has a lock that's hard to drill through. You should choose a safe made of steel or another hard material that's difficult to cut through as well.
Locking Mechanism
The safe should feature a complex locking mechanism that cannot be tampered by using simple tools. There are a variety of locks available for gun safes, such as the typical lock and key seen in small gun safes. Radio-frequency identification (RFID) and magnet-based locks are also available, although they're far more difficult to open without the keys. For additional security, some people employ passcodes and biometrics.
Size and Weight
Considering the size and weight of your gun safe is important as you know what kind of firearms you have. If you have compact guns, go for compact and lightweight gun safes. But if you have rifles and shotguns, choose a more extensive, longer safe to make sure your weapons will fit in. Gun safes are expensive. You don't want to end up having a safe you can't use just because you bought the wrong size.
Access
Consider where you'd want to keep your weapons and safe. Under the bed? In a hidden closet? In a table? Maybe you want it to be hidden in the living room? Ideally, you should store your firearm in a location that is easy to reach when you need it. Your guns should be readily accessible in the event of an intruder. You could put it in an alarm clock or a safe beneath the bed. However, you should also position them in diverse locations to ensure everyone's safety.
Pros
Safes camouflages into furniture is hard to find
Safes keep your firearms and other valuables safe
Gun safes have different locking mechanisms available, such as lock & key, RFID, or magnets
Guised safes are very accessible
Cons
Safes disguised into furniture are expensive and take time to install
Some safes found easily can draw criminals to take them, along with the contents
Safes can be cracked with the right tools and skills
Now that you know what to consider in buying a hidden gun safe, let's talk about the best hidden gun safes available today.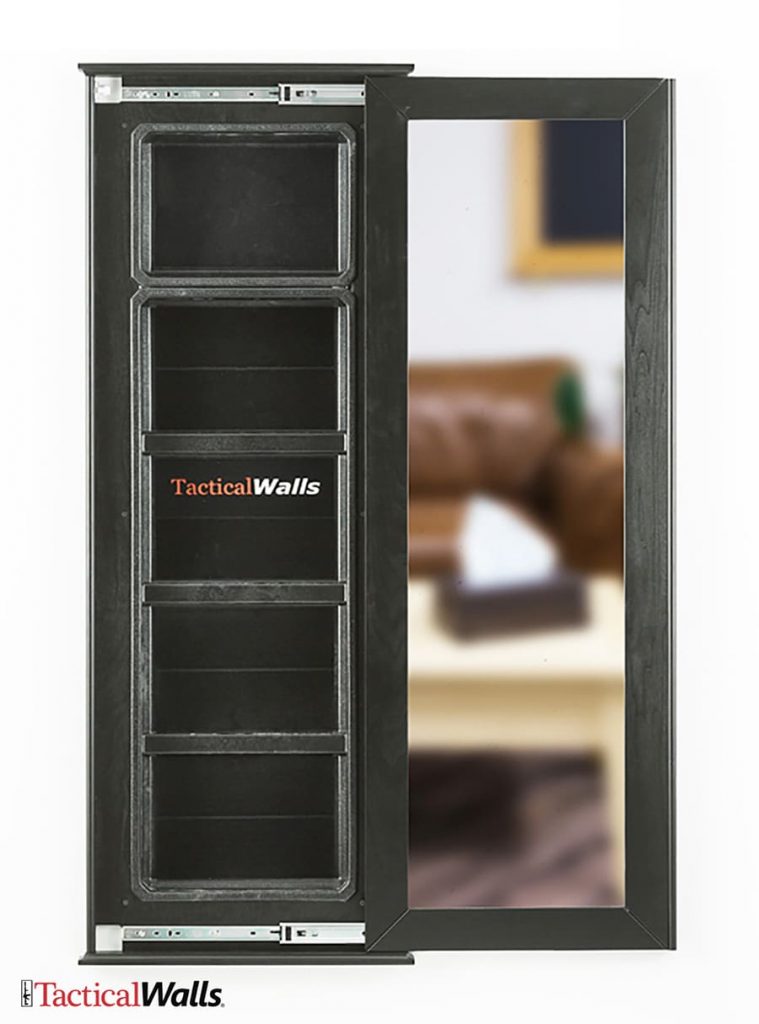 A secret safe behind a mirror? Don't you see that only in the movies? Well, now you don't. You can even own one if you want to because the tactical Walls 1450M made it possible for you to install one in your home. Plus, it comes with two lock options: the standard key or the cool RFID device feature, which is my favorite.
No one will look twice at this hidden gun safe. It is an excellent way to hide your guns in plain sight while keeping the safe's accessibility in your home. It has two hidden compartments. The smaller with dimensions of 14 inches wide x 10 inches high x 3.5 inches deep while the larger with 14 inches wide x 40 inches high x 3.5 inches deep.
Opening and closing this safe is also easy. Disengage the hidden lock with the supplies key or slide it to the side. The RFID feature is excellent as you can even conceal the keycard between an item, such as a book or wallet, and glide it on the secret lock to access the safe.
Pros
Excellent way to hide your firearms at an easily accessible room
RFID lock feature
High-quality mirrored front
Cons
Requires serious wall mounting and installation
---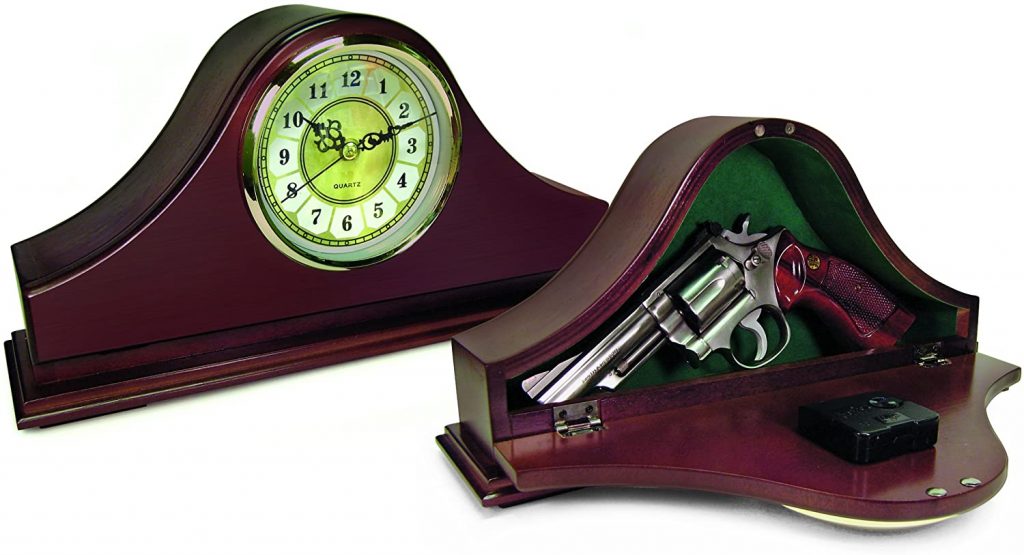 The Mantel Concealment Clock looks like an ordinary clock that keeps time well – but does an excellent job concealing a gun as well. Looking attractive and classy, this concealment clock is large enough to hide large-frame pistols.
Its versatile design can fit well with mostly any decoration or furniture in your home – even your office. I also find it easy to secure and quick to access.. with the traditional lock and key.
Pros
Fits the decoration of your home
Effectively conceals pistols
Strong magnets keep the safe secure
Cons
Heavy
Needs to be opened to adjust the clock
---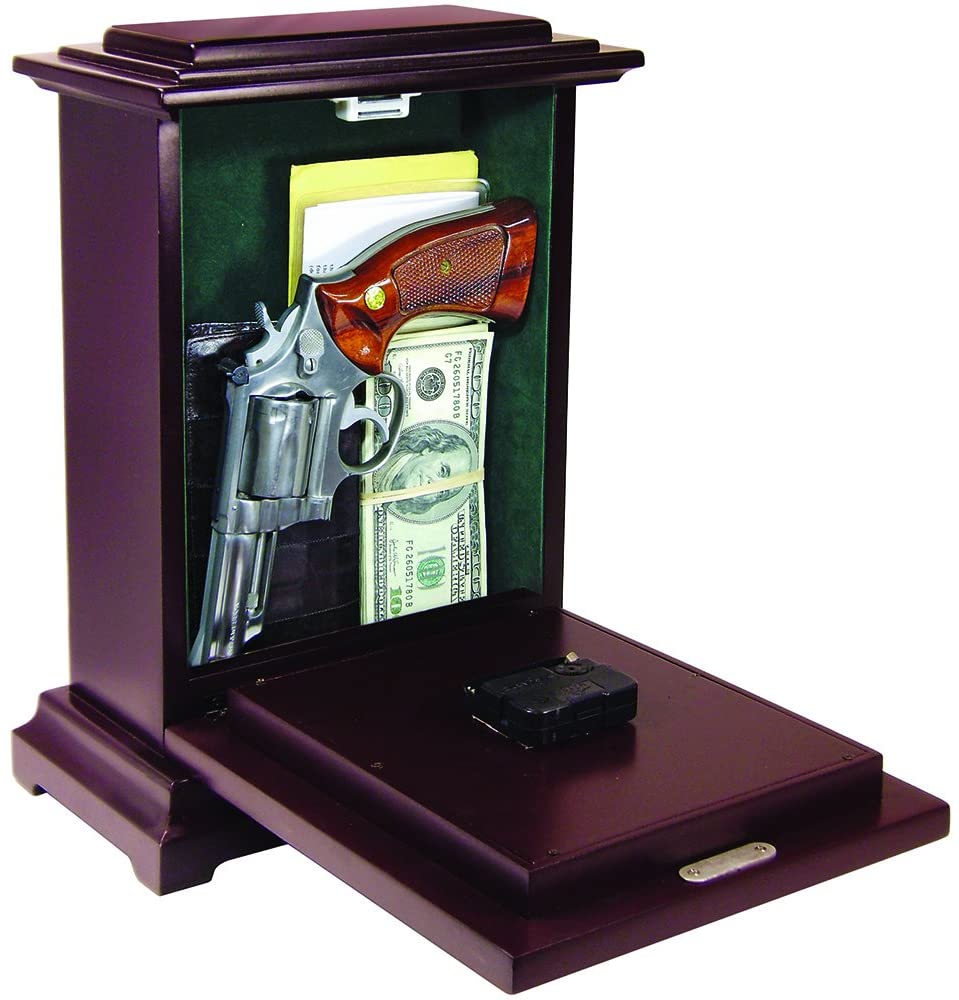 Concealed clocks like this one make it easy to keep your firearms and other valuables hidden and accessible. It's a very convenient way to store and disguise your gun safely while maintaining quick access in emergencies.
Another concealment clock on our list, the Peacemaker is made out of solid wood with a rich mahogany stain. It also features a reliable quartz movement with a magnetically locked, hinged front panel that holds a big pistol disguised as a clock – an excellent safe for your small weapons. What's more is that guests won't even look twice or doubt you're hiding something in there.
Pros
Attractive solid wood and design
Reliable clock
Affordable
Cons
Can only hide pistols and revolvers
---
Tactical Walls 1242 Top Locking Shelf
This top locking shelf features a grade 9-ply birch plywood, which is quite durable. It also has a medium-density polyurethane foam insert that I use to customize the fitting of my firearms to keep them pristine and secure.
It comes with different finish options, so you can fit the colors to complement your furniture. The shelf also holds up to 25 pounds, so feel free to decorate it as much as you like. Additionally, this shelf can blend into any room in your house, which is a plus for accessibility and versatility.
It also comes with two keys and hidden locks that you locate on the shelf top. Installing this concealment gun safe is straightforward – install it like any ordinary shelf. The package comes with two shelf brackets, so you don't need to worry if you need to buy one. If you lose your magnet key, you can order replacement keys.
Pros
Easy to install
Easy to engage and disengage
Can fit rifle-length firearms
Available in different lengths
Cons
Forgetful owners may forget lining up the magnets and removing them before closing the shelf
---
GunVault SpeedVault SVB500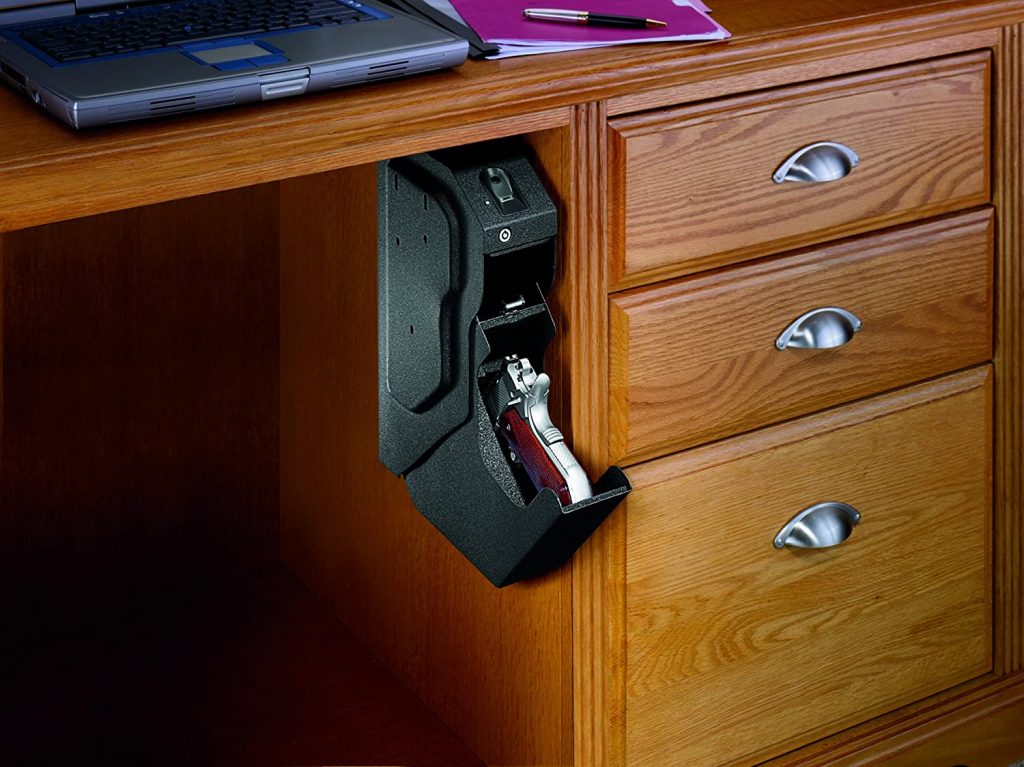 The Gunvault Speedvault SV500 is an affordable, compact safe that is ideal for storing handguns, ammunition, and other valuables. The safe equips itself with a spring-loaded door that opens in less than 1 second when you enter your access code.
With a fast access gun safe built of 18-gauge steel, you'll be able to keep your pistol safe and accessible at the same time. The GunVault SpeedVault SV500 is intended to be installed on a wall or under a desk. It has tamper detection, low battery indication, and a secure sleep mode. In addition, it's small and simple to hide. To keep your pistol from becoming scratched, this safe is completely lined inside and is secured with a high-strength lock fitting.
Another feature to keep in mind is that anyone who tries to open the safe 24 times in a row will be locked out for a set period. The keypad will be in Security Sleep Mode for 2 minutes after this, during which time it won't accept any new entries. Once a user attempts to use the keypad for the second time, an alert sounds. So, be sure to remember your password.
Pros
High-strength lock mechanism
Comes with two backup override keys
Can be installed in different locations
Has internal light
Compact and easy to conceal
Cons
Not water or fireproof
Noisy when unlocking
---
MonsterVault Under-Bed Gun Safe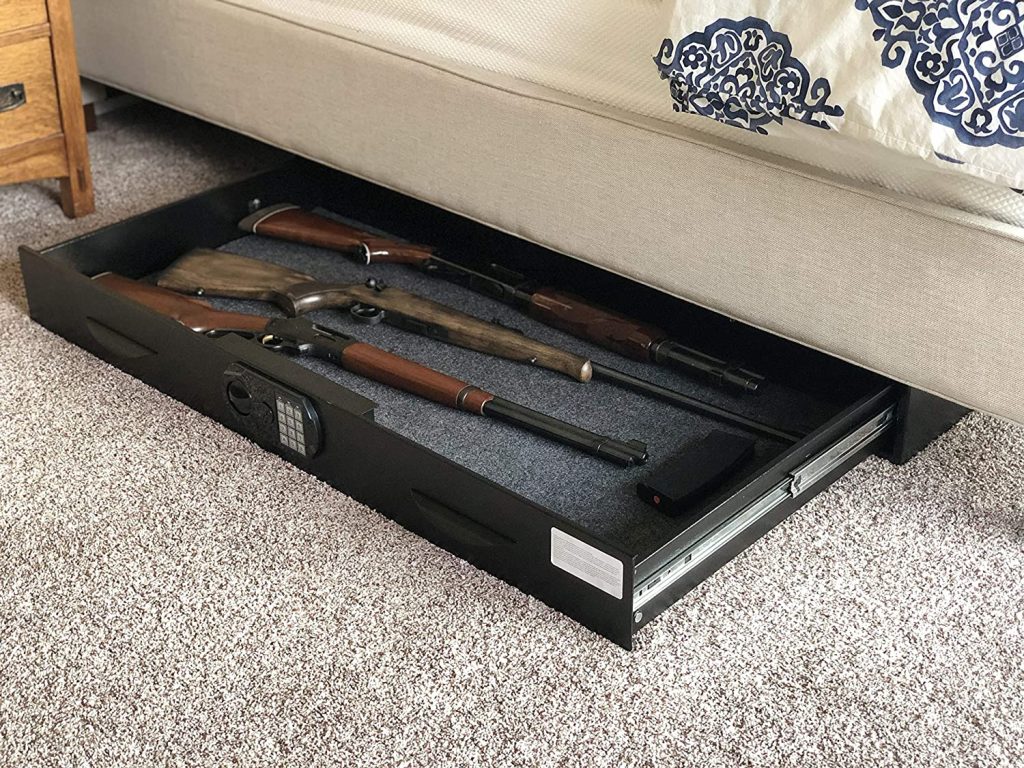 Next is the MonsterVault, which is, personally, I'm a fan of. The company has an excellent reputation for its durable build quality – it's for heavy-duty use. However, it does not have any fancy features. So, this safe is best for those seeking excellent quality that lasts a long time.
Just by looking at this safe, you'll know that you need to use it to hide precious belongings. It's not like the other concealment safes that you can display like a piece of furniture. But it's something that you should hide. I recommend you store it in someplace safe and somewhere you can get access quickly when you need it.
Electronic keypads are the primary security feature of this safe, aside from its sturdy build. What's great about this safe is that it fits a whole rifle. Don't just take its name for its purpose. Aside from storing it under the bed, you can hide it in your car trunk too.
Pros
Made of heavy double wall steel
Spacious interior
Low profile and compact design
Secure electronic keypad access
Cons
Not fireproof or waterproof
Must be stored in a secret and secure place
BONUS OFFER: Get your free shooting range targets to print at home!
Get your free targets to print at home!
---
Tactical Walls Concealment Coffee Table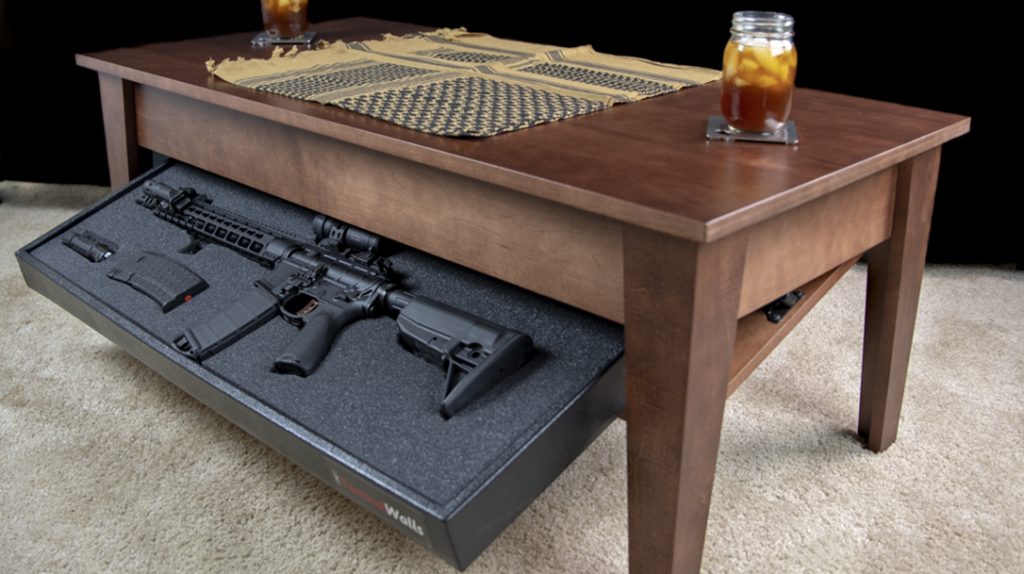 For those who want a furniture-looking gun safe that requires no installation, check this concealment coffee table out. It's handmade in the United States, using a sturdy maple wood table that's available in different shades – I dig the walnut variant. It's versatile to match the furniture at home. Plus, the design is minimal yet classy that keeps your firearms secure while giving you easy access.
There's enough room inside for a 16-inch rifle or a short-barreled shotgun to fit. The same chamber measures 11 3/4 inches in width. As a result, you may also pack in more magazines, a couple of pistols, and more.
Also, you can unlock the hidden safe by using an RFID key. Just swipe and open – easy peasy! Like the concealment shelves, the safe is hidden at the bottom, and the tray slides out upon unlocking. Also, it comes with foam to customize the fit of your firearms in the hidden vault.
Pros
No installation needed
Easy RFID access
Offers versatility and accessibility
Available in different shades to match your decor
---
American Furniture Classics 611 10 Gun/ Curio Slider Cabinet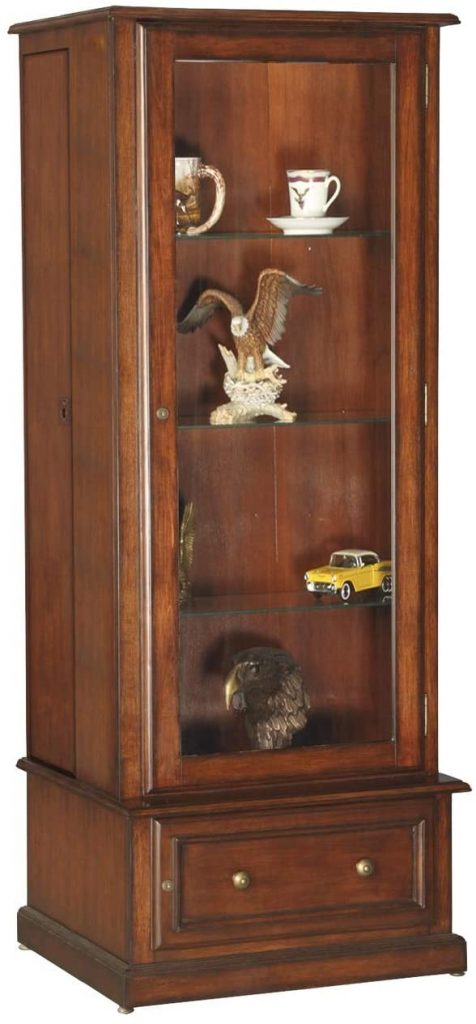 Another no-installation-required concealment safe, the 611 10 Gun/ Curio slider cabinet, is an accessible way to conceal your firearms. However, it doesn't come immediately as a piece of full furniture – you still need to assemble it.
This furniture measures 55 1/2 inches long x 27 inches wide x 10 1/2 inches high. You can store your short-barreled shotguns and AR-15. It also displays a lighted curio display area that has glass shelves. Also, the cabinet features spacious sliding gun storage located behind the curio display area. However, it cannot accommodate more extended types, so you need to take the barrel off to fit your long guns in the curio.
Pros
Discreet way to conceal firearms
Accessible
Fits shotguns and rifles
Classy design
Cons
Takes long to assemble
Not long enough for some guns
---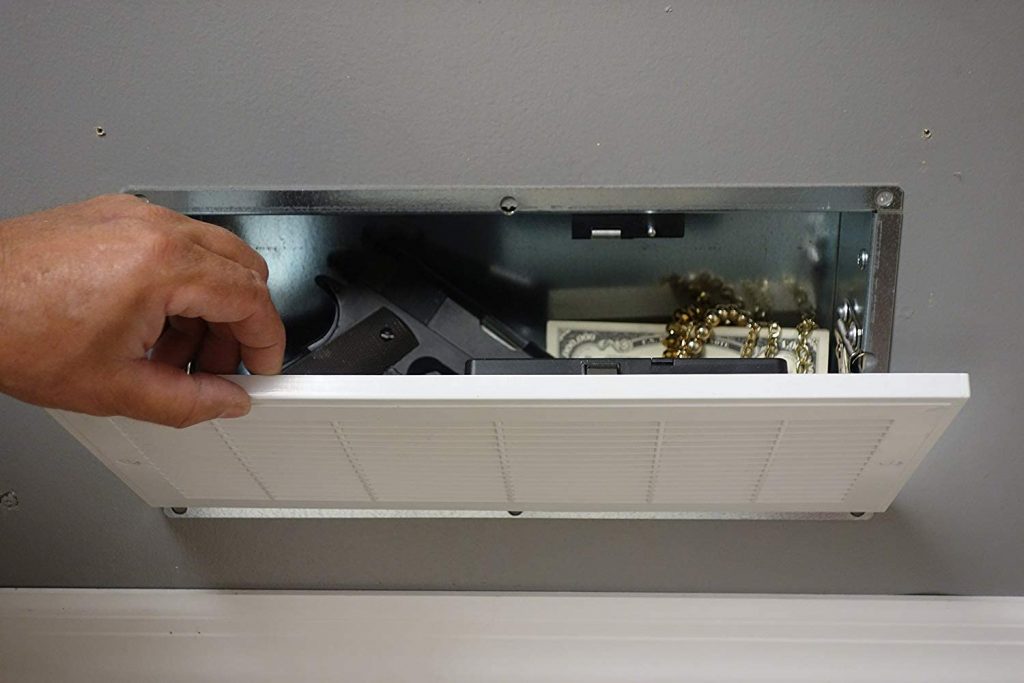 Using vents as a safe is also an excellent way to keep your guns secured and accessible at the same time. The QuickSafes Hidden Compartment Air Vent looks no different from what most homes have today. In addition to being discreet, it's also simple to install.
The safe is held in place by two 16-inch center studs. You could even put a brick in it, and it would still stand up to the test! If you live in the United States or other nations where this air vent is commonplace, the Air Vent Safe is a suitable option.
This hidden safe utilizes RFID technology, while the locking mechanism comes powered by AA batteries. But you don't need to worry if the batteries run out because it has backup. It comes with an external battery pack that attaches to a socket at the bottom of the vent. It gives the electricity required to unlock the safe and replace the drained batteries.
Pros
Discreet way of keeping your firearms and other valuables
Durable build
Can be stored in accessible places
Has battery backup system
Cons
Not for those who live in areas where air vents aren't normal
The Phillips head screw is beige, giving it a less convincing look
---
---
Stalwart Diversion Book Safe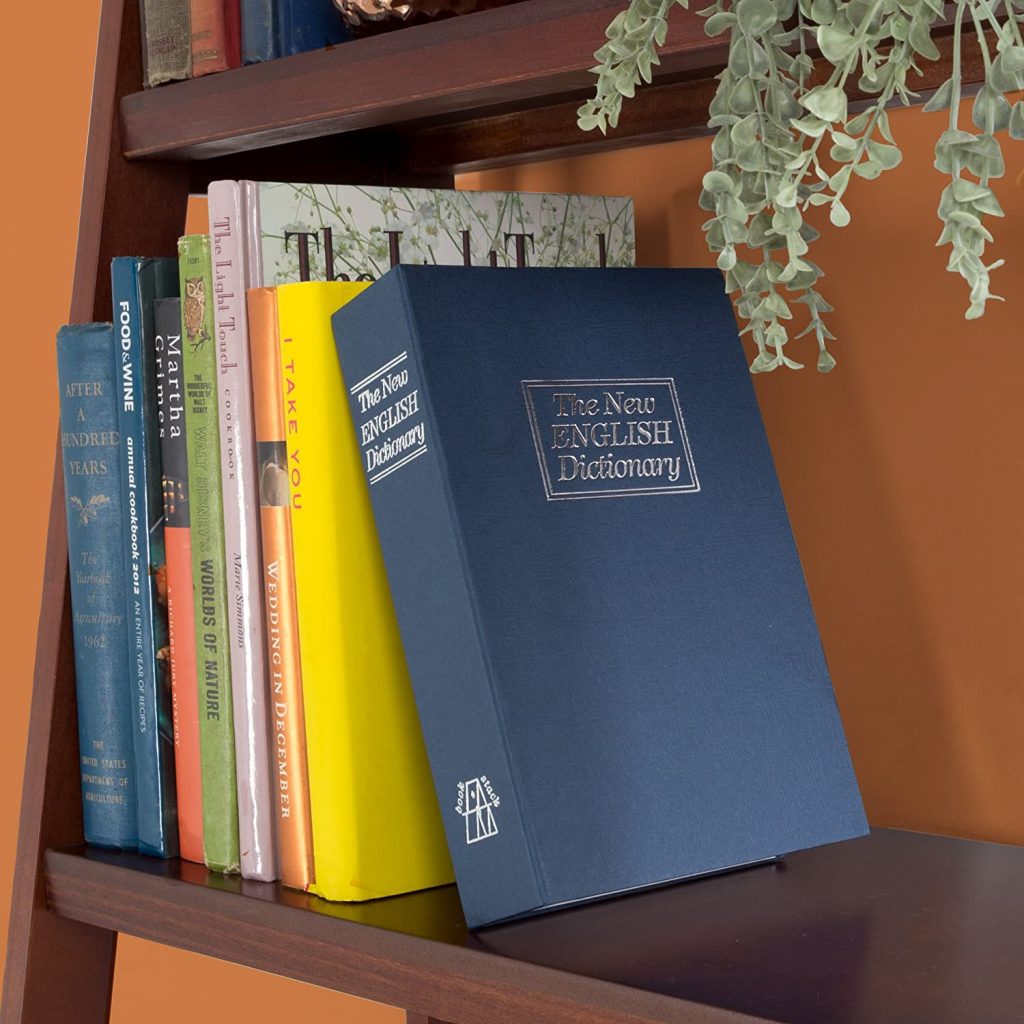 A book safe is another excellent option to hide small guns. It's unobtrusive and may be placed practically anywhere in your house. Keep the keys concealed in a secure location.
The book measures 2.25 x 6.13 x 9.6 inches. You may place a small handgun or revolver, as well as a few magazines, in this compartment. Our safe is not as high-tech as the other gun safes on this list. It simply has a typical lock and key system, but it's durable and can mix with your other books.
I recommend putting it in a bookcase rather than leaving it in any other areas of your home where visitors could find you have a concealed safe.
Pros
Blends seamlessly with the books on your bookshelf
Lightweight and compact
Something you can carry with you
Looks like an actual book
Cons
Works better if you have a bookshelf
First few pages of the book looks fake (made of plastic)
May be too small for some
---
I Have a Gun Safe… Now What?
Now the moment has come for you to decide what to do with your new safe. Some individuals prefer to keep their firearms in a safe at all times, while others prefer to keep them out of sight and only use them when necessary.
If you're the secretive sort, put your firearm in a place where it's hard to discover. Think spy.. or even James Bond. You can opt on hiding your guns in secret cabinets, bookshelves or choose from our examples of furniture gun safes. Also, some safes feature holes for wiring or cables, which you can use to conceal the safe from view.
Another thing to note is that it is best to keep more than one safe. There are two ways to reduce the danger of a safe being discovered: First, making sure that safes are concealed or camouflaged effectively. Second, by making sure that they are adequately protected in case they are found.
Wrap Up
That concludes our list of the best hidden gun safes available in the market today. If you ask me, my favorite hidden gun safe is the MonsterVault Under Bed Gun Safe. It's the ideal safe for me as I can place it in any part of my home, and I like prefer hiding my stuff in someplace safe in. Plus, the quality is superb.
But for a fancy furniture gun safe, I really like the Tactical Walls 1450M Sliding Mirror. It's accessible and has an RFID locking mechanism, making you feel like a spy in a movie. Aside from that, it keeps firearms secure. It's high quality, secure, and can fit some rifles.
What about you? What's your favorite hidden gun safe on this list? Let us know in the comments below!
You might also like to read: