A gun vise is an indispensable item when it comes to cleaning your gun or performing any other work on it. No matter how you do your regular gun cleaning or adjust a scope, a vise makes this process much easier.
So, if you are planning on working on the weapon of your choice on a regular basis, a good gun vise is definitely worth your money. We created this quick buying guide, highlighting our top choices for the best gun vises with their reviews.
Top Pick

MTM Rifle And Shotgun Gun Vise

Wide gun type support
Features a fast clamp down and a secure non-marring hold
Great price to quality ratio
Plastic material

$79

Shop NowClick to read my review
Tipton Best Gun Vise

Very versatile; fits almost every firearm
Very sturdy; great for heavier work on your gun
Bolts are easy to tighten
Plastic material

$84

Shop NowClick to read my review
CTK P3 Ultimate Gun Vise

Really sturdy
Can be used as a shooting rest
Steel material
Expensive

$139

Shop NowClick to read my review
Tipton Standing Ultra Gun Vise

Durable and premium construction
Modular design
Has multiple accessory compartments
Pricey

$240

Shop NowClick to read my review
BONUS OFFER: Get your free shooting range targets to print at home!
Get your free targets to print at home!
Buyer's Guide to the Best Gun Vise
There are a few things you should keep in mind if you are looking for the best gun vise. Sure, you could just go with the first recognizable brand, but does a Tipton gun vise really live up to its hype? Well, let's find out by creating a quick rundown on what really matters.
Quality and Features
Aside form materials, the product's features are the best indicator of its quality. A well-designed product will offer everything you need to set it up and start using it right away. Make sure it's made of high-quality materials by inspecting the product closely or by looking at its specs.
And if there are many reviews and ratings for gun vises, but worse than good ones, it may not be worth buying. Instead, try to find items that have received generally positive feedback from customers. If you have any concerns about the product's quality, you can read the return policy before making a purchase.
Versatility
Since there is no way you will buy a separate vise for every rifle you own, it's best to choose a vise that offers a wide range of use for different types of guns.
Usability
Cleaning a gun can be tricky and the best gun vise should improve that process. Therefore, it's also essential that you can adjust angles, elevation, and maybe even rotation while your vise still holds your firearm in place with a firm grip. Furthermore, this gives you a chance to reach all those tricky spots while cleaning or adjusting the perfect position for the scope and barrel.
Durability
An excellent gun vise should come with a certain balance. Even a perfectly safe grip is useless if the vise itself doesn't come with a safe stand. Moreover, nothing should shake while you clean the chamber, barrel, or whatever you plan on doing while you strap the gun on it. A good vise should also work with a combination of weighted ground and a spread-out bottom half. It should also enable you to attach the vise on the table you are working on.
Price
A good gun cleaning vise doesn't have to break the bank. Moreover, looking for a good product also meant looking for the best gun vise for the money.
Why Get a Gun Vise?
A gun vise may not appear like a necessary item at first glance. You just want to clean your firearm, right? But there are some who value their guns and just want to clean their own gun. Simply placing your pistol on a table won't do the trick if you want to clean it yourself. A gun vise can not only extend the life of your firearm but will also end up saving you money over time.
The Best Gun Vises and Their Reviews
Keep in mind, we only provide recommendations, and not every gun vise works for every firearm. Choose accordingly to your arsenal, but going with our top lists is also a good option to consider.

---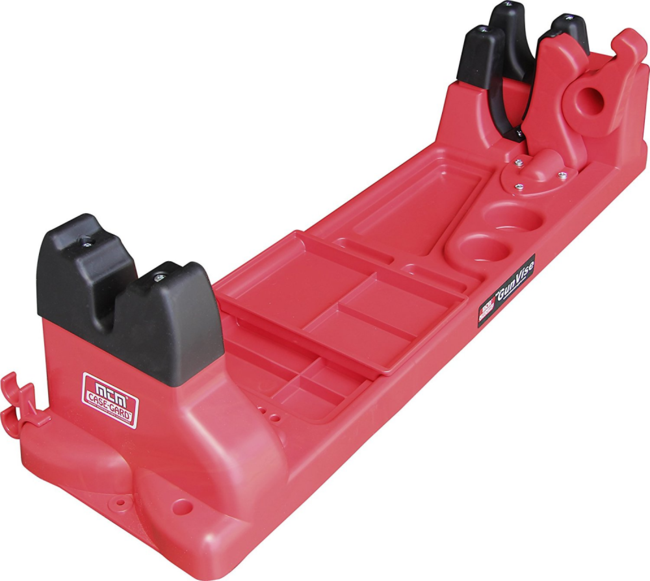 MTM is well-known in the firearms industry for its gun cases. They also developed new and improved gun vises as experts of polymer fabrication. Additionally, the MTM GV-30 is a versatile gun vise system for a variety of tasks. Cleaning weapons, fitting optics, and other tasks are all made easier with the MTM GV-30 Gun Vise.
It is relatively inexpensive and made of red plastic, black rubber, and hollow on the inside. It's also light as a feather. In addition, this Gun Vise is a well-designed tool. Its smart design extends to keeping it as inexpensive as possible without losing usefulness.
The MTM Gun Vise is also a plastic workbench that holds a firearm so you may clean it with both hands. It's a 31-inch-long, 8-inch-deep plastic device with 8-inch-high stands on each end. It handles a wide range of firearms for gun cleaning, maintenance, and gunsmithing. To protect your firearm's finish, MTM rubberized all touchpoints. The second fork, located behind the clamp, is for cleaning guns so that you can clean them at the right angle.
The 11 compartments in the base separate gun parts or whatever else you like. The unit's 21 screwdriver bit holders are well-suited for jags and brushes as they are for bits.
Overall, the vise is well-designed. Its plastic and clamps are strong. It is simple yet works well for its purpose. It meets a lot of gun owners' needs for maintenance, cleaning, scope mounting, and basic gunsmith tasks. All thanks to its affordable price and a long list of features.
Pros
Features a fast clamp down and a secure non-marring hold
Great price to quality ratio
Suitable for all gunsmithing needs
Rubberized contact parts and legs
Lots of space for storage
Wide gun type support
Cons
No instructional manual
The hold isn't perfect
Plastic material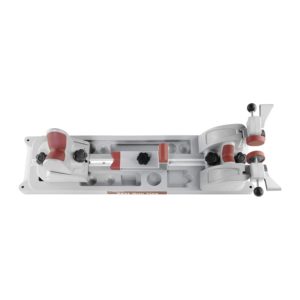 Tipton's marketing chose not to be humble on this very product and just plainly named it what they believe it is: The best gun vise.
One of the most purchased gun vises on Amazon; there must be more to it than just those Tipton guys bragging, right? And yes, it's actually a pretty decent choice. A big part of why that specific vise is so popular is its flexibility. It works for a huge range of firearms. The three points of padded support are fully adjustable, and provide a wide range of possible positions.
Generally, it should fit any stock configuration, making it the number one all-around vise on this list. From working with an AR15 up to commonly used revolvers and pistols, this vise holds them all. Adjusting angle and height is obviously no problem either, so a barrel down position for cleaning and oiling is something easily achieved.
Our favorite feature of the Tipton Best Gun Vise is its sturdiness. Once your gun is locked in it's locked in. Wow, you might say, it actually does what it's supposed to do. Why did we bother to mention this? Well, after the Lyman Revolution this vise is the exact opposite. Not necessarily through its weight, but its design limits any wiggling to a bare minimum. A great choice in our opinion, and an awesome addition to every workshop.
Pros
Very versatile, and fits almost every firearm
Very sturdy, making it great for heavier work on your gun
Bolts are easy to tighten
BONUS OFFER: Get your free shooting range targets to print at home!
Get your free targets to print at home!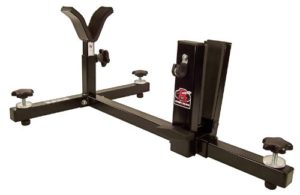 The P3 Ultimate Gun Vise comes with a steel construction which definitely beats plastic. Keep in mind we are working on guns, so I will never trade lightweight for sturdiness. You want to rely on your vise holding your gun exactly how you need it and the P3 Ultimate certainly succeeds here.
The bonus of having a full steel vise is that in most cases, it can easily be transformed into a shooting rest. While you would never think about doing this with a plastic vise, the P3 Ultimate is actually such a 2-in-1 package. Attach the optional rest, and you got yourself a handy friend on the shooting range. Get yourself a few additional bags of sand, and you won't feel a difference from a traditional rest.
If you had any doubt about this vise being sturdy enough for your workshop, it should be gone by now. No matter if you are going to use it for pistols or rifles, this vise is a decent investment.
Pros
Really sturdy
Can be used as a shooting rest
Steel material
The Tipton Standing Ultra Gun Vise is an all-in-one gun cleaning vise that provides outstanding security and a snug fit with practically any weapon platform. The glass-filled nylon material used in its manufacture provides unyielding strength and reliable corrosion resistance, while the modular design allows you to adjust specific parts to better fit the frame of your handgun for a firm grip without hurting the gun in any way.
The 4-legged system stands on its own, so there's no need to huddle around a table or bench, and it collapses down into a compact, lightweight package, making it ideal for transit to and from the playing field or shooting range. The Ultra Gun Vise Modules in this gun vise are what really set it apart from the competition. They feature non-marring clamps, ball-and-socket articulating clamp pads, and replaceable trays.
Pros
Durable and premium construction
Modular design
Has multiple accessory compartments
Fast-turn knobs
Which Gun Vise Is The Best?
Considering all the requirements reviewed above, we choose the MTM Rifle And Shotgun Gun Vise as the best gun vises on this list. It's a product from a well-known manufacturer. It's also versatile and inexpensive. We also like the way the company rubberized all touchpoints to protect your firearms. Furthermore, it's also well-designed and contains many features that can meet any gun owner's needs.
You might also like to read: