Are you currently looking to install a new bolt carrier group on your AR-15? If so, you've come to the right place.
The bolt carrier group is one of the single most important components to have in your AR-15. It is after all what allows the rifle to fire and function. Without it, your AR would be little more than a club.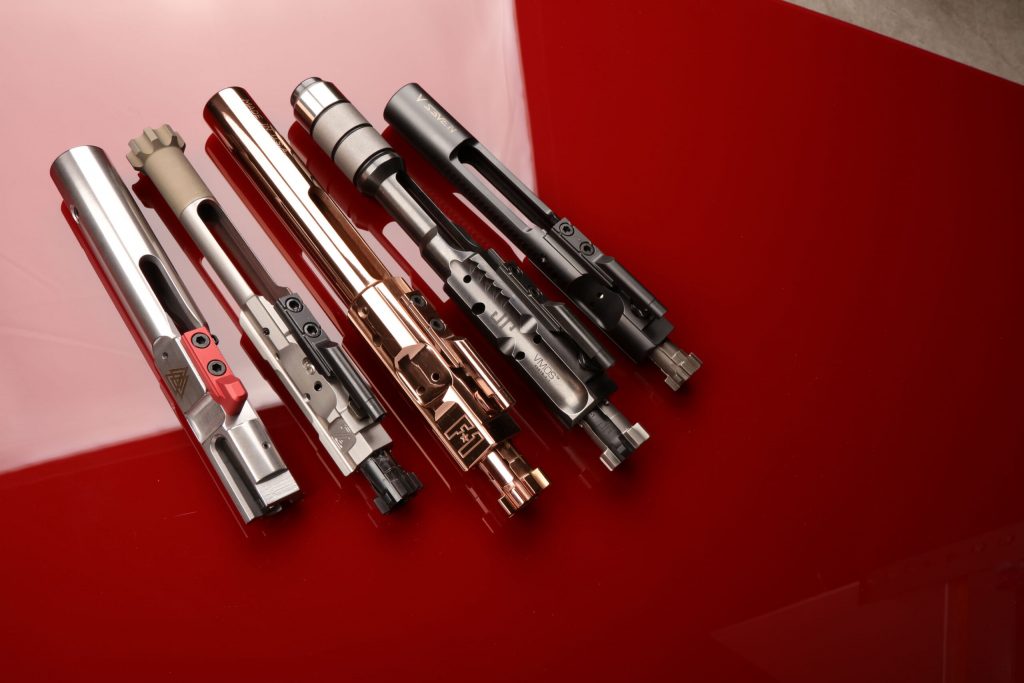 Regardless of whether you are building a new AR-15 from the ground up with a build kit or seeking to upgrade your existing one, the BCG is arguably the component that deserves more careful research than anything else.
In this guide, we'll outline and discuss the primary components of an AR BCG, how to install it in your AR-15, the top qualities to look for in a group, and then our choices for the best bolt carrier groups that you can get!
BONUS OFFER: Get your free shooting range targets to print at home!
Get your free targets to print at home!
What is a Bolt Carrier Group?
You're probably wondering: what even is a bolt carrier group?
Short answer: it's the part that makes the gun go. A bolt carrier group, or BCG, is an assembly of several components that are found in the upper of your AR. It is responsible for cycling rounds through the chamber as you fire.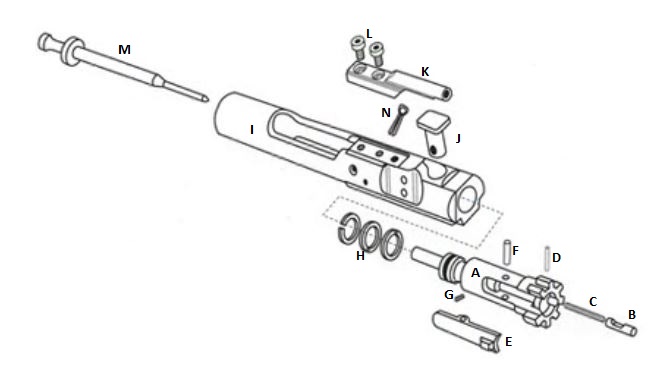 A BCG uses the gas from a fired round to slightly rotate and push back against the buffer spring. This opens up the ejection port and ejects the spent casing. As the BCG moves forward again, it strips the next round from the magazine and pushes it forward, into the chamber.
The bolt carrier group also contains a firing pin, which strikes the loaded round's primer and fires the round when you pull the trigger.
Parts of a BCG
Let's discuss the individual components of the bolt carrier group in greater detail.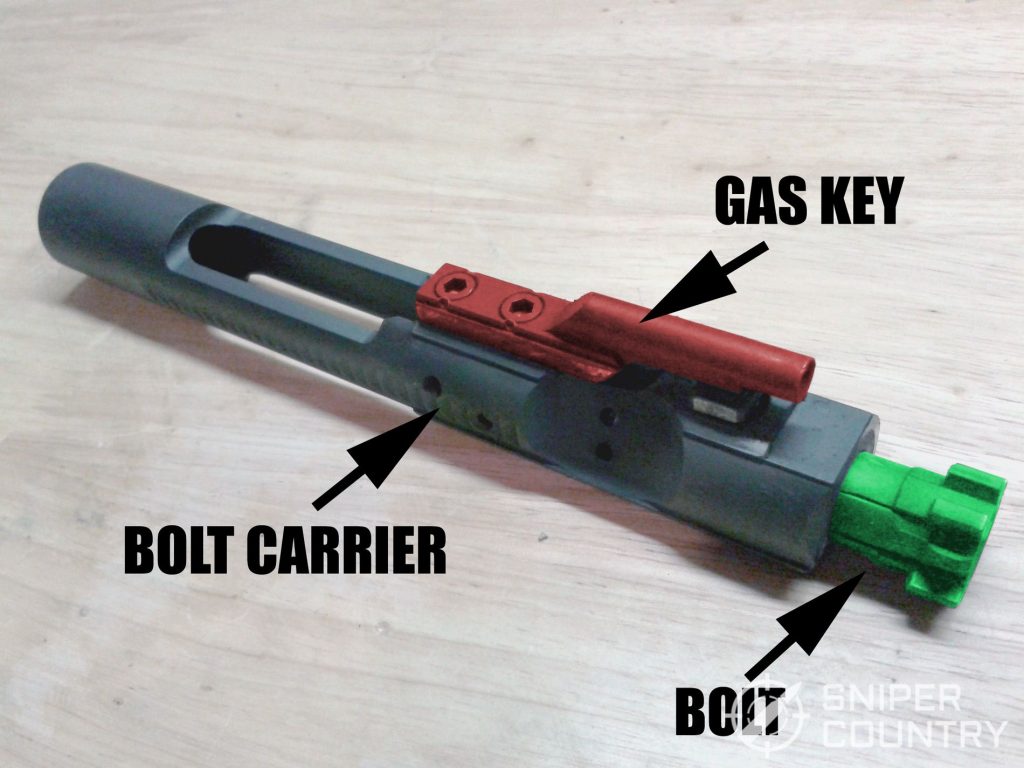 Bolt Carrier
The first part of the bolt carrier group is the bolt carrier.
Take note that the terms "bolt carrier group" and "bolt carrier" are often interchanged, but the reality is that they are very different from one another.
The bolt carrier itself is simply the housing that holds the rest of the parts of the bolt carrier group as a whole. You might also see this referred to as the "bolt carrier housing."
This part is also in direct contact with the spring and the buffer to your AR-15. It absorbs the force from the fired round to travel backward. When it does, the spent shell casing is extracted and a new round is loaded.
Gas Key
The next part of the bolt carrier group is the gas key, also known as the carrier key. The gas key is a small protrusion that is visible at the top of the bolt carrier housing. It is hollow on the inside. This allows the gas generated from a fired round to travel into it so that the bolt and extractor can rotate.
Without the gas key, the bolt carrier group as a whole could not rotate to cycle the action back.
Gas Rings
The gas rings are the next part we'll be looking at. The gas rings trap the gas when they expand from a fired round.
Without the gas rings, the gas generated from a fired round would disperse before the bolt could cycle.
If you're having trouble with a rifle suddenly failing to cycle properly, you problem likely is with your gas rings.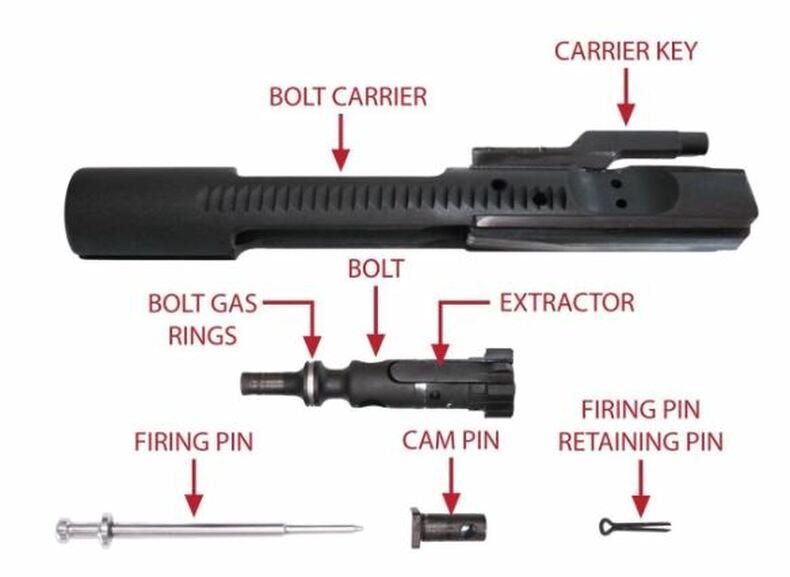 Bolt
The bolt is a star-shaped piece that you will see at the front of your bolt carrier group. It matches the shape of the chamber, so it's quite easy to spot.
When the bolt carrier group needs to travel back, the bolt will rotate fifteen degrees to unlock the chamber and allow the action to cycle backward.
Extractor
Many people believe that the bolt and the extractor are the same thing because they are part of the same unit. However, the truth is the extractor and the bolt are vastly different and serve two functions.
The extractor hooks onto the rim of your round to hold it in place, before ejecting it out of the ejection port when your bolt travels to the rear. The extractor is built into the bolt itself, but it is its own separate component with a unique job to do.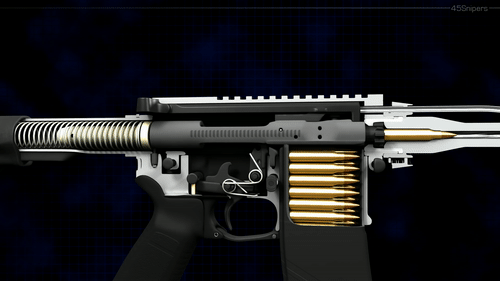 Firing Pin
As noted previously, the firing pin strikes the primer to your round to enable the AR-15 to fire.
Pretty much every gun uses a firing pin to operate, regardless of how the rest of the firearm operates.
Cam Pin
The cam pin prevents the bolt from rotating too far when it unlocks. Specifically, the cam pin allows the bolt to rotate approximately fifteen degrees.
You will notice the cam pin located in a hole through the carrier, and directly next to the bolt.
Fully Automatic vs. Semi-Automatic Bolt Carrier Groups
There are two primary kinds of bolt carrier groups on the market: fully automatic and semi-automatic bolt carrier groups.
A full-auto bolt carrier group simply means that the group is durable enough to handle fully automatic fire. Sometimes, you will find these called M16 BCGs, because they're designed for a full-auto M16, not a semi-auto AR-15.
Meanwhile, a semi-auto BCG is only capable of handling semi-automatic fire. It might also be called an AR-15 BCG, for the reasons above.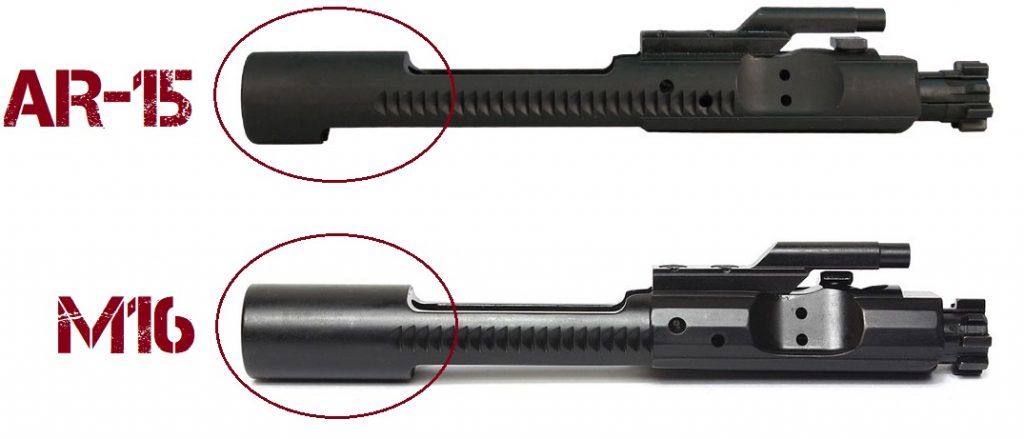 As you can probably imagine, fully automatic bolt carrier groups are generally more durable. However, just because you install a fully automatic BCG in your AR-15 does not make it fully automatic!
To truly convert your AR-15 to a fully automatic design, there are several other components you will need–and those are pretty strictly regulated in the U.S.
The main benefit to a fully automatic bolt carrier group is it permits you to make the necessary conversions for if you would ever want to convert your AR-15 into a fully automatic version (where and when it is legal of course).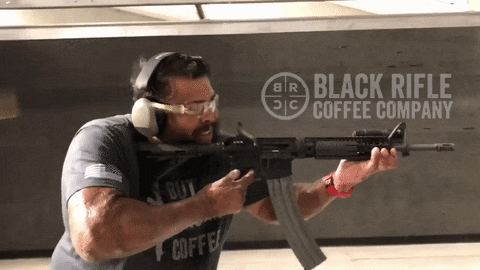 Fully automatic BCGs are slightly longer than semi-automatic bolt carrier groups. They also feature a lug that applies pressure to the sear of a fully automatic AR, permitting burst or fully automatic fire.
An auto BCG will also come with shrouded firing pins in the absence of disconnector pins, permitting reliability with fully automatic fire.
Yes, these features do make your fully automatic bolt carrier group more expensive than a semi-automatic version, and they also add weight to your rifle.
However, this should also theoretically help to reduce recoil as well especially in combination with a good AR-15 muzzle brake.
BONUS OFFER: Get your free shooting range targets to print at home!
Get your free targets to print at home!
How To Install a New BCG in an AR-15
Installing a new BCG is one of the easier upgrades to make. It just takes a few simple steps:
Confirm the AR-15 is unloaded and remove the magazine
Remove the rear pin to separate the lower receiver from the upper receiver
Simply pull the existing bolt carrier group out of the rear of your upper
Slide the new bolt carrier group into the upper receiver
Reassemble the lower and upper and secure with a pin
Disclaimer: Upgrading your firearm, like every other aspect of firearm use, comes with some inherent risk. If you don't feel comfortable making the swap, find a trusted gunsmith to do the work for you. You don't lose any cool points!
Choosing a Bolt Carrier Group
These are the most important factors to consider when looking for a new bolt carrier group for your AR-15. Let's take a look!
Magnetic Particle Inspected
Any bolt carrier group that you get for your AR-15 should come magnetic particle inspected. This means that the bolt carrier group was coated in a solution of magnetic particles and inserted into an electromagnetic field.
This locates any cracks or fissures in the bolt carrier group or otherwise confirms that no fissures or cracks exist.
The reason magnetic particle inspection is so important is because it confirms the durability of your bolt carrier group.
Each time you squeeze your AR-15 trigger to fire a round, tens of thousands of pounds of pressure are applied per square inch.
IF there are any cracks or fissures in your bolt carrier group, it simply will not hold up over the long term, let alone in the short term either–and that can be dangerous to you!
High Pressure Testing
Besides coming magnetic particle inspected, your AR-15 should also come high pressure tested. This means that the round is capable of firing ammunition rated above SAAMI specifications.
Even if you do not plan on firing such ammunition through your AR, the fact that it can handle high-pressure ammunition is a very welcome feature since it guarantees that the weapon can also handle standard factory ammunition without issue.
Drop-In Mil-Spec Design
Finally, if you want your bolt carrier group to come as easy to install as possible, it should have a drop-in mil-spec design. A drop-in BCG is easily installed into your AR-15 without the aid of a gunsmith.
It is fully compatible with most, if not all, other mil-spec AR-15 upper receivers on the market. That means that no fitting on your part should be required.
BONUS OFFER: Get your free shooting range targets to print at home!
Get your free targets to print at home!
Best AR-15 Bolt Carrier Groups
Now that we've covered why you need to upgrade your bolt carrier group, let's talk about our favorite BCGs on the market today!
1. Battle Arms Development AR-15 Enhanced Full-Auto Bolt Carrier Group
Overall, the Battle Arms Enhanced Full-Auto BCG is one of our favorites. We think it's a great balance of quality and affordability, so it's a great upgrade if you're just getting into modding your AR-15.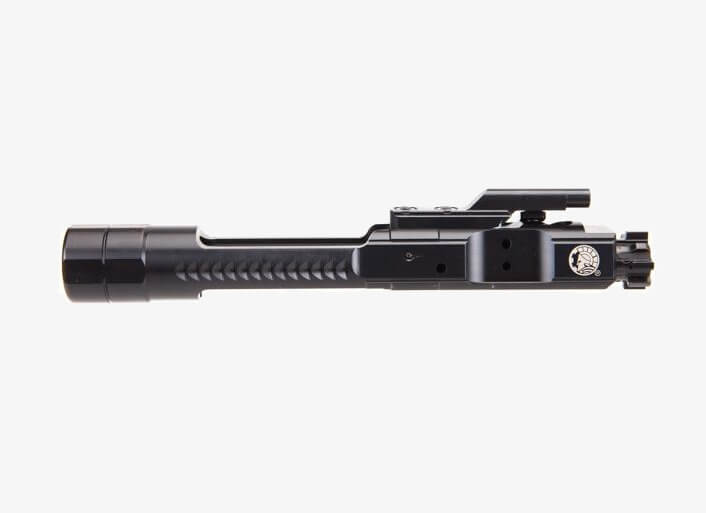 It is capable of handling full-auto shooting and is constructed from 8260 steel with a rust- and corrosion-resistant nitride finish. The whole thing also has been CNC heat-treated for a little extra durability.
So, it might not be the flashiest BCG out there, but it's solid.
The Battle Arms BCG is a mil-spec design, so it will be compatible with most AR-15 rifles and parts you'll find on the market. What makes it unique, however, is that it's specifically shaped to reduce carrier tilt by relocating the key bearing surfaces, which improves reliability
I've also found that the gas key is properly staked, which is always a plus. Not to mention, magnetic particle inspection is standard!
---
2. Brownells Nitride M16 Bolt Carrier Group
When it comes to brands we trust pretty much across the board, Brownells is high on our list. They offer quality parts at great prices, so we just had to recommend their Nitride M16 BCG.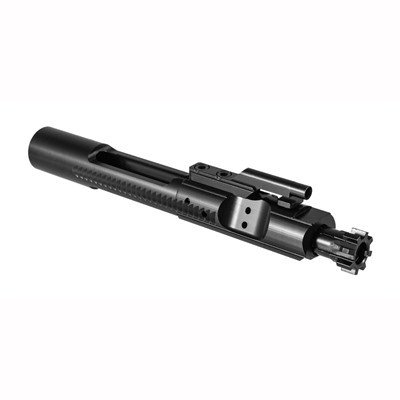 This BCG is capable of full-auto fire, if that's ever a thing you need. It features a bolt made from 9310 steel and a housing made of 8620 hardened steel, finished with a nitride treatment for great durability.
The Brownells BCG is compatible with any round based on the 5.56 NATO cartridge, so this opens your options up to .300 Blackout and .223 Remington, too.
Like everything Brownells produces, this bolt carrier group is carefully quality-checked and undergoes a magnetic particle inspection for flaws before it hits the stock room shelves. The gas key even comes pre-torqued and staked for your convenience!
---
3. Palmetto State Armory Nitride Mil-Spec M16 Bolt Carrier Group
PSA might be considered a bit bargain bin for some shooters, but we still like a lot of their products and recommend them for anyone on a strict budget. Their basic Mil-Spec BCG is a long-time go-to of ours, so it had to make our list.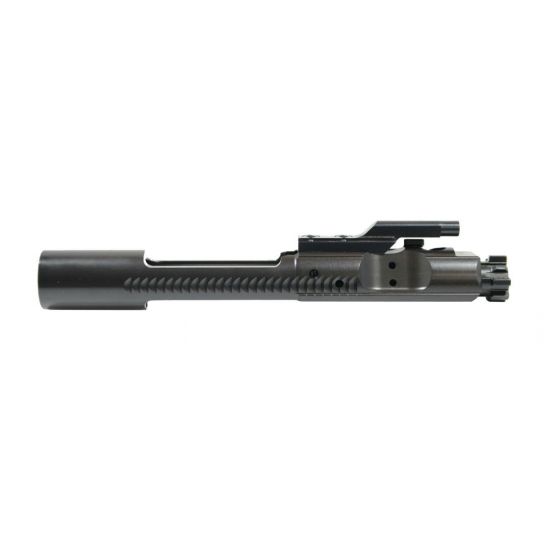 This is a pretty basic BCG, but sometimes, that's all you need. Like the Brownells BCG above, it's constructed from 8620 steel with a 9310 steel bolt with a hardy nitride finish. It is 100% mil-spec and the hardened gas key is also torqued and staked to mil-spec specifications.
Is it the flashiest BCG out there? Nah. Is it a great first bolt carrier group for a new shooter or builder? Absolutely.
---
4. Colt Factory Bolt Carrier Group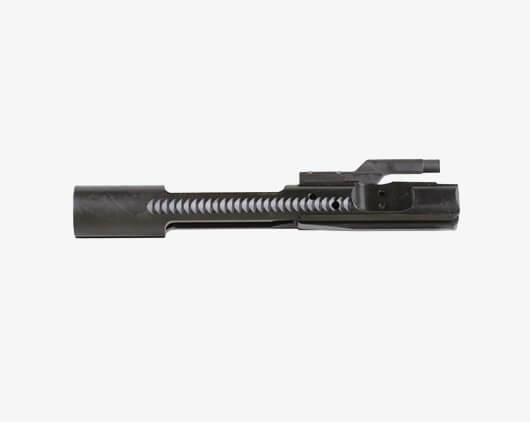 The Colt BCG is a classic choice for a mil-spec AR-15 bolt carrier group. After all, Colt is the OG AR-15 manufacturer, so they know a thing or two.
Even though this is a Colt OEM part, it should work in any other mil-spec AR-15 that you have, too. The drop-in design makes it easy to DIY the install, rather than enlisting the services of a gunsmith.
Anyways, the Colt BCG comes with multiple advantages, including a properly staked gas key, and a chrome-lined gas key and carrier that are very durable and rust-resistant. Each part is precision engineered, too.
The matte finish to the Colt factory BCG is admittedly not the nicest looking, but at the end of the day, if you're looking for a solid mil-spec bolt carrier group that is built to last… the Colt is a solid choice.
---
5. Aero Precision Bolt Carrier Group
If you want to take it up a notch in quality, you can't go wrong with Aero Precision's Nitride BCG. It's an M16 style BCG made from 8260 tool steel and a hardened 9310 steel bolt–which you might have noticed is sort of the standard.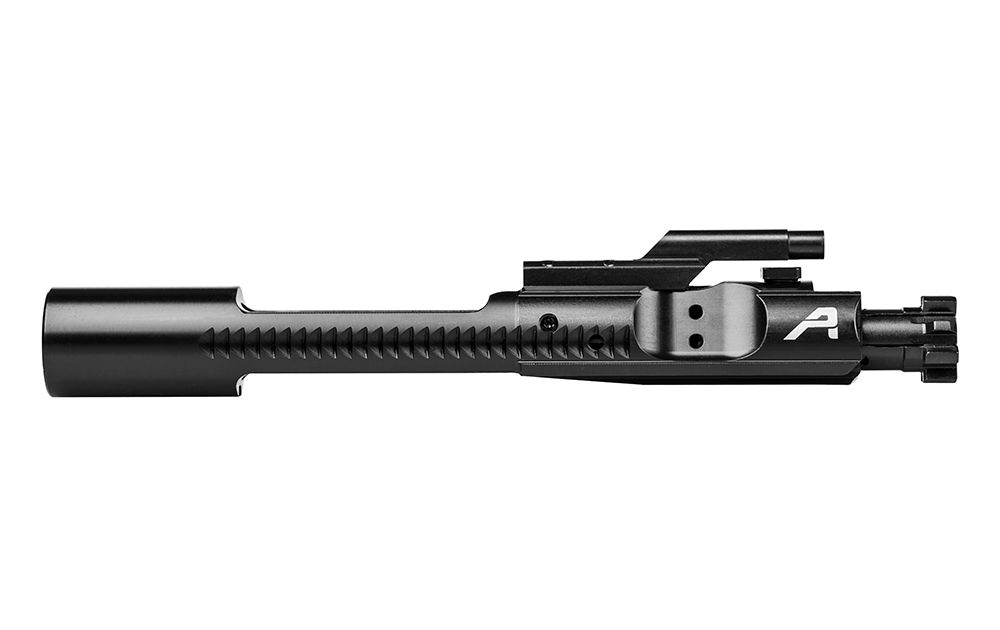 These are nice bolt carrier groups. They're finished with a tough nitride finish, but feature a low-friction coating to reduce the amount of cleaning and lubing you need to do. We're all for low-maintenance.
However, Aero parts have been known to play nicest with other Aero Precision components, so we'd recommend this BCG if you already have an Aero upper. That's not to say that they can't work with other companies–just that they're not always hassle-free when you mix and match.
Aero puts these bolts through high-pressure testing and magnetic particle inspection, so you can rest easy knowing your BCG is ready to rock and roll for a long time.
---
6. Bravo Company Manufacturing M16 Bolt Carrier Group
BCM has a pretty great reputation for building quality, excellently designed rifle parts, and their M16 BCG is no different. It's a proper mil-spec design with some nice finishing touches that elevate this part above your standard old USGI M16 part.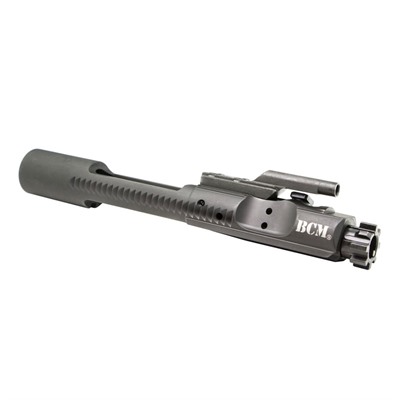 On top of being full-auto capable, this BCG features a chrome-lined carrier body and a parkerized finish. This makes for awesome durability and operation. The BCG is machined from Carpenter No. 158 steel, with a machined tool steel extractor and ejector.
All of BCM's bolt carrier groups are magnetic particle inspected, high-pressure tested, and test-fired for quality control purposes. You might not get a sparkly new BCG from them, but you will get one that has already proven its functioning!
---
7. Rainier Arms Precision Match Bolt Carrier Group
This BCG has earned five star review after five star review – which is pretty consistent with how Rainier Arms does things.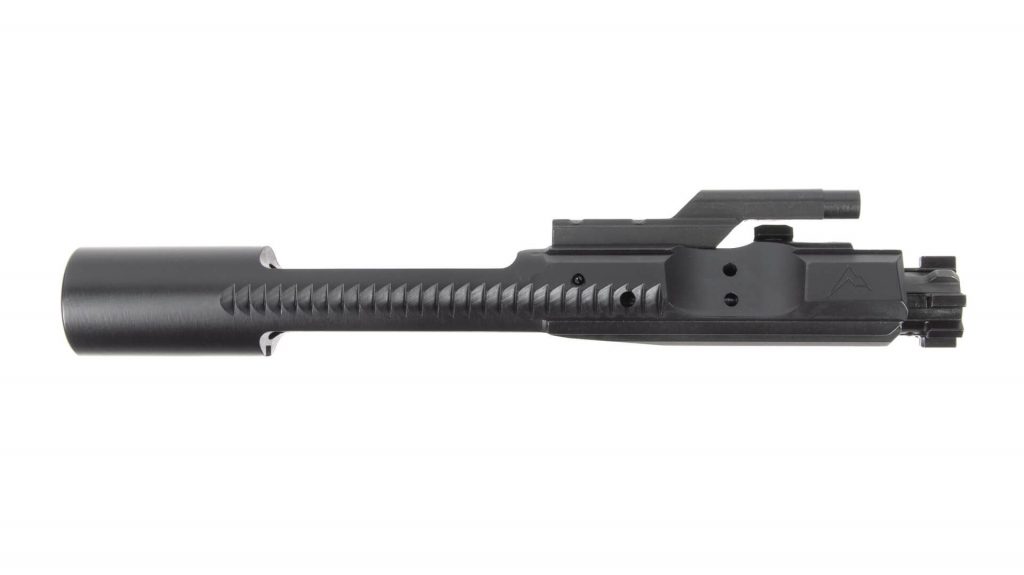 This is another full-auto cut, featuring SAE 8620 steel construction and a nitride finish. Like the rest of our list, it's magnetic particle inspected and high-pressure tested.
There's some unique features that sets this particular BCG apart. The extractor spring and ejector spring are both made from a chrome silicone, which promises a longer lifespan. The gas key is machined in-house with Rainier's signature extra-deep, extra-grippy knurling. And finally–the gas key bolt is secured in factory with a 1200 degree locking patch.
It's the little touches that make this BCG a gem, and at the price – you can't beat it!
---
8. Faxon Lightweight Bolt Carrier Group
Lookin' for something fancy? It's hard to go wrong with Faxon!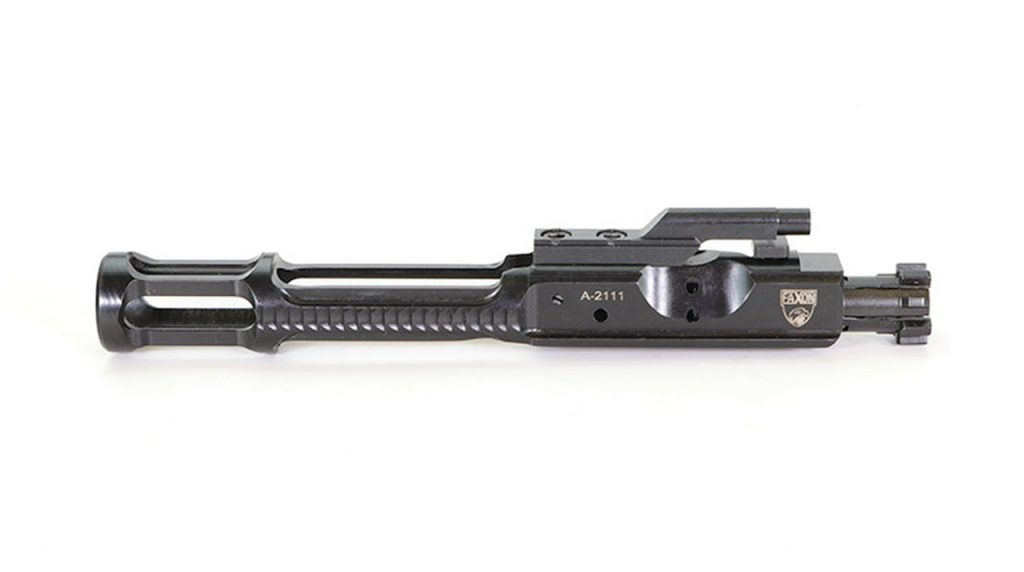 This takes you up a step in price, but hear us out–there's some unique benefits to spending a little more on a little less BCG. It supports full-auto sears, but it weighs a mere 8.5 ounces. That makes it one of the lightest bolt carrier groups on the market!
Despite its small stature, this BCG is durable. It's constructed with a 9310 steel bolt and finished with a tough nitride coating. Faxon puts a lot of attention into how their bolts are finished to ensure minimal maintenance for maximum performance… which is hard to argue with!
Pair this bolt carrier group with an adjustable gas block for a truly customizable AR and see just what your gun can do!
---
9. Brownells Titanium Bolt Carrier Group
Okay, so we know that Brownells isn't usually the thing you associate with a bougie AR, but hear us out. Their Titanium BCG really is worth a peek!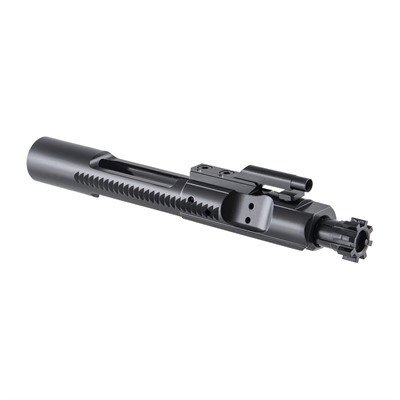 When it comes to building a lightweight bolt carrier group, there's two ways to go about it: a skeletonized steel BCG, a la Faxon, or building a standard BCG from ultralight, ultra-durable titanium. Brownells chose the second option here!
This BCG weighs a mere 7.9 ounces, but is full-auto ready and functions with 5.56, .223, .300 BLK, and .200 Ruger rounds.
The carrier itself is machined from 6A1-4V titanium, while the bolt is sturdy 9310 tool steel. The entire assembly is coated with a diamond-like coating (DLC) for an extra rugged finish.
If you want to be the fanciest shooter at the rifle range, then this may very well be the bolt carrier group for you!
---
10. Bootleg Adjustable Bolt Carrier Group
Have trouble making a decision? That's okay. The Bootleg Adjustable BCG is for you!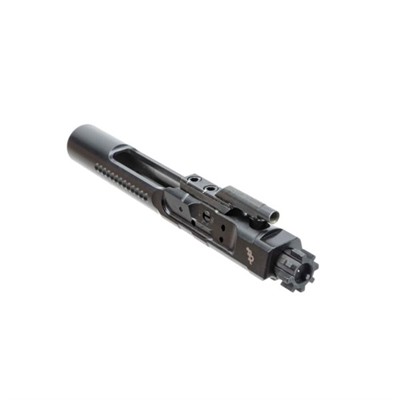 This bolt carrier group is pretty unique – it allows you to adjust the flow of gas, which lets you tune your rifle for different shooting conditions, such as supressed shooting, or for different types of ammo. You can have a perfect shooting session, every time!
To adjust, all you need is a flathead screwdriver. You don't even need to disassemble your rifle to make a tweak here and there. We think that's pretty dang awesome.
It's also full-auto rated and it's a mil-spec design, so that custom tuning can be yours with any rifle! Bootleg constructs their adjustable BCGs from S7 tool steel and uses a lithuim isonite coating for a slicker, smoother cycle.
Best of all? It's not even that expensive, compared to other premium bolt carriers!
---
11. Palmetto State Armory Toolcraft Logo'd Left-Handed 5.56 Nitride MPI Full-Auto Bolt Carrier Group (Lefty's Choice!)
The PSA Full-Auto BCG is one of the best options for a left-handed bolt carrier group on the market today. This is a full-auto bolt carrier group, which means that it is strong enough to handle full auto fire (although it can just as easily be used for semi-automatic only rifles as well).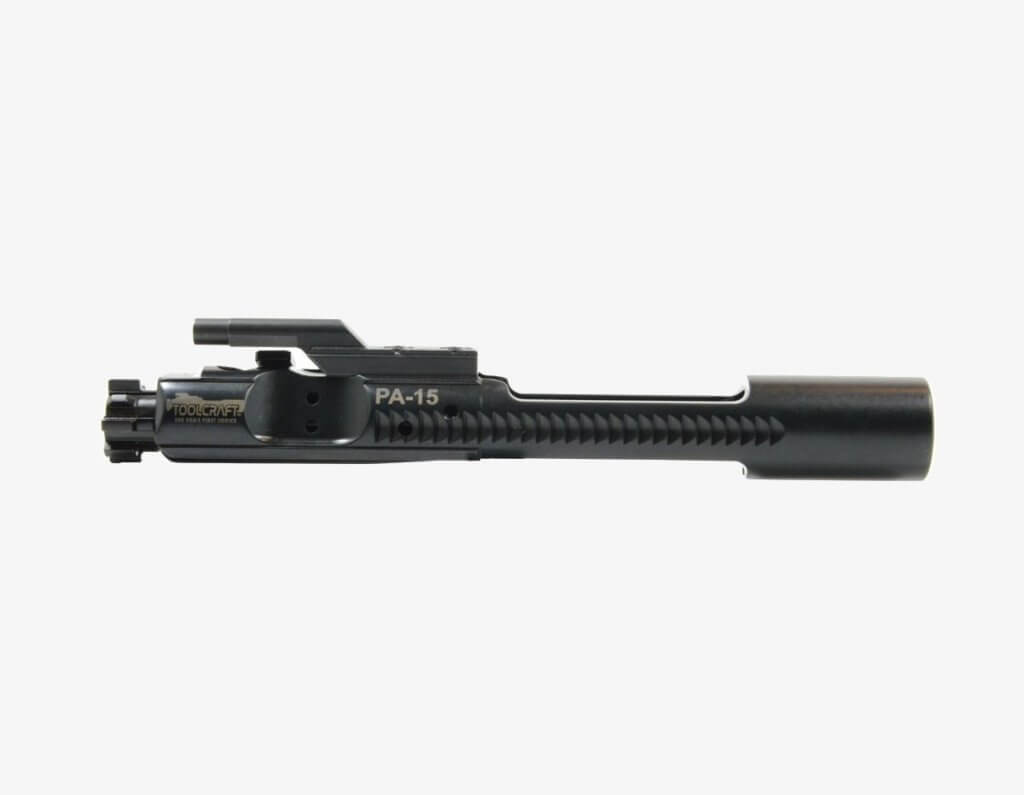 Specifically, it's built out of a very durable 9310 steel with a nice nitride finish for added rust and corrosion resistance. PSA built this BCG to mil-spec standards and is magnetic particle inspected to further ensure good durability. The gas key has also been properly staked and hardened to USGI specifications.
A big selling point seems to be that it's marked with a Toolcraft logo, which I guess might make a difference to you. Or it might not. Either way, we think this is a good pick for all our left-handed shooters out there.
Of course, this is a left-handed bolt carrier group, so it will not be an ideal choice for right-handed shooters.
---
Conclusion
Any one of these BCGs that we have covered here today will be a solid choice for your AR-15, or alternatively, you can follow the buyer's guide that we outlined and discussed above to help you find a solid pick as well.
Just remember that finding the highest quality bolt carrier group you can get is vitally important for ensuring the durability, longevity, and functionality of your AR rifle.
What's your favorite BCG? Looking to upgrade for the first time, or have you done this before? We want to hear from you in the comments below!
You might also like: