I have always been fascinated by the idea of a carbine that shoots pistol-caliber ammo. This is not a new idea — pistol caliber carbines have been around since the days of the Wild West. So, it would come as no surprise that I requested a 9mm firearm from Troy Industries. They sent me their A4 firearm to test. This is a special gun that is distributed by their Tech Ops department. This firearm sometimes finds itself in the hands of special operators, whether law enforcement or military. That just makes it more interesting to me.
Advantages Of A Pistol-Caliber Carbine
There are a few advantages of owning a pistol-caliber carbine (PCC). They include:
Ammunition Sharing. You buy one cartridge for two guns. From 1873 to now, it still works that way.
Easy-Handling. The PCC is usually shorter than a full-blown rifle. This makes it a good truck or home-defense gun. As an example of that handiness, the Ruger's pistol caliber carbine's take-down feature makes it downright easy to take along with you.
Velocity Gain. OK, so some 9mm/40 S&W/.45 ACP rounds are designed to work best in short-barreled pistols, but there are some rounds out there that will gain anywhere from 200-400 fps or more in velocity out of the longer PCC barrel. No generalizations can be made, but you should be able to find a load that makes it worthwhile to shoot in the longer PCC barrel.
Extended Range. If you are looking to extend the range a bit of your favorite pistol round in a PCC, you just might do that. Now…please remember that we are talking pistol rounds here, not rifle. Any gain in range would be moderate. I can think of one example, however, that might be worth some range/velocity experimentation…the .40 S&W. Sure, you can buy a 10mm PCC but if you already own a .40 pistol, it makes sense to go that way. You just might find a load that will produce 10mm-style velocities. In my state, both calibers are deer-legal…I'd just rather have the 10mm velocities out of whatever gun I'm shooting and the PCC may help achieve that. That in itself might extend your effective range an extra 50 or more yards.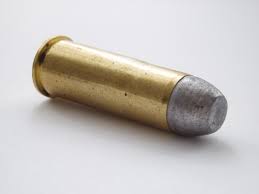 PCC History
The Winchester 1873, "The Gun that won the West", was wildly popular in its day and has spawned many reproductions over its 146-year history. The 1873 was originally chambered in .44-40 (.44-40 Winchester), with other calibers added later. It was so popular that it was produced until 1923 and continues to be made today in reproductions.


In 1877, Colt started producing the "Colt Frontier" or "Frontier Six-Shooter" in .44-40 in an effort to capitalize on the 1873 rifle market. It was basically a Single-Action Army in a different caliber than the original SAA's .45 Colt. Both guns shared the same ammo, a great convenience in terms of packing ammo around for both a rifle and a handgun. Two guns sharing one caliber meant that ammo was fairly easy to find due to increased popularity and that the cowboy's saddle bag loading strategy just had to deal with one size of ammo box. This move was very well received…in fact, the two mounted participants in the gunfight at the O.K. Corral were armed with this combination of guns in .44-40.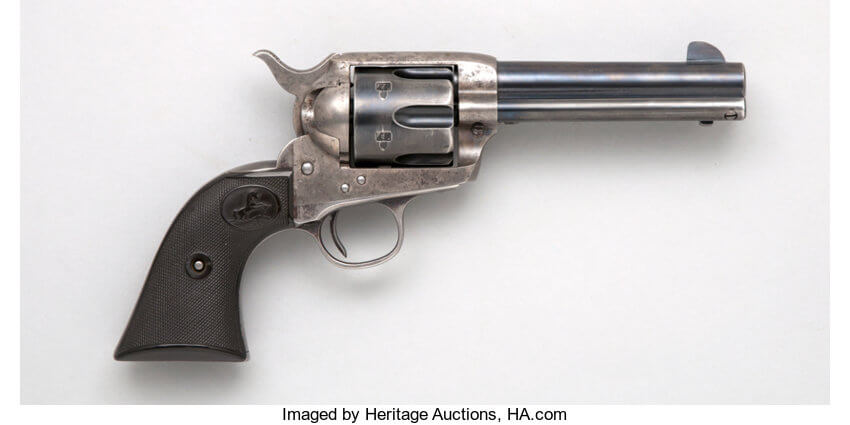 So, the idea of a 9mm carbine or rifle that shoots the same ammo as your handgun shoots is not a new one but has really come into its own in recent years.
The Ruger Pistol Caliber Carbine
Probably one of the more popular PCC today is the one introduced fairly recently by Ruger. This 9mm carbine comes in a take-down version, which adds to its versatility. It has sold very well since its introduction in late 2017.

One of the selling points of this gun is its ability to use Glock magazines out of the box. So, you don't have to own a Ruger centerfire autoloading pistol to have a magazine that works with this gun — they have seen to it that not only is the guns' caliber compatible with Glock 9mm pistols, but the magazines are compatible as well due to interchangeable mag wells. A smart move, given how many own some form of Glock 9mm or other. This carbine is available with a fluted, threaded barrel, "tactical" forend, and other customizations. Six new models, including guns chambered in .40 S&W were introduced in April, 2019.
The Ruger 99/44 Deerstalker was another pretty popular PCC. This was a rotating-bolt, gas piston action carbine chambered in .44 Magnum that was made from 1961 until 1985, when production was stopped due to high production costs. It has been described as a 10/22 on steroids. It was brought back to life from 2000 to 2006 as the Deerfield.

This would have made a perfect deer gun for my neck of the woods…relatively close-range shots. I've killed several deer with my S&W 629 with an 8 3/8″ barrel…it would certainly help if the barrel was 18 and a half inches, like the Deerfields' tube.
BONUS OFFER: Get your free shooting range targets to print at home!
Get your free targets to print at home!
Popular Guns
We see that PCC guns were, and are, popular. From 1873 to the present, the PCC has proven its worth and is a steady seller. Whether you hunt, compete, plink or defend your home, these guns just make sense. The PCC has come around full circle to today's modern sporting rifle — the AR pattern.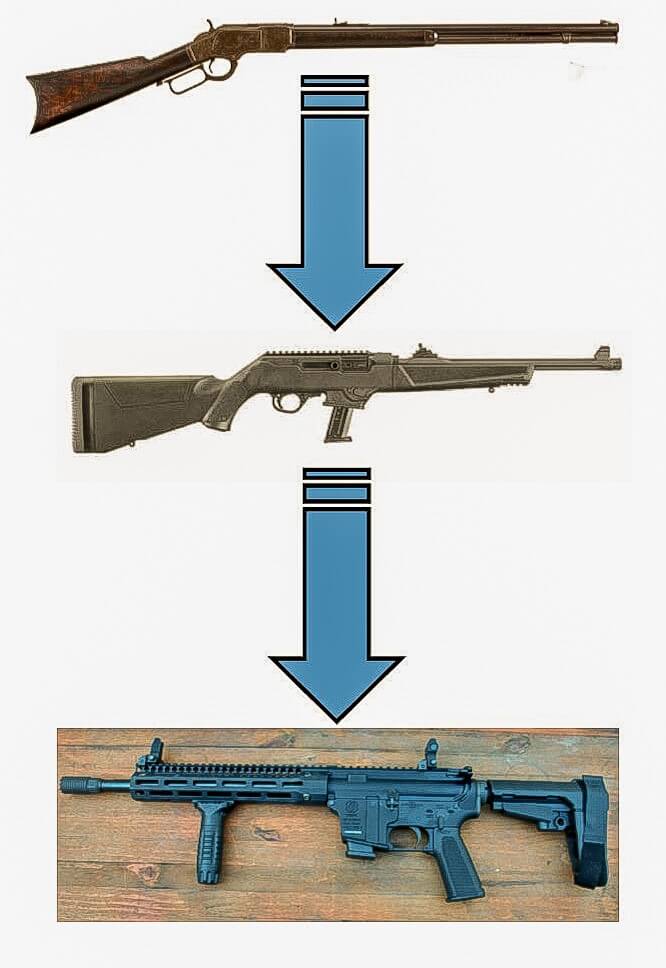 The Troy Industries 9mm PCC
OK…we know where the PCC comes from. Now, let's look at the modern iteration of it. Troy Industries is located in West Springfield, Massachusetts and makes, among other products, parts for the Smith & Wesson M&P15 AR-style rifle. They also make M14 parts and had their M7A1 rifle looked over by the military reviewers when they were contemplating replacing the M4 carbine. The company knows what it's doing where rifles and carbines are concerned and has customers from all over the world. This particular gun is sold by Tech Ops International out of New Jersey and is not a rifle or a pistol – it qualifies as an "other" firearm which makes it legal in New Jersey and other states. Here is a bit about the company.
They also make parts — a LOT of parts — for different battle systems. Here's a partial list of products that they sell outright to the public or are purchased by one of several different firearms-related manufacturers…
Back-up sights, fixed and folding
Rails and accessories
Hand stops
Grips
Magazines
Rail covers
Stocks
Slings and mounts
Muzzle brakes and suppressors
Weapon upgrades
And, they build at least 8 rifles and 6 AR-style pistols. They even make a straight-pull bolt action and three pump rifles…yep, pump guns so they can sell guns to people in all 50 states.
The A4: Specs and Pictures
The Troy A4 Other Firearm 9mm was designed to capitalize on two big firearms trends — the AR-platform rifle and the popularity of the 9mm cartridge. It is important to note that this is a firearm with a 13.5-inch barrel, not an AR-style pistol…that really helps in the velocity and sighting departments. Let's look at some specs:
| | |
| --- | --- |
| Total Overall Length: | 26.5" |
| Receiver: | 7075 Forged Aluminum Upper and Lower |
| Barrel: | 13.5" Chrome Molly -- 1/7 Twist Rate |
| Flash Hider: | TROY Claymore Muzzle Device |
| Operating System: | Gas Impingement |
| Gas System: | Carbine Length .750 Low-Pro Gas Block |
| Hand Guard: | Troy SOCC Battle Rail 10.5" M-Lok |
| Sights: | Troy M4 Flip Up Low-Pro Front and Rear |
| Front Grip: | Troy Poly CQB VFG |
| Stabilizing Brace: | SB Tactical -- Not Pinned |
| Grip: | Troy Control Grip Mandatory |
| Bolt Carrier: | Standard |
| Charging Handle: | Standard |
| Small Parts: | Mil-Spec |
| Magazine: | Glock 10rd (NJ) |
| MSRP: | $1,399 |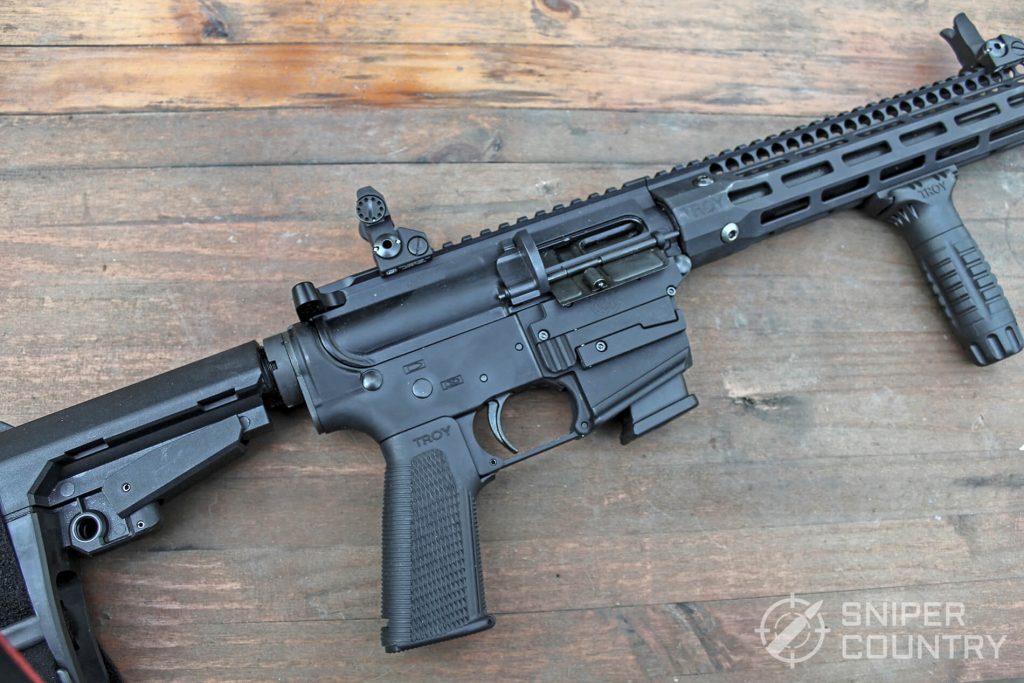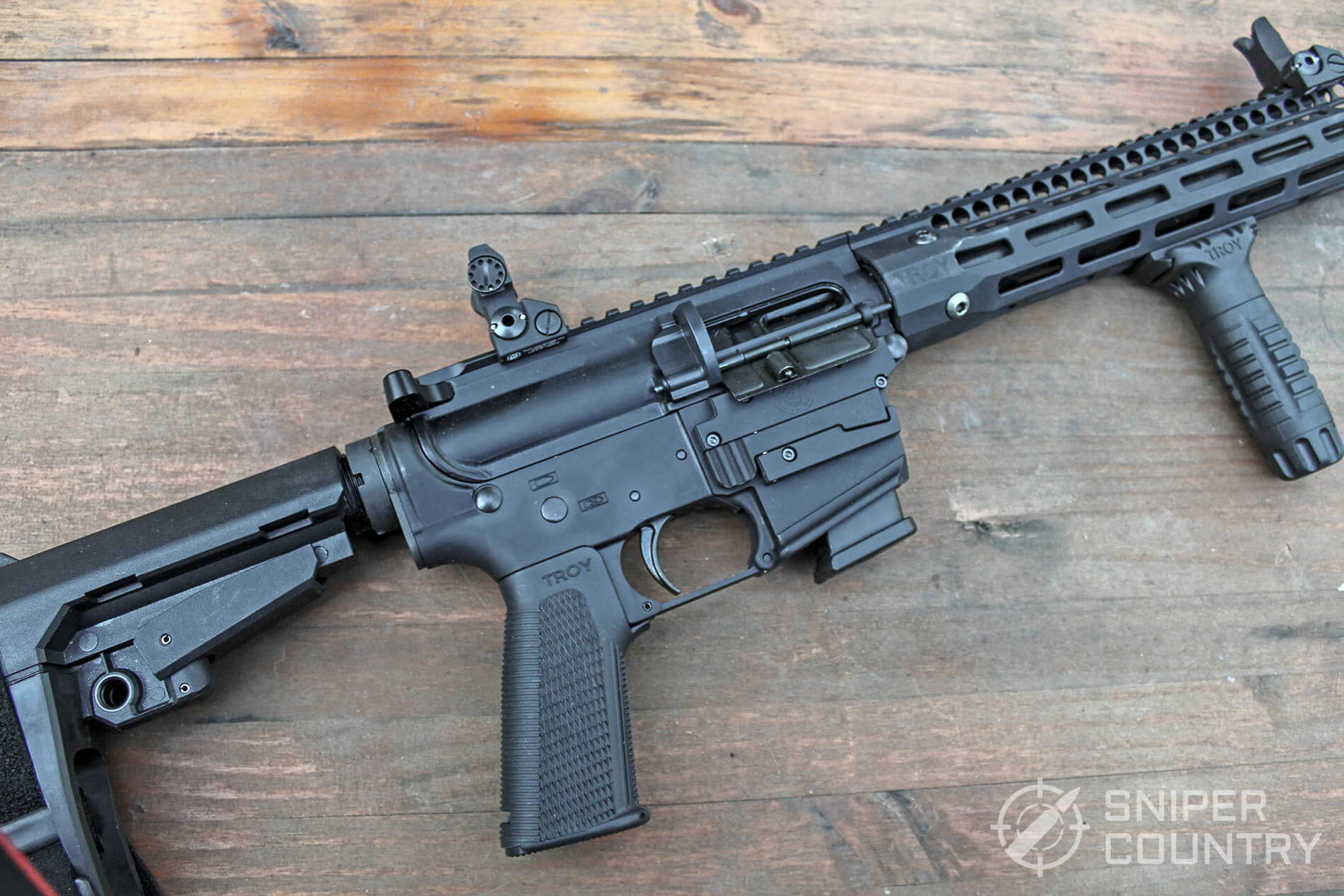 As to the price, I could not find a more current price. I reached out to the company and will report when I hear back from them. We see from the above list that the company uses its own accessories in its firearm lineup. I do read good things about Troy sights, stocks, etc. so the buyer gets the best of both worlds.
Troy makes some very nice high-end rifles. I was impressed as I perused their site and as I read older reviews of their 5.56 and 7.62 offerings. They are big into building guns for, and supplying parts to, the military. Here is the "About Us" segment from one of their web pages…it explains things better than I can.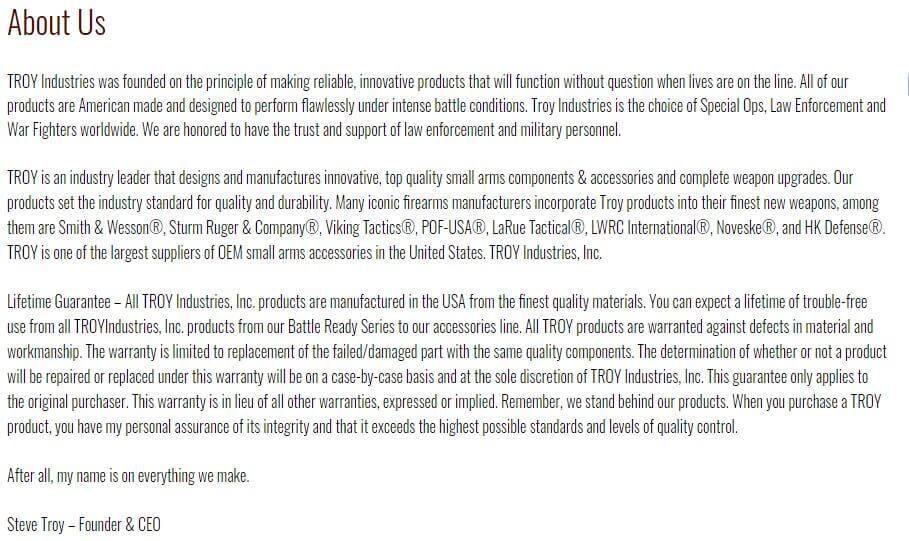 So, it seems that Troy is keeping busy with its Battle Ready Series, accessories and commitments to its global customers.
Let's look at some more photos of the A4…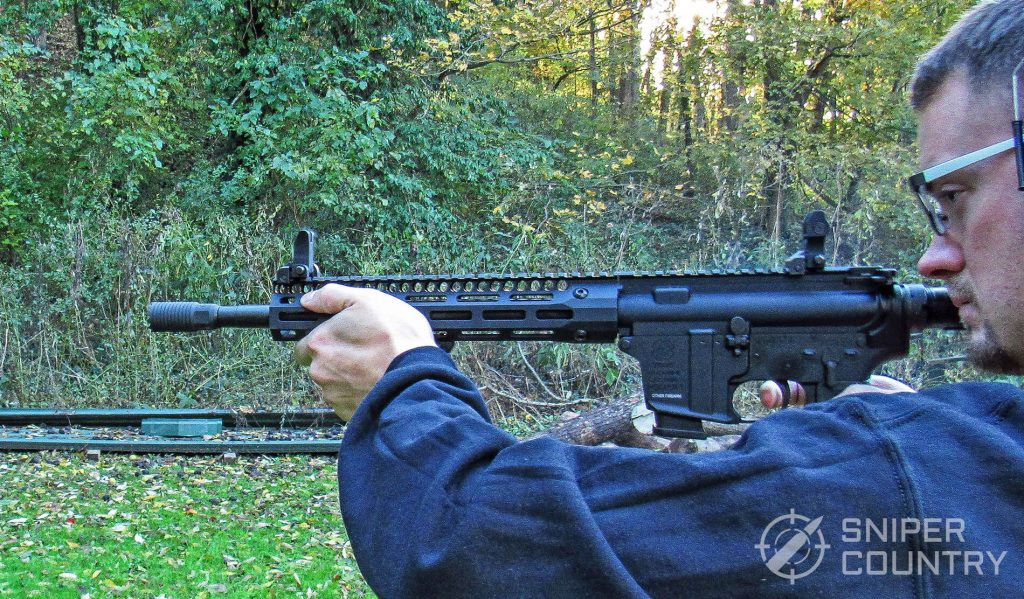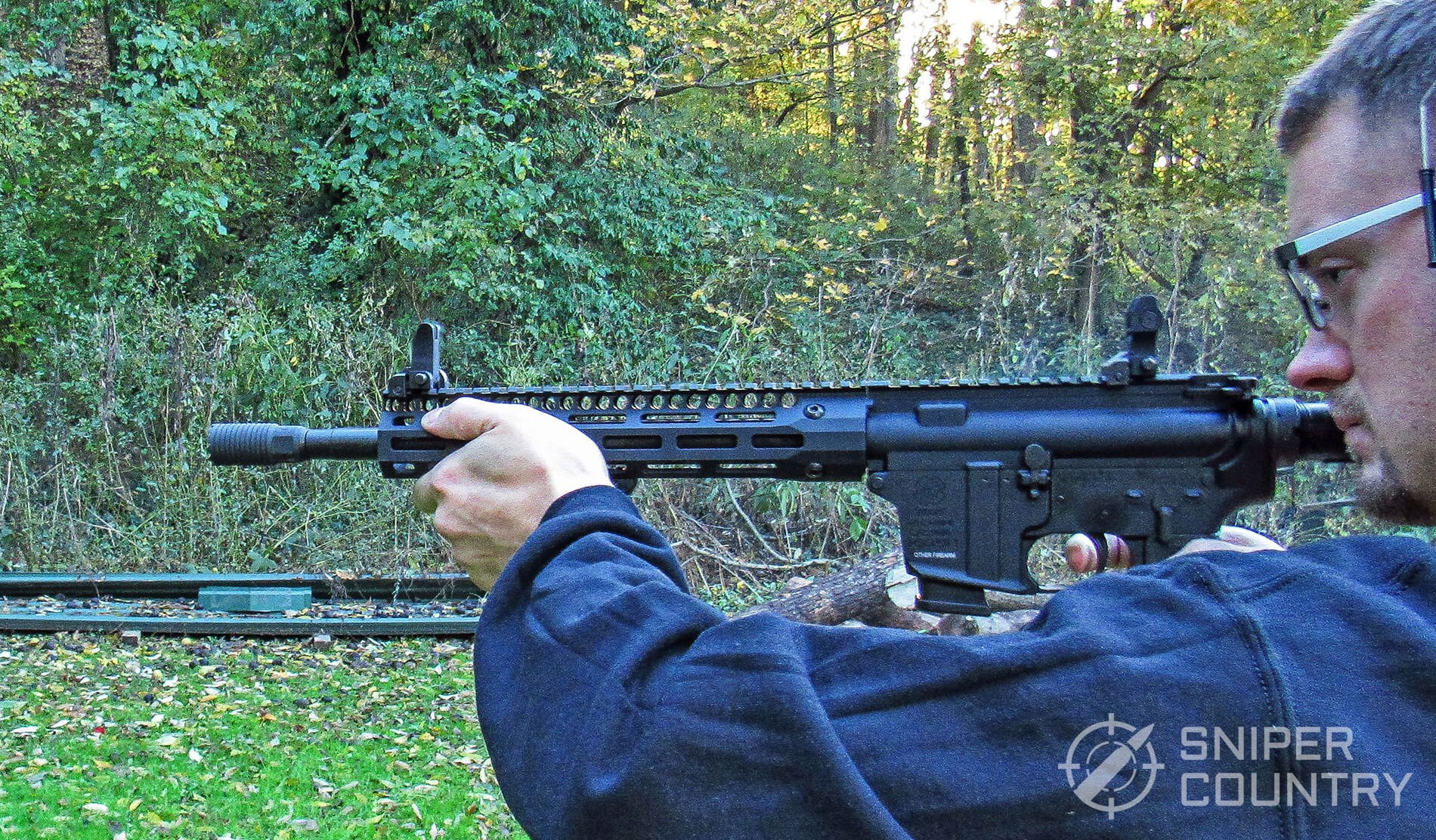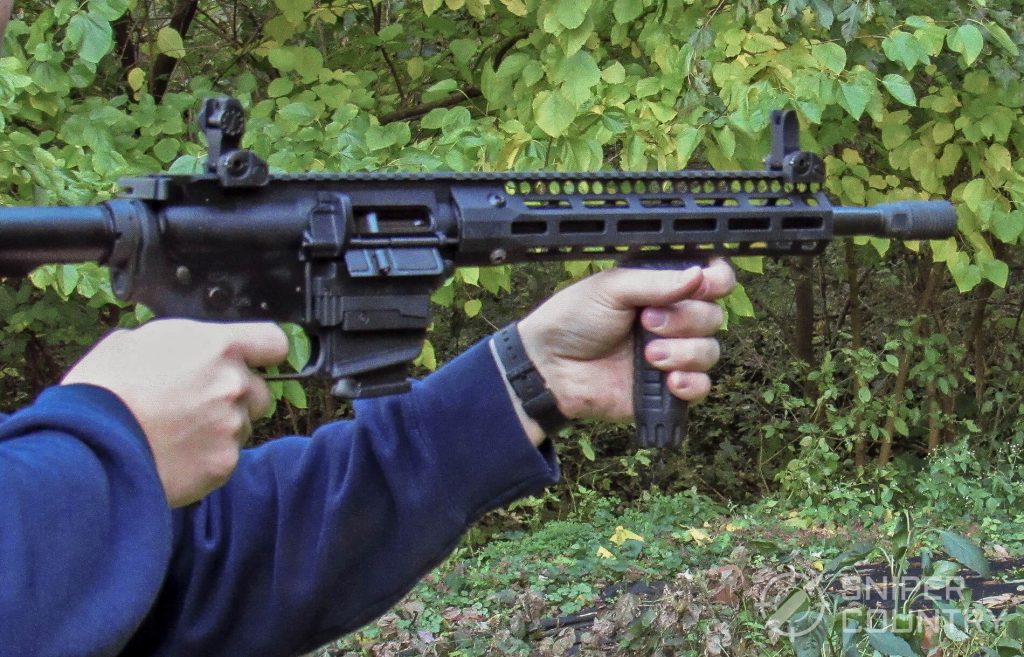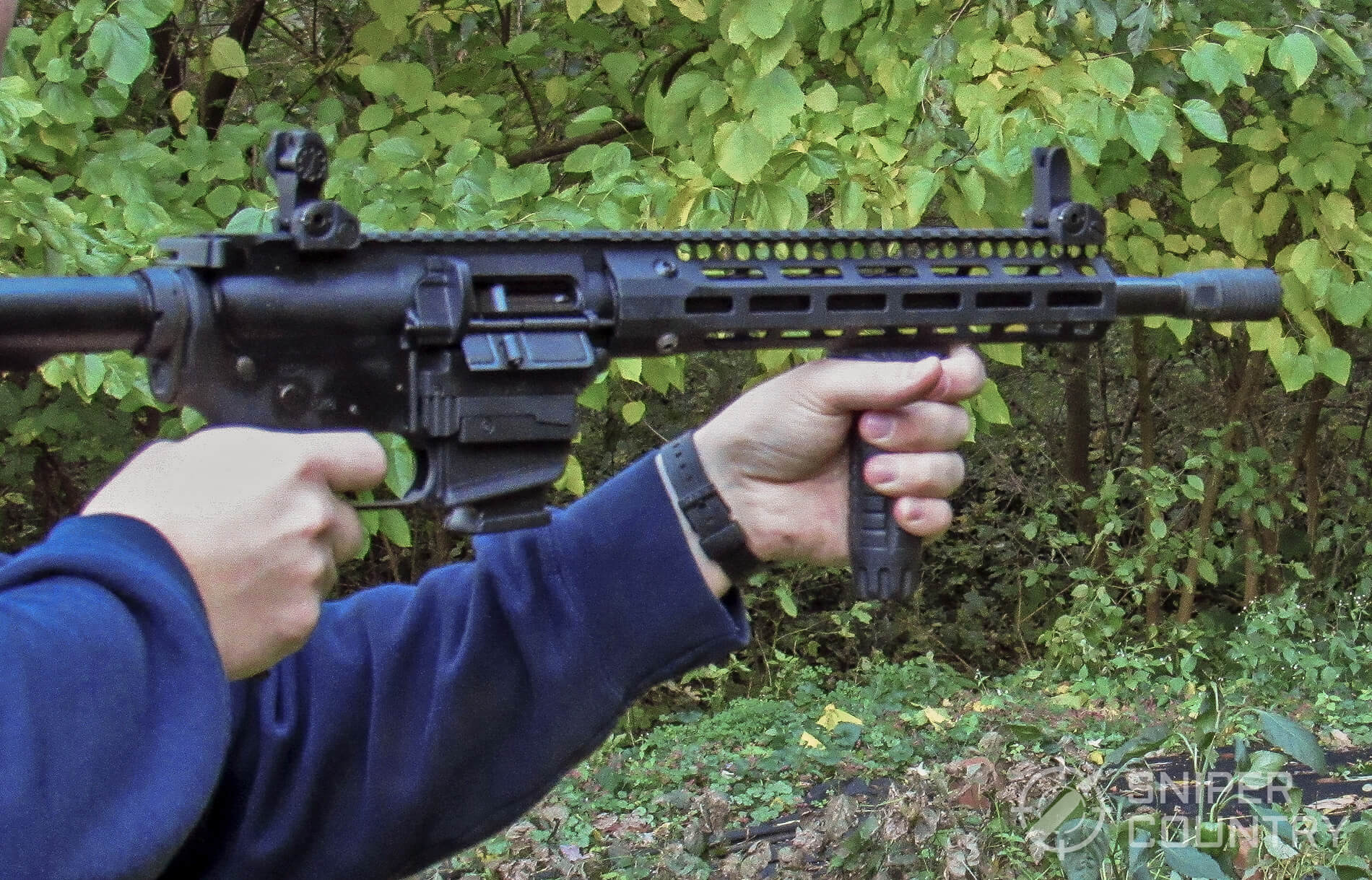 A couple of my sons shooting the A4. It handled exactly as any AR-platform rifle would.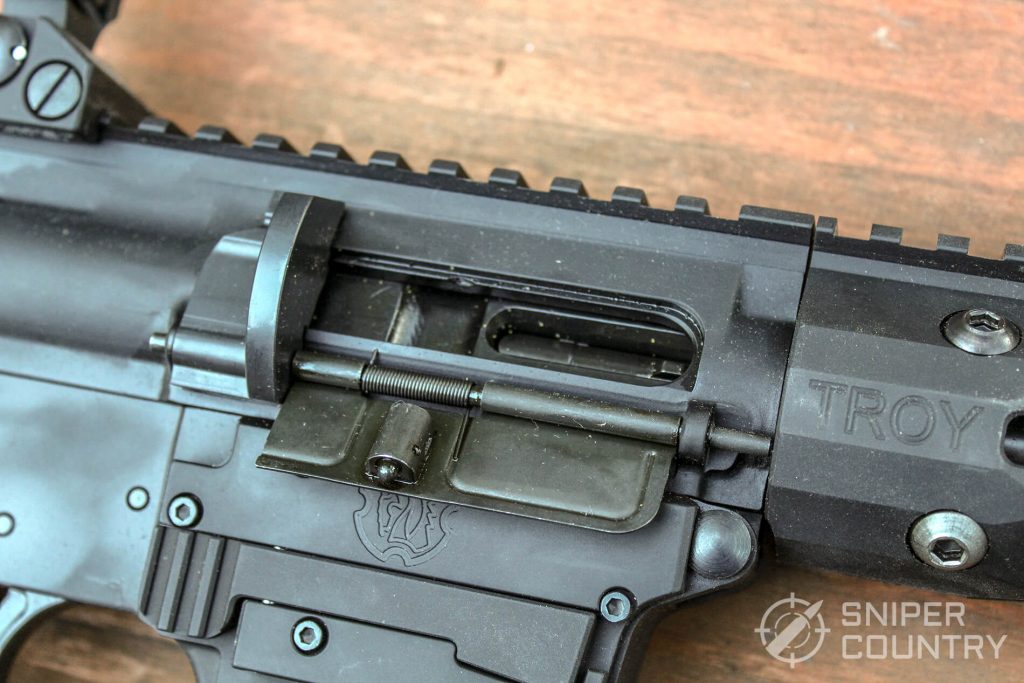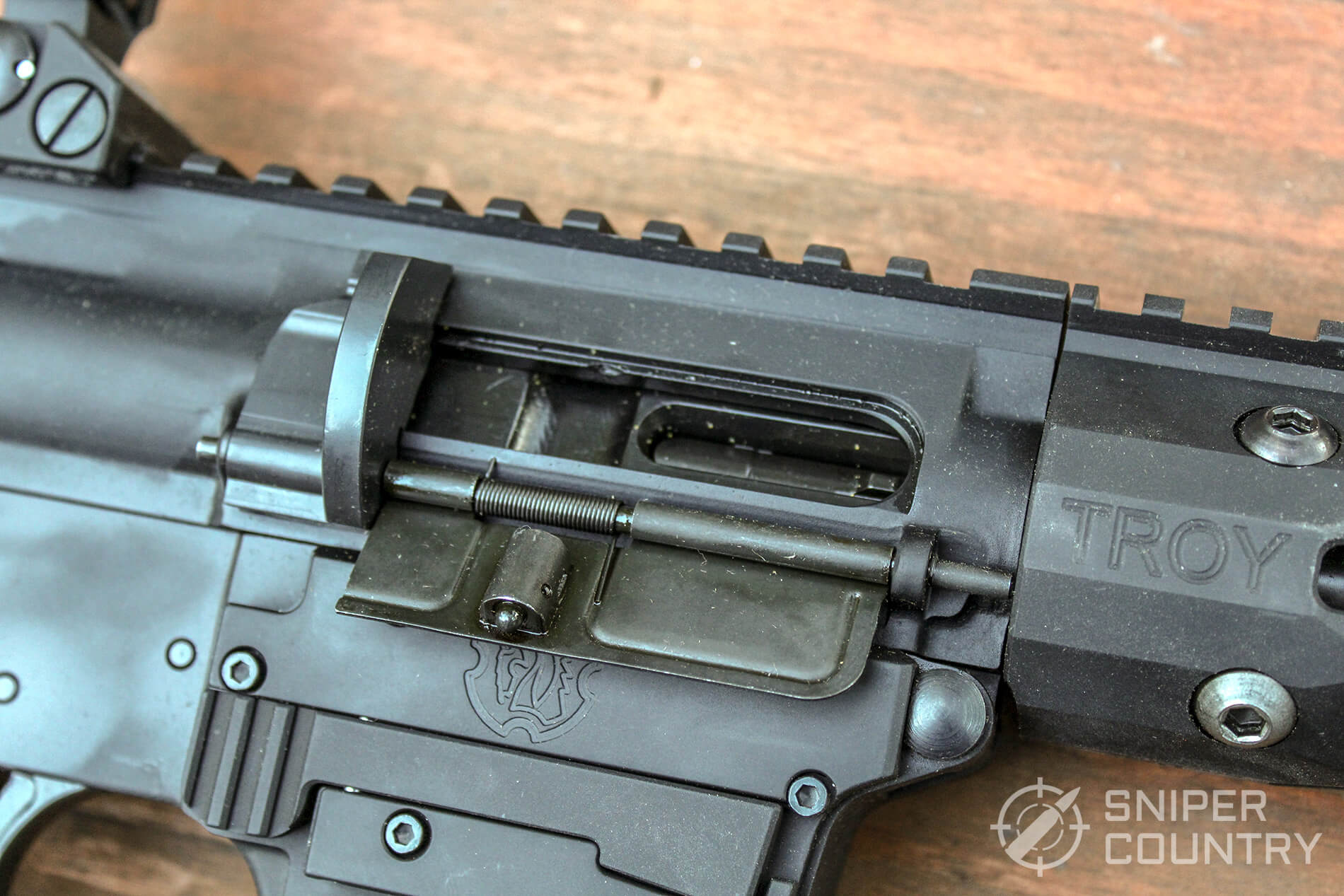 It worked. Also, the dust cover is appreciated.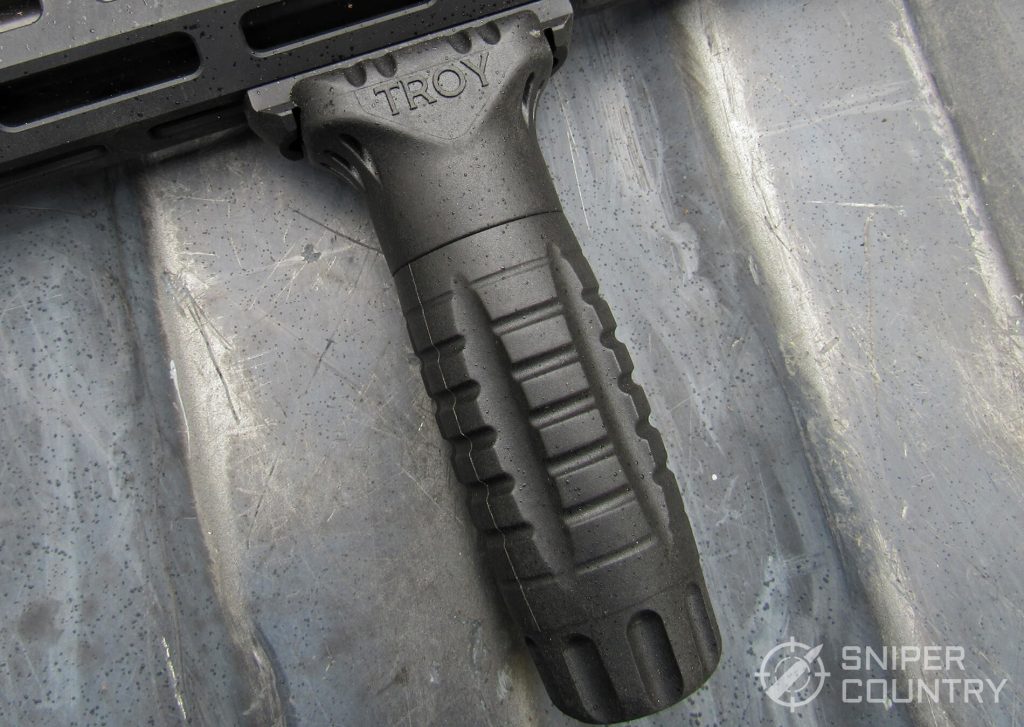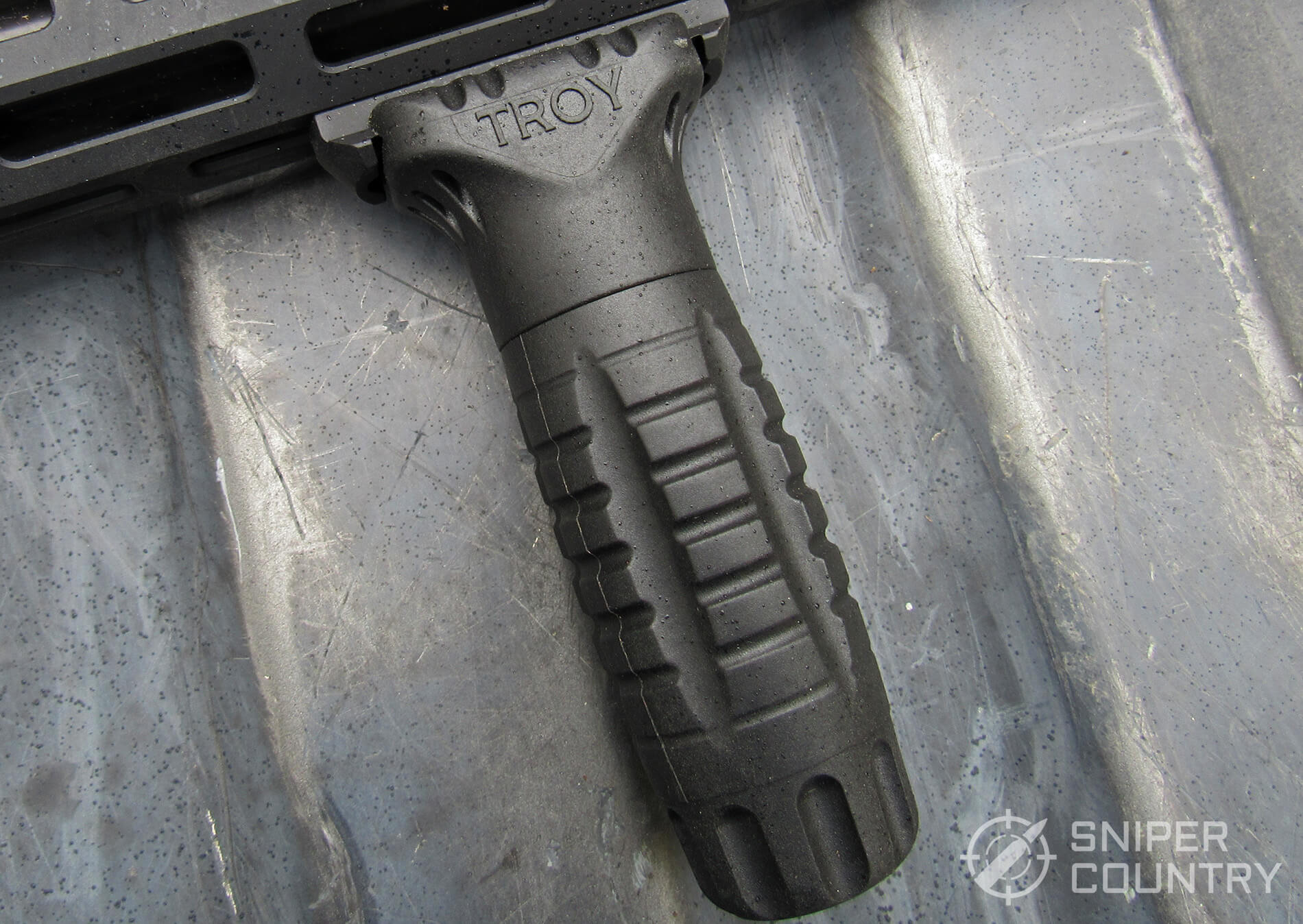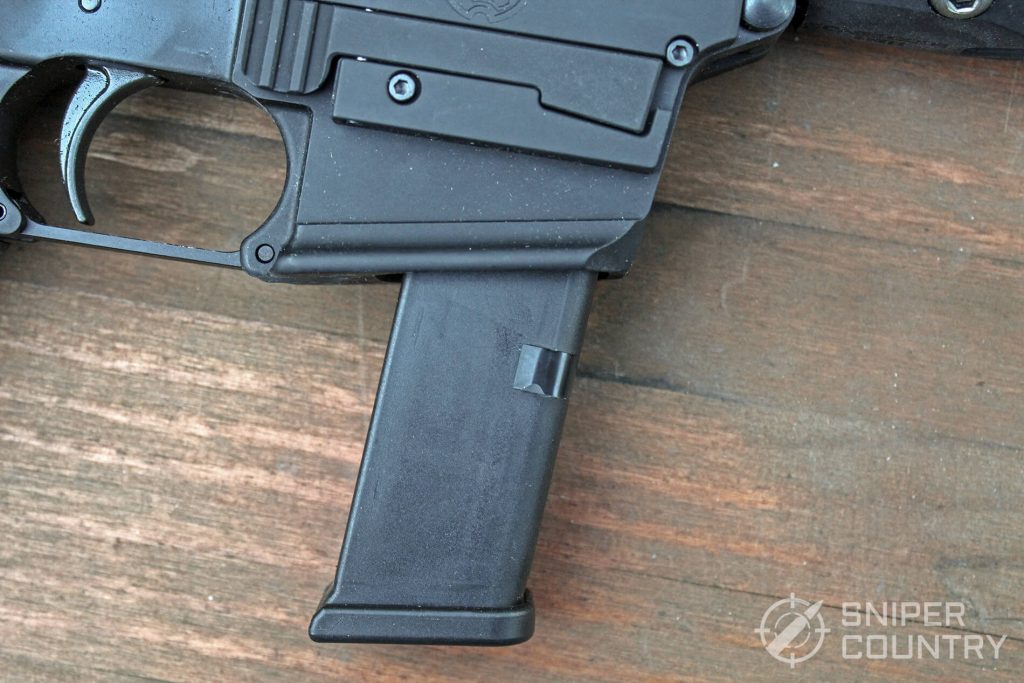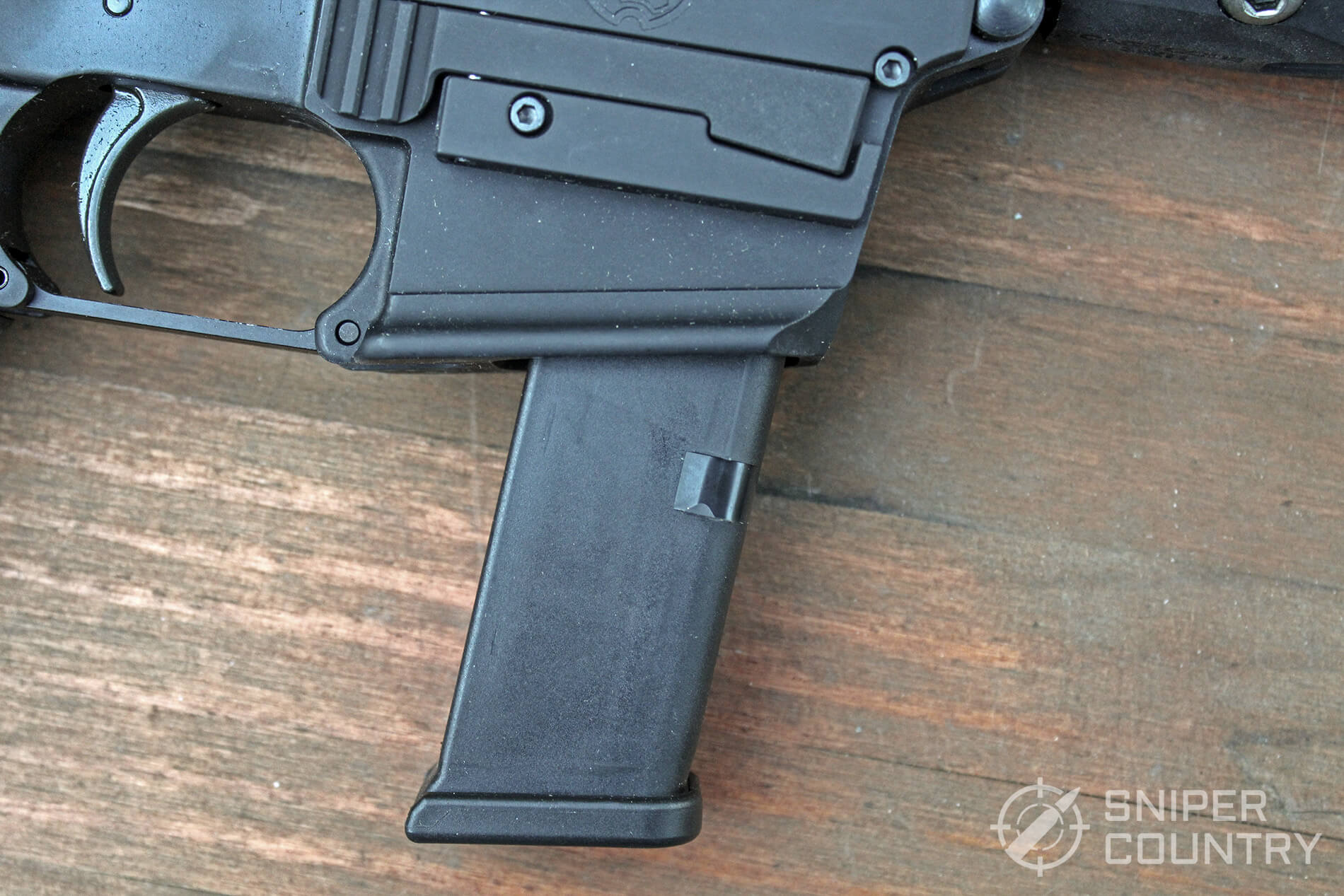 The 10-round Glock mag that it shipped with is shown partially ejected. You can use whatever Glock mag your state will allow. I would go for the 33-rounder, myself.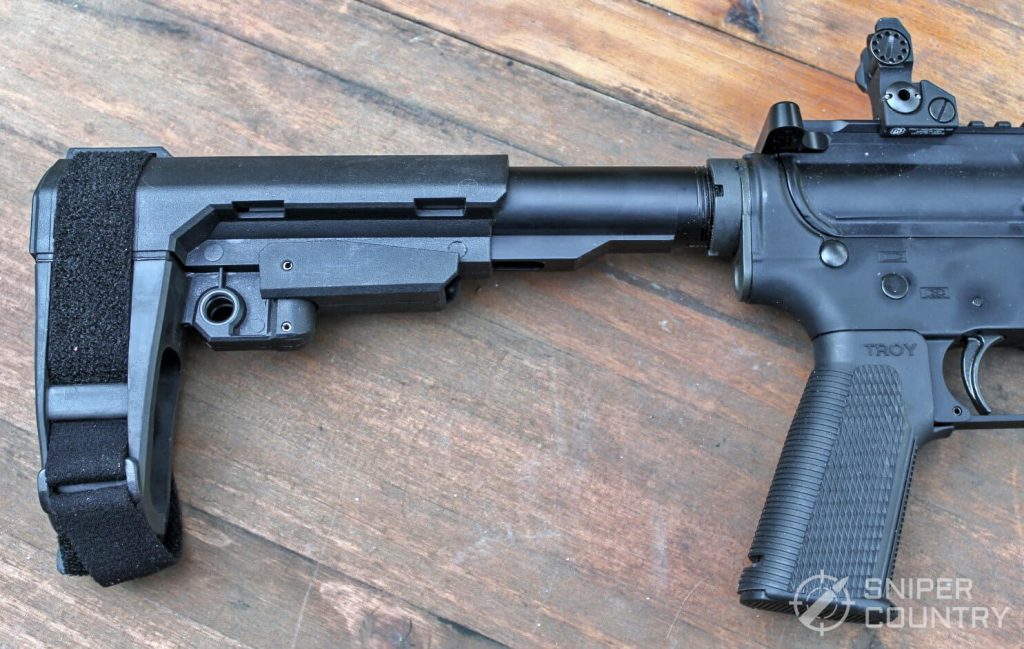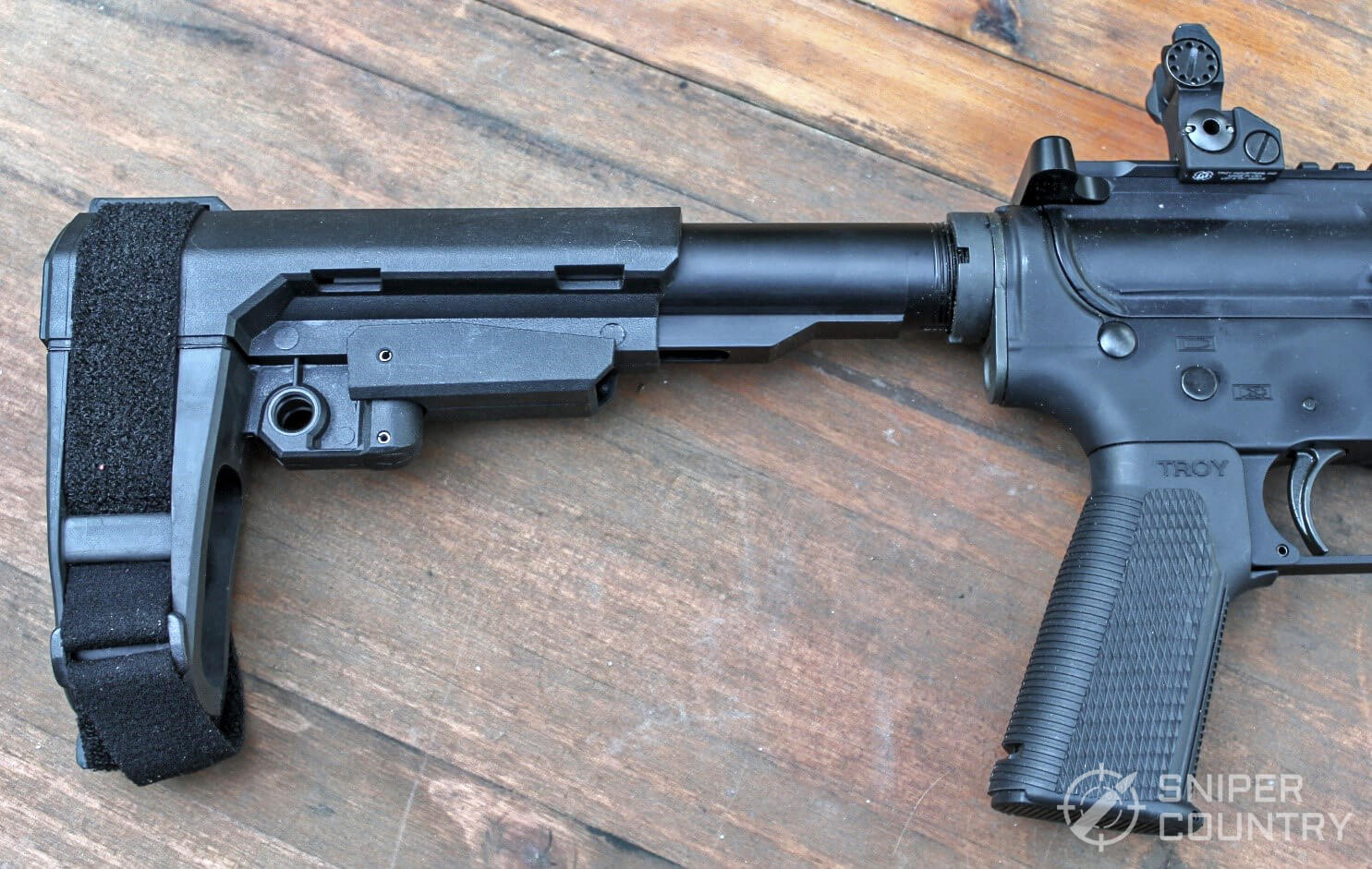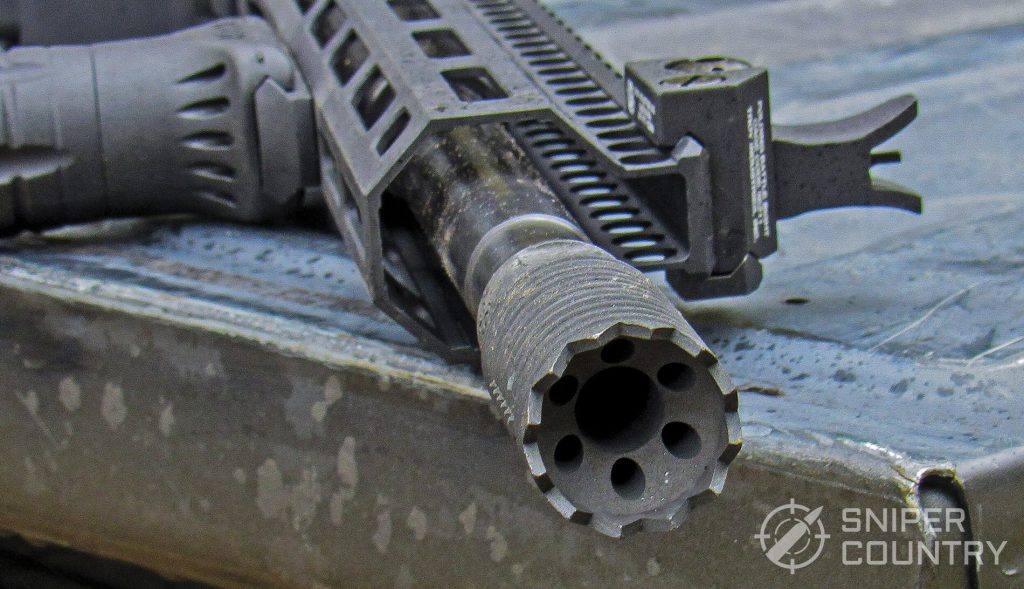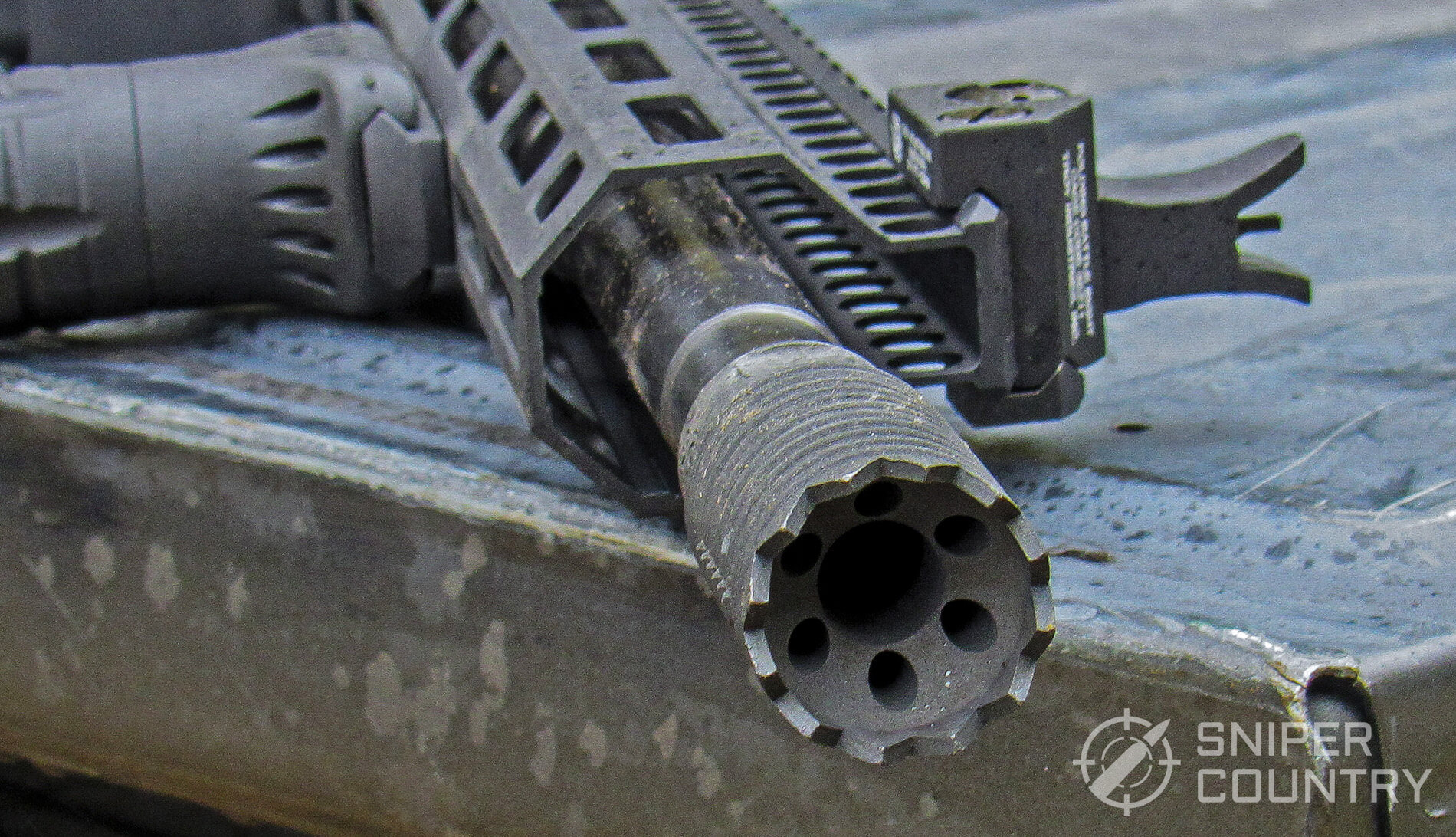 The business end, complete with doorbuster flash hider
Sights
The Troy sights included with this firearm were excellent. Push a button in and pull the sights up into position or put them back down as needed. They are both adjustable. Here are some photos of the front sight…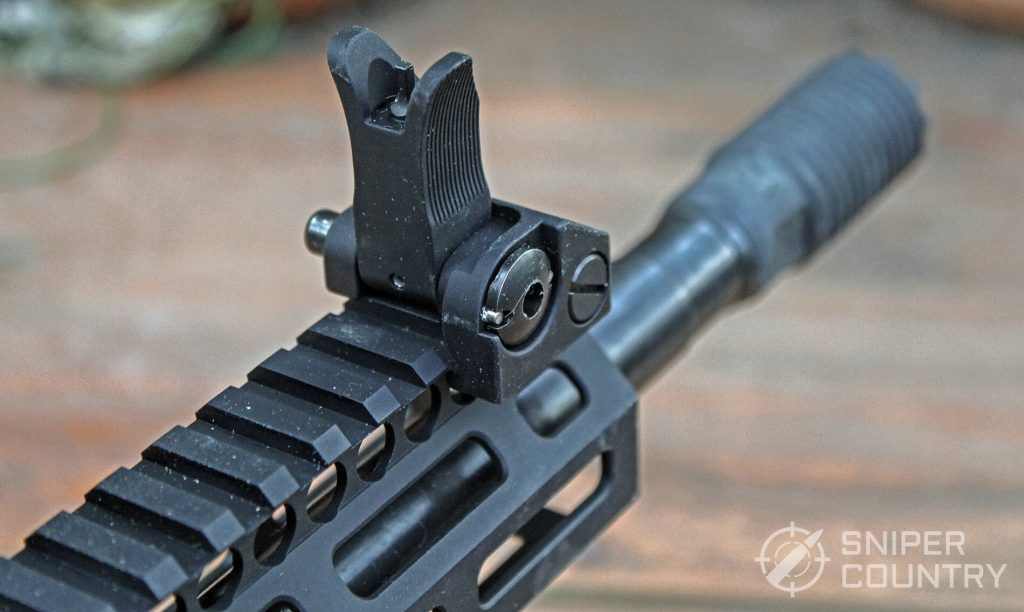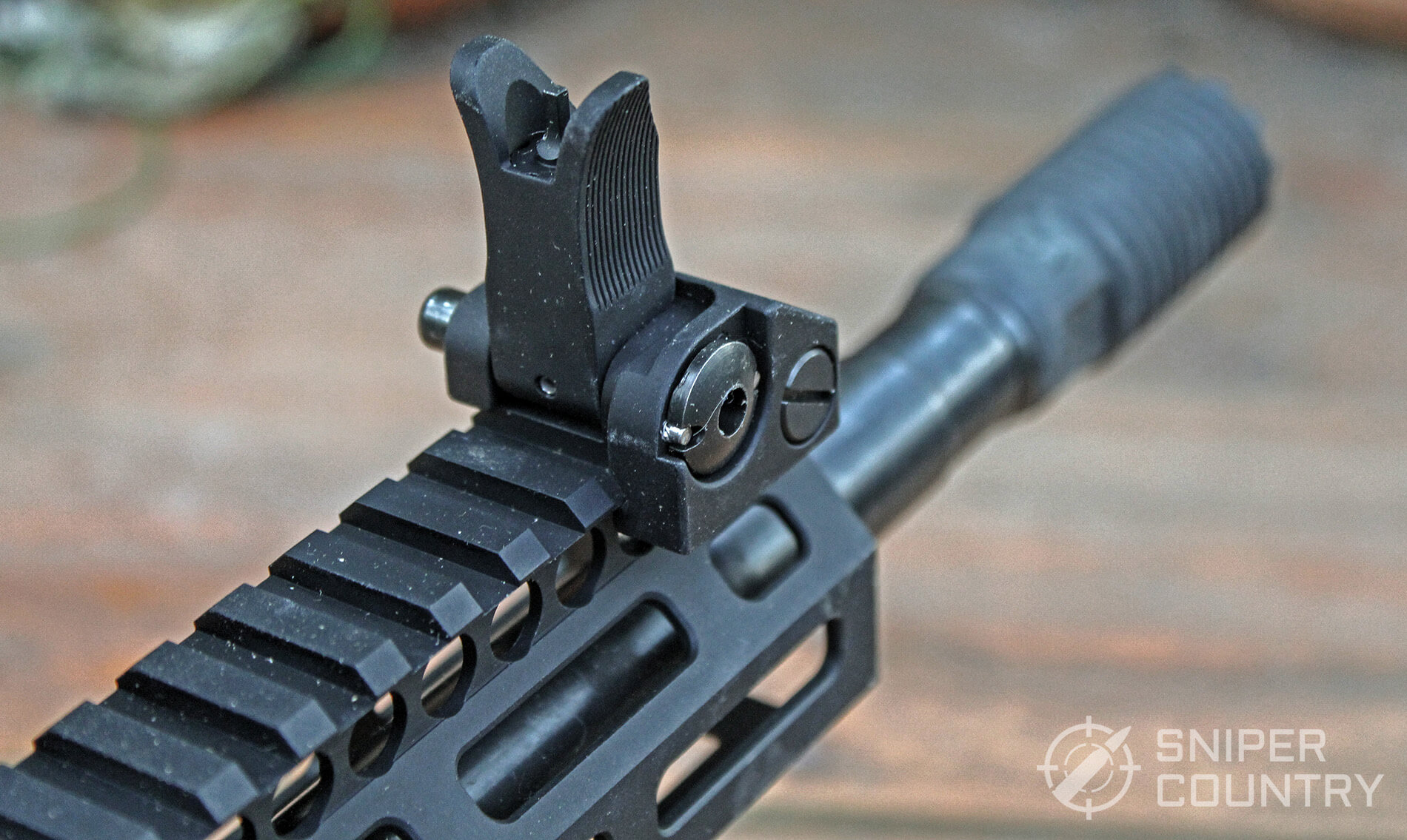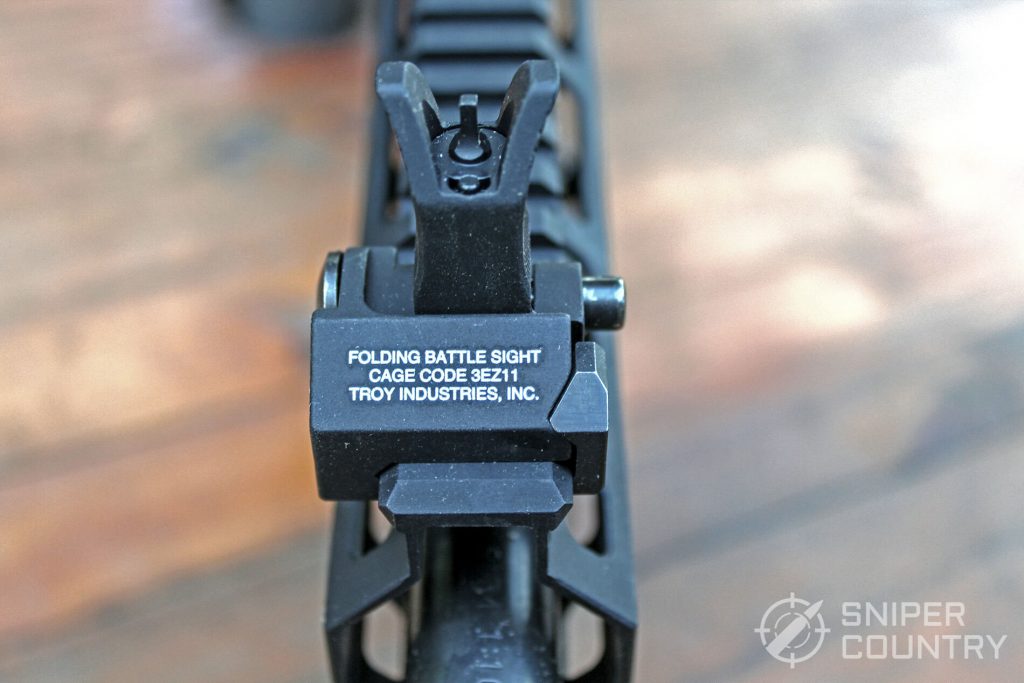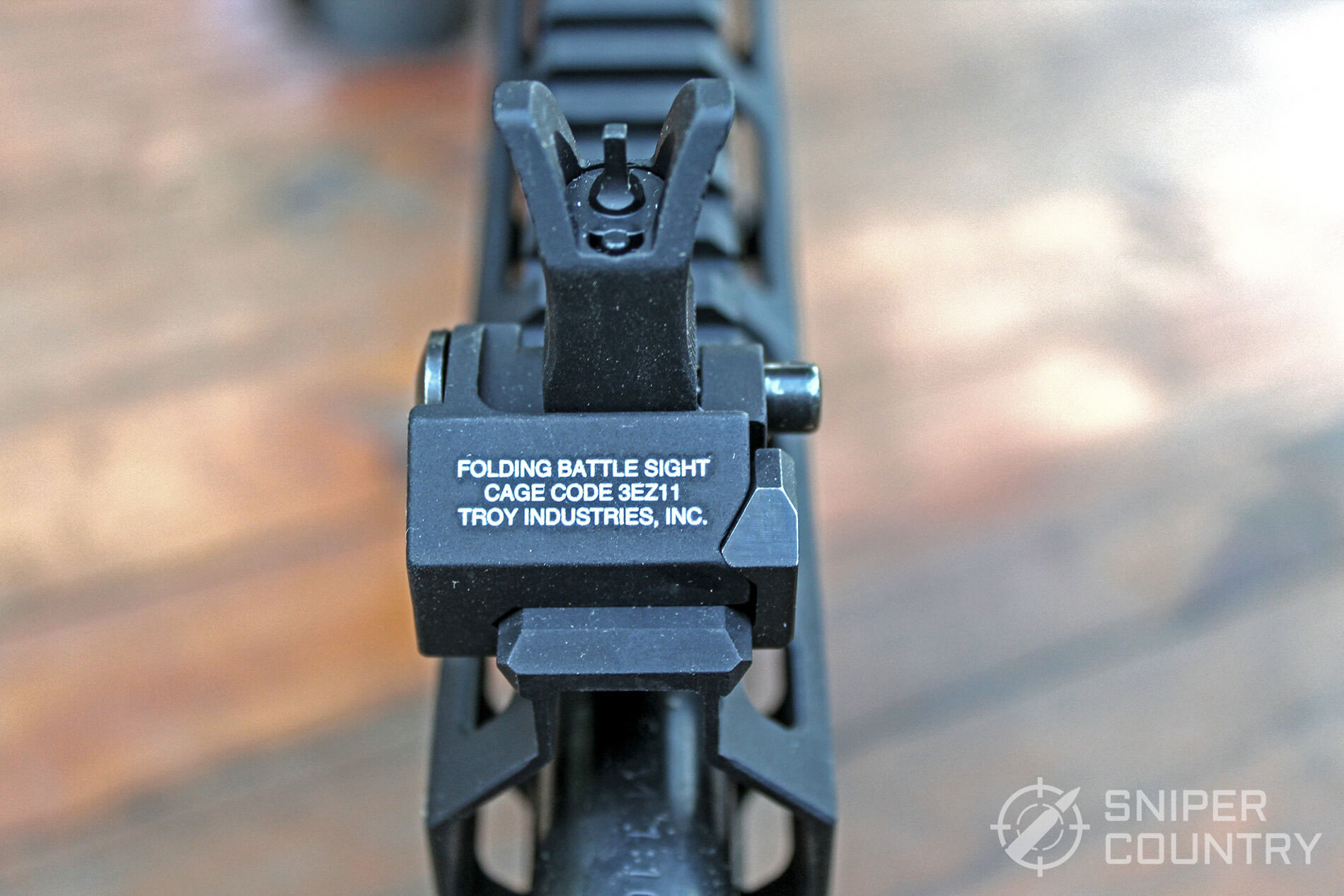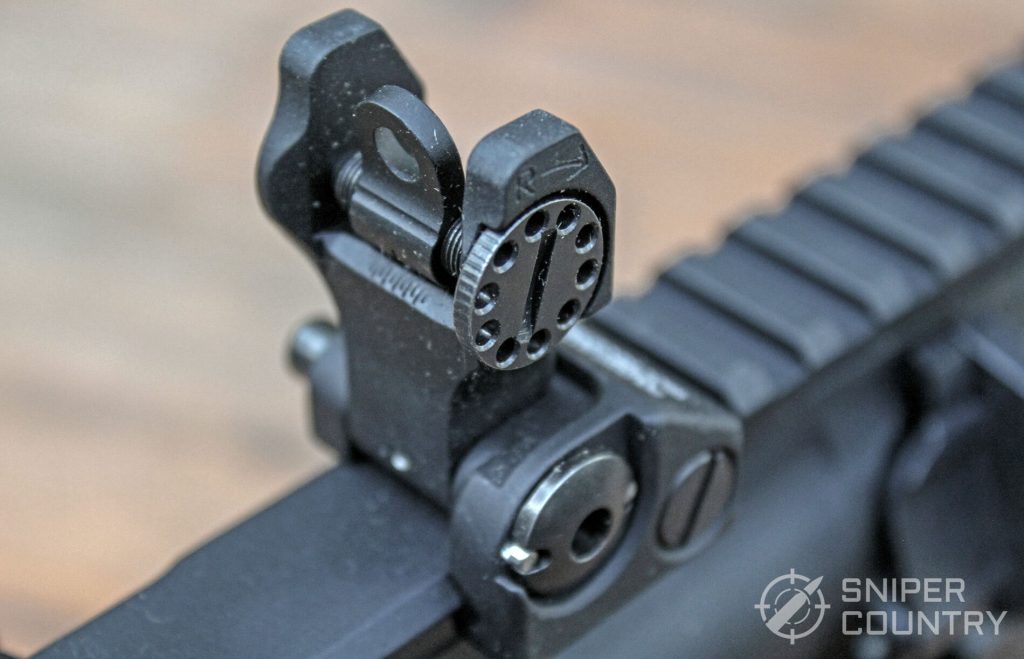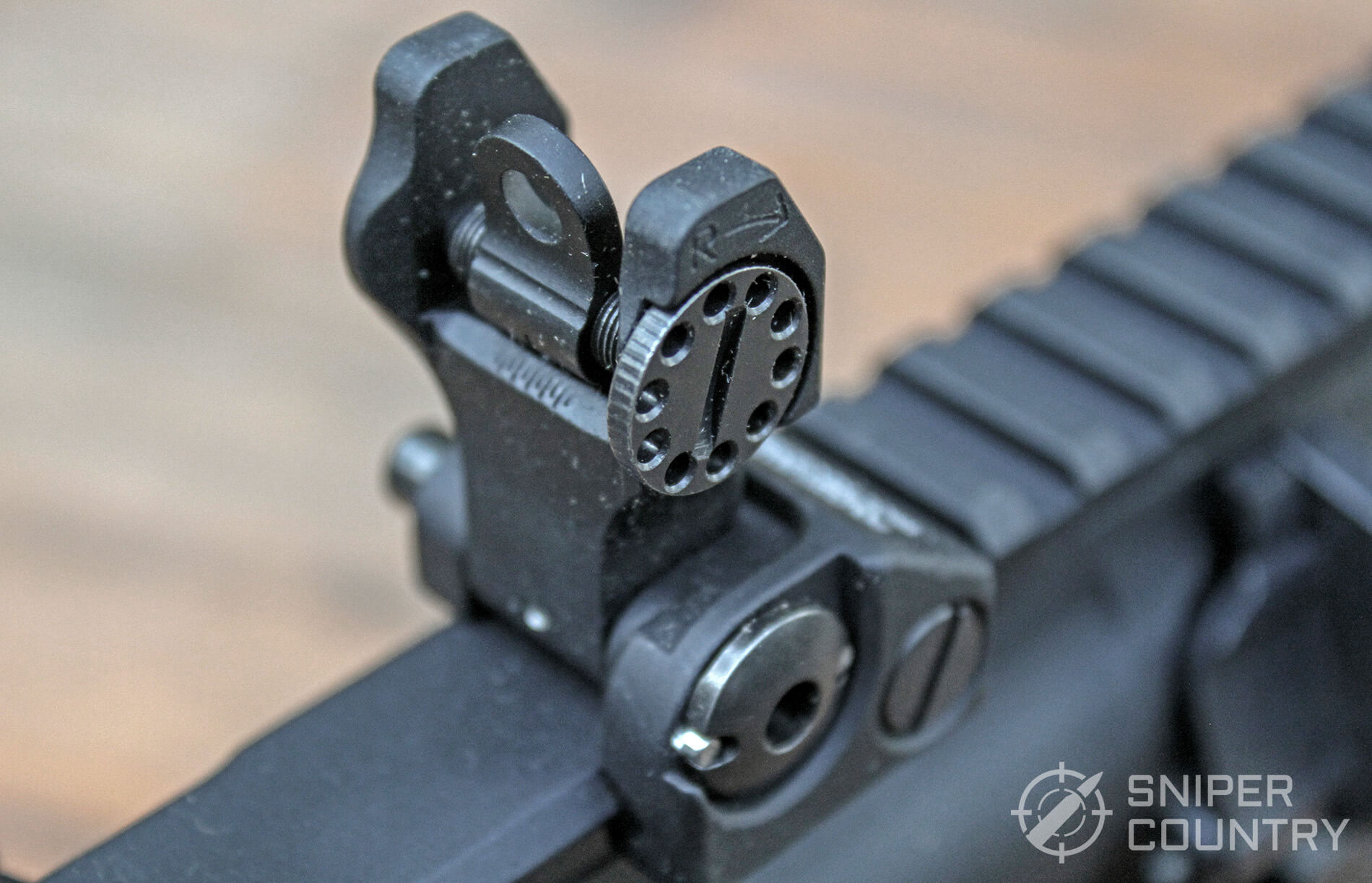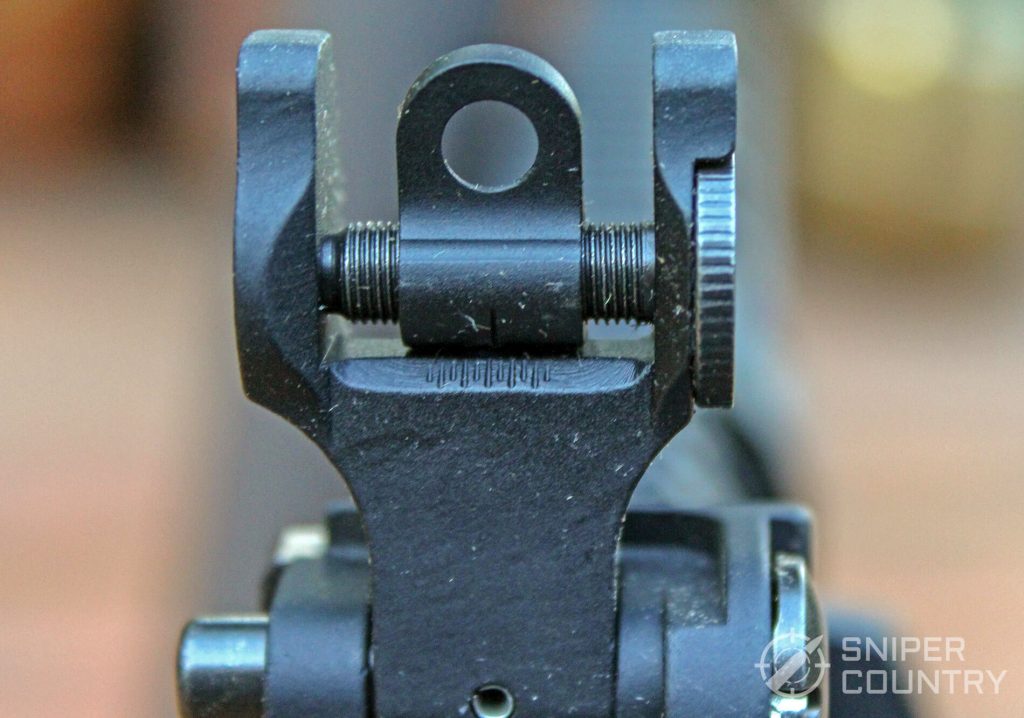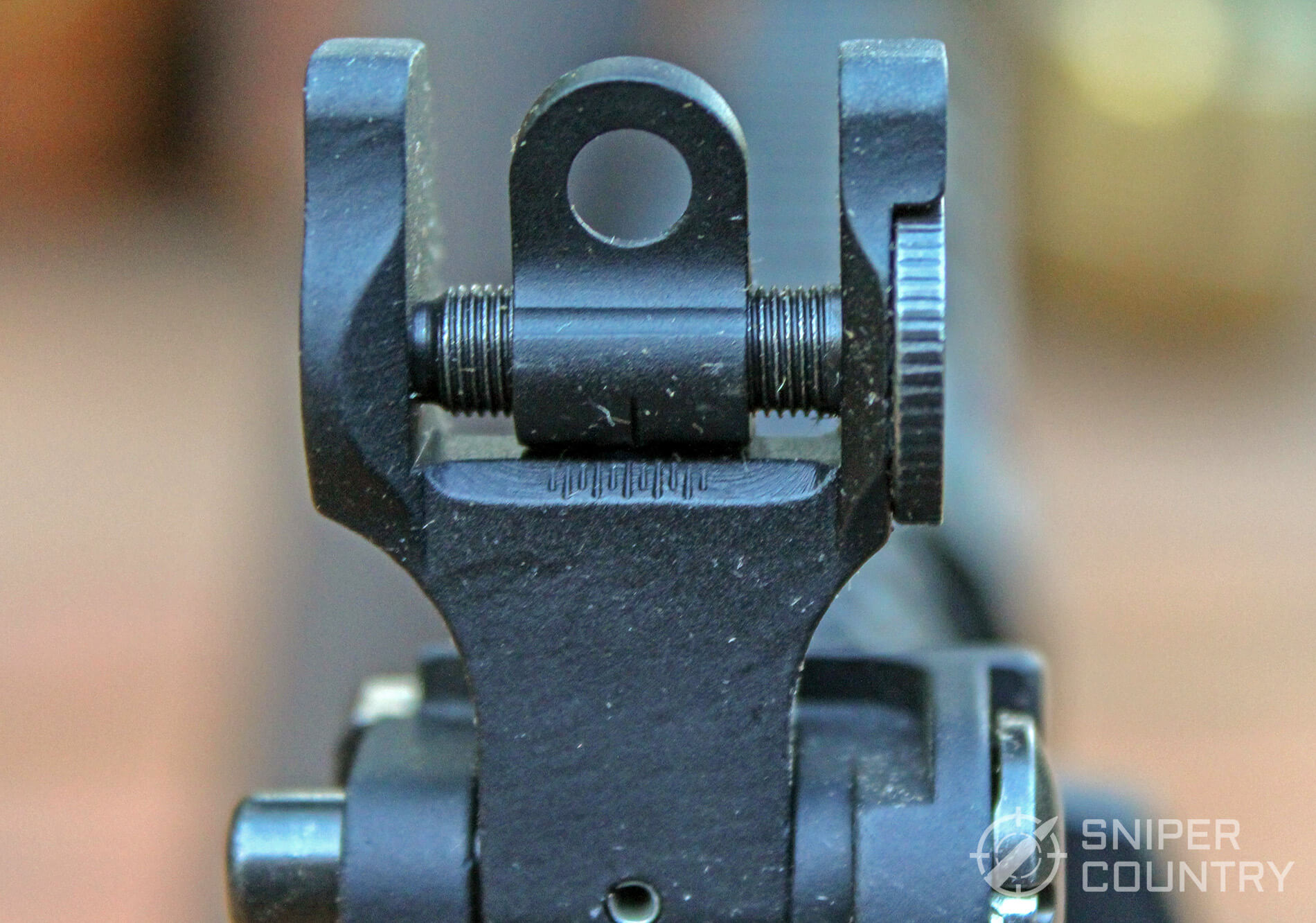 The sights are robust. I shot the firearm and had no trouble picking them up, even with my old eyes. If you are used to sights of this type, you will find these very accommodating. If you don't like them, you could easily get a red dot sight and mount it on the picatinny rail.
BONUS OFFER: Get your free shooting range targets to print at home!
Get your free targets to print at home!
Shooting The A4
Two of our four sons helped me test the firearm at my backyard range. They enjoyed shooting it. It handled about like any other AR out there, and was fun to shoot.
The gun was more accurate than I am… I'm sure, with a red dot or scope of some sort, I could probably do better in the accuracy department. My glasses don't allow three focal planes to register at once…front sight/rear sight/target…so I did the best under the circumstances. These targets are my own, with 1-inch squares, a four-inch large box and two-inch smaller white box — you can get an idea of group size quickly. I shot at 25 yards.
The weather is slowly turning to winter in my state, and today was the start. I shot in cool, cloudy, misty weather so I guess I can claim that as an excuse…? Not really. The targets aren't that bad, but I know I could do better. I shot two different 9mm loads — the Winchester "White Box" 115 grain and the NovX 65-grain practice load. (I am working on a review of the NovX ammo — it is really something else. A 65-grain bullet at ridiculous velocities…see below).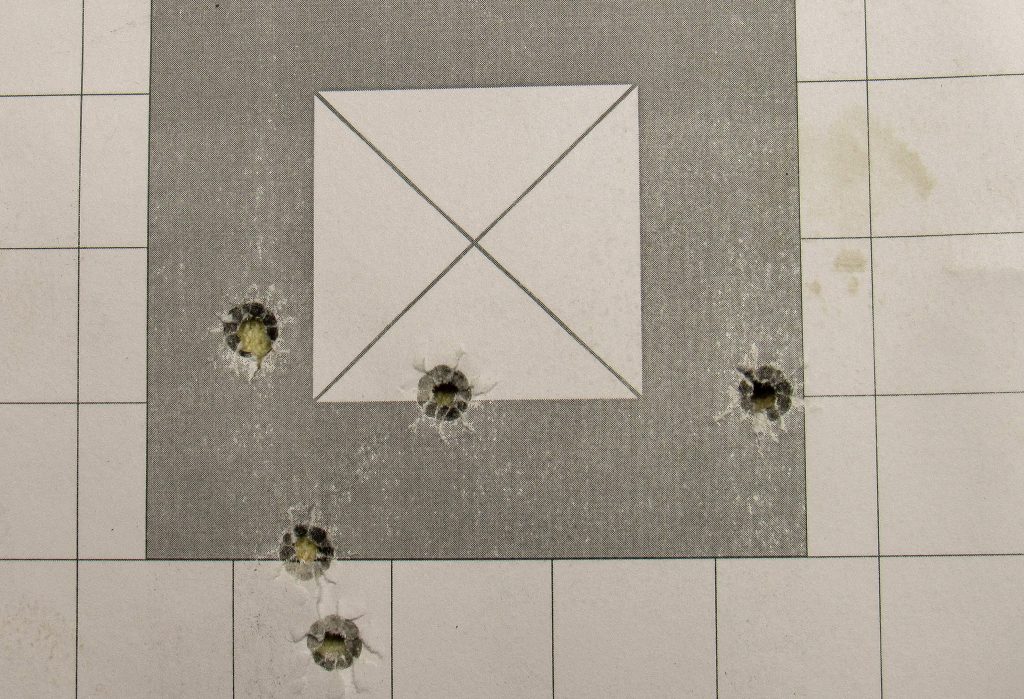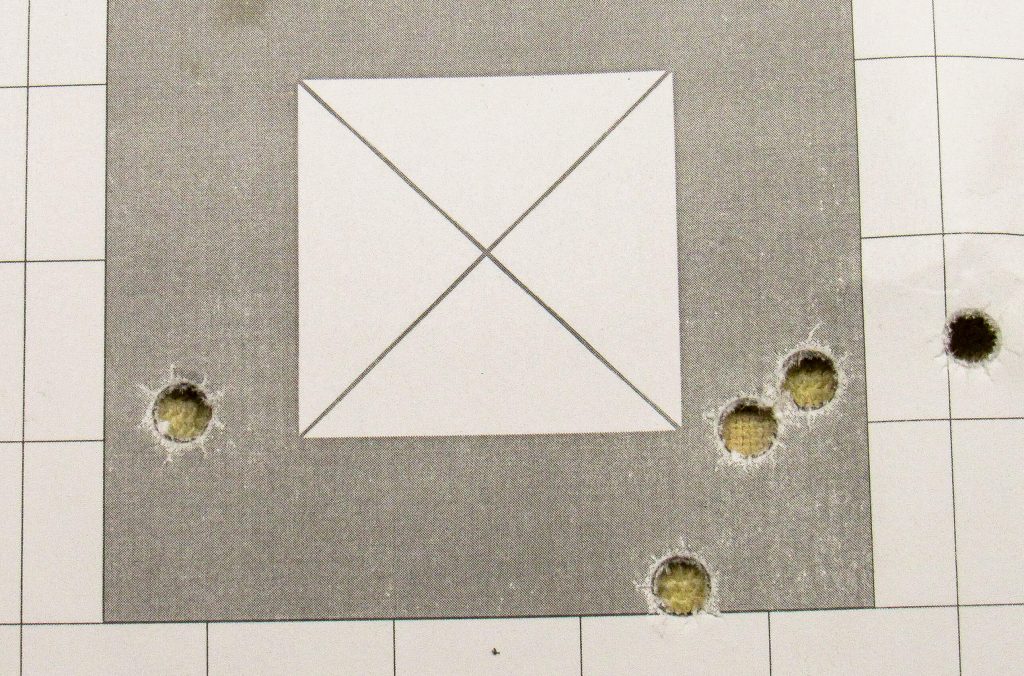 Here are the ballistic stats for these two loads out of the A4's 13.5-inch barrel…
| Brand | Weight (grains) | Velocity (f.p.s.) | Energy (ft./lbs.) | Standard Deviation | Extreme Spread |
| --- | --- | --- | --- | --- | --- |
| Winchester | 115 | 1359 | 471 | 16 | 34 |
| NovX | 65 | 1971 | 560 | 26 | 63 |
As you can see, the velocities are up from those achieved in a 4-inch pistol barrel. By way of comparison, I loaded my Sar K2P 9mm with the Winchester load and achieved an average velocity of 1129 fps. The NovX 65-grainer averaged 1600 fps, as well. It has a 3.8-inch barrel. So, in the A4 we see a pretty impressive gain in velocity over pistol's shorter barrels.
Here are a couple of observations about shooting the A4:
1. It needs a forward assist — There is nothing other than the bolt release and charging handle that will help the cartridge into the chamber, but once those two items are released and seated, you're done. I had an issue with the NovX 2-part stainless steel cartridge case…it didn't want to fully enter the chamber the first time I released the bolt on a full magazine. I re-seated the bolt and all was well, but a forward assist would have made things easier. I guess they figured that a pistol cartridge wouldn't need a boost to get into the chamber like a 5.56/.223 might. On a positive note, it DOES have a very effective deflector behind the chamber — it directed fired cases way up over the hill and kept them off the shooter. The dust cover is appreciated as well. When I contacted a representative of the company about this, he said he didn't know but would ask the engineers and pointed out that competing 9mm rifles don't have a forward assist, either. Point well taken…if I find anything else out, I'll update my review. It could be that I was the only one to have trouble seating a cartridge in the chamber, but I doubt it. It was no big deal, at any rate.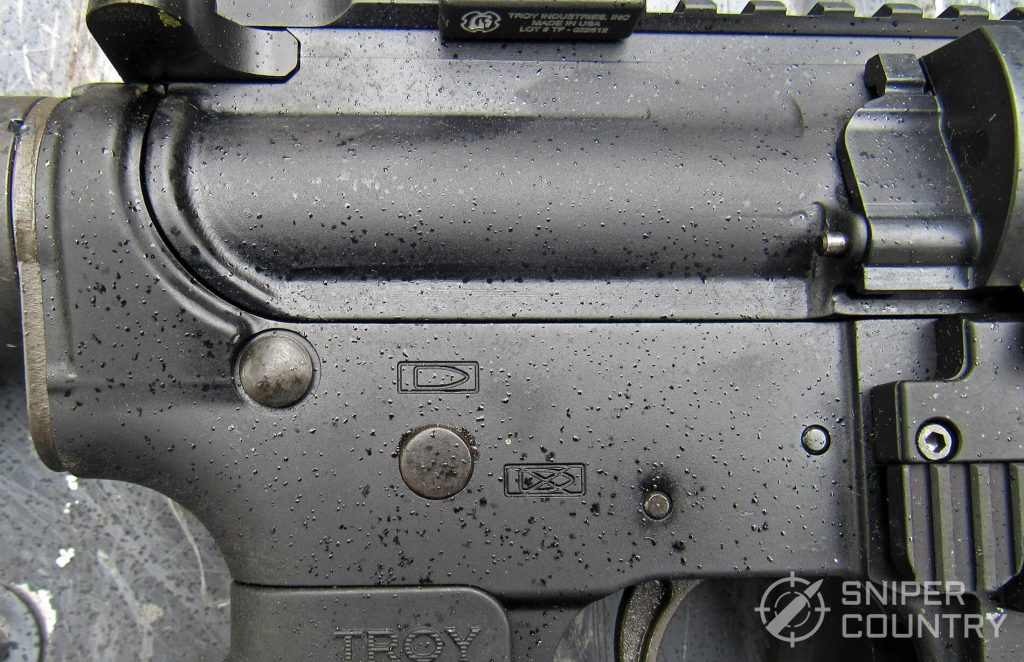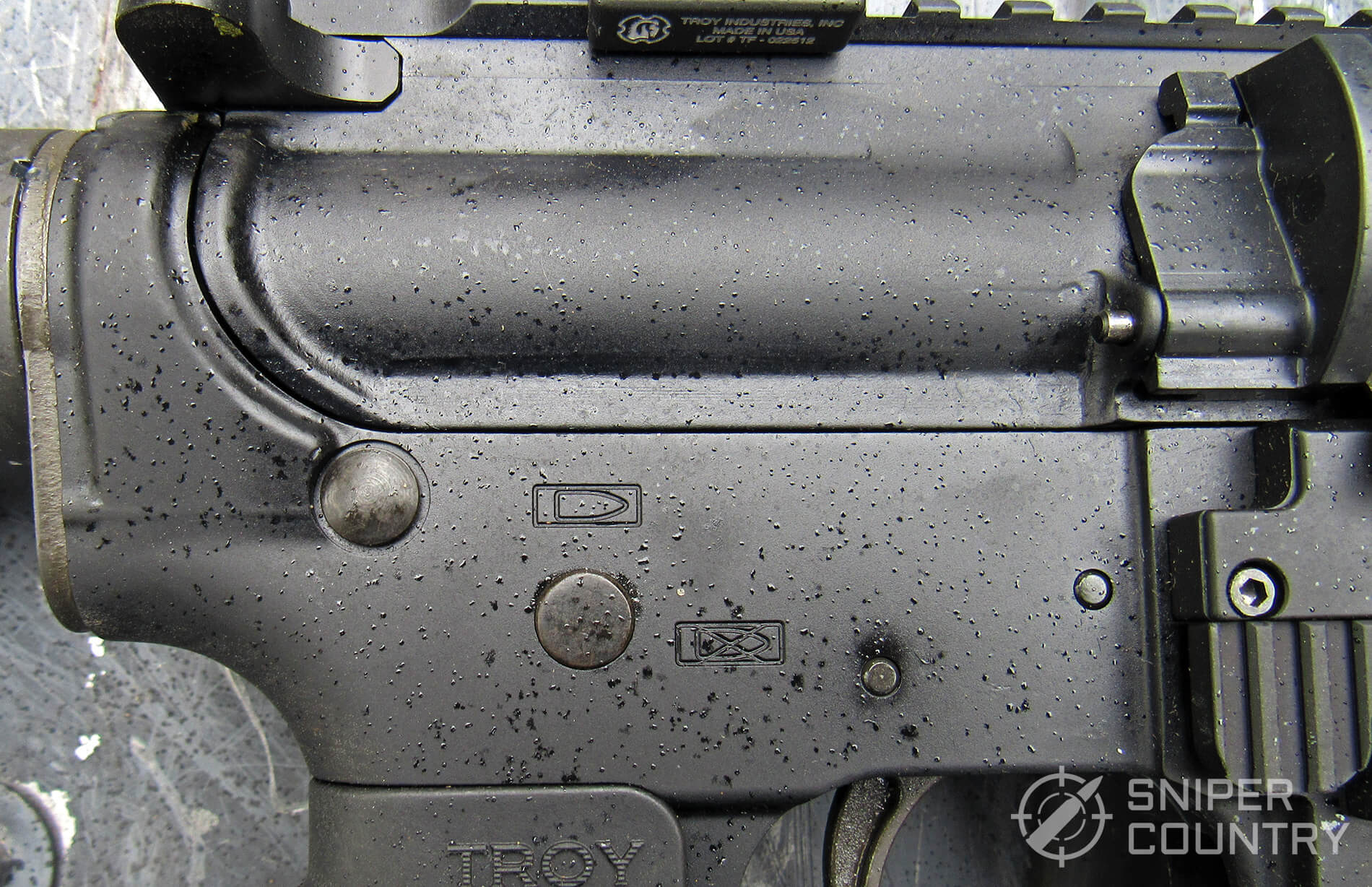 Also note the safe-fire markings for the safety. Sort of a "boom" – "no-boom" type of illustration.
2. Recoil — almost on a par with .223 ammo. That really surprised me. I was expecting a 6-plus-pound rifle to be downright tame with the lowly 9mm but I got a different result. Now, get me — I'm not saying the recoil was a molar-mover…it was just more than I anticipated. In terms of noise, it wasn't as loud as a .223 and the flash hider did its job well. I included the short video of one of my sons shooting the gun so you could get some visual indication of the recoil. Again, nothing much but a little more than expected.
3. Quality shows — The firearm and all its components are very well built and that is evident. You pick up some AR-type long guns and the charging handle feels flimsy, or the rear sight won't stay where you put it, or…you get it. This gun is solid. One small example: the magazine release is extended and easy to use…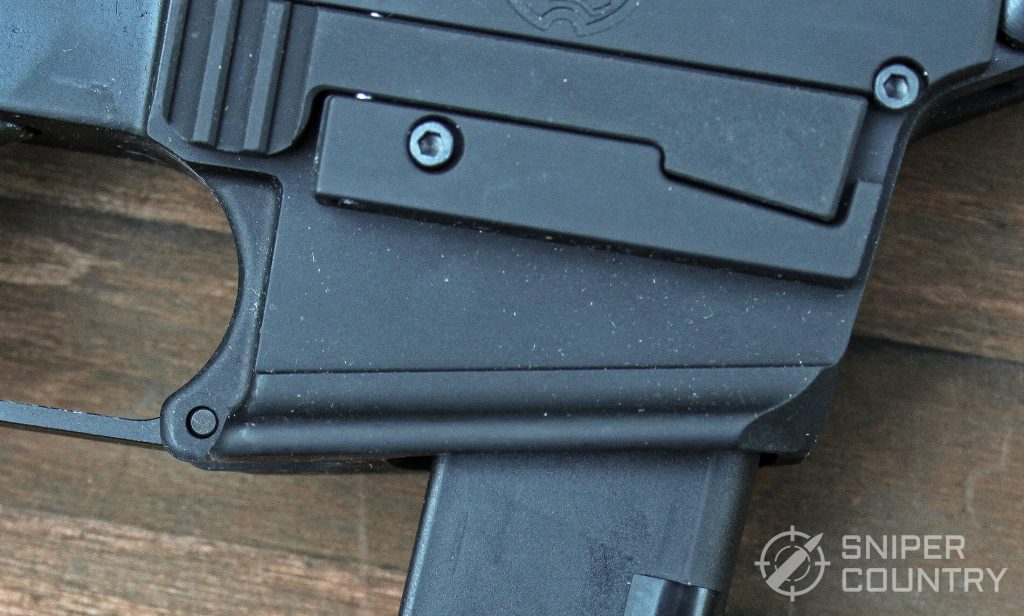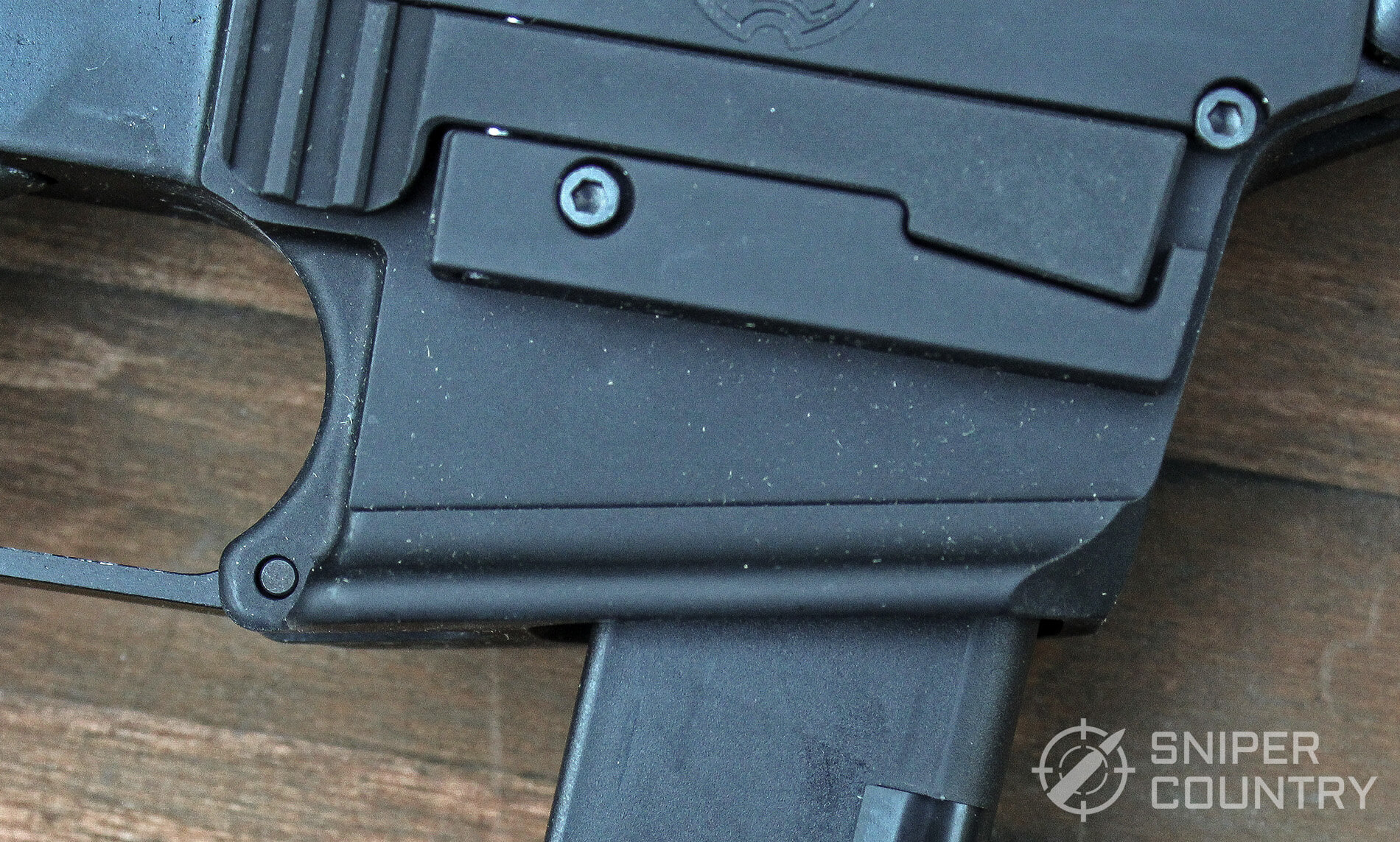 To Sum Up…
If you are looking for a long gun in 9mm, give the A4 a try. Check one out at your local dealer. Pick it up, after raising the sights into position. Heft it and put it up to your shoulder with the stock collapsed and then pull the stock out all the way. I think you'll agree that it feels solid as the rear sight comes up to your eye. Or, better yet, take one home and put a red dot on it. Then, you'll have a minimum-50-yard gun for pests, varmints or other uses. Whether you use it in an exterminating capacity or just to ventilate tin cans, I think you'll find the Troy A4 a capable, fun little gun to shoot. The nice part is that it is an AR-style rifle so all those add-ons out there for that platform will work with it. One of the best parts of the whole deal is that if you buy it, you'll have a lifetime to find something wrong with it — that's the guarantee that comes with it. If you are an owner of this firearm or just have a comment, add it below for us to read. As always, go shooting and be safe!