One of the best parts about owning an AR-15 rifle is the versatility available for modifying and adding on accessories. No matter if you want a scope or a tac-light on your rifle, there countless of options.
These are one of the best firearms for truly making it unique to you and your lifestyle. That's why we've put together this review for the best KeyMod angled foregrips on the market. We'll tell you what our favorite foregrip to review was at the end of this article.
KeyMod rails are significantly less popular than your standard Picatinny/Weaver rails, so it is definitely more difficult to find compatible accessories with KeyMod attachments. However, the style is slowly but surely being recognized for the open-sourced design, allowing gunowners to be more creative with their rifle setups. It also is very quick and easy to install your attachments.
Angled foregrips for AR-15s are pretty popular on their own; they are great for reducing the strain on the wrists for shooters who either have a strong grip or simply spend a lot of time on the range. Many gun owners prefer this style of foregrip over a vertical or pistol style. We hope this review will simplify your shopping process.
---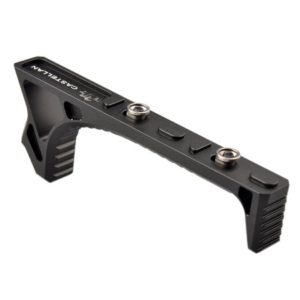 LINK Curved Angled Front Foregrip
Materials — The LINK Curved Angled Front Foregrip is machined from 6061-T6 aircraft-grade aluminum, and it's anodized in a hard-coated, black finish. This angled fore grip can be directly attached to your KeyMod rail mount, and all screws and Allen keys required for the installation are included in the packaging. The aluminum construction is incredibly light, weighing just under two ounces. This style is intended to be slim and simple, so the design is quite thin: it's under five inches in length, and it's under two inches in height. All the points of grip feature a grooved, textured surface to enhance your hold while firing your weapon.
Performance — It's a little shocking to see how slim and compact the LINK Curved Angled Front Foregrip is, upon pulling it out of the packaging. There are plenty of shooters out there with smaller hands or who simply want the least possible weight added to their setup. This would be the foregrip for you. For angled grips specifically, we prefer this style of texture on the grip, which has horizontal grooves. We think this is better for the fingers to rest against since they're at an angle. This will reduce any sliding during recoil, and you can, in a way, dig your fingers into the grip if you need to. Of course, the slim design is also this foregrip's greatest downfall — not everyone will be happy with the size. This goes especially for our big and tall shooters with larger hands.
What we say — The LINK Curved Angled Front Foregrip is easily the best KeyMod foregrip for those who require that ultra-light feel or for those who agree with us that a grooved texture is best for the angled shape. It also happens to be incredibly low cost.
Pros
Cheap option
Fits well in small hands
Horizontal grooves for fingers
Cons
May be too slim for many shooters
---
BONUS OFFER: Get your free shooting range targets to print at home!
Get your free targets to print at home!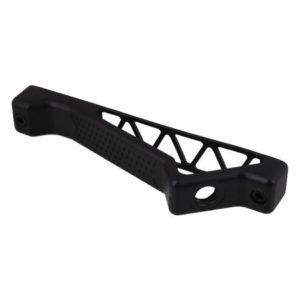 Tactical For KeyMod Angled Forward Grip
Materials — The Tactical For KeyMod Angled Forward Grip is similarly styled to the previous option, as it's also constructed from 6061 aircraft-grade aluminum, which has a matte, black, anodized finish. While also lightweight, this option weighs about two and a half ounces. It is just a tad over five inches in length. All of the screws and tooling required for installation are included with the angled foregrip, and it can be mounted directly and quickly to your KeyMod rail. Instead of a grooved grip, this fore grip features a raised dot texture only on the angled portion. The hand stop is on the short side, and has a smooth surface.
Performance — The Tactical For KeyMod Angled Forward Grip is quite similar to the first option, as far as style and shape goes, but this option may naturally fit better in many of our readers' hands. The grip is a bit wider, and the weight has a bit more bulk to it. What we don't like about this option is the hand stop is very short, and we don't like the raised dot texture on an angled foregrip. We find the raised dot style allows it to be too easy for hands to slip or for palms to get sweaty. There's definitely some give and take with this option, but it is also another highly affordable purchase.
What we say — The Tactical For KeyMod Angled Forward Grip is easily one of the best AR-15 angled foregrips for our readers out there with bigger hands. You'll have more surface area to lay flat against the palms, and it won't cost you much at all.
Pros
Affordable
Wider surface area for hands
Heavier weight
Cons
Dot texture can allow for slippage
Short hand stop
---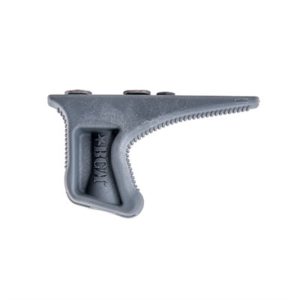 Bravo Company KeyMod BCMGunfighter Angled Grip
Materials — The Bravo Company KeyMod BCMGunfighter Angled Grip is an ergonomically shaped design, which is constructed from polymer, instead of aluminum alloy. It is available for purchase in black, flat dark earth, or gray. Of course, installation is easy, and it can be directly attached to your KeyMod rail on your AR-15. This option is significantly less hollow than the other selections, so you can expect a heavier weight in the hand. This will also keep the overall aesthetic more sleek and low profile. Almost all exposed areas of the grip feature a deeply grooved texture, which includes the rear of the grip.
Performance — The Bravo Company KeyMod BCMGunfighter Angled Grip is certainly the most unique option of the bunch. The polymer construction is going to feel the most sturdy and most weighted in your hand. There's a lot more to grip onto since there aren't really any hollowed-out areas. Plus, it has the deeply grooved texture that we like. There's no hand stop, but that can easily be purchased separately, or you may not even feel it necessary to have. The great thing about KeyMod accessories is how quickly you can add on or remove what you want.
What we say — The Bravo Company KeyMod BCMGunfighter Angled Grip is one of the best KeyMod foregrips for shooters who don't like to rely on damageable aluminum and like the solid grip of polymer. This design is certainly simple and won't attract much attention to your AR-15.
Pros
Polymer construction
Grooved texture
Less hollow areas
---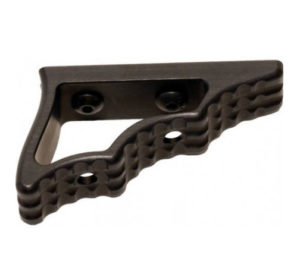 Ergo Grip KeyMod Angle Grip
Materials — The Ergo Grip KeyMod Angle Grip is the final option that is made from aircraft-grade, 6061 aluminum allow, which also has the anodized, matte, black finish. This is one of the more ergonomically designed angled foregrips, which is featured prominently in multiple areas. The rear of the grip has a curved back, for the palm or thumb. The angled area of the grip features three finger grooves, with space behind for the thumb as well. Each finger groove has a raised, pyramid-style texture, for an enhanced grip while firing. Of course, it can be directly installed on your KeyMod rail.
Performance — The Ergo Grip KeyMod Angle Grip's best asset says it all in the name: the ergonomic shape. Without sounding too inappropriate, this foregrip has curves in all the right places! This is the only option we've seen that has an ergonomic shape in the rear as well as legitimate finger grooves. It certainly stands out from the rest. To be honest, the one thing we don't like is the raised texture. It can actually be a little rough on the fingers, if you grip too tightly. Seeing as we're talking about AR-15 rifles, that is pretty likely. However, you likely won't feel any strain on your hand or wrist after a long afternoon at the range!
What we say — The Ergo Grip KeyMod Angle Grip is the best AR 15 angled foregrip for shooters who need to take it easy on their joint and experience too much discomfort with a more traditionally styled grip. However, be ready to spend a little more money. This is the most expensive option in this review!
Pros
Highly ergonomic shape
Finger grooves and rear curve
Great for relieving strain on wrists
Cons
Expensive
Raised bumps feel harsh
---
Our Favorite KeyMod Angled Foregrip
Our favorite KeyMod angled foregrip was, without a doubt, the Bravo Company KeyMod BCMGunfighter Angled Grip. The main reason we chose this one is that it was the only option we reviewed that didn't make us feel like we were sacrificing an aspect of our comfort. Angled foregrips are not large accessories, and a small piece like this has to be very reliable to take a lot of weight and strain.
The polymer construction of this foregrip is more sturdy than the more common aluminum while still offering a slight ergonomic aspect. It still comes at an affordable cost, while seeming to offer a little more than its competition. We absolutely think our readers should consider purchasing the Bravo Company KeyMod BCMGunfighter Angled Grip for their AR-15 rifles.