Ruger has long been a name to be reckoned with in terms of American gun production. Since 1949, this company has introduced model after model of innovative, well-built and popular firearms. Another plus is that Ruger guns are usually affordable – you can't discount that, to be sure.
I have been a long-time owner of Ruger firearms. As a matter of fact, I described in some detail the Rugers I have owned over the past 40 years. If you are so inclined, you can read about them here. The only reason I mention them is to show that I am very familiar with the brand and its products. The Ruger company has long provided affordable guns to security agencies, police and other law enforcement agencies and citizens. They are known for building rock-solid .357 and .44 Magnum revolvers, many long guns including the 6-million-seller 10/22 rimfire rifle, and others. I had already reviewed the smaller LCP II (link below) in .22 LR. So, it was with a healthy dose of anticipation that I requested the slightly-larger SR22 to review. I had a good experience with the LCP II so I was hoping to continue that trend with this gun. I was not disappointed.
A Bit Of Rimfire History
In terms of other .22 pistols Ruger makes, there's the original model and resultant versions that started the company out, the Mk. I series of rimfires. Another popular semi-auto is the LCP II in .22 LR. You can also get the new Charger in .22 LR and now 9mm – check my rimfire-version review out here. The company is into rimfires in a big way. In addition to semi-auto pistols, they build several rimfire revolvers ranging in price from the $200 Wrangler to the $800-plus GP-100. This is only counting handguns; if we look at rifles, that would require a new, lengthier review. Suffice it to say that Ruger is in the rimfire business to stay.
What's that got to do with our sample SR22? Lots. When a firearms company designs its first model of any new gun, there's a learning curve. Sure, you can hire folks that have worked for other gun makers and get some experienced input that way, but when it comes right down to it, it really helps if you've "been there, done that." After building literally millions of rimfires, Ruger has the drill down pretty well. They know what works and what doesn't. In a nutshell, this little SR22 works.
BONUS OFFER: Get your free shooting range targets to print at home!
Get your free targets to print at home!
Shooting This Gun
Let's shake things up a bit and go right to the shooting part of this little opus. I normally blather on about specs, lots of ancient history and then go to 40 or 50 photos (or so it may seem). Let's be different. How did this little guy shoot?
In a word or two, not bad. Remember – we have a 3-and-a-half-inch barrel, with sight radius to match. I have said before that I do not claim to be the best handgun shot around, the issue having to do with my glasses, but this is one fun gun to shoot. I tried three different brands of .22 LR ammo – Federal Champion bulk, Remington Thunderbolt and Winchester 40-grain RN Super Speed. Here are the three 15-yard targets, in the order just listed. The trigger was alright, with a single-action pull of a bit under four and a half pounds (here is how you test the trigger pull). There was some take-up and creep, but it wasn't too bad. This is no target gun by any means, but with a bit of work and practice, you could dial in these groups a bit more.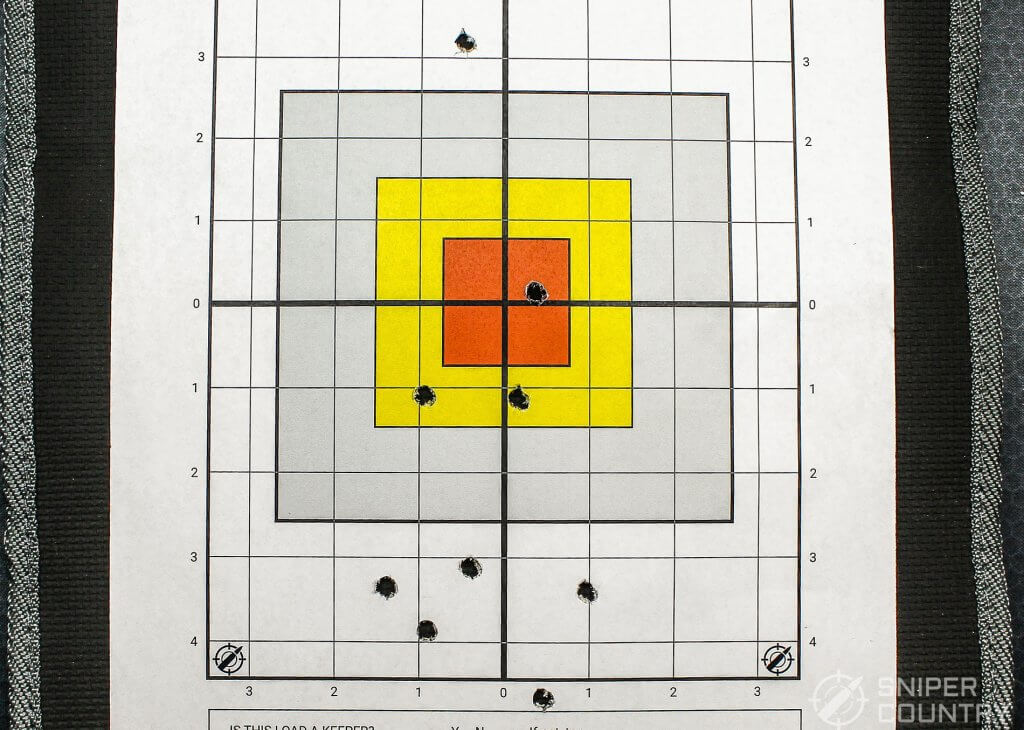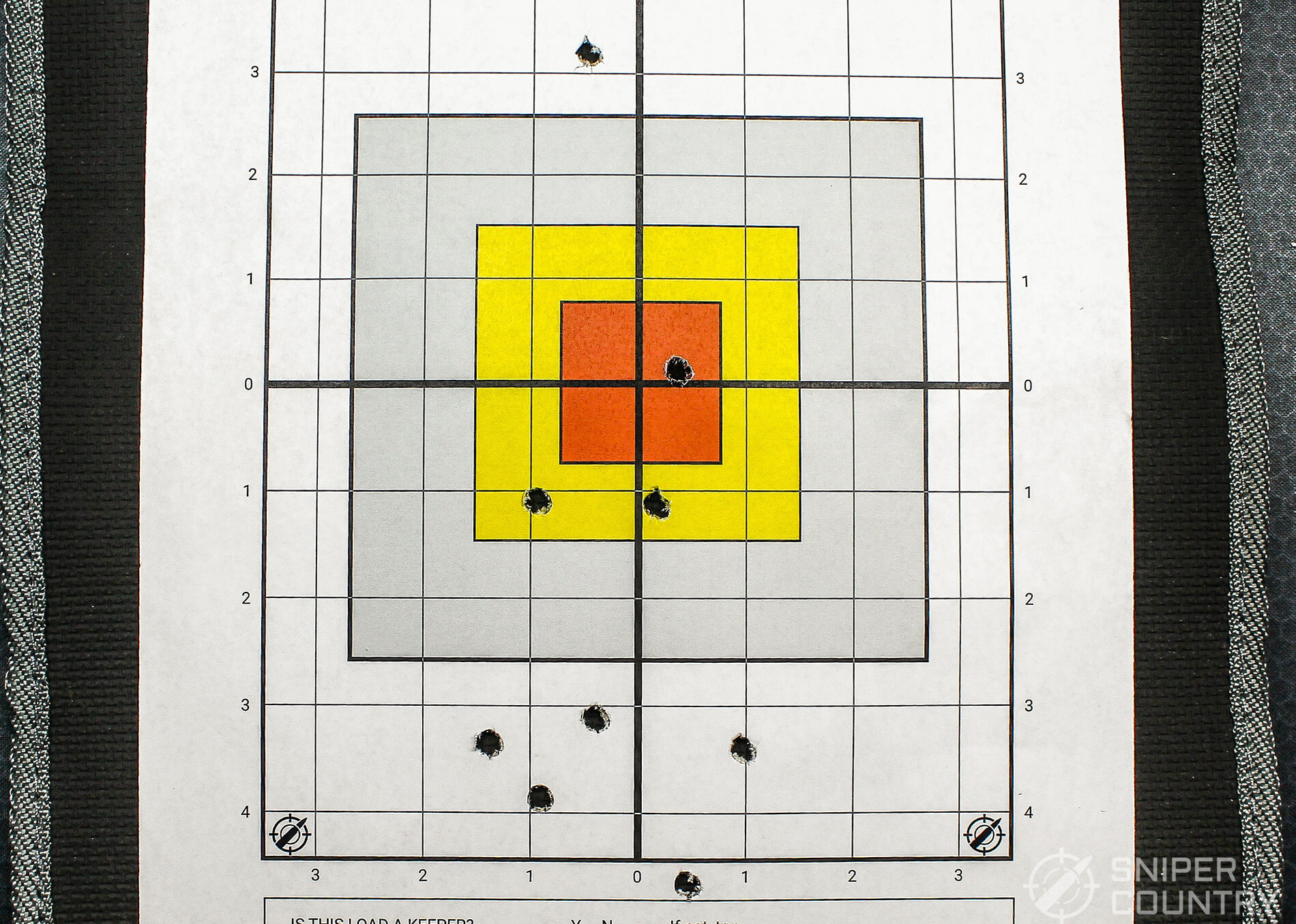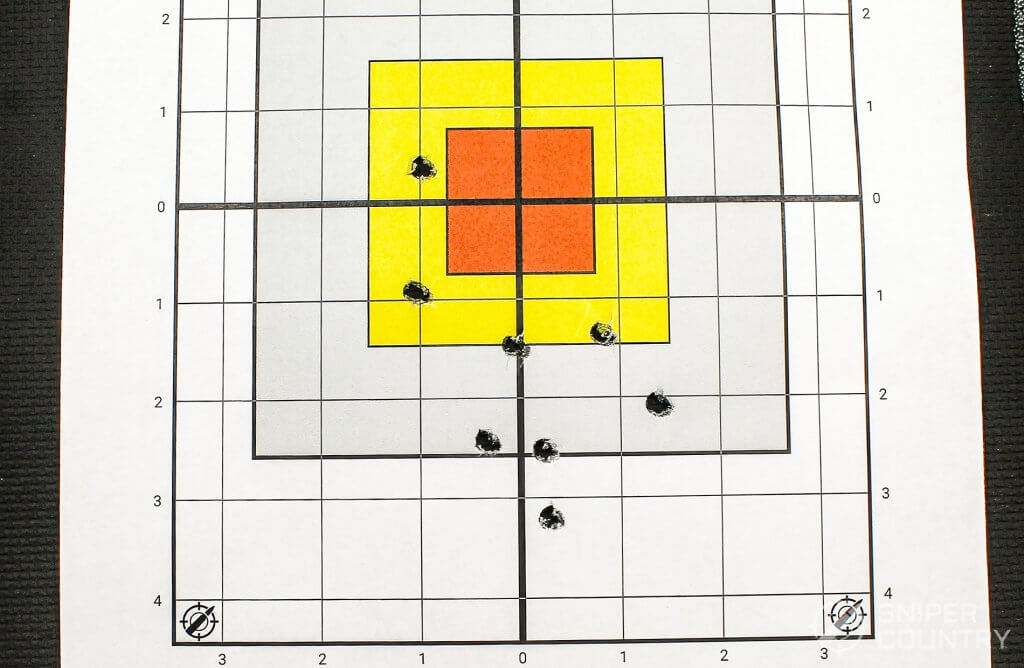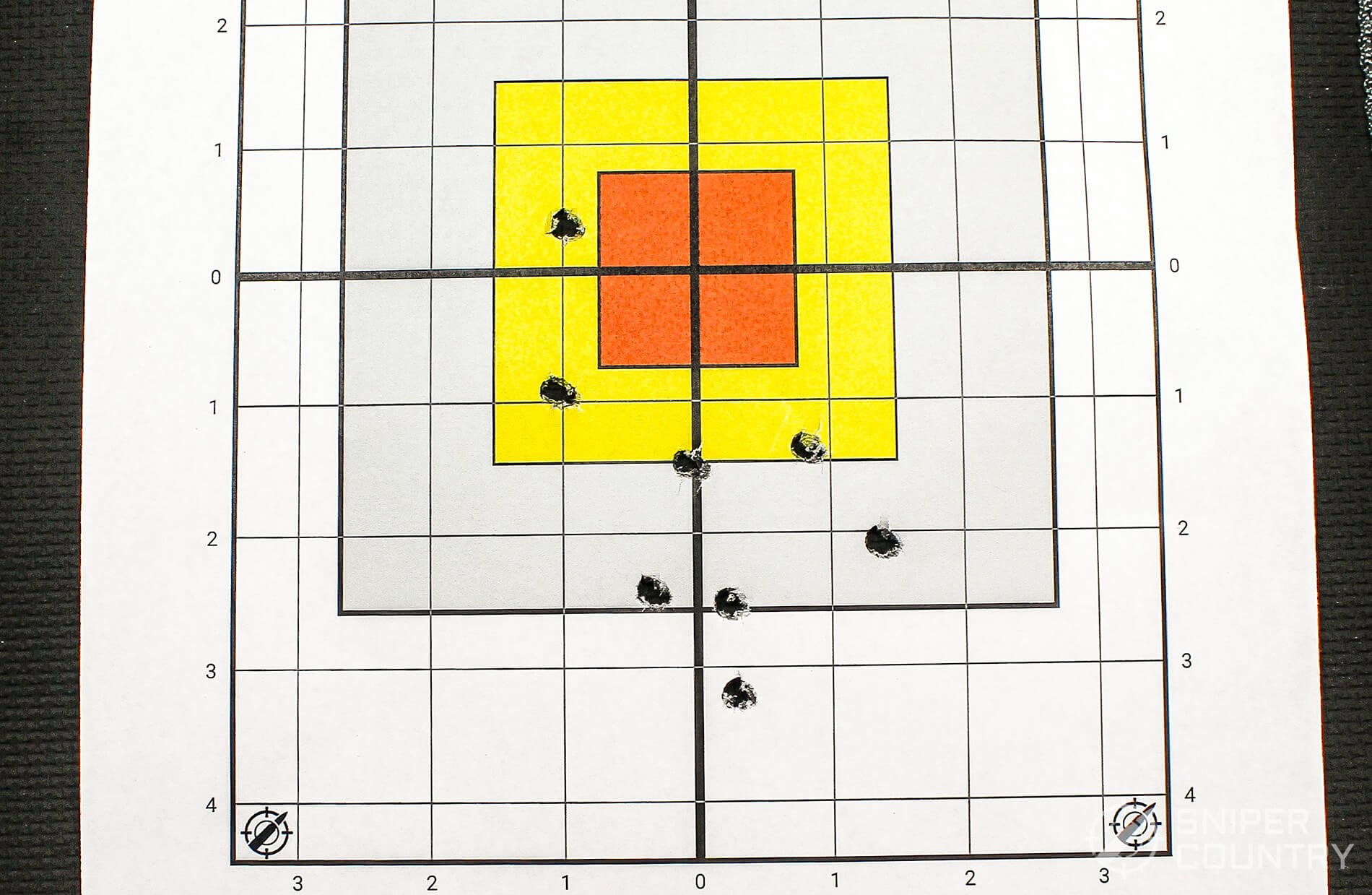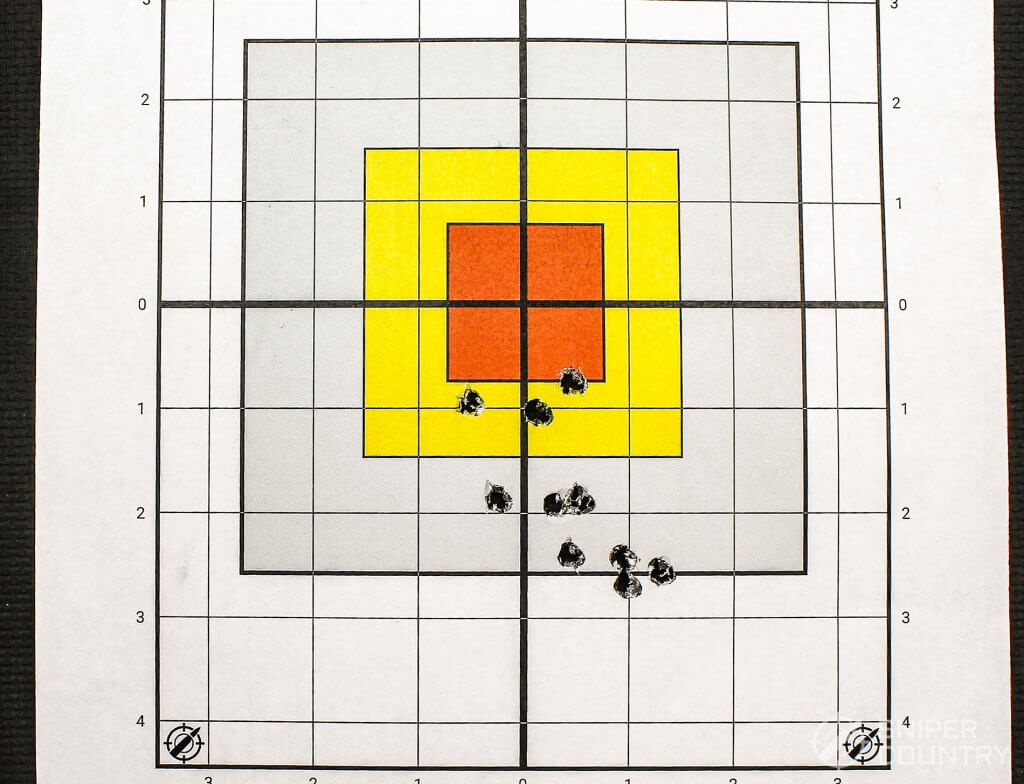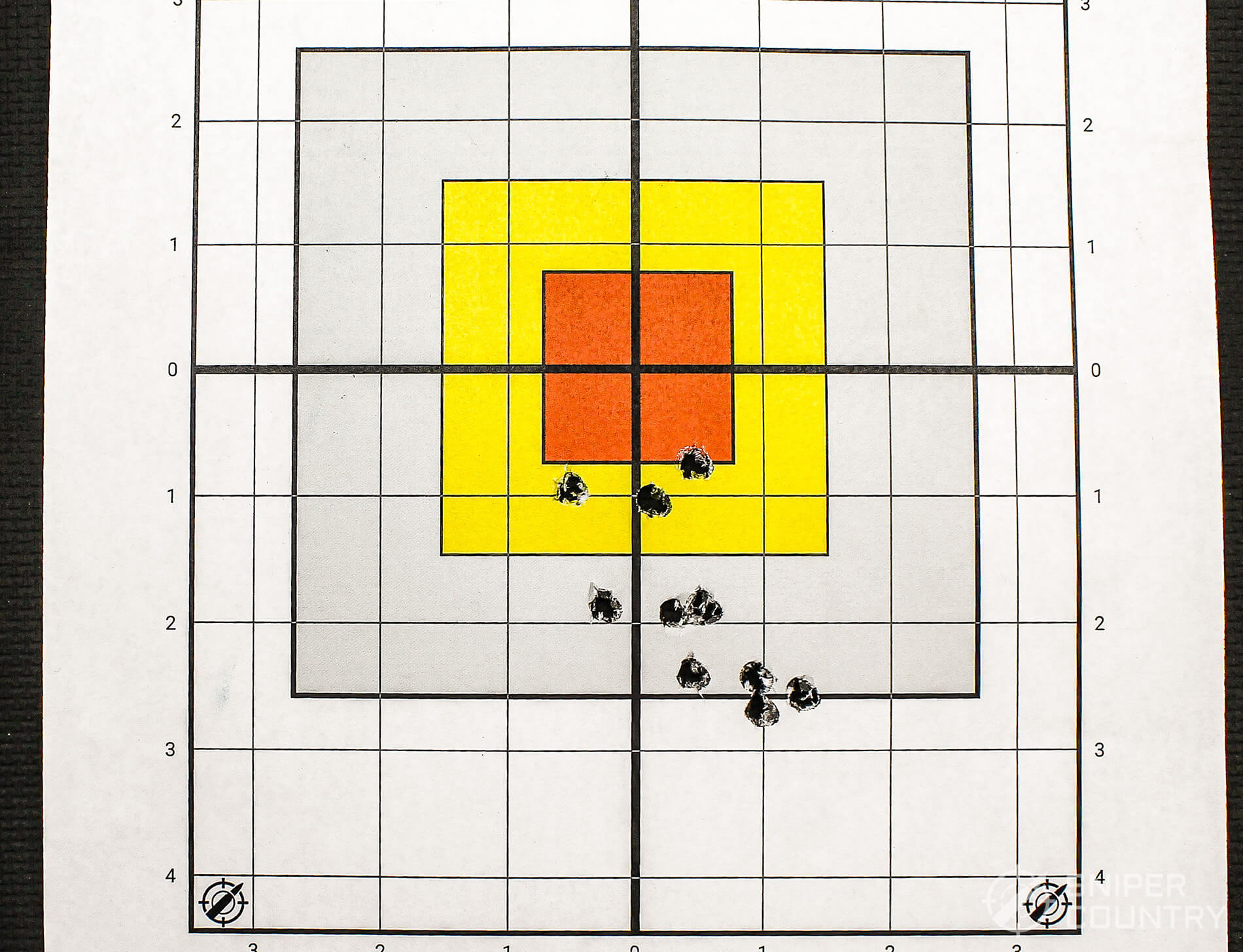 As you can see, I got these results, from worst to best grouping: Winchester – Federal – Remington. It is odd that the cheapest of the three brands shot the best, but that's what I have been discovering recently when I would shoot a gun to test or my own S&W Victory…sometimes cheaper is better. I do get it – these groups might be laughed off the range in most places but, given my aforementioned vision issue and the cold weather we are experiencing, I'll take it.
There was one thing a bit strange I discovered about this brand-new factory pistol. The rear sight elevation screw was all but loose, with the sight up very high. You can even see it in some of the photos. I figured this would cause the gun to shoot high, which it did. I have the habit of not adjusting the sights on a test gun unless I figure I'm going to keep it, so I didn't do anything other than just move the screw down low enough to stay captive. I just aimed at the bottom center border of the target, which placed the bullets closer to the central part of the target. (If you like this target, you can download it and others from this site). At least this sight issue is an easy fix. I do like adjustable sights – easy to regulate for my eyes.
Photo Gallery
Here are some pics of the gun. A photogenic thing it is – the design team did a good job. Here you go…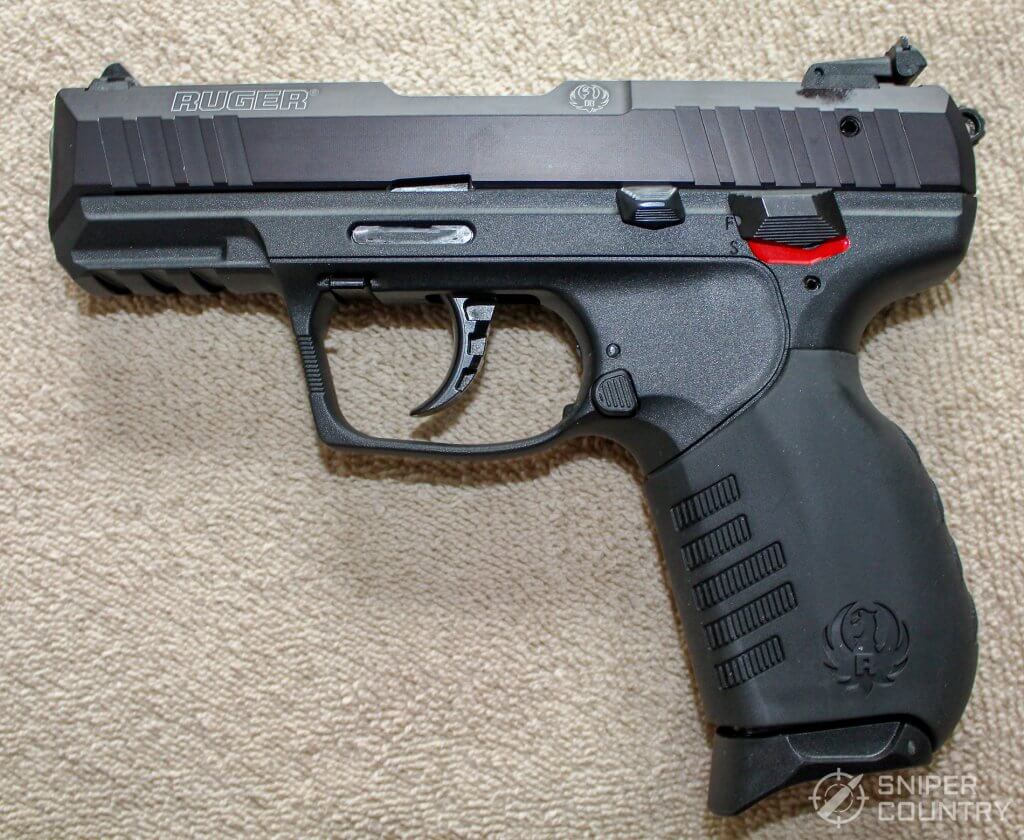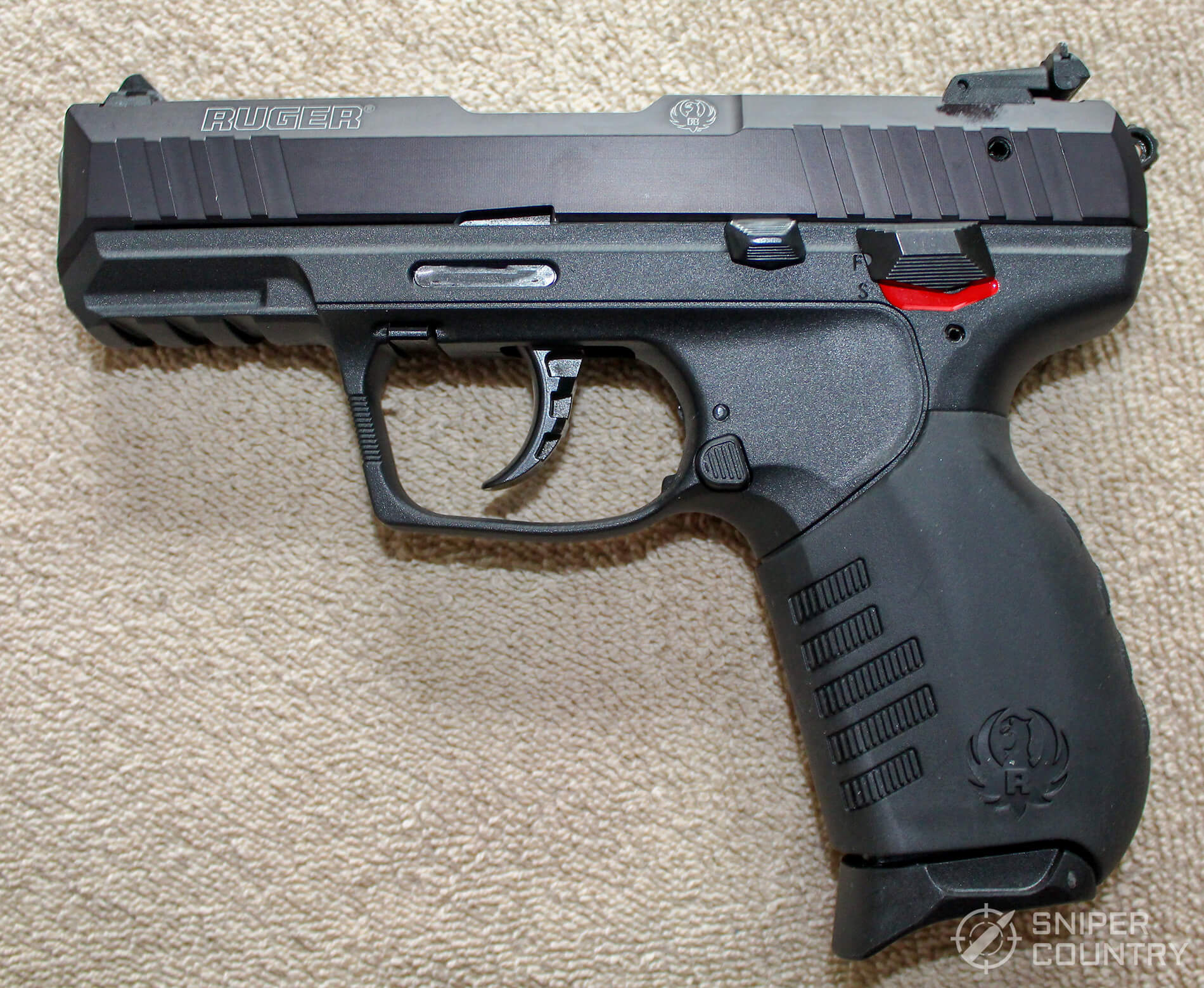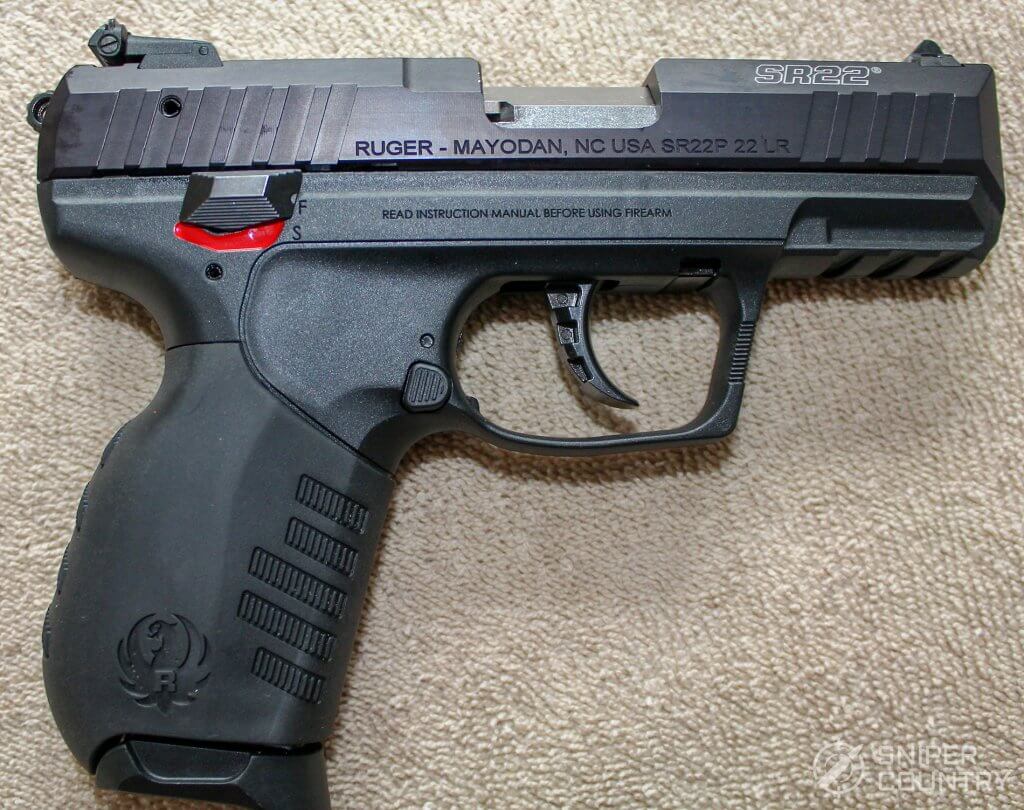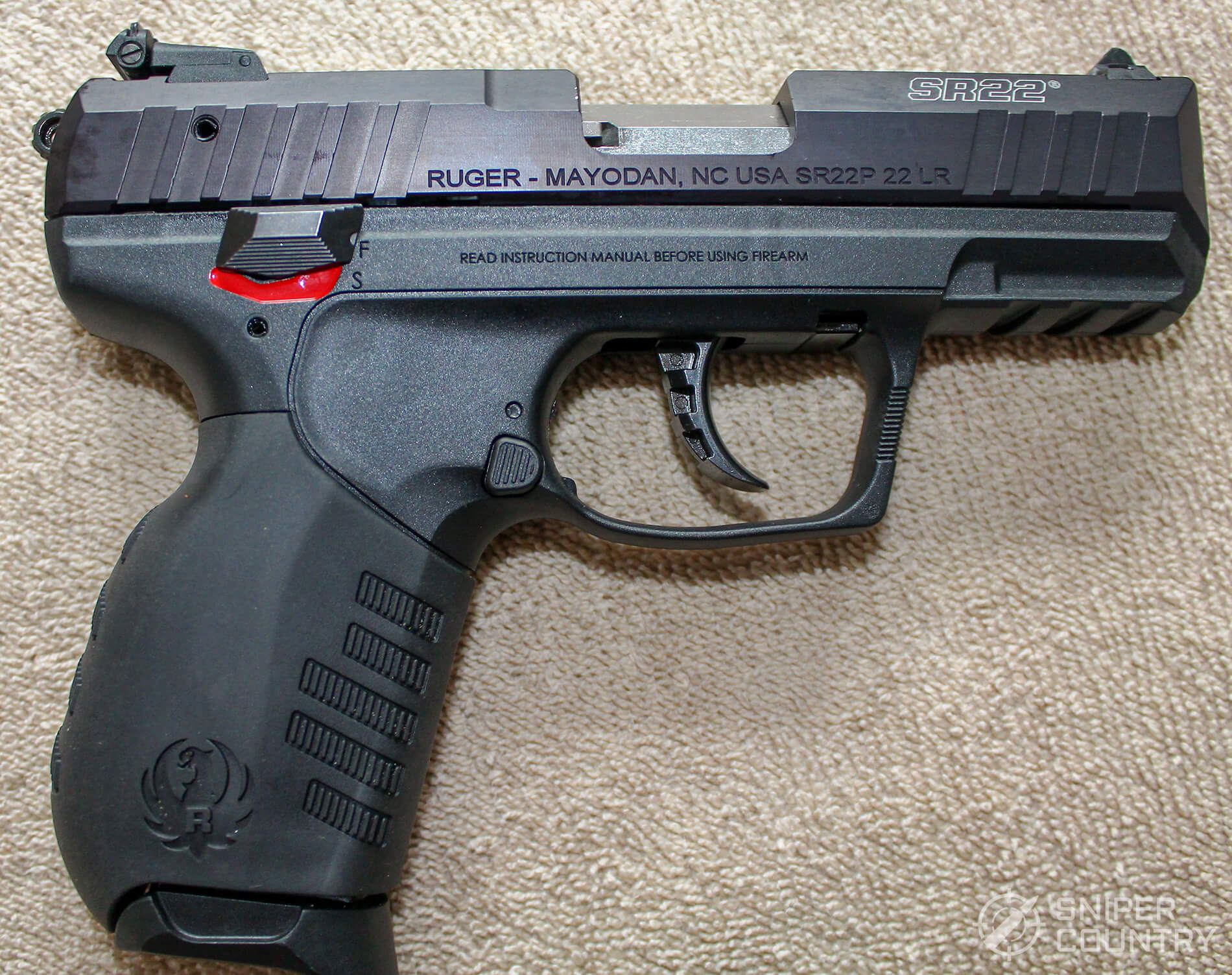 Notice the bright orange panel under the ambidextrous thumb safety and mag release controls. No mistaking that this gun is ready to shoot, with that bright orange color visible. Also, see where this gun was made – in the Ruger North Carolina facility.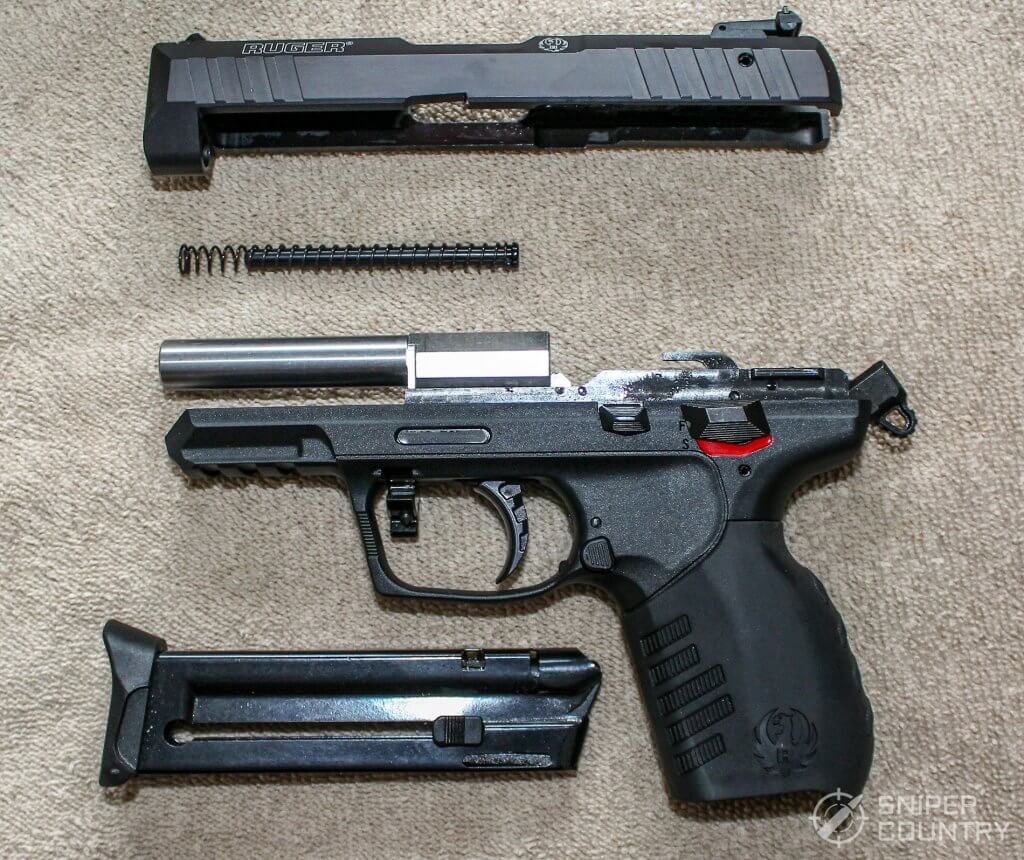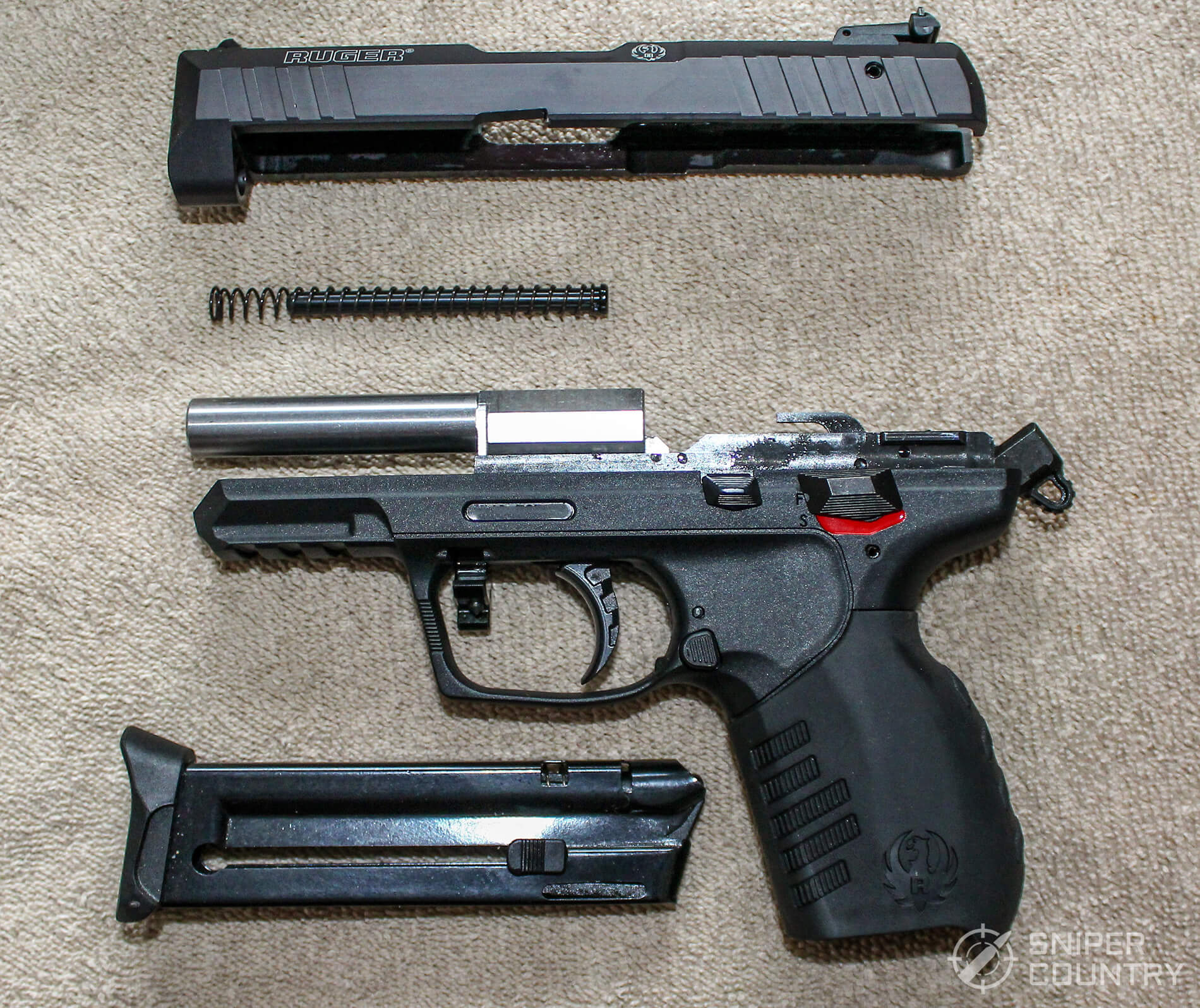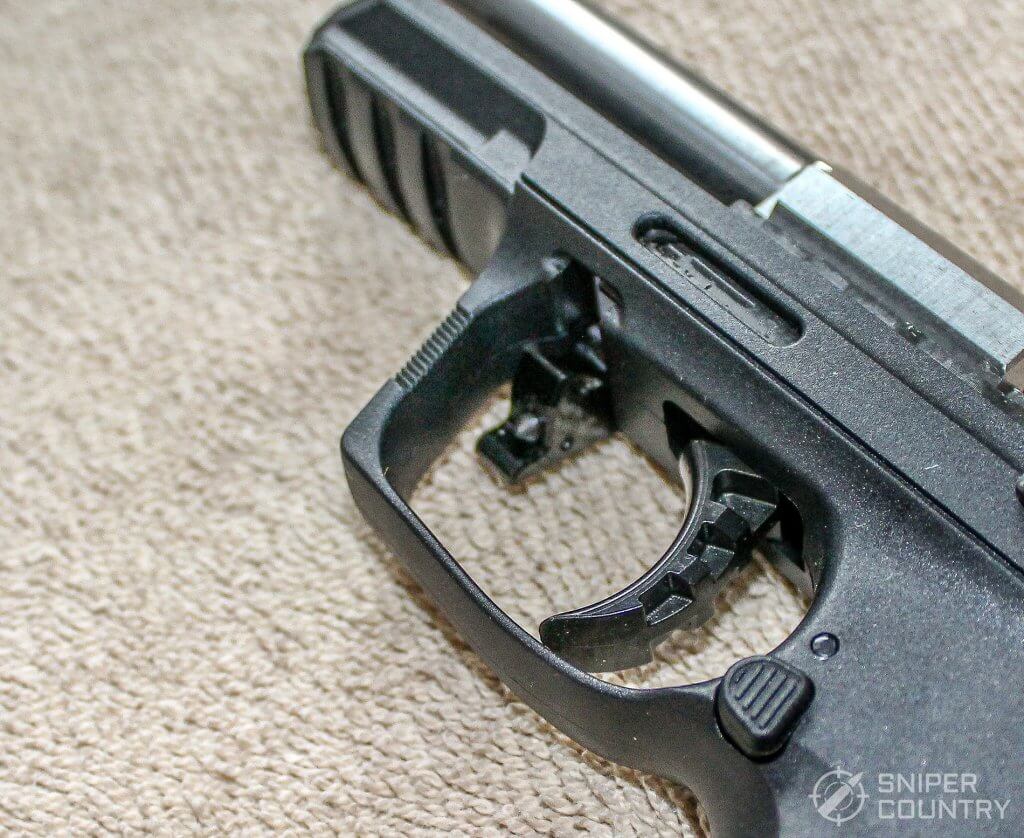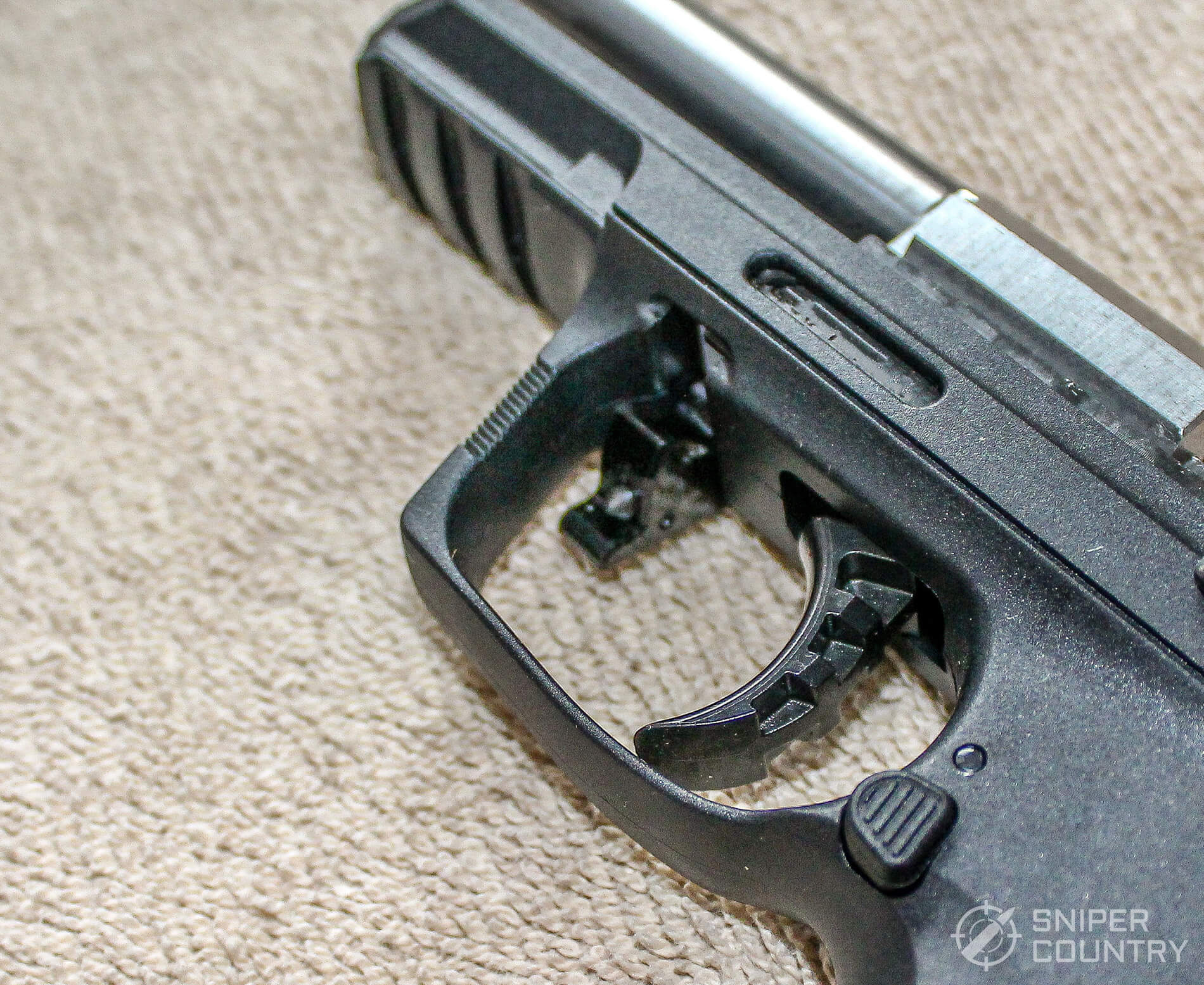 Here's how you field strip the gun – open the takedown latch in the front of the trigger guard. More on that later. Also, there's a three-slot rail under the muzzle – handy.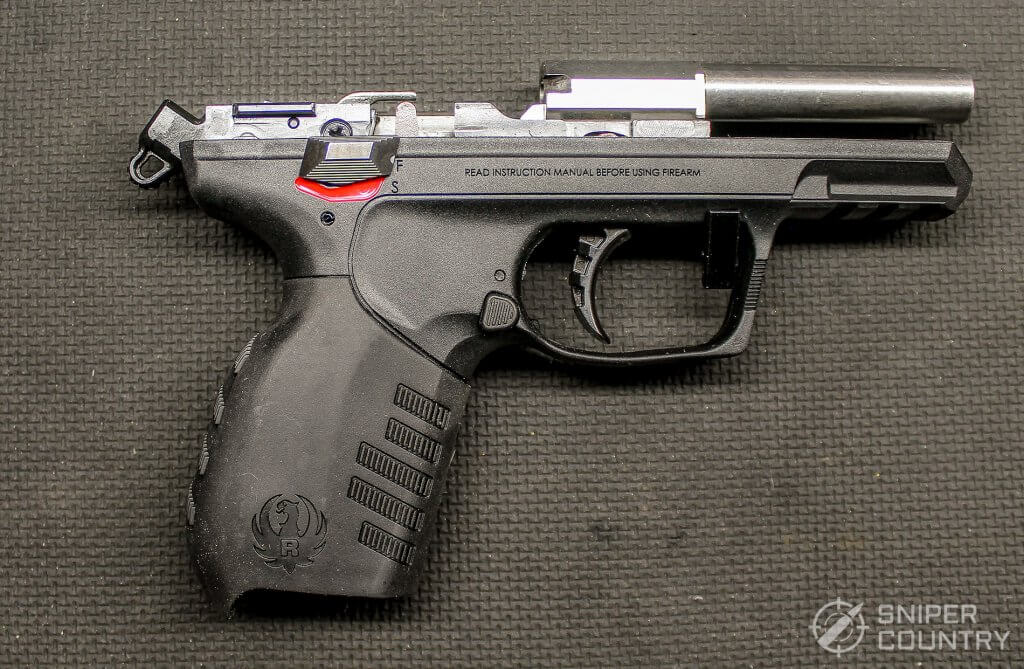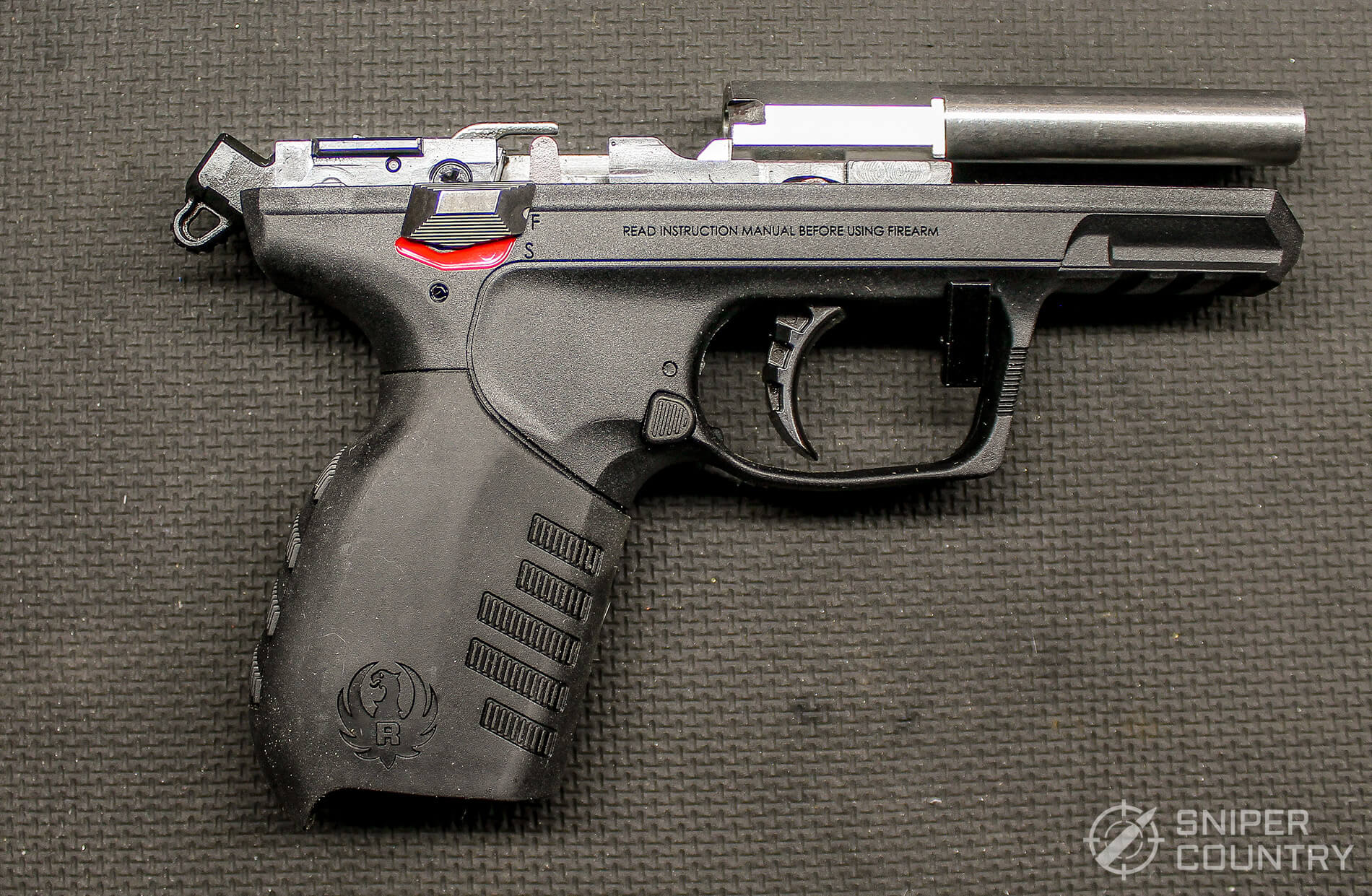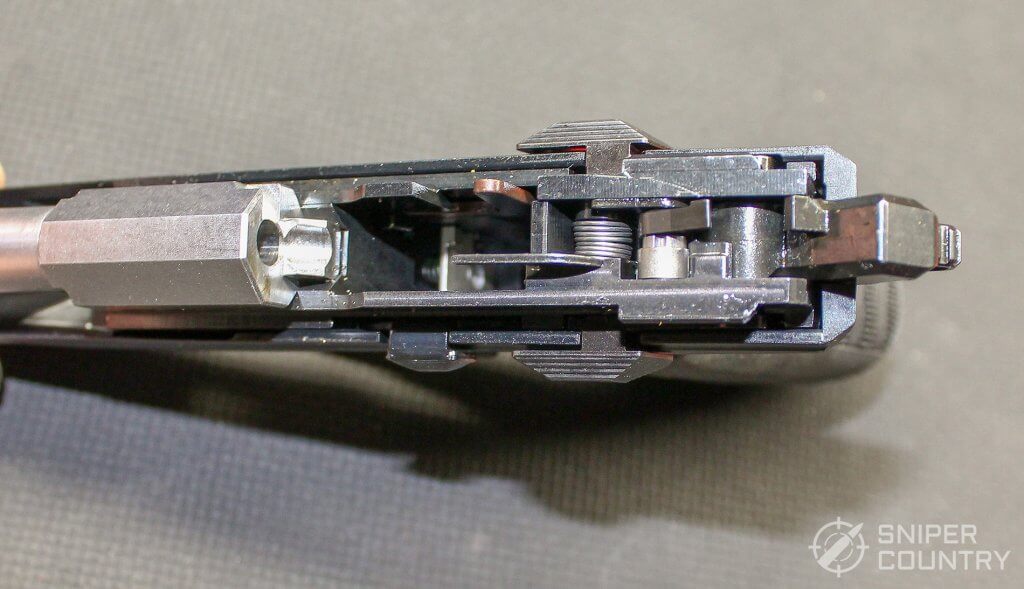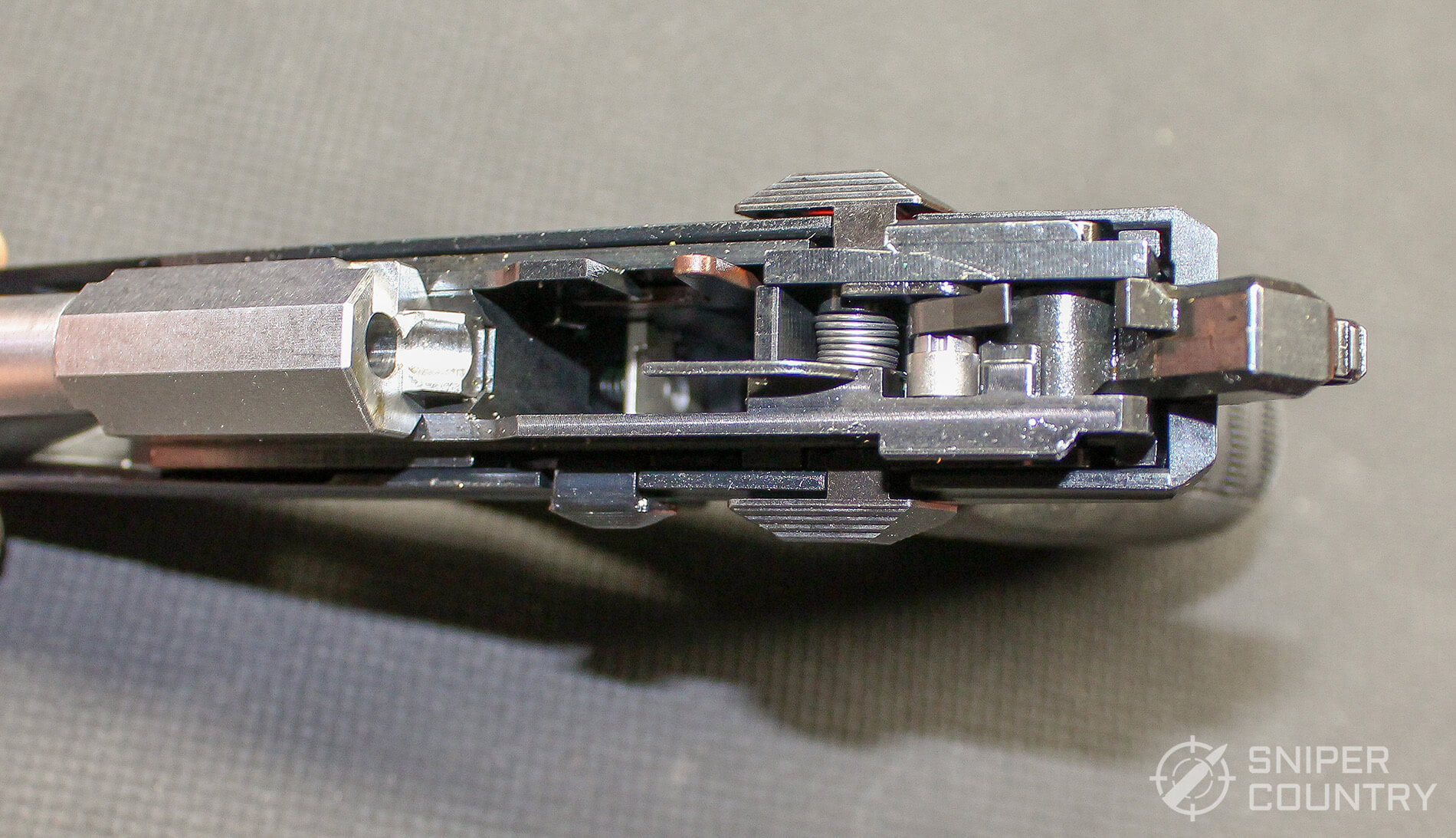 Frame, side and top. Note the polished feed ramp. You can remove the barrel if needed – there is a hex-head screw in front of the trigger that you loosen in order to take the barrel off.


Slide, side shot. Note color-filled engraving and front and rear serrations.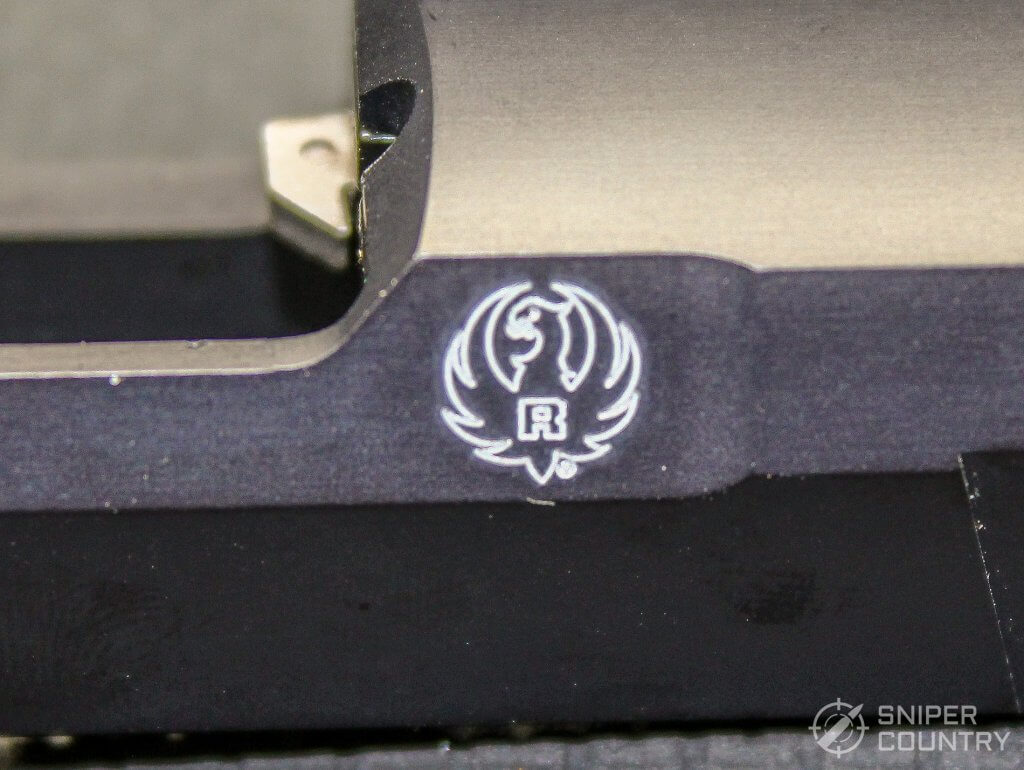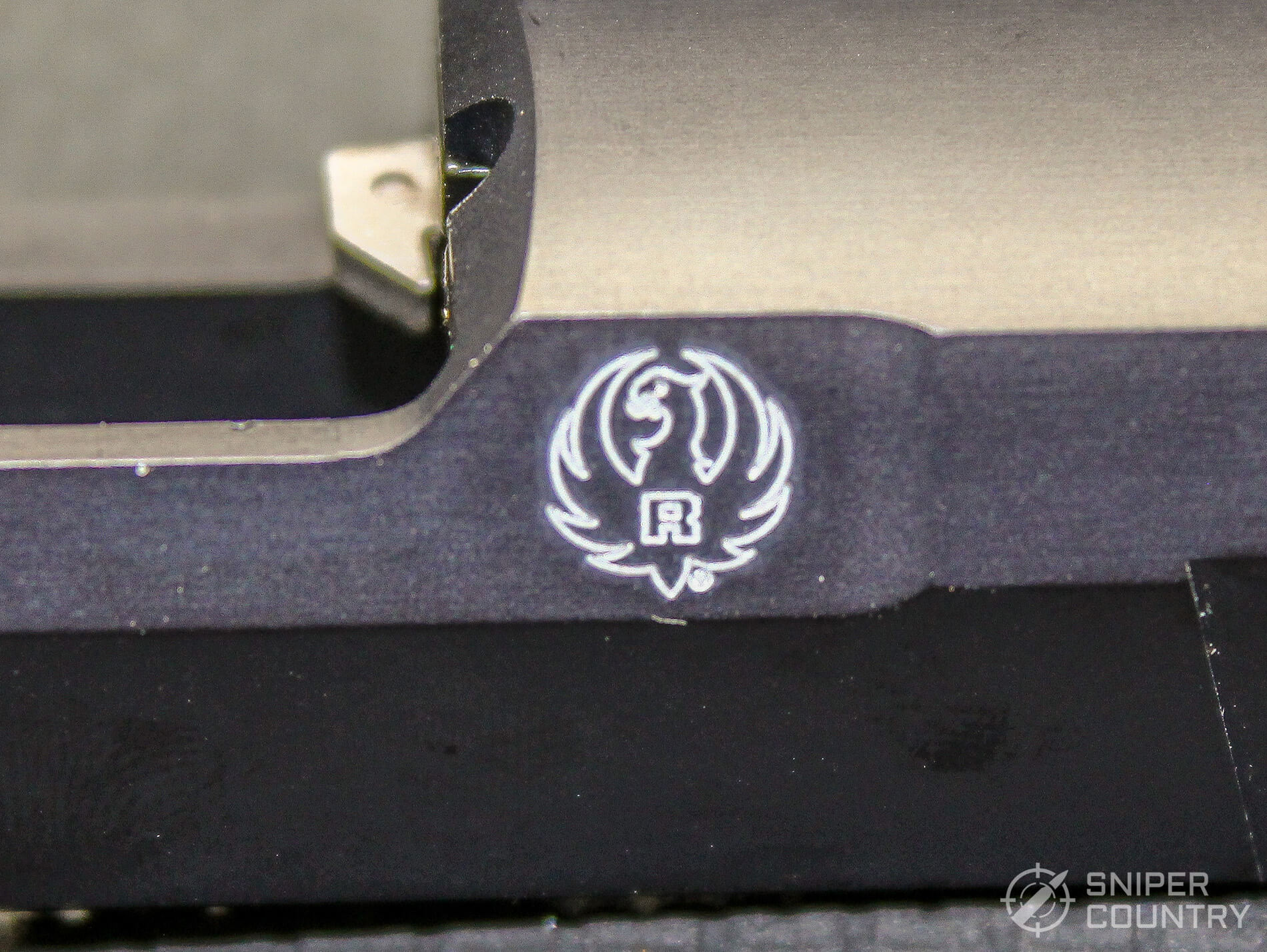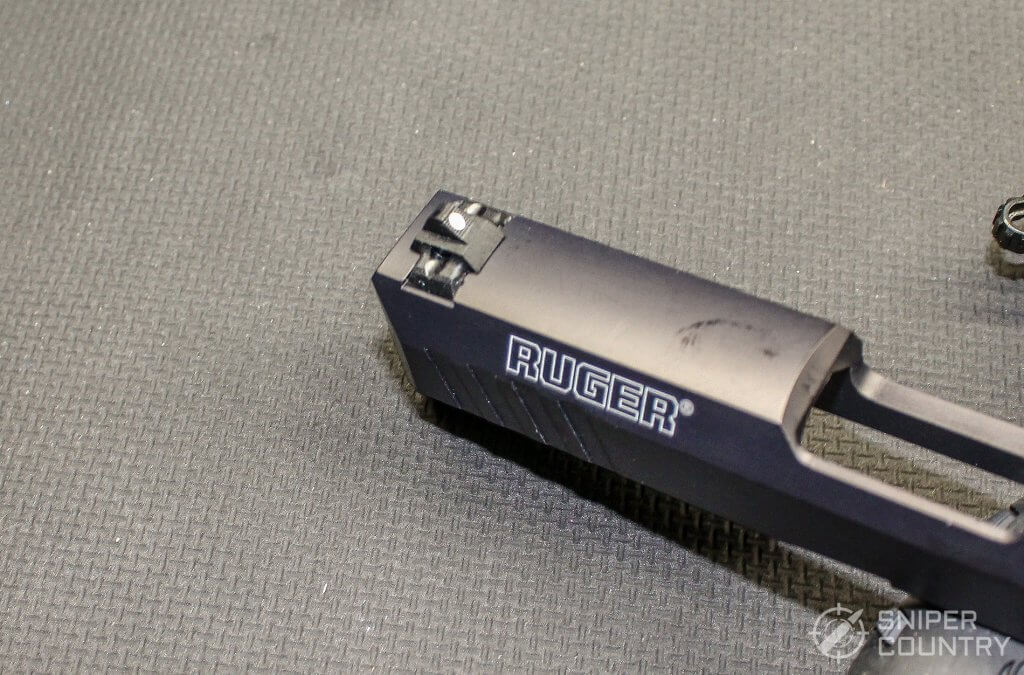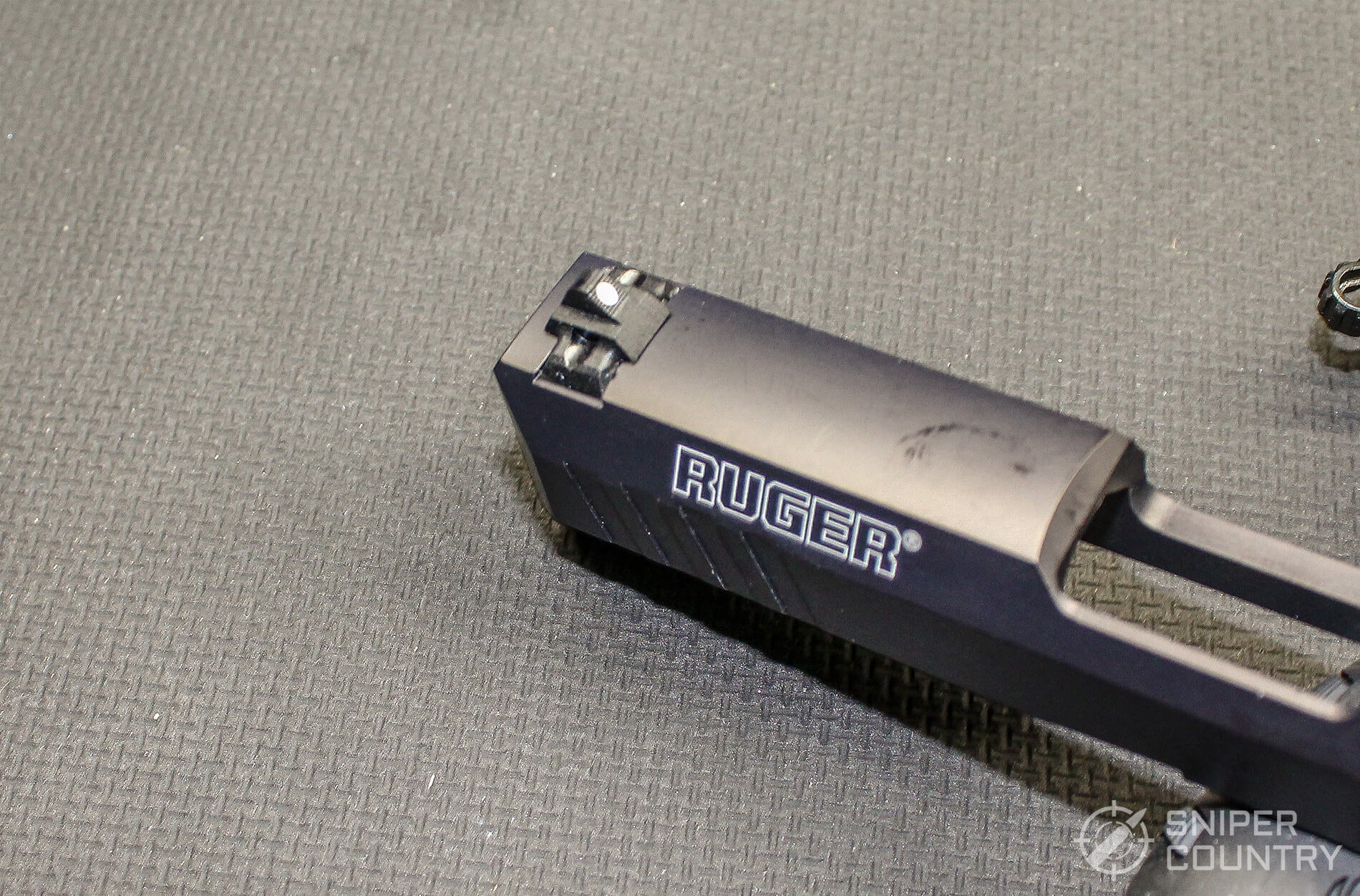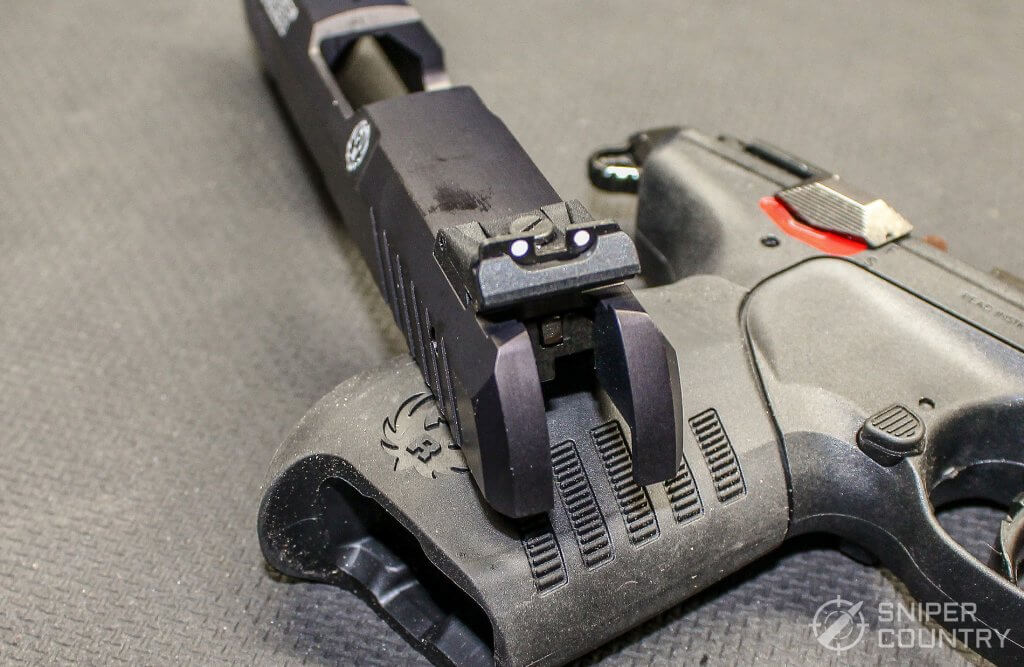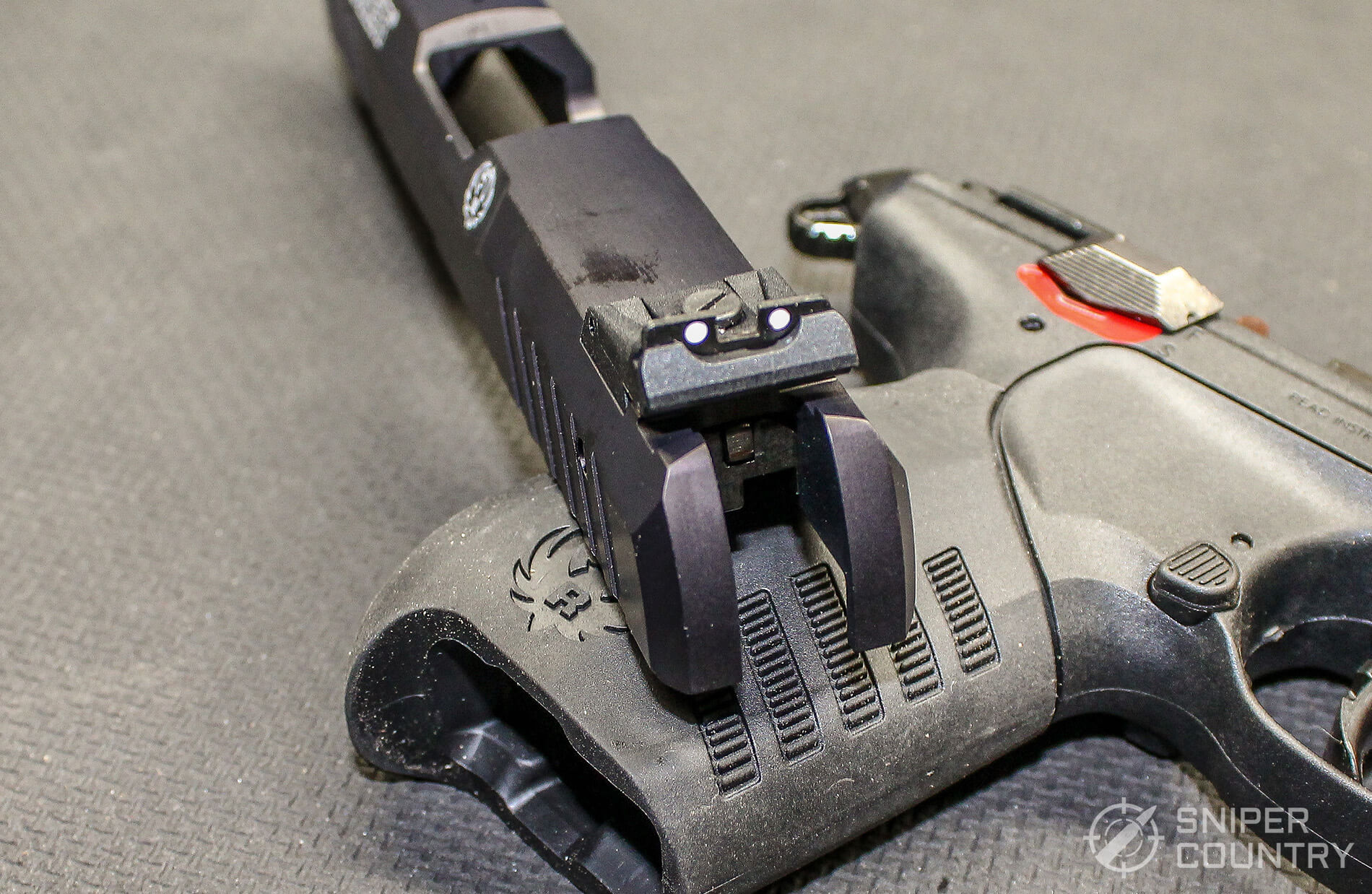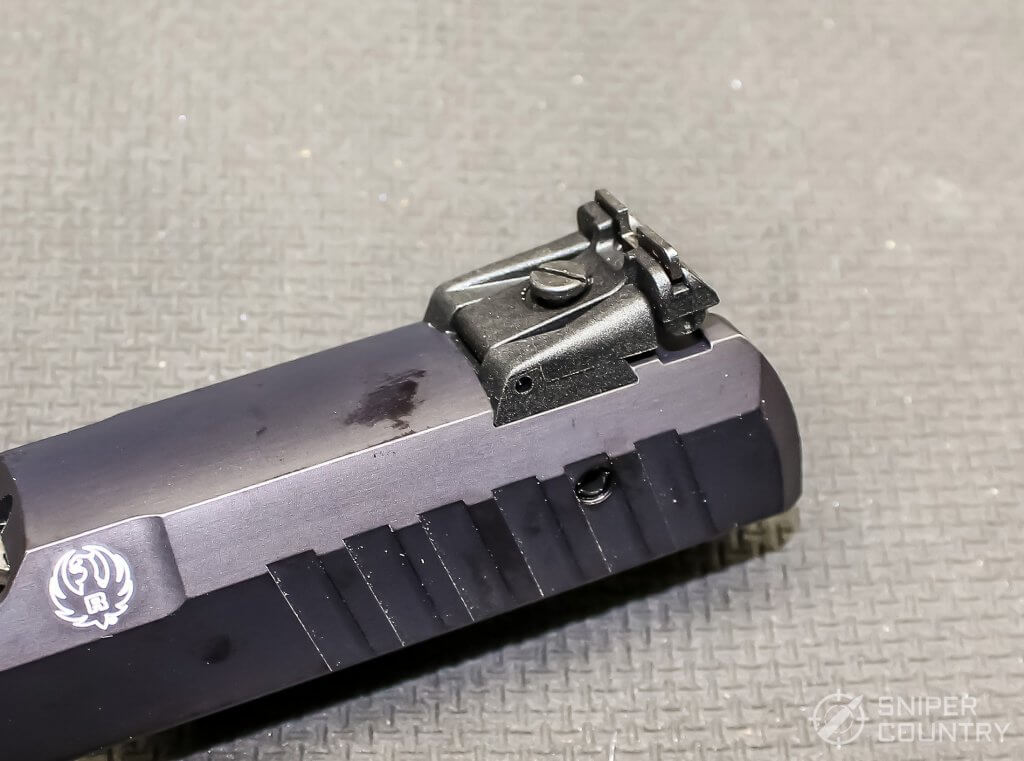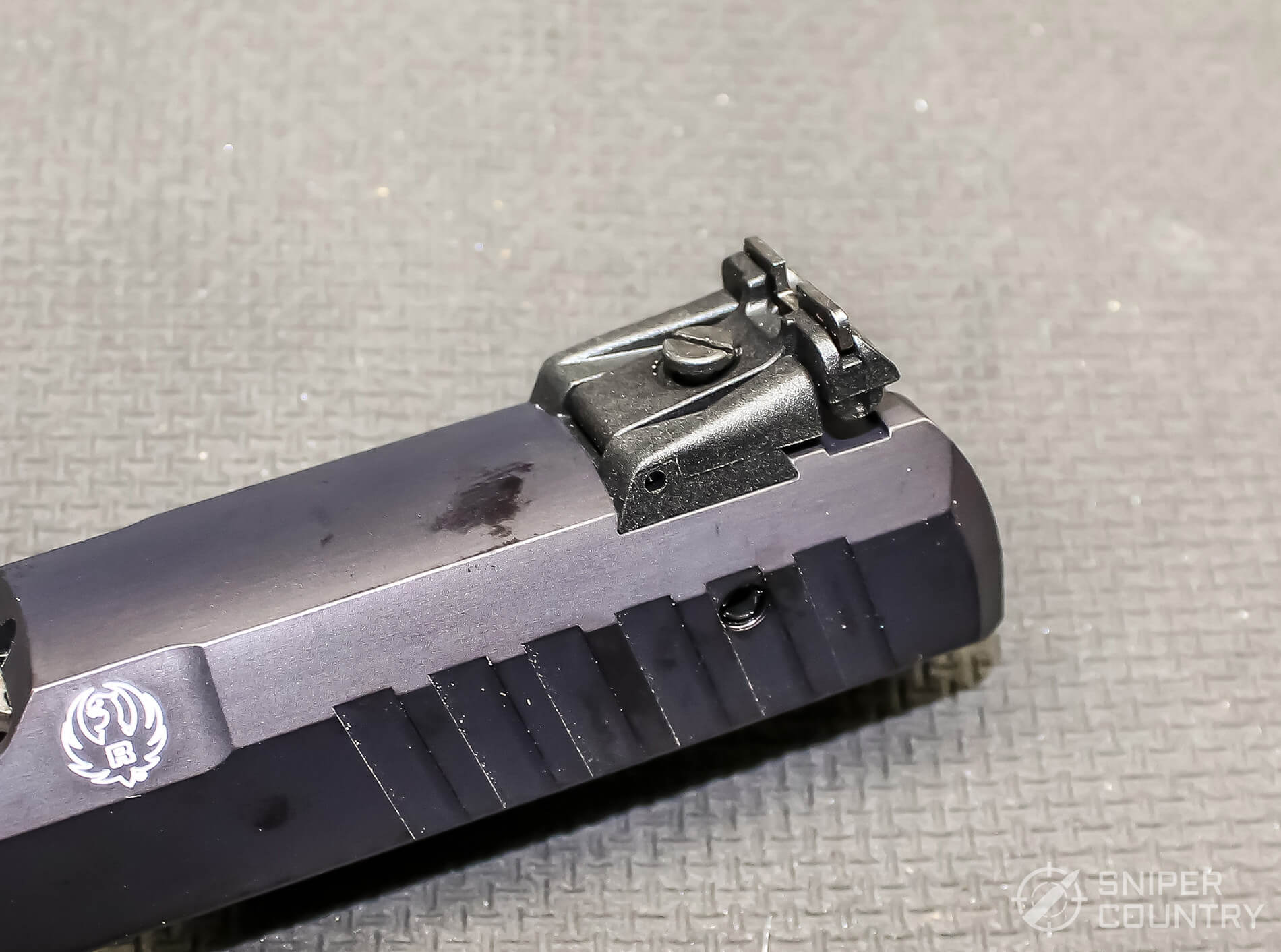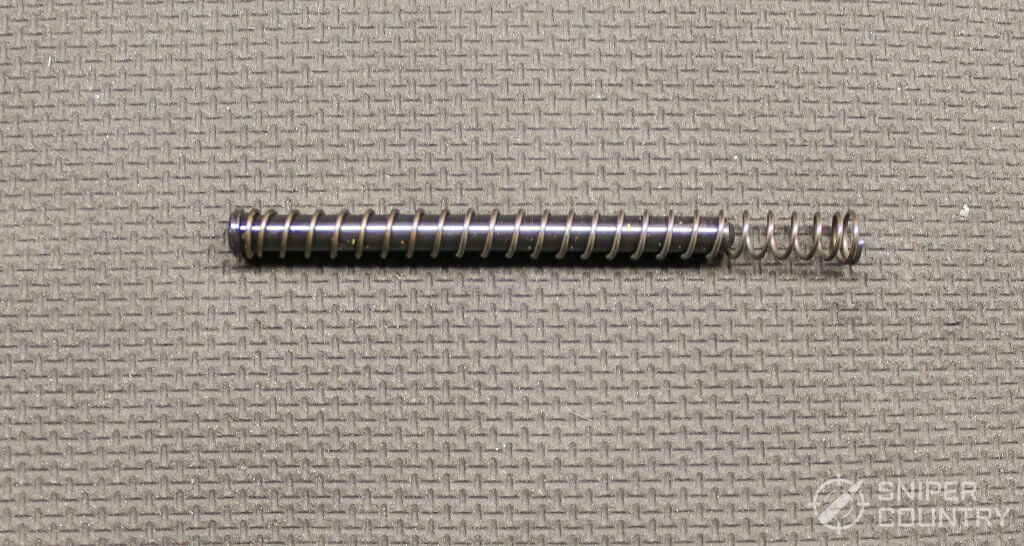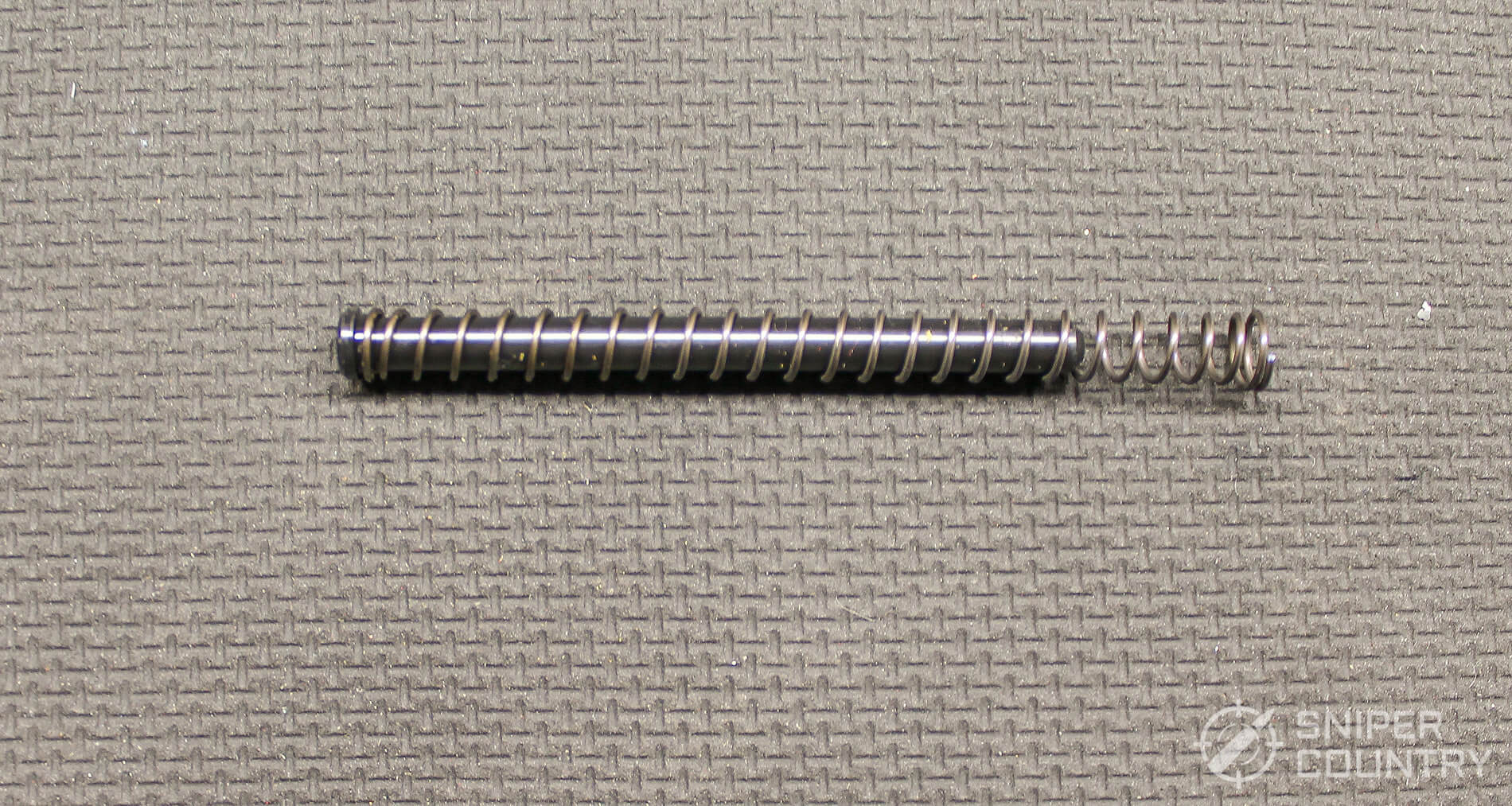 This one goes in "backwards" – usually, in guns such as a 1911 with a non-full-length guide rod, you place the non-supported end of the spring in the frame then pull the slide over it. This one's guide rod goes into a hole in the frame, under where the barrel sits. You then pull the slide over the loose end of the spring after making sure it is in its hole under the barrel opening in the slide. Different, but it works.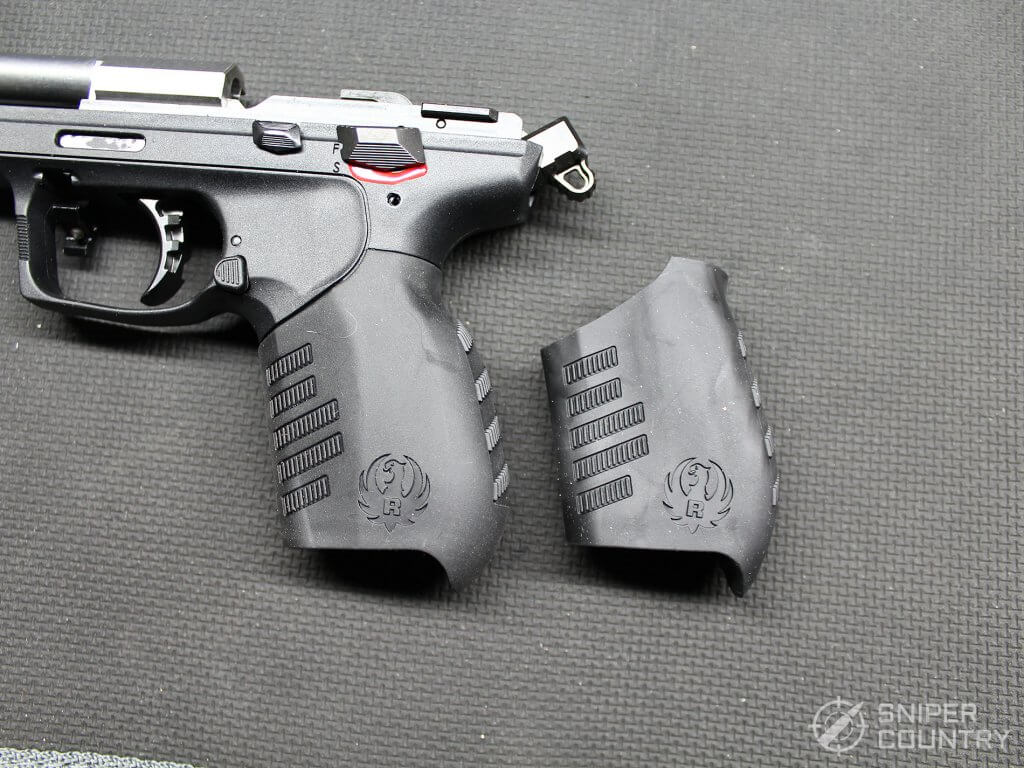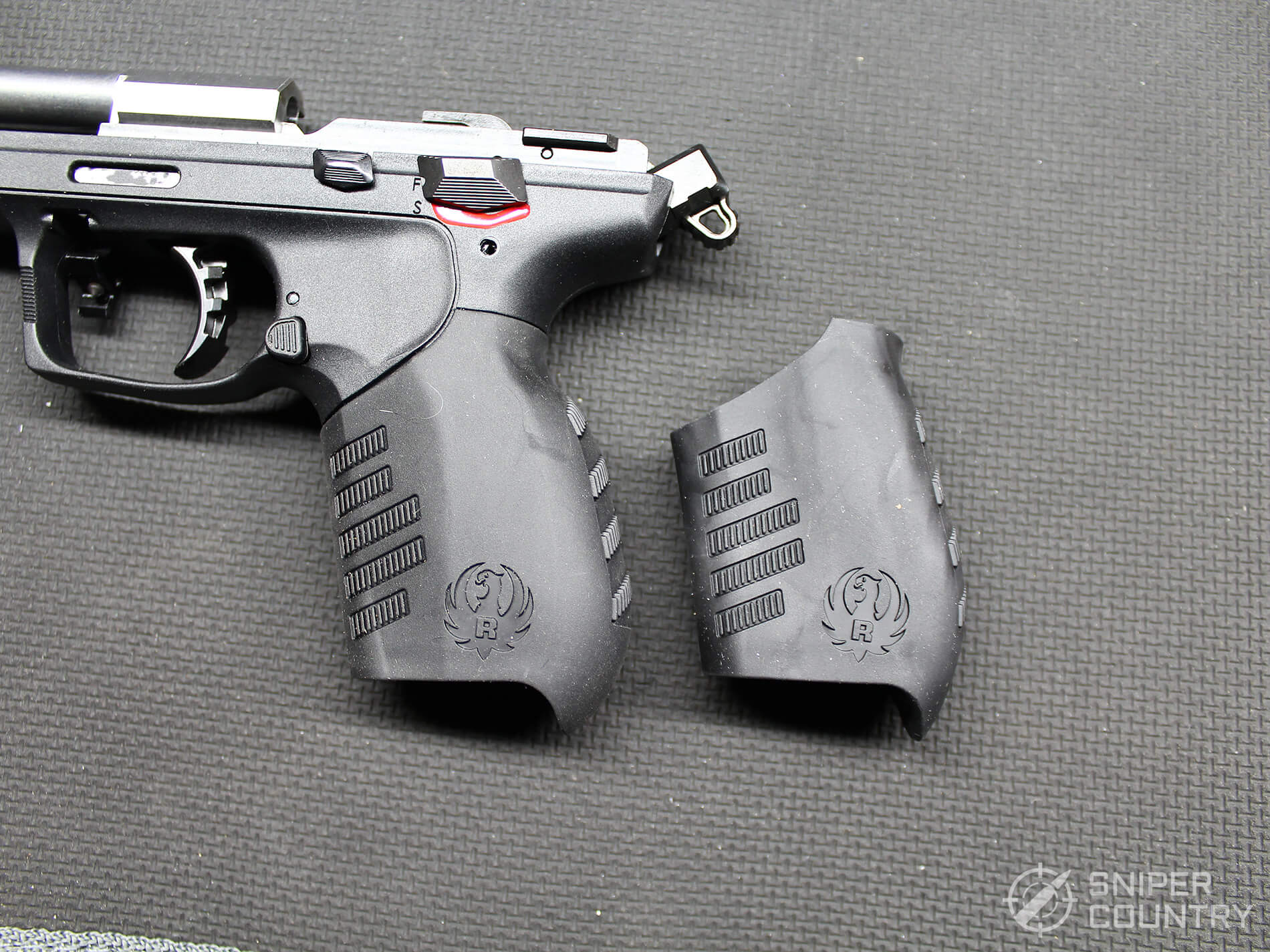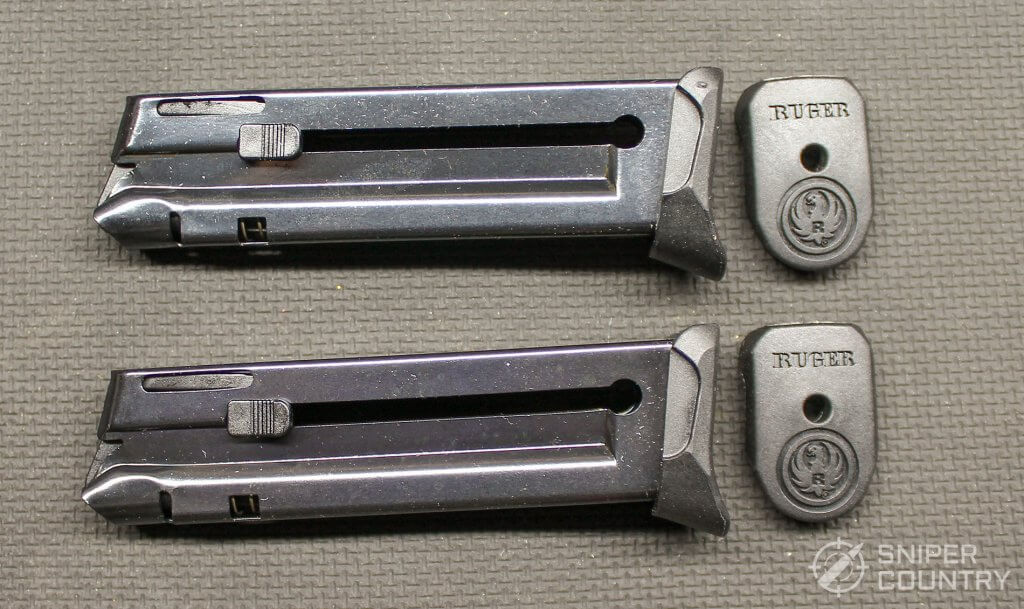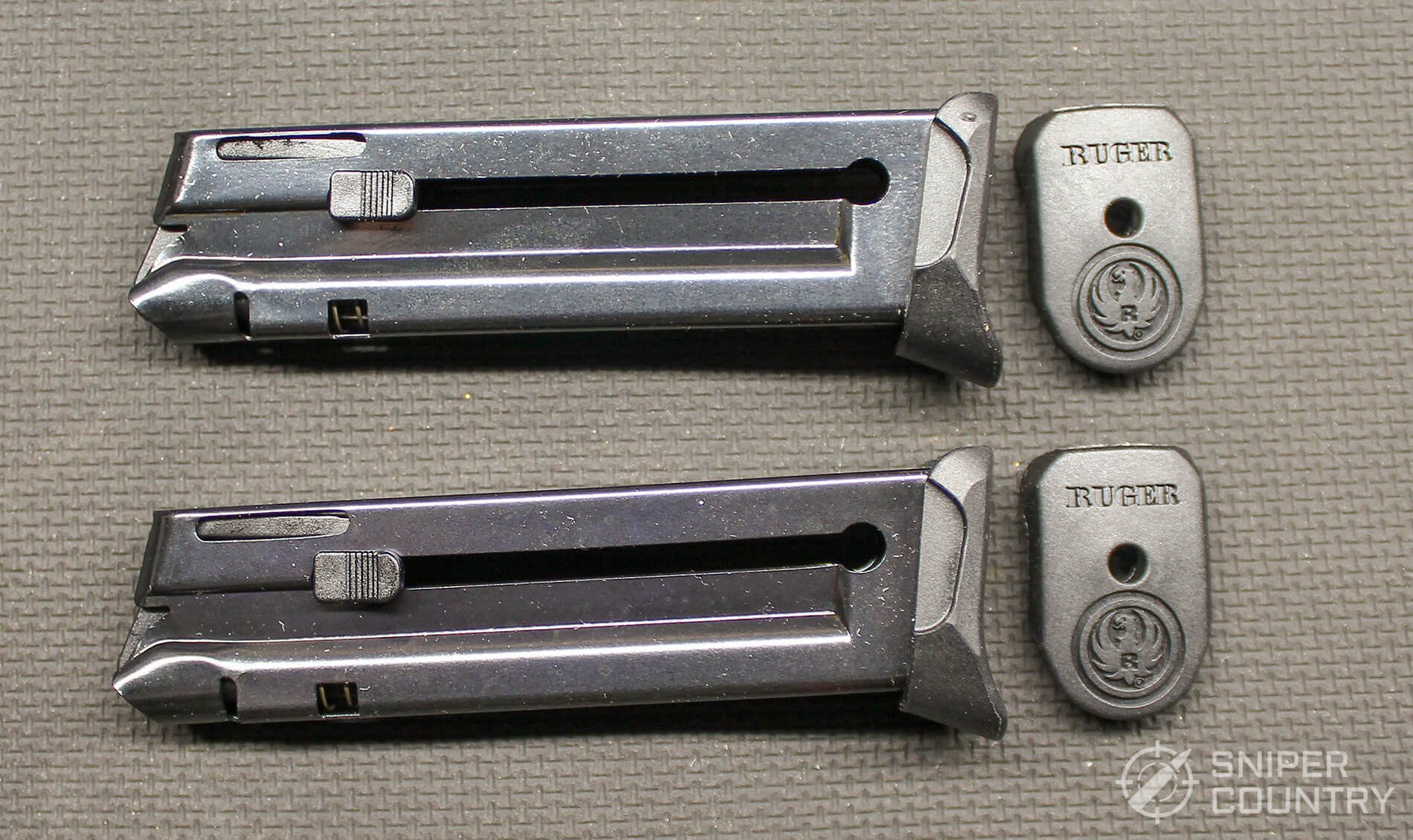 Note the swappable base plates. Pretty nice if you don't want to have the finger extension hanging down. One of the magazines was a little difficult to load (tight feed lips) but it would work itself out with use, not a problem. Speaking of magazines, this gun has a magazine disconnect safety built into it. I am not a fan of such a feature, but if you have to have one, it's best to have it in a gun not designed for concealed carry.
How To Take The SR22 Apart
Takedown is a bit different for the SR22 but is described well in the owner's manual. Here's the gist of It…
Make sure the gun is totally empty and the magazine removed.
Flip the takedown lever in the trigger guard down 90 degrees with a thumbnail.
Pull the slide to the rear and lift it off the rails. It helps if the hammer's back before you start.
Remove the recoil spring. The barrel is affixed to the frame but can come off via a screw in the trigger guard.
That's it. Now, after cleaning, put it back together:
Place the rod end of the recoil spring/guide rod in its corresponding hole in the front of the frame, under where the barrel will sit.
Place the slide over the spring and barrel, making sure that each of those is seated in its correct hole in the end of the slide.
Pull the slide to the rear and push it down onto the rear slide rails until it seats.
Rack the slide and test fire – just make sure you have a magazine in place to counter the mag disconnect safety. (The hammer will not stay back, nor will the trigger function if there's not a magazine in place).
It's easier done than written about. There is no reason that you shouldn't keep this gun clean, as easy as it is to take apart. Plus, there are no tools required to do this, nor are there any loose takedown pins that you might lose like some other Ruger guns use.
Specs
| | |
| --- | --- |
| Caliber | 22 LR |
| Action | Semi-Automatic; Traditional DA/ SA |
| Finish | Black Anodized / Stainless Barrel |
| Capacity | 10+1 rounds, flush and extended base plates |
| Width Unloaded | 17.5 ounces |
| Overall Length | 6.4 inches |
| Barrel Length | 3.5 inches |
| Height | 4.9 inches |
| Width | 0.97 inches |
| Safety | Ambidextrous manual thumb safety |
| Grip | Black polymer |
| Twist | 1:16" RH |
| Trigger Pull Weight | DA: 9lbs, 8oz. SA: 4lbs, 6 oz. |
| Sights | Three-dot, adjustable |
Uses For The SR22
This gun would lend itself to several uses. I think its main function is that of a plinker. Given its propensity for decent accuracy and the fact that it ran well with different types and brands of ammo, I could see a shooter having an afternoon's worth of fun with it.
Another place you might find this gun is in the holster of a trapper. Talk about being nearly perfect for that rough-and-tumble activity – a gun that weighs just more than a pound, fully loaded, that is quick into action and accurate. By the same token, a farm hand walking tree rows or checking grain elevators could do worse than having one of these in a holster. With a couple of loaded magazines, he or she would be ready for just about any situation they might encounter.
A third use that the SR22 might be put to would be that of a concealed carry gun. I know, the .22 is not ideal in that role but there are many, many folks who may lack hand strength, have arthritis, can't take recoil or are otherwise restricted in the weapon they can effectively carry. At a pound, the gun is not going to be a burden to carry (Read also: Our guide on self-defense insurance). With its minimal noise, blast and recoil, the gun would be easy on the shooter. Again, I'm not recommending it as a CCW but it's small enough to fit in some pocket holsters. Plus, let's face it – nobody wants to get shot, whether by a .44 Magnum or a .22 Short. You know the old saying – the .22 in your pocket is better than the .45 on your nightstand, or words to that effect. At any rate, I would certainly not hesitate to carry this gun if it were all I could manage.
Lastly, I could see this gun used for some short-range rimfire competitions. A steel challenge or similar contest might be made to order for this short-barreled pistol. It is certainly accurate enough, and with practice, might be just the ticket for a fun time when the flag drops and the timer beeps.
Conclusion
Are you looking for a small, lightweight .22 pistol? Need something with a short barrel to keep in your tackle box? How about something to legally carry in your vehicle where allowed? I could go on, but you get the point. I have owned, and do own, other .22 handguns but the SR22 fills a niche that not too many others can – that of a small, adjustable-sighted lightweight semi-automatic with a 10-round capacity that's easily brought into action. Want to add a suppressor? No problem. Just get the version with the threaded barrel and order Ruger's own Silent-SR® suppressor, designed for this very gun.
I think you could do worse in your search for a small rimfire pistol than the SR22. I have reviewed, and will continue to review, .22 pistols and revolvers. I like shooting such guns. They are (usually, in normal times) inexpensive to feed and easy on the ears. Recoil is pretty much non-existent. Talk about a great way to introduce new shooters to our sport – I can't prove it, but probably more shooters have started out with the lowly .22 than with all other calibers combined. At any rate, the .22 is fun to shoot, and the SR22 is one great platform from which to launch it. If you own one of these, please feel free to leave a comment below. As always, keep 'em in the black and stay safe!