Let's just cut right to the chase: if you are looking for a rifle that pretty much does it all, check out a Ruger Precision. This gun is really something. Whether you're a hunter, long-range shooter or whatever else you use a rifle for, this one is good to go.
What do I mean? If you want a precision rifle that is accurate, modular and well-built, this guy would work. From its totally-adjustable butt stock to the cap on its threaded muzzle, there's a lot to talk about here.
How I came to acquire it for review is a bit of an interesting story…our good friend Glen had attended a National Wildlife Turkey Foundation dinner and, due to his support and good-guy-ness, walked away with this rifle and a Ruger American Predator, both in 6.5 Creedmoor. He deserves them – he's truly a nice guy. He hadn't shot either of them when he came over with them to shoot at my backyard range, and he was anxious to try them out.
First, A Bit Of The Backstory…
On July 17, 2015, Ruger introduced a new bolt-action rifle, the Precision. It was available in .308 Winchester, 6.5mm Creedmoor and .243 Winchester. Weights varied with caliber, but topped out at 11 pounds for the .243. It did OK with rifle shooters, but Ruger wasn't satisfied. In May of the next year, Ruger brought out the Gen 2 version. This one included a new handguard, threaded muzzle with removeable brake, and billet aluminum bolt shroud. Three calibers were announced…the first and second ones listed above, but the .243 was replaced by the 6mm Creedmoor. Walking the timeline forward, in March 2017 a 5.56mm variation came into being. In 2018, three magnum calibers made their appearance, the .330 PRC, .300 Win Mag and the .338 Lapua Mag. The rifles in these calibers each weigh in excess of 15 pounds. As for technical features, the rifles use what Ruger calls a Pre-Fit barrel system. If you wear a barrel out, your gunsmith can get another one from Ruger that basically "drops in" without much fitting, using their proprietary barrel nut. Headspace is set with the gunsmith's headspace gauges and an AR-15 barrel wrench is used. No machining is necessary. And, if you're into AR-15-style accessories, the Ruger Precision rifles use AR-compatible handgrips, buttstocks and some types of handguards. Aftermarket triggers are available, as well.
While we're looking at techy things, let's take a look at this rifle's specs. I've included a couple of quotes from Ruger's website – they can explain it better than I can. Here you go:
BONUS OFFER: Get your free shooting range targets to print at home!
Get your free targets to print at home!
Specifications & Pictures
| | |
| --- | --- |
| Generation: | 2 |
| Length: | 43.25/46.75 inches (buttstock collapsed/extended) |
| Length of Pull: | 12 – 15.5 inches (buttstock collapsed/extended) |
| Folded Length: | 35.6 inches |
| Weight: | 10 pounds, 7.4 ounces on my digital scale, with empty magazine |
| Barrel: | 24 inches, 5 groove/1:8 RH twist; 5R rifling, cold hammer-forged |
| Finish: | Type III Black Hard-Coat Anodized |
| Trigger: | Marksman™, externally adjustable. Trigger pull averaged 1 pound, 8.1 ounces on my Lyman gauge |
| Handguard: | 15 inch, free-floated aluminum with Keymod® slots on 4 sides |
| Buttstock: | (to quote Ruger's website): "Ruger Precision® MSR stock with QD sling attachment points; bottom Picatinny rail and soft rubber buttpad. The left-folding stock hinge is attached to an AR-style buffer tube and accepts any AR-style stock. Length of pull and comb height are adjustable." |
| Magazine: | (again, to quote Ruger's website): "Patented multi-magazine interface functions interchangeably with ICS and M110/SR-25/DPMS/Magpul-style magazines (works with some M14 magazines)." The two mags included with the rifle were 10-round MagPul PMAGs in .308 caliber. |
| Safety: | Left side, AR-15-style. Gen 3 guns have an ambidextrous safety |
| Rail: | 20-MOA Picatinny, secured with #8-40 screws |
| Bolt: | Three-lug, 70° throw |
| Muzzle: | Threaded, 5/8x24 threads. Ruger Precision® Rifle Hybrid Muzzle Brake included |
| MSRP: | $1599.00 |
| Real-World: | ~ $1275.00 |
We see some fairly impressive specifications here. Reading about the gun is one thing; picking it up is another. This is one very solid rifle. The weight is the first thing that grabbed my attention – that 10 pounds, 7 ounces meant that I wasn't about to shoot the thing off-hand. I've said before that I am not really a rifle guy, but I know just enough to be dangerous…this seems to be one great rifle. Let's look at it in a little detail now.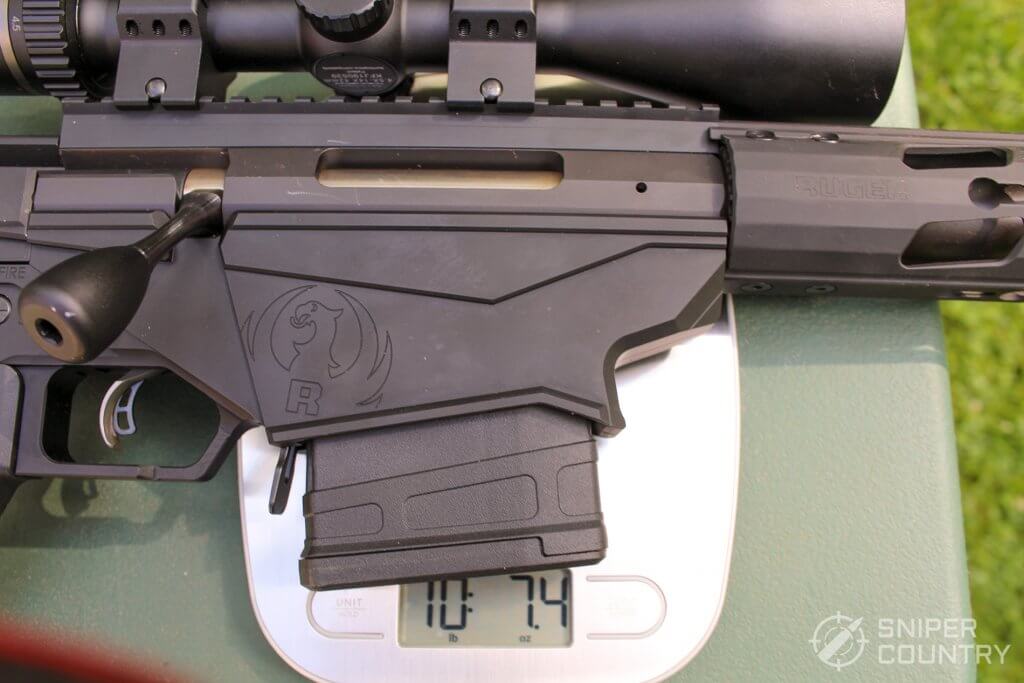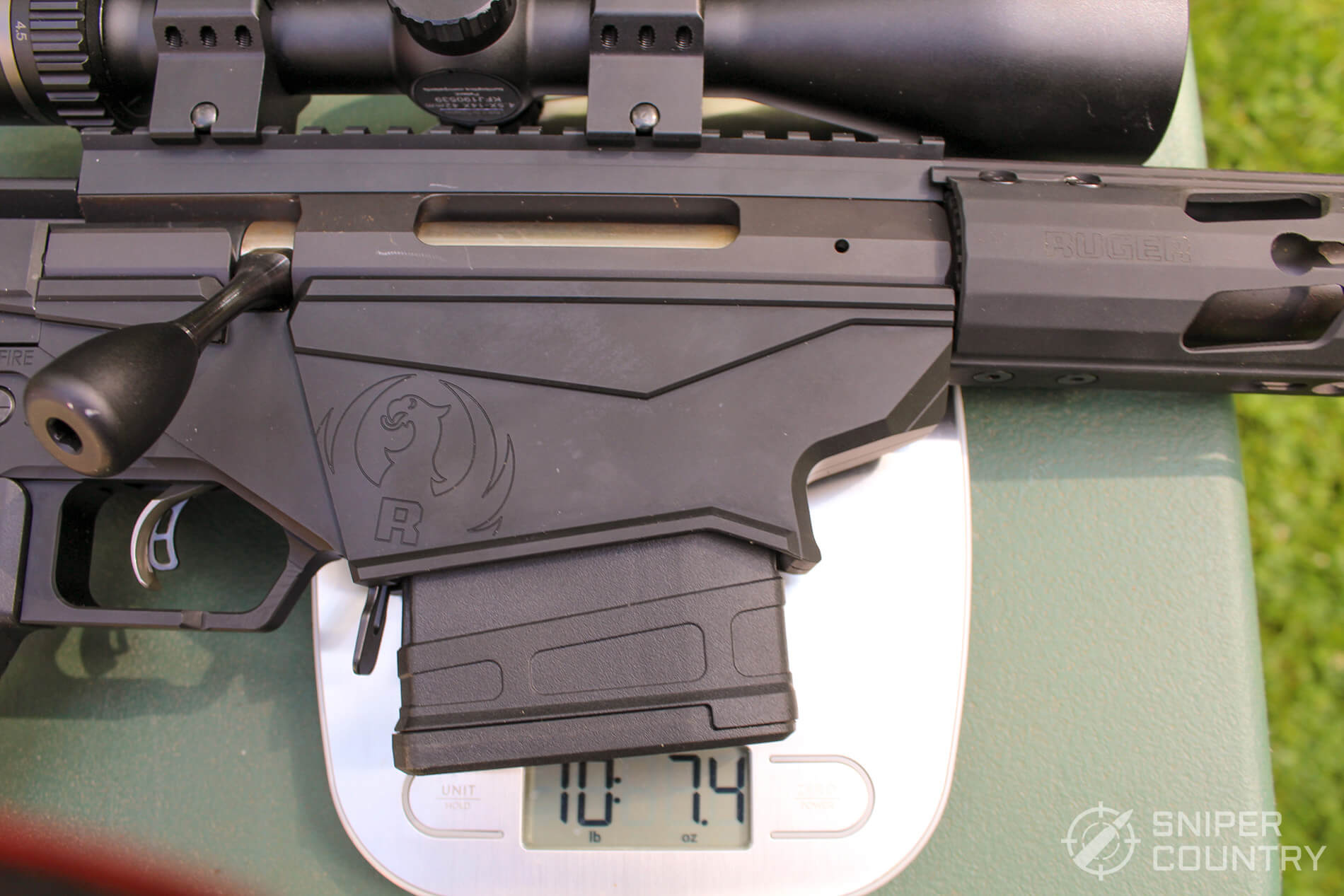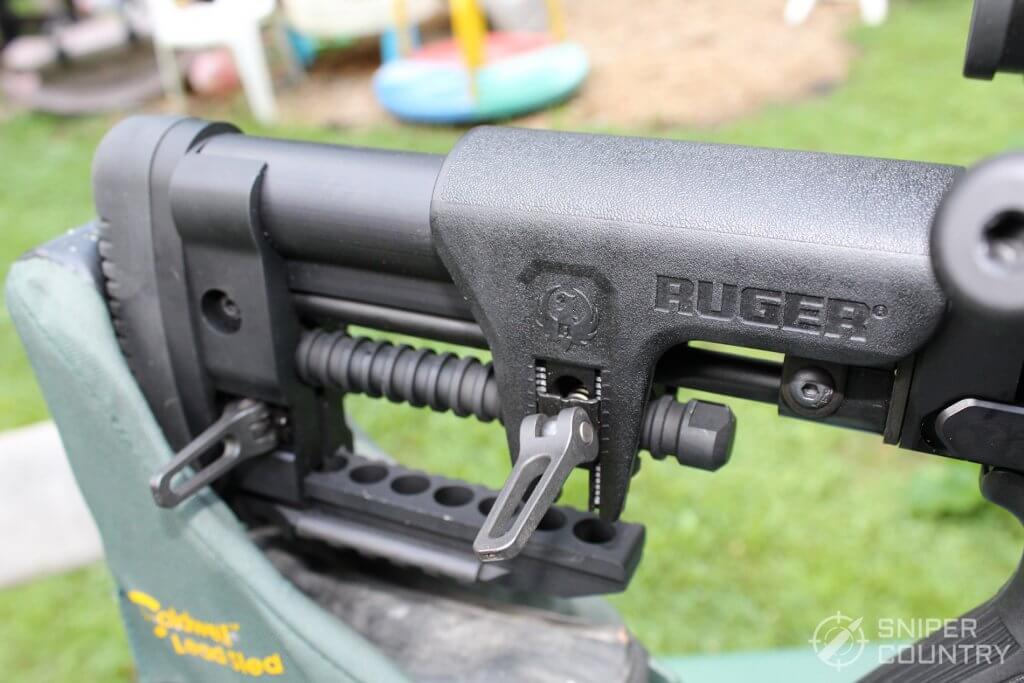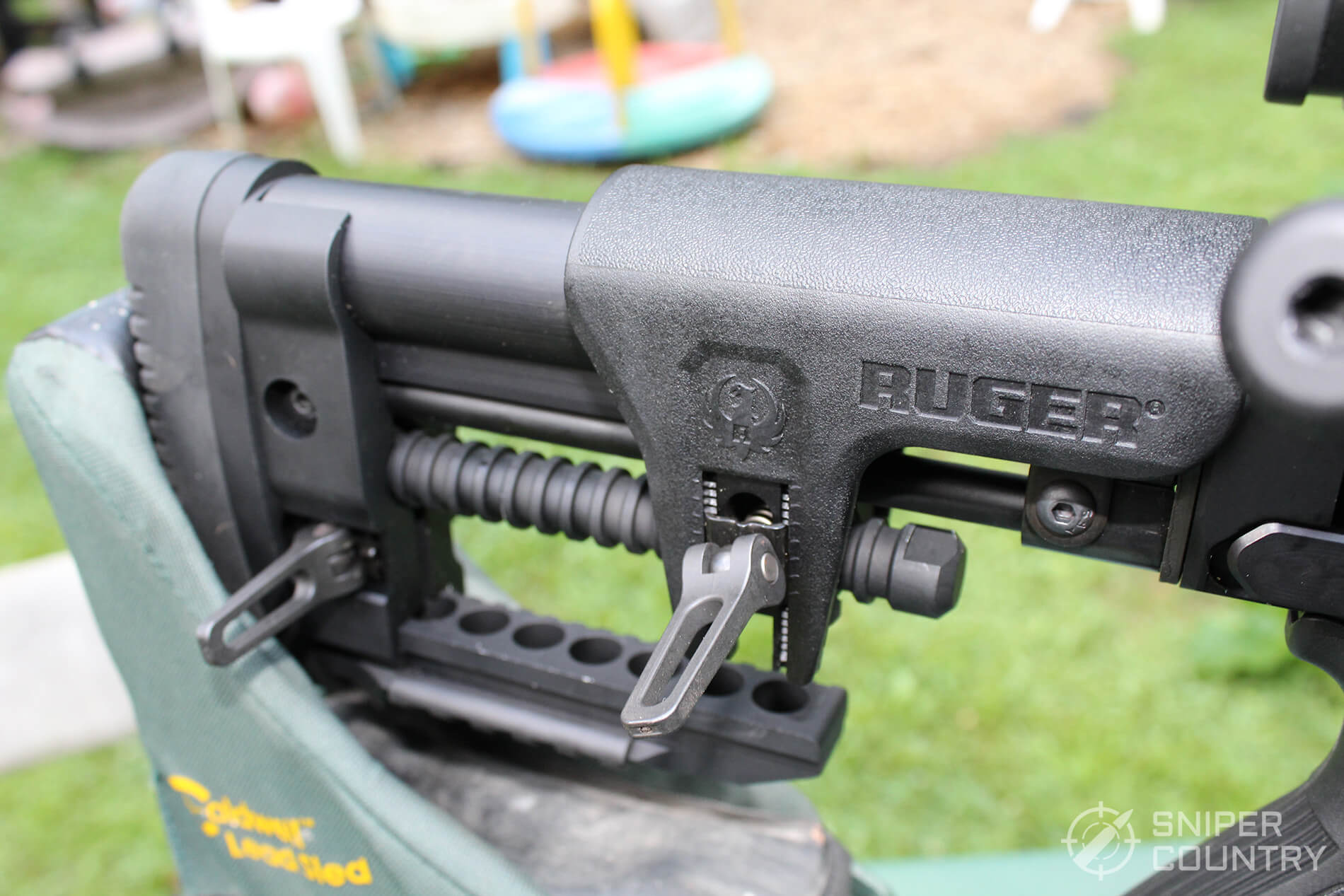 Adjustable for both length of pull and comb height, it was very comfortable and fit well. The two levers release the locks for those adjustments.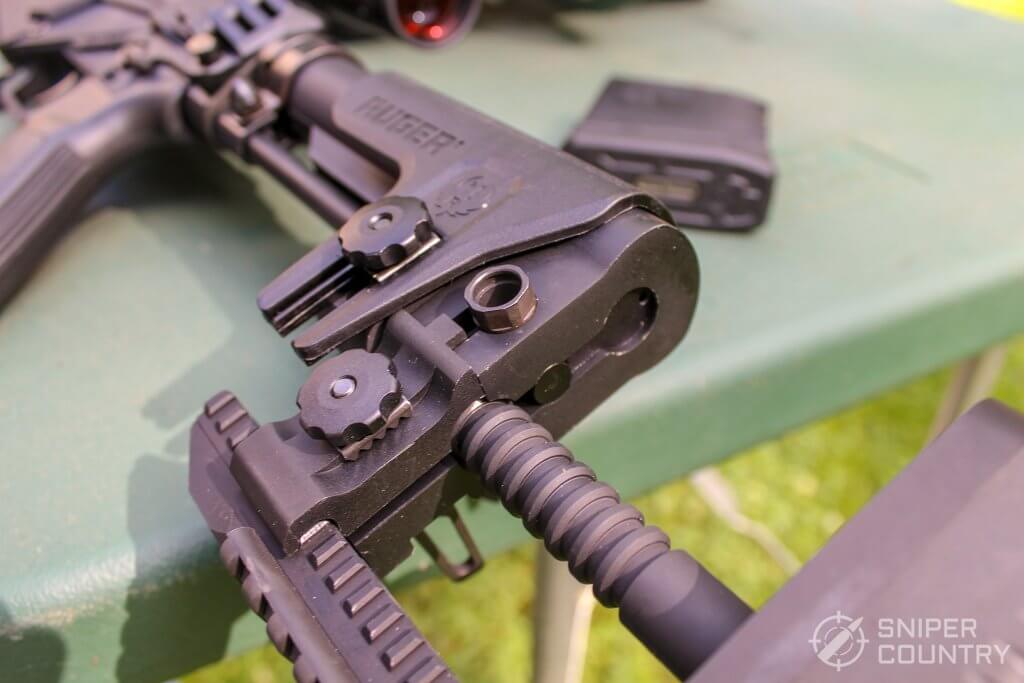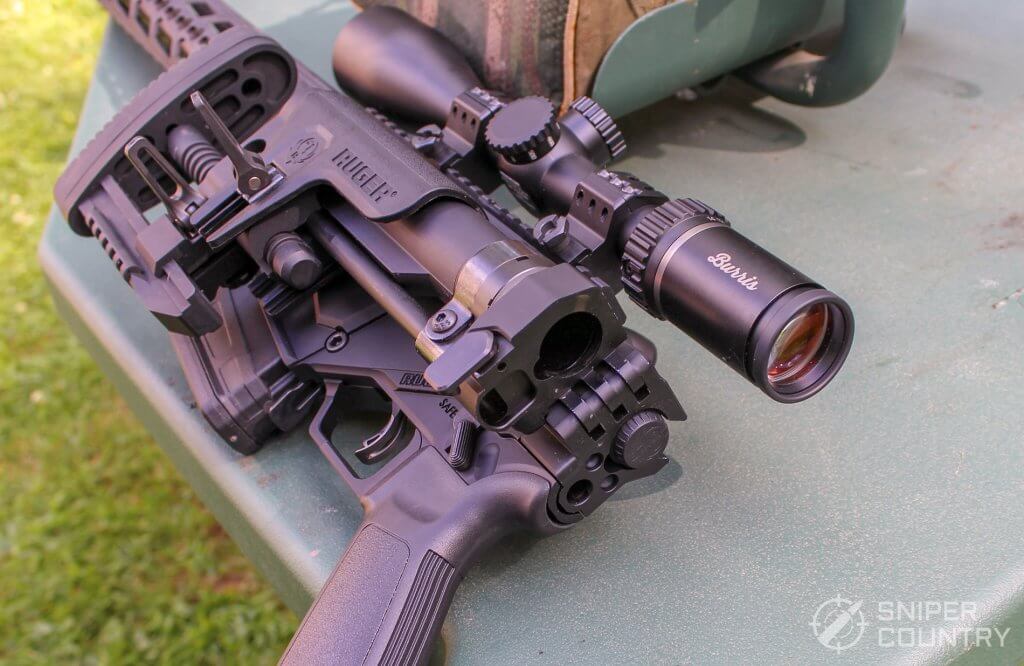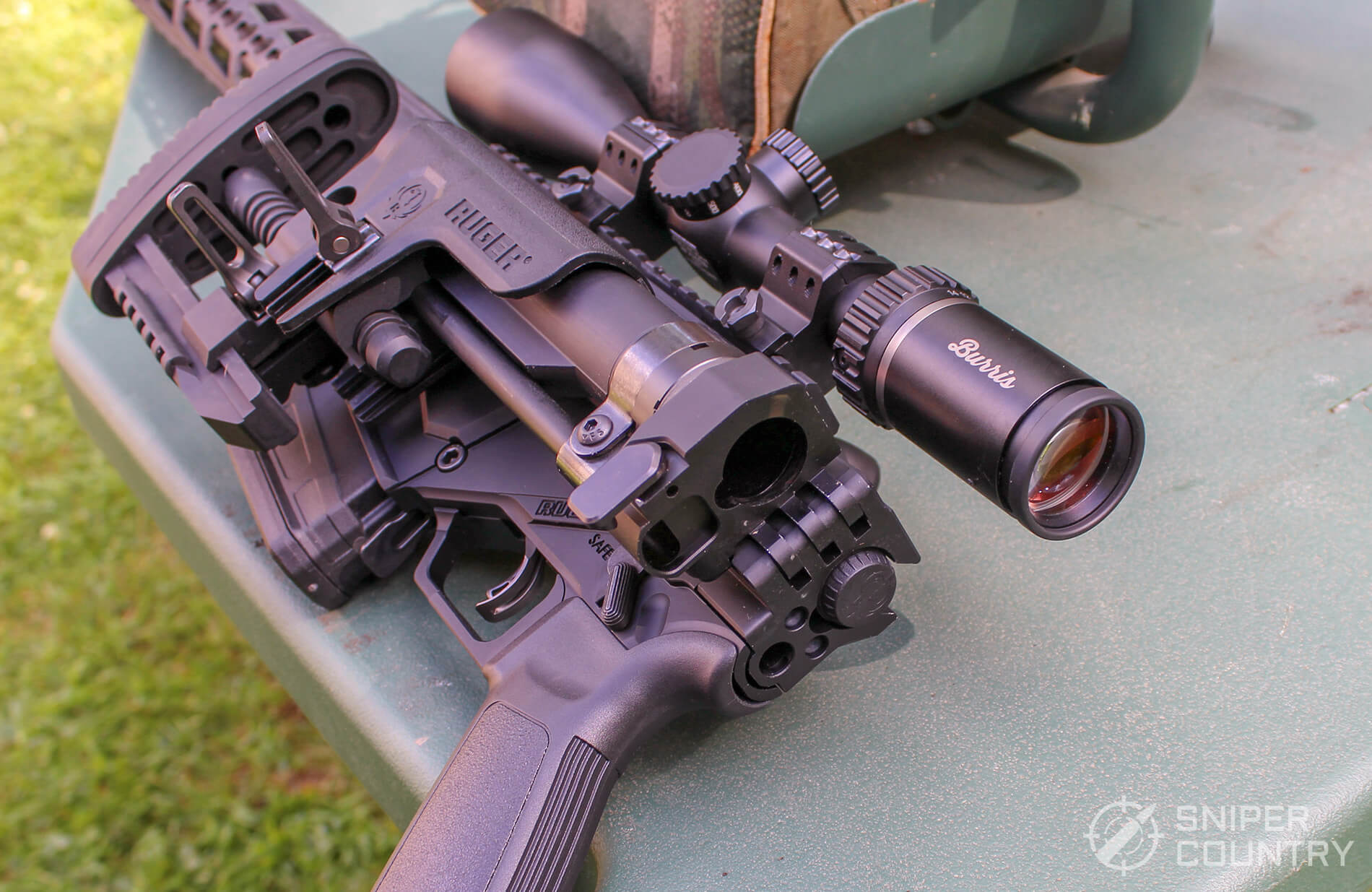 Note the AR-style buffer tube and left-side safety. This rifle is truly an amalgam of some of the best features of the AR and bolt guns. Speaking of the safety…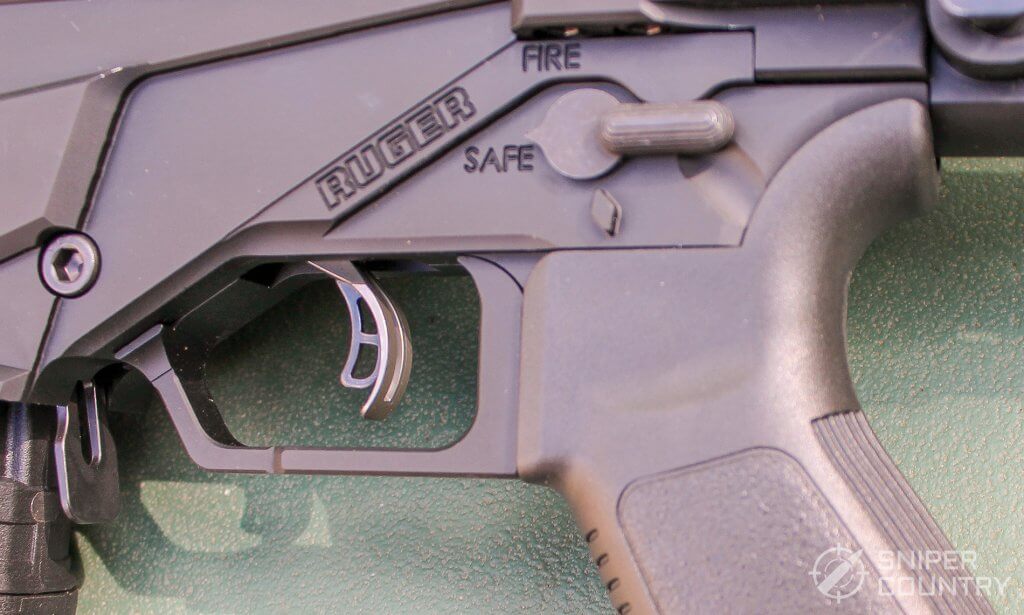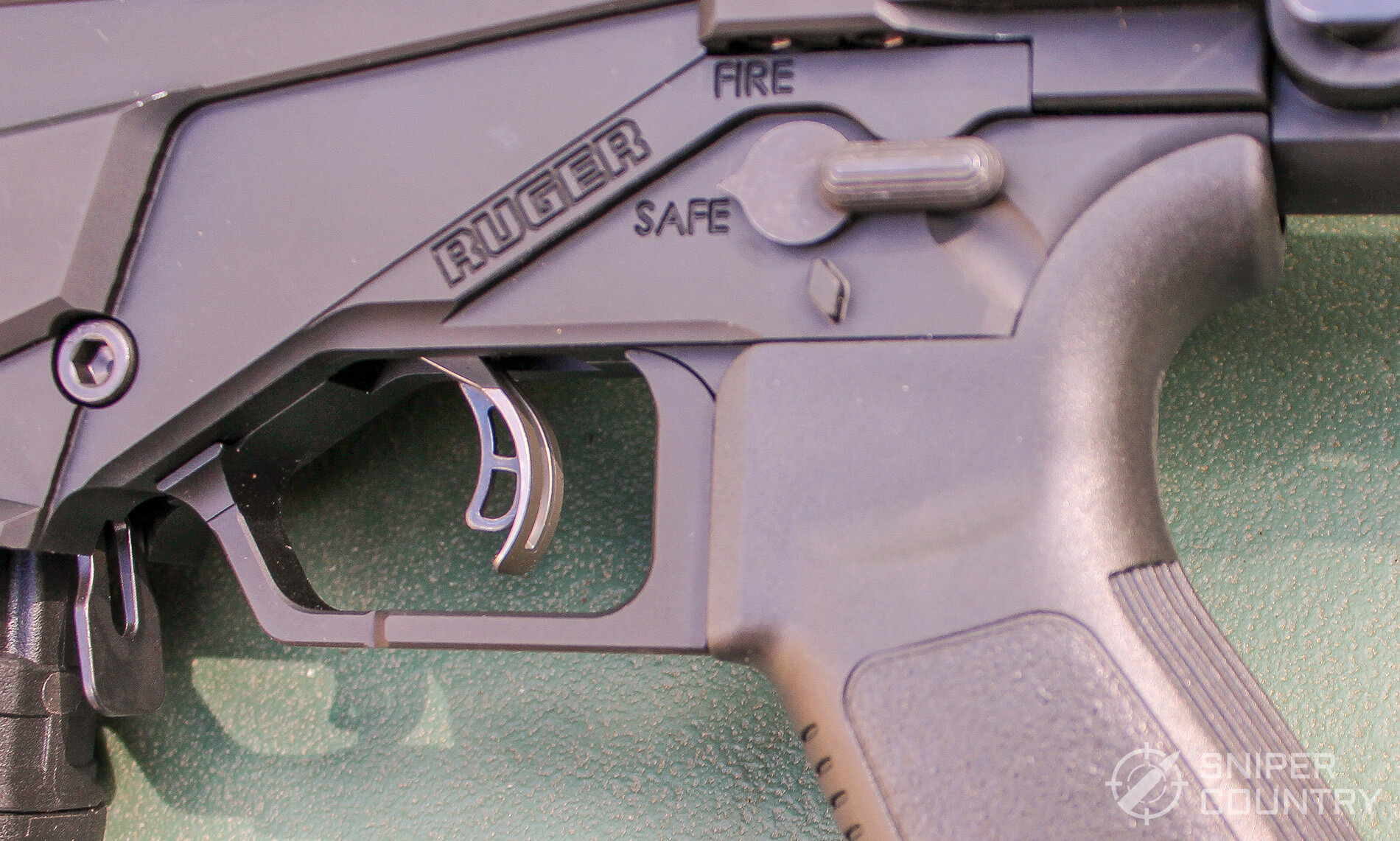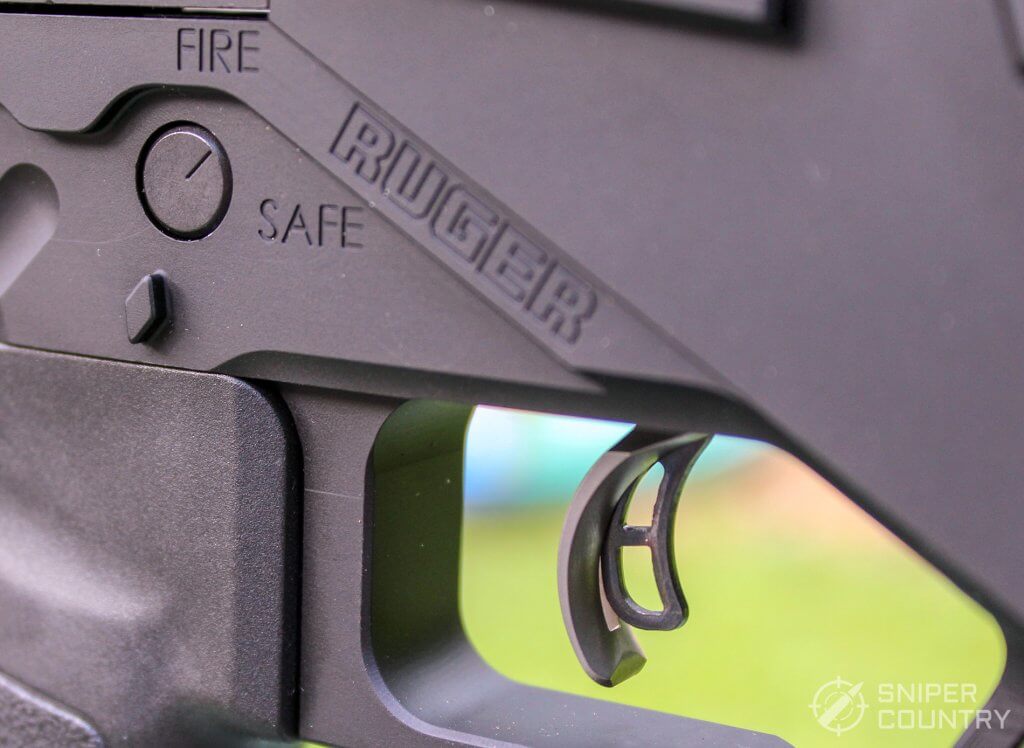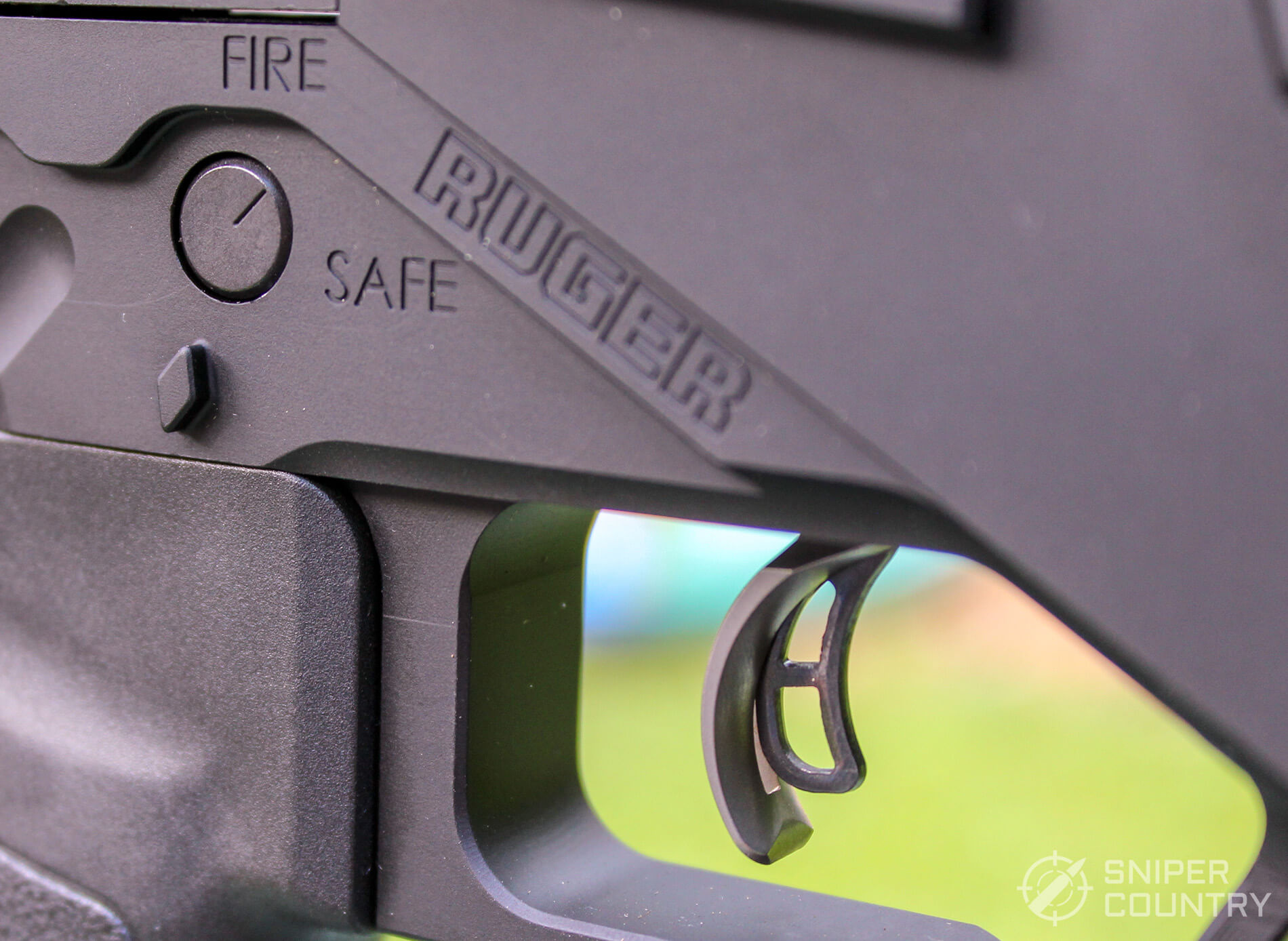 We had no reason to adjust it – it broke at a pound and a half. That might be too light for a hunting rifle, but I think this gun will end up shooting at competitions at 1000 yards or so. For the bench rest, the trigger is fine. Let's look at the bolt.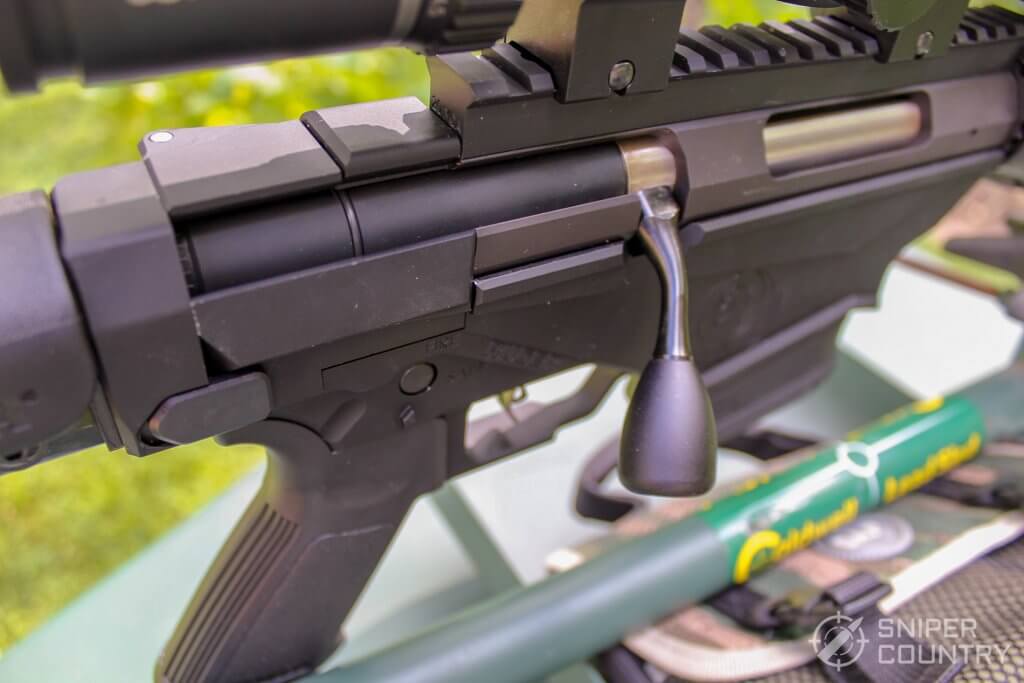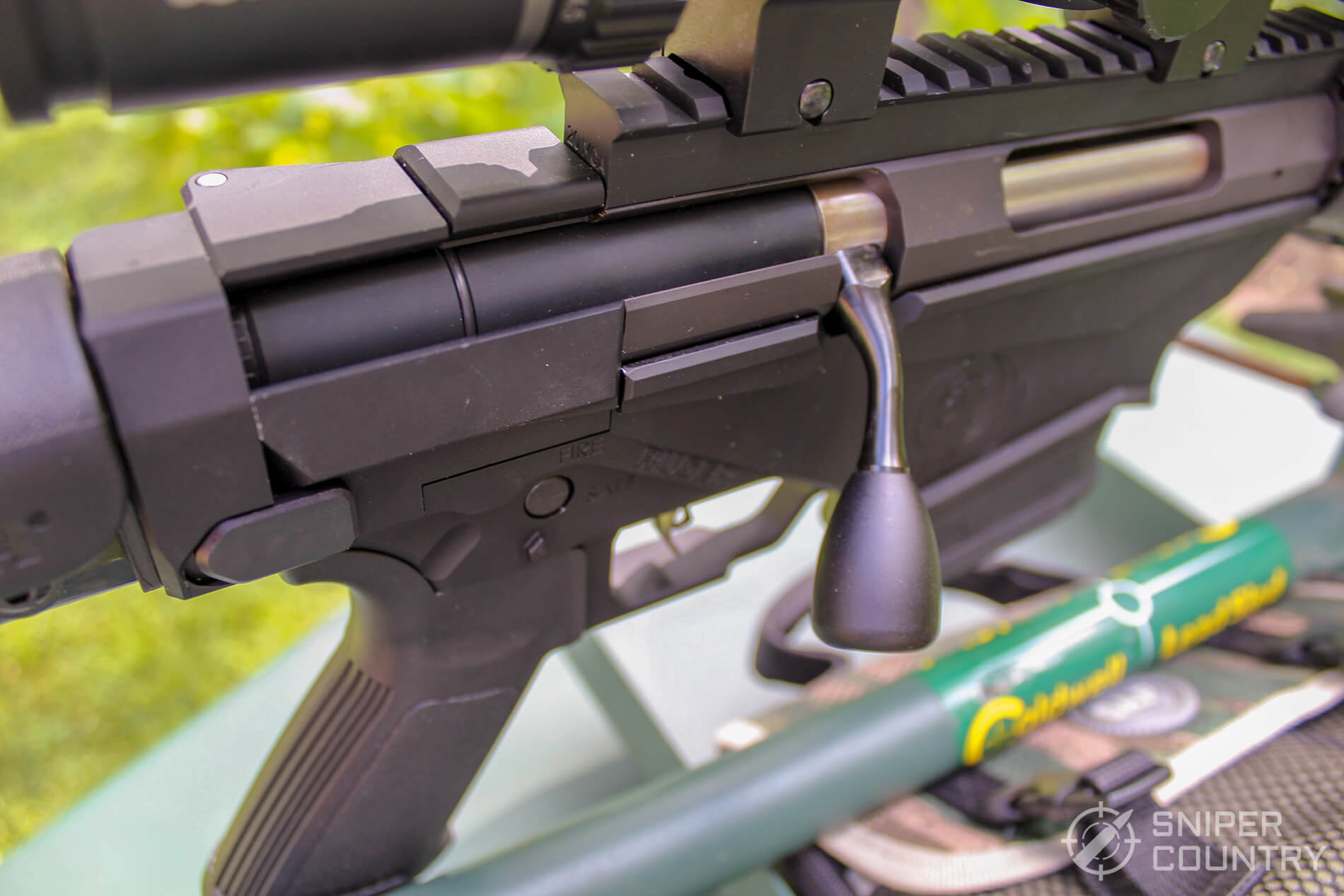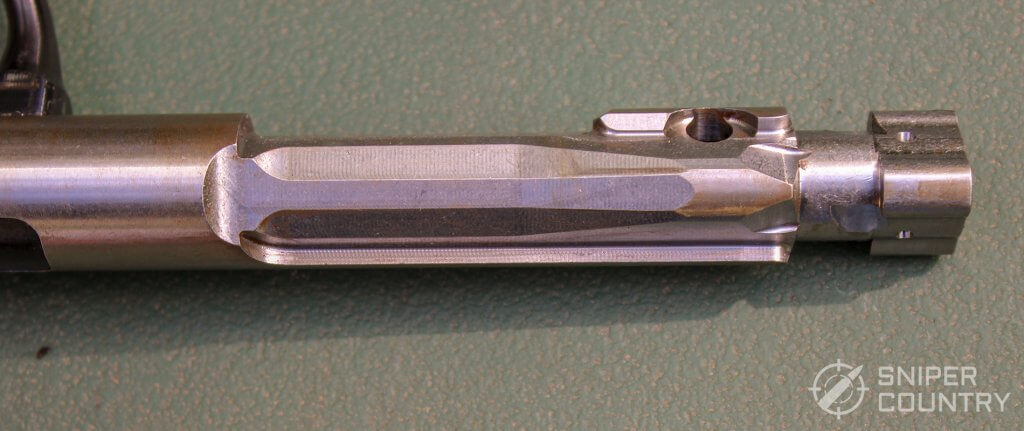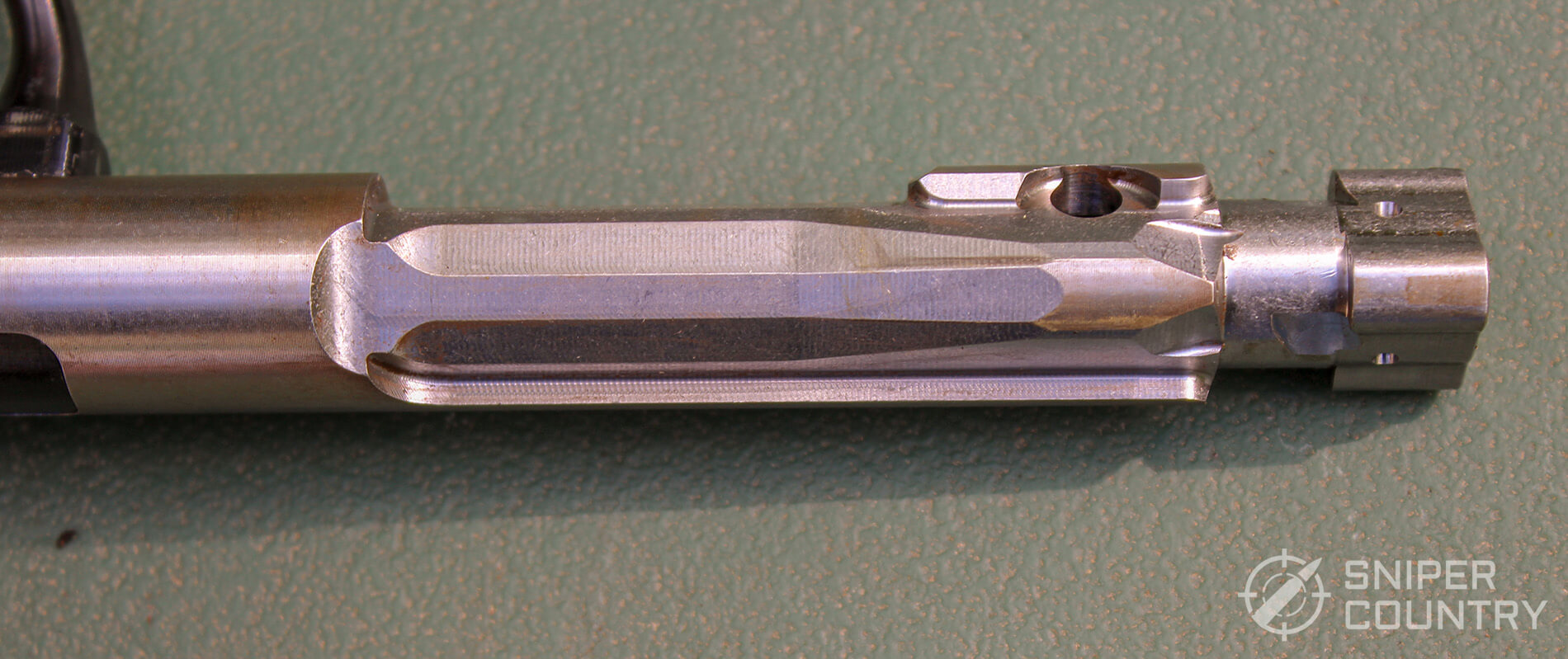 Note the three locking lugs, extractor, ejector and fluted body.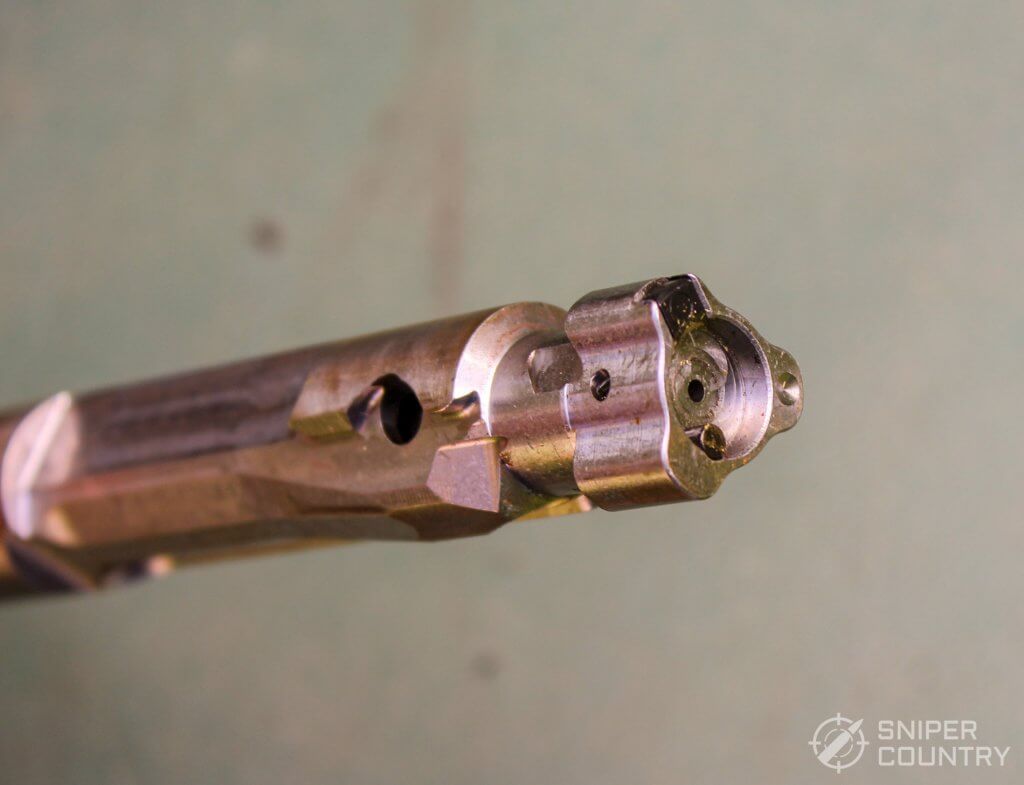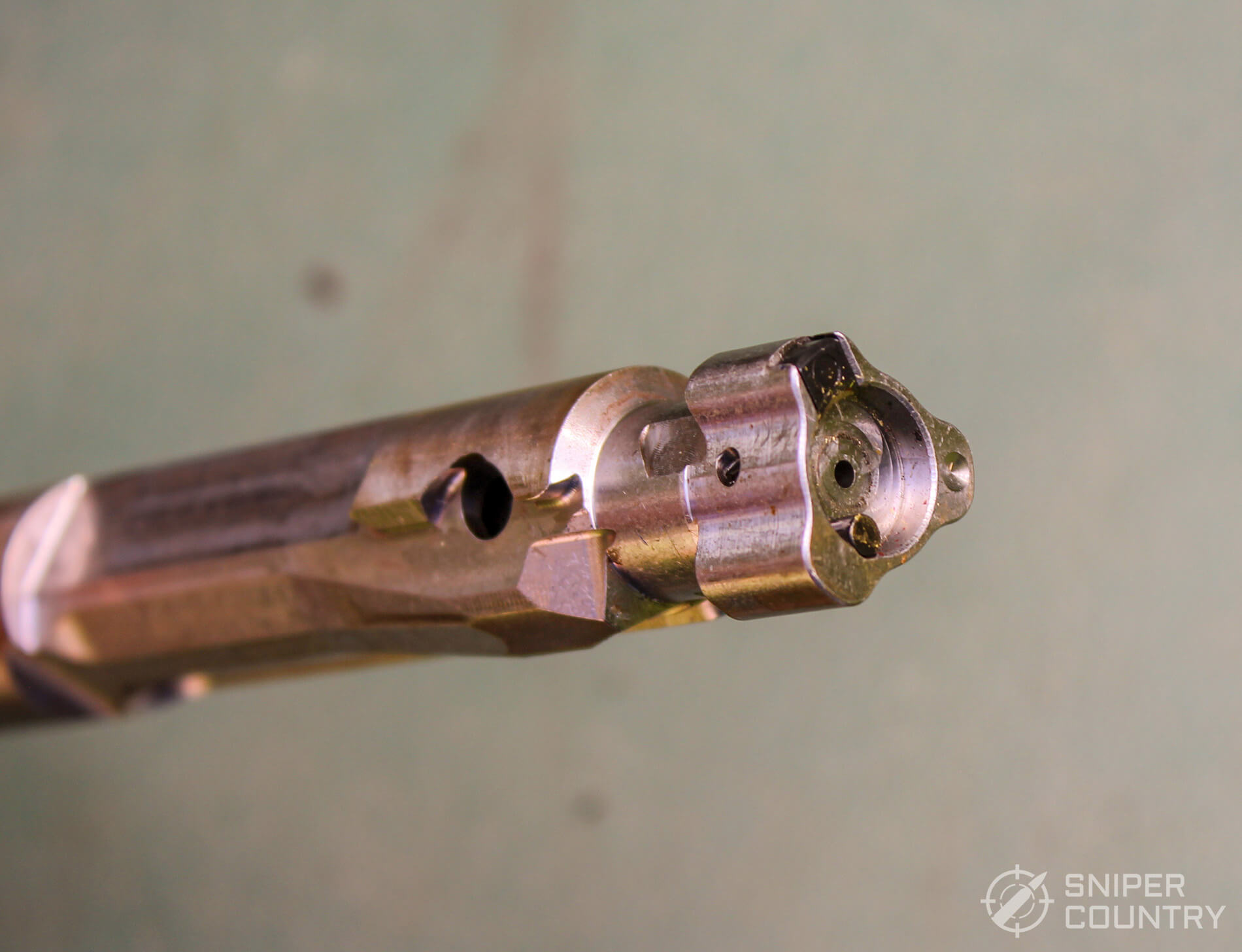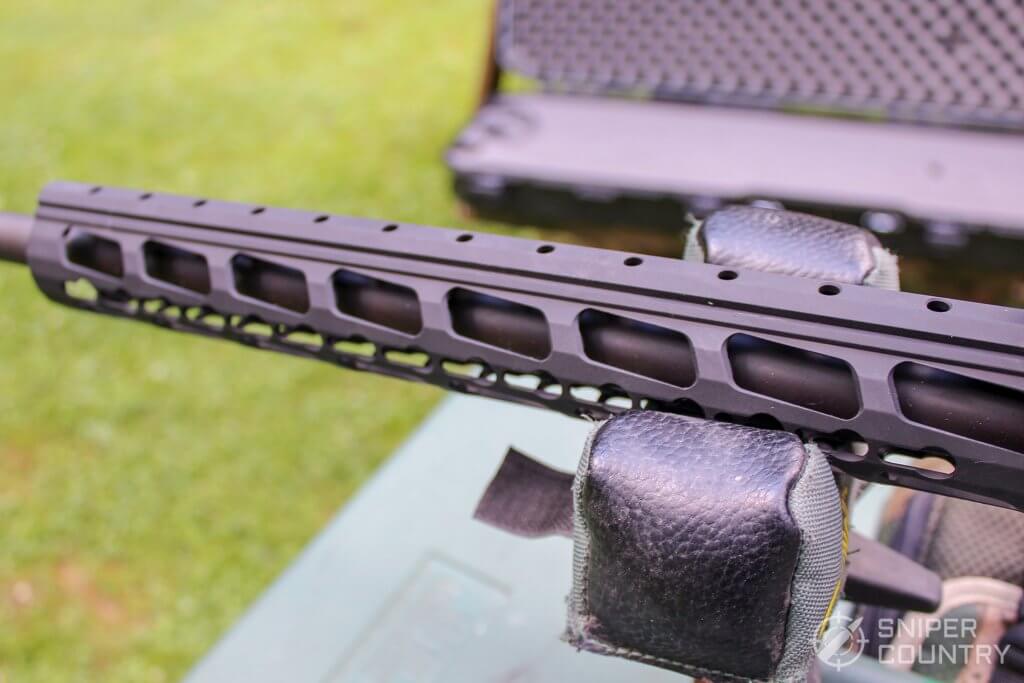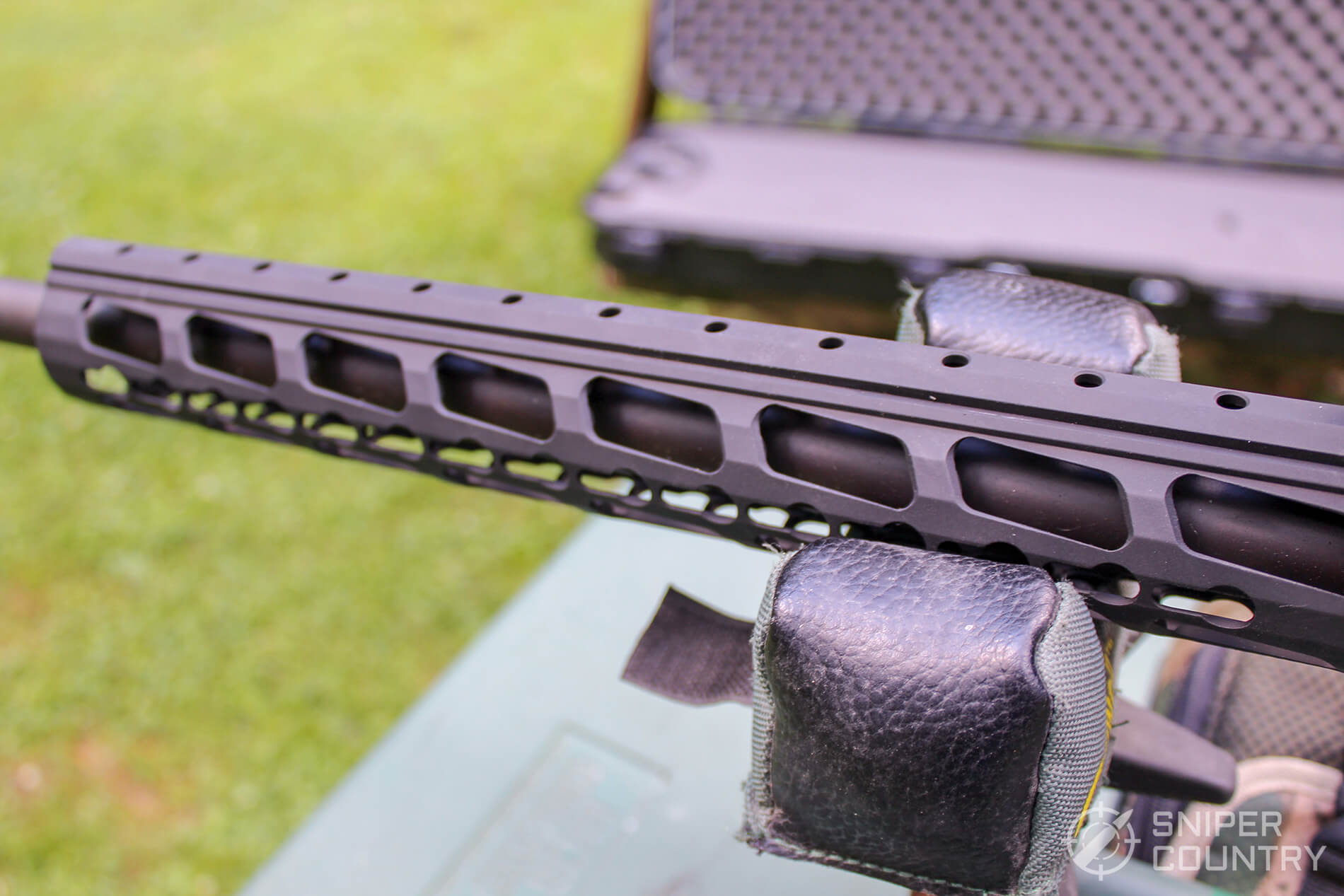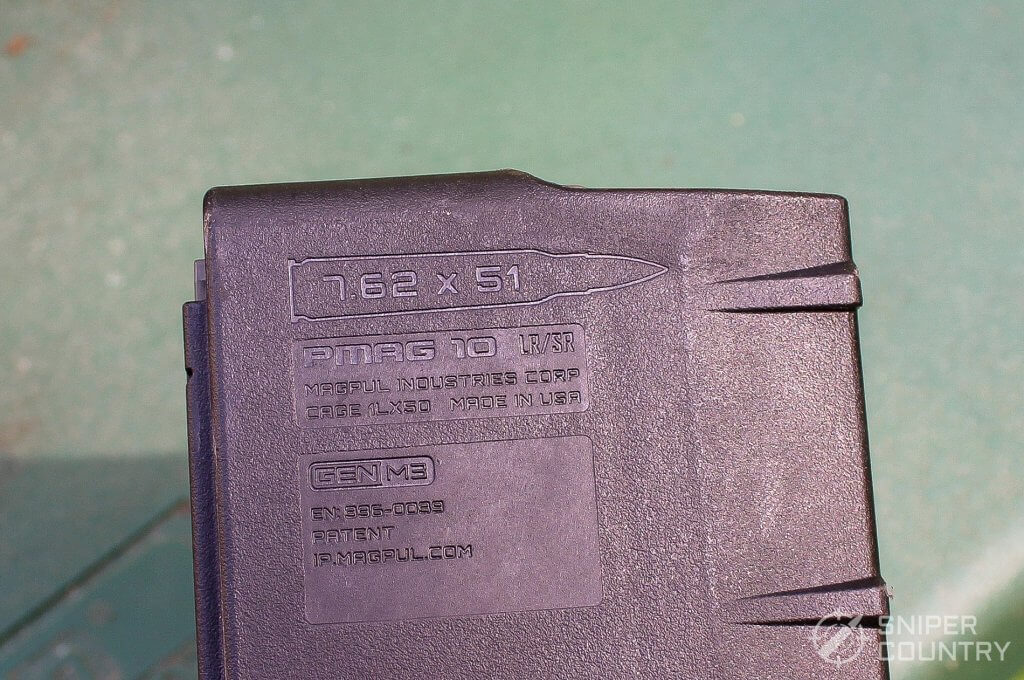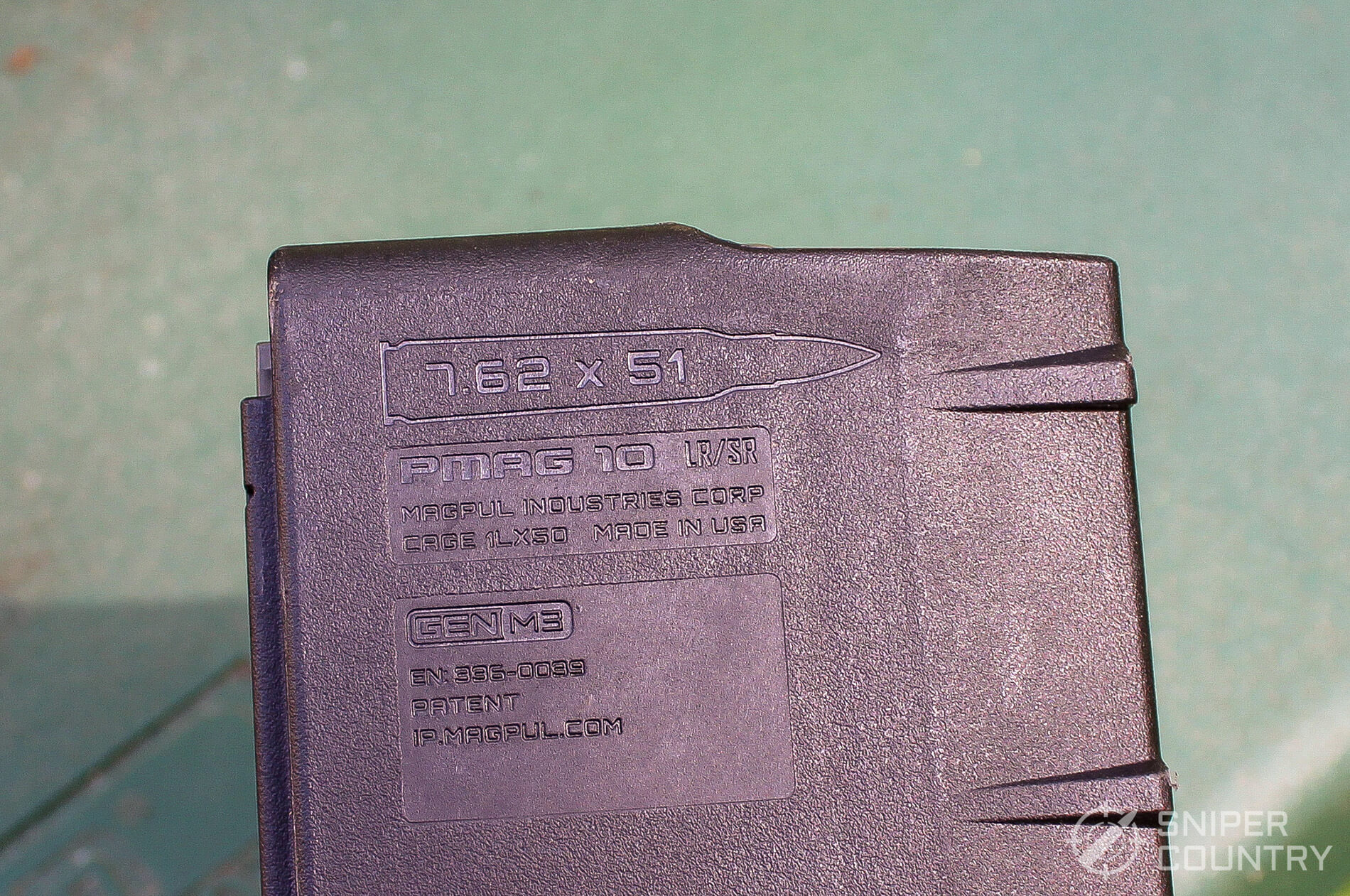 The magazine is for the .308. That works, because the 6.5 Creedmoor is based on the .30 TC, but the granddaddy case was the .308. Most .308 magazines should work, including even some M14 mags as stated above.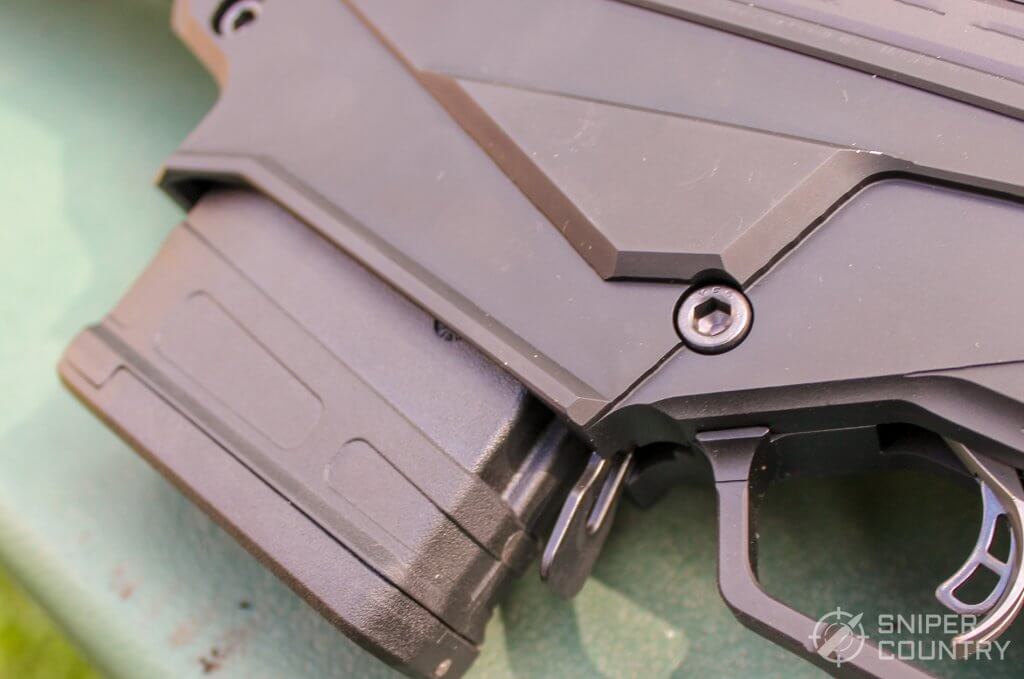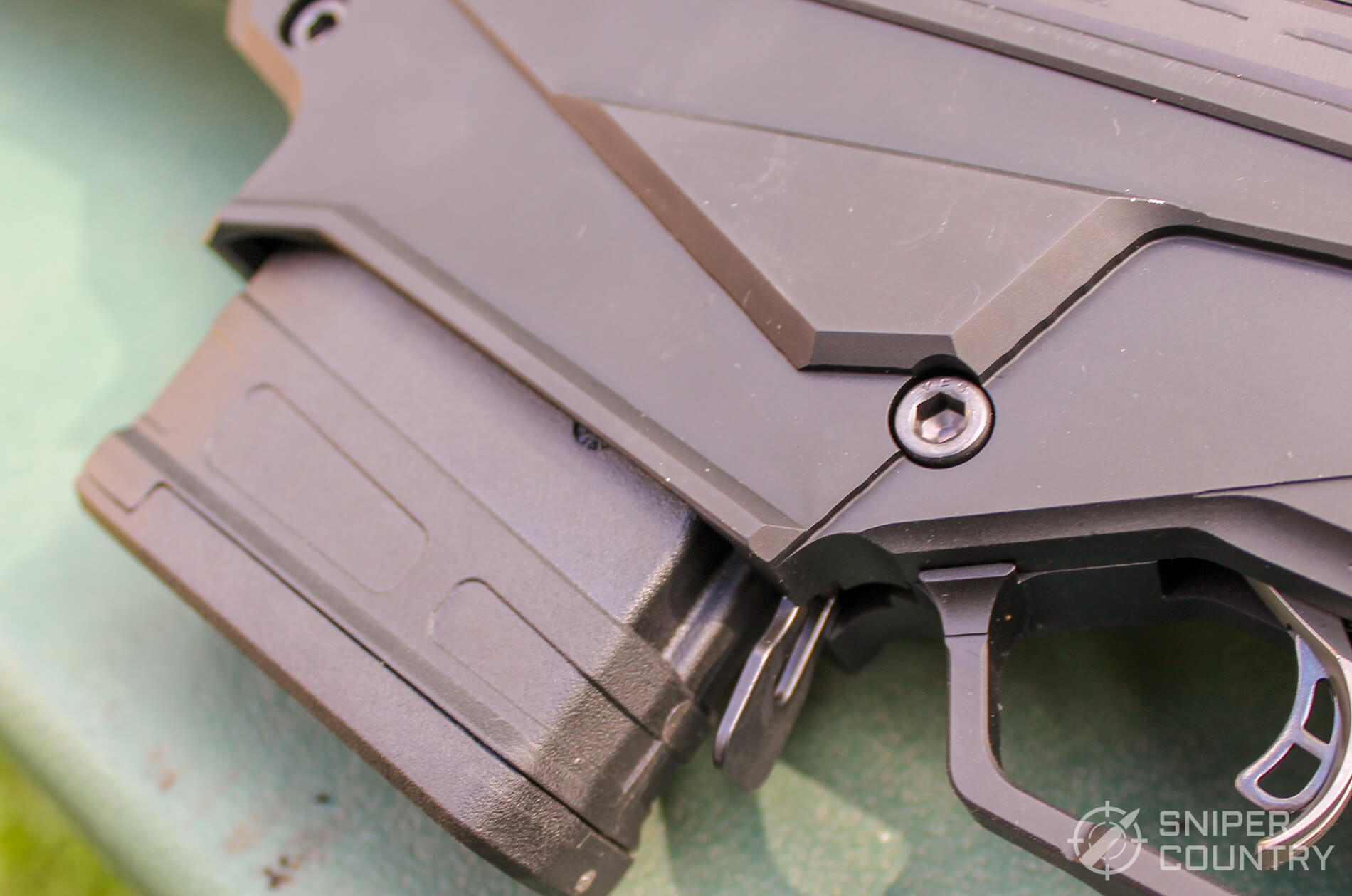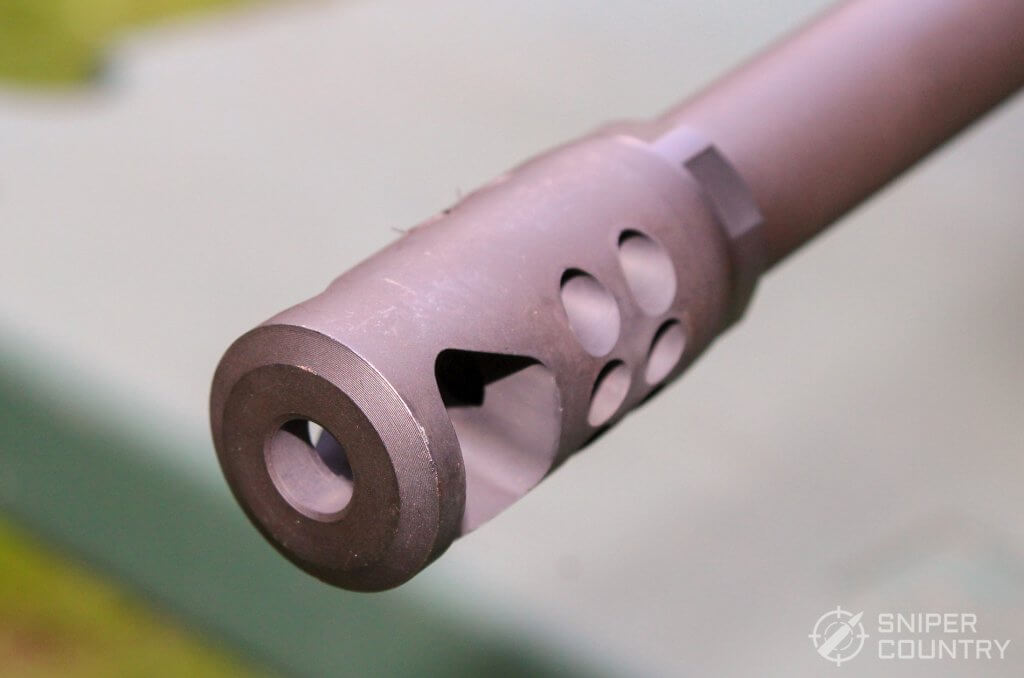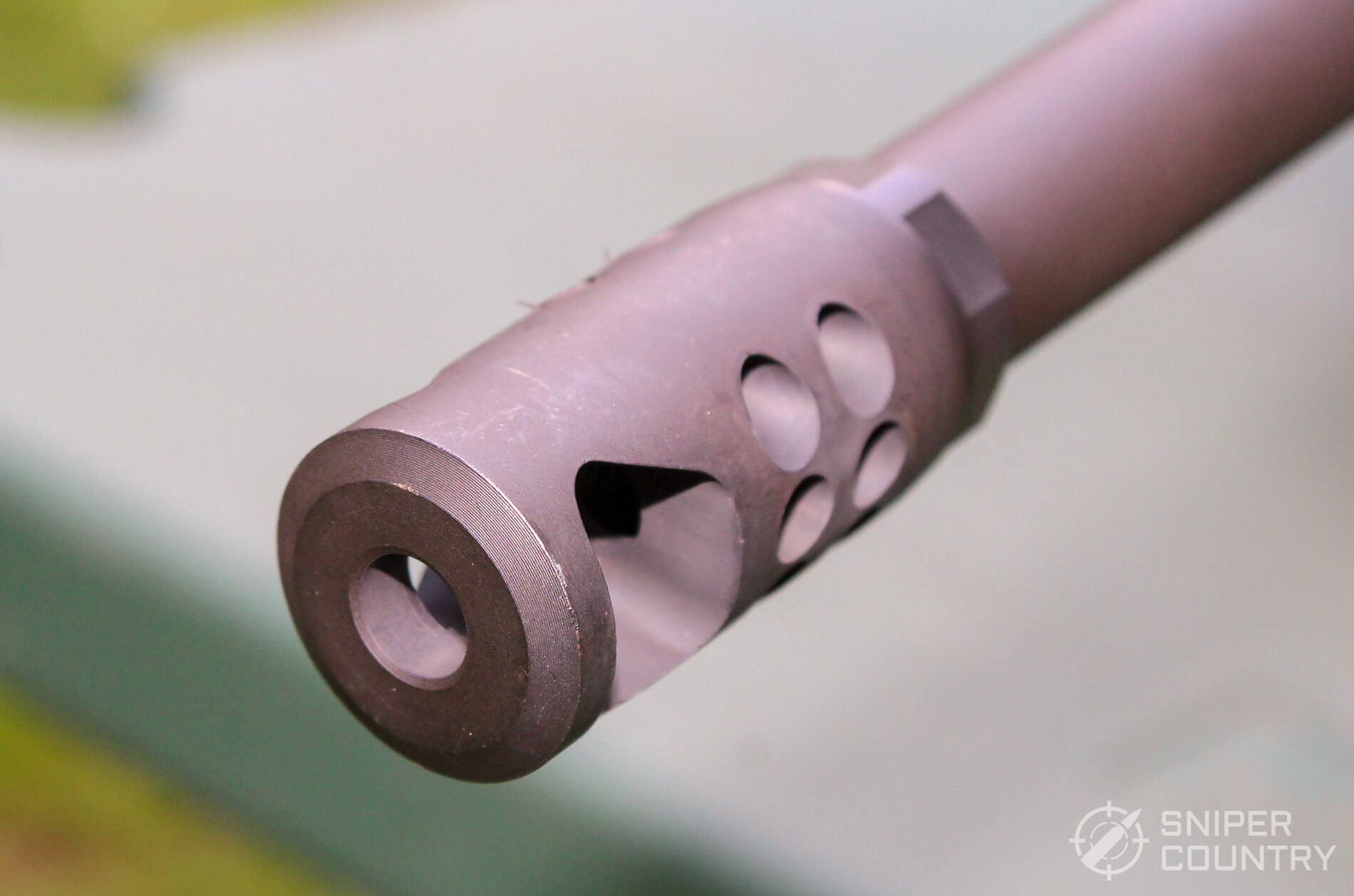 It laid the grass low for yards around to either side when we shot.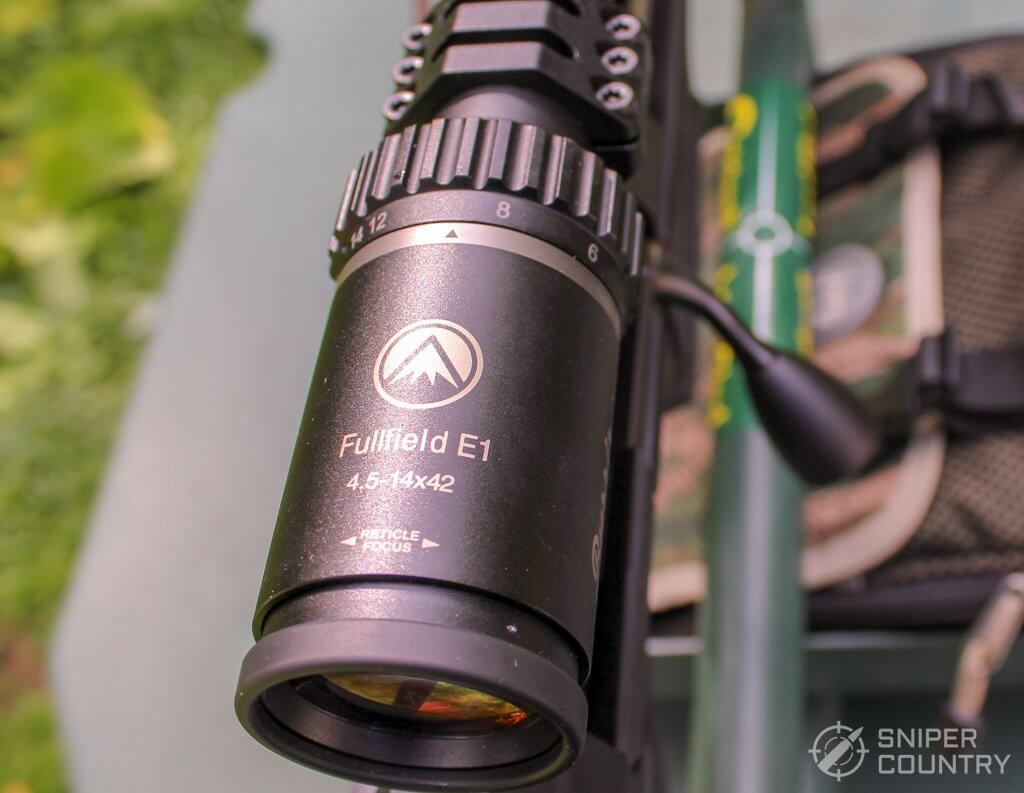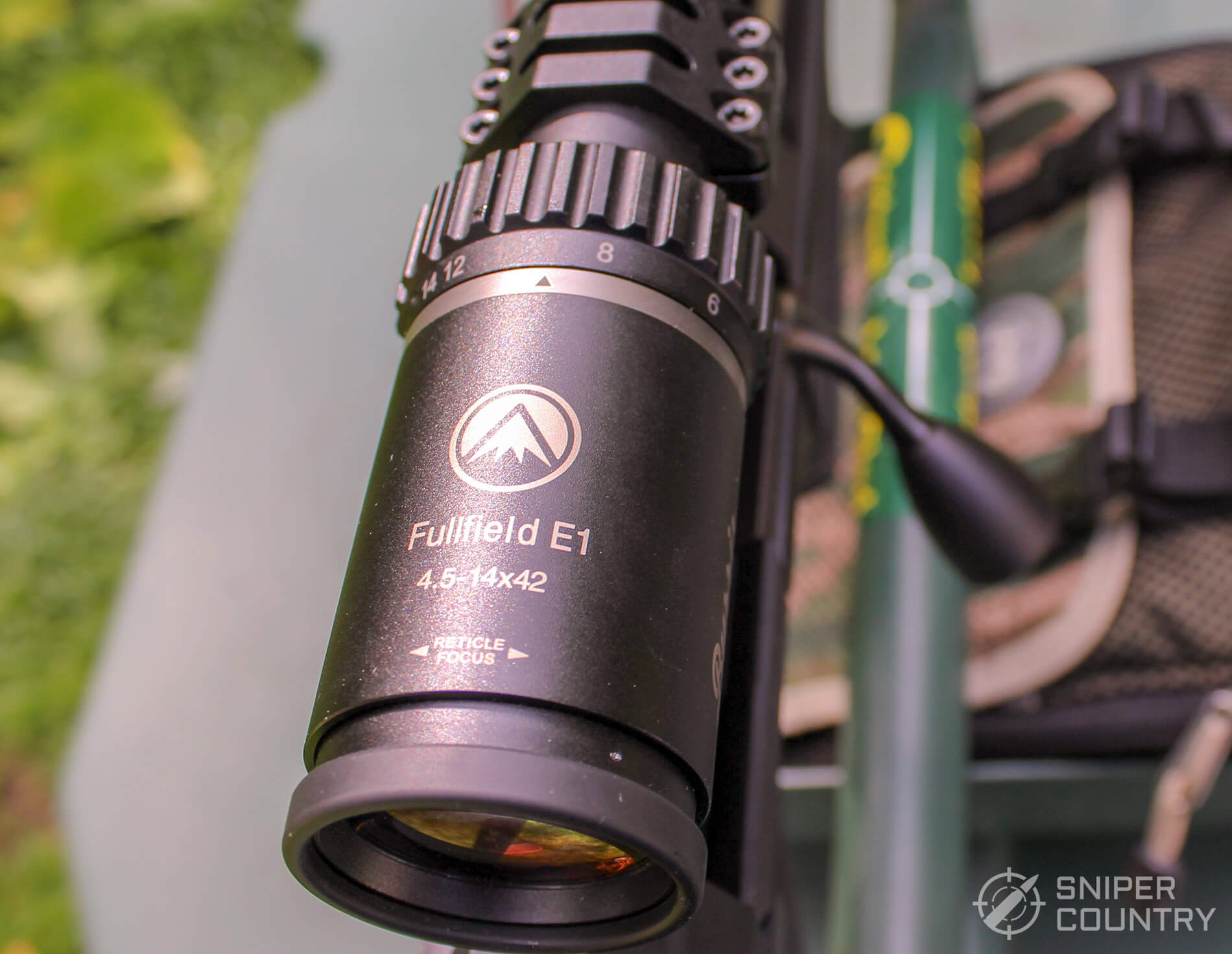 Shooting The RPR
Setting the rifle on his Caldwell Lead Sled, Glen was anxious to try his new rifle. He had not shot it yet. It had been shot by the gunsmith that installed the scope on the gun, but not by Glen. As he settled in behind the buttstock, he was anticipating a great shooting experience. He was not disappointed.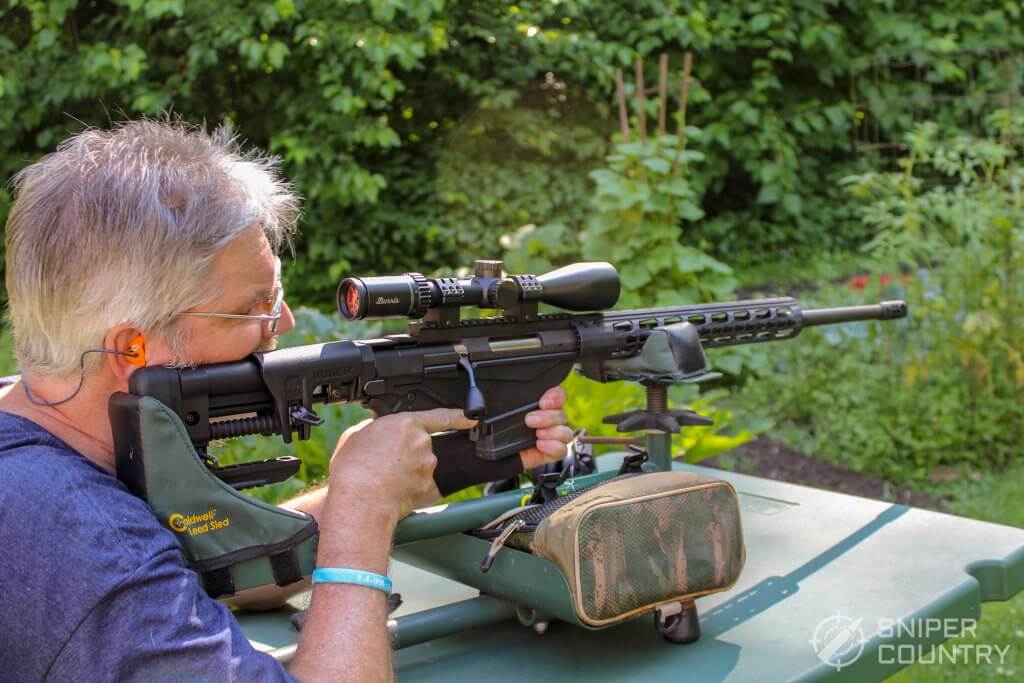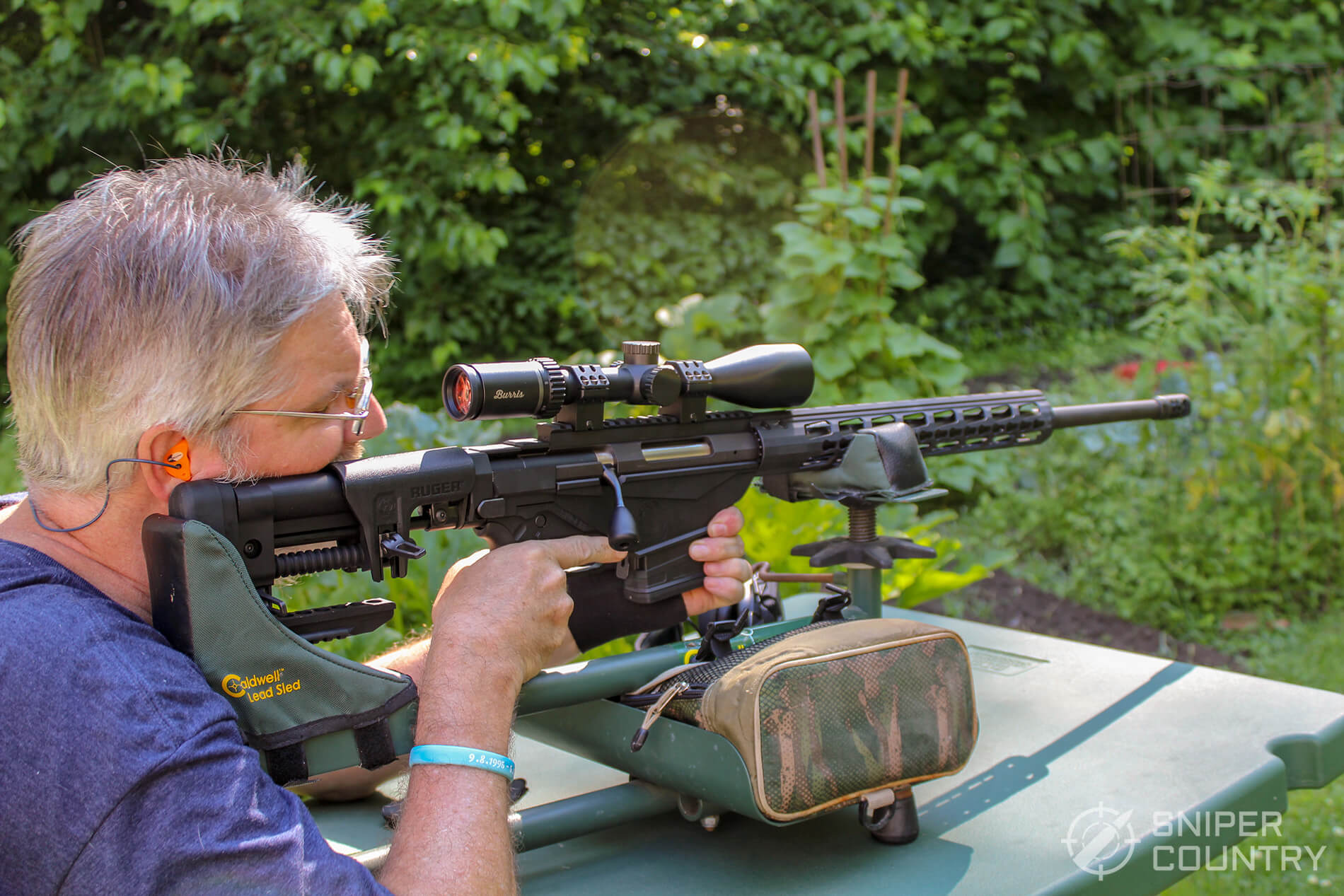 I wish I could say that we put 100 rounds downrange at my 100-yard range, but that was not to be. He had not had a chance to stock up on ammunition for his 6.5s, so we shot what he had. It was a 140-grain American Gunner load from Hornady. We had to ration the rounds, so to speak, but he got a few on paper at 100 yards. Here's the target: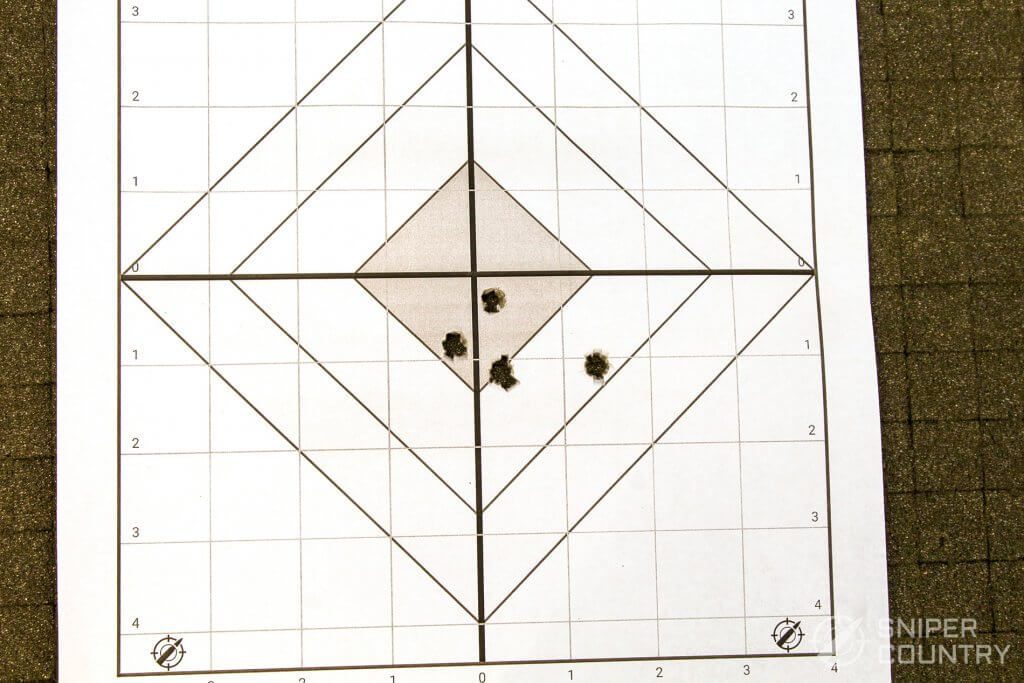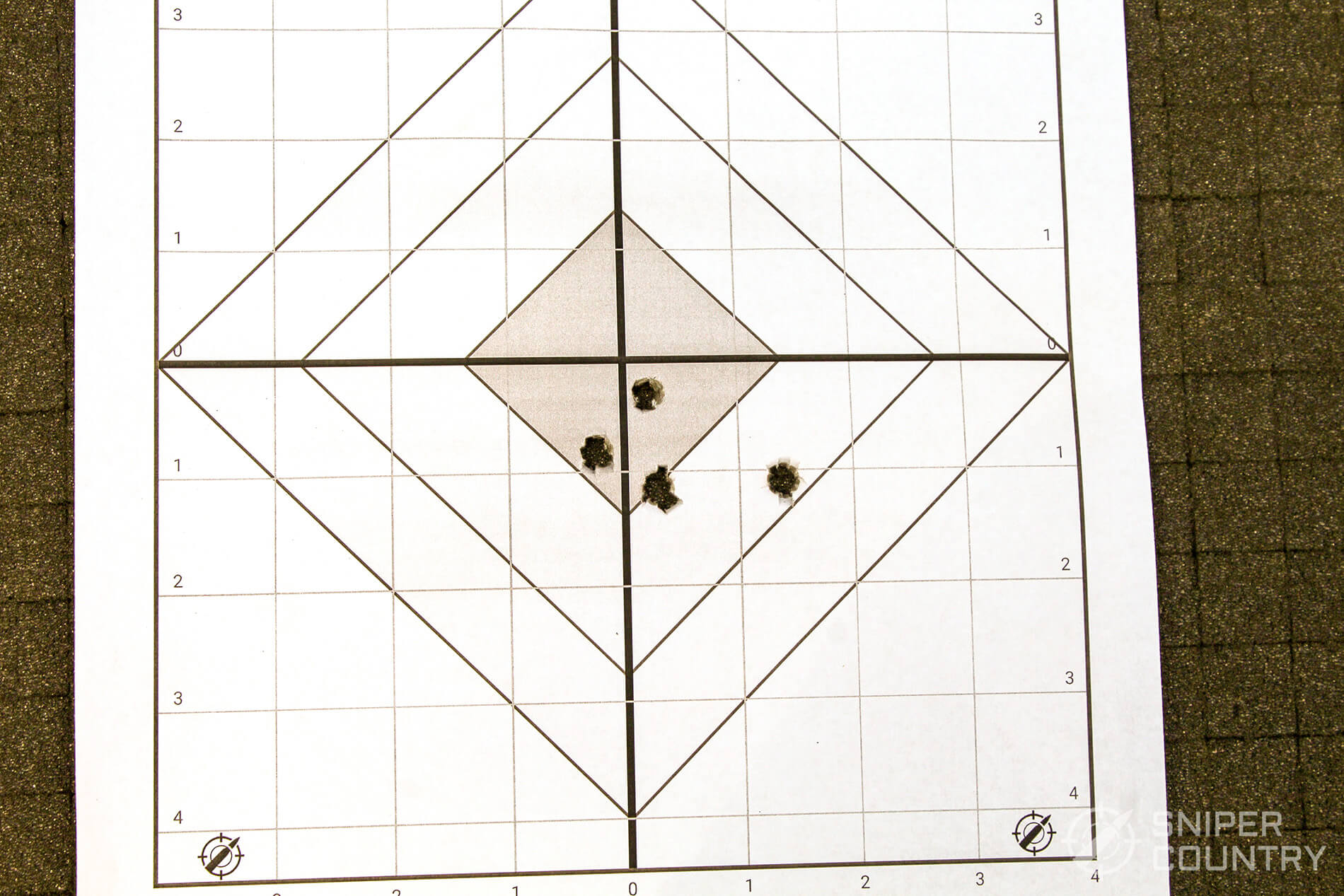 The target shows that the gun has real potential – those are 1-inch squares. The 6.5 Creedmoor is such a popular round now that ammo is generally available (even if quantities that you can buy are limited, as was this case). We have here basically a slightly-less-than-1-MOA group with one flyer to the right. Bear in mind, several factors were against us as we shot…not to make excuses but conditions weren't ideal. First, we had exactly one box of ammo to try – no variety there. Secondly, it was about 95 degrees with 60% humidity – hard to keep sweat out of your eyes and off the scope. At any rate, he got a decent, good-to-start-with group. As he can, he will add to his ammo stash and then come back and really dial it in.
What works in this rifle's favor in terms of accuracy is … well, what doesn't help? We've seen the specs and looked at how the thing is built. I would be greatly surprised if this gun didn't provide at least MOA accuracy. At least it did do that, plus some. If you are looking for an accurate, long-range rifle, check one of these out. For around $1300, you can walk out of the store with a rifle that will not only put most of its shots into a very small circle but should do that for at least one or more generations of shooters. As with most things Ruger builds, this gun is all but overbuilt. Pick one up and you'll see what I mean…this is one heavy-duty rifle.
BONUS OFFER: Get your free shooting range targets to print at home!
Get your free targets to print at home!
Recoil, Or Lack Therof…
In terms of recoil, I shot this one (the Precision) before I shot Glen's Ruger American Predator. That rifle weighs about three and a half pounds less than the Precision, and it showed at the bench. After shooting the 10-pound-plus Precision, the Predator seemed to kick substantially more. Of course, a 6.5 Creedmoor won't have the recoil of even a .30-06 out of a comparable-weight rifle but the difference between these two was pronounced. The lighter, poly-stocked Predator came back a bit harder than did the Precision. I'm used to shooting my Savage Axis IIXP .243 – now there's a pussycat in terms of recoil. Plus, as I just said, the 6.5 won't have a whole more kick than the .243 but it was still fairly noticeable. But I consider both of these "Sunday afternoon" guns – these are two calibers that you can take to a range on a Sunday afternoon and will want to shoot until it's supper time. They won't beat you up. Once the ammo situation (and, for that matter, the gun supply issue) is resolved, you could grab three or four boxes of ammo and go have some fun. If you have access to a longer range – say, 300 or more yards – then you will have a reason to go through all your ammo in one sitting. Now, to acquire a 4-wheeler to get to and from those distant targets quickly…my Fitbit explodes with steps when I shoot at my 100-yard range, but that's a good thing, I guess…
So…Do You Need One?
To end this little treatise on the Ruger Precision rifle, I would definitely recommend one. Caliber isn't as important as whether or not you shoot it a lot. Remember, unless you're going to be sitting in one position in a deer blind or wherever, this rifle is a bit much for hunting. I can't see toting this thing around a lot, even if you did figure out how to put a sling on it. That's where its lighter cousin, the American, shines. That rifle is made in a lot of variations and models and would be the best answer to the hunting question. Even the 'smith that installed the scopes on both rifles smiled and told my friend that 'you'll want to hunt with the American and use the Precision for targets – you won't want to carry that heavy thing around', or words to that effect.
If you're looking for a new rifle to take to the long-distance competitions or are just wanting something a bit more than the common polymer-stocked entry-level rifles, give the Precision a look. With its modularity (AR-style accessories, Picatinny rail, etc.), you could really make it your own and into a rifle that is unlike anyone else's. The aftermarket is growing for these rifles and has enough accessories to make it interesting. When you factor in Ruger's great reputation and excellent customer service – I'm a poster boy for that – I don't think you can go wrong.
As always, feel free to chime in below with a comment. We especially want to hear from you if you've had experience with a Ruger Precision rifle. Thanks for reading this – now, keep 'em in the black, and be safe!
(A note about the target shown above -if you would like to download this or other of my targets at no cost, see the link below. When printed in color, they really stand out).