Primary Arms is an established brand in the world of optics, and is known for their high quality products at mid-range prices.
Quick Facts

Fixed 2.5x Magnification
ACSS CQB-M Etched Glass Reticle
Adjustable Brightness
Great for Pistol Caliber Carbines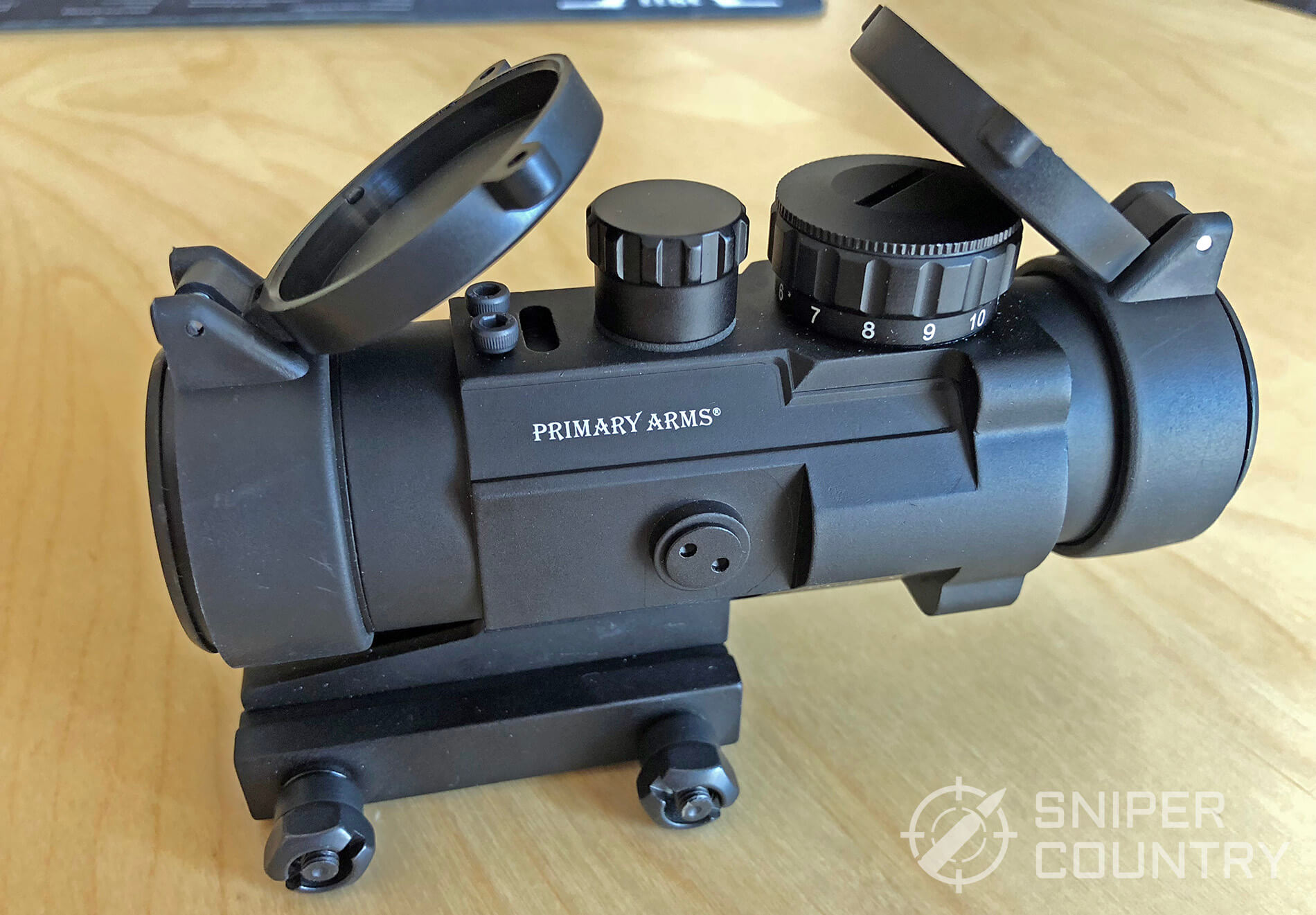 Buying a new rifle is always exciting, whether it be planned or an impulse purchase. On the drive home, your mind is filled with thoughts of holes in paper and the sounds of ringing steel plates. Then you realize you have nothing to adorn its Picatinny rail, and if you're like me, that can be a bit of a buzz kill. Fortunately, a good scope that doesn't cost more than the gun itself is readily available. The Primary Arms 2.5x Compact ACSS.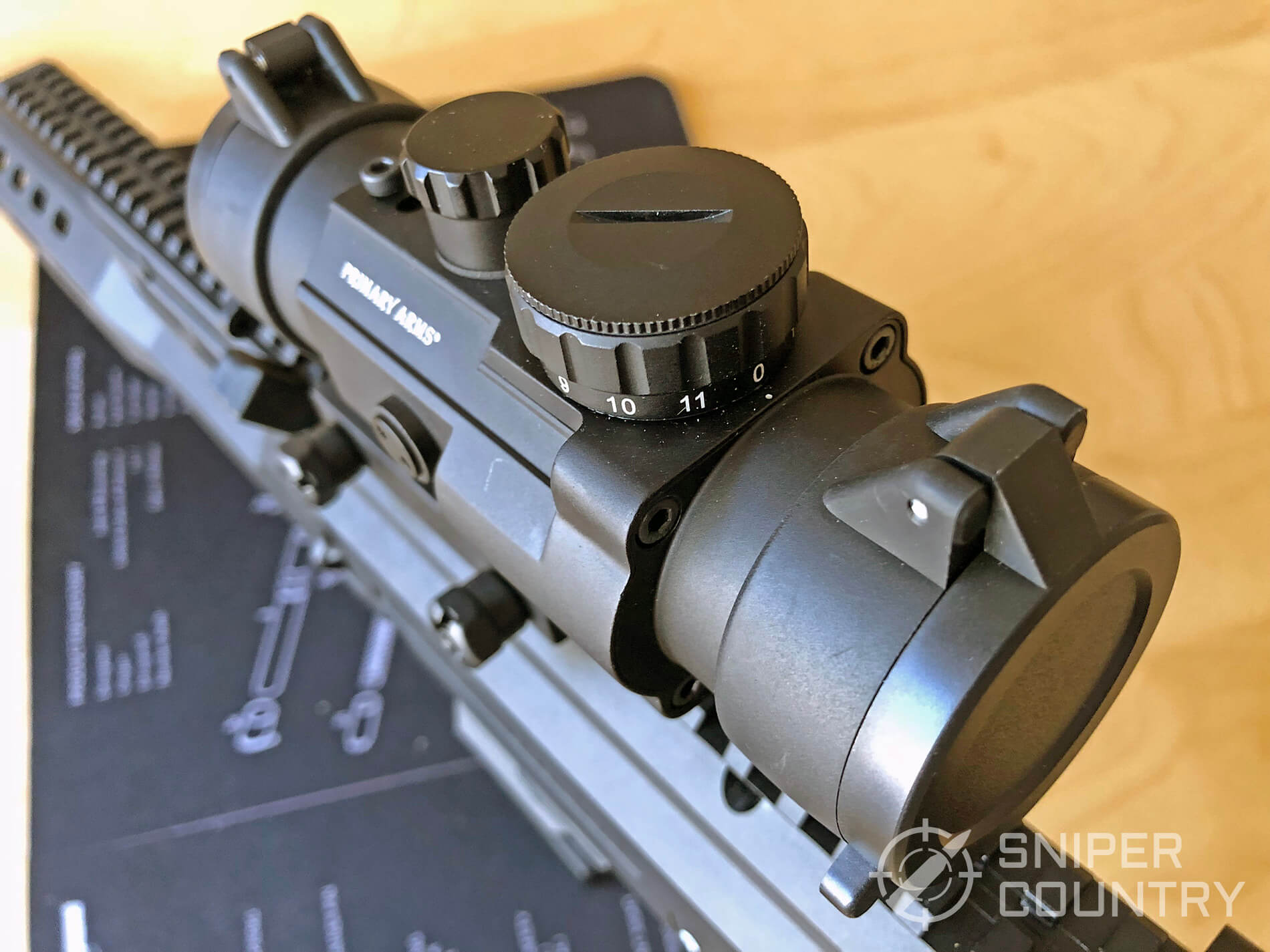 This scope is a great option that doesn't break the bank with its sub $250 price tag. The 2.5x magnification is perfect for shooting accurately just beyond normal red dot distances, or even more accurately within, while maintaining good close range performance. It has a slew of features that bump up its value per dollar too, the biggest being its ACSS reticle.
Basic Specs
The Primary Arms 2.5x Compact Scope is waterproof, fog resistant and is 4.8" long. It weights 14.74oz and is made of 6061 Aluminum. It has an eye relief of 2.67", a Field of View of 37.5ft at 100 yards and a ½ MOA adjustment at 100 yards.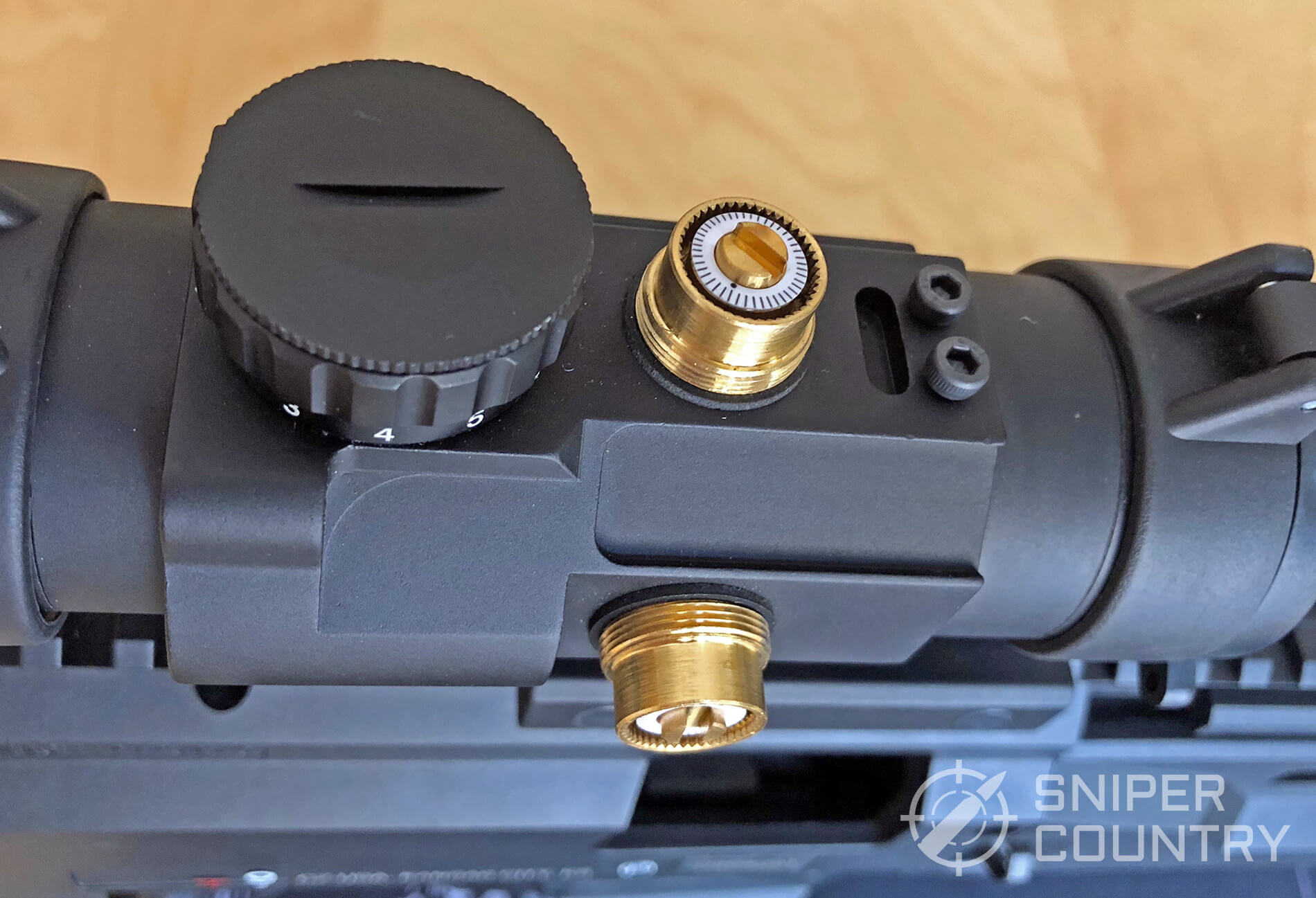 Now, on to the fun bits.
BONUS OFFER: Get your free shooting range targets to print at home!
Get your free targets to print at home!
ACSS CQB-M Reticle
The 2.5x Compact Scope uses the ACSS CQB-M reticle, which stands for "Advanced Combined Sighting System" and it is a big part of what makes this sight so good. The reticle is etched into the glass, which makes it visible without illumination. Here is a blown-up image of the reticle and its features.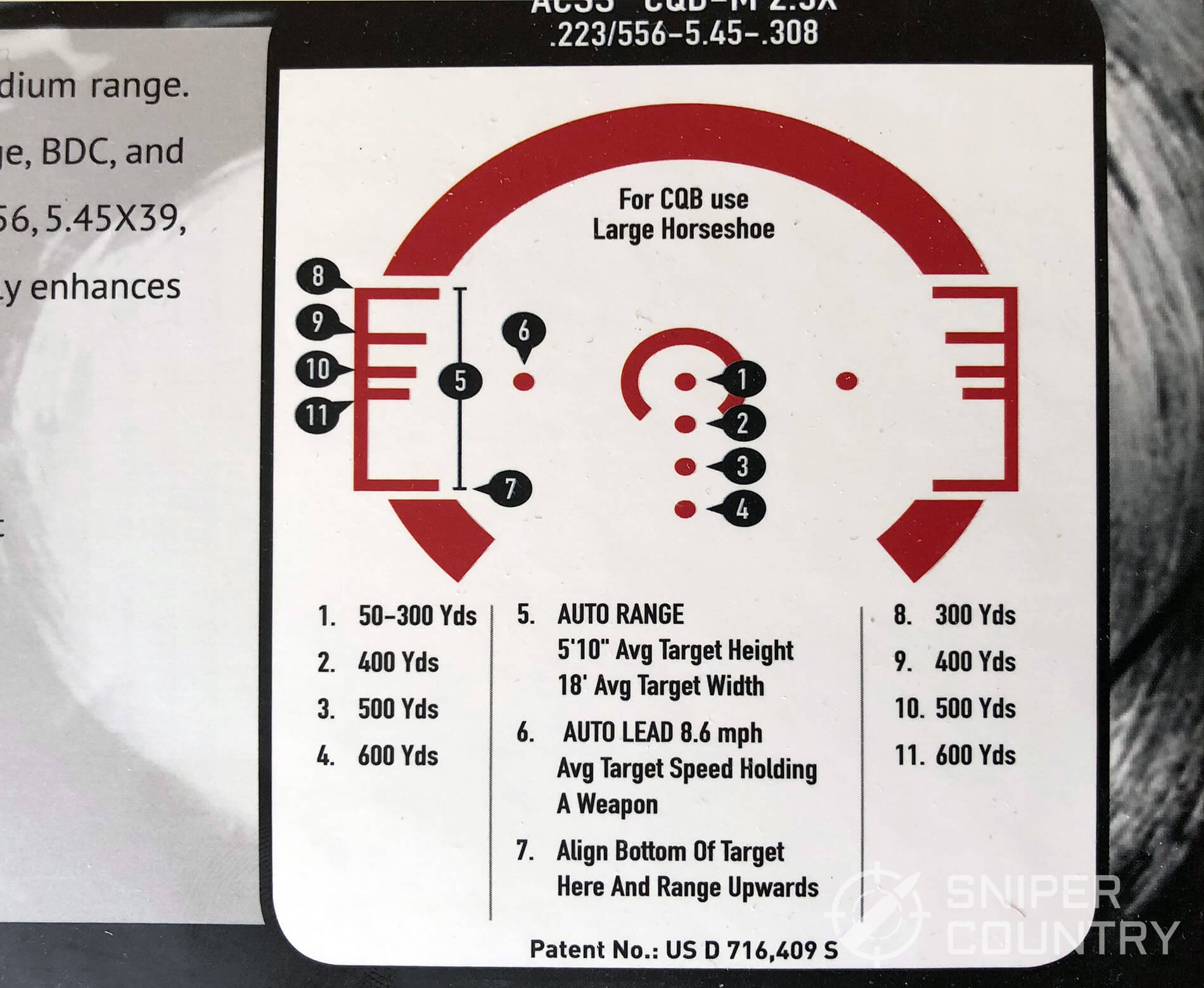 The ACSS reticle is also specific to each magnification and caliber. This one is designed for rounds that have a fairly flat trajectory, like 5.56 and 5.45×39, the 7.62×39's smaller and higher velocity brother. It can be used with some high velocity .308 rounds too.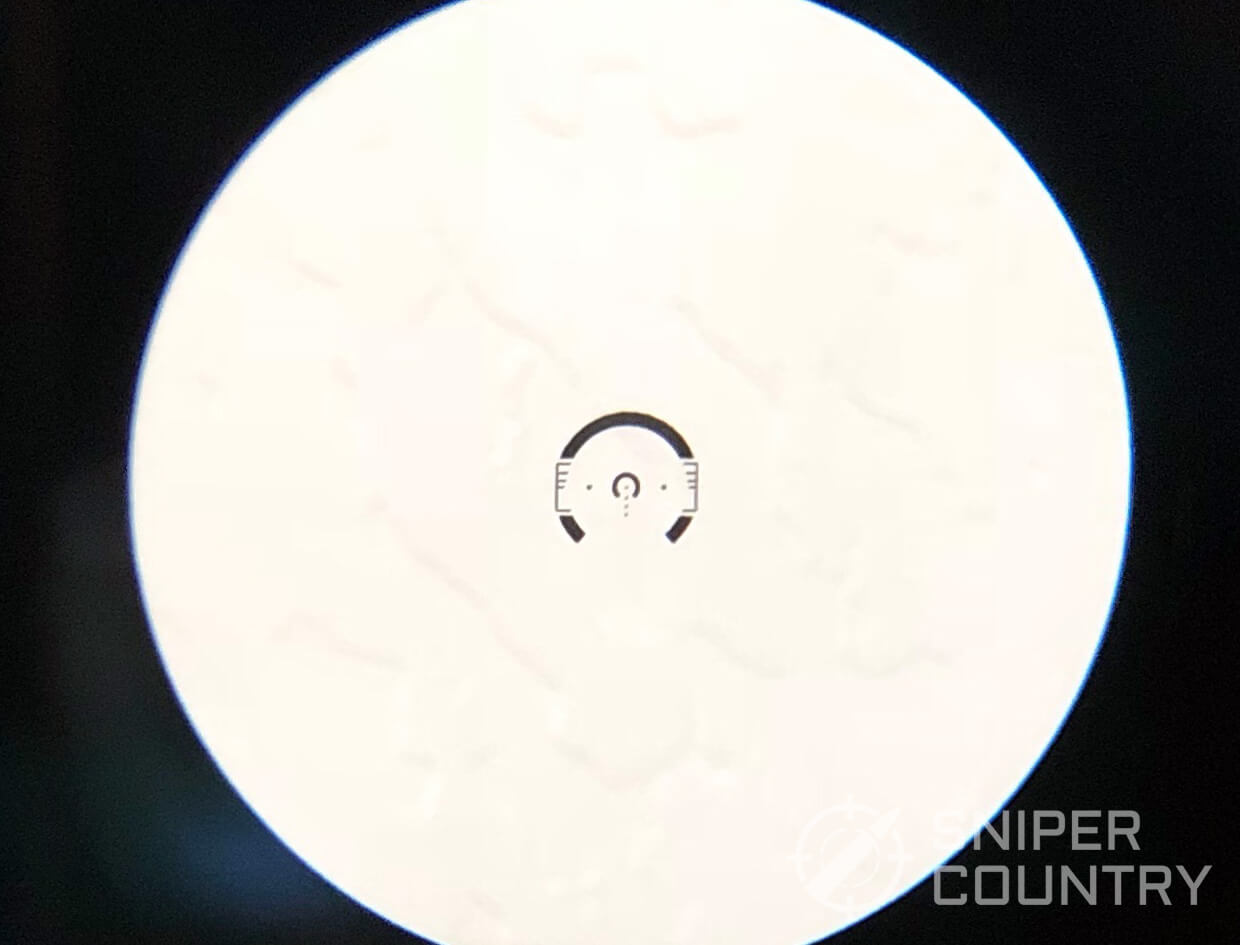 This is the reticle on a fairly bright white background indoors. The reticle is a bit bigger when viewed in person, and more defined.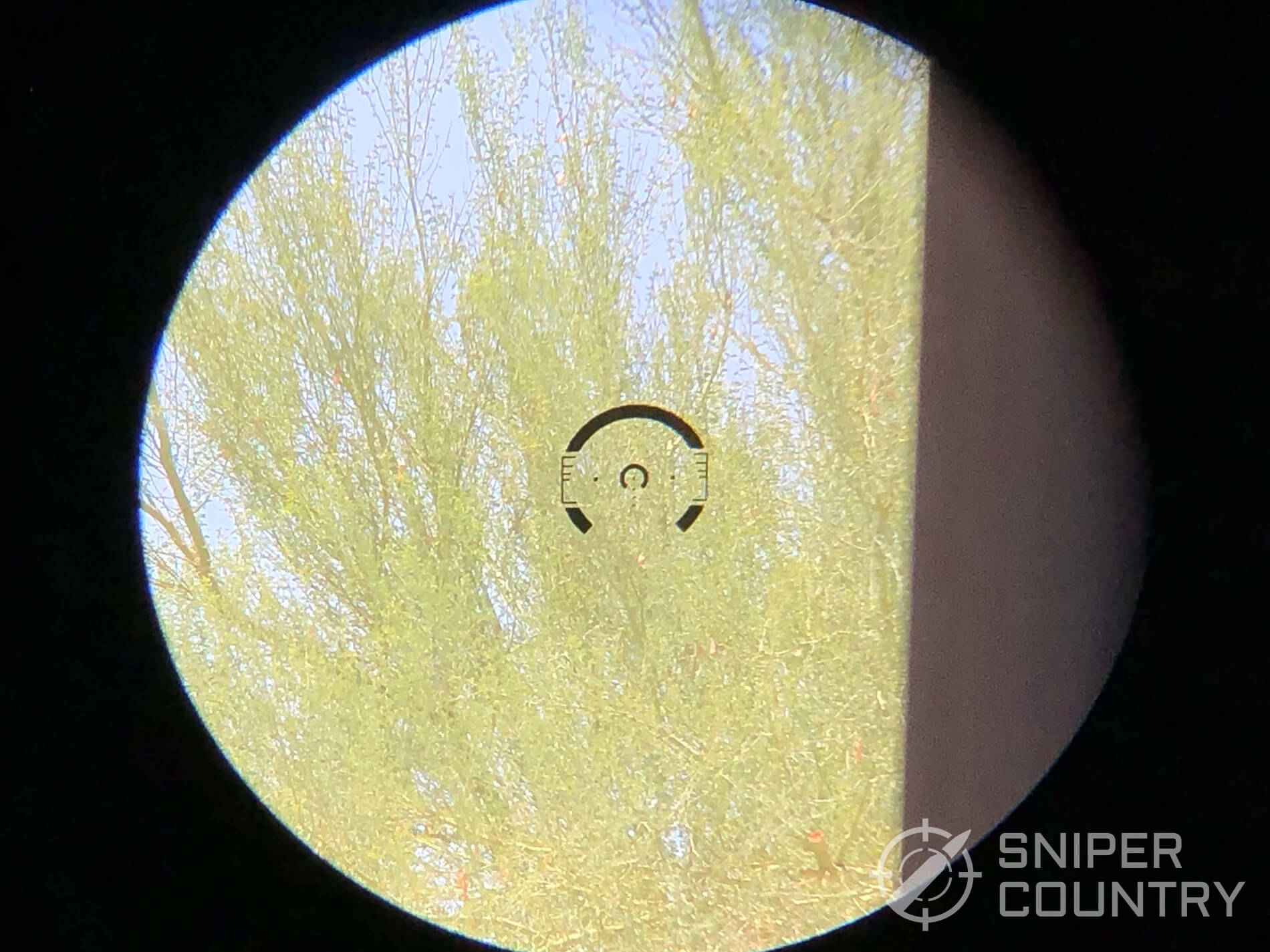 This is the reticle on a more natural background. The glass is clear enough to show very fine details on the tree, and I didn't feel the need to turn on the illumination to increase contrast.
When the reticle is illuminated, it stays very crisp, making it great for shooters with astigmatism. It has 11 brightness settings and will still show up very red when shooting in bright conditions.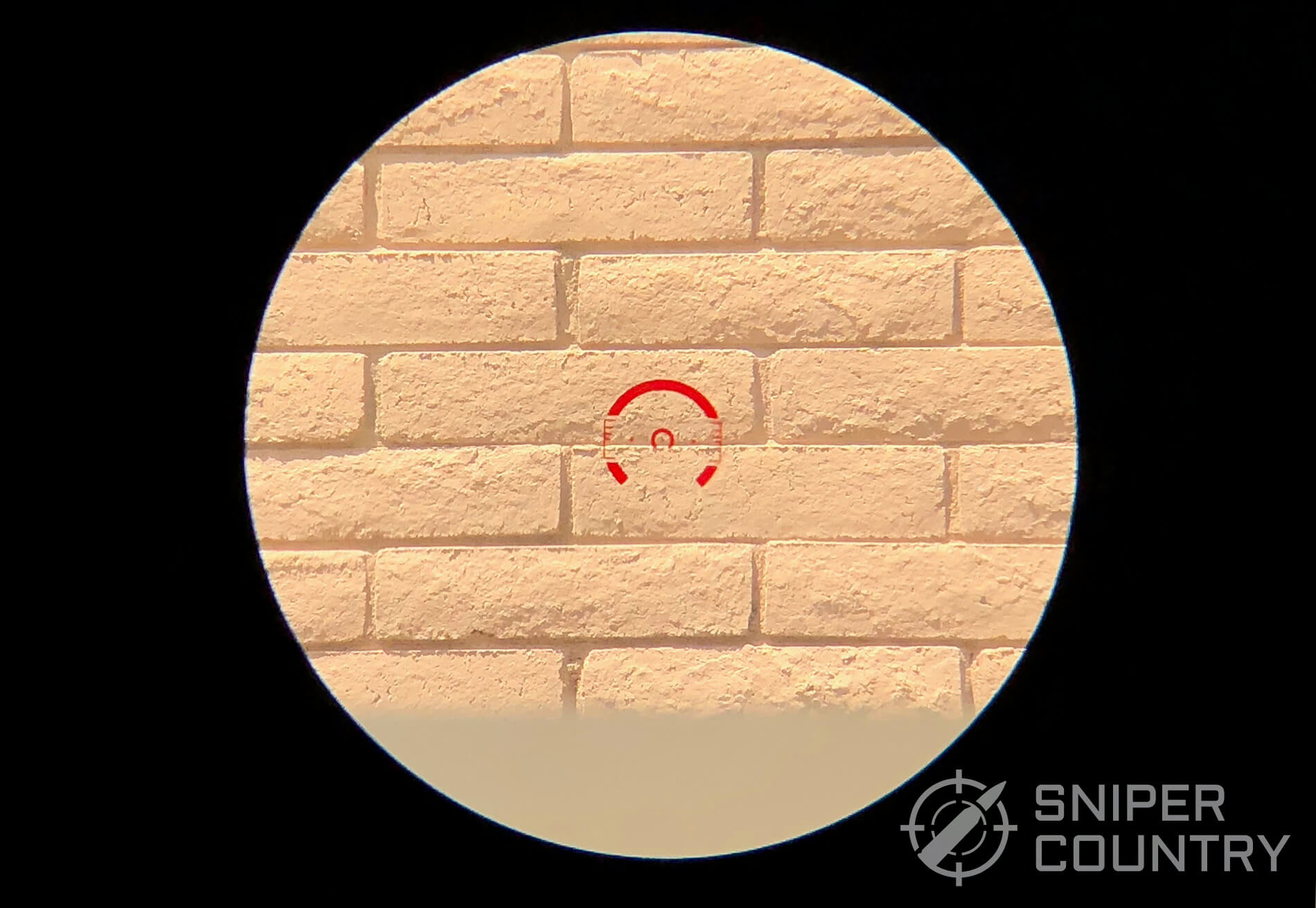 This is the reticle on brightness setting 10, the wall is in direct sunlight.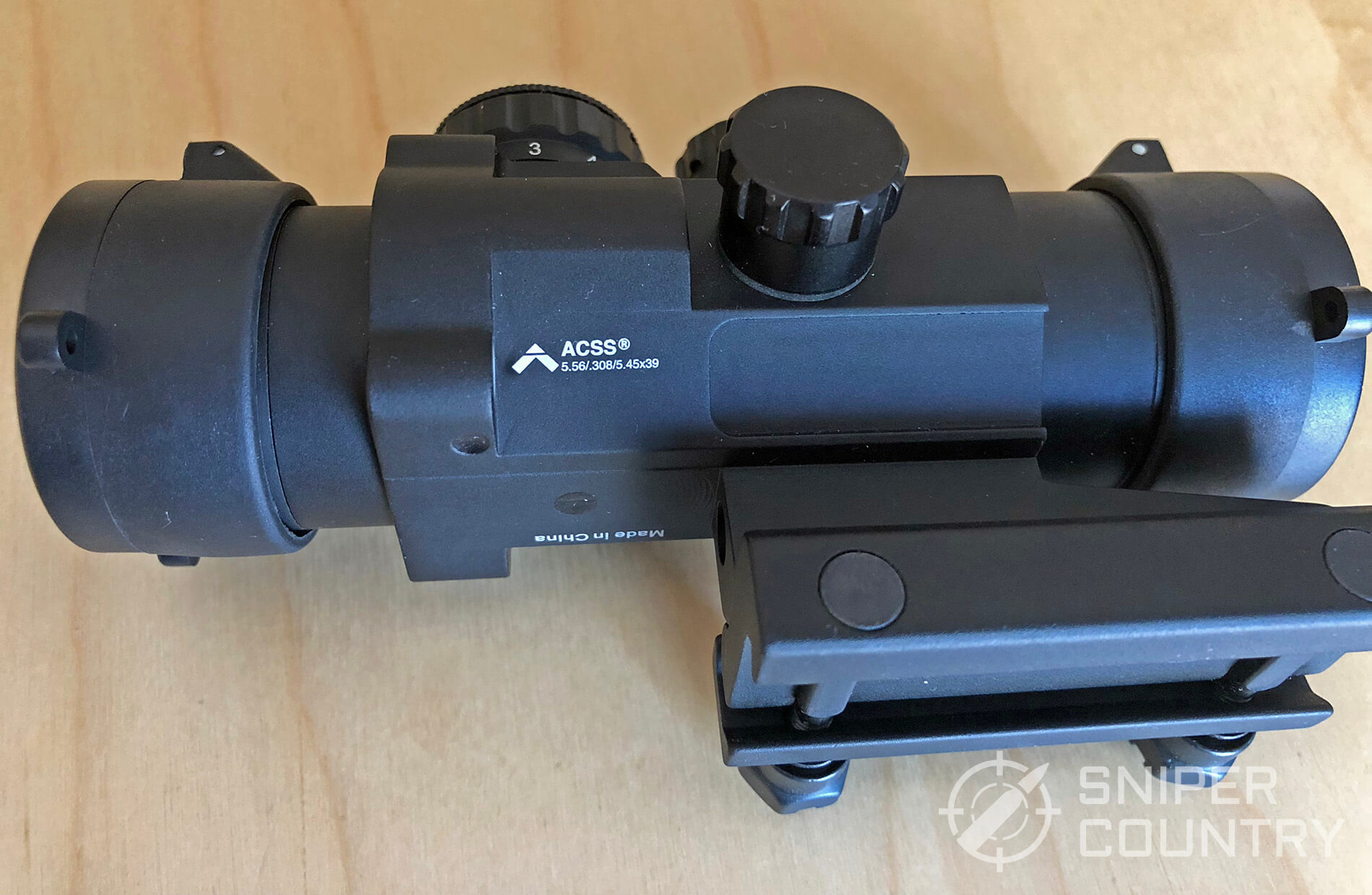 It doesn't say it on the scope, but the 2.5x is also intended for 9mm carbine use, with the center dot being for 25-100yrs, the second for 150yrs, the third for 175yrs, and the fourth at 200yrs. In my 9mm experimenting, I found the ranging to work perfectly well with my Scorpion.
Other scope makers have tried to make their own versions of the ACSS design, and Primary Arms licenses out the ACSS to Trijicon, who uses it in some of their 4×32 ACOG scopes.
Diopter Adjustment
Unlike some other fixed magnification scopes, the Compact Prism has a diopter adjustment to bring the reticle into proper focus. The goal is for both the target and reticle to stay sharp when looking down the scope. If you don't have perfect vision, you'll have to decide if you want the reticle in focus when wearing corrective lenses, or when you're not. I don't foresee myself shooting without my contacts in very often, so I set it based on that.
It is possible to set the scope up for both, if you're willing to mark the outside a little. Set the diopter properly without any corrective lenses, and mark the scope with a small line on the outside of the diopter ring and scope casing. Then set the diopter properly with your lenses and mark the casing where the diopter ring line meets the casing.
The scope has provision to mount a short rail or red dot on top, but with the magnification being fairly low I didn't feel the need, and the larger horseshoe style ring is intended to fill the CQB role anyway.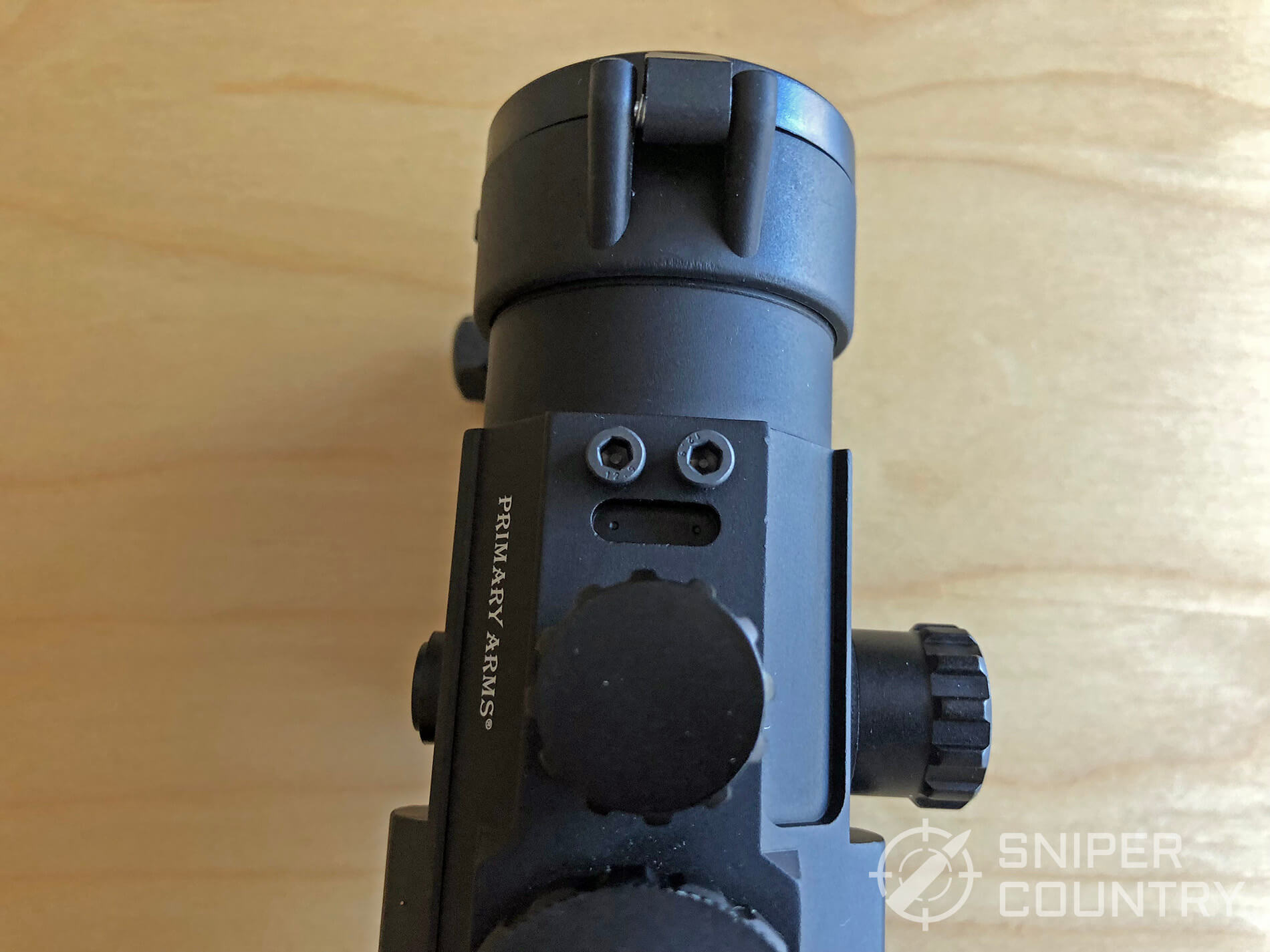 Testing and Ideal Use
In order to accurately assess the scope's performance, I felt it needed to be tested on two different kinds of guns. As a result, the scope has spent equal time atop an AR and a 9mm carbine. I've been happy with its performance on both, but since they are very different guns, the role it fills for each is equally different.
9mm Carbine
On the 9mm carbine, it's a great magnification for shooting all of its effective range. I originally purchased it to use in pistol caliber carbine competitions, and it is compact and light enough to fulfill that role beautifully. I haven't tried to test its durability specifically, but it has survived a few accidental bonks with no issues so far.
Primary Arms lists the hold points for a 9mm carbine as 25-100 yards for the center dot, 150 yards for the second dot, 175 yards for the third dot, and 200 yards for the fourth dot. So, I set the zero to 25 yards and began my testing. I used a man-sized torso target and aimed for the center ring.
At distances closer than 25 yards I relied on the ring just outside the center dot. The larger horseshoe ring worked equally well for quickly gaining a sight picture, but I found focusing on the center ring was more accurate for follow up shots. When shooting with both eyes open, the center ring felt closer to a red dot.
Once the close range shooting was done, I kicked the target out to 100 yards and I was pretty impressed with how accurate the ranging was. I anticipated it would be a bit off due to the high sight over bore on my Scorpion, but I would have only had to tweak it slightly for a perfect 100 yard zero. I imagine this is due in part to the short length of the scope. The hold marks were also very accurate for the 150 yard and 175 yard distances. I was able to hit the target at 200 yards with the 200 yard hold, but the target was too small at that point to easily distinguish what torso ring I was shooting at. 200 yards is the maximum distance I would shoot a 9mm carbine with this scope and expect reliable accuracy.
AR-15
I did a similar test with the AR and set my initial zero at 50 yards, as Primary Arms recommends. The hold points for .223/5.56 are 50-300 yards for the center dot, 400 yards for the second dot, 500 yards for the third dot, and 600 yards for the fourth dot. Based on my experience with the 9mm carbine, it was pretty clear I wouldn't be able to see the target well enough to shoot much beyond 250 yards.
The 2.5x magnification was great for anything between 25-100 yards though, it felt like I could've shot the wings off a fly. For shots around 100-200 yards, the reticle still felt like a good size.
I didn't need to drop down a dot up all the way through 250 yards. I wasn't too surprised by this since .223/5.56 shoots pretty flat, and Primary Arm's hold marks had proven correct so far. Due to the lack of bullet drop, I was able to shoot reliably at 250 yards with this scope, so about 50 yards beyond the 9mm carbine. Any further than that the target was just too small. On an AR, this scope is better suited for very accurate sub 200 yard shooting, with the occasional 250 yard shot. If I were regularly shooting mid to long range with an AR, I would move up to a higher magnification.
Detractors
I didn't have much to gripe about with this scope, but if I had to nitpick, a few things do standout.
This one is more of a tradeoff, but due to the reduced price, a battery is needed for illumination. It uses one CR2032 battery, rather than a fiberoptic and tritium style system found on more expensive scopes like Trijicon's ACOG. The battery life is a bit poor on the higher settings, but since it doesn't need to be illuminated to use it, it's not a huge problem.
The finger screws used to tighten the rail clamp have a cutout that a screwdriver could fit into, but the inner stud sticks out too far.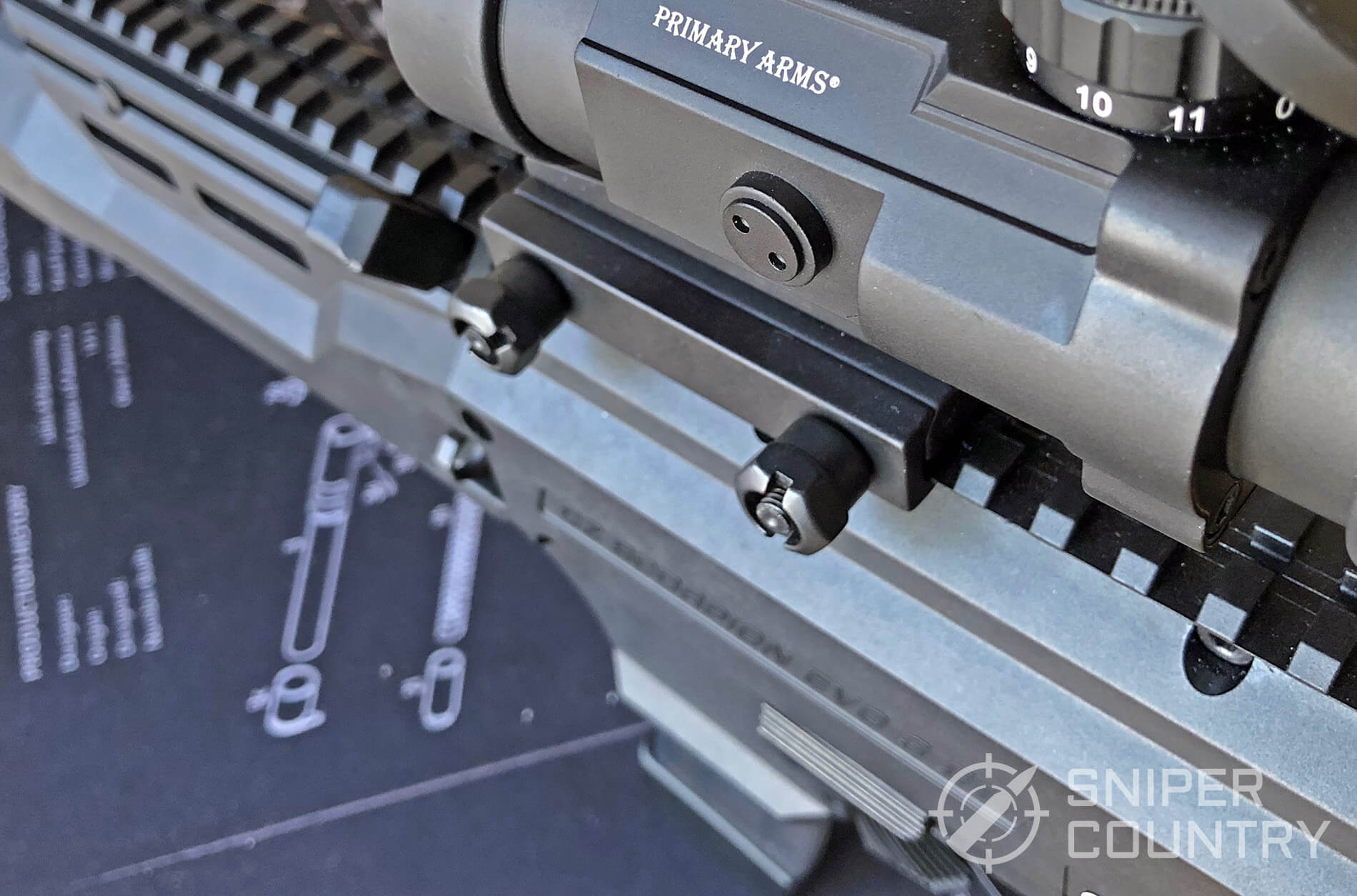 I was a little disappointed by the hex screws attaching the base to the mount too. Either the metal used for the screws is of poor quality, or the assembler wasn't being very careful. It seems unlikely, but since there have been several reports of the mount loosening over time, Primary Arms may have sent a memo to their factories telling them to crank it down. I would have rather needed to add my own Loctite than get some stripped screws.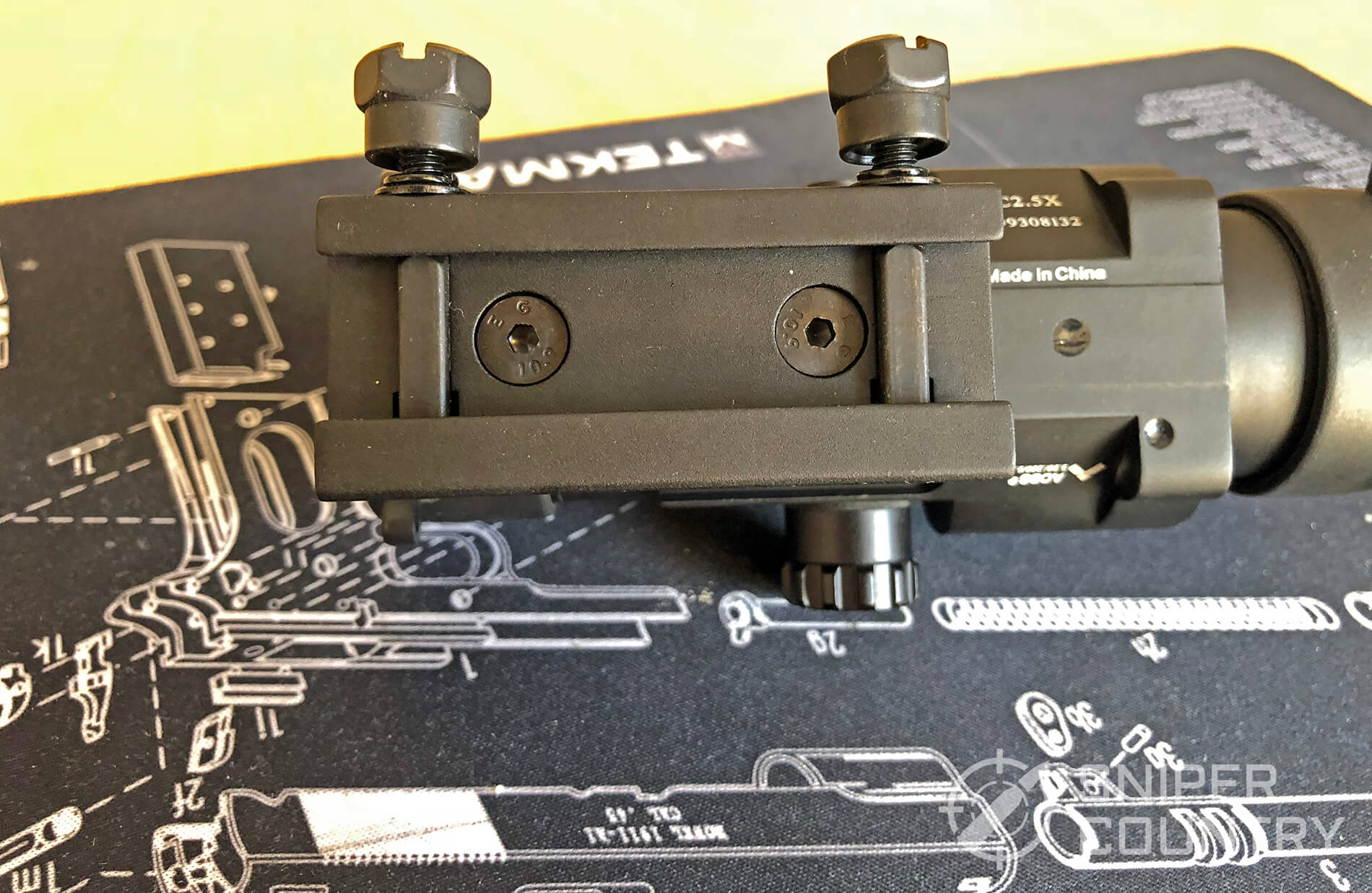 Made in China doesn't mean the poor craftsmanship that it used to, but quality control can vary drastically depending on the factory.
In Conclusion
The Primary Arms 2.5x Compact Scope is a great choice for pistol caliber carbines, and for AR shooters who prefer shooting in the 0-200 yard range. It uses the ACSS reticle, which makes it difficult to go back to using anything else, and the etched glass makes it very astigmatism friendly. It's an excellent value for the money, and I wouldn't hesitate to run it on any of my guns in the long term.