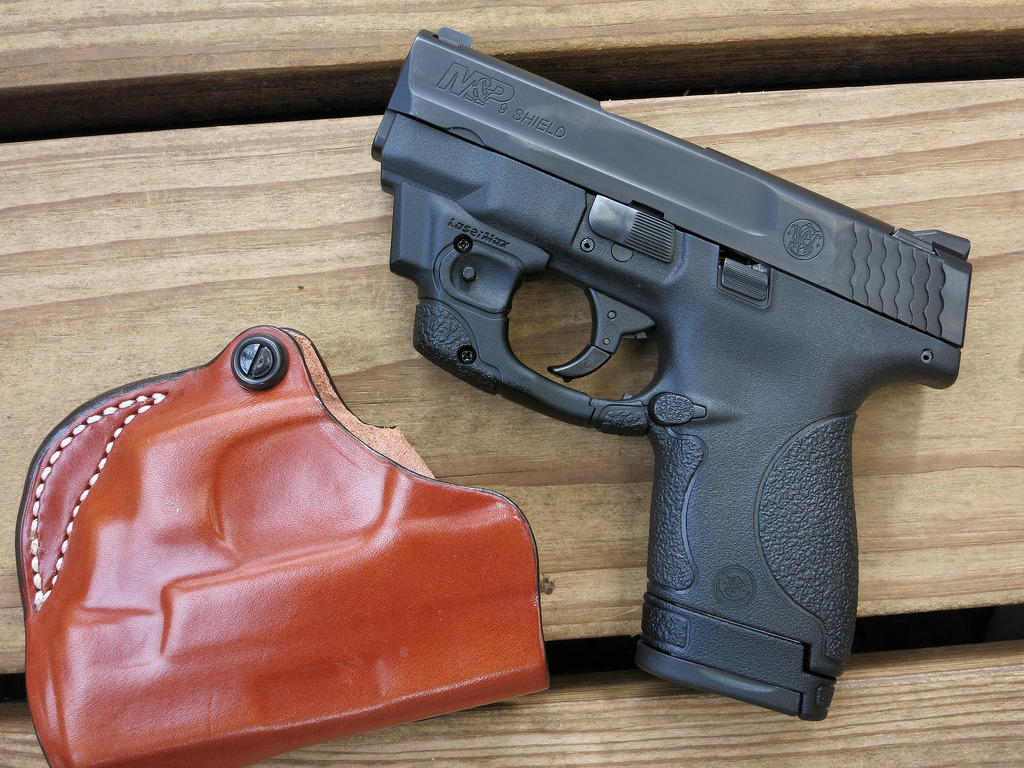 The Smith and Wesson M&P Shield is a very popular and high-demand pistol. If you own concealed carry weapons, you likely own this one. It's the perfect size, the perfect weight, and Smith and Wesson is a brand that many gunowners can rely on. However, there are plenty of accessories or add-ons that you can install on the M&P Shield.
We've put together this review of our favorite M&P Shield 9mm accessories, and we'll let you know which we think is the one everyone should have. In most cases, the M&P Shield is being used for mainly self defense situations, and there are many accessories you can purchase to make sure you're the one walking away alive. A holster would be the first obvious accessory to purchase. Honestly, if you don't already have one for your pistol, then get one. The other two accessories that could be truly life saving are a laser and a set of night sights. You'll probably be more likely to require your M&P Shield during late nights or darkened areas, so anything to enhance your accuracy could really come in handy. Whichever m&p shield upgrade you choose, you'll only be improving your handgun.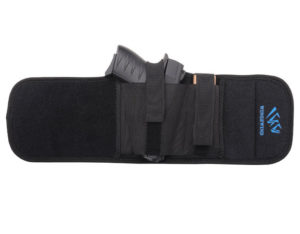 Materials – The Wingswind Ankle Holster is made of a neoprene band, and it fits 8 inches to 15 inches in circumference around the ankle. It closes with a Velcro closure. The holster is made of elastic, but it's a thicker material than what many other elastic holsters use. It can essentially fit any pistol that is under 6.5 inches in length. The ankle holster is ambidextrous, and the wearer can draw from either the inside or outside of their ankle. There is a magazine holster as well, and there is even a dotted line that can be cut to make space for a laser attachment. Both the gun and magazine holster have a nylon retention strap, which closes with Velcro.
Performance – The Wingswind Ankle Holster comes from a brand that isn't very recognizable, but we do really love this ankle holster. The Velcro closure is as thick as the neoprene band, so it should stay put while walking or running. There is also padding in the back of the holster, so your ankle doesn't get scratched up by pressure points. For the sake of this review, we know not everyone loves an ankle holster, but this is certainly more comfortable than many IWB holsters we have reviewed in the past. Plus, it's super cheap.
What we say – The Wingswind Ankle Holster for the M&P Shield is regularly priced at about $30 online. Most neoprene holster bands tend to be a little more expensive, so this is a great price. It's also the cheapest option within this review.
Pros
Cheapest option
Made of neoprene and thick elastic
Ambidextrous, can be worn multiple ways
Has room for laser attachments
Cons
Ankle holster not ideal for everyone
Wingswind Ankle Holster Concealed Carry
HAND ORIENTATION: Ambidextrous design holds your handgun close against your lower leg and can be rotated for left or right hand draw; inside or out.
PREMIUM QUALITY
PRATICAL DESIGN: Come wi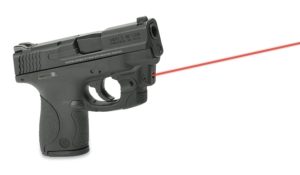 Materials – The LaserMax Centerfire Laser is an all black m&p shield upgrade that is made of nylon. Each Centerfire Laser is designed to mimic the appearance of the pistol it was designed for; in this case, it features the same textured grip pattern that is on the S&W M&P Shield. This laser features a constant, red beam, which is powered by a Lithium battery. It replaces the stock trigger guard, and it is adjustable for windage and elevation. The LaserMax Centerfire Laser also has an ambidextrous power button, which simply taps on and off. All Centerfire Lasers come with a 1 year warranty, as well.
Performance – The LaserMax Centerfire Laser for S&W M&P Shield is a very affordable and very practical accessory to install on your pistol. The more compact your handgun gets, the more difficult it becomes to zero in on your target, so a laser is a great way to enhance your shooting accuracy. We also love the fact that all of LaserMax's pistol lasers mimic specific designs and patterns. A streamlined look will help keep accessories discrete and low profile. Our one complaint is that it can really drain the battery, and the battery is pretty expensive. Just be sure your laser shuts off when you're done using it.
What we say – The LaserMax Centerfire Laser costs about $75 online. That's a fantastic price for a laser, and, thankfully, your first battery should be included.
Pros
Matches look of M&P Shield
Constant red beam is bright even in daylight
Enhances accuracy
Cons
Battery is expensive and drains quickly
LaserMax Centerfire Lasers for S&W M&P Shield
Tough reinforced nylon design offers superior integration with firearm frame
Easily programmable for steady or high-vis pulsed beam
10 minute automatic time-out prevents inadvertent battery drain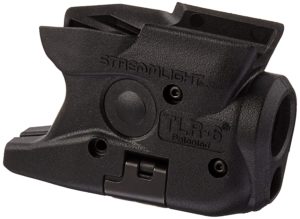 Materials – The Streamlight TLR-6 Tactical Pistol Mount Flashlight is another M&P Shield 9mm accessory that replaces the stock trigger guard of your S&W M&P Shield. This one is a combination of both a laser and a flashlight. It comes in all black, and it keeps a discrete appearance. An ambidextrous button can be used to turn the attachment on, and it features three settings: laser only on, laser/LED light on, and LED light only on. The LED flashlight provides 100 lumens, and it also has a reflector to balance out peripheral illumination. The entire flashlight and laser combo adds hardly over one ounce of additional weight to your pistol.
Performance – The Streamlight TLR-6 Tactical Pistol Mount Flashlight is another very handy 9mm accessory, and it gives us the best of both worlds. Depending on which light setting you're using, you'll get about an hour of constant use from the flashlight battery. Batteries are also included with this option, but they're also incredibly cheaper than the lithium batteries required for the previous laser option – costing only a few dollars online. As far as practicality goes, despite being a compact accessory, adding that much extra to the trigger guard makes your pistol a little bulky. You probably won't be able to keep it in a regular holster. It will just take a little adjusting to get used to.
What we say – The Streamlight TLR-6 Tactical Pistol Mount Flashlight costs between $100 and $105 online, depending on where you purchase it from. Combining a laser with a flashlight makes this a great bargain.
Pros
Laser and flashlight combo
Batteries very cheap to replace
100 lumens and LED very bright
Cons
Won't fit in most holsters, a little bulky
Sale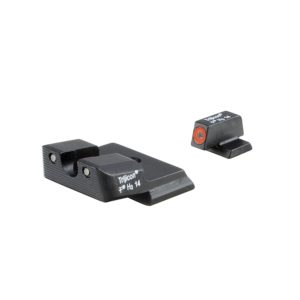 Materials – The Trijicon M&P Shield HD Night Sight Set is a pair of both front and rear sights, with two dots in the back and one in the front. Each dot uses a green tritium insert, which is included, to illuminate and guide your targeting during low light situations. The tritium inserts are warranted for 12 years of use. The rear sight has a serrated face to help reflect any peripheral light. The front dot can be purchased with either an orange or yellow painted ring to create contrast and reflect the tritium. Trijicon advises that gunowners seek professional installation of their M&P Shield HD Night Sight Set.
Performance – Whether you walk to streets alone at night frequently, or you get a lot of tactical use out of your M&P shield, a set of night sights is a wise investment for you. Trijicon is a renowned brand, and their M&P Shield HD Night Sight Set is one of the most popular and highly rated products on the market. Every part of the design enhances your shooting abilities in low lighting, and tritium inserts last for many, many years. We would personally suggest choosing the orange front sight, as we think the orange color contrast with the green tritium better than the yellow would. It will cost you extra money to have them installed. Even the tooling required to install them yourself is pretty expensive. It could be very worth the investment down the line.
What we say – The Trijicon M&P Shield HD Night Sight Set costs a little under $150 online. You'll also have to factor in cost for getting the sights installed. However, this investment should last you at least a decade.
Pros
Highly contrasting painted rings and tritium inserts
Should last 10+ years
Serrated rear sight to reflect exterior light
Cons
Expensive
Will need professional installation
Sale
Our Favorite M&P Shield 9mm Accessory
Our top pick for the best M&P Shield 9mm accessory goes to the Streamlight TLR-6 Tactical Pistol Mount Flashlight. This is for a handful of reasons. For one, it combines both a flashlight and a laser, which we find to be a very practical accessory you would want to add to your handgun. For a combo such as this, we also think the price is very reasonable. At just around $100, you're basically getting two essential m&p shield upgrades for the price of one. The tactical pistol mount flashlight is easy to install, and battery replacement doesn't require you to take your handgun apart. It's cheap to maintain, and you should get a lot of use out of it. We think every who own a Smith and Wesson M&P Shield should look into purchasing the Streamlight TLR-6 Tactical Pistol Mount Flashlight.
Price incl. tax, excl. shipping/ Affiliate links / Images from Amazon Product Advertising API