Holographic and other reflex sights are continuing to be used as replacements for the standard iron sights, and if you're looking to join the party or searching for a replacement, this article will cover four of the best holo sights available.
Our contenders are:
Sightmark Ultra Shot Reflex Sight
EOTech EXPS2-0 Holographic Sight
Burris FastFire III Reflex Sight
EOTech 512 Holographic Sight
A holographic sight is a form of red dot sight that projects a holographic reticle using lasers and a set of mirrors. It allows you to sight your target with two eyes. The big advantage is that the reticle (the red dot or other graphic marking your target) will remain in focus if you glance downfield. If you use other red dot sights, the reticle becomes hazy and unfocused, making it considerably more difficult to reacquire your target.
Though these sights are becoming more popular, there is some confusion as to the correct terminology of holographic and reflex sights. We will not dive into the nitty-gritty of this debate, but there are differences between a true holographic sight and a more general laser reflex sight. The bottom line is that true holographic sights can get up in the thousands regarding price range, and a lot of us are just not willing to blow that much cash on gun optics. Fortunately, there are sights that function similarly to holographic sights, and we have included those in our list too.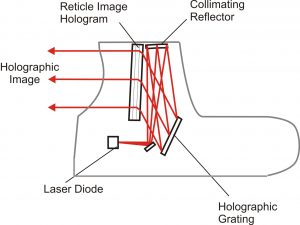 Before we get on to what to look for when buying a holographic sight, do you need helo to zero in your scope or sight? If so take a look at our guide to the 4 Best Laser Bore Sighters.
BONUS OFFER: Get your free shooting range targets to print at home!
Get your free targets to print at home!
Holographic Sight Buyer's Guide
Window Aperture
The aperture is essentially how big your sight window is. A big sight picture allows for a lot of peripheral observation, which helps with target acquisition and speeds up follow-up rounds. You want a window that allows at least 25 to 30 yards field of view at 100 yards. You also want low-profile edges around the glass to make sure it will not hinder your peripheral vision.
Construction
Like anything else attached to your gun, you want it to be sturdy and able to take the abuse from recoil and shot vibrations. These holo sights contain a lot of snazzy electronics and optics. The housing must be able to keep all of this in place, and the reticle must remain steady and clear when discharging rounds. A compact design built with quality materials is, therefore, a must.
Battery Life
Most holographic and reflex sights use specialized lithium batteries. These are not always easy to come by and are usually pretty expensive. Because of this, it is important that these sights have generous battery life. Of course, battery life can be impacted dramatically by the user, and careful attention and use of the correct brightness settings will improve the longevity of the batteries. Some AR-15 holographic sights will have programmable automatic shutdown modes which will also help conserve battery life.
Brightness Settings
We like to see a wide range of brightness settings. You should be able to acquire your target in all lighting situations. Even when using additional tactical lights that might wash out your target. You should also be able to dial the brightness down a bit when dusk hits to improve your eye comfort. The more settings available, the more you can fine-tune the brightness level. Naturally, we want to be able to quickly change these settings as well.
Reticle
There are quite a few reticle designs, and most holographic sights use a red dot in tandem with a large MOA circle (minute of angle) surrounding it. The red dot is better for medium to longer range shots, while the large MOA circle is excellent for picking up fast-moving targets at close range. With some sights, you have a series of reticle designs that you can scroll through.
The 4 Best Holographic Sights
Following the criteria outlined above, the following section will provide a selection of the best holographic sights that are certainly worth their money.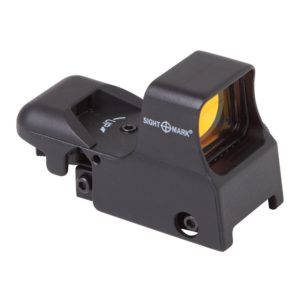 This reflex sight is highly shockproof and has been rated for .50 caliber recoil, so you don't have to worry about your sight losing zero or be damaged through normal shooting applications. The housing is also designed to be waterproof and fog proof.

There are four reticle patterns that you can switch between. You can vary between precision red dot reticles and close range large MOA circles and crosshairs. There are five brightness settings that are easy to cycle through. While the brightness settings provide a clear reticle when used in correct lighting environments, there are some issues with the reticle blooming on the highest brightness setting. This will hurt accuracy and the ability to pick up targets quickly.

The battery life of this reflex sight is decent, and when used properly you can have up to 120 hours of use. Obviously, leaving the sight on at the highest brightness setting is going to reduce this number.

This AR reflex sight, or any other firearm for that matter, features a large window aperture made from glass and a shatterproof laminate. This large aperture with the thin windowpane gives you a large field of view and unobstructed peripheral vision. We like the AR coated glass that dramatically reduces glare when out in the field or on the range.

This scope is extremely compact and lightweight. It also mounts tightly to your railing and leaves plenty of room for other accessories on your rail. One of the biggest concerns we have with this sight doesn't come from the sight itself, but it comes with its use with certain accessories. For instance, with magnifiers, there can be an issue with refraction.

This reflex sight does not contain all of the high-tech features of more expensive models. However, for the price and the performance, this is one of the best reflex sights available.
Pros
Highly shockproof
Compact and lightweight
Hold zero
Multiple reticles
Large window with treated glass to reduce glare
Affordable
Clear reticle in most situations
Cons
Not the greatest battery life
Blooming reticle at high brightness setting
Some issues with magnifiers
Only five brightness settings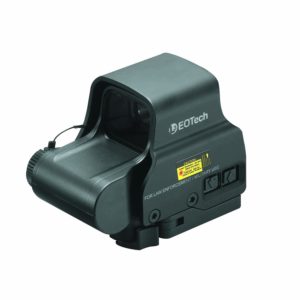 This holographic sight is designed to take the beating of high recoil firearms and maintain it's zero. The housing is well constructed and gives you a sight that will continue to function in the field through the rigors tactical weapons go through.

The EXPS2-O is extremely easy to mount onto your rail system. It is also compact leaving more than enough room for accessories such as a magnifier. This sight uses an easy to detach lever so you can quickly move the sight to a new position or a new firearm without losing its zero setting. Of course, for a new firearm, you will still need to site in again.

This is a highly accurate sight when sighted in correctly and is one of the best shooting sights at targets less than 100 yards. The reticle tends to wash out targets greater than this distance making it much less accurate.

The battery life on this true holographic sight for AR-15 and other tactical rifles is incredible. You can get up to 600 hours of use from one set of batteries. One of the features that help conserve battery power is a programmable automatic shutdown, so you can be sure that the sight is never left on unintentionally.

This holographic sight uses a 1MOA red dot reticle in tandem with a 65MOA circle giving you a reticle that can pick up on targets quickly at short range as well as the precision needed for longer shots. This sight features easy-to-adjust brightness settings. They cover a range of 20 brightness levels giving you incredible control of reticle image in any lighting environment.

Like any of the best holographic sights this offers infinite eye relief, and when only looking through the window aperture, the field of view is still more than enough to keep track of a wide portion of the field.
Pros
Rugged with excellent resistance to recoil and environmental conditions
Incredible battery life
Highly accurate
Easy to install and zero
Quick detachment
Compact and lightweight
Fantastic reticle
20 brightness settings
BONUS OFFER: Get your free shooting range targets to print at home!
Get your free targets to print at home!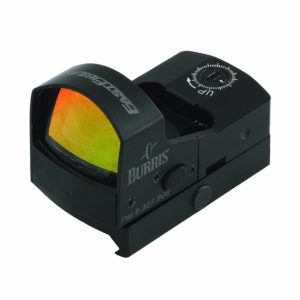 This AR reflex sight from Burris uses a rugged aluminum housing that allows the sight to withstand recoil and shock abuse from high caliber firearms. It comes with a standard weaver mount, but you might have an issue with the mount coming loose after extended use.

This is one of the most compact scopes on the list, and taking up very little space on your rifle. It features a wide lens aperture and quality glass that greatly reduces the amount of glare.

Both windage and elevation adjustments are easy to use. They do not require a tool, making this sight all the easier to use. Once sighted in, this scope holds that setting extremely well and as we just mentioned is easy to adjust.

The reticle is a simple 3MOA red dot that for the most part remains crisp and centered when firing. Unfortunately, this AR reflex sight only has three brightness settings and doesn't give you the ability tone up or down the brightness of the reticle in different conditions. Consequently, this is a reticle that will at some point wash out your target or be too dim to aim efficiently.
Pros
Rugged aluminum housing
Recoil and environmental resistance
Very compact and lightweight
Easy to zero, no tools required
Holds zero
Cons
Some issues with the mount coming loose
Only three brightness settings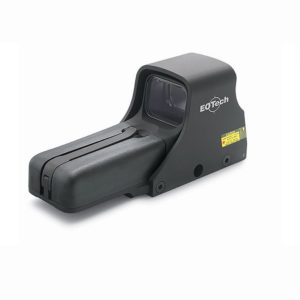 The 512 holographic sight for AR-15 and other tactical rifles is one of the most popular models in America. This sight will be compatible with any weaver of Picatinny rail systems. It does take up a little more room than the other holographic and reflex sights on this list.

This sight is designed to handle the recoil of most high-caliber rifles. It is also constructed to resist physical demands encountered in most shooting situations. I also like that it is waterproof and rated for submersion in up to 10' of water.

A cool feature of this AR-15 holographic sight is the battery situation. While this sight will take two lithium batteries and give you nearly 1,000 hours of battery life at the medium brightness setting, it can also take AA alkaline batteries. The battery life will not be as long as lithium batteries, but it can be a life saver in a bind. The batteries can also be changed easily without having to dismount the sight, saving you time and headaches.

The reticle is a single red dot with a 65MOA circle making it excellent in CQB conditions. The brightness can be adjusted between 20 different settings. This gives you a sight that is able to perform as intended in any light environment. The reticle is clear and crisp and will remain centered through thousands of rounds. You also can't go wrong with the EOTech glass that is highly shatter-resistant and cuts down on glare.
Pros
Strong, clear, and treated glass
Durable heads up holographic sight
Affordable in terms of true holo sights
Can take both lithium or alkaline batteries
High battery life
Cons
Defective reticle when shipping
Takes up more room than other sights
Winner and Conclusion
Before you run off, we want to give our title of the best holographic, or reflex sight, to one of the products we have reviewed in this article. After taking everything into account, we have to give the title to the EOTech EXPS2-0 Holographic Sight.

This is a compact and sturdy holographic sight that is resistant to most physical stresses. It is easy to mount and leaves plenty of room if you feel the need for further accessories such as a magnifier. This sight can be zeroed in with ease, and it will hold for thousands of rounds.

The reticle is crisp and well designed for close quarters to mid-range combat. The EXPS2-0 also gives you incredible control over brightness settings that will allow you to use this sight effectively in any lighting condition. On top of all this, the battery life is incredible with up 600 hours of power available. If you have the means, this sight might be the last you will ever need to mount onto your AR15 or other tactical platform firearms (well, at least until they update it…).

If you're looking for an upgrade from your stock iron sights, a holographic or reflex sight is going to greatly increase your shooting performance. We believe these are four excellent choices and we are confident that they will serve your tactical purposes and provide you with a tool that will dramatically increase your rifle's aiming performance.