We've reviewed the Glock 26 in the past; it's one of the most tried-and-true Glocks still available today. It's been a reliable pistol for mainly self defensive purposes, and it's a weapon just about anybody can handle. There's the standard model 26 that was originally released in 1994, or there's the slightly updated Gen 4. Whichever you own, you may want to upgrade the weapon's sights. That's why we've compiled this review of the best Glock 26 sights for the money.
The great news is you have quite a few good quality options to choose from. With that in mind, we recommend sticking to a budget and only purchasing what you need. There's no point in buying an expensive set of tritium night sights if all your Glock use is during daylight, right? Our review includes a variety of options that we think will satisfy everyone's needs.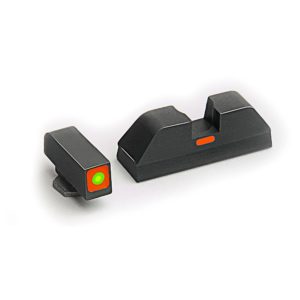 Materials – This first sight set is machined from bar steel iron and made in the United States. The set includes a front and rear sight, and they easily replace the original sights on your Glock 26. They can also accommodate a variety of other standard Glock models, including 19, 23, and 34. The front sight is a single dot with a bright green tritium insert. The insert is Swiss-made. Surrounding the tritium is a reflective orange square outline. The rear sight mimics the dovetail design on the original Glock sights. It also features a bright orange line, however there is no tritium inserts in the rear.
Performance – Not only is this the least expensive night sight option within this review, but you get the best of both worlds! It acts perfectly well as a night sight, thanks to that one tritium insert in the front sight. Having just the one will be cheaper to replace when the time comes to do so, and you won't have to wait for two others to fizzle out either. The orange rings and dash system on the AmeriGlo sights are also some of the brightest and most reflective we've seen on any night sights. You won't miss these, even in the dark! With only the one tritium insert, you may have a tougher time lining up your aim properly during extreme low light, but this is all about focusing on the front sight. That's what the orange is there for – it's more visible at night than white or yellow would be.
What we say – This is the best Glock 26 sight for anyone with a tight budget and likes the convenience of having only one tritium insert to monitor.
Pros
Lowest cost
Highly reflective orange rings
Only one tritium insert convenient and affordable
Cons
A little harder to see rear sight at night
BONUS OFFER: Get your free shooting range targets to print at home!
Get your free targets to print at home!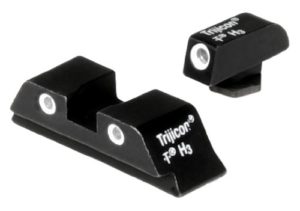 Materials – This next night sight set for your Glock 26 is a full set of tritium sights. This includes a single tritium insert in the front sight and two tritium inserts in the rear. You can select from a variety of color options for the reflective, painted rings. All the sets include white rings on the rear sights, but the front sight is available with a matching white ring, a contrasting orange ring, or contrasting yellow right. Each tritium insert is capped with a sapphire jewel as a protective barrier and to evenly distribute light. Each insert is also installed within aluminum cylinders to protect the chambers.
Performance – Moving on the one of the more popular choices for night sights. Trijicon offers the full package with all three tritium inserts. This is also one of the most well reviewed and most often purchased brands on the market. Trijicon is really dependable. If you're going to spend a pretty penny on three tritium inserts, you should pick the brand that's going to guarantee a solid decade of use. It's also really helpful that you can choose your favorite reflective ring color all on the same seller page. If you tend to use your sights during more daytime use, stick to the white. Otherwise the orange is a popular choice for night time. At the same time, it can be trickier to maintain three separate inserts.
What we say – These are one of the best Glock 26 sights for those who want all tritium inserts for self defense at night. Both the front and rear sights will be highly visible during any time of day.
Pros
Tritium in front and rear sights
Choose from white, orange, or yellow rings
Visible during day or night
Cons
More tritium is more to manage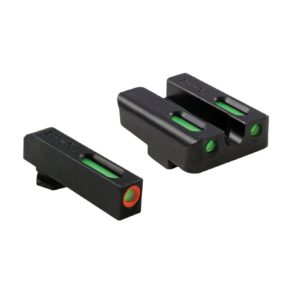 Materials – Tru Glo's sight set for your Glock 26 includes a front and rear pair of sights. These do not house tritium inserts, but they use fiber optics instead. The front sight contains a single fiber optic, and it's surrounded by a reflective orange painted right. It also has an angled edge to easily accommodate holsters and protect any leather. The rear sight features a u-notched shape with two green fiber optic inserts. There are no reflective rings around these inserts. The rear sight is also specially angled for emergency one hand operations. Each piece has exposed tops to allow the owner to visibly see when the inserts need to be replaced.
Performance – If tritium isn't your thing, then fiber optics are the next best step! They won't do too much for you during the night, although they can be slightly visible. At the very least, you should get some reflection off the orange ring on the front sight. However, these sights will do wonders for you during the day. Plus, if you're not a fan of Glock's dovetail rear sight, this u-notch sight from Tru Glo is a fantastic shape for focusing on the front and, ultimately, your main target. Fiber optics are cheaper to replace and easier to get your hands on, but you'll need to replace them more frequently than tritium. The special angles on both the front and rear sight are also worth taking advantage of.
What we say – These are the best Glock 26 sights for anyone who doesn't require night sights but still appreciates the contrast between orange and green. These will also be great for your leather holster.
Pros
Special angles to accommodate holsters
Fiber optics affordable to replace
U-notch rear sight
Cons
Not visible during night very well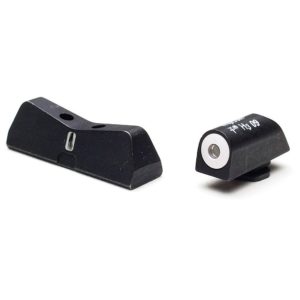 Materials – The unique night sight set from XS Sight Systems can easily replace the original sights on your Glock 26. The front sight features the namesake "big dot", offering a single tritium insert. It's surrounded by a larger than average painted white circle to reflect glare and create a faster target acquisition. The rear sight is designed with a v-notched shape. It has a single green tritium bar, which is surrounded by a thinly painted ring in a reflective white. Combined together, this set is focused entirely on drawing the eye immediately to the front sight for accurate aiming.
Performance – If all these little dots on your front and rear sights don't suit you, then you should look into the Big Dot line of sights from XS Sight Systems. There is no other brand that does what this brand does. There is no missing the front sight on this set, so you'll accurately lock onto your target every time and quickly too. You still get tritium out of the deal as well. It is the most expensive option within this review. The other weird part is the tritium piece on the rear sight will be difficult to replace since it's not your average insert shape. However, it's worth the costs if the "big dot" will be a life saving feature.
What we say – These are the best Glock 26 sights for those who have difficulty maintaining focus or targeting with your average sized front sight.
Pros
Large white painted ring easy to focus on
Tritium inserts easy to see at night
Uniquely shaped rear sight
Our Favorite Glock 26 Sight
After some debate back and forth, we agreed that our favorite Glock 26 sight was, surprisingly, the AmeriGlo Combative Application Pistol Sight. This was the first option in our review. Despite the lower cost, don't believe that this night sight set is cheap! What sold us on this choice was the highly reflective and bright orange ring and dash. Of course, the tritium insert is a bonus as well. The duo is the perfect pair to utilize for both day time and night time sighting. With the glowing tritium in the front sight, it will be easy to focus your line of vision and quickly acquire your target. Despite not having any glowing parts on the rear sight, this may actually increase your ability to line up your front dot during low light situations. At an affordable cost, it's worth looking into AmeriGlo to upgrade your Glock 26 sights.