In a world with Amazon and Walmart online, it can feel almost barbaric to go to a store these days. If you're like me and you want to shop in the comfort of your pajamas and in the security of your home, we got the Best Online Gun Stores for you!
From amazing deals to more options than you can find locally, there are some solid reasons to shop online. And it's easier than you might think!
Buying A Firearm Online
Long gone are the days when Americans could have firearms shipped directly to their homes, but you can have it sent to your local gun store where you can pick it up!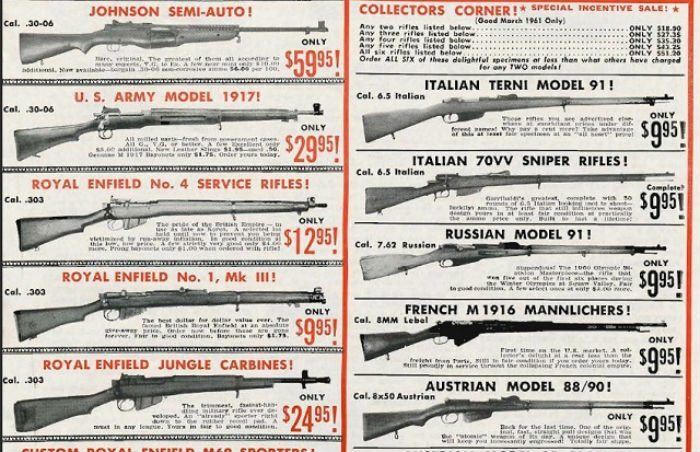 But what can and can't you have sent to your house? What are the process and paperwork like?Â
Let's break that down real quick.
BONUS OFFER: Get your free shooting range targets to print at home!
Get your free targets to print at home!
Non-FFL Items
These make up almost everything from ammo to optics. Anything that isn't a serialized receiver can skip the FFL and go straight to your home (baring weird local laws like California's ammo laws)Â
FFL Items
Only items with a serialized receiver need to go to your FFL. Generally, this means any firearm.
What can be a little tricky is if you're not buying a full firearm. The most common of these are Glocks and AR-15s.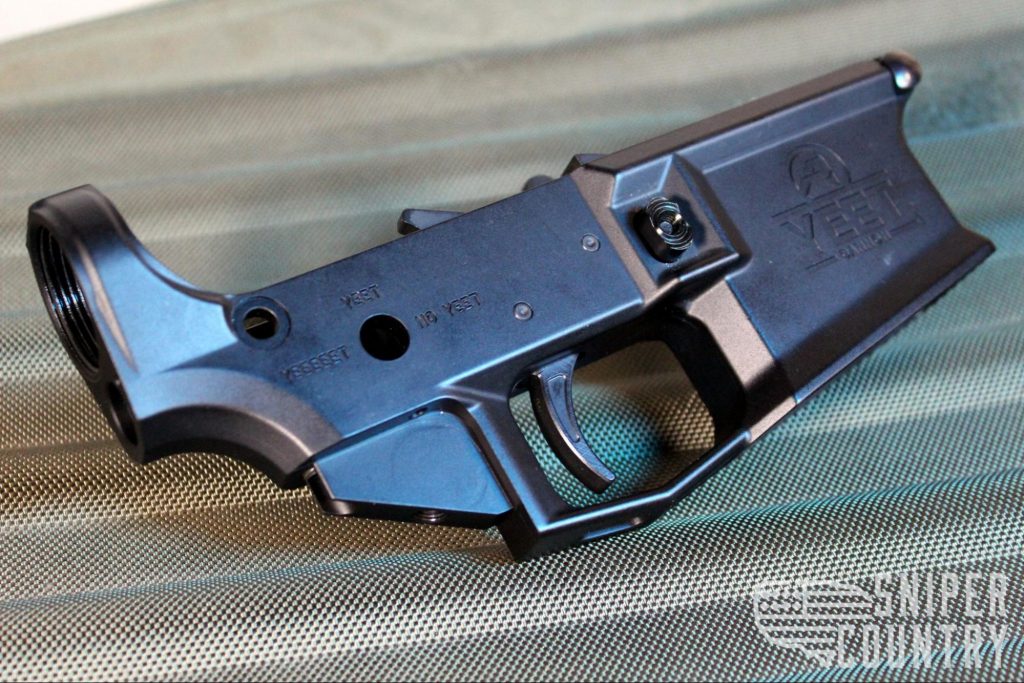 Glock frames need to go through an FFL, regardless of if they have a slide or not. Similarly, AR-15 lower receivers must go to an FFL — complete or stripped uppers can go to your home as they are not what the ATF believes is the "firearm" part.
If you're in doubt… don't sweat it. Stick with the retailers below and they'll help you sort things out.
All of the shops we recommend are major players in the industry with hosts of lawyers on retainer to make sure they don't accidentally sell something to someone they shouldn't.
If they ask for your home address, give it to them. If they want your FFL information, give it to them.
Sit back and let them sort it out.
FFL Etiquette
Before ordering that new firearm… double-check with your receiving FFL about their policies. Some FFLs don't care if you tell them before something is sent or not. Some require that you get permission first.
Once your new gun gets there, don't go charging down there the instant UPS says it was delivered.
FFLs need to do some paperwork when they receive a firearm and cannot transfer it to you until after they do it. Depending on your local shop, this might take a couple of hours to a day or two.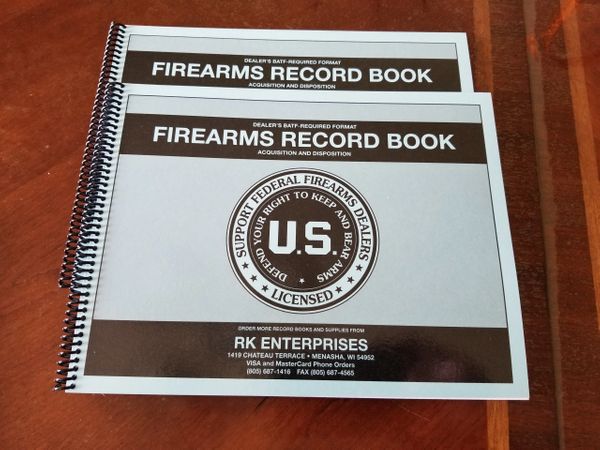 Also, don't forget that weekends are a thing. If your store isn't open on Sunday, don't expect them to come in just for you.
Protecting Yourself
Scams have been around basically forever, but it's gotten really bad in the past 12-18 months since Covid and the rush on guns and ammo.
Something we've seen a lot of is small websites popping up trying to sell ammo, optics, even firearms — but really they have nothing.
Shop at the stores listed below and you'll be good to go.
But just in case you wander the internet looking for a better deal, just be careful. If a deal looks too good to be true, it isn't true.
And if the website only takes cash apps and cryptocurrency, it's definitely a scam.Â
Never trust any store that doesn't take American Express and MasterCard.
Best Online Gun Stores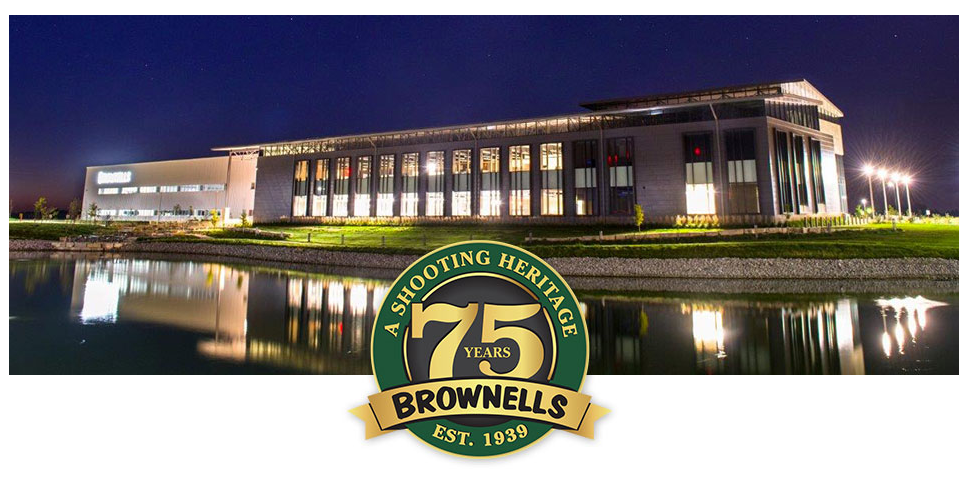 This is one of my first stops for basically everything. From guns to ammo to tools, Brownells is a onone-stop shophat carries almost everything all of the time.
Prices are normally fair, but they won't always be the best deal you can find. Combine your order with a coupon code and you'll do better.
Two things really make Brownells stand out — the customer service and the lifetime limited warranty.Â
Brownells has a huge staff of techs and gunsmiths that are ready for any question you might have. Either by phone or live chat, these people are awesome and have helped me a ton over the years.
Brownells also offers a limited lifetime warranty in addition to whatever warranty the manufacturer gives you. This can cover a lot of extra issues and time and it comes at zero cost to you, it's just something Brownells does.
They also offer Brownells Edge. Basically, it's Amazon Prime but for Brownells instead. Sign up for Brownells Edge for $50 a year and you get FREE 2-day shipping, greatly reduced overnight shipping, and no FFL processing fee when buying a firearm.
Just in shipping alone, mine pays for itself every year.
---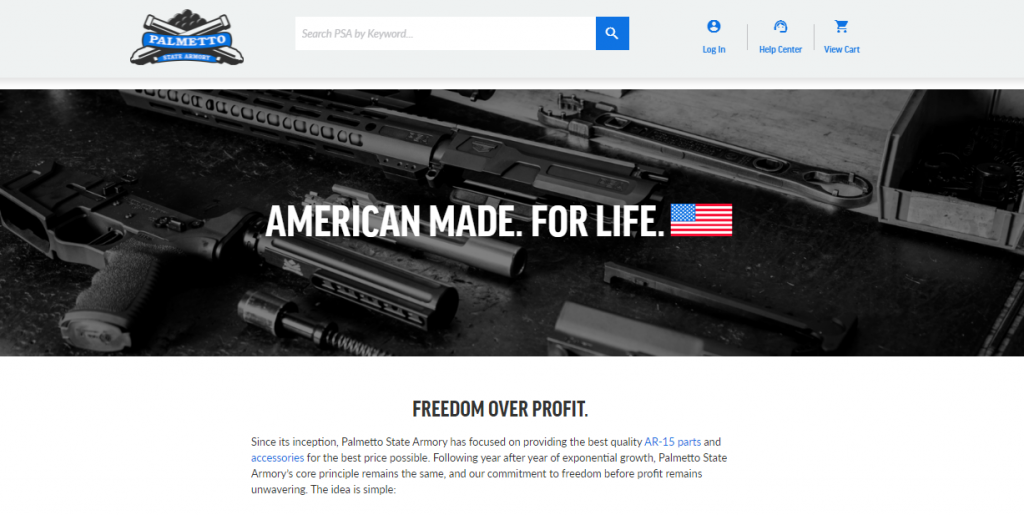 A huge name in the AR-15 space, Palmetto State Armory also carries a great selection of almost everything else!
Scopes, magazines, ammo, parts, and everything else — PSA has it. The only thing they lack is gunsmithing tools.
Palmetto State Armory makes a lot of firearms in-house such as their AR-15 and AK lines, the new Dagger pistol, and a ton more. But they also carry a bunch of other brands and sometimes they have special things in stock… like Chinese Type 56 SKSs!
While they won't always have the rare and old stuff when they do you can normally score a really good deal on them.
They also have an outstanding Daily Deal section. Check it out and save some cash!
---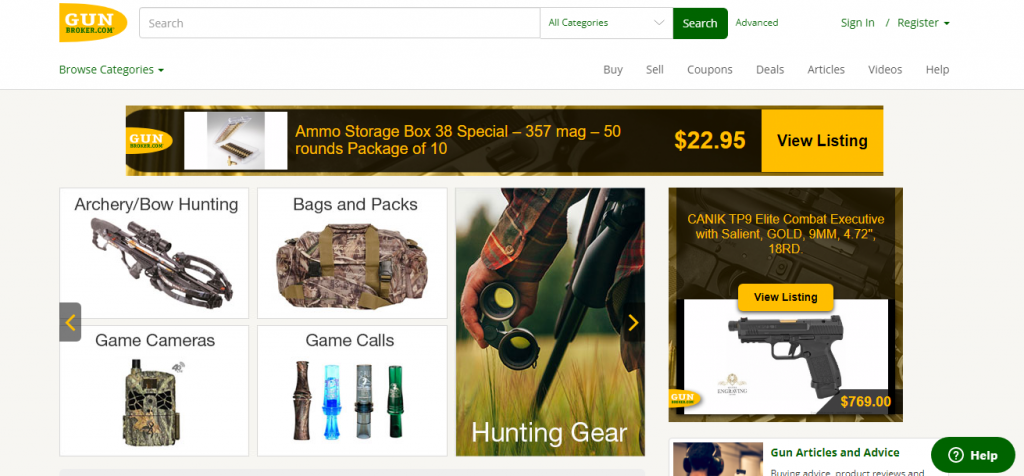 This is less of a store and more of a bazaar of the online gun world.
Think less Walmart and more eBay.
Thousands of gun stores list their products on Gunbroker, but so do normal people and even you if you're so inclined.
It's a great way of finding things that are simply not findable anywhere else. If you have enough money, you can find someone willing to sell it on Gunbroker.
There is more risk involved since you're dealing with unseen people possibly thousands of miles away, but be smart about it and you can find some great deals.
Read reviews and ratings, and don't pay in crypto.Â
Normally, Gunbroker is a last resort for me, but sometimes the siren call of milsurp rifles is too strong to resist.
---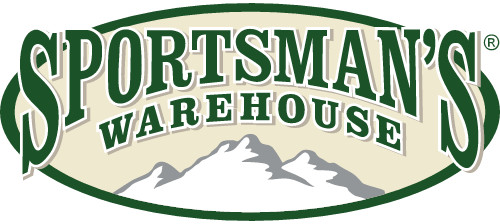 Perfect for hunters and outdoors people, Sportsman's Warehouse has LOTS of retail locations across the USA and that makes it really nice when ordering a firearm from them.
They'll transfer guns to a local FFL for you or you can go down to a Sportsman's Warehouse location and do the transfer there.
Going to a retail location is nice because you're not dealing with random people, instead you get a real store that knows exactly what they are doing.
And best of all, Sportsman's Warehouse doesn't charge you a transfer or shipping fee when you keep it in-house! Depending on where you live this can save you a lot of money.
---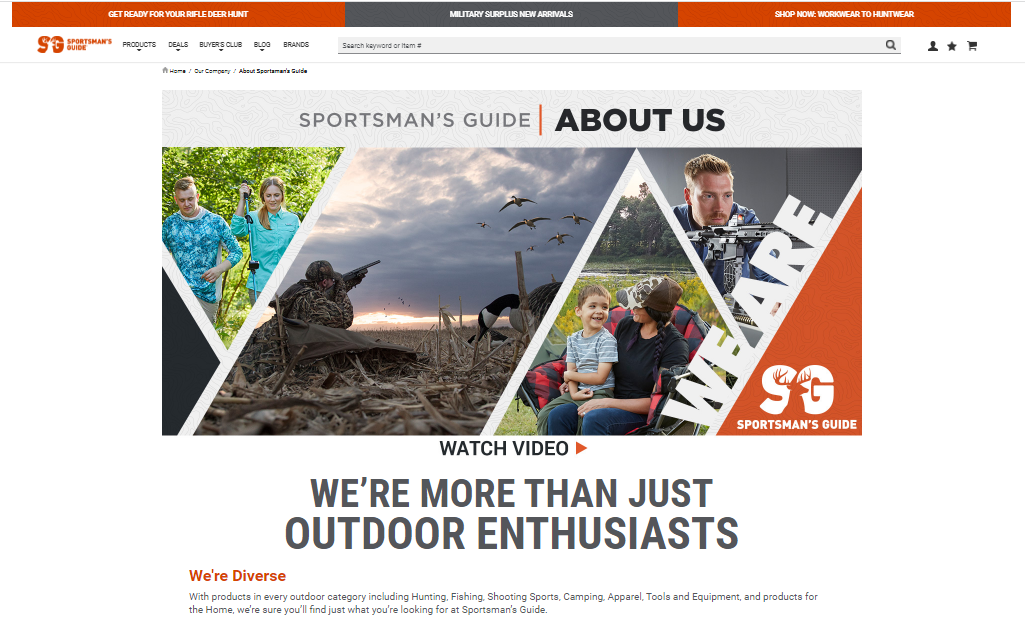 Another huge store that carries a wide range of stuff from ammo to optics — but you want to know what makes Sportsman's Guide special.
Weird stuff.
And the Buyer's Club.
Sure, Sportsman's Guide has the normal stuff like scopes, ammo, magazines, guns, etc. But what I love is their weird stuff. Generally found in their Military Surplus section of the site, you can find some really interesting things here.
Pakistani Military Surplus Kukri Machete? Yep, they got 'em. Blueberry Pastry MRE Tray? Oh ya, tastes like… something blue.Â
From Chinese PLA gas masks to East German Military NVA Commemorative Scarfs & Doily Set — Sportsman's Guide has it all.
Sportsman's Buyer's Club is a yearly fee that gets you better deals and the option to break payments on large orders into 4-monthly payments. This is pretty handy if you got something big and want to spread out the pain a bit. Best of all, there are no fees or interest charged when you do it.
BONUS OFFER: Get your free shooting range targets to print at home!
Get your free targets to print at home!
---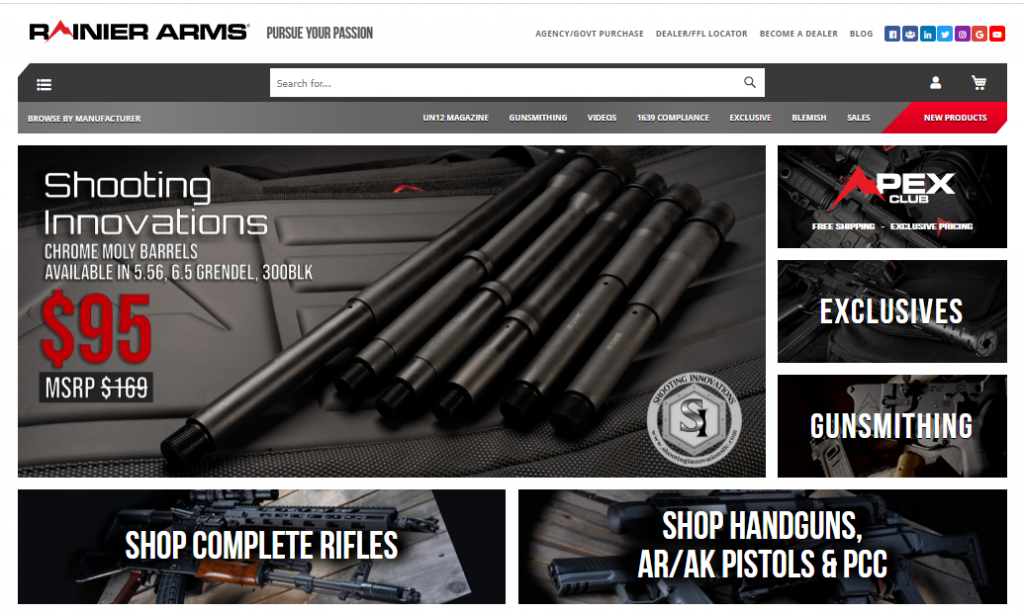 If you want the most cutting-edge competition gear you can find, Rainier Arms has it. They also stock the normal stuff, but when you want something really high-speed — Rainier is where it's at.
They also have a great line of BCGs and barrels under their Rainier Arms name and these are some really solid units. Build for precision and hard use, you won't go wrong with them in your next build.
---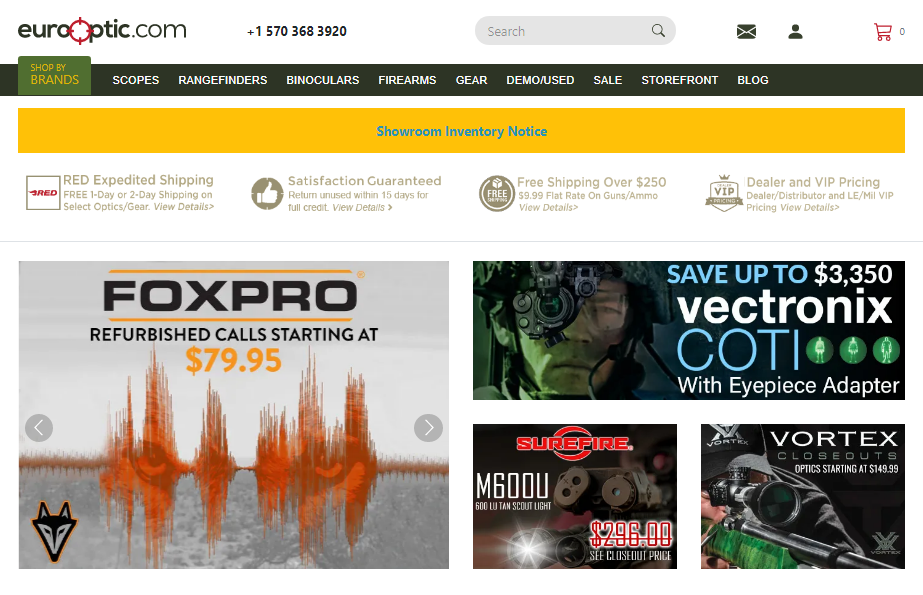 A great place for scopes and generally higher-priced rifles and pistols, EuroOptic has a huge selection with some really hard-to-find options.
From high-end night vision to really fancy scopes, EuroOptic has you covered.
Take a look at their Demo/used section and you might find some great deals on expensive gear.
Their blog is also pretty helpful when selecting what optic you're thinking of spending thousands of dollars on. Because they are a retailer of high-end goods, they have access to some awesome stuff and can make some great comparisons.Â
If you happen to be in or around Pennsylvania, take a look at their storefront also.
---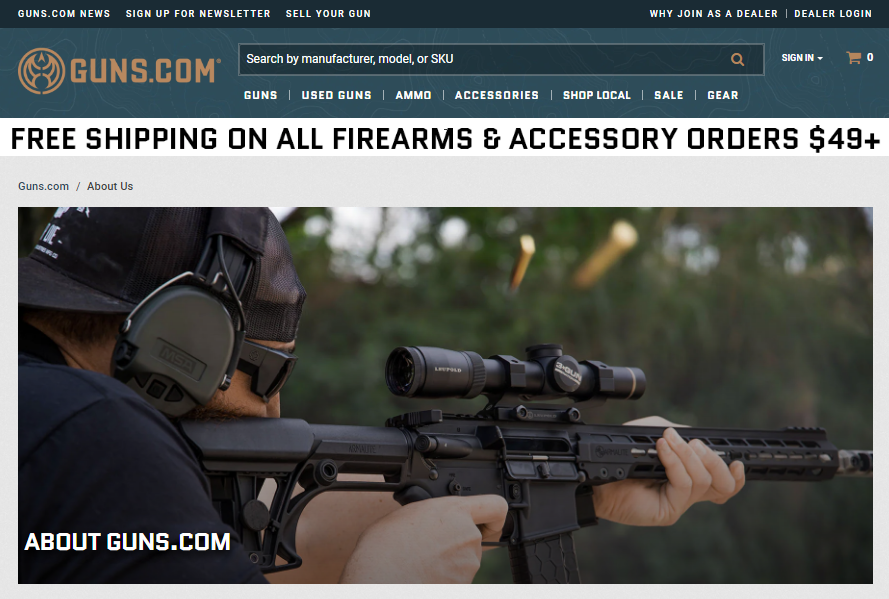 One of the newer options on the market, Guns.com is pretty great for basically any firearm you can think of!
Their selection of ammo and accessories isn't great, but they carry a huge range of firearms both new and used.
Guns.com helps FFLs around the nation sell their used guns, they also buy guns from people like you and me to resell. The combination of this means a lot of selection across pistols, rifles, and shotguns.
Sometimes the deals are AMAZING (I got this Mauser for $800, a steal of a price) and sometimes the deals aren't great, but it's always worth a look.
They also buy guns and the process is super easy. I've sold several to them and the prices they offer are normally very fair.Â
I could squeeze out a few dollars more if I sold locally, but Guns.com makes the process so easy and I never have to leave my house — I dig it.
---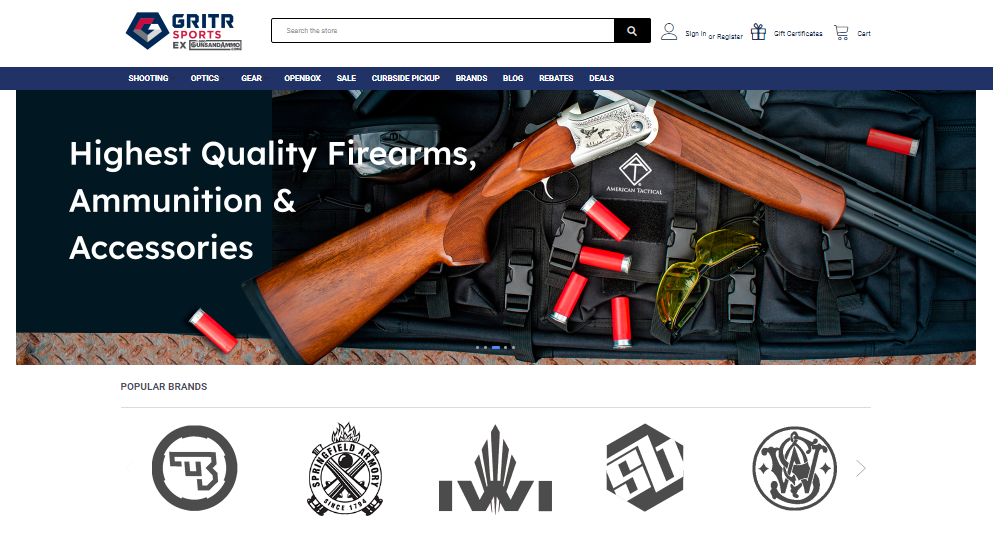 This is a massive store that carries everything from firearms to ammo to optics to handstops. If you need it, chances are Gritr has it.
Prices are decent, sales are often, and inventory is as full as it can be. Their customer service is pretty on point too and will answer the phone when you need them.
If you're in Texas, Gritr offers curbside pickup and a 22-lane firing range.Â
Something you don't see often — Gritr also offers open-box deals. These are mostly products that had their packaging damaged somehow during shipment or in the store. Sometimes these are returns that were undamaged.
Either way, you can find some great deals here!
---
Wrap Up
My first stop is Brownells with Palmetto State Armory and Sportsman's Warehouse being close seconds for me.
Any of these stores will serve you well (that's why they're on the list!) so you can shop with confidence no matter what. If you're looking for some awesome deals on ammo, take a look at our Best Places to Buy Ammo Online!
You might also like to read: