There are many uses for the best 1-6x scopes, including 3-gun competitions, tactical situations, and even game hunting outdoors. The use of these scopes on AR-style rifles is on the rise, especially when a higher magnification optic is required instead of the traditional iron sights.
What a 1x-6x scope provides is a perfect medium for short to long-range engagement often sought after by users of AR-type firearms. These scopes are not just limited to tactical firearms, but they're also perfect for specific hunting scenarios.
There are quite a few 1-6x scopes that are on the market, enough so that trying to wade through what belongs in the trash and what belongs on your rifle can turn into a full-time job. In this article, we will look at several key components and aspects of the best 1-6x scopes.
Best Budget Buy

WestHunter HD 1-6x24 Compact Riflescope

With Advanced 'Nous' Optical System
Fully Multi Coated Lens
6-level red illumination
A bit heavy

$179

Shop NowClick to read my review
Vortex Optics Strike Eagle 1-6X24 Riflescope

Phenomenal low light shooting
Generous eye relief.
Very durable
Takes up a lot of room on rail
Tight eye box

$299

Shop NowClick to read my review
Sig Sauer TANGO6 1-6Xx24 Riflescope

Very durable
Easy to adjust turrets
Clear and crisp illuminated reticle
The price

$1999

Shop NowClick to read my review

Top Pick

Vortex Razor HD Gen II 1-6X24 Riflescope

Excellent turret adjustments
Very weather resistant
True 1X setting
Bulky

$1399

Shop NowClick to read my review
What to Look for in 1-6X Scopes
Construction
This one is pretty straightforward but extremely important. Due to its durability and lightweight, we suggest opting for aircraft-grade aluminum build scopes.
In addition, these scopes are often used on high-caliber rifles that go through a lot of rounds. Because of this, your scope needs to be able to resist and absorb the constant shock it is being put through without having its zero setting thrown off. A sturdy mounting system goes a long way in keeping your scope accurate through thousands of rounds.
Whether you are mounting your scope to a tactical or hunting rifle, chances are you are going to be using the firearm in less than ideal conditions. Because of this, it is important to have a scope that is water-resistant and fog proof. This includes a scope that can resist corrosion, by being tightly sealed and sometimes treated with a water-resistant coating.
Eye Box/ Eye Relief
The eye box refers to the area where you can see a full image of the field. Because most shooters use these kinds of scopes for tactical purposes, you want a large eye box as your not often just sitting lining up a shot and want to be able to quickly utilize the scope.
The best 1-6x scopes should have generous eye relief. This allows you to mount the scope in a position on the railing that gives you a comfortable shooting position. Because most shooters use 1-6x scopes on high-caliber firearms, you most probably don't want to worry about the ocular bell slamming into your eye every time you take a shot.
Lenses
A scope worth buying needs to have top-of-the-line lenses. Choose coated lenses to maximize light transmission and cut down the amount of glare and light reflection. It is also best to get coated lenses that can withstand scratching.
Reticle/ Focal Plane
There are numerous reticles available for 1-6X scopes and what you want in your scope is going to be a personal preference. Several scopes do use illuminate reticles while others may not. Some common reticles include red dots, duplex, and mil dots.
Other scopes might even employ some high tactical reticles that allow you to make a lot of shooting adjustments on the fly. Depending on what you have in mind you might want a simple, clear duplex or if you're a hardcore 3-gun competitor, you might want a more complex reticle that gives you a wider array of shot adjustments.
BONUS OFFER: Get your free shooting range targets to print at home!
Get your free targets to print at home!
The 4 Best 1-6X Scopes
Here, we'll look at four of the best 1-6x scopes and discuss what we like and don't like about them.
The WestHunter HD 1-6×24 Compact Riflescope is composed of sturdy aircraft-grade Nitrogen Purged aluminum alloy. It is a 30mm mono-tube body sealed with an O-ring. Also, it is constructed in a tough manner to assure shockproof, waterproof, and fog proof performance in a wide range of conditions.
Another nice feature of this scope is that it features a scratch-resistant matte black surface that prevents surface damage and reflection. Hence, it helps with scope maintenance and gives you more concealment.Â
In terms of illumination, Since it adjusts to the light that enters this scope. The bright and sharp image will strengthen your confidence in poor light circumstances from dawn to dark. The turrets allow for smooth and precise adjustments while being compact and efficient. It's designed with a fast focus ring and a wide-angle eyepiece ring. To help you focus on your specific eye features and provide an edge-to-edge visual quality. It is particularly beneficial to use since the side illuminated etched glass reticle in red and green. To ensure target visibility in low light circumstances.
Another advantage of this scope is that it is simple to reset to zero by turning the large screw on the top of the scope turret. Which allows you to adjust the bullet impact up/down and left/right to correct for distance and wind in various conditions. As a result, this scope is adaptable and simple to use, and it is well worth the money.
Pros
Fully Multi Coated Lens
Red and Green Ilumination
Durable from aircraft grade aluminum
Good eye relief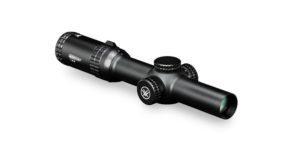 The Strike Eagle by Vortex Optics is one of the optimal 1-6X24 variable scopes that shines in gun competitions, tactical uses, and hunting. The Strike Eagle features coated lenses to maximum light transmission and glare reduction. This allows fantastic illumination even during low light conditions. This scope features a glass-etched illuminated reticle. The reticle is a simple crosshair which can be a pro or con based on user preference, but you can't argue with the quality of the reticle. We like how the reticle of this scope remains clear and crisp from the 1 to 6X magnification and allow you to fully utilize the magnification range.

This scope is very rugged and durable. It will have no problem standing up to the constant jarring and shock from the recoil of high-caliber rifles. This is helped by the single piece, 30mm tube that provides precise alignment. This design also gives the scope incredible water resistance. While this scope is extremely durable, it is heavy and takes up a lot of room on the rail system. Also, while this might not matter in most scenarios, it is something you should take into consideration before buying.

Vortex's lifetime warranty also gives you the extra security of knowing this is scope the manufacturer has complete trust in holding up to intense shooting. This 1-6x tactical scope handles exceptionally well in the field. The turrets are quick and easy to manage when in shooting situations and stances.
Pros
Phenomenal low light shooting
Generous eye relief
Very durable
Cons
Heavy
Tight eye box
Takes up a lot of room on rail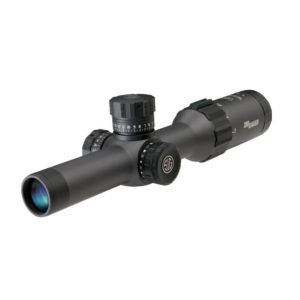 It will be difficult to find a 1-6 scope that excels better at close to midrange as the Sig Sauer TANGO6. For those looking for a scope that can perform in the most extreme 3-gun and other tactical shooting competitions. This 1-6 power scope features a high-quality aluminum build and fits well with any AR rifle. Additionally, it's resistant to things like shock, water, and even fog. Once zeroed, it will keep its zero for thousands of rounds, making it an excellent long-term investment.
The illuminated 3-gun reticle offers top performance for fine-tuning your shots on the fly. While it may take some time to get a handle on the adjustments, but once you do you will find it difficult to use any other type of reticle. You can easily adjust the reticle brightness. It also remains crisp and clear throughout all nine daytime illumination settings. Sig Sauer uses its advanced fiber optics in its illumination system.
The battery life on the TANGO6 is incredible. The MOTAC technology contributes to this and will power up the reticle when it detects movement to conserve battery power. You can easily adjust this in situations where you might want the reticle powered up at all times.

Lenses on this scope are multi-coated and provide very clear and contrasting images to the naked eye. It's going to be tough to scratch up the lenses on this scope. With the lens armor coating, you can drag this scope through any situation without fear of rendering these lenses useless. This scope remains incredibly clear even when on the move, an important quality for scopes used in tactical situations. This scope offers very generous eye relief (3.8") and a larger eye box than most scopes on this list making it much easier to move between scanning the field and locking on to target through the scope.

It's easy to adjust the windage and elevation turrets on this 1-6x scope. You can also easily tune it in 1/2MOA increments. The turrets feature a resettable zero, and you can easily lock adjustments at any time. Sig Sauer also offers a lifetime warranty on their scopes and will fix or replace any scope that malfunctions or gets damaged through normal use.
Pros
Excellent battery life
Very durable
Easy to adjust turrets
Clear and crisp illuminated reticle
Cons
Higher on the price range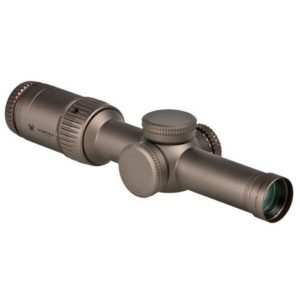 This is one of the best 1-6X scopes that are available on today's market. If you are looking for a 1-6X scope that excels in long-range shooting, then consider the Vortex Razor HD Gen II. This scope features a build of a single piece 30mm tube of aircraft-grade aluminum that adds to its durability and accuracy. When in the field you will be hard-pressed to find a situation where this scope will be damaged enough to lose function. It also boasts a tightly sealed and argon-purged finish for extreme water and fog resistance and will hold up during extreme weather conditions.

This scope features a BDC duplex reticle with a simple, easy-to-use red dot. The reticle is illuminated and can be easily adjusted through 11 different daylight settings that lock securely into place. The lenses on this 1X6 ar scope provide clear and crisp images that also contrast objects extremely well in low-light environments. This scope features a true 1X setting that you can shoot with both eyes open. A fantastic feature for a scope meant to be used in tactical situations.

The turret system on this scope is one of the best around. You can easily adjust both the windage and elevation turrets when on the move with audible and secure clicks. The range of adjustments for both turrets is 50MOA so you have a lot you can work with during a variety of shooting situations. This scope is also zero resettable for when you need to readjust quickly. This scope also features Vortex's lifetime warranty.
Pros
Excellent turret adjustments
Very weather resistant
Generous eye relief
True 1X setting
Conclusion
So, with this assortment of excellent maximum 6X scopes which one do we choose as our winner? We have to give the title of best 1-6X scope to the Vortex Razor HD Gen II.
There is a myriad of reasons why we would rate this 1-6X24 scope as the best, but the main reasons include the incredible optics. It functions extremely well in low light conditions, and it also has one of the best eye boxes of the scopes listed which is usually the main issue with these scopes.
If you don't want to spend close to $1,400 on your scope, then we recommend our best budget buy the WestHunter HD 1-6×24 Compact Riflescope. For less than $200 you clearly don't get all that the Vortex has, but you do get a pretty nice scope that does the job and does it well.
We hope that is article has provided you with a better understanding of 1-6 scopes and that our list of the four best 1-6X scopes will result in a better shooting experience and performance for you. Go burn up the range!
You might also enjoy: