It's been said before and I'll say it again: the AR-15 rifle is a popular gun. It's a household name thanks to its incredible versatility and devastating firepower. Coupled with a great foregrip and proper practice, you can drastically improve your performance on the range.
Some gun owners have difficulty keeping a firm hold on their rifle during rapid fire. Others may find the distribution of weight across their arms to be uneven. So, they need to hold the handguard closer to the muzzle. There are also gunowners who lose the feeling in their fingers and want to improve blood flow to their hands.
If you're looking for the best foregrips on the market, we have a complete guide to help you choose and a few suggestions that I think would make a great addition to your set-up.
BONUS OFFER: Get your free shooting range targets to print at home!
Get your free targets to print at home!
What are Foregrips for?
A forward grip makes it easier to maintain control of the weapon while firing multiple or burst rounds. The best AR-15 tactical foregrips will also create a natural aiming profile and help improve your shot. By providing a fixed point for your off hand, you should be able to notice an improved shot consistency.
Using a foregrip also prevents and removes a bad habit many new shooters develop, especially holding on to the magazine. Without foregrip attachments, new gun owners instinctively grip onto the magazine. It might not cause immediate issues, but eventually the forward pressure can cause the magazine to tilt and cause feeding problems.
You'll also run into foregrips with unique features like bipods, flashlights or storage compartments. Although these aren't necessary nor will it always directly improve your shooting performance. They're nice things to have, specifically for tactical set-ups.
Types of Foregrip
Vertical AR-15 Foregrips
This foregrip was primarily designed for special forces because of the high rail clutter caused by their equipment. As the name would suggest, a vertical forgrip is a vertical grip that attaches perpendicularly to the rail of the rifle. A good AR-15 vertical grip is essential for maneuvering the weapon around tight corners, such as when clearing a room and reduces fatigue while carrying the firearm for extended periods of time.
Vertical foregrips also allow you to keep your hand away from the handguard, which can get really hot when shooting for extended periods. In reality, many shooters only use the vertical grip while shooting in full automatic mode anyway. So a vertical foregrip will only be useful, when you actually need it. Oftentimes, it's only used by shooters using a C-clamp grip technique as a reference/ anchor point.
Angled or Horizontal AR-15 Foregrips
AR-15 foregrips with an angled forward design are becoming more popular in the recent decade. Ironically, people assume this is a new trend. But it's one of the oldest methods of shooting, looking back to it's roots of the original Thompson over 100 years ago.
The ergonomics of angled Ar-15 foregrips, also known as horizontal foregrips, are largely influenced by human anatomy. The tilted front grip enhances weapon control for many shooters by providing a more comfortable, natural location for the off hand. Despite the fact that it takes up more room on the rail, the angled foregrip has its advantages.
When the support hand is placed closer to the rifle's barrel, the weapon's central axis is better aligned with the shooter's point of aim. A shooters' firing position becomes more automatic as a consequence of this placement, resulting in a more fluid transition from one target to the next.
Because of the slant, the grip is less obtrusive than its vertical counterparts. This reduces the risk of it being caught on your gear or bushes out in the field. No matter what model you have, installing the angled grip as far forward on the rail results in the best performance.
Handstops
There are a growing number of shooters reducing their arsenals to the essentials so they can focus on what really matters. More and more gun owners are purging their rifles of extraneous accessories in favor of keeping just the essentials. In place of the huge foregrips, there is now a compact, sleek, and discreet handstop. Handstops allow you to have enough grip to build a firm index point for your off hand, just as with standard foregrips, but at the same time taking up less space to do so, which is great if you're looking to keep your weapon clean, or on the other end of the spectrum, trying to fit as many accessories onto your firearm as possible.
How to Use AR-15 Foregrips to Your Advantage
To unlock the performance and get the most out of your foregrip, the question isn't what's the best foregrip on the market. Instead, you want to ask yourself, which foregrip will work best for you? Unfortunately, there's no real one type, one size fits all foregrip that works for everyone.
There are a triad of things to consider when looking for a foregrip to enhance your shooting performance. Aesthetics aside, the shape and form of the foregrip will depend entirely on your handsize. Also, consider your feel for the grip and your preferred grip style. You also want a grip that will work well in your favorite shooting positions, if not improve your shooting posture. That might mean buying and trying out different grips to find the one that's perfect for you.
Lastly, you need to practice with your grip often. Practice your grip style and different positions. Try to ingrain into your grain the motions needed to probably and effectively use your foregrip in any situation. You want to get to the point that gripping and position becomes instinctive. This is because you never want to get caught out unprepared in a self-defense scenario.
Buyer's Guide for the Best AR-15 Foregrips 2022
Ergonomics and Weight
With any firearm you intend to shoot for extended periods of times, it needs to feel natural. This allows you to combat fatigue and get the most out of your firearm. Finding yourself a foregrip feels natural for you. If you have large hands, opt for a larger foregrip. But if you have smaller hands, you'll want something that's easier to hold.
The weight of your foregrip is also important. Although a small component of your overall firearm, you might end up throwing off the balance of your unit if you choose a foregrip that's too heavy or too light. You will know right away if the balance of your rifle is off since your shots will be affected and handling the gun will feel awkward.
The Type of Grip Texture
Texturing plays a vital role in securing your foregrip to your offhand, keeping a more precise control of your firearm when shooting. It's best to look for a grip texture that works well with your purpose. If you're the type to wear hand protections or some sort of glove when shooting, then a rough texture grip wouldn't matter as much compared to someone who might prefer a smoother rubberized grip.
It's typical to see hardened rubberized grips in most of the foregrips you'll encounter out of the field. They offer superior durability and create enough friction so it can hold your rifle well even with sweaty hands. There are also molded plastic texturing and grips that come with finger molds for added security at a lower cost. At the end of the day, you want to find one that works most comfortably for you.
Match with Your Grip Technique
Do you know what your grip technique is? Is there a go-to grip technique that you instinctively use? These factors will determine the type of grip you want to get. Certain grip techniques work better for one type of grip over others.
For example, if you instinctively go for C-Clamp grip style over a broomstick position, then you might want to consider getting a handstop instead of a vertical grip. Although both grip-styles work with a vertical grip, the hand-stop will require less room and might save you more money than a vertical grip.
Best AR-15 Foregrips for 2022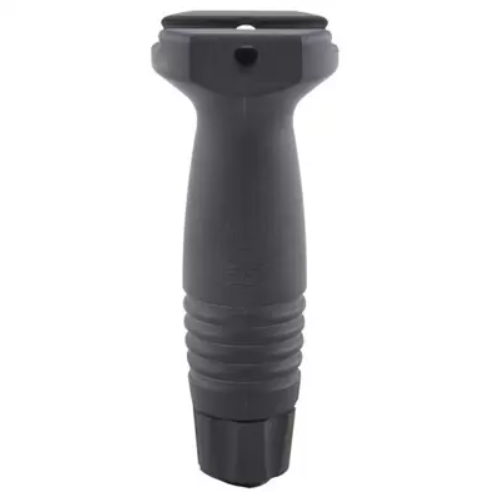 The GG&G, Inc. features an acetal polymer build in matte black color. It's lightweight at only 21/2 ounces and extends to only 5″ past the AR-15's rail. It's a wide straight vertical foregrip that you can easily clamp on a Picatinny rail.
If you're someone who wants to try a foregrip, then consider this option. Also, if you ever decide to replace it, you can do so easily as it's affordable. This vertical foregrip allows your arm to hang a bit while maintaining a good grip and recoil resistance. The ribbing also provides excellent gripping, so you use it to shoot more accurate follow-up shots.
Pros
Affordable
Low-profile and lightweight design
Wide palmswell for better grip
Has compartments for storing small objects
---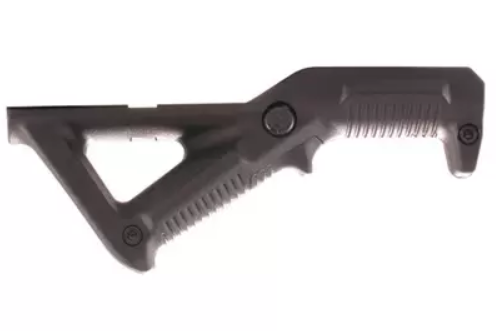 The Magpul Picatinny AFG1 Angled Fore Grip is constructed of polymer and reinforced with molding. Its length is about five and a half inches, and its projection beyond the rail is a little under two inches. Additionally, it allows fast-fire thanks to its ergonomic angled grip for proper hand placement, making it excellent for individuals who have to stand ready for lengthy durations.
The Magpul Picatinny AFG1 Angled Fore Grip inserts may be swapped out for a flat surface or one with an index finger ledge, making this a versatile fore grip option. It also has two molded and texturized material areas to keep a firm grip on the weapon.
We like the variety of colors offered, and the quantity of textured overmolding provided to ensure a secure fit. A little practice is required, but the gains in accuracy and endurance may be worth it. This is the ideal AR-15 front grip if you are obliged to remain ready for lengthy periods or are regularly in rapid-fire.
Pros
Textured molding for good grip
Affordable
Versatile option
Cons
Hard to carry around with one hand
---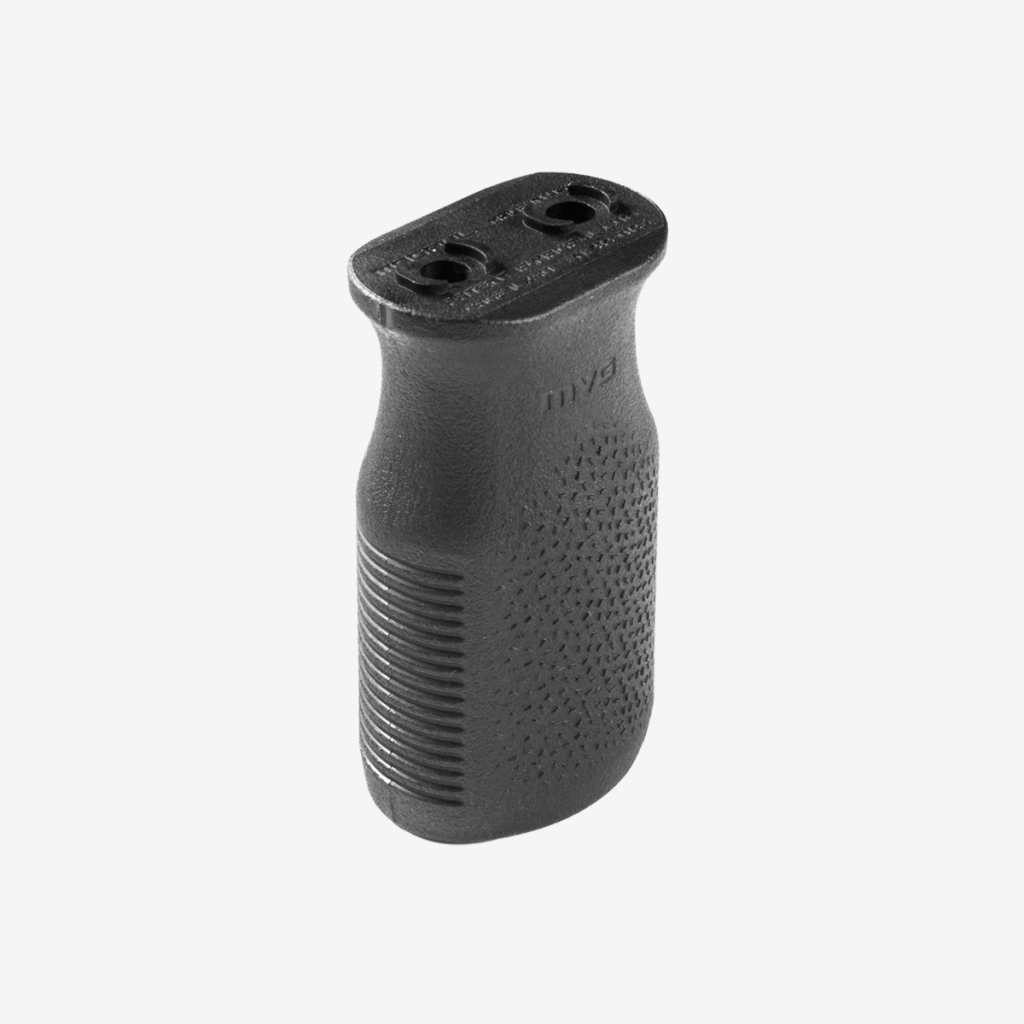 If you're looking for excellent control at the front of the rifle with minimal recoil and bounce, consider the Magpul MVG M-LOK Vertical Grip. The low-profile design of this vertical grip reduces the chance of snagging. It also keeps your hand up and in action. Because of its shorter length and rounder features, the grip is suitable for shooting using the thumb-break technique.
The MVG M-LOK Vertical Grip is made from the high-quality polymer Magpul is renowned for. It comes in four color options: Grey, OD Green, Black and Flat Dark Earth. It provides excellent heat protection and support for greater handling and is TSP textured providing precise control in any scenario.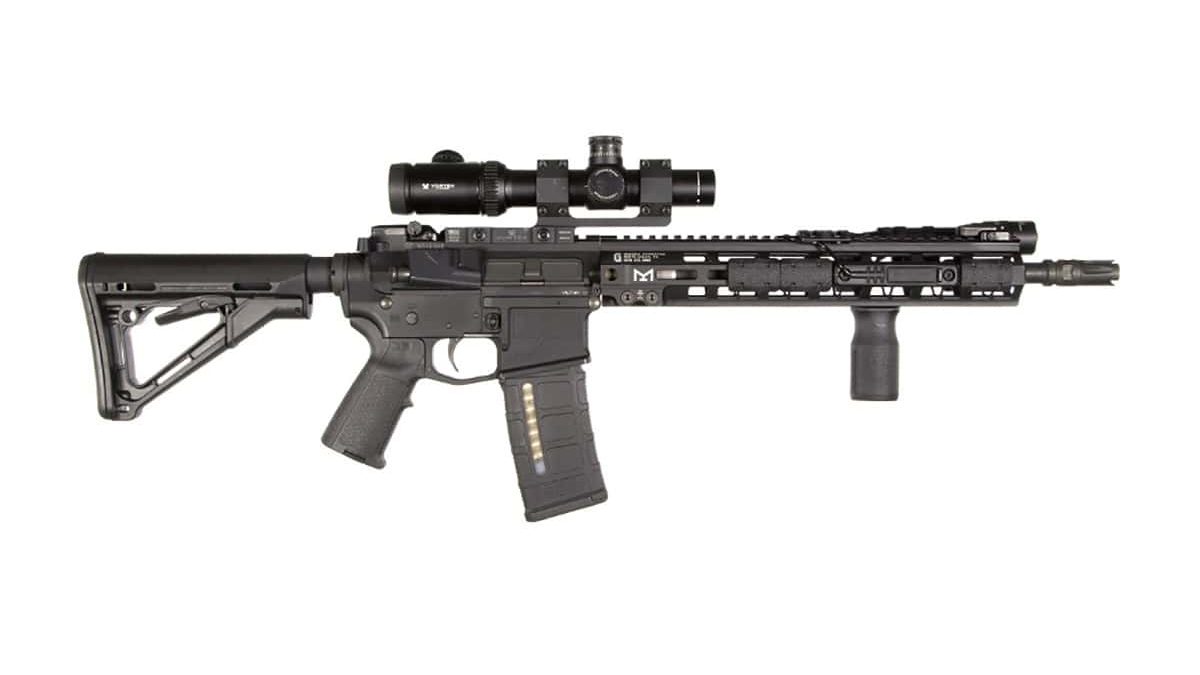 The Magpul MVG will mount directly to the M-LOK slots without needing a rail section. The kit also includes two screws and two M-LOK nuts for fast and simple installation.
Pros
High strength, lightweight polymer vertical grip
Directly mounts to M-LOK compatible systems for easy installation
TSP Texture for positive control
Optimized for Thumb-break style grip
Cons
Short grip may not be great for larger hands
BONUS OFFER: Get your free shooting range targets to print at home!
Get your free targets to print at home!
---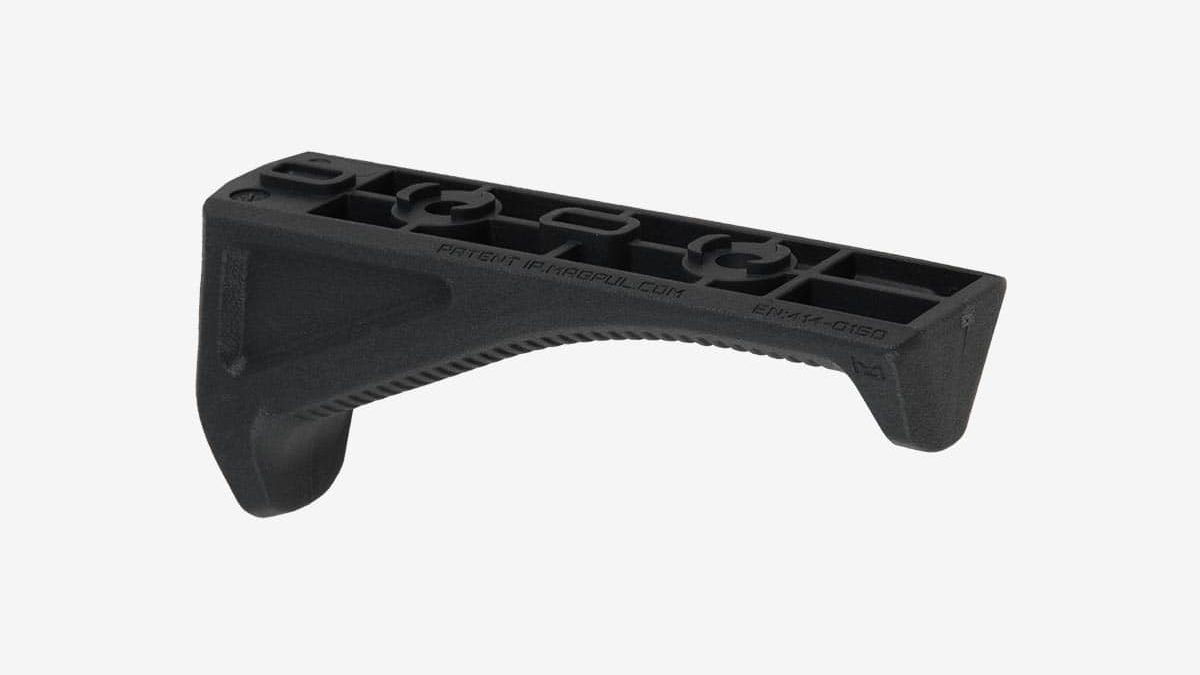 If you're in search of a comfortable, reliable, and durable angle grip, then try out the M-Lok AFG angled foregrip from Magpul. M-LOK AFG Angled Foregrips are very effective and comfortable for it's footprint. Its basic design and direct-attach M-LOK mounting mechanism makes it an ideal secure lightweight foregrip for better overall performance.
The Magpul M-Lok AFG angled grip is constructed from a high-quality polymer, and are built in lateral lines on the gripping surface, guaranteeing that the foregrip will not fall out of your hands during your operation. When it comes to assembly, Magpul provides everything you need for a quick and easy installation. All you need to do is take it for a spin.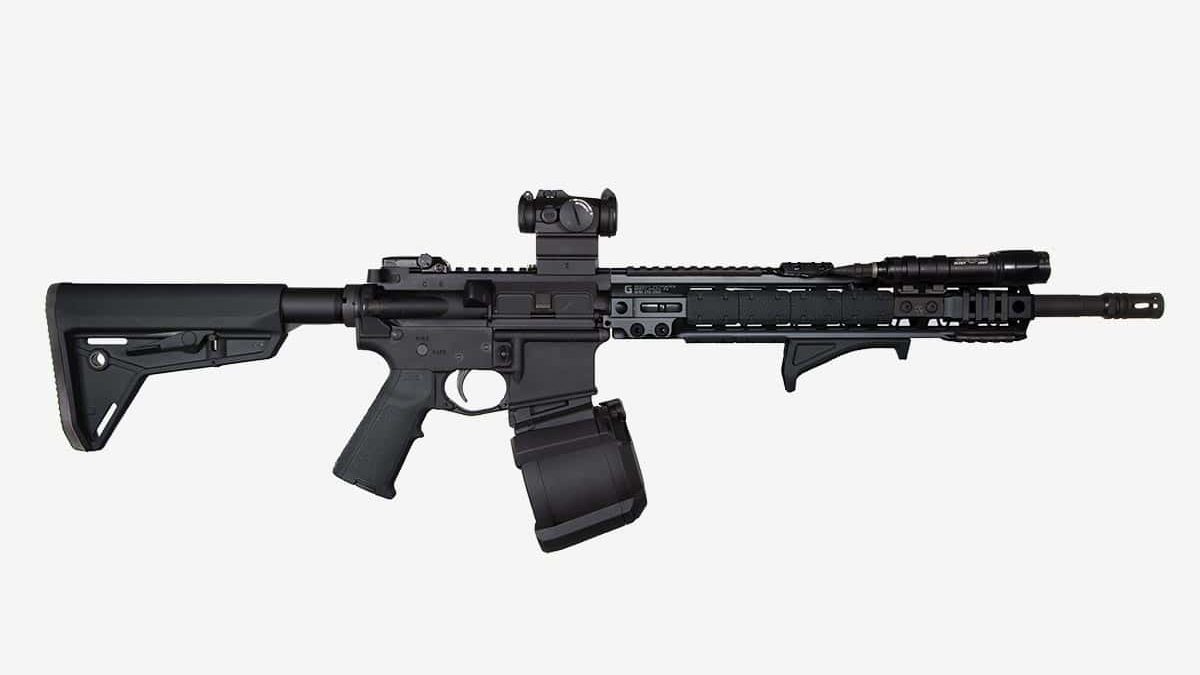 Despite its small size, the M-LOK AFG provides a sturdy, ergonomic user interface. It reduces fatigue and allows for more accurate rifle control. It also elevates your hand high on the bore's centerline, which reduces recoil and gives you better control of the rifle so you can make rapid, precise follow-up shots.
Pros
High-strength Polymer construction
Low profile and lightweight build
Built in lateral lines for better control and a secure grip
Ergonomic design
Straightforward installation
Cons
Can feel small even for normal sized hands
Not really made for Magpul or MOE style furniture
---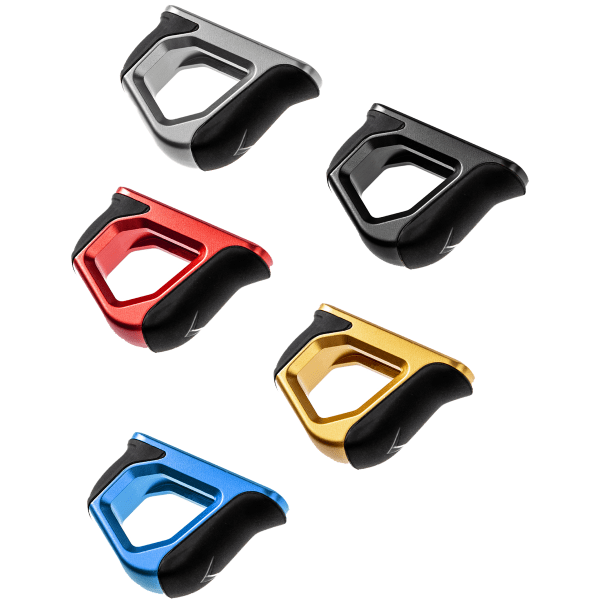 Do ergonomic handstops that boost performance, shooting comfort, and control sound like the right attachment for you? Then consider the Tyrant Designs Concept One Handstop. Although considered by some as trendy, this handstop promises a long-lasting solution, thanks to its high-quality construction and beautiful, futuristic appearance. WIth numerous gripping locations, you'll be able to choose the most effective and comfortable grip for your shooting style.
The Tyrant Designs Concept One Handstop has an all aluminum body with durometer rubber straps giving you a very durable handstop with a powerful grip. The skeletonized design and the beveled edges add to the overall comfort of this foregrip.
AR-15 owners will like the Concept One's five distinct color options for maximum aesthetic customization. Mix and Match this handstop with other Tyrant Design accessories for a consistent look that guarantees to make your rifle stand out. The Concept One Handstop also comes with KeyMod and M-LOK hardware kits for easy at home installation.
Pros
Compatible with both M-lok and Keymod configurations
Rubberized front and back straps for maximum grip
Drop-in replacement for the AR platforms
Available in multiple colors for maximum personalization
---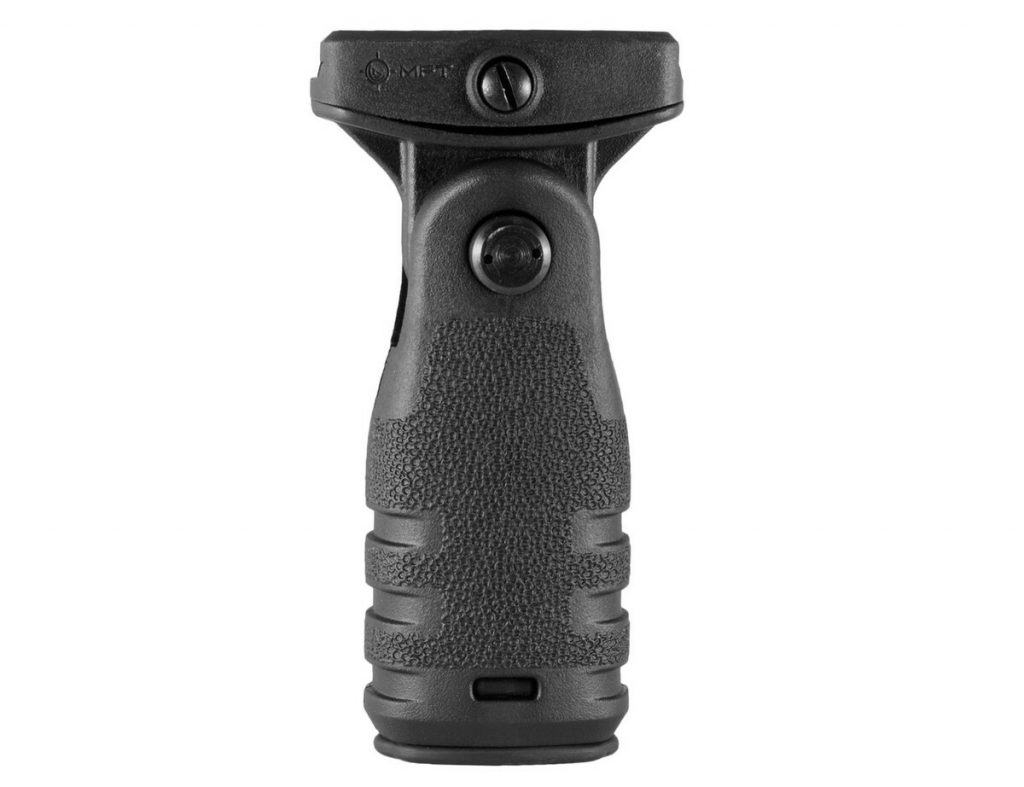 Mission First Tactical makes one of the best and most versatile AR-15 tactical foregrip available on the market. If you're looking for a tactical foregrip, the MFT React folding grip should be an essential part of your weapon because of its durability. Even when wet, it offers a solid gripping surface thanks to it's grooved and textured surface.
Simply pressing the release button will allow you to position this vertical grip horizontally in either the front or back. For those times when storage space is a problem, or a vertical grip will just get in the way, this operation changes the vertical grip into either a handstop or a barricade stop, making it easier to operate.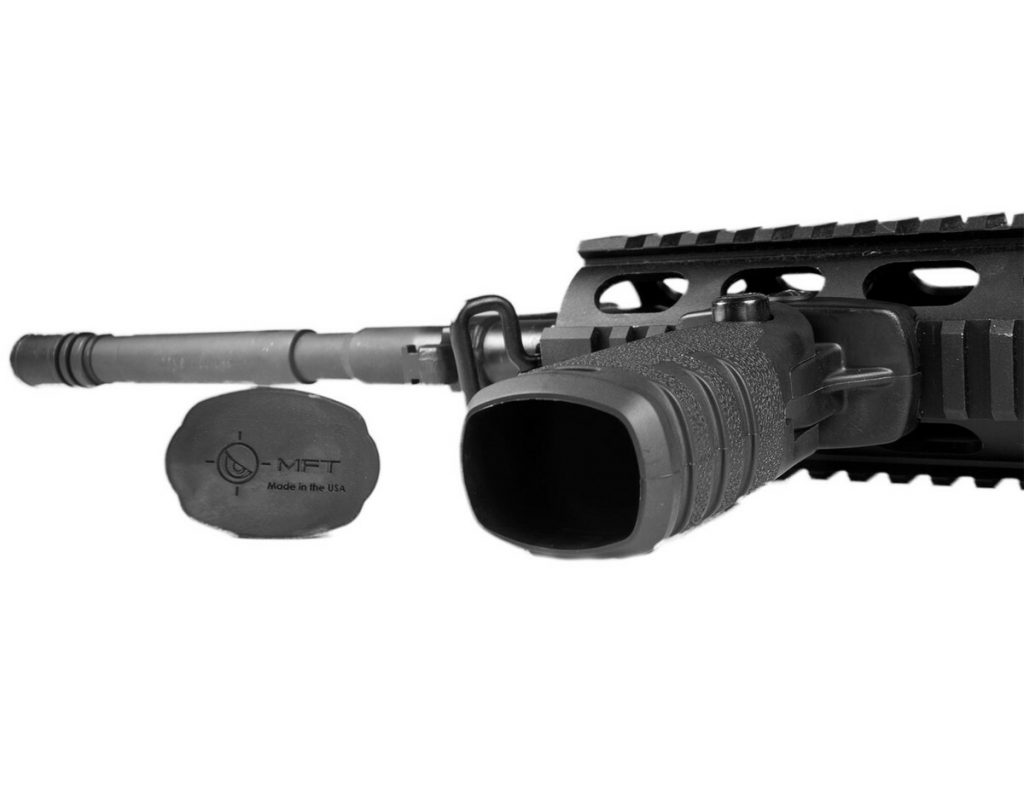 There's also a watertight storage compartment with a battery tray that eliminates any annoying rattling while you're moving around. Perfect for a small utility knife or a first aid kit. The bottom of the grip also has a flat sturdy base that doubles as a monopod for additional firing support.
Pros
deployable in either vertical or horizontal position
Secure watertight storage compartment
Can double as a monopod for additional firing support
Compatible with both picatinny rail or a NATO STANAG 4694
Cons
Weak pivot point
Large footprint for a carbine handguard
Our Pick
Although everyone has their own preference when it comes to grip-styles and grip types, the MFT React Folding Vertical Grip is a great option if you're looking for versatility in a tactical foregrip. The extra storage compartment is a nice touch. But for dual purpose AR-15 foregrips, you can utilize both the vertical stance and the folded horizontal stance to practice different grip styles, and to get the best out of any situation. This will also make a great introduction foregrip for those still trying to figure out the foregrip that works best for them.
Wrapping Up
Any one of the Ar-15 foregrips that we've covered here today will make a solid choice to help ease the pain of tearing down a perfectly good rifle to make it more difficult to use. If you do end up going a different route, you can always follow our buyer's guide section that we went over earlier to help you find a feature grip that works better for you.
Keep in mind when choosing AR-15 foregrips, the first grip you buy may not work out right away. There are certain things you should consider before ruling out a foregrip entirely. You're going to need to try and shoot your rifle a few times in different positions, grip styles, and foregrip locations within the handrail. This might take a lot of trial and error, so take it slow and be patient with the process.
Additional: How to Improve Performance with Ar-15 Foregrips
Always bear in mind that no two shooters are the same, so you'll need to try a few various grips until you find the one that offers you the most reliable performance.
Grip Farther Out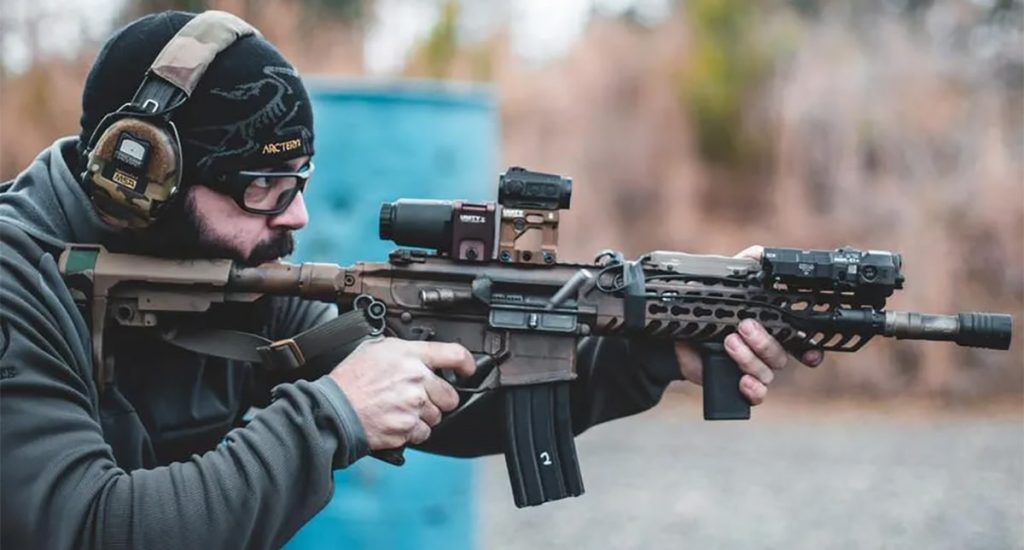 The closer your grip is to the muzzle, the better control you're going to get over your rifle. If you want to improve your grip, use grip styles that take advantage of this such as the thumb-break position.
Grip Higher Up
Use grip styles that place your hand higher up on the fore of the handguard. This places the center of your hand closer to the line of the bore which offers better spatial awareness and allows you to exert downward pressure on fore end, great for controlling muzzle climb.
Use Proper Body Posture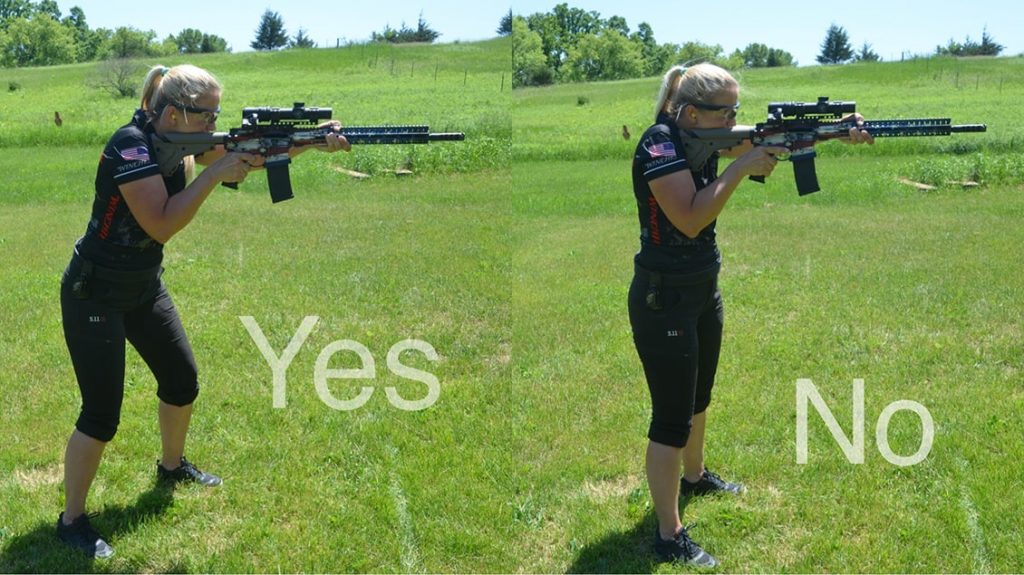 The grip can only do so much if you have poor body posture while shooting. Posture your body as if you're preparing to jump, keeping your knees slightly bent at all times. Lean forward at the waste to keep a stable body and avoid locking your elbow on your support arm. This will allow your elbow to flex when firing, helping absorb recoil. Make sure to pull your rifle towards you on the foregrip to keep contact against your shoulder while firing. With enough practice you should be able to notice an improvement in your shooting performance.