Whether you own an optic, or you're using drop-in sights, investing in a bore sight can be a very beneficial purchase. We've made this review of the best 9mm bore sights available online, so you don't have to do a lot of hard work while shopping. We've chosen our favorite bore sight of the bunch, which we'll reveal at the end of the review.

There are a few different types of bore sights that are made, and you'll notice many combine the best attributes. Some bore sights are made for specific caliber weapons, such as the 9mm. These styles are inserted into an empty bullet chamber, and a laser is emitted onto a target point. Other laser bore sights are magnetic, and these are inserted into the muzzle of a weapon. Many magnetic bore sights are also universal, although some fit only a certain range of calibers. Your most advanced bore sights will be entirely universal and magnetic, but there are larger ones that typically are a little better for rifles and shotguns. You can see that there is a variety to choose from. Happy shopping!
GGD Laser Boresight Cartridge

Materials — This first option for a 9mm bore sight is specifically designed for 9mm weapons, and it's the only option in the review constructed in this way. You can also get it for most other mainstream calibers. This is the most compact choice in this article, as well, and it's easy to transport or carry with you to a shooting range. The red sighting beam gives you a 1.5″ dot size at 100 yards. Simply load your weapon as you would with a regular bullet, and use the laser to line up and zero your sight. It is best used in lower-lit areas, but the laser can be visible at shorter distances in daylight.
Performance — While this may be the most simple and most traditional option, this is the only option that is specifically made for your 9mm weapon. It is placed in the chamber instead of the muzzle. This style has a few benefits. For one, it's very light, so it won't throw you off while you're aiming. Secondly, it's small enough that it's easy to transport or stow away. Finally, since it's not universal, it's much less expensive than many of the other bore sighters you'll come across online. On the other hand, you obviously can't use it with any other caliber weapons. However, if you can get it on sale for around $25 then you can always pick up a few for the different weapons you have.
What we say — This is the best choice for those who only need to sight their 9mm weapon. Currently reduced to $24.99, down from $54, so you could even pick up one from your .308 as well.
Pros
Designed specifically to accommodate 9mm
Light weight won't throw off balance or accuracy with weapon
Cheapest option within review
Cons
Won't work with any other caliber
Sightmark Triple Duty Universal Bore Sight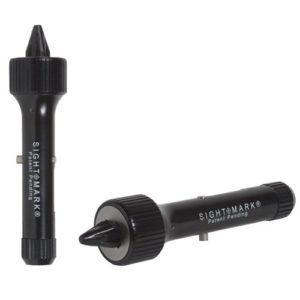 Materials — Although this is another selection from Sightmark, this is an entirely different style of laser bore sighter. This is a universal tool that attaches by a magnet. It can accommodate virtually all rifles and pistols, including your 9mm. The red beam is a Class IIIA 5mw laser, which is visible during both day and night. However, it will be most ideal during low lit situations, such as in an indoor shooting range. Instead of loading this bore sighter like a bullet, simply place it into the barrel of your weapon. You will get a precise reading of where your barrel is pointing, so lining it up with you sight will be a breeze.
Performance — You will quickly notice that the majority of bore sighters available online are either magnetic, universal, or both. This option, although the second Sightmark selection, is both. It features the same laser as the first option, so expect to get the best out of this tool in an indoor shooting range. The convenience of a magnetized 9mm bore sighter is that it's much quicker to use. Instead of messing with your chamber, you can quickly fit it into your weapon's barrel and aim. It's just as easy to pull out and get to shooting. The material this option is made with is a little cheaper. This isn't a huge deal, but it's something to keep in mind.
What we say — This is the best 9mm bore sighter for anyone who wants to zero the sights on more than just a 9mm weapon. It's a quick and easy solution.
Pros
Magnetized for fast use
Fits in universal barrels
Crisp red laser
Cons
Cheaper materials housing laser
SiteLite Mag Laser Boresighter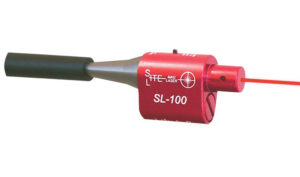 Materials — As the next magnetic 9mm bore sighter, the SiteLite sighter is designed to fit calibers from .22 to .50 and 20 and 12 ga. shotguns. Since it is a magnetic sighter, it will fit in the barrel of your weapon, and it can accommodate 9mm weapons. The red beam is a Class IIIA red laser with a <5mw power output. Included with this option is the SRL scope leveler, which levels scope crosshairs before bore sighting. You can get up to two hours of continuous battery life, so you can expect the laser to last for a long while. SiteLite includes a lifetime guarantee on their product.
Performance — This option definitely shares some similarities with the Sightmark magnetic bore sighter. Aside from the magnetic part, it shares the same red laser. While it's not universal, it does accommodate a wide range of weapon calibers. You get a good amount of battery life out of this little gadget. Plus, you have that lifetime guarantee, which always gets a big thumbs up from us in our book. You also get the scope leveler. This may not be very necessary for your 9mm weapons, but it's a nice feature to have on hand anyways. This option does get a little heavy, so that's something to keep in mind when it's in your barrel.
What we say — This is the best 9mm bore sight for those who think they could some use with the additional scope crosshair leveler. It may not be universal, but you can certainly use it with a handful of weapons.
Pros
Magnetized
Fits multiple calibers
Crosshair leveler
Cons
Adds weight to end of barrel
Wheeler Professional Laser Bore Sighter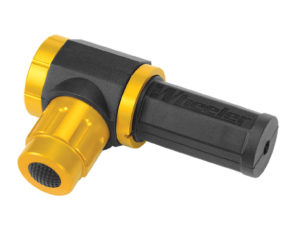 Materials — Finally, we have the Wheeler 9mm bore sighter, which is actually universal. This style is entirely different from the others within this review. The technology is housed within a machined aluminum body with a soft rubber overmolding. It is still magnetic, and you attach it to the muzzle of your weapon. There is a handy gripping area, so you can counterbalance the weight added to your firearm. This option utilizes a green laser, which is visible best during daylight. It is a Class IIIR laser with a <5 mw power output.
Performance — This is certainly the most impressive bore sighter of the bunch. It's truly universal, and it will fit the most securely to any weapon. The rubberized housing is highly protective of the powerful laser that's within. Speaking of lasers, this is the only option within this review that features a green beam. If you frequent a range that is outdoors, a green laser is the way to go. On the other hand, this is not only the heaviest 9mm bore sight in this review, but it's also the most expensive. If you are a fan of the Wheeler brand, however, this is a worthy selection to look in to.
What we say — The Wheeler Professional Laser Bore Sighter is the best choice for shooters who need a beam that will be highly visible during the day. If your shooting range is outdoors, this one is for you.
Pros
Universal and magnetized
Green laser visible during daylight
Hand grip for balancing weapon
Our Favorite 9mm Bore Sight
After much consideration, we decided that our favorite bore sight for a 9mm weapon was the Sightmark Triple Duty Universal Bore Sight. At an affordable cost, it just makes more sense to choose a universal bore sight over one that will only fit in the chamber of a 9mm. This style that we chose is also more updated, and a magnetic bore sight is far more versatile than the traditional, old style of bore sights. Although the red laser won't but highly visible during day light, it can be seen up to around ten yards out, so it's not totally useless. You are likely to adjust sights at an indoor range, as it is anyways. This bore sight is conveniently sized, and it isn't too heavy to use. The last two bore sights in this review would be more useful for larger caliber weapons. The Sightmark universal one is more accommodating to a 9mm, and it won't throw off your accuracy as you make adjustments. You should definitely consider picking up this little gadget.