The Sig Sauer P226 is a beautiful weapon. If you take a look at the Sig seller page, there are over fifteen models to choose from, depending on what caliber you're looking for. They're all full sized handguns, and they all come with a full sized price tag. The P226 certainly costs a pretty penny, so you want a holster that will be highly protective of your investment. We've gathered the best Sig Sauer P226 holsters available online, and we'll choose our favorite at the end of the review.
We selected a variety of Kydex and leather holsters for this article. Both of these materials are known to be the most protective, and they'll be the most comfortable to wear while you carry and conceal your full sized weapon with you throughout the day. The other preferences will be up to you!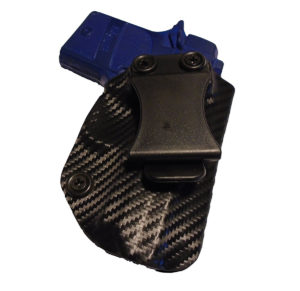 Materials – Badger Concealment's holster is made entirely of Kydex. It's in a carbon fiber black option, which is the only color available. It weights only about three ounces, and it attaches to a 1.5 inch belt to conceal inside the waistband. This Kydex holster is highly molded, and it has an adjustable retentions screw at the trigger guard. The belt clip also has two adjustable retention screws. You can adjust the clip to your preferred cant and make sure it stays in place there. There is also a sweat guard in place for protecting both your weapon and aiding in reholstering.
Performance – As the only fully Kydex option in this review, you can expect your Sig Sauer P226 to be well protected inside your waistband. There is just enough retention here without being too much. Although, you'll probably want to pay special attention to the retention screws – you'll need everything to be just right. As a full sized weapon, a slim inside the waistband holster such as this one may not be the most ideal first choice. This is quite a bit of weight you're suspending from your hip with a single belt clip. So, if you wear it just right, you'll be okay. Kydex holsters are a great way to conceal a weapon and give your larger handguns the lowest profile possible. You'll stay discrete with this option.
What we say – This is the best inside the waistband Sig Sauer P226 holster for those who want to take their concealed carry to its most discrete level. With a shirt pulled over, nobody should notice your weapon at your side. Plus, this is the least expensive option within the review.
Pros
Lowest Cost
Entirely made of protective Kydex
Adjustable belt clip and retention
Cons
May need more support for carrying a full sized handgun
BONUS OFFER: Get your free shooting range targets to print at home!
Get your free targets to print at home!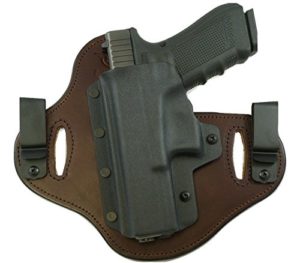 Materials – We all know Hidden Hybrid! This hybrid holster combines the best of both worlds: a leather back panel and a Kydex sheath. The Kydex sheath is less than a tenth of an inch thick, and it's molded to the shape of your Sig Sauer. There are two retention screws at the trigger guard, and there are four bolts along the rail to hold everything in place. There are also two belt clips that can be adjusted for height. The leather back panel includes suede, so it's comfortable to wear against the body during long periods of time. There is also stitching for reinforcement around the entire panel and well as additional stitching around the belt loops. This holster can be purchased in black or brown.
Performance – Although another inside the waistband option, Hidden Hybrid takes a totally different approach than Badger Concealment. The Kydex aspect is right where it belongs: offering good protection for you Sig Sauer. Between the bolts and retention screws, your weapon won't budge an inch, but it will still be easy to draw. The leather back panel fully protects your handgun from hurting your side as well as sweat and dirt interfering. The cant is still somewhat adjustable, thanks to the screws on the two belt clips. The weight is perfectly distributed across your hip. However, this option, although still inside the waistband, will be a lot less discrete. With a shirt and coat over it though, nobody should notice your concealed carry.
What we say – Hidden Hybrid's holster is the best Sig Sauer P226 holster for those who still need an IWB option, but they're concerned with the weight of a full sized handgun. This will be your best option.
Pros
Kydex and leather
Adjustable belt clips
Distributes weight evenly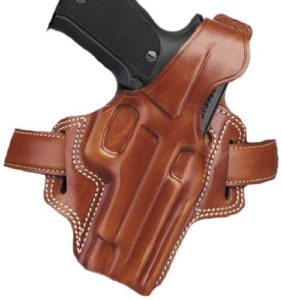 Materials – This first selection from Galco is made entirely of premium saddle leather. It can be purchased in either black or tan. It has been hand molded to fit exactly to your Sig Sauer P226. There are two belt loops available, which have been reinforced with stitching, and offer a forward cant for your pistol. Also included is a wide thumb break with a snap closure for extra retention. The hand molding provides rail space, and it is also lined with reinforced stitching. This is an outside the waistband holster that should be worn high and tight against the body.
Performance – If you aren't so pressed to get an inside the waistband holster, this first option from Galco would be an excellent for the Sig Sauer P226. The sturdy leather is thick and supportive, and it's still pretty protective. It will sit high up on your waist, so it will have a great ability to hold the weight of your full sized hand gun. The thumb break offers the exact amount of retention needed, and you won't have to mess with any screws. The leather straps of the thumb break are also pretty wide, so you shouldn't be fumbling around with it when you need to draw. With a permanent forward cant, you'll be ready to go at the drop of a hat.
What we say – Galco's Fletch holster is the best Sig Sauer P226 holster for those who are fine with an outside the waistband option and they don't want to mess with retention screws. With your sig high and tight, you can grab the grip as son as you need to.
Pros
Stays in place with two belt loops
Thumb break
Forward cant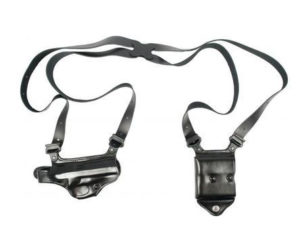 Materials – This is an entirely different style of outside the waistband holster, although also offered by Galco. This is a shoulder holster that includes a holster for your pistol and a double magazine pouch on the other side. It comes in black or tan. This shoulder system is call a spider harness, which has four straps that connect in the back by a Flexalon swivel back plate. This allows for comfortable movement but still has retention across the body. The holster and magazine pouch are still make with Galco's premium saddle leather. This model was designed specifically for right hand drawing only.
Performance – We thought it would be fun to include a shoulder holster here. Particularly with full sized weapons, many gunowners might be more comfortable with a shoulder system, opposed to an inside or outside the waistband holster. Plus, you get to carry additional magazines with you as well. Because of the design, this may also be the best Sig Sauer P226 holster with light attachments. The upright gun holster should have some room for rail accessories. Galco's Miami holster line is really popular for this style of holster, and a big part of that is thanks to the Flexalon swivel back plate. You should be comfortable and confident while wearing this.
What we say – This is the best Sig Sauer P226 holster for those who don't feel a holster on the waistband is very reliable for a gun of this weight and size. Plus, all the leather and materials used are very high quality and should last you a while.
Pros
Flexalon swivel piece for comfort
Additional magazine pouch
Made with premium saddle leather
As much as we like what Galco has to offer, we chose the Hidden Hybrid Sig Sauer P226 Holster as our favorite of what we selected for this review. We realize, even with a full sized weapon, most will probably want a holster that is still concealable. You get the best of both worlds with this option. The leather back panel is comfortable to wear, plus it offers full coverage of your weapon. Sweat shouldn't be an issue, and your grip or barrel won't go digging into your side. The Kydex holster part is highly protective but very thin. With the ability to adjust the belt clips, you can choose a height that is most comfortable and convenient to you while still evenly distributing the weight across your hip. Wear a thick jack or shirt, and nobody should be able to recognize your concealed carry.