Summary
For the first time in many decades, military-issued M1911 pistols are being offered for sale to the public.
The guns include factory-original guns and arsenal reworks. Buyers can only choose between three different condition grades of gun; exactly what arrives is a surprise.
Military issued weapons appeal to arms collectors, and this program has attracted a lot of attention – over 20,000 applications to buy the first 8,000 M1911s.
What is the Civilian Marksmanship Program?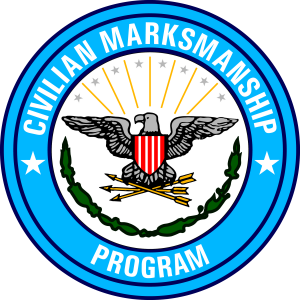 In 1903 the US Congress created the Office of the Director of Civilian Marksmanship to help improve marksmanship skills among America's civilian populace. The program that evolved out of this is now known as the Civilian Marksmanship Program. It has been front and center in promoting safe and responsible marksmanship and shooting competitions.
The Civilian Marksmanship Program also manages the sale of some surplus military weaponry. Historically the CMP has been best known for selling M1903, M1 Garand and M1 Carbine rifles. However, in 2018 the CMP was authorized to sell some surplus M1911 pistols. This was a monumental step for the CMP, and one that gave shooters and collectors cause of rejoice.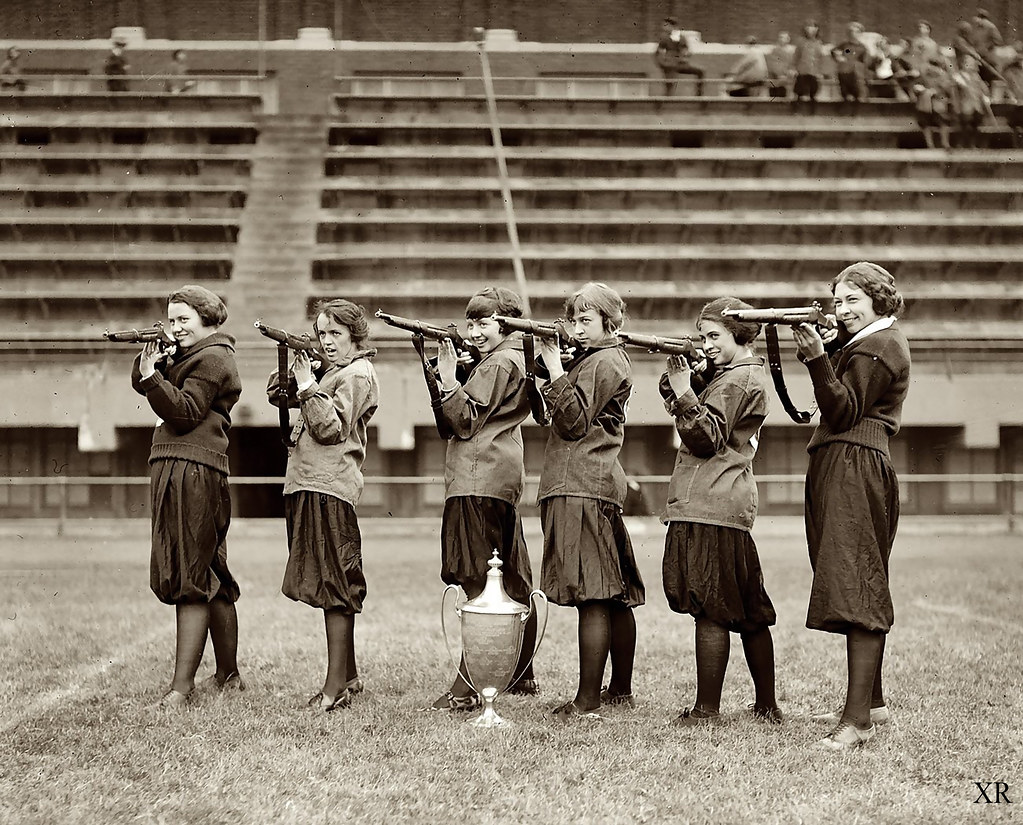 New to the market – the CMP M1911
The weapons being sold by the CMP have never before been available to collectors. However, this is particularly notable, since the M1911 pistol was the standard issue sidearm of the US military from 1911 to 1986. In addition to two World Wars, the M1911 saw action in Korea, Vietnam, and the Gulf. The pistols being sold by the CMP run the gamut.
The first batch of 8,000 pistols were shipped to the Civilian Marksmanship Program in January of 2018, and the good folks at the CMP diligently worked through each pistol to grade it. Exceptional or rare pistols were sold through auction, while the remainder were grouped into three categories:
Rack grade (fair condition) $850
Field grade (fair to good condition) $950
Service grade (good to very goof condition) $1050
Because of the anticipated demand for these M1911 pistols, the CMP setup a lottery system. Almost 20,000 people applied to purchase one of these 8,000 pistols in late 2018, and random numbers were assigned to each applicant in March 2019.
My number wasn't drawn until August 2020, but I was delighted to get the phone call. I chose to purchase a service grade weapon. I was hoping that my gun would be entirely serviceable, but that it would also show wear and tear consistent with a weapon that was proudly carried by one of our military personnel.
BONUS OFFER: Get your free shooting range targets to print at home!
Get your free targets to print at home!
Applying for a CMP M1911
The application process to purchase a CMP M1911 is rigorous. It involves having background checks done before the sale, and by the receiving FFL. To the CMP's credit, the process of buying the gun is quick. In my experience, little more than 24 hours lapsed between my call from the CMP and having my gun in hand. The CMP runs like a well-oiled M1911.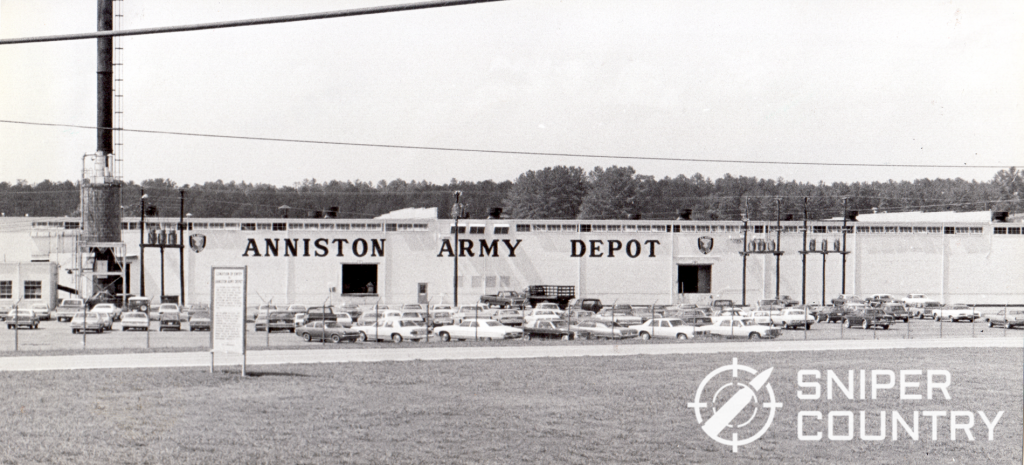 Importantly, every CMP M1911 pistol is different. Most of these guns are decades old and some are over a century old, and a sizable number of them are armory reworks. Moreover, when a lottery winner is approached by the CMP, they are only offered the choice of condition (service, field, rack, or auction).
Unboxing the CMP M1911 A1
The Civilian Marksmanship Program has long been known for providing a quality product and service, and the M1911 I purchased was no exception. Most of the M1911s that they received came from federal armories in large wooden crates, but each gun being sold was placed in a high quality CMP-logoed plastic hard case. Inside the case was the gun, a single magazine, a chamber safety flag, a gun lock, a copy of the Army's M1911A1 maintenance manual, and all of the paperwork related to my gun.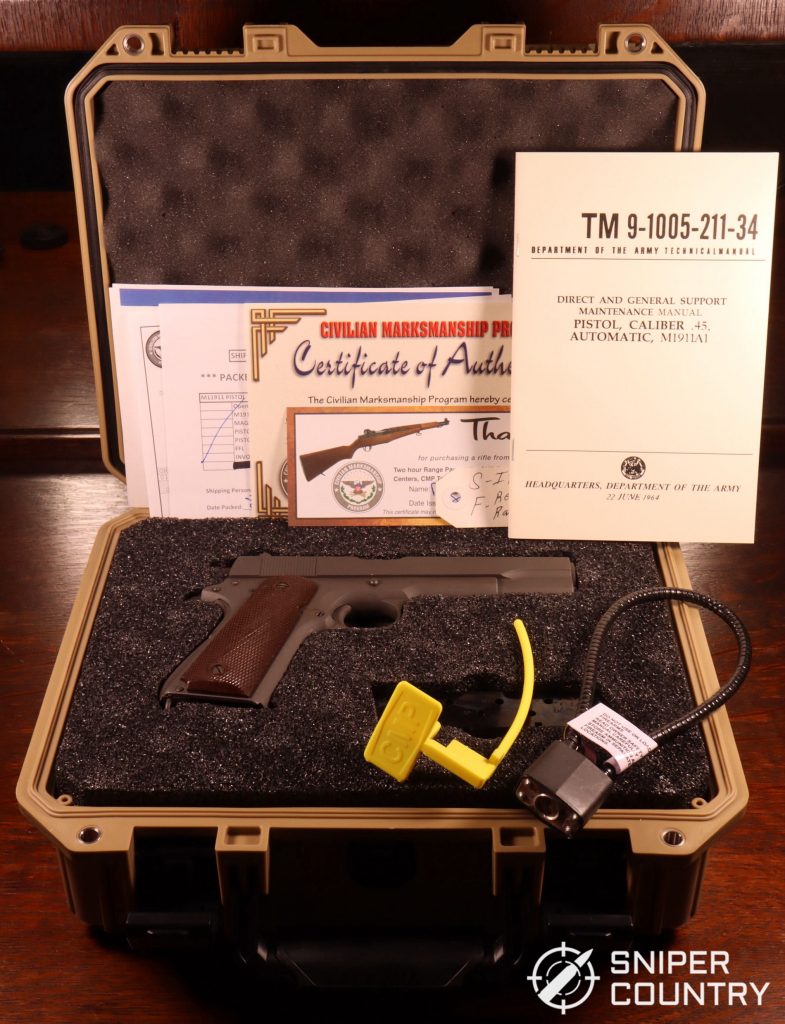 The paperwork included the CMP's packing checklist (I appreciate the quality control!), the receipt, a coupon for a free two hour range session at one of the CMP ranges, a few product coupons, and a signed certificate of authenticity that identifies this pistol as having been sold to me by the CMP. Moreover, the latter is particularly important. It proves that this particular pistol was sold by the CMP, which by extension proves that this was a military-issue weapon.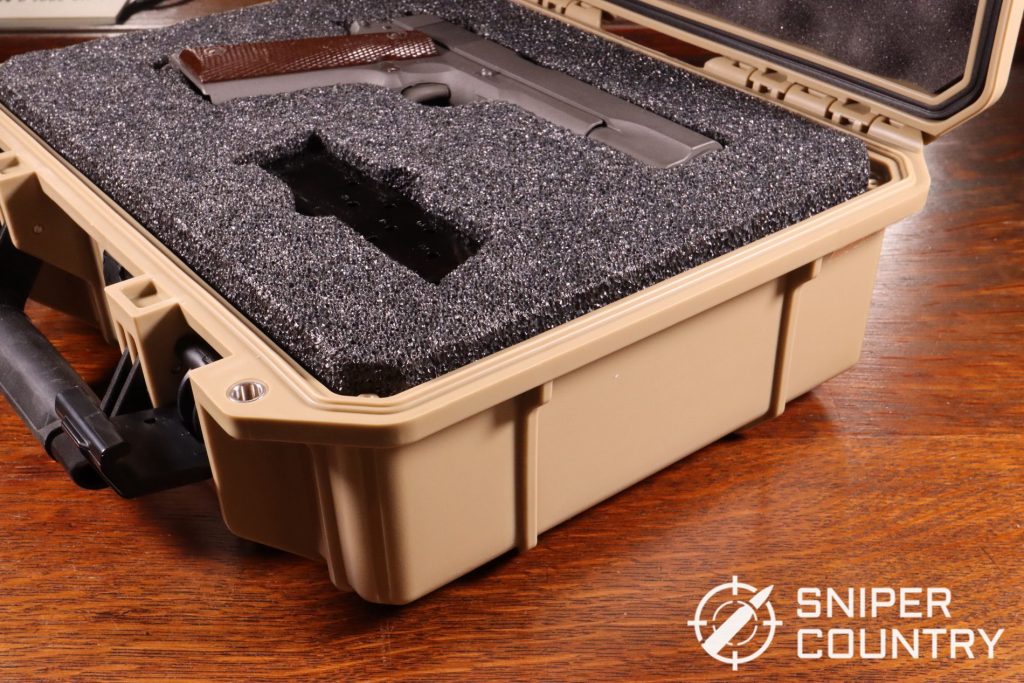 The M1911 Manual of Arms
The Army's M1911A1 maintenance manual (dated 1964) will be familiar to anyone that was duty-issued an M1911 pistol. It contains a wealth of information about loading, shooting, clearing, cleaning and doing basic service operations on the pistol. Every M1911 enthusiast should have a copy of this manual.
The magazine that the CMP included was not a period-correct magazine, but was instead a modern Mec-Gar magazine. Mec-Gar makes a good magazine and my magazine loads, feeds and unloads properly. However, I quickly replaced it with a WW2-era Little Manufacturing Company magazine.
My CMP M19111A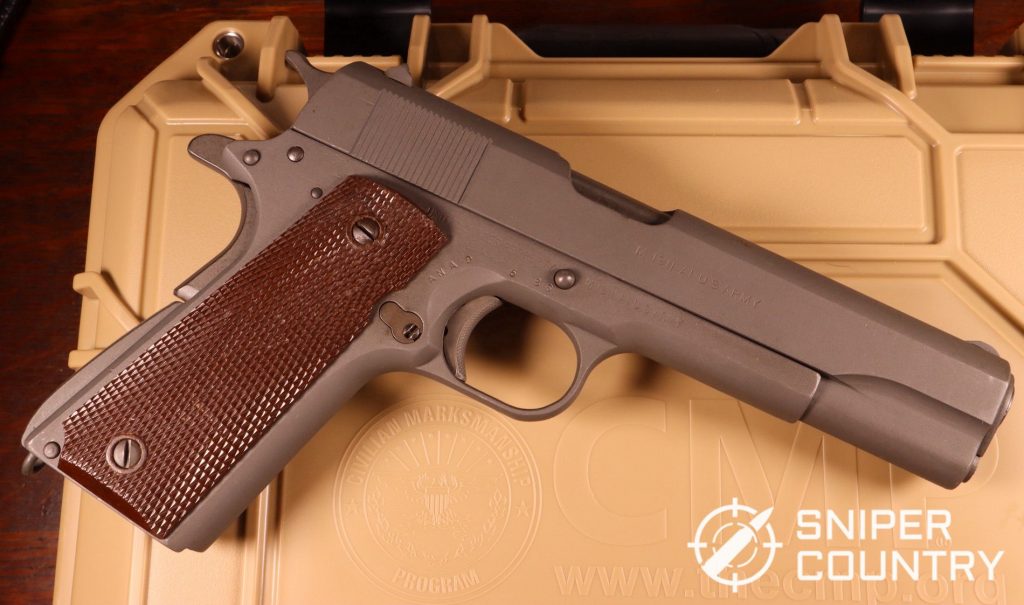 The gun I received did not disappoint. The frame is a Remington Rand that shipped to the Springfield Armory in Springfield, Massachusetts in March of 1943. The slide was made by the Ithaca Gun Company. All of the Ithaca M1911A1's were made between 1943 and 1945. Therefore, the frame and slide are fairly close in terms of their manufacturing date.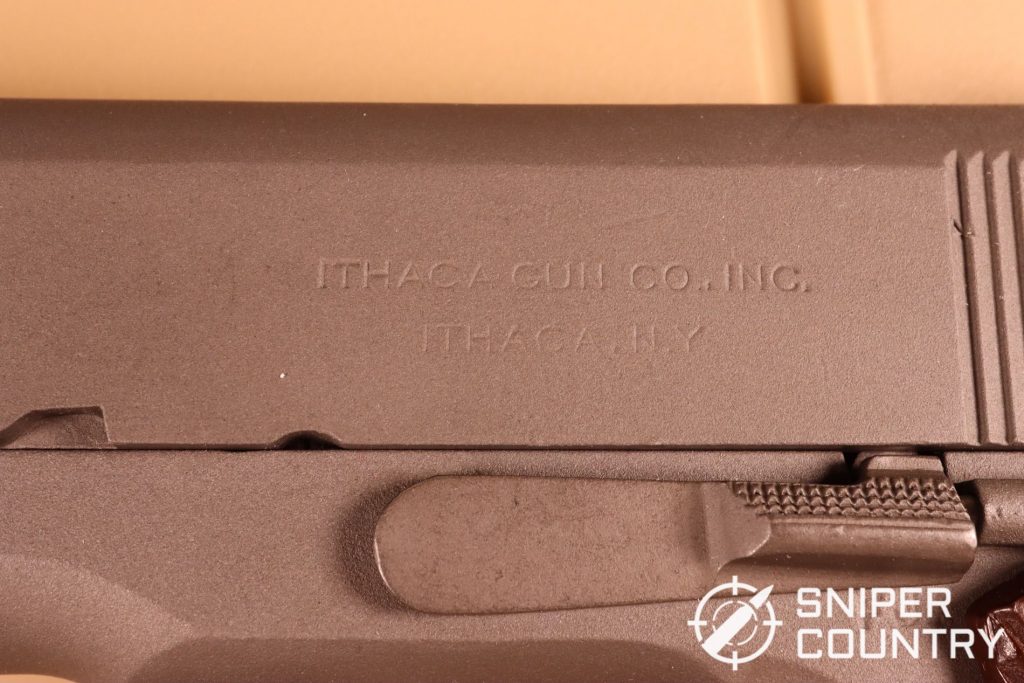 The armory stamp near the trigger guard indicates that this pistol was reworked by the Aniston Armory in 1986. This would have included receiving a new parkerized finish, which looks almost brand new on my pistol. I suspect that this pistol was not issued after the armory rework, since I couldn't even find evidence of it having been holstered.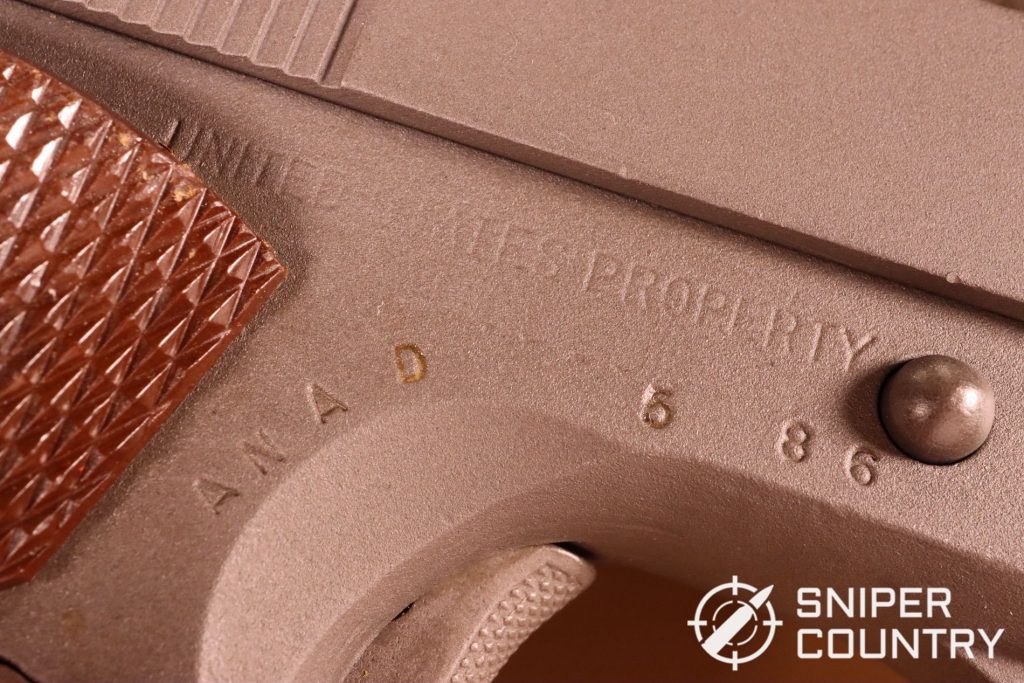 Colt, High Standard, Ithaca, etc.
In the world of the M1 Garand and M1 Carbine, there's a long tradition of owners making a detailed examination of the manufacturer of each part in the gun. To do this, I referred to this excellent website that documents many of the M1911's variations. As expected in any armory rework, this gun contains a mixture of parts from a variety of manufacturers. The barrel was made by High Standard, the slide stop was probably made by the Springfield Armory, and the trigger appears to be from Colt. The grips match perfectly on the outside, but the inside profile is different. Both appear to be made out of "Coltrock," which was one of Colt's early plastics.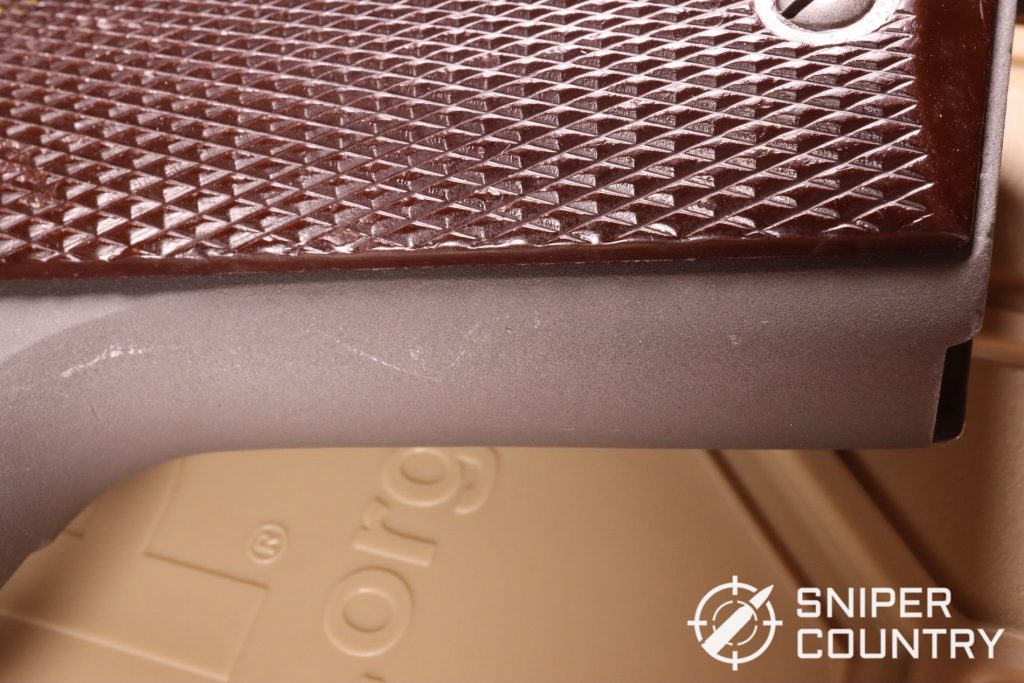 For many collectors, arn armory rework like this wouldn't have the same appeal as a gun that was in its factory-original configuration. For me, though, the armory rework is evidence that this was a working pistol.The bumps, bruises and wear that it proudly wears are evidence that this pistol was used in the defense of our nation, and to protect freedoms around the world.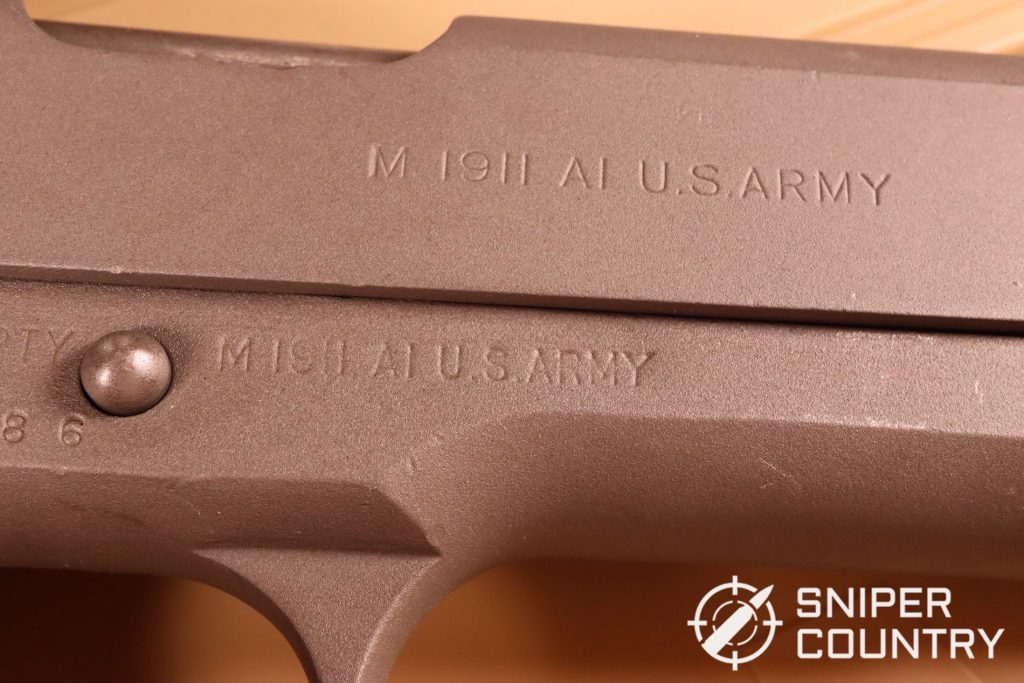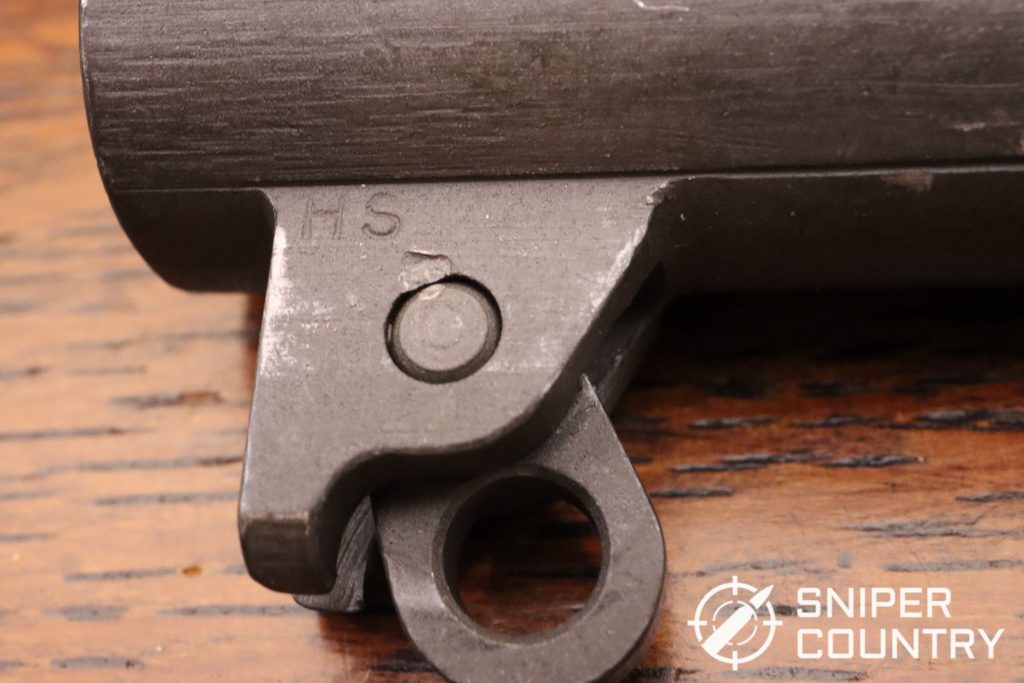 Shooting the CMP M1911A1
For a gun that was assembled from a collection of parts, my CMP M1911A1 has an amazingly smooth action. To my knowledge, nothing has been done to this gun since its arsenal rework in 1986. However, with a few strategic drops of oil, the slide and action cycled perfectly. The trigger breaks crisply at just over 5 pounds. The gun cycled a variety of .45 ACP ball ammo without a single failure-to-feed or failure-to-extract.
A personality quirk of my particular CMP M1911A1 is that the slide stop can almost be removed without the slide having been pulled back. I could probably find another slide stop that would stay in place more securely, but I didn't have the heart to swap out parts on this gun. The way it came from the Anniston Armory is the way it will remain for me. I don't plan to shoot it a lot, so keeping a watchful eye on the slide stop won't be a problem– especially given that I won't be shooting it a whole lot.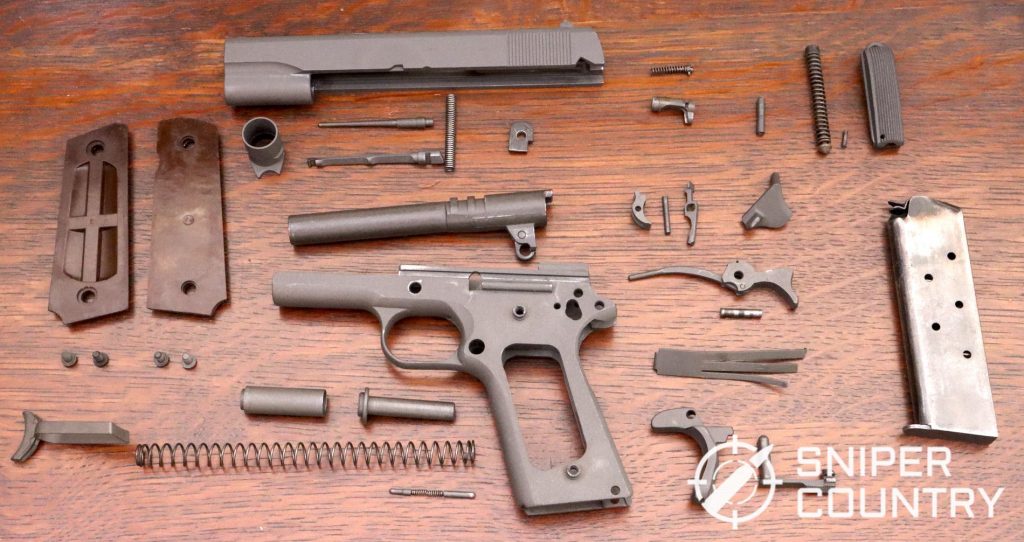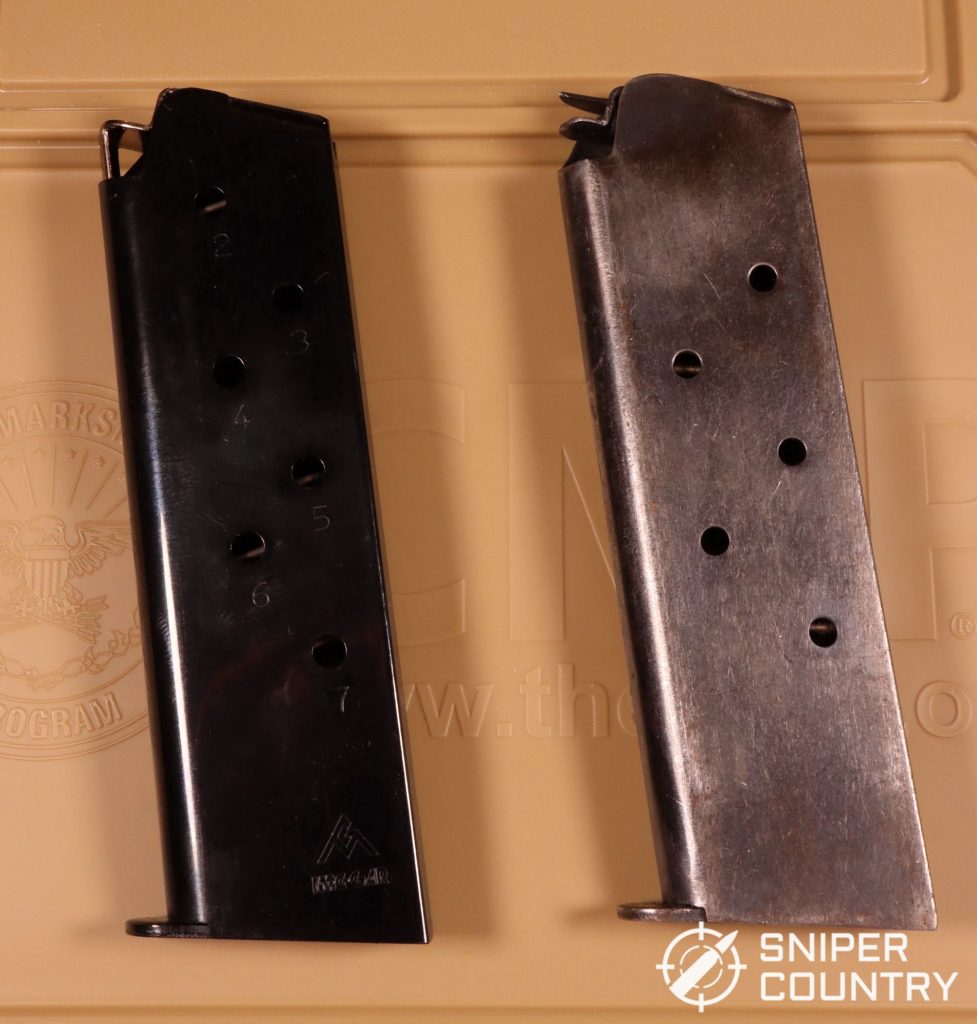 Collecting M1911s
Collectors have long been attracted to the M1911 pistol. In addition to being a superbly accurate and reliable gun, its long history with the military and its place in the world of competitive shooting gives the M1911 collector many different contexts in which to develop a collection.
Want to spend a few more dollars?
Even a collector that focuses solely on WW2-era M1911A1's will have a significant challenge assembling a complete collection. There were no fewer than six companies making M1911A1's for the military at this time. Surviving examples of the rare Singer M1911A1 (made by the same company that made sewing machines) can fetch prices well into six figures. This example will go to auction on May 15, 2021 and is estimated to bring between $110,000 and $225,000.
The beauty of the CMP M1911 program is that it puts collector-grade M1911's into the hands of collectors for a much more reasonable price. An arsenal reworked M1911 will probably never fetch six figures at auction, but it's still a piece of America's military history that may very well have seen action in battle.
BONUS OFFER: Get your free shooting range targets to print at home!
Get your free targets to print at home!
Secrets yet to be told
A FOIA (Freedom Of Information Act) request can also be made to learn more about a particular military-issued weapon's history. This increases the appeal of these guns to collectors and enthusiasts. I haven't received the response to my FOIA request yet. However, I'm hopeful that it gives some hints about where this gun may have been (or who may have handled it) during its 75 years in the military.
The Verdict
It would be nearly impossible to go wrong with a CMP M1911. With even average grade military-issue M1911's selling for prices well into four figures, an investment of $850 to $1050 in a CMP M1911 is going to be a winner every time. It doesn't matter if the gun dates to WW1, WW2 or more recently. It's a near certainty that the gun will be more valuable before it even arrives at your local FFL dealer.
The application window for the second wave of CMP M1911's was closed as of the writing of this article. However, enthusiasts would do well to watch the CMP's website. Another batch of M1911s will hopefully be forthcoming to the CMP. There will almost certainly be a long line of collectors looking to purchase them. The application process is somewhat lengthy, but it's well worth one's while.
Let's move from M1911s to contemporary 1911s in our complete guide on Best Budget 1911s around $500.