Black Friday Gun Deals 2018 are here!
Once again online & offline stores compete for the best offers for Ammo, Guns & Gear.
This page will be updated with every new (and actually good) deal that reaches our inbox. In addition to this our authors will add their favorite deals & offers (they shop too). We stock up on gear for reviews and fun during this time and so should you!
Last Updated: 8:05 PM 11/26/2018
With being one of the biggest online shops for guns & ammo it's only natural that Brownells can afford discounts smaller shops can only dream of. They got plenty of stuff on sale and deals are looking good this year:
Top brands for extremely low prices, featuring Sig, EOTech, Galco and more!

They went hard on rifles and parts: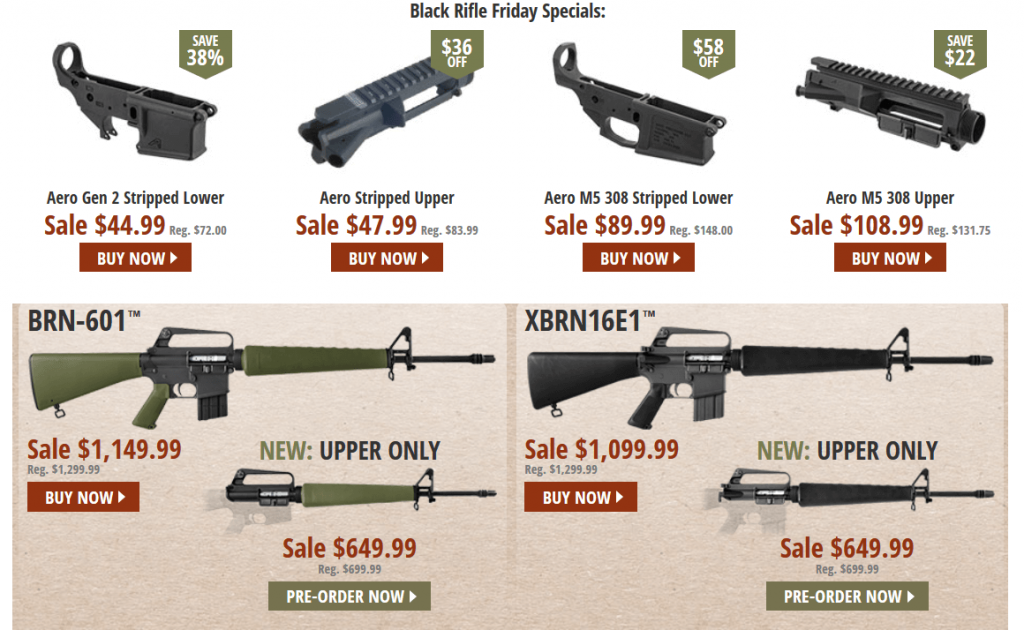 Our Favorite Deal: The Vortex Sparc II for $139.99, outstanding red dot sight, even for its regular price. With this discount though, it's a bargain!
Here is a sample of their ONE-DAY Cyber Monday Deals:
Palmetto State Armory offers a great selection of AR uppers, lowers, build kits Ammo and Optics. During Black Friday and Cyber Monday they offer discounts of up to 60%. What we have seen so far, they definitely took the lead this year in terms of deals.

Our Favorite Deals:
And if that wasn't enough already, PSA adds another one: Almost 50% off a Magpul MBUS set! Extremely popular back-up sights. Pay $93 and enter the promo code "MBUSSET" and you got yourself one of the best deals available right now.
Cabela's is famous for their Black Friday Deals. Every year they are one of the first to start listing amazing deals for Guns, Ammo & Gear as well as for anything a Hunter might need. They got lots of special online-only Cyber Monday deals today only, which you won't be able to get anywhere else, not even in their stores.

From scopes to guns and boots to generators: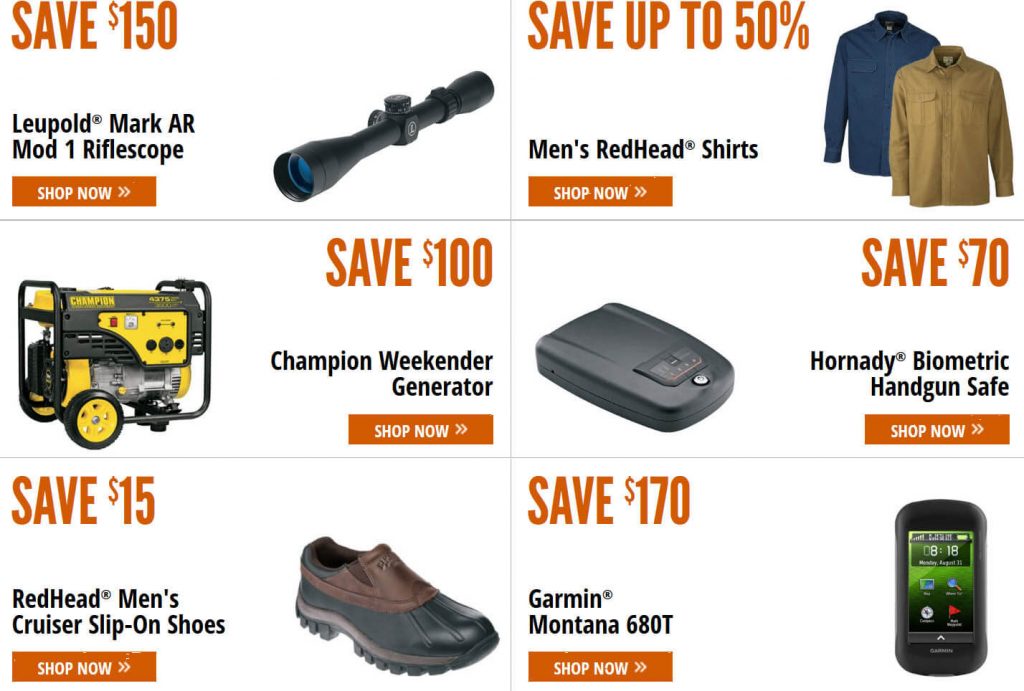 Our Favorite Cabela's Deal: Cabela's offers four Remington Handguns for up to 20% less each. This includes the Remington 1911 R1 which we recently featured in our Best 1911 in 9mm article.
As you might know, Amazon was smart enough to kind of establish their very own "Sales Day". It's called Cyber Monday and, you might have guessed it, happens next Monday. 24 hours of ridiculously good deals in every category Amazon offers. Now you also might know that they ban sales of firearms, ammo and all the other fun stuff, but there is good chance you might score a scope for cheap. Definitely worth checking out.
During Black Friday Rainier Arms offers great deals on premium products, as well as, insane blow-out deals you can't get anywhere else. Start your next build right here, your bank account will thank you.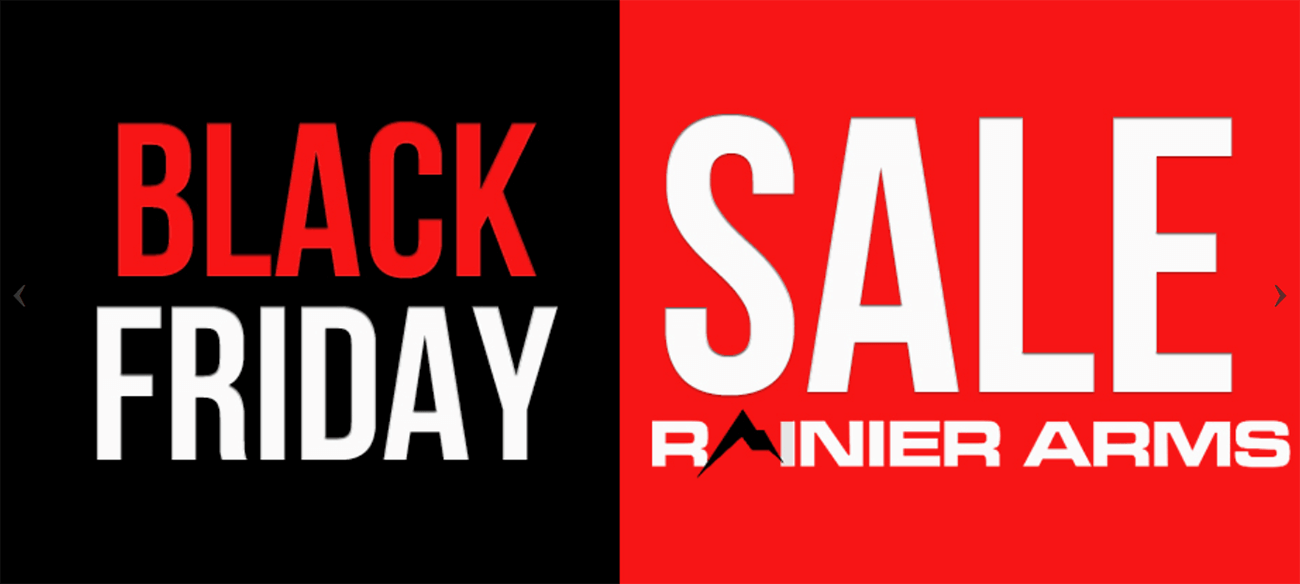 Favorite Deals: The Rainier Arms forged lower receiver for $104 instead of $130, Sharps Bros upper receiver for $175 instead of $220 and the Geissele SSP Trigger for $199. And last but not least, the Fortis Black Friday Switch Rail (MLOK) bundle exclusive to Rainier Arms for $259 instead of $349!
Your number one store for magazines has plenty of Black Friday Deals available.

Our Favorite Deals: The have quite a few great deals on magazines (obviously) but their best deal is actually a scope: The Weaver Kaspa 3-9x40mm Dual X Reticle for $49.99 instead of $157 MSRP. Great scope for hunting or target shooting. Comes with 1-inch Weaver rings and a limited lifetime warranty. GunMag Warehouse lets us know that they have plenty in stock, but don't wait too long.
Just in: Aero Precision deals! Unlike the other stores they waited until now to release their deals.
A great place to start a new build (and an even better time)! They have loads of uppers, lowers and some cool bundles.

See all their Black Friday Deals here.
This Page will be updated every time new deals hit our inbox or our authors find something while shopping themselves.
Did we miss any good deals? Please let us know in the comments.