It's a fact – more and more people are getting concealed carry permits.
Now that Illinois has joined the club, all fifty states have some method or other of allowing its citizens to legally carry a concealed gun. In some states, you don't have to obtain a permit – it is just assumed that it is legal to carry. Other states require a permit, but the point is more folks are carrying a concealed weapon now than at any other time in modern history.
UPDATE October 2020: The USCCA now offers the same limits for all its membership plans and they slightly increased their pricing. That means a $2,000,000 limit for civil defense and damages and a $250,000 limit for criminal defense. It's also important to keep in mind that the USCCA is not an insurance company and instead a policy has been issued to the USCCA by Universal Fire and Casualty Insurance Company which provides the association and its members with self-defense liability insurance, subject to its terms, conditions, limitations, and exclusions.
Why Do I Need Concealed Carry Insurance?
With the ability to carry a gun comes responsibilities. In some states that do not allow open carry, even showing your gun as you reach for something up high could possibly get you arrested…not to mention actually shooting someone with it. You'd better be up on your self-defense laws and be prepared for the legal aftermath.
But what if you don't know the legalities? The laws change almost daily across the country, it seems. There are many stories of folks defending their lives or their family with a legally-carried gun only to be financially devastated in court and afterwards. This scenario doesn't even consider the possibility of being found guilty of whatever the "overly-zealous-antigun-prosecutor-on-his-or-her-way-up-the-ladder" has charged you with and you are sentenced to jail or worse.
You want to be prepared for such cases and concealed carry insurance can help you with that. I recently signed up with the USCCA and while there are quite a few other options, I will let you know why I decided to go with the market leader (at least in membership numbers).
Scenarios
There are a few concealed carry scenarios that we need to talk about.
The first and most obvious one is you carrying your gun while you are out for an evening, to run to the store, to … the list of places is long where people may go armed. This scene consists of you with a hidden weapon having to draw it to defend your or a loved one's life. There are a couple of other times you might be called upon to defend life and limb.
Here is a story about a USCCA member who protected himself, his family and complete strangers when two armed thugs tried to rob a barbershop:
The second scene is home defense. You are at home, watching TV or doing whatever and someone either just flat breaks in (home invasion) or knocks on the door to gain entry. You have to shoot to defend yourself. (It is important to understand that you most likely should not shoot the perp in the event of a burglary – your laptop is not worth a life, and most juries would agree with that). If your life is threatened, you might be justified in shooting. This is especially true in a "stand your ground" or "castle doctrine" state.
A possible third scenario has you drawing your weapon while at a friend's house, or your business, or other location than your home. If you must shoot to defend yourself in any of these situations, you will start down a bumpy road that may or may not end well for you.
Here are some questions you might be facing: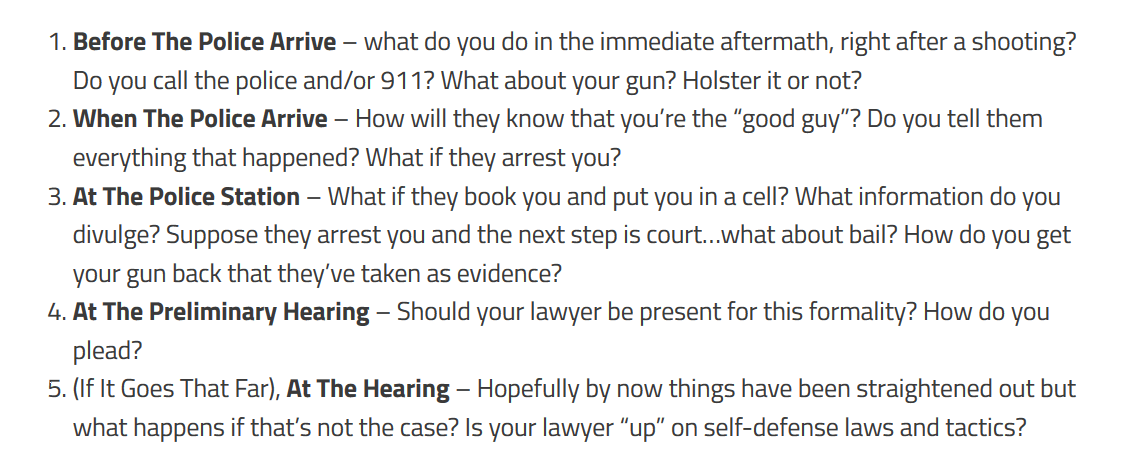 In case of such an incident having someone to call and ask would be worth much more than the monthly membership fee of any CCW insurance, I think we can agree on that.
What's a person to do? Enroll in a concealed-carry-insurance (CCI) program, short answer. One of the top groups that provides this type of coverage is the United States Concealed Carry Assn (USCCA).
USCCA vs. NRA Carry Guard, CCW Safe and others
Let's look at a couple of comparisons between the USCCA and a few other organizations that provide concealed carry insurance.
Here is a screenshot of a USCCA vs NRA Carry Guard comparison, keep in mind that this is right from the USCCA website: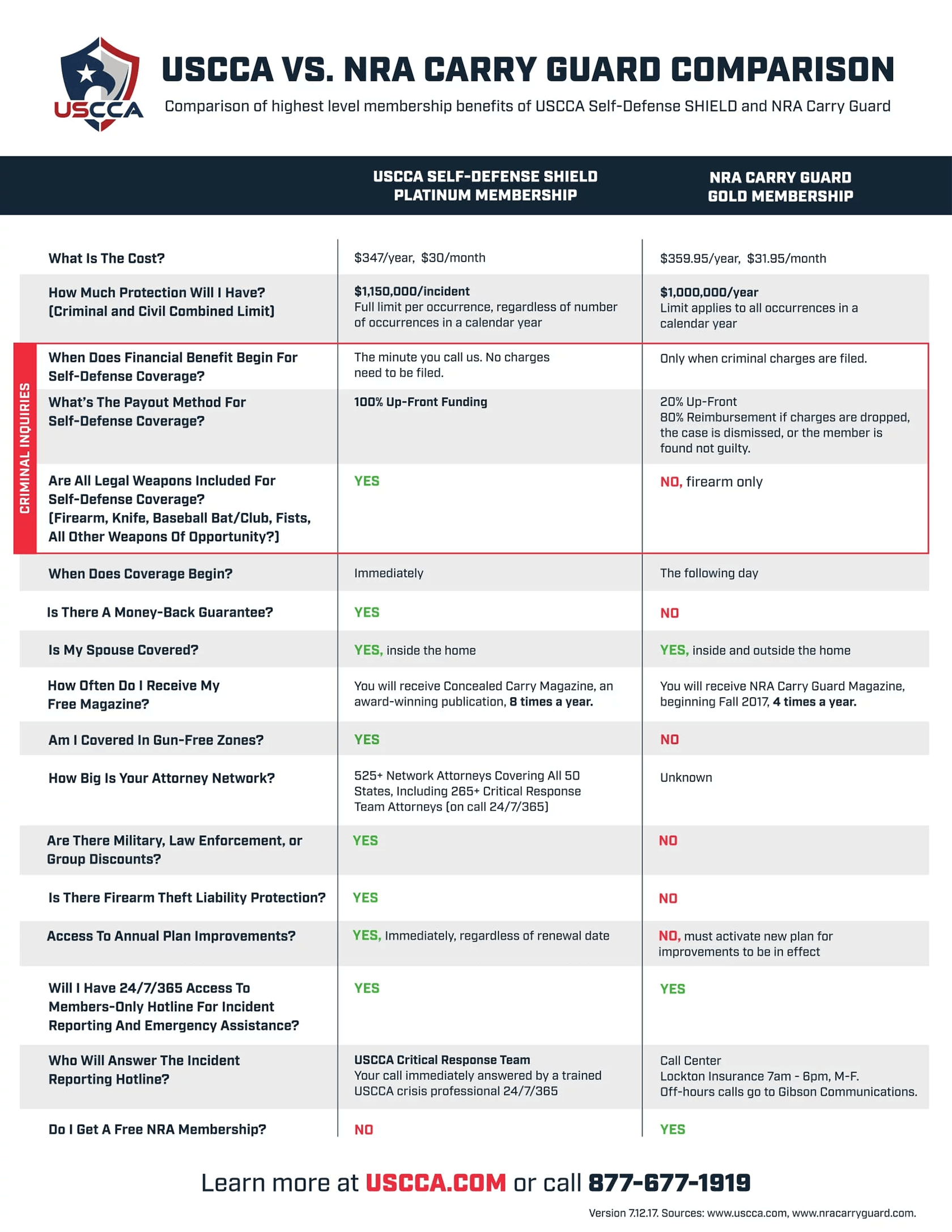 Not very surprisingly, this clearly sees the USCCA on top. Is that because they only compared in aspects where they stand out? … Actually, not really. Here is our comparison chart showing the USCCA vs NRA Carry Guard vs CCW Safe and two more: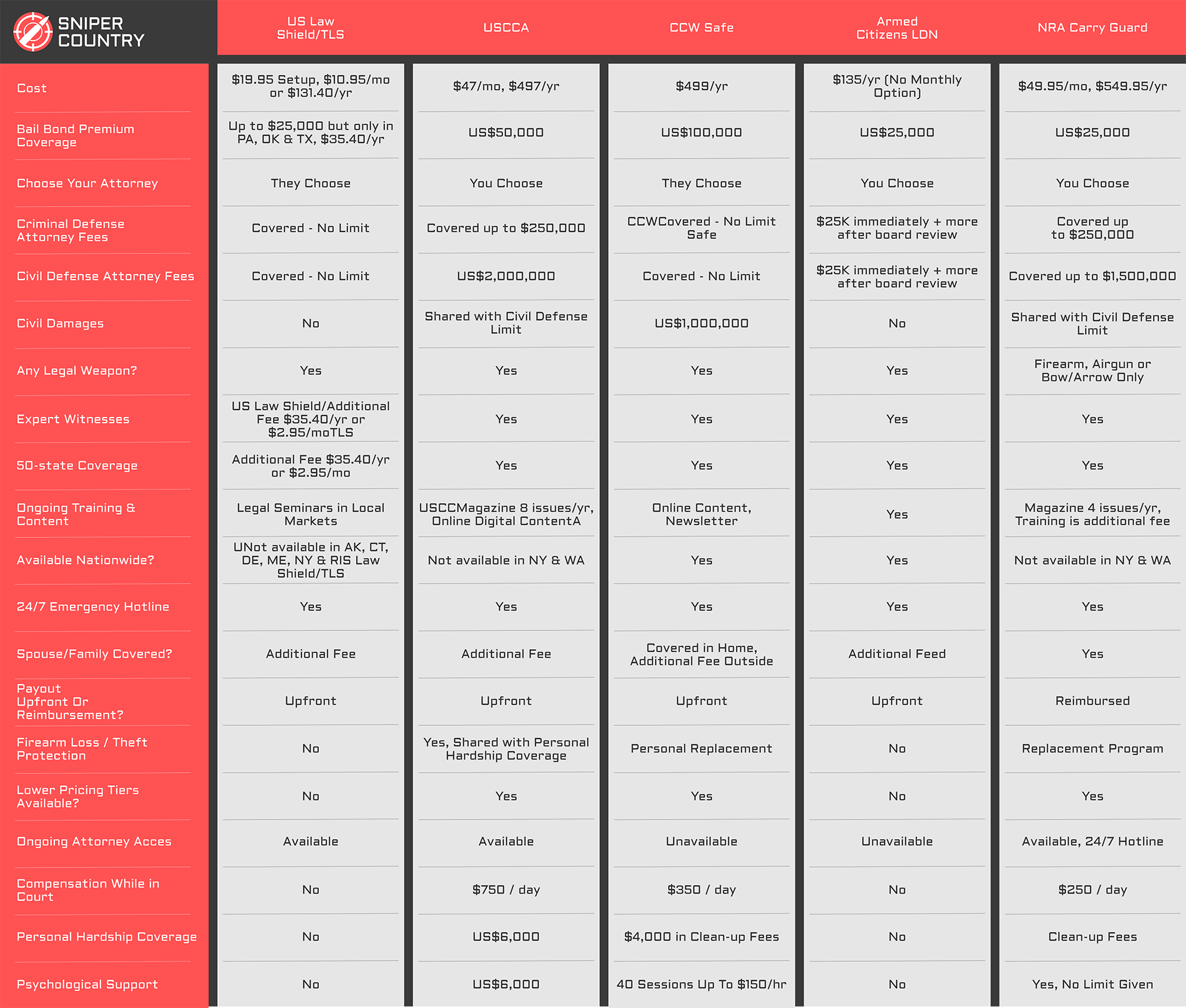 It's no wonder that the USCCA is the largest organization of its type. In my opinion, the benefits that they provide, either monetary or other in form of materials, are definitely worth the cost of a membership. And, another thing to remember is that the NRA's plan is not called insurance – the actual insurance portion of their coverage is handled by a third-party company. Looking at the NRA Carry Guard vs the USCCA you'll realize that they offer a very similiar package for the same price, however the USCCA offers higher legal protection.
What Should I Look For In These Charts?
The above charts compare salient features of the major players in the current CCW insurance marketplace. You should be looking at limits more than anything else… what is limited in their coverage, whether dollar amounts or other.
A red flag should go up on those plans with more "Nos" or "Unavailables" – this means that you would not be covered for that particular part of the plan. Also, look at the cost. A plan that costs you, say, less than $20 per month may or may not be a good deal. Again, look at the "Nos".
Reasons for the USCCA over the others
After reading through dozens of threads and material, it's overall the most recommended and popular option.
The USCCA covers all legal weapons, not just guns.
It offers up-front criminal defense protection; you should avoid everything that says "We'll pay after you've been acquitted", you might very well need six figures up-front for your attorney to get acquitted in the first place.
The ability to choose your own attorney is a great option to have, but their attorney network is a bonus on top.
Could you go with one of the lesser known insurances and end up being equally well off? Maybe… but insurance is nothing where I am up for experiments.
I am happy with the coverage that I am receiving at the Platinum level for $30 per month with the USCCA (click here to learn more) – let's look at that organization in a little more detail now and what you are really getting for that money.
The USCCA
With over 285,000 members, the USCCA is well-positioned to be of help if you ever find yourself in the position of needing legal representation after a self-defense shooting. I joined this group in order to find out more about it and to see what is included with your membership.

Initial mailing
Before I get too involved here, let me guide you to their website. It might help you, as you read through my article, to check out the exact wording and fine print that is to found on their site. Go here to access it.
The group touts, right up front, that they will:
keep you out of jail;
keep you from losing your freedom and…
keep you out of debt.
How do they do these things? They have the resources to accomplish what they claim. As I stated above, there are over a quarter-million members who pay to belong. If you join, you are immediately covered, with next-business-day shipping of any materials needed.

Here are the levels of protection they offer and how much they cost. I will summarize the levels of coverage and summary of those coverages below. Right now, here is what their website claims to provide for members (or, you can chat with a representative during business hours online if you have questions- I did that when I signed up and all my questions were answered.):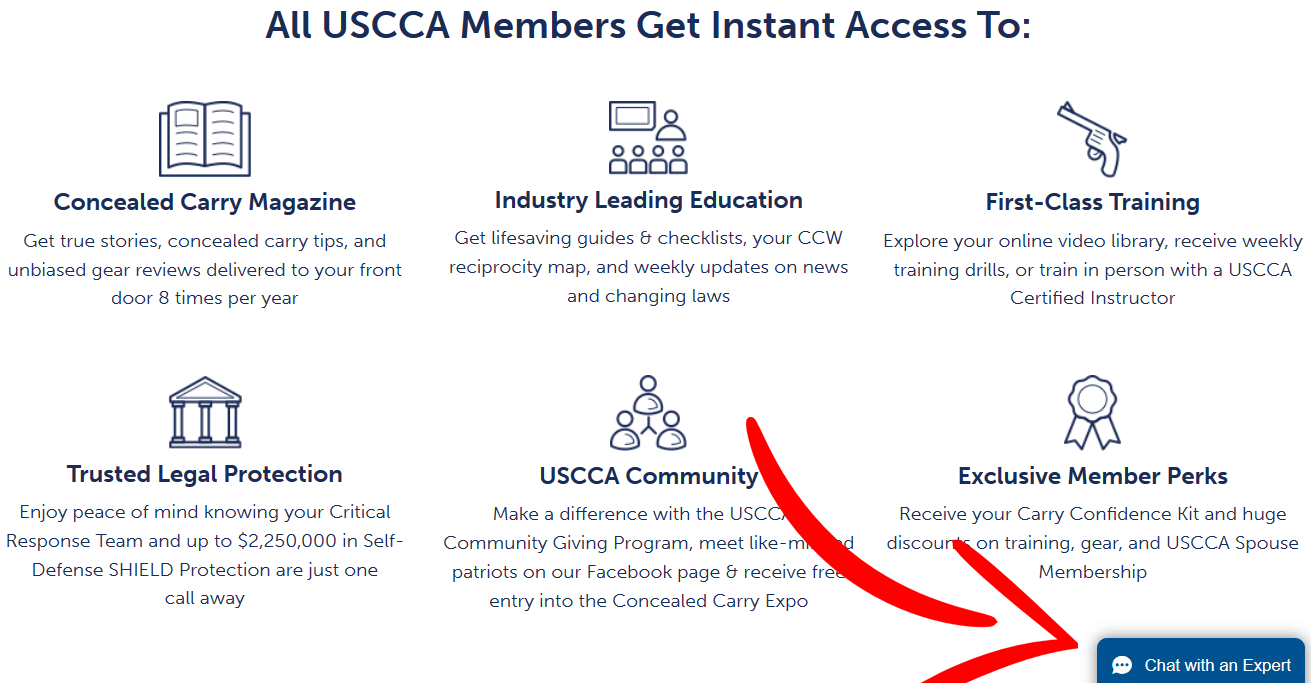 The levels of protection you receive depends on the package you sign up for.
Self-defense insurance, to me at least, seems pretty far down the priority order in terms of insurance you buy – homeowner/renter, automobile, accidental D&D, health and other career-specific policies would seem to be needed before you sign up for this type of insurance. But…all it would take is one incident where you have to defend yourself after a legal self-defense shooting to reveal how important this coverage can be. It's like the old saying that I repeat to myself regularly "I'd rather have it and not need it than need it and not have it."
There are video snippets on their site that were made by "real people" who have had to avail themselves of their USCCA coverage. The gist of these real-world examples is that the members who made the videos would have been subject to jail and financial ruin if they hadn't had the coverage.
Is it worth it to join the USCCA? Only you can make that call. If you live in a relatively low-crime area like I do, maybe not. But, all it takes is one time when you have to pull your gun to make it all worthwhile. No matter where you live, the possibility exists that you might wander into a drug deal gone south, a carjacking attempt, an active shooter situation or other one-in-a-million-type event. If that happens, you'll be glad you had the coverage.
What You Get With Membership – Coverage Levels
Your benefits increase as your membership level rises – Gold members receive the basics described below, while Platinum members get access to more resources. Elite members receive everything that the USCCA offers…we'll talk about costs in a moment. Let's look at the three membership levels and associated costs.
Gold $22/month or $247/year
Platinum $30/month or $347/year
Elite $47/month or $497/year
I joined at the Platinum level, for $30 per month. They will allow you to sign up for a specific number of months in case you want to try it out; in any case, you simply call them in case you want to opt out.
Here is listing of what my membership bought me…
Education
First, before the legal coverage begins, you get what the USCCA calls Education information. This consists of:
"Concealed Carry" magazine digital and print editions (8/year) with varying degrees of access to back issues depending upon the level your membership (this is a top-notch, award-winning magazine);
CCW national reciprocity and "Find An Attorney" maps;
a weekly update on changing laws, gear reviews and other news;
access to 10 Lifesaving Checklists and digital access to 15 Lifesaving guides and eBooks.
Training
Under the Training category, you get:
Weekly video training drills;
Live training broadcasts with industry experts three times a year;
Access to Nationwide USCCA-accredited training experts;
Members-only video library, with additional videos added as your membership level increases;
(Elite only) 10+ hours in eLearning Training Systems, which they value at $344.
Legal Coverage
Again, the higher the level, the more coverage you get. Let's look at each level and summarize the coverage.
Gold
$500,000 for civil defense & damages
$100,000 for bail bond, criminal defense and attorney retainer costs
24/7/365 critical response team
USCCA-provided attorney or access to USCCA attorney network
Protection up-front for all legal weapons of opportunity (not just firearms)
Platinum
$1,000,000 for civil defense & damages
$150,000 for bail bond, criminal defense and attorney retainer costs
24/7/365 critical response team
USCCA-provided attorney or access to USCCA attorney network
Protection up-front for all legal weapons of opportunity (not just firearms)
Elite
$2,00,000 for civil defense & damages
$250,000 for bail bond, criminal defense and attorney retainer costs
24/7/365 critical response team
USCCA-provided attorney or access to USCCA attorney network
Protection up-front for all legal weapons of opportunity (not just firearms)
All memberships come with a 100% risk-free, money-back guarantee
What Other Members Say
To get a broader picture and the opinions of other members and gun owners I had a look around the internet. I looked for forum and Reddit posts and was hoping to find some people that had experience with them in case of an incident, but couldn't find any. Here are some stories the USCCA covered instead:
Now you might still be interested in what other people say. Here is a Reddit and two forum threads, where people discuss joining the USCCA:
Reddit Thread
AR15.com Thread
Northeast Shooters Thread
USA Carry
I found most of the people recommending the USCCA over the other options out there, but I recommend you go and read yourself.
Member Perks
Membership does have advantages other than the obvious ones…here's a list of what members can expect to have access to, from the website:
discount on Platinum spouse membership;
carry confidence kit mailed within 1 business day;
member-only discounts on USCCA training & gear;
early bird access to newly-released training & gear;
discounts from industry partners;
Gold (base) level: Volumes 1-4 of The Best Of Concealed Carry Magazine ($80 value);
Platinum level: The above magazine plus the Armed American Training Video Series ($97 value);
Elite level: The above two plus Armed & Ready Video Series ($297 value)
The magazine volumes, in .pdf format, run from 50 – 96 pages and are made up of hand-picked best Concealed Carry magazine articles; they are downloadable if you want to keep them. I am anxious to get into them…they could be an article on their own.
As for the videos, if you are wondering about what they include, here's a run-down of the $97 Armed American Training Series that I have access to at the platinum level. Bear in mind that the Elite level includes even more, but these Platinum-level titles look very intriguing. As with the magazines, I can't wait to check some of these out. Here are their titles and run time, in the order that they are presented on the website:
Home Security & Home Defense, 28:31
Developing A Personal Protection Plan, 24:17
Gun Laws & You, 48:07
Selecting A Firearm. 45:23
Top 10 Concealed Carry Mistakes & How To Avoid Them 29:47
Gun Range & Gun Shop Etiquette, 29:14
The Big Picture, 22:30
Gear Up, 59:19
Get On Target, 45:34
Build Your Skills, 33:39
Dangers We Face, 55:30
Deadly Force Decision Making, 30:10
After The Shot, 56:59
Your Continuing Journey, 28:59
As you can see, the list is fairly complete in terms of self-defense topics. There are many videos on concealed carry and self-defense on the internet, especially on YouTube, but I would trust the content on this site over a lot of what I see elsewhere.
That is what you get with your membership in a nutshell. There you have all the basic information you need to have a handle on what the USCCA can do for you and how much it will cost. Now let's look at how you can interface with them.
Your "Dashboard"
Once you've paid your money to join, a lot of doors open. We've looked at a few of the membership perks above, but let's examine some other coverages and benefits you will receive. After your payment is processed, you will be sent a confirmation email with your receipt and a link to a website.
That website is your "home base" for the entire site and contains your "dashboard", or your personal roosting spot. My dashboard looks like this: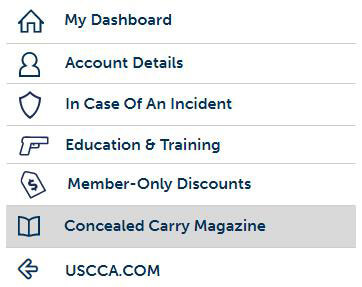 The links are fairly self-explanatory, but we'll look at a couple in a little detail. Here's what you see when you open "My Account":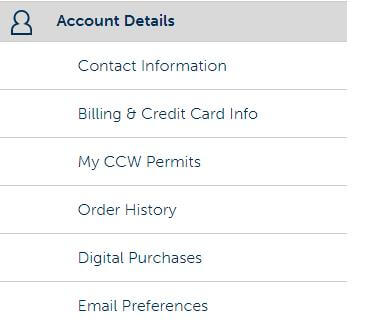 Here's where you control and have access to the items listed. Interestingly enough, you can record your CCW permit here and then check to see what states will honor it (there's an excellent interactive map with more information under "Gun Laws By State"). The "Account" link is fairly self-explanatory.
The next item, "In Case Of An Incident", contains these links: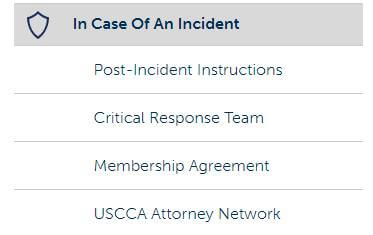 These links could play a really important role if you are ever involved in a shooting incident. The Attorney Network link showed seventeen lawyers in my midwestern state; there are more in other, more-populated states. These attorneys are expert in gun laws and have proven track records. The important thing to remember is that, heaven forbid you have to shoot someone, you're not on your own. Your legal protection starts with a phone call to the Critical Response Team and goes from there.
For example, here's what the "Post-Incident Instructions" link says to do: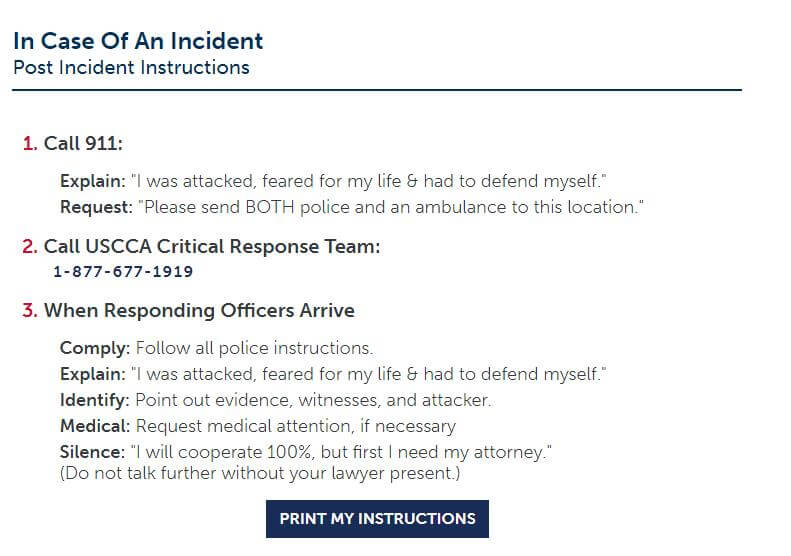 So, you know what to do from the very beginning of your experience with law enforcement officers.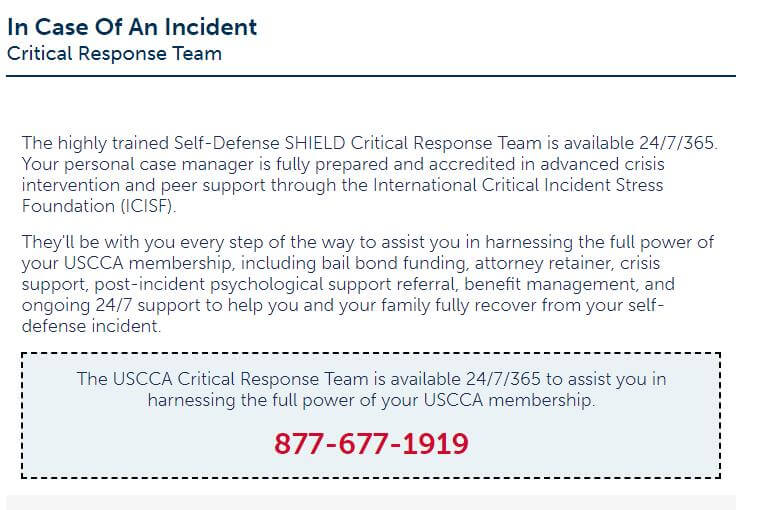 The next link on your dashboard is Education & Training: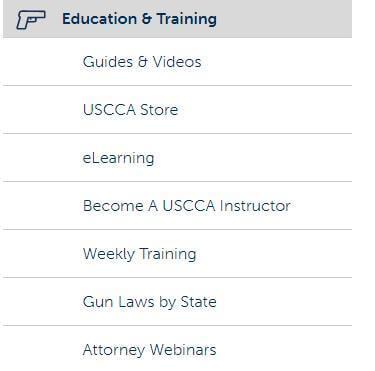 E-learning, where you pay to be able to watch specialized training videos and scenarios from USCCA experts, is available. There are several "courses" presented here.
The link I looked at first from this list, though, was Become A USCCA Instructor. They have "schools" set up around the country, from Maine to California. There are three instructor-certification schools: Concealed Carry, Live-Fire Defense Shooting and Advanced Live-Fire Defense Shooting. If you've always wanted to be a shooting instructor, here's your chance.
The next link is Gun Laws By State, which is where you find the Reciprocity Map and answers to such questions as is it legal to carry a concealed weapon in a National Park. (OK, the short, unofficial answer is that if carry is legal in the park's host state, it's legal in the park except in federal buildings). One thing I learned from the USCCA website concerns reciprocity. It is not always true that if two states allow concealed carry and one state recognizes the other states' permit, the second state automatically recognizes the first state's permit. For instance, just to pick two from the map at random, Indiana recognizes South Carolina permits but not vice versa. This section is very informative and should be required reading by all who carry a weapon concealed. "Attorney Webinars" is where members can "tune in" to watch experienced attorneys discuss pertinent issues regarding concealed carry and learn accordingly. These sessions are only open to USCCA members.
Discounts, Discounts…
The next link down on the dashboard is Member-Only Discounts. Here are some of the companies that extend discounts to USCCA members, at least as of this writing…there are a lot! Three screenshots' worth, to be exact.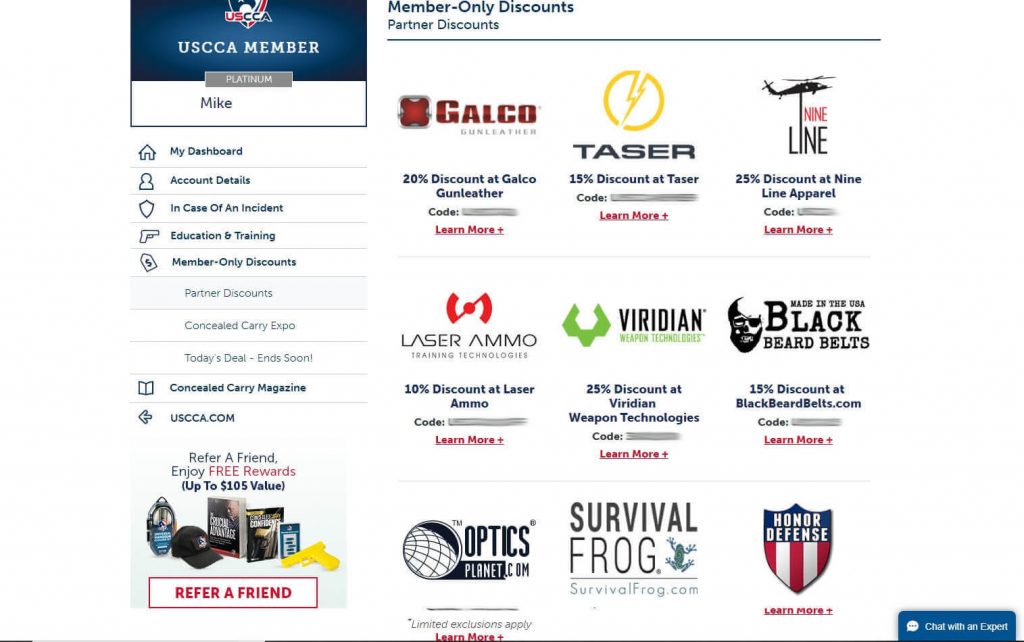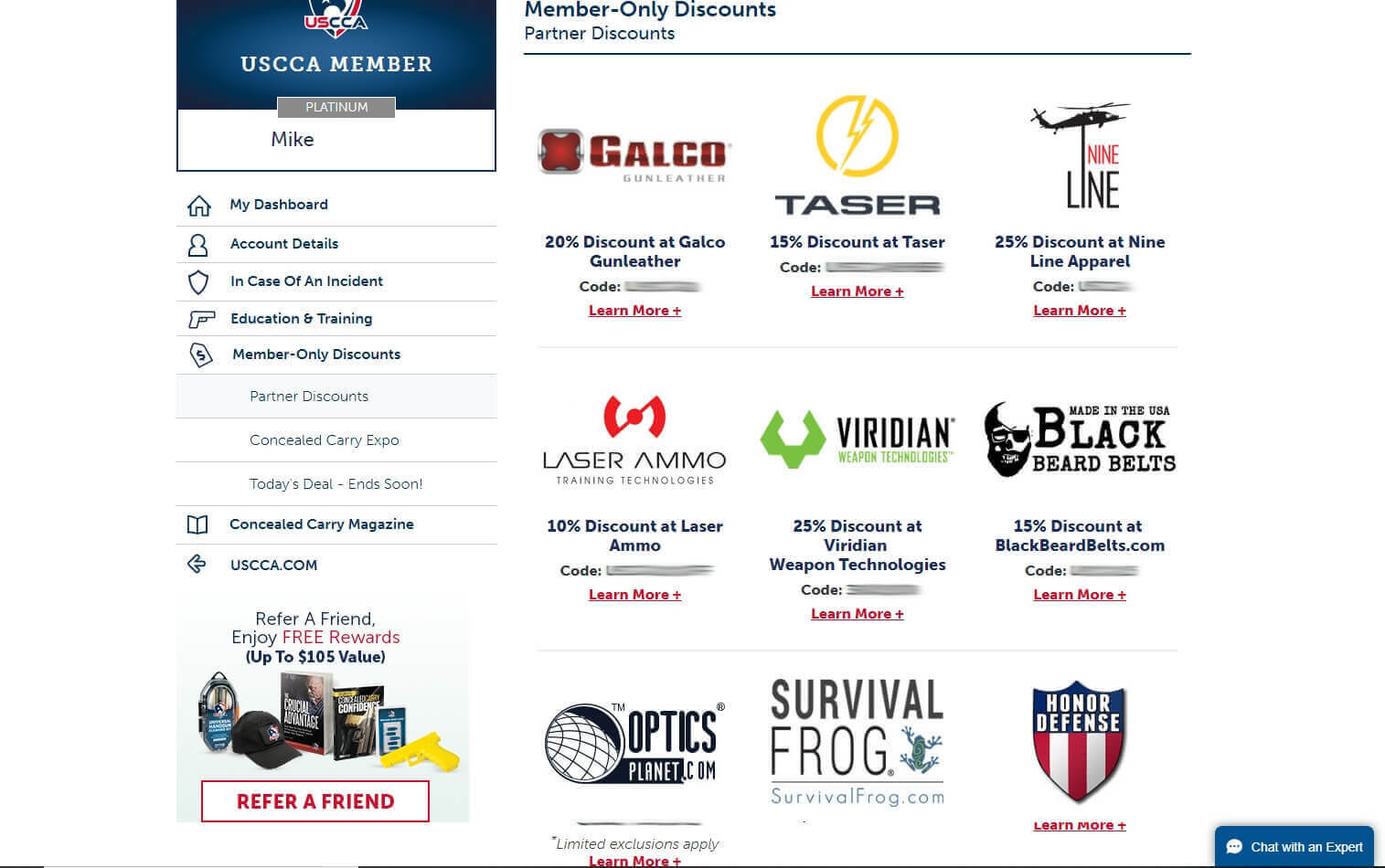 And there is more…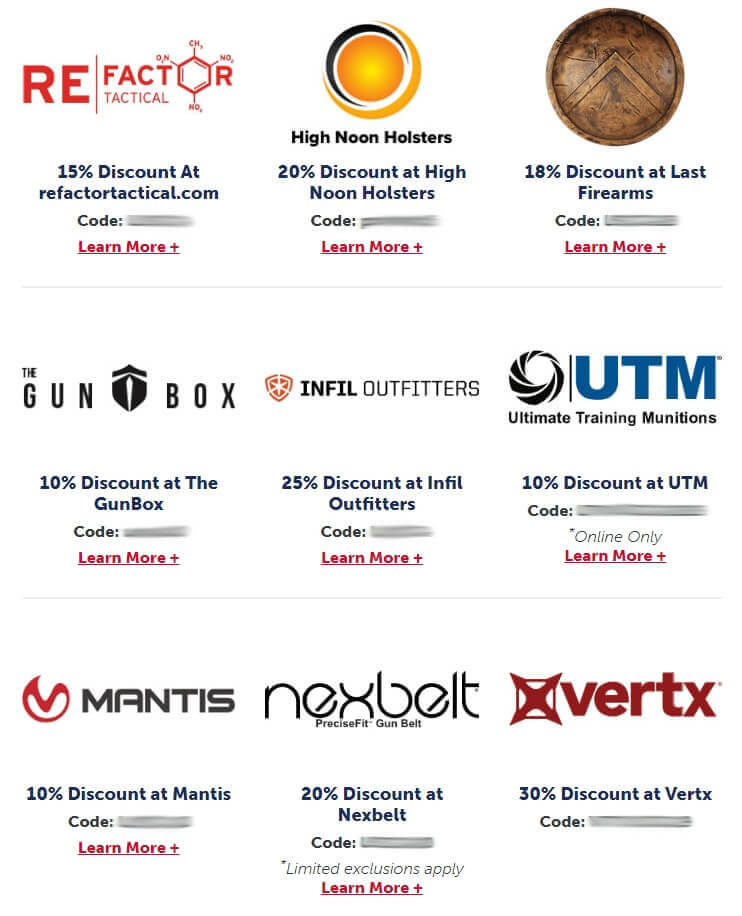 Other Activities
The USCCA sponsors the Concealed Carry Expo, to be held this year in Pittsburgh.
This is a type of trade show of sorts geared to concealed carry. Seminars, displays, training opportunities…this looks to be a viable way of connecting with other USCCA members from around the country. Specialized topics such as women & concealed carry, live-fire sessions, and hundreds of displays should bring in a lot of people.
Concealed Carry Blog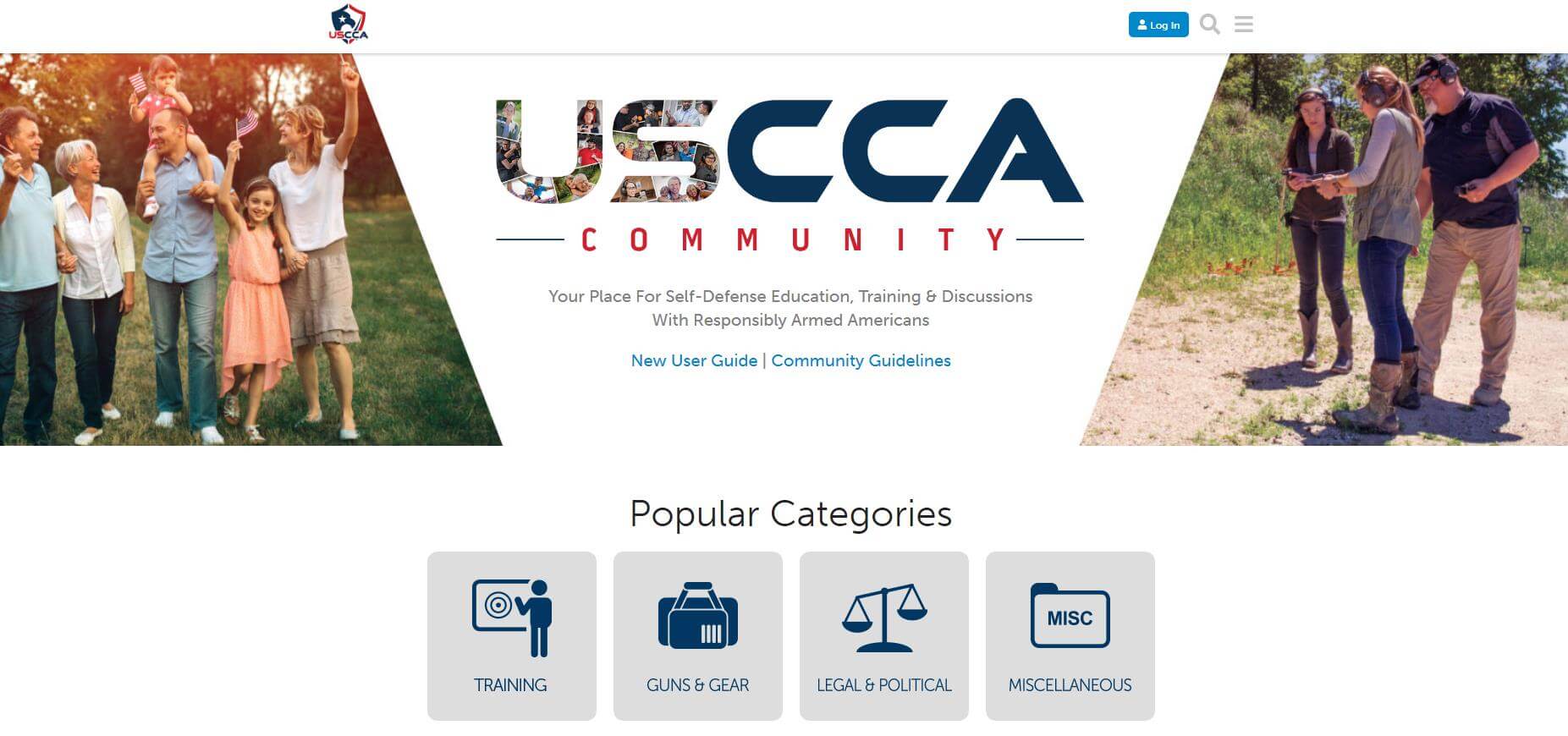 Something fairly new to the USCCA is the USCCA Community, where members can communicate with each other and discuss many different topics related to concealed carry. Anytime folks from around the country can "talk" to each other, knowledge is passed on. This is a good activity for the USCCA to sponsor.
Refer-A-Friend Bonus
If you refer a friend for membership, you can earn a reward. I have found that these types of promotions work with certain people, while others are not swayed, nor moved to refer friends. But…it must work or they would not offer it. The big draw for this type of promo is that, if you have a friend who is ready to join anyway, you refer him or her and get a new ____ (knife, training pistol, etc.). For this reason, it is worth it.
Today's Deals
Today's Deals are special buys on differing equipment, books, etc. Today the deal was an offer to buy one of three first aid packs/literature at discount prices.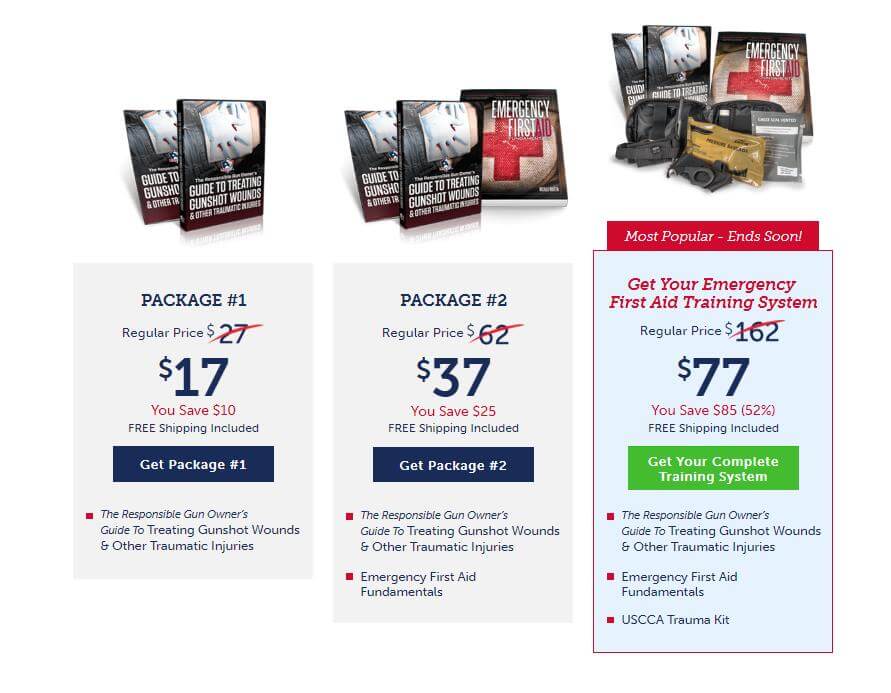 The offers vary, but all are geared toward some aspect of concealed carry. It would be worth coming back to the website often just to see what they are offering that day.
About Tim Schmidt
If you are wondering who USCCA President Tim Schmidt is and where the USCCA came from, there is an "About" page on their website that explains a bit about the group's history and mission. You can access it here. Tim is very active in helping preserve the Second Amendment and has been an outspoken proponent of gun rights and concealed carry legal protection.

He has appeared on national television and radio, discussing his group's mission and defending the right to carry a concealed weapon. A quick Google search of "tim schmidt uscca" returned thousands of links, many of which were tied to specific shows, speeches and other communications that he has made over the years. He is actively keeping his group's name and mission in the public eye, while at the same time defending the Second Amendment.
Celebrity Endorsements
Another avenue that the USCCA takes in getting their name out there is by celebrity endorsements.
Probably one of the most visible celebrity members is Fox News and radio talk show anchor Sean Hannity. He has mentioned, on air, that he carries a Glock and is a member of the USCCA. I don't know if he is paid to advertise for them (probably)– doesn't really matter to me – but he is a vocal supporter of theirs. There is even a page on their website about why he is a member. You can view it here.
In Summary
Only you can decide if you need to join a self-defense legal protection organization. In a previous article, I did a brief overview of the top five best concealed carry insurances in the country. One advantage the USCCA has is that it is the largest of these groups and, as such, may be able to offer benefits that smaller groups cannot. This organization seems to offer a nice mix of legal protection, training, education and other items for a reasonable cost. Its endorsement by celebrities doesn't hurt anything, either, and perhaps make the group more visible than some others out there. I keep my ear to the ground on most shooting topics and try to be up on the latest products, trends, etc. I have asked a few friends who are shooters if they would consider joining a self-defense network organization and if so, did they have a specific group in mind. Most of them mentioned the USCCA as first choice.
I guess this says that Mr. Schmidt's efforts to get his group's name out there is paying off. There is a big "however" attached to this, though…however promotionally visible the group is means nothing if it doesn't do what it says it will do. The USCCA is more than just marketing. This a seriously earnest organization, one that you can call at three a.m. on New Year's Day and talk to a real person about getting the ball rolling for your defense needs after a shooting. They advertise "24/7/365" and mean it.
I do believe that the USCCA is a worthwhile self-defense-protection organization and might be worth a few clicks in your browser to check it out. Signing up (click here) might be one of the smartest things you can do if you carry a concealed weapon.