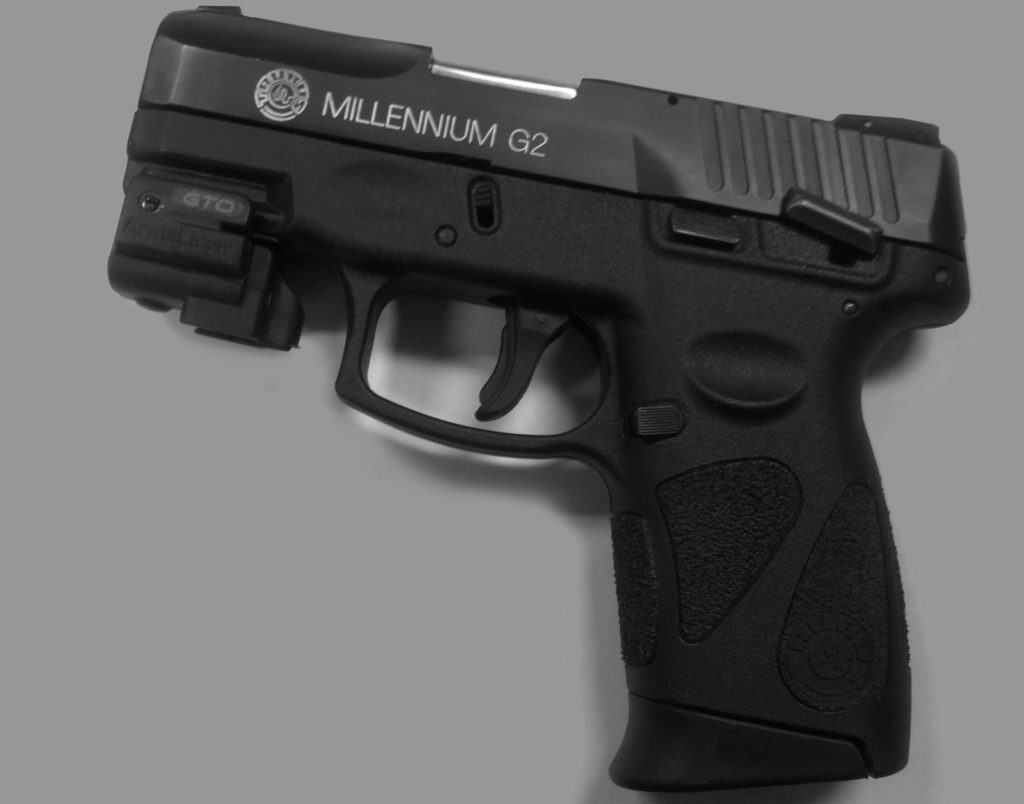 Taurus makes quite a few pistols that are really ideal for self defense and tactical use. Their compact handguns are very reliable, and a lot of gunowners turn to the brand for concealed carry. We made this review of the best Taurus PT111 G2 accessories and upgrades, and we'll let you know what our favorite option was at the end of the article.
Shopping for this model has proven to be a little difficult, which is part of why we made this review for you. Especially when it comes to aftermarket parts, not too much has been made that will accommodate the G2. Before you buy anything, always do your research and make sure you're not buying an accessory for an older Taurus Millennium model. The PT111 G2 is also already a great compact weapon, and there isn't much you need to improve upon. The accessories listed below were selected for improving accuracy for different situations, so your choice will be most affected by what your needs are.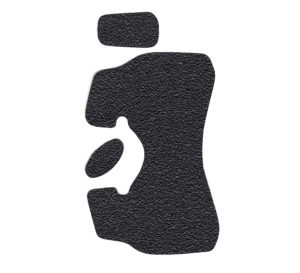 Materials – One of the cheapest Taurus PT111 G2 upgrades you can buy is a grip decal from Tractiongrips. The overlay comes as a set of three pieces, in all black, and they stick with an adhesive around the original grip of your pistol. The grip is semi-permanent, meaning it's possible to remove it if necessary, but it's a little tricky. There is a tough, raised bump texture across the entire overlay, allowing the shooter to have a firm hold on their weapon the second they touch it. The overlay hardly adds any increase in size of palm swell, so it feels almost as if nothing was added at all.
Performance – There are pros and cons when it comes to using a grip decal on your pistol. The advantages are that your grip upgrade isn't going to slide around or become loose, even after rounds and rounds of firing. You can basically use it as if you never added anything to your gun at all. Even sweat build up won't mess anything up here. The slight disadvantage is that if for any reason you decide you don't want to have it on your weapon anymore, you're going to have a bit of a clean up process. You'll need to by a special cleaner to remove any leftover adhesive, but you won't have ruined your gun's original grip.
What we say – The overlay decal from Tractiongrips is one of the best Taurus pt111 g2 upgrades for anyone who simply needs a better grip. If you find your hands slipping on the smoother areas of the weapon, then this is a good start for customizing your weapon.
Pros
Low cost upgrade
Won't slip or slide around
Highly raised texture improves accuracy
Tractiongrips Overlay Decal
adds grip, aiding in weapon retention
easy to install, self-adhesive grip
ultra-thin, doesn't increase size of firearm grip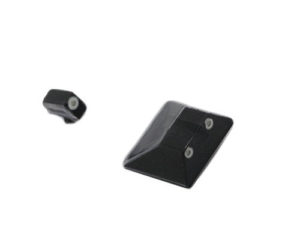 No products found.
Materials – If you want to upgrade the original sights on your Taurus pistol, look into these tritium night sights from Dead Ringer. The set of front and rear sights are made from metal, and they'll need to be professionally installed by a gunsmith. They will have to be filed down to the correct size. The rear sight features a classic dove tail notch, and it has two bright green tritium inserts. The front sight has space available for one tritium insert. All inserts are surrounded by a bright, white painted ring, which will deflect peripheral light glares. The sights are angled, so you can utilize holsters without snagging them on the inside and still maintain a smooth draw.
Performance – We almost always include a set of night sights for pistol accessories, especially when it comes to self defense. Plenty of self defense situations occur at night, correct? A pair of glowing, tritium night sights will really improve your accuracy, but this fact is just as well for tactical operations. Finding a pair of after market sights that worked with this Taurus pistol at all was really tricky. To put it simply, there basically aren't any that seem to be made specifically for this weapon. Whatever you find, you will have to do some filing and modifying to get your sight upgrades to fit. This is one of the very few options available that will actually work. If we missed anything, you are welcome to share different options in the comments.
What we say – These Dead Ringer night sights are one of the only PT111 aftermarket parts that will accommodate the G2 Taurus model. If you want to upgrade your sights, this definitely is a decent option.
Pros
Tritium sights visible in day and night
Reflective white painted rings
Tritium known to last for years
Cons
Needs filing and modifications to fit
No products found.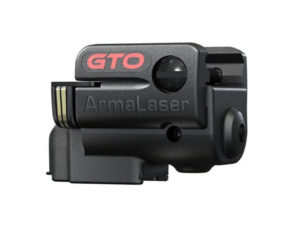 Materials – This is one of two options from ArmaLaser featured within this review. This compact laser attaches to your Taurus PT111 G2's Picatinny accessory rail. It emits a 635nm red laser, which can be seen during both day and night, but of course it's visible the best during low light situations. To activate the laser, simply grasp your pistol's trigger guard as normal. The human touch activation pad senses your touch and will automatically turn on. There is a master kill switch provided. You can adjust the laser's beam, and the battery compartment is easy to access. All the technology is housed in DuPont Zytel polmer.
Performance – No matter what purpose you have in mind, a red laser is almost always a great upgrade to attach to your Taurus. You're going to increase your accuracy and your quick aim in general, since you'll be improving your target acquisition. Since this is a red laser, it may be better for self defense needs. It's visible at night, but it's not quite so great during the day, so it won't be best for daytime tactical or competitive means. However, the laser is very strong and bright, and the battery will last you for a few hours of use. The best part about this laser is the simple touch activation – no special holsters, no switches, and no fussing with the laser when you need it most and its low profile barely adds bulk to your pistol.
What we say – This is one of the best Taurus PT111 G2 accessories for those that need a low profile laser to improve their target acquisition during tricky low light situations.
Pros
Highly visible at night for self defense
Simple touch activation
Doesn't overlap trigger guard
Cons
Not very effective during daylight
Sale
ArmaLaser Red Laser Sight
Extremely bright 635nm Red Laser with grip activation. Just grasp pistol normally to turn laser on.
Custom fit FLX23 ultra-thin remote touch sensor switch for Taurus PT111 PT140 G2 included.
Uses human touch technology to turn on, no mechanical switch or push button or holster activation.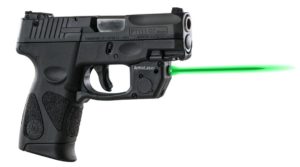 Materials – Last but not least, we have the second option from ArmaLaser, which has a few different features from the previous choice. This laser is custom made to fit over your Taurus PT111 G2's trigger guard. The 520nm green laser is crisp and bright, and it is best visible during daylight use. However, it is somewhat visible at night as well. The activation is the same: simply grasp the trigger guard normally, and your touch will automatically turn the laser on. Again, the technology is enclosed within DuPont Zytel polymer. Get up to over two hours of continuous use, and point your laser at targets up to fifty feet away.
Performance – Although this option shares some similarities with the red laser above, the green option by ArmaLaser offers a different set of purposes. If you need a laser for tactical or outdoor range use, then this is your best bet. We preferred the other laser's installment to only the accessory rail, instead of over the trigger guard like this one, but that's not a deal breaker. This laser won't be as visible as a red one at night, but the light emitted is very bright and crisp. You'll grasp your weapon a little differently, but the laser still only requires touch activation to turn on.
What we say – A great Taurus upgrade for someone who plans to use the laser during daylight. If we didn't make it clear by now:
Daylight = Green Laser
Nighttime = Red Laser
Pros
Very crisp green laser visible up to fifty feet
Simple touch activation
Adjustable beam and easy access battery compartment
Cons
Adds a little more bulk to your Taurus.
Sale
ArmaLaser Green Laser Sight
Extremely bright 520nm Green Laser with grip activation. Just grasp pistol normally to turn laser on.
Custom designed fit for Taurus PT111 and PT140 Millenium G2. Will NOT fit Millennium Pro.
Green laser sight is brighter than red especially for daytime use. Class 3R 520nm <5mW green laser.
Our Favorite Taurus PT111 G2 Accessory
Our favorite Taurus pt111 g2 accessory wound up being the ArmaLaser Red Laser Sight. It's very convenient that Taurus provides an accessory rail on their subcompact gun, so why not use it? We love that the red laser option doesn't cover the trigger guard, and it doesn't extend pass the barrel. This way, there are many holsters that will still be accommodate your compact handgun. We also figured that many purchase the Taurus PT111 G2 for self defensive purposes, so choosing a red laser to use at night seemed like the most logical choice. ArmaLaser is a well known brand that provides one of the most reliable laser beams on the market. You can expect an accurate laser every time you turn it on and that's another huge plus for self defense. Yes, your Taurus can't get much better than it already is, but this is a great accessory to look into!
Price incl. tax, excl. shipping/ Affiliate links / Images from Amazon Product Advertising API